NCF Nation:

2011 Big 12 summer position rankings
August, 2, 2011
8/02/11
9:00
AM ET
Moving on in our rankings of the top 10 at each position in the Big 12 entering 2011.
Here are the top 10s you've missed so far:
There's no question that receiver is the strongest position for the Big 12, which has the most talent at the position of any conference in America. Considering the lack of elite talents on the defensive line and at cornerback in this league, look for these guys to put up big numbers this season.
[+] Enlarge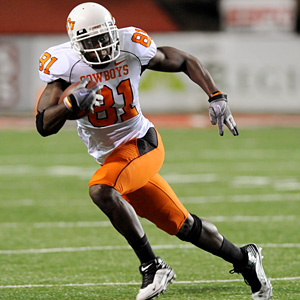 Chuck Cook/US PresswireOklahoma State's Justin Blackmon enters the season as arguably the best receiver in the nation.
1. Justin Blackmon, Oklahoma State:
Blackmon's big year met a big finish, earning him the Biletnikoff Award as the nation's top receiver. He'll be the favorite again this year thanks to his quarterback's decision to return. Last season he had 111 catches for 1,782 yards and 20 touchdowns. His touchdown and yardage numbers led the nation in 2010, and he also topped our
ranking of the Big 12's top 25 players in 2010
.
2. Ryan Broyles, Oklahoma:
Broyles lost his spot as the Big 12's top receiver, but he's still a Biletnikoff finalist and my pick as the nation's No. 2 receiver, right behind Blackmon. Broyles led the nation with 131 catches a season ago, turning them into 1,620 yards and 14 scores as a valuable piece of the Sooners' passing game, long and short. Broyles (5-foot-10, 188 pounds) doesn't have Blackmon's size (6-foot-1, 315 pounds), but what he lacks in the ability to muscle up defenders, he possesses in a feel for space and precision route-running.
3. Jeff Fuller, Texas A&M:
Fuller might get more attention if he played in another league, but he's sadly a bit overlooked in the Big 12 behind Broyles and Blackmon, doomed to difficulty earning All-Big 12 first-team honors, despite being the first Texas A&M receiver to ever record a 1,000-yard season and staking a solid claim as one of college football's top five receivers. Look for Fuller to top his 1,066 yards, 72 catches and 12 scores this year.
4. T.J. Moe, Missouri:
This fourth spot is close, but I went with Moe, who lacks the physical speed and strength of
Kendall Wright
, but has perhaps unrivaled sense for space among any receiver in the Big 12, save Broyles. Just 19 attempts separated Missouri and Baylor's passing offenses, but Moe caught 14 more passes than Wright and accounted for almost 100 more yards, catching just one fewer touchdown. You could make a case for Wright at No. 4, but I'm going with Moe for now.
5. Kendall Wright, Baylor:
He's the top target for
Robert Griffin III
, and if
Josh Gordon
's suspension carries through the season opener, the Bears will need a big game from the 5-foot-10, 190-pounder to beat TCU. He's topped 50 catches and 600 yards in each of the past three seasons with constant improvement, but 2011 might be the year he finally tops the 1,000-yard mark.
6. Kenny Stills, Oklahoma:
Stills is one of two sophomores on this list, and no other freshman receivers in 2010 really came close to his production. Stills showed lots of promise in spring and fall camp after enrolling early, and finished with 786 yards and five touchdowns on 61 catches, entrenching himself as the Sooners' No. 2 target and the heir apparent to Broyles, who will be a senior in 2011. Much bigger things should be ahead for Stills.
7. Ryan Swope, Texas A&M:
Swope proved a huge complement to Fuller, hauling in some of the biggest catches of the season for the Aggies, including touchdowns against Oklahoma and Oklahoma State. He finished with 825 yards and four touchdowns on 72 receptions, and should be poised for similar production in a similar role this season.
8. Josh Cooper, Oklahoma State:
Cooper gets overlooked with the amount of talent in the Big 12, but he was a huge part of Oklahoma State's passing game last season, catching 68 passes for 736 yards and five touchdowns. He might have to hold off teammate
Hubert Anyiam
for touches in 2011 to remain on this list, but for now, Cooper gets some recognition for a job well done that not enough people saw.
9. Alex Torres, Texas Tech:
Torres' numbers (39 rec, 481 yards, 3 TD) took a tumble in 2010, but I give him the benefit of the doubt and keep him on this list after battling through a frustrating back injury for the majority of his sophomore season. He's got tons of promise, and as long as he stays healthy, should get plenty of opportunities as a junior in 2011 after the Red Raiders lost both of their top two receivers from last season's team.
10. Mike Davis, Texas:
Davis needs help from his offensive line and especially his quarterback (
whoever it ends up being
), but he was impressive enough to become one of the Longhorns' top receivers as just a freshman, catching 47 passes for 478 yards and a pair of touchdowns. If Texas' offense improves, look for Davis' numbers to skyrocket and flirt with 1,000 yards.
Just missed:
Josh Gordon, Baylor;
Jerrell Jackson
, Missouri
June, 30, 2011
6/30/11
1:15
PM ET
We'll move on to the safeties today in our position rankings across the Big 12.
Here's what we've covered so far:
The group of safeties across the Big 12 isn't fantastic, without any truly elite groups, but it's decent. There aren't any teams that look really hopeless at the position in the immediate future.
I haven't given it real close examination so far on the positions we haven't covered yet, but this is by far the closest gap between 1-10 of any position so far.
Here's how I ranked them. (Remember, I lumped in nickel backs with linebackers, so Ahmad Dixon and Tony Jefferson won't be found anywhere in this post.)
[+] Enlarge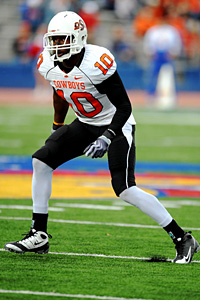 John Rieger/US PRESSWIREOklahoma State's Markelle Martin is the Big 12's best overall safety.
1. Oklahoma State
-- The Cowboys have Markelle Martin, the Big 12's best overall safety who's a big talent but a much better hitter than he is a cover man. Johnny Thomas is solid and both safeties got a lot better as the 2010 season progressed. OSU's depth lands them here, though. Daytawion Lowe could start for a few Big 12 teams and is slightly better than A&M and Texas' reserves, the other two teams with the deepest group of safeties.
2. Texas
-- Blake Gideon takes his share of criticism, a good deal of it fair, but there's a reason he's starting for Texas for a fourth season this fall. He knows what he's doing. Kenny Vaccaro will challenge OSU's Martin, among others, for the title of the Big 12's biggest hitter and Nolan Brewster and Christian Scott are strong reserves at the position. The Longhorns lose a lot at corner, but all the safeties are back from a defense that allowed just over 170 yards a game through the air in conference play last season.
3. Texas A&M
-- The Aggies' Steven Terrell and Trent Hunter are solid, and Hunter is a big playmaker who made 62 stops and picked off two passes last year. Toney Hurd Jr. is the backup and was one of the most impressive freshmen in fall camp last year, joined by Steven Campbell in the rotation.
4. Kansas State
-- Tysyn Hartman has loads of experience and is one of the Wildcats that Bill Snyder loves to rave about. Ty Zimmerman was one of the Big 12's best freshman last year, and picked off three passes. They should be solid again next year, and for as much criticism as K-State's defense faced last year, they were fifth in the Big 12 in pass defense. Logan Dold should be in the rotation, too.
5. Oklahoma
-- Reserve Sam Proctor has starting experience, but Javon Harris and Aaron Colvin enter fall camp as starters. That says plenty about how Bob Stoops and Brent Venables feel about them. In a word: confident. Colvin has the most potential in the group, but the two starters will have to learn on the go. Proctor, a senior, should be able to help. James Haynes will also be in the rotation.
6. Missouri
-- Jasper Simmons is gone, but Missouri's safeties might be a bit underrated in this spot. Kenji Jackson has loads of experience and should be solid, and Tavon Bolden and Matt White are a pair of promising sophomores who should compete at free safety. Kenronte Walker should be in the rotation, too.
7. Texas Tech
-- Injuries were a problem last year for the Tech secondary, but Cody Davis and D.J. Johnson will hold down the traditional safety spots away from the line of scrimmage in new coordinator Chad Glasgow's 4-2-5. The unit gave up lots of big plays in 2010 (151 over 10 yards, 46 over 20, and 25 over 30, all the most in the Big 12), but I'd expect that number to drop under Glasgow if the secondary stays healthy. Davis is the team's leading returning tackler, with 87 stops. Brett Dewhurst and Giorgio Durham should be in the rotation.
8. Kansas
-- Keeston Terry and Bradley McDougald give Kansas a lot of speed and athletic ability at the position, but both of the team's safeties from 2010 graduated and Terry and McDougald are short on experience. Lubbock Smith should add some solid depth to the position.
9. Iowa State
-- Iowa State loses their top playmaker at the position, David Sims, but returns starter Ter'Ran Benton. He'll be helped out by some combination of Jacques Washington, Earl Brooks and Deon Broomfield once the season starts. Iowa State's biggest weakness is on the defensive line, so it's hard to get a good read on how good the safeties really are with such a poor pass rush up front.
10. Baylor
-- This group might move up the list during the year under Phil Bennett, but the two best raw athletes (Ahmad Dixon, Prince Kent) at the position moved to nickel back and linebacker, respectively. The team's leading tackler, Byron Landor, graduated, and that left Mike Hicks as the other starter. He'll be helped out at safety by Sam Holl, Josh Wilson and K.J. Morton. Last year, the Bears ranked last in the Big 12 in pass defense in conference play, giving up over 300 yards a game. That'll have to change or Baylor won't get past seven wins.
June, 29, 2011
6/29/11
1:15
PM ET
We've taken a look at the Big 12 offensive skill positions in our position rankings, and we'll circle back along to the lines eventually. For now, though, we'll flip to the defensive side of the ball, starting with linebackers.
There's a lot of turnover in this space, and the bottom half was pretty hard to sort out. We haven't seen a lot of these new faces on the field for extended periods of time, so it's somewhat of a crapshoot. I don't feel like there's a wide gap between teams 7-10, and each of those squads have at least one linebacker who could be due for a huge year and shoot them up this list.
I see Nos. 1-3 possibly being great, with dropoffs before the No. 4 and No. 7 teams.
Also, if you missed them, here are the other position rankings we've done so far.
So, without further ado, here's how I ranked the linebackers. (Nickel backs are included in this list, hybrid DE/LBs will be with defensive lines)
[+] Enlarge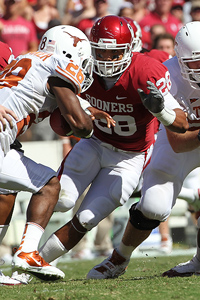 Matthew Emmons/US PresswireOklahoma's Travis Lewis is the Big 12's top returning defender.
1. Oklahoma
-- The Sooners boast the Big 12's top returning defender in Travis Lewis, who has notched at least 100 tackles in each of the past three seasons, and he'll be joined by the Big 12's co-Defensive Freshman of the Year, Tony Jefferson. Tom Wort and Corey Nelson are both loaded with potential, and will fill out the rotation, after the starter at middle linebacker, Austin Box, died on May 19.
2. Iowa State
-- The Cyclones boast two of the Big 12's best in Jake Knott and A.J. Klein, who combined for more tackles than any two teammates in the Big 12 last season. They had 241 stops, and, after healing from a broken leg suffered midseason last year, Matt Tau'fo'ou should join them at middle linebacker.
3. Texas
-- Texas' offense may be lacking, but the defense will be strong once again, led by two others likely to earn spots as some of the Big 12's best. Keenan Robinson and Emmanuel Acho were Texas' top two tacklers last year with 187 stops, and return as likely captains come fall camp. Texas' depth chart is wide open, but look for former blue-chip recruit Jordan Hicks to emerge as another star this year, despite being forced to sit out spring camp with a broken foot. Dravannti Johnson played some defensive end last year at the Buck position for the Longhorns, but may find his way back to linebacker. Tevin Jackson was ineligible last year, but he's ready for 2011, and could make an impact.
4. Oklahoma State
-- The Cowboys "Star" linebacker is occupied by co-Defensive Freshman of the Year Shaun Lewis, and sophomore Caleb Lavey is charged with replacing Orie Lemon, the leader of last year's defense. Oklahoma State has questions on the weak side, but LeRon Furr and Chris Dinkins will compete next fall.
Kris Catlin
could be a factor, too.
5. Texas A&M
-- The Aggies must replace their leading tackler, Michael Hodges, and don't have a clear replacement heading into fall camp. The good news: They've got two others with lots of experience in the linebacking corps that look like budding stars. Garrick Williams should be one of the defense's leaders and Sean Porter returns after making 74 tackles last year to rank third on the team.
6. Missouri
-- The Tigers have lots of experience at middle linebacker, where a pair of seniors (albeit frequently injured seniors) Will Ebner and Luke Lambert will be on the field a lot. One of the Big 12's most exciting players, junior Zaviar Gooden, will hold down the weakside and perhaps become a household name by season's end. Sophomores Andrew Wilson and Donovan Bonner, who missed all of last season with a knee injury, will likely compete for strongside duties in fall camp. Andrew Gachkar, the team's leading tackler, is gone, but here's guessing Gooden emerges as the defense's top playmaker.
7. Kansas
-- The Jayhawks linebackers were solid last year, and could be pretty good again, despite losing Drew Dudley and Justin Springer, two of the team's top four tacklers. Steven Johnson, the team's leading tackler in 2010, is back and he'll be joined by possible star Huldon Tharp, who missed all of last season with a leg injury. Fellow sophomore Darius Willis earned a starting role after spring.
8. Kansas State
-- K-State's front seven struggled last year, but will get a big boost from Arthur Brown. One man won't be enough to totally fix the Wildcats rush defense problems, though. K-State gave up 26 more yards on the ground per game than any other team in the Big 12 (more than 231 per game) but Brown may be playing in a 4-3 next fall rather than the 4-2-5 the Wildcats have employed since Snyder's return. Alex Hrebec, Emmanuel Lamur, Tre Walker and Blake Slaughter will likely fill the rotation along with Brown.
9. Baylor
-- Baylor's defensive depth chart, like Texas', is a bit amorphous after bringing in a new coordinator, but Elliot Coffey figures to be the Bears biggest playmaker at linebacker. Chris McAllister should be solid and Ahmad Dixon is promising at nickelback, too. Brody Trahan is a great story, but him
going from third-string quarterback to starting linebacker
isn't a ringing endorsement for Baylor's depth at the position.
10. Texas Tech
-- Tech will be moving to a 4-2-5 this year under new coordinator Chad Glasgow, and could rise up this list, but the Red Raiders lose a lot of talent from last season's team, which ran the 3-4. Bront Bird and Brian Duncan are both gone, and youth will be a big factor with this group. Cqulin Hubert's outstanding potential is matched by his more outstanding first name, and freshman
Blake Dees
showed promise after arriving early this spring. They'll likely be the rotation at middle linebacker spot alongside Daniel Cobb and Zach Winbush. Terrance Bullitt could be a playmaker at his new safety spot, listed as a strong safety but with plans to spend lots of time near the line of scrimmage, a la nickelback.
June, 22, 2011
6/22/11
9:00
AM ET
The Big 12 might be weak at the top of the running back heap, but it's definitely not at receiver. The conference has at least three of the top five receivers in the country, and the top two. They highlight a very strong group of receivers across the league, and I continue our position rankings with receivers today.
Remember that depth plays a big part of these rankings. We'll be ranking the top 10 individuals at each position later on before the season begins.
Other position rankings:
1. Oklahoma
[+] Enlarge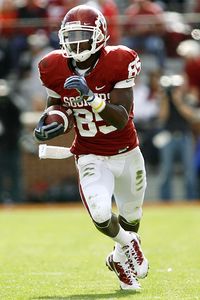 J.P. Wilson/Icon SMIRyan Broyles finished the 2010 season with 131 catches for 1,622 yards and 14 touchdowns.
The Sooners have the nation's No. 2 receiver,
Ryan Broyles
, but found a handful of others to surround him in 2010 and should have a couple more in 2011. Sophomore
Kenny Stills
broke Broyles' freshman receiving record and looks like a budding star.
Dejuan Miller
came on strong before a season-ending knee injury, but he's back. The Sooners lose
Cameron Kenney
, but
Trey Franks
had a strong freshman campaign, and freshmen
Justin McCay
(redshirt) and Trey Metoyer could provide even more playmakers.
2. Oklahoma State
The Cowboys boast the returning Biletnikoff Award winner and 2011 favorite,
Justin Blackmon
, with a great group around him, too. Slot machine
Josh Cooper
returns for his senior year, and fellow senior
Hubert Anyiam
(the team's leading receiver in 2009) is hoping to return to form after being slowed by an ankle injury in 2010.
Isaiah Anderson
is a shifty speedster, while
Michael Harrison
and
Tracy Moore
offer a more aerial approach to receiving.
3. Texas A&M
The Aggies have the Big 12's No. 3 receiver,
Jeff Fuller
, who is arguably one of the top-five in the college game. But they also have the Big 12's most experienced receiving unit, with guys who won't be surprised by anything they see in Big 12 play. Juniors
Ryan Swope
and
Uzoma Nwachukwu
are the team's second and third options, but fellow juniors
Kenric McNeal
and
Brandal Jackson
could be bigger pieces of the offense in 2011. Tight end
Nehemiah Hicks
should see his profile rise in his coming sophomore year.
4. Baylor
Top target
Kendall Wright
will likely end his career as the Bears' leading receiver for all four of his seasons on the field, and 6-foot-4, 220-pound junior
Josh Gordon
looks like the new Jeff Fuller.
Terrance Williams
,
Lanear Sampson
and Tevin Reese round out the Bears' top five, who all had at least 40 catches last season, and all return.
5. Missouri
Missouri still lacks a proven big-play threat, but has two pass-catchers who have some of the best hands in the game. Receiver
T.J. Moe
and tight end
Michael Egnew
won't drop many passes, and combined to catch 182 for 1,807 yards and 11 touchdowns.
Wes Kemp
and
Jerrell Jackson
bring a lot of experience and both had at least 39 catches last season. If
Marcus Lucas
or
Rolandis Woodland
can become a consistent downfield threat, Missouri will rise up these rankings by season's end.
6. Texas Tech
Tech's top two receivers,
Lyle Leong
and
Detron Lewis
, must be replaced, but the Red Raiders have a few solid candidates to do it. Junior
Alex Torres
will likely lead the group, but fellow junior
Austin Zouzalik
and seniors
Jacoby Franks
and
Tramain Swindall
will be counted on for more production. Dark horse/juco newcomer Marcus Kennard could blossom into a household name across the Big 12 by season's end.
7. Texas
Sophomore
Mike Davis
and redshirt freshman
Darius White
are loaded with potential, but two of the team's top three receivers (
James Kirkendoll
,
John Chiles
) are gone, and no Texas receiver caught more than two touchdowns last season.
Malcolm Williams
and
Marquise Goodwin
are as different as two receivers could be, but both need to break out to help whoever becomes the Longhorns quarterback next fall.
8. Kansas State
Brodrick Smith
will be back this season after breaking his leg in a loss to Nebraska. But two of the team's top three receivers are gone, leaving converted quarterback
Chris Harper
as the leading returner, though Smith might have held that title if he'd stayed healthy. Sophomore speedster
Tramaine Thompson
can make plays if he gets the ball with some space.
9. Iowa State
The Cyclones will be breaking in a new quarterback this season and they will need a playmaker to step up. Tight end
Collin Franklin
led team in receiving last season but he is now gone.
Darius Reynolds
looks like a possible candidate to fill the role, although incoming slot receiver Aaron Horne might rack up a few catches in space.
Darius Darks
and
Josh Lenz
should earn some more targets too.
10. Kansas
Converted defensive back Daymond Patterson is the team's top receiver, but the team's No. 3 receiver junior
Bradley McDougald
, moved to safety in the middle of the season. Tight end
Tim Biere
is one of the Big 12's best and led the team with four touchdowns last season.
Chris Omigie
and
D.J. Beshears
have some potential, and converted quarterback
Christian Matthews
keeps showing up in spring games. But all three, along with the rest of the group, would benefit from some consistency at the quarterback spot.
June, 21, 2011
6/21/11
10:00
AM ET
Here's the next in our look at the Big 12 rankings by position: Running backs.
Last year's class was one of the best in recent history, but this year's class? Unassuming to begin the season. There are a few possible stars looming, but very, very little talent returning.
Cyrus Gray
ranked seventh in rushing yards last year (thanks to an insane finish), but he's the only player returning to the Big 12 from the conferences' top 10 rushers in 2010.
That's nuts.
The Aggies are the only team with a truly elite backfield tandem, though I could see Oklahoma and/or Oklahoma State joining that group by the end of the year.
The rest of the league? Every team has at least a couple of players to get excited about, and teams 5-10 are all pretty close. No one is really understaffed at the position, but obviously, they're fit to be ranked.
Here's where I have them:
1. Texas A&M
[+] Enlarge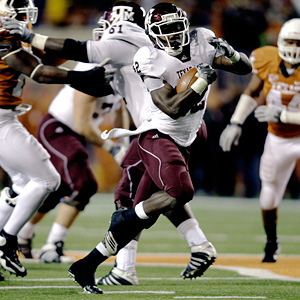 AP Photo/Eric GayCyrus Gray had at least 100 yards rushing in each of A&M's final seven games last season.
I wouldn't have been surprised if Cyrus Gray and
Christine Michael
were the Big 12's top leading returning rushers this year, but a midseason injury from Michael prevented it from happening. Regardless, his return gives Texas A&M by far the best tandem in the Big 12, and arguably the best in the country. When
Mister Jones
isn't cranking the Counting Crows on his stereo, he's a pretty good reserve, alongside
Ben Malena
, who
impressed me on my visit to College Station this spring
.
2. Oklahoma
Oklahoma will try and replace do-everything forever (or whatever) back DeMarco Murray with a platoon likely led by shifty Florida native
Roy Finch
. True freshman
Brandon Williams
made a big impact in spring camp, and
Brennan Clay
will likely earn a few touches, too. Health concerns raise questions about a pair of other OU backs' knees (
Jermie Calhoun
,
Jonathan Miller
), but walk-on
Dominique Whaley
led the team in rushing in the spring game
.
3. Oklahoma State
The Cowboys have a great pair in sophomores
Joseph Randle
and
Jeremy Smith
, and a nice set of backs to spell them if needed, too.
Kye Staley
, once a top-flight recruit, returned this spring after quitting the team following a severe knee injury, and might earn a few touches this spring. Also, Abilene, Texas, native and 2011 ESPNU 150 signee Herschel Sims arrives this fall and may jockey for time and the opportunity to shed a redshirt.
4. Missouri
What the Tigers lack in a truly elite back, they have in depth. Missouri has four backs who are all capable of being very good in the Big 12, even though neither of the four topped 600 yards a year ago. A big reason for that was none of the four got more than 100 carries, but with the carries they did get, every back averaged more than five yards per carry. The platoon approach works for Missouri, but senior
De'Vion Moore
and junior
Kendial Lawrence
will lead the way with sophomores
Henry Josey
and
Marcus Murphy
not far behind.
5. Kansas
[+] Enlarge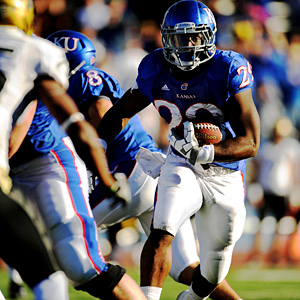 John Rieger/US PRESSWIREJames Sims is the No. 2 returning rusher in the Big 12 this season.
Running back will be a strength for Kansas next year, who might have found a second back this spring that perfectly complements power runner
James Sims
, a rising sophomore who racked up 742 yards last year after not playing in the opener. Believe it or not, he's the Big 12's No. 2 returning rusher, behind A&M's Gray. Darrian Miller burst onto the scene this spring, and figures to be a big part of the team in the fall. I see him being the Jayhawks' biggest home-run threat. DeShaun Sands and
Brandon Bourbon
offer even more depth at the position.
6. Texas Tech
The Red Raiders lose backfield constant Baron Batch, but have a good group lined up for 2011. Tommy Tuberville's effort to establish a more efficient running game is a realistic possibility with
Eric Stephens
as the likely feature back, and
Aaron Crawford
,
Ben McRoy
and
Harrison Jeffers
in the mix. True freshman Ronnie Daniels' strong spring likely earned him some time, too, rather than a redshirt.
7. Baylor
Baylor loses a 1,200-yard rusher in Jay Finley, and figures to use a thunder-and-lightning approach with 6-foot, 240-pound bowling ball
Terrance Ganaway
and shifty, 5-foot-9, 205-pound
Jarred Salubi
.
Glasco Martin
, a more balanced back, may earn a few carries, too. Regardless of who has the ball, life is good for Baylor backs, who get a bit more room from defenses that are forced to respect
Robert Griffin III
's legs.
8. Kansas State
The Wildcats' top two rushers, including two-time league rushing champ Daniel Thomas, are gone. Hopes are high for Wichita native and former blue-chip back
Bryce Brown
, but he's still entrenched in a position battle with
John Hubert
and
Robert Rose
heading into fall camp.
9. Texas
Texas brings back a pair of seniors in Fozzy Whittaker and
Cody Johnson
, but if the Longhorns are going to climb up this ladder by year's end (and they might) it's likely to be on the back of hyped incoming freshman
Malcolm Brown
, who is on campus and set to begin fall camp.
D.J. Monroe
might be the fastest player in the Big 12, but he'll have to master the nuances of pass blocking to get more than a few touches every game.
Jeremy Hills
can offer some depth at the position, too, after Tre Newton was forced to quit the game because of concussions.
10. Iowa State
Shontrelle Johnson
showed some flash last year, but he still brings just 35 career carries into his 2011 effort to replace
Alexander Robinson
.
Jeff Woody
and
James White
offer a bit more depth, too. Florida native DeVondrick Nealy might get into the mix if he can put together a strong fall camp.
June, 20, 2011
6/20/11
11:00
AM ET
We'll kick off our look today at the position rankings for each team in the Big 12 before looping back around to rank the top 10 at every position in the Big 12.
We'll start at the most obvious position: Quarterback, a position that I'd argue is more important in the Big 12 than in any other conference.
Depth will be a huge factor in these rankings, though at quarterback, it's the toughest to gauge, considering how little we see of backup quarterbacks.
Here's how each Big 12 team ranks at the quarterback position:
[+] Enlarge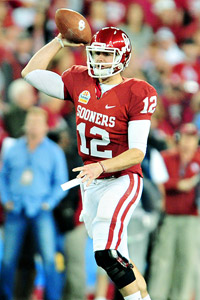 Mark J. Rebilas/US PresswireLandry Jones leads the Big 12's deepest and best group of quarterbacks.
1. Oklahoma
Oklahoma learned the hard way in 2009 about the importance of the backup quarterback, but even in his limited experience,
Drew Allen
has
impressed Bob Stoops after narrowly losing out
on the backup job behind Sam Bradford in 2009.
Landry Jones
is a great one, and with his opportunities, has become a Heisman Trophy favorite. Could Allen have done the same if he had beaten out Jones in 2009?
Blake Bell
, the nation's No. 3 quarterback in the 2010 class, will likely be Oklahoma's No. 3 in 2011.
2. Oklahoma State
Brandon Weeden
's profile spiked when he led the Cowboys to a comeback win over Colorado on a Thursday night game in 2009. He took over as the starter shortly after, but going into that game Weeden was a third-stringer. Alex Cate transferred after it became evident that Weeden would be the starter in 2010, and behind Weeden is
Clint Chelf
and two solid recruits:
Johnny Deaton
and
J.W. Walsh
, who was the nation's No. 10 QB (just outside the ESPNU 150) in 2011 and enrolled early.
3. Texas A&M
Ryan Tannehill
is entrenched at the starting spot, with a lot of youth behind him.
Matt Joeckel
and
Jameill Showers
will try to hold off incoming freshman
Johnny Manziel
for the No. 2 spot this fall. Manziel was impressive during the spring, and will contend for the starting job in 2012, but he'll likely redshirt unless he wins the backup job.
4. Texas Tech
Seth Doege
looks ready to grab the reins for two seasons, barring injury.
Jacob Karam
is probably ready to start in the Big 12 right now, he's just not as good as Doege. Behind them are two promising prospects with upside and development to do:
Scotty Young
and
Michael Brewer
. The Red Raiders are the last of the Big 12 teams who have truly solid depth at quarterback.
5. Baylor
Robert Griffin III
will probably hold every school record for quarterbacks by the time he leaves Waco, but the Bears need to find a true replacement behind him.
Nick Florence
filled in well in 2009 when Griffin missed the final nine games with a knee injury, but he's a junior like Griffin and their eligibility will expire simultaneously. Redshirt freshman
Bryce Petty
and 2012 commit
Jared Johnson
could battle for the spot in 2013.
6. Missouri
The Tigers depth took a hit after Tyler Gabbert's transfer following spring practice, but expectations are high for sophomore
James Franklin
, who got a bit of experience in 2010 behind Blaine Gabbert. Senior
Jimmy Costello
quit the team after last season to focus on an impending fall enlistment in the Army, but rejoined after the Gabbert brothers' departures from Columbia. He's likely to be the backup, with
Ashton Glaser
and walk-on Ryan Howerton filling out the rest of the quarterback spots.
Corbin Berkstresser
, a 6-foot-3, 218-pound quarterback from Kansas City that ESPN ranked No. 43 at his position, will arrive in the fall, too.
7. Texas
How long until we see a quarterback make the kind of plays
Garrett Gilbert
made against Alabama in the national championship? Those kinds of long scores were rare last year, but the Longhorns
will have a competition this fall that sounds like it's pretty open
heading into camp. If Gilbert wins, he'll likely have a much shorter leash in 2011 than he did in 2010, before
Case McCoy
or
Connor Wood
gets a crack, and dark horse true freshman
David Ash
could make things interesting, too.
8. Kansas State
Collin Klein
made a nice move toward winning the job with a strong spring game performance. But coach Bill Snyder says he still didn't see a ton of separation between Klein and his backups,
Sammuel Lamur
and Boston College transfer Justin Tuggle, who spent last year replacing Cam Newton at Blinn College in Texas.
9. Iowa State
James Capello
transferred after the spring, but Iowa State's race has likely boiled down to two men:
Jerome Tiller
and
Steele Jantz
. Jantz, a juco transfer, is the wild card and Tiller will need to show that his struggles in spot duty last season were temporary. He didn't show the progress you'd expect from a maturing player when he played for an injured
Austen Arnaud
in a few games early and late in 2010.
Jared Barnett
is still battling in Ames, but him winning the job would be a huge upset.
10. Kansas
The Jayhawks could use a couple more years of Todd Reesing. The Jayhawks saw a huge drop off at the quarterback position in 2010, as
Jordan Webb
,
Quinn Mecham
and
Kale Pick
all got time under center. Kansas will likely run its offense through a strong group of running backs, but unless newcomer
Brock Berglund
shows potential and proves he's the best of the group, expect Kansas to remain near the bottom of the Big 12 by the end of 2011.