NCF Nation:

2011 Big Ten summer position rankings
July, 19, 2011
7/19/11
9:42
AM ET
The 2011 Big Ten preseason position rankings are complete, and we hope you enjoyed them. We fully expect the rankings to look very different by November, but this is a fun way to prepare for the season.
In case you missed them, check out all
the team
and
individual rankings
.
Let's look closer at the team rankings.
What can we take away from this?
While I'd certainly caution against reading too much into any preseason rankings, this provides a picture of the Big Ten landscape entering 2011. The top two teams on average are Michigan State and Wisconsin, which would have had a higher quarterback ranking and overall ranking had Wilson's transfer been included. Nebraska and Ohio State both are in that top mix, although both teams have some potential red flags (Nebraska's offensive line and receivers, Ohio State's receivers and quarterbacks).
Minnesota and Indiana look like the league's two weakest teams, or at least the teams that have the biggest question marks. Although Minnesota's average rank is weaker, Indiana might have more units needing to prove themselves, particularly on the defensive side.
The Big Ten's wild cards include Iowa, Michigan, Northwestern, Penn State, Illinois and Purdue. Iowa's average rank finished about where I expected. Michigan is buoyed by strong quarterbacks and receivers, and the promise of a better defensive line, but the Wolverines remain a pretty big mystery before the games begin.
Purdue's average rank -- ahead of Northwestern and Illinois -- might surprise some folks, while both Northwestern and Illinois are hurt by question marks on defense. Penn State boasts some of the league's better skill groups -- secondary, linebacker, wide receiver -- but could have troubles along the line.
Which units could finish a lot higher after the season? Here are a few: Minnesota's running backs, Purdue's receivers, Nebraska's receivers, Michigan State's offensive line, Penn State's offensive line, Northwestern's defensive line, Illinois' secondary and Michigan's secondary.
The individual rankings don't necessarily translate into elite position groups or elite overall units, but a team-by-team breakdown is in order.
Here's how the teams fared in placing players in the top 10/top 5 lists.
Illinois:
12 (7 offense, 4 defense, 1 special teams)
Indiana:
5 (2 offense, 2 defense, 1 special teams)
Iowa:
11 (7 offense, 4 defense, 0 special teams)
Michigan:
8 (5 offense, 2 defense, 1 special teams)
Michigan State:
12 (6 offense, 4 defense, 2 special teams)
Minnesota:
5 (3 offense, 1 defense, 1 special teams)
Nebraska:
10 (4 offense, 6 defense, 0 special teams)
Northwestern:
8 (4 offense, 3 defense, 1 special teams)
Ohio State:
14 (5 offense, 6 defense, 3 special teams)
Penn State:
11 (4 offense, 6 defense, 1 special teams
Purdue:
10 (3 offense, 5 defense, 2 special teams)
Wisconsin:
15 (7 offense, 6 defense, 2 special teams)
July, 18, 2011
7/18/11
9:30
AM ET
Meant to post this Friday, but we finally wrap up the Big Ten preseason position rankings with the individual specialists. I'll break down the top five kickers, punters and return men in the league (sorry, long snappers).
[+] Enlarge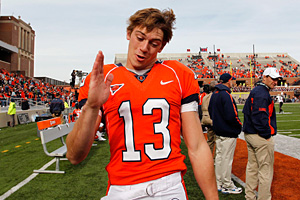 Mike DiNovo/US PresswireIllinois kicker Derek Dimke led the Big Ten with 24 field goals last season.
Although the Big Ten loses its most famous specialist from 2010 -- Michigan State punter Aaron Bates -- and Nebraska says goodbye to All-American Alex Henery, there are a few standout players back in the fold. Quite a few strong punters depart, although keep an eye on the sophomores coming back.
Let's take a look.
KICKER
1. Derek Dimke, Illinois, senior:
Dimke had a terrific junior season, converting a league-high 24 field goals on 29 attempts. He also was perfect on extra-point tries, going 43-for-43, and led the Big Ten with 22 touchbacks. Dimke earned second-team All-Big Ten honors from the coaches and will be on the radar for the Lou Groza Award this fall.
2. Dan Conroy, Michigan State, junior:
Thanks to Conroy, the loss of standout kicker Brett Swenson didn't sting too much for the Spartans. Conroy led the Big Ten in field-goal percentage, converting 14 of 15 opportunities, and missed only one of his 46 extra-point tries. Conroy earned consensus first-team All-Big Ten honors for his efforts.
3. Philip Welch, Wisconsin, senior:
Doesn't it seem like Welch has been at Wisconsin for a decade? The three-year starter enters his final season in Madison after earning honorable mention All-Big Ten honors in 2010. Welch was perfect on 67 extra-point attempts last fall and went 17-for-22 on field-goal attempts.
4. Carson Wiggs, Purdue, senior:
There's no doubt as to who has the strongest leg in the Big Ten, if not the country. Wiggs can connect from just about anywhere, as he showed in April during Purdue's spring game with a 67-yard field goal. His leg strength gets the attention, but Wiggs is a little underrated as an overall kicker. He connected on 15 of 19 attempts in 2010, going 4-for-4 between 40 and 49 yards, and had 11 touchbacks as Purdue led the Big Ten in kickoff coverage.
5. Mitch Ewald, Indiana, sophomore:
Ewald had an excellent freshman season for the Hoosiers, capitalizing on limited opportunities. He finished fourth in the league in field-goal percentage, connecting on 16 of 19 attempts, and he was perfect on 33 extra-point tries. Ewald had five games with multiple field goals and will once again be a big weapon for IU this fall.
PUNTER
1. Brad Nortman, Wisconsin, senior:
Like Welch, Nortman has been a fixture in Madison the past four years and enters 2011 as the league's most experienced punter by far. Nortman averaged 42.7 yards per punt in 2010, blasting eight punts of 50 yards or more and placing 14 punts inside the 20-yard line. He has averaged 42.1 yards per punt during his career.
2. Anthony Fera, Penn State, sophomore:
Fera had an excellent freshman season for Penn State, which improved in punt coverage and other special teams areas. He averaged 41.4 yards per punt, placed 13 punts inside the opponents' 20 and had nine punts of 50 yards or longer. Fera also forced 19 fair catches.
3. Cody Webster, Purdue, sophomore:
Webster helped Purdue address a need at punter and turned in an excellent freshman season. He finished fifth in the Big Ten in punting average (43.3 ypp), booming 17 punts of 50 yards or longer and placing 12 inside the opponents' 20.
4. Will Hagerup, Michigan, sophomore:
Hagerup was the lone bright spot for Michigan's special teams in 2010. He started 10 games and ranked fourth in the Big Ten in punting average (43.6 ypp), a mark that ranked second in team history (minimum of 30 attempts). He placed 11 punts inside the 20.
5. Ben Buchanan, Ohio State, junior:
Ohio State needs to be sharper in the kicking game this fall, and Buchanan will play a huge role. He averaged 41 yards on 44 attempts in 2010, placing 15 punts inside the opponents' 20 and forcing 17 fair catches. Expect Buchanan to take another step in his development this season.
RETURNER
1. Troy Stoudermire, Minnesota, senior:
Already a record-setting return man, Stoudermire needs only 16 kick returns and 189 kick return yards to set NCAA all-time records in both categories. Stoudermire has 2,929 kick return yards, recording 30 runbacks or more in each of the past three seasons. He averaged 27.2 yards on returns in 2010.
2. Jordan Hall, Ohio State, junior:
Hall is likely the Big Ten's best all-around returner. He finished second in the league in kick return average (27.9 ypr) and third in punt return average (9.9 ypr). Hall really emerged as Ohio State's go-to return man last season. It will be interesting to see if his return responsibilities change at all depending on who emerges as the Buckeyes' top running back.
3. Keshawn Martin, Michigan State, senior:
Expect teams to punt the ball away from Martin this fall. He led the Big Ten and ranked 11th nationally in punt return average (14.2 ypr). His touchdown return against Wisconsin set the stage for Michigan State's come-from-behind win. Martin's kick return average of 17.8 yards should increase this fall.
4. Venric Mark, Northwestern, sophomore:
For the first time in recent memory, Northwestern has a true difference maker in the return game. Mark came on strong late in his freshman year, finishing fourth in the league in kick return average (26.2 ypr) with a touchdown runback against Wisconsin. He also showed promise as a punt returner, averaging 12.9 yards on nine attempts.
5. Jaamal Berry, Ohio State, sophomore:
Berry forms a dangerous Buckeye return tandem with Hall. He finished fifth in the league in kick return average (25.4 ypr) but had three more attempts than Hall. Berry clearly has big-play skills as a running back, so don't be surprised if he breaks off some big returns this fall.
July, 13, 2011
7/13/11
1:30
PM ET
We wrap up our preseason look at Big Ten secondaries with a look at the safeties.
Safety isn't quite as stacked as cornerback, and the Big Ten loses some solid players like Iowa's Tyler Sash and Ohio State's Jermale Hines. There are fewer elite prospects at safety, but several teams have potential playmakers.
Here are the top 10 entering 2011:
[+] Enlarge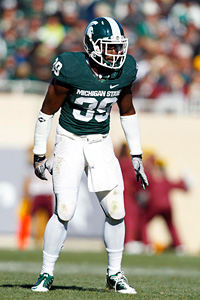 Rick Osentoski/US PresswireSafety Trenton Robinson is entering his third season as a starter for Michigan State.
1. Trenton Robinson, Michigan State, senior:
Robinson played a big role in Michigan State's improvement as a secondary in 2010. He led the Spartans with four interceptions and tied for the team lead in passes defended with eight. Robinson, who enters his third season as a starter, had 76 tackles last season and earned second-team All-Big Ten honors from the coaches.
2. Aaron Henry, Wisconsin, senior:
After emerging as a playmaker in 2010, Henry should be primed for even bigger things in his second season at safety. The former cornerback made the switch and recorded two interceptions, seven pass breakups, a forced fumble and three fumble recoveries last season. Like Robinson, he earned second-team All-Big Ten honors from the coaches.
3. Tyler Moeller, Ohio State, senior:
Moeller will provide a huge boost for a new-look Ohio State defense as he returns from a torn pectoral muscle that shortened his 2010 season. He can play either safety or linebacker and showed impressive playmaking skills early last fall, recording two forced fumbles, an interception and 4.5 tackles for loss in just five games. If Moeller stays healthy, he'll be in the mix for All-Big Ten honors.
4. Brian Peters, Northwestern, senior:
Peters boasts a lot of experience, appearing in every game the past three seasons. He also shows a knack for the football, recording three interceptions in each of the past two seasons. A second-team All-Big Ten selection in 2010 after recording 107 tackles, Peters must get a bit more consistent in coverage but looks ready to lead the defense.
5. Micah Hyde, Iowa, junior:
After starting all 13 games last season at cornerback, Hyde likely will move to safety as the Hawkeyes lose two multiyear starters in Sash and Brett Greenwood. Hyde showed last fall that he's a tremendous playmaker, recording four interceptions, including the pick-six that won the Insight Bowl against Missouri. He led the team with 11 passes defended, finished second with 82 tackles and had a forced fumble.
7. Nick Sukay, Penn State, senior:
Like Moeller, Sukay was doing big things in 2010 before a torn pectoral muscle ended his season. Sukay recorded three interceptions, a forced fumble and 29 tackles in just six games. He's a natural playmaker who finished third in the Big Ten in passes defended with 13 in 2009. His return makes a very good Lions secondary even better.
8. Trulon Henry, Illinois, senior:
An honorable mention All-Big Ten selection in 2010, Henry will help anchor an Illini secondary that could do some big things this fall. Henry led Illinois with three interceptions and two forced fumbles, a fumble recovery, three pass breakups and 64 tackles. He should be helped by the return of Supo Sanni from injury.
8. Logan Link, Purdue, senior:
Link quietly turned in a solid 2010 season, finishing eighth in the Big Ten in tackles with 91. He's a solid tackler who added an interception, a forced fumble and a fumble recovery. The former walk-on has emerged as a really nice contributor for the Boilers' defense.
9. Drew Astorino, Penn State, senior:
Astorino has been the iron man in Penn State's secondary, starting each of the past two seasons as well as three games as a redshirt freshman in 2008. He has played through injuries, including a shoulder problem that impacted him last fall, when he recorded 70 tackles, an interception and five pass breakups. If Astorino stays healthy, he could blossom in his final season.
10. Courtney Osborne, Nebraska, junior:
This is a bit of a projection pick, but Osborne should be able to help fill Nebraska's gaps at safety this fall. He appeared in every game last season, starting four, and recorded 41 tackles, an interception, a sack and five tackles for loss. Osborne did some nice things down the stretch and seems primed for bigger things in a bigger role.
Also considered:
Minnesota's Kim Royston, Michigan's Jordan Kovacs, Indiana's Greg Heban
July, 11, 2011
7/11/11
1:20
PM ET
The Big Ten preseason position rankings have reached the home stretch as we take a look at the secondaries. Although individual positions like center and defensive tackle could boast more star power, the Big Ten's overall strength in the secondary jumps out.
There's a lot to like about the Big Ten cornerbacks as nearly every team boasts experience and/or exciting young players. The Big Ten loses All-Conference safeties Tyler Sash and Jermale Hines but brings back quite a few solid contributors.
There's definite separation after the top four groups, while Nos. 6-9 are extremely close.
Here's the rundown (coming soon: cornerbacks and safeties rankings) ...
[+] Enlarge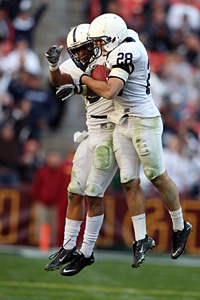 Maxwell Kruger/US PresswirePenn State has an experienced secondary that includes safety Drew Astorino, right, and cornerback D'Anton Lynn, shown celebrating an Astorino interception last season.
1. Penn State:
The Lions' linebackers seem to be generating more preseason buzz, but I really like what Penn State brings back in the defensive backfield. There's plenty of experience with safeties Drew Astorino and Nick Sukay, and cornerbacks D'Anton Lynn and Stephon Morris. Penn State needs Sukay to regain the form he showed in the first half of 2010 before a torn pectoral muscle ended his season. Lynn is a bona fide All-Big Ten candidate. If Malcolm Willis, Chaz Powell and others solidify depth here, Penn State should have an elite secondary.
2. Ohio State:
This is a group the Buckeyes rarely have to worry about, even after losing three starters. The good news is several key players return from injuries, including safeties Tyler Moeller, C.J. Barnett and Christian Bryant. Moeller should provide a major boost at the "star" position. The cornerback spots should be fun to watch as Travis Howard and Dominic Clarke fend off some challengers for the starting jobs.
3. Nebraska:
Like Ohio State, Nebraska can rely on having an elite pass defense under the Pelini brothers, even after losing several standout players. All-American corner Prince Amukamara will be missed, but Alfonzo Dennard is ready for a starring role. Nebraska needs Ciante Evans to follow what Dennard did in 2010. The Huskers likely will use more linebackers this season, but they'll need to fill holes at safety as Austin Cassidy, Courtney Osborne and others are in the mix.
4. Wisconsin:
The Badgers' secondary took a major step forward in Chris Ash's first season on the staff. The key is continued progress, continued playmaking and becoming a truly elite group like Ohio State and Nebraska. Wisconsin seems to have the pieces in place with veteran Aaron Henry at safety, as well as All-Big Ten selection Antonio Fenelus and Devin Smith at cornerback. The Badgers must fill the other safety spot, and speedster Shelton Johnson could fill in there.
5. Michigan State:
The secondary triggered Michigan State's 2010 turnaround, improving from 112th nationally in pass defense in 2009 to 60th last season. After recording 17 interceptions last season, the Spartans
must stick to their MAP motto
-- Make A Play -- as they aim for a repeat championship this fall. Safety Trenton Robinson is among the league's most experienced defensive backs, and hopes are high for cornerback Johnny Adams, who had an excellent spring. The unit could hinge on young players like Darqueze Dennard, Isaiah Lewis and Tony Lippett.
6. Iowa:
The bad news is Iowa loses veteran safeties Sash and Brett Greenwood from a defense that slipped to 84th nationally against the pass in 2010. The good news is All-Big Ten cornerback Shaun Prater returns along with playmaking junior Micah Hyde. Prater could be a shutdown corner this fall, and Hyde, whose pick-six won the Insight Bowl, could play either corner or safety. Iowa must build depth around them with Jordan Bernstine, Greg Castillo, Tanner Miller and others.
7. Purdue:
One of the Boilers' big question marks entering 2010 turned out to be a pleasant surprise, and the secondary could be a big strength this fall. Here's a group that could make a move up these rankings by November. Cornerback Ricardo Allen is a budding superstar who recorded two pick-sixes last season. Safety Logan Link is always around the football, and Josh Johnson could take a significant step as he complements Allen.
8. Illinois:
I'm tempted to rank Illinois a few notches higher, and if the Illini address several questions in the secondary, I'll gladly do so after the season. If safety Supo Sanni returns to form and both he and cornerback Terry Hawthorne stay healthy, this could be an excellent group. Tavon Wilson returns to his preferred position of cornerback and could have a big season, while Trulon Henry brings experience to the safety spot.
9. Northwestern:
Given the question marks in the front seven, Northwestern needs its veteran secondary to step up. Players like cornerback Jordan Mabin and safety Brian Peters should answer the bell this fall. Both multiyear starters can make plays on the football and change games. There's good competition between David Arnold and Ibraheim Campbell at the other safety spot, while Jeravin Matthews emerged this spring to win the starting corner job opposite Mabin.
10. Michigan:
I'll probably take some heat from Wolverines fans, who will point to the return of cornerbacks Troy Woolfolk and J.T. Floyd, the emergence of young players like Carvin Johnson and a defensive makeover under Brady Hoke and Greg Mattison. All of that could lead to better results, but Michigan still has fewer certainties in the secondary than do most teams on this list. This unit has been a disaster the past few years, and it'll take a lot of things to go right to get things back on track.
11. Minnesota:
Linebacker looks like a strength for the Gophers' defense, but there are questions both up front and in the secondary. The secondary will need more help from a line that generated no pass rush in 2010, but the defensive backs must help themselves, too. Cornerback Troy Stoudermire had a good spring and adds a big hitter to the group. Minnesota really needs big things from safety Kim Royston, who wants to lead the way after receiving a sixth year of eligibility. Building depth around Stoudermire and Royston will be vital in preseason camp.
12. Indiana:
Fixing this group is arguably the biggest challenge for new coach Kevin Wilson and co-defensive coordinators Mike Ekeler and Doug Mallory. Indiana simply hasn't had enough Big Ten-caliber defensive backs in recent years, and the results have been ugly. The Hoosiers surrendered a league-worst 27 touchdown passes in 2010 and finished 114th nationally in pass defense efficiency. Sophomore safety Greg Heban is a nice piece, but Indiana will need a boost from Lawrence Barnett, Lenyatta Kiles and others.
July, 5, 2011
7/05/11
1:38
PM ET
It's time to jump back into our preseason position group rankings. We've made our way through the offenses and the front line of the defenses. Now it's time to take a look at the linebackers.
As always, this is a ranking of the entire position group, so depth matters in addition to individual star players.
Away we go:
[+] Enlarge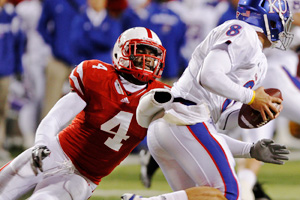 AP Photo/Nati HarnikNebraska's Lavonte David led the Big 12 last season with 152 tackles.
1. Nebraska:
Lavonte David set the school record with 152 tackles last year, best in the Big 12. He also added 15 tackles for loss and six sacks on his way to second-team All-America honors. David was a one-man wrecking crew last year but should get more help this year. Will Compton returns after an injury-shortened season, and Sean Fisher is back after a broken leg cost him all of 2010. With an excellent defensive front leading the way, the Cornhuskers' linebackers should make plenty of impact plays.
2. Penn State:
Is this the return of Linebacker U? The Nittany Lions technically only return one starter at the position but have plenty of talent. The unit got hit by injuries last year, including one that knocked Michael Mauti out of the lineup for several games. He's one of the best in the Big Ten when healthy, which he should be in 2011. Senior Nate Stupar led the team in tackles last year. Sophomores Gerald Hodges and Khairi Fortt are among the skilled youngsters battling for playing time. This could wind up as the deepest linebacking corps in the league.
3. Ohio State:
The Buckeyes lost two starters, including leading tackler Brian Rolle. But the Silver Bullets usually reload at linebacker. Senior Andrew Sweat should emerge as the unit's leader, and hopes are high for Etienne Sabino after he took a redshirt year in 2010. Sabino showed promise this spring and locked down a starting job. The battle is on for the third starting position. Incoming freshman Curtis Grant could make a sudden impact.
4. Wisconsin:
Much depends on the health of Chris Borland, who missed nearly all of 2010 and sat out the spring with a shoulder injury. The 2009 Big Ten Freshman of the Year will move to middle linebacker and should anchor the unit if he's sound. Mike Taylor finished second on the team in tackles for loss and interceptions last year, and Kevin Claxton is expected to take over at the strongside spot. The Badgers like what they have seen from redshirt freshman Marcus Trotter.
5. Iowa:
The Hawkeyes lost a lot of experience from the 2010 team, including leading tackler Jeremiha Hunter. While there's some concern about the leadership void, Iowa has good young building blocks here. James Morris was pressed into service as a true freshman and was terrific; another year of development should only make him better. Tyler Nielsen was missed down the stretch when he suffered a neck injury, and the senior provides a veteran presence. Players like Bruce Davis, Christian Kirksey and Anthony Hitchens need to take on bigger roles.
[+] Enlarge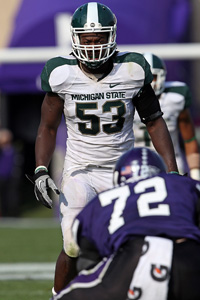 Jonathan Daniel/Getty ImagesReplacing two-time All-American Greg Jones will be a tall order for the Spartans.
6. Michigan State:
It would be difficult to overstate how much the Spartans will miss two-time All-American Greg Jones and Eric Gordon, who combined to start 95 games in their illustrious careers. But life goes on. The lone returning starter, Chris Norman, is a dependable veteran. The Spartans hope Max Bullough and Denicos Allen build on their potential, and TyQuan Hammock inspired confidence with his play this spring.
7. Minnesota:
An experienced linebacker group could be the strength of the Gophers defense this season. All three starters -- leading tackler Gary Tinsley, Keanon Cooper and Mike Rallis -- are back. Rallis needs to stay healthy after only appearing in 12 games the past two years because of injuries. Florida transfer Brendan Beal should provide a boost.
8. Purdue:
The Boilermakers are led by senior Joe Holland, who has 35 career starts under his belt. Junior Dwayne Beckford finished second on the team with 85 tackles a year ago. Will Lucas could break out after an excellent true freshman campaign. Senior Chris Carlino adds veteran depth.
9. Michigan:
The Wolverines struggled defensively last year, and the linebackers shouldered some of the blame. They lost Jonas Mouton to the NFL. Cam Gordon moves down from safety and adds some playmaking ability. Kenny Demens had 82 tackles last year at middle linebacker. Freshman Jake Ryan should contribute right away. This group still has a lot to prove.
10. Illinois:
The Illini have to rebuild after losing a pair of NFL draft picks at the position in Martez Wilson and Nate Bussey. Senior Ian Thomas now becomes the veteran leader. Sophomores Johnathan Brown and Houston Bates -- who had a strong spring -- will be counted on to step forward.
11. Indiana:
Fifth-year senior Jeff Thomas could be the centerpiece of the Hoosiers defense. Another fifth-year senior is Leon Beckum, though he lacks top-end speed. Overall, there isn't a lot of depth here.
12. Northwestern:
Linebacker play was a sore spot last season, and starters Nate Williams and Quentin Davie are gone. Bryce McNaul needs to recover all the way from shoulder surgery and has to stay healthy. Pat Fitzgerald thinks he has some talented young players at the position; they'll need to grow up fast.
June, 30, 2011
6/30/11
10:00
AM ET
The position rankings move from offense to defense. We'll start with the group that has produced more Big Ten stars than any other position group in recent years.
The Big Ten had five defensive linemen, all from different teams, selected in the first round of April's NFL draft: Wisconsin's J.J. Watt, Illinois' Corey Liuget, Purdue's Ryan Kerrigan, Iowa's Adrian Clayborn and Ohio State's Cameron Heyward. Iowa lost three starting D-linemen to the draft, and almost every Big Ten squad has to replace major contributors.
The personnel losses make the preseason D-line rankings both tricky and fun. The first three groups look very good, while there's not much difference in the middle of the league.
Let's take a look:
[+] Enlarge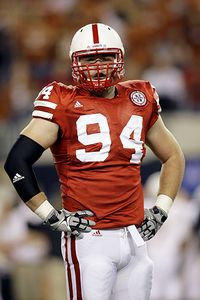 Brett Davis/US PresswireJared Crick and Nebraska join the Big Ten as the league's top defensive line.
1. Nebraska:
The Big Ten's newest member should fit in well with its strong play up front. Star defensive tackle Jared Crick stiff-armed the NFL draft and returned for his final season, giving Nebraska a terrific centerpiece up front. He'll be complemented by veterans Baker Steinkuhler and the mustachioed Cameron Meredith. If converted linebacker Eric Martin builds off of a strong spring, Nebraska should be fine at the end spot.
2. Ohio State:
Heyward's leadership and versatility will be missed, but Ohio State always finds ways to fill the gaps up front. Junior John Simon should be primed for a breakout season. Like Heyward, Simon can play both line spots but might see more time on the edge this fall. Nathan Williams adds experience at end, and promising sophomore Johnathan Hankins could wreak havoc on the interior this fall.
3. Michigan State:
Like several Big Ten teams, the Spartans build their line around a potential superstar tackle in Jerel Worthy. The junior already is projected as a potential first-round pick in the 2012 draft after recording four sacks last fall. Anthony Rashad White emerged this spring as a nice complement to Worthy. Michigan State needs a better pass rush from the end spots, and hopes are high for William Gholston and Tyler Hoover.
4. Wisconsin:
Watt is a huge loss because he contributed in so many ways, but Wisconsin could account for his production with greater depth. Ends Louis Nzegwu and David Gilbert both have played a lot of football, and junior Brendan Kelly came on strong toward the end of spring practice. Senior tackle Patrick Butrym has emerged as one of the leaders on defense. Wisconsin needs young tackles like Jordan Kohout and Beau Allen to help Butrym.
5. Michigan:
This is a projection pick, but I think Michigan's defensive front takes a significant step forward this season. Senior tackle Mike Martin is a bona fide NFL prospect and will lead the way, and players like Ryan Van Bergen and Craig Roh should be among the primary beneficiaries of the new defense under coordinator Greg Mattison. Michigan needs to build depth with Jibreel Black, Will Campbell and others, but there's great potential here.
6. Iowa:
The Hawkeyes face a tough task in replacing multiyear starters in Clayborn, Christian Ballard and Karl Klug. Senior tackle Mike Daniels is ready to lead the group after recording 11 tackles for loss and four sacks in 2010. The biggest key is getting Broderick Binns back to his 2009 form. Iowa also needs to build depth with Lebron Daniel and others, and avoid major injuries.
7. Purdue:
Defensive tackle is a major strength for Purdue as Kawann Short and Bruce Gaston Jr. form one of the league's top tandems. Short quietly turned in an extremely productive season last fall (12.5 TFLs, 6 sacks). The big unknown is how Purdue replaces Kerrigan. The Boilers need veteran Gerald Gooden to stay healthy and others to emerge alongside him.
8. Penn State:
Much like Purdue, Penn State looks strong at tackle and has question marks at end. Devon Still could contend for All-Big Ten honors after a terrific performance in the Outback Bowl against Florida. Still and Jordan Hill should lock up the middle, but Penn State needs Jack Crawford and Eric Latimore to get healthy at the end spots. If not, the Lions will turn to unproven players to spark their pass rush.
9. Illinois:
Liuget is a significant loss in the middle and Illinois also must replace veteran end Clay Nurse. The Illini will rely on Akeem Spence to step in for Liuget, and Spence showed some good things this spring. There's talent on the edges with Michael Buchanan, Whitney Mercilus and others, but Illinois needs more consistent production.
10. Northwestern:
This group took a step back last fall and got manhandled down the stretch as Northwestern hemorrhaged yards and points. Senior end Vince Browne is a playmaker who put up impressive numbers (15.5 TFLs, 7 sacks) in 2010. He'll need help from tackles Jack DiNardo and Niko Mafuli, and Tyler Scott could provide a lift at the other end spot. The Wildcats need their line to regain the edge it displayed in 2008.
11. Indiana:
It wouldn't surprise me to see Indiana's front four rise up these rankings during the season. There are some nice pieces back, namely senior end Darius Johnson, who can be a force when healthy. Junior Adam Replogle has been productive at defensive tackle. There's plenty of competition at the other two spots as Indiana tries to turn a page on defense.
12. Minnesota:
The Gophers' pass rush was practically invisible in 2010, as they finished last nationally in sacks (9). The good news is new defensive coordinator Tracy Claeys will turn his linemen loose more often, giving players like Brandon Kirksey chances to make plays. We've heard a lot about Minnesota's talent up front but haven't seen nearly enough production on Saturdays.
June, 24, 2011
6/24/11
1:30
PM ET
The preseason position rankings march on with the offensive lines. Team rankings are below, and we'll take a look at the individual rankings for tackles, centers and guards early next week.
Looking at the league landscape, offensive line could be a major strength throughout the Big Ten this season. Although standout players such as Outland Trophy winner Gabe Carimi and All-American Stefen Wisniewski depart, I see improved depth for several teams as well as quite a few multiyear starters.
Honestly, there
aren't any bad lines in the league
; just some with more question marks than others.
Let's get to the rundown.
1. Wisconsin:
Talk about an ability to reload. The Badgers lose All-Americans Carimi and John Moffitt, plus the versatile Bill Nagy, and they still shouldn't take any steps backward. Injuries have allowed Wisconsin to build depth the past few seasons, and four of the five spots look extremely solid. Tackle Ricky Wagner, center Peter Konz and guard Kevin Zeitler lead a group that will block for the league's top running back tandem. Wisconsin's track record up front is impossible to ignore, and this year's line should continue the trend.
[+] Enlarge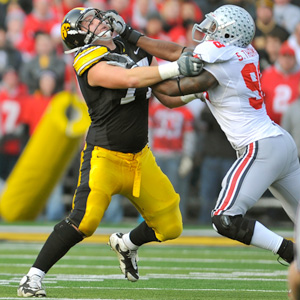 David Purdy/Getty ImagesWill arm length be an issue for former Iowa left tackle Riley Reiff in the NFL?
2. Iowa:
The line is undoubtedly Iowa's biggest strength and should be one of the nation's elite units in 2011. Iowa returns starting experience at all five positions and should have decent depth. Left tackle Riley Reiff, projected as a first-round pick in the 2012 NFL draft, will enter the fall as a leading candidate for the Outland Trophy. James Ferentz is one of the league's top centers, and Markus Zusevics is poised for a big year at right tackle.
3. Ohio State:
Depth is the only reason the Buckeyes' line isn't higher in the rankings. Ohio State boasts arguably the nation's top center in Mike Brewster, and first-team All-Big Ten tackle Mike Adams will be back after a five-game suspension to begin the season. The Buckeyes need big things from tackle Andrew Norwell during Adams' absence, and tackle J.B. Shugarts must play like a veteran. After struggling to put two sets of capable linemen on the field this spring, Ohio State has to find more depth in preseason camp.
4. Michigan:
This is another group that could climb up the rankings by season's end. Center David Molk is a terrific piece to build around, and if gifted players like Taylor Lewan and Patrick Omameh continue to develop, Michigan's line will be a major strength. The concerns are Molk's ability to stay healthy and an adjustment to a new offensive system under Al Borges. The line did an excellent job of protecting
Denard Robinson
in 2010, allowing a league-low 11 sacks.
5. Illinois:
The Illini flat-out punished opponents at the line of scrimmage on several occasions last season, and I really like the potential for the front five in 2011. The biggest reason? Left tackle Jeff Allen, one of the Big Ten's most experienced linemen. Allen and center Graham Pocic will contend for All-Big Ten honors, and if Corey Lewis gets healthy, this should be one of the league's top offensive lines.
6. Purdue:
Expectations are high for a line that coach Danny Hope thinks will be Purdue's strength in 2011. Left tackle Dennis Kelly is an All-Big Ten candidate with NFL potential who has started the past 24 games. Center Peters Drey and tackle Nick Mondek help anchor the group. The big question is whether mammoth guard Ken Plue, a multiyear starter, can get out of Hope's doghouse to help lead the way. Plue will be pushed by James Shepherd this summer. The combination of experience up front and the return of running back
Ralph Bolden
bode well for the Boilers.
7. Northwestern:
The Wildcats boast the nation's second most experienced line (137 combined career starts), but experience must start translating to production. This group still must prove it can spark a decent rushing attack after several years of decline. Left tackle Al Netter is an All-Big Ten candidate and center Ben Burkett enters his fourth season as the starter. If Northwestern gets more consistent play from right tackle Patrick Ward and others, it should be a solid group.
8. Penn State:
This is a big year for Penn State's O-line, which has heard the criticism and has vowed to erase it in 2011. The tackle spots look solid with Quinn Barham and Chima Okoli, but Penn State needs to shore up the interior after losing Wisniewski, a mainstay for the past four seasons. If veterans like Johnnie Troutman and DeOn'tae Pannell step up and turn in consistent performances, the line should hold up nicely.
9. Nebraska:
The Huskers ranked ninth nationally in rushing last season but have quite a few question marks up front. Center Mike Caputo is a building block and sophomore tackle Jeremiah Sirles is a returning starter, but Nebraska has little proven experience. The Huskers will benefit from a healthy Marcel Jones at right tackle, and Yoshi Hardwick adds depth. This could turn out to be a decent group, but the experience issue combined with a scheme change creates some uncertainty.
10. Michigan State:
Not to put too much pressure on the line, but arguably no position group will have more influence on Michigan State's season. The Spartans must replace both starting tackles and their starting center, never an easy task. All-Big Ten guard Joel Foreman returns to lead the group, but Michigan State needs immediate contributions from unproven players. The coaches feel they've upgraded the athleticism up front by moving players like Dan France and Blake Treadwell over from the defensive side.
11. Minnesota:
The Gophers boast a mix of veterans and youth, and it'll be interesting to see whether the group comes together this fall. Hopes are high for young tackles Eric Olson and Jimmy Gjere, but they'll need help from seniors like Ryan Wynn and Chris Bunders on the interior. Minnesota needs to regain its swagger as an elite rushing offense, and it starts up front this fall. This is a group that certainly has a chance to make strides.
12. Indiana:
I like some of Indiana's individual pieces, but as a group, the Hoosiers must show they can create space for the running backs. Indiana switched to the pistol offense in hopes of sparking the ground game but produced barely 100 rushing yards a game in 2010 (112th nationally). The line allowed only 12 sacks and must continue to protect its unproven quarterbacks this fall, but getting the run game going is paramount. Returning starters Will Matte, Justin Pagan and Andrew McDonald give Indiana hope.
June, 22, 2011
6/22/11
1:00
PM ET
We've been ranking each position group in the Big Ten, and so far we've looked at
running backs
and
quarterbacks
. Today, let's finish off the offensive skill positions with receivers and tight ends.
The Big Ten is blessed with plenty of standout wide receivers, but remember these rankings heavily account for overall depth at the position, not just isolated star power. We're also including the tight ends in this group while acknowledging that the best ones aren't necessarily big-time pass-catchers.
Here's how we rank them:
[+] Enlarge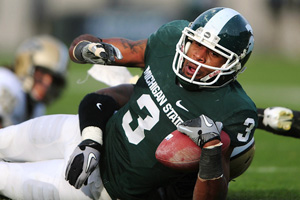 Andrew Weber/US PresswireB.J. Cunningham had the best numbers last season among a deep group of receivers and tight ends.
1. Michigan State:
The Spartans may lack a true superstar, though senior
B.J. Cunningham
(50 catches for 611 yards and nine touchdowns in 2010) is pretty darn good. What Mark Dantonio can really count on is depth. Cunningham has good size at 6-foot-2, while
Keshawn Martin
is a speed-burner.
Keith Nichol
and
Bennie Fowler
fill out a solid cast of receivers, and when you throw in
Brian Linthicum
and
Dion Sims
at tight end, this group deserves the top spot.
2. Michigan:
If Darryl Stonum weren't suspended indefinitely, this group might be No. 1. It's still pretty good as things stand now.
Roy Roundtree
leads the way after catching 72 passes for 935 yards and seven touchdowns last year, and
Junior Hemingway
is a strong secondary option for
Denard Robinson
. Tight end
Kevin Koger
is a third-year starter who can occasionally make big plays in the passing game.
3. Northwestern:
Senior
Jeremy Ebert
(62 catches for 935 yards and eight touchdowns last season) was a first-team All-Big Ten performer as voted by the media.
Demetrius Fields
had 25 receptions last year, and the Wildcats are counting on big improvements from sophomores
Rashad Lawrence
,
Tony Jones
and
Venric Mark
. Northwestern uses its superback position as a tight end, and
Drake Dunsmore
had 40 catches from that spot last year.
4. Indiana:
The Hoosiers languish at the bottom of many of these rankings, but receiver/tight end is a point of pride. Senior
Damarlo Belcher
led the Big Ten with 78 catches last year on his way to 832 yards. Even with the loss of Tandon Doss and
Terrance Turner
, who each had more than 60 catches in '10, new coach Kevin Wilson has a solid corps behind Belcher with
Duwyce Wilson
and
Kofi Hughes
, among others. And
Ted Bolser
is a highly productive tight end who had 27 catches for 407 yards and five scores a year ago.
5. Penn State:
Three of the top four receivers from last year return, including No. 1 target
Derek Moye
(his 16.7 yards per catch average was second in the Big Ten a year ago).
Justin Brown
and
Devon Smith
need to continue moving forward. Will the Nittany Lions get anything out of
Curtis Drake
, who's trying to return from his second broken leg? Penn State hopes to get something out of the tight end position, where
Andrew Szczerba
and
Garry Gilliam
dealt with season-ending injuries last year.
6. Wisconsin:
Once we reach the middle of these rankings, the units start to become interchangeable and a little indistinguishable. Wisconsin doesn't have to throw it too much because of its stellar running game, but the Badgers have some solid choices when they do go to the air. Senior
Nick Toon
has the talent to record more than the 36 catches and 459 yards he produced a year ago.
Jared Abbrederis
should continue to come along after a nice freshman campaign. There's potential but not much experience among the rest of the receivers. Star tight end Lance Kendricks will be tough to replace, but
Jake Byrne
is an outstanding blocker and
Jacob Pedersen
caught two touchdowns last year.
7. Nebraska:
Brandon Kinnie
is the leader here, and the 6-foot-3 senior isn't afraid to make the big catch. Freshmen Jamal Turner and
Kenny Bell
had nice springs and could add some playmaking skills to a largely unproven crew around Kinnie.
Kyler Reed
might be the most dangerous pass-catching tight end in the Big Ten, if not the country, after hauling in eight touchdowns and 18 yards per reception a year ago.
[+] Enlarge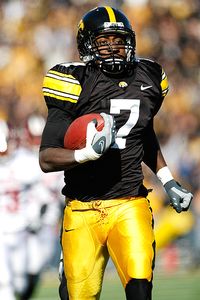 Scott Boehm/Getty Images Marvin McNutt will be expected to be the No.1 wideout for the Hawkeyes this season.
8. Iowa:
Senior
Marvin McNutt
is the go-to option after recording 861 yards and eight touchdowns last season. The Hawkeyes will look to junior
Keenan Davis
to improve and become the No. 2 target. Just about everyone else is green. Tight end is usually a strength for Kirk Ferentz and should be again with senior
Brad Herman
and a group of talented backups behind him.
9. Ohio State:
Seems like we write this a lot, but the Buckeyes would be ranked higher if their star player in this group were available an entire season. But
DeVier Posey
's five-game suspension means this is an awfully young corps, and that inexperience showed with some inconsistent play this spring. Ohio State will need talented sophomore Corey "Philly" Brown to take a big leap forward and youngsters like
Chris Fields
,
T.Y. Williams
and
James Louis
to contribute in Posey's absence. Tight end
Jake Stoneburner
might have to become a bigger presence in the passing game.
10. Purdue:
The Boilermakers have some decent depth but no proven stars.
Antavian Edison
is the leading returning receiver with just 314 yards last year, though the junior does have good speed.
Justin Siller
is talented but has had trouble staying healthy. Purdue lost two solid veterans at tight end in
Kyle Adams
and
Jeff Lindsay
and added a couple of potential replacements, including former basketball player Patrick Bade, this summer.
11. Minnesota:
Da'Jon McKnight
tied for second in the Big Ten last year with 10 receiving touchdowns. But the Gophers' second-leading receiver last season was
MarQueis Gray
, who's now their starting quarterback.
Brandon Green
could help after an injury-plagued season. Tight end
Eric Lair
can grab a few passes, as he did 39 times in 2010.
12. Illinois:
The good news:
A.J. Jenkins
is a reliable weapon who had 746 yards and seven touchdowns last season. The bad news: There's not much experience behind him. Perhaps
Ryan Lankford
, who starred in the spring while Jenkins was out with an injury, will emerge as a star his sophomore year.
Evan Wilson
is back at tight end after starting 11 games as a freshman.
June, 21, 2011
6/21/11
2:20
PM ET
It's time to hop back into our preseason position rankings, and today brings a look at the most visible position on the field: quarterback.
These are our rankings for the entire position group on each team, so depth is usually very important. With quarterback, it's a little different. There's no substitute for an experienced/accomplished starter. So the teams that have one of those plus some backups who have seen some time will get the highest rankings here, while those with unsettled or untested signal-callers will bring up the rear. Later on, we'll rank the individual quarterbacks in the league.
The envelope please ...
[+] Enlarge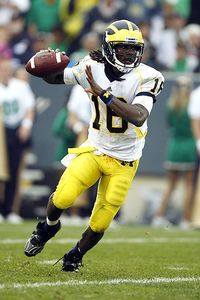 Brian Spurlock/US PresswireDenard Robinson is the most dangerous returning starter in the Big Ten.
1. Michigan:
If there were such a thing as a half-season Heisman,
Denard Robinson
would have won it last year. It will be fascinating to see how he adjusts to a new offensive scheme and whether his running will be reined in, but there's no more electric player in college football than "Shoelace" when he's doing his thing. (And he's an underrated passer.) Tate Forcier left town, but
Devin Gardner
is talented enough to prevent much of a drop-off if Robinson leaves the game. Both must stay healthy, however.
2. Michigan State:
Senior
Kirk Cousins
enters his third year of starting and ranks first all time among Spartans quarterbacks in passing efficiency and completion percentage. He's as steady as it gets.
Andrew Maxwell
got his feet wet last year as a redshirt freshman and will back up Cousins again.
Joe Boisture
retired from football for medical reasons, which hurts the depth. But that looks like more of a problem for next year.
3. Northwestern:
Dan Persa
was the coaches' first-team All-Big Ten quarterback after completing an FBS-best 73.5 percent of his passes and accounting for more than 3,000 yards of offense. Assuming he comes back healthy from his ruptured Achilles' tendon, he'll again stake a claim to being the Big Ten's best quarterback. Backup
Evan Watkins
gained valuable experience by starting the final three games, including the TicketCity Bowl vs. Texas Tech. But
Kain Colter
and
Trevor Siemian
competed with Watkins this spring, and Colter may have the edge for the No. 2 spot.
4. Nebraska:
When healthy, sophomore
Taylor Martinez
is an exciting dual-threat player with game-breaking speed. He set virtually every Nebraska freshman quarterback record last season despite being hobbled down the stretch.
Cody Green
's transfer dealt a blow to the Cornhuskers' depth and means that if Martinez goes down, redshirt freshman
Brion Carnes
will have to take over. But Carnes was impressive at times this spring.
5. Illinois:
Depth? Not so much here. But starter
Nathan Scheelhaase
gives the Illini a great place to start. As a freshman, he compiled 22 touchdowns on the ground and through the air, improving greatly as the season went on and had a huge bowl game against Baylor. Another year in Paul Petrino's system should mean big things in 2011. Illinois would be very green if Scheelhaase gets hurt.
6. Iowa:
Junior
James Vandenberg
takes over for the reliable Ricky Stanzi. Vandenberg threw only eight passes in 2010 but started the final two games for an injured Stanzi in the pressure-packed 2009 season. It looks like this is his time. Backups
John Wienke
and
A.J. Derby
lack game experience, however.
7. Purdue:
The Boilermakers have two quarterbacks who have each played in plenty of games, with incumbent starter
Rob Henry
and former Miami transfer
Robert Marve
, who suffered a torn ACL at the beginning of last season. Both players need to improve and find more consistency, though; Henry completed just 53.1 percent of his passes in 2010.
Caleb TerBush
is back after being ruled academically ineligible in 2010 and adds depth.
8. Penn State:
Matt McGloin or Rob Bolden? That has been the question hanging over the Nittany Lions for a while, and transfer rumors followed Bolden after spring practice. The competition and another year in the system should help both guys, but a potential quarterback controversy could hurt the team. Bolden has more natural talent, but can he harness it?
9. Minnesota:
MarQueis Gray
takes over as the full-time starter after splitting time as a receiver and quarterback last season. The junior has the potential to be a dangerous dual-threat playmaker. He's learning a new system, but coaches liked what they saw from Gray this spring. There's no experience behind him.
10. Ohio State:
The Buckeyes would have ranked much closer to the top of the list with
Terrelle Pryor
, even for half a season. As it stands, they have a muddled quarterback picture, with four candidates vying to take the reins. Senior
Joe Bauserman
backed up Pryor the past two years and can give the team a steady if unspectacular hand under center. Or Ohio State could go for potential and talent with true freshman Braxton Miller. The Buckeyes are likely to climb these rankings, but for now there's too much uncertainty at the position.
11. Wisconsin:
The Badgers must replace rock solid two-year starter
Scott Tolzien
, and the leading candidate for now is redshirt sophomore
Jon Budmayr
. Though slight of stature, Budmayr has a big arm. He has played in only three career games, however. Wisconsin could rocket up this list if former NC State star
Russell Wilson
decided to transfer to Madison.
12. Indiana:
Dusty Kiel
and
Edward Wright-Baker
competed for the starting job this spring, but no clear winner emerged. Between them, they've thrown 29 career passes. New coach Kevin Wilson knows how to teach the quarterback position, and this offense will be friendly for passing stats. But the Hoosiers still have a long way to go.
June, 16, 2011
6/16/11
2:30
PM ET
You know the season is getting closer when the position rankings are under way. By now, you've likely seen the group rankings for Big Ten running backs. Now it's time to rank the individual players.
These rankings are based in part on past performance but also on how players project for the 2011 season. The Big Ten loses three of its top four running backs (
Mikel Leshoure
,
John Clay
and
Adam Robinson
) but several promising players return and others are primed for breakout seasons. One thing that stands out about this year's running back crop is the number of non-seniors.
Here's the top 10 entering '11:
[+] Enlarge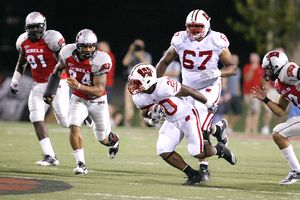 Marc Sanchez/Icon SMIJames White rushed for 14 touchdowns and more than a thousand yards on 156 carries last season.
1. James White, Wisconsin, sophomore:
Wisconsin is no stranger to elite running backs, but White provides a different element to the ground game with his speed and elusiveness. He came out of nowhere to win Wisconsin's backup job in preseason camp and went on to earn Big Ten Freshman of the Year honors. He finished fourth among Big Ten running backs in rush yards but averaged nearly a yard per carry more than any of them (6.7). White worked on strengthening his lower body in the winter and should be even better this fall.
2. Edwin Baker, Michigan State, junior:
The man known as "Rock" flattened the competition for much of 2010, racking up 1,201 rush yards and 13 touchdowns. He boasts breakaway speed but isn't afraid to mix it up between the tackles. Don't be fooled by Baker's 5-foot-9 frame -- he's extremely sturdy and can take a pounding. Although he'll be pushed by teammates
Le'Veon Bell
and
Larry Caper
, Baker expects to build on the 2010 season and has set even higher goals for the fall. The main challenge for Baker is to record big rushing performances against elite defenses.
3. Montee Ball, Wisconsin, junior:
Some might see this as too lofty for Ball, who only came on in the second half of the 2010 season. But what a half-season it was, as he racked up 777 rush yards and 15 touchdowns in Wisconsin's final five games. These rankings aim to project the coming season, and if Ball can build on his finish to 2010, look out. It'll be interesting to see how Wisconsin divides the carries between Ball and White, but you can make a case for Ball as the Badgers' featured back. Like White, Ball worked on his body during the offseason and should be a little lighter on his feet.
4. Dan Herron, Ohio State, senior:
Respect hasn't come easy for Herron, especially among Buckeyes fans, but he earned some with his performance in Big Ten play last fall. Herron recorded all three of his 100-yard rushing performances against league opponents (Minnesota, Penn State, Michigan) and earned first-team All-Big Ten honors from the coaches. Like Ball, he finished strong with 800 rush yards in the final seven games. Herron also reached the end zone in all but one contest last fall. His five-game suspension to open the season could impact his carries and his ability to compete for postseason awards, but Ohio State shouldn't dismiss "Boom."
5. Rex Burkhead, Nebraska, junior:
Expect big things from Burkhead in Nebraska's first season as a Big Ten member. He turned in a solid performance as a sophomore, recording 951 rush yards and seven touchdowns while averaging 5.5 yards a carry. Although Burkhead can be used in a variety of ways in the offense, he's a good bet to become Nebraska's featured running back after a strong spring. He seemed to grasp the new offense well and will challenge Big Ten defenses with his speed. While Burkhead will be pushed by heralded incoming recruit Aaron Green and others, he seems ready for a breakout season.
6. Marcus Coker, Iowa, sophomore:
It's dangerous to take too much from one game, but Coker looked like the real deal in the Insight Bowl. Starting for the suspended Robinson, Coker earned bowl MVP honors with a record 219 rush yards and two touchdowns against Missouri. He showed speed on a 62-yard score, but he looks like a true power back who should only improve over time. Coker drew good reviews in spring practice and was elected to the Iowa's Leadership Council, a good sign. Iowa isn't deep at running back, so Coker will have plenty of opportunities to showcase himself this fall.
[+] Enlarge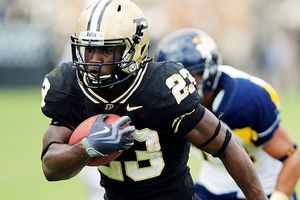 Andrew Weber/US PresswireRalph Bolden hasn't played since the 2009 season after an ACL injury sidelined him for the year.
7. Ralph Bolden, Purdue, junior:
A lot depends on how Bolden performs following a lengthy ACL rehab, but unlike some others on this list, he has proven himself as a featured back in the Big Ten. Bolden started all 12 games in 2009 and earned second-team All-Big Ten honors after finishing third in the league in rushing average (77.9 ypg) and second in rushing touchdowns (11). He also can be effective as a receiver after recording 20 receptions for 261 yards in 2009. Bolden fought back from an ACL injury in high school and performed well. Can he do it again?
8. Silas Redd, Penn State, sophomore:
This is another projection pick, a player who did some impressive things in 2010 but should contribute much more this coming season. Penn State needs a featured back after Evan Royster's departure, and Redd has the tools to fill the void. He averaged 5.7 yards a carry as a freshman and finished with 437 rush yards despite somewhat limited opportunities. Redd's speed and quickness give him a chance to be special, but he'll need to show he can take a pounding as an every-down back. He'll be pushed by both
Stephfon Green
and
Brandon Beachum
, but we expect Redd to enter the fall as Penn State's No. 1 back.
9. Le'Veon Bell, Michigan State, sophomore:
Until hitting the proverbial freshman wall last October, Bell was one of the Big Ten's best running backs. He racked up 549 rush yards and eight touchdowns in the Spartans' first six games. While Bell didn't do much down the stretch, another offseason in the program should help him immensely. At 6-2 and 237 pounds, Bell has the body to become a featured back in this league. And despite his size, he showed last fall that he can record big plays. Bell certainly has to prove himself again, but you have to like his chances.
10. Jason Ford, Illinois, senior:
Ford has more game experience than most of the men on this list. His career numbers include 277 carries, 19 rush touchdowns and 1,362 rush yards to go along with 27 career receptions. Ford's career yards-per-carry average of 4.92 also stands out. The big question is whether he can take the next step and become an every-down back for Illinois, which wants to run the ball and boasts one of the league's best offensive lines. Ford was limited this spring and offensive coordinator
Paul Petrino wants to see more from him
, but coach Ron Zook sounds like a believer. He's a big back who has a chance for a big senior season.
June, 16, 2011
6/16/11
1:00
PM ET
Beginning today, we're going to start ranking each position group in the Big Ten. These rankings will reflect the overall strength at each position, so depth matters as well as individual star power. Following each group ranking, we'll also give out our list of the top individual players at that position.
Let's start out with a look at the running back groups across the Big Ten.
[+] Enlarge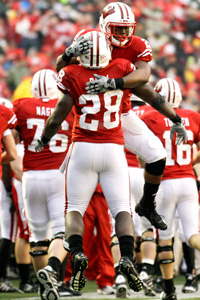 AP Photo/Morry GashMontee Ball and James White did a lot of celebrating last season, as the duo combined for 32 TDs.
1. Wisconsin:
No surprise at the top. Even with
John Clay
gone and
Zach Brown
transferring, the Badgers are loaded at tailback. They've still got junior
Montee Ball
, who finished four yards shy of 1,000 last season with 18 touchdowns, along with reigning Big Ten Freshman of the Year
James White
, who ran for 1,052 yards and 14 touchdowns. Throw in senior fullback
Bradie Ewing
and redshirt freshman Jeff Lewis, and the Badgers should be powerful on the ground yet again in 2011.
2. Michigan State:
Other than Wisconsin, the Spartans have the best collection of experience and talent in the backfield. First-team All-Big Ten performer
Edwin Baker
ran for 1,201 yards and 13 scores last year.
Le'Veon Bell
, a 237-pound bruiser, complemented him as a true freshman with 605 yards and eight scores.
Larry Caper
is a capable veteran, and fifth-year senior Todd Anderson starts at fullback. The Spartans are deep and versatile in their rushing attack.
3. Ohio State:
The Buckeyes might have earned a higher ranking if
Dan Herron
were eligible to play a full season. But with Herron (1,155 yards and 16 scores in '10) suspended for the first five games, Ohio State will need some youngsters to fill his shoes. The good news is that there are plenty of talented candidates.
Jaamal Berry
is the leading returning rusher outside of Herron, and he averaged 8.3 yards per carry in a limited role last season.
Jordan Hall
and
Carlos Hyde
will also battle for more playing time, while redshirt freshman
Rod Smith
could emerge as the No. 1 tailback after an impressive offseason. Zach Boren is back at fullback. Things may be in flux in Columbus, but you can almost always count on a good running game from the Buckeyes.
[+] Enlarge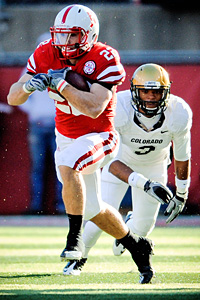 Eric Francis/Getty ImagesJunior Rex Burkhead averaged 5.5 yards per carry last season and scored seven TDs.
4. Nebraska:
The Cornhuskers led the Big 12 in rushing last season with 247.6 yards per game on the ground, good for ninth in the FBS. Leading rusher Roy Helu Jr. is gone, but junior
Rex Burkhead
returns after a 951-yard campaign. He will occasionally line up at receiver or take snaps in the Wildcat. The Cornhuskers lack experience behind him but are expecting big contributions from incoming freshmen Aaron Green and Amer Abdullah. ESPN Recruiting ranked Green as the No. 11 player overall in the Class of 2011.
5. Penn State:
Yes, the school's all-time leading rusher has moved on, as Evan Royster graduated. But the Nittany Lions still feel confident about their running game, which should be led by sophomore
Silas Redd
. He ran for 461 yards and 5.7 yards per carry as a true freshman, showing a physical style. Senior
Stephfon Green
will be asked to take on a larger role, and
Brandon Beachum
is back after missing last season with a knee injury.
Joe Suhey
and Michael Zordich are productive players at the fullback spot.
6. Purdue:
The Boilermakers' stock in this chart could go up if
Ralph Bolden
successfully returns from injury. So far, so good for Bolden, who was a second-team All-Big Ten performer in 2009.
Rob Henry
led the team in rushing last year with 547 yards, but fullback
Dan Dierking
graduated. Junior college transfer Akeem Shavers got a lot of carries this spring and should contribute, and
Reggie Pegram
also is in the mix.
7. Iowa:
Running back depth is a serious issue for Kirk Ferentz and the Hawkeyes.
Adam Robinson
, who would have been the leading returning running back in the Big Ten in terms of yards per game, was dismissed from the team following a December arrest.
Marcus Coker
could emerge as a superstar, however, after starting four of Iowa's final five games as a true freshman. He was the offensive MVP of the Insight Bowl with 219 rushing yards on 33 carries and has drawn comparisons to former Doak Walker Award winner Shonn Greene. There's virtually no proven experience behind him, though, and three-year starting fullback
Brett Morse
is no longer around.
8. Michigan:
If only we could count
Denard Robinson
as a running back. Brady Hoke plans to cut down on Shoelace's carries, which means the Wolverines' tailbacks will get more of a chance to shine. The question is who will step up. Senior
Michael Shaw
and junior
Vincent Smith
split time as starters last season, while
Stephen Hopkins
and
Michael Cox
are in the mix for more carries. Can celebrated recruit Justice Hayes contribute right away?
9. Illinois:
Mikel Leshoure's dash to the NFL left the Illini with uncertainty at running back. Senior
Jason Ford
, the most likely successor, sat out much of spring ball with a hurt knee, while
Troy Pollard
's promising spring was cut short by a concussion. Incoming freshman Donovonn Young will get a look this fall.
10. Northwestern:
Like Nebraska and Michigan, Northwestern relied on its quarterback -- in this case
Dan Persa
-- for a heavy chunk of the rushing yards.
Mike Trumpy
came on late in the year as a freshman and solidified his starting spot with a strong spring. Sophomore
Adonis Smith
, senior
Jacob Schmidt
and junior
Tyris Jones
will fight for carries behind him.
11. Minnesota:
There was healthy competition at tailback this spring with a mixture of veterans and fresh faces.
DeLeon Eskridge
led the team last year with 698 rushing yards, while
Duane Bennett
added 529. They're being pushed by redshirt freshmen
Donnell Kirkwood
and
Lamonte Edwards
. New coach Jerry Kill will look to improve on the Gophers' paltry 3.6 yards per carry average last season. This is a group that could make a major move up the rankings.
12. Indiana:
New Hoosiers coach Kevin Wilson has a challenge in figuring out this group. Three of the top candidates for the starting tailback job,
Darius Willis
,
Antonio Banks
and
Xavier Whitaker
, all suffered season-ending knee injuries in 2010 and missed spring practice. IU's leading rusher last season finished with just 352 yards.
Nick Turner
and
Matt Perez
got the bulk of the reps in the spring. Perhaps Wilson's high-tempo offense will improve the stats for Indiana ball carriers.