NCF Nation:

2011 Cotton Bowl
January, 7, 2011
1/07/11
8:19
PM ET
ARLINGTON, Texas -- The Cotton Bowl couldn't ask for much better in its primetime debut. Two fan bases with reputations as some of the nation's loudest snatched up tickets and sold out the game within days, and they've made the trek to Dallas a month later.

Even the top corners of the stadium are full, and the sellout crowd has sounded every bit like you'd think, with "L-S-U" chants and only moments between each "Whoop!" from the Aggie faithful.

Kickoff is only a few minutes away, and Aggies defensive end Tony Jerod-Eddie will start, as expected, after breaking his foot earlier this season.

It's already pretty loud inside the stadium. Don't expect that to change any time soon.
January, 7, 2011
1/07/11
7:08
PM ET
ARLINGTON, Texas -- Both teams have arrived and are warming up on the field without pads.

That's nothing new.

The roof is closed and the end zone entrances are closed as well, but you can tell the sun has gone down in the Dallas/Fort Worth Metroplex and the Cotton Bowl has yet to kick off.

That's definitely new.

For the first time in the 75-year history of the Cotton Bowl, the game has moved to primetime, and the game couldn't ask for a better matchup, with a pair of top-20 teams that combined for 19 wins in 2010.

We're still a little more than an hour away from kickoff, but keep it here throughout the night. We'll have plenty more.
January, 7, 2011
1/07/11
2:09
PM ET


David Ubben talks to Texas A&M defensive end Lucas Patterson.
January, 7, 2011
1/07/11
11:00
AM ET
IRVING, Texas -- Luke Joeckel and Jake Matthews were supposed to be good, of course. That's what their recruiting rankings told us. They were the nation's No. 6 and No. 7 offensive tackle prospects in the 2010 class, which is helpful for fans and coaches to get an idea of what they're getting.
For Joeckel and Matthews? Those rankings didn't do much more than force both to tow additional pressure and expectations behind them when they arrived in College Station.
That pressure hasn't kept them from exceeding expectations.
[+] Enlarge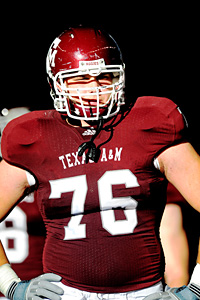 Mark J. Rebilas/US PRESSWIRETexas A&M freshman Luke Joeckel has been impressive from the start, earning the team's starting left tackle position following the spring game.
"It's crazy to see because it's so rare that this happens," said senior center
Matt Allen
. "To come straight out of high school and be so physically and mentally prepared for that is very rare to see."
Joeckel arrived from Arlington, Texas, in the spring and awed coach Mike Sherman enough to be named the team's starting left tackle by the end of the spring game for a team needing to replace three starters on the offensive line.
Matthews followed in the fall from Missouri City, Texas, and took over as the team's starting right tackle midway through the season because of an injury.
"Two young guys starting off a season, you know it's been tough just adjusting to the speed of the game and the size of guys they're going against," said quarterback
Ryan Tannehill
, whose move from receiver to quarterback has been a big reason for the Aggies' six-game winning streak to close the season.
"It's an adjustment, and we knew that going into the season, but they adjusted well. They're very athletic guys who can move well, are strong and are smart football players."
Allen remembers well the first time he saw both step on the field.
"They were physically ready but it was all about maturity and getting used to the college speed of the game," he said. "Once they settled down and got comfortable with the speed, then they really matured and you know, started figuring out how to work."
Early in the season, that young offensive line was a liability, and the hyped Aggies sat at a disappointing 3-3. Late in the season, it became a strength, as Tannehill took over and running back
Cyrus Gray
racked up six games with at least 100 yards rushing.
"They've really blossomed into the players they are now," Allen said. "It's night and day difference."
Both prided themselves on technique not often seen on players with as little experience. After a season under offensive line coach Jim Turner, they've added a knowledge of the system and some more size and strength.
"They really matured throughout the season," Allen said. "I tried to help them as much as a I possibly can. Being the oldest guy there, they come with a lot of questions and they rely on the older guys a ton. I couldn't be more proud of the way they performed during the season."
What was their biggest liability earlier in the season, though, is now one of their most attractive features.
"They've got three more years of playing," Allen said, "and they're already playing as well as probably any tackle in the Big 12. It's going to be great for the program."
January, 6, 2011
1/06/11
2:00
PM ET


1. Don't kick it to Patrick Peterson.
Just don't. LSU's return man ranks fourth nationally with over 16 yards per punt return, and has taken a pair of punts back for touchdowns already this year. He also ranks eighth nationally in kick return yardage, averaging just under 30 yards a return. If the Aggies are into giving up a game-changing return for points in what should be a low-scoring game, then by all means, punt Peterson the ball. If not, just kick it out of bounds or perfect a rugby kick. Matt Dodge of the New York Giants found out earlier this year what can happen if you give a playmaker an opportunity. Peterson is no DeSean Jackson, but he's pretty good. The Aggies better not give him a chance to prove it.
2. Don't force the ball to Jeff Fuller.
Perhaps we're a little Peterson-centric here, but throwing the ball up to Jeff Fuller and hoping the 6-foot-4, 215-pounder comes down with it works quite a bit against the majority of Big 12 corners. Here's guessing it won't against Peterson, a 6-foot-1, 222-pound cornerback who will be as physical with Fuller as any corner he's seen all year. Maybe they'll sneak in a reception -- Fuller did beat Prince Amukamara once against Nebraska for a clean 36-yard catch, his only catch of the night -- but trying to throw a jump ball will more often result in a wasted down at best and a turnover at worst. Peterson picked off four passes this year. The offensive line has to give
Ryan Tannehill
time to get the ball underneath to
Ryan Swope
and
Uzoma Nwachukwu
.
3. Don't forget Ryan Tannehill has legs.
Tannehill has played receiver for most of the past two seasons, and he can get out and run if he gets a chance. Against a stingy defense, if there's space, Tannehill should tuck it and run. The Tigers gave up 217 rushing yards to Cam Newton in a loss earlier this year. Tannehill, of course, is no Cam Newton, but the Aggies will have to scrap for yards. Tannehill may take some punishment for venturing into the next level of the defense, but he's a big guy who can take it. Mississippi State's
Chris Relf
ran seven times for 46 yards. West Virginia's
Geno Smith
didn't run much or well, finishing with just 10 yards on five carries. LSU hasn't seen a ton of mobile quarterbacks, but Relf and Newton had success. If Tannehill can follow their lead without running too much to the detriment of the passing game, it could open up plenty of other opportunities for the offense. Yards will be precious in this game, and Texas A&M needs to earn them any way it can.
January, 6, 2011
1/06/11
2:00
PM ET
Here are three keys for LSU in its AT&T Cotton Bowl matchup Friday night against Texas A&M:

1. Make the Aggies go the distance:
If LSU's defense could take away a few big plays the Tigers gave up in both the Auburn and Arkansas games, they might be playing in the Tostitos BCS National Championship Game on Monday night. Keeping the Aggies from striking quickly and making them drive the football the length of the field will be critical for LSU in this game. The Tigers struggled in that department at the end of the regular season.
2. Hit some plays in the passing game:
Getting leading rusher
Stevan Ridley
back for this game after he was initially ruled ineligible was a huge win for the Tigers. But he can't do it by himself. LSU will need to spread out that Texas A&M defense by hitting some plays in the passing game, similar to what the Tigers did in their win against Alabama. The threesome of
Terrence Toliver
,
Rueben Randle
and
Russell Shepard
will all have opportunities to make plays down the field and need to take advantage of them. LSU had just seven touchdown passes and 10 interceptions during the regular season.
3. Play with the lead:
The tricky part for the Tigers is throwing the football when they want to, not when they have to. That's going to entail playing well early and making Texas A&M play from behind. The Tigers' comfort zone is running the ball, controlling the clock and then loading up and coming after the other team on defense. They're completely out of their element if
Jordan Jefferson
is having to throw the ball to make up deficits.
January, 6, 2011
1/06/11
1:00
PM ET
Texas A&M revives an ancient rivalry with LSU in the
AT&T Cotton Bowl on Friday night
. For the second consecutive year, the game will be played in Cowboys Stadium in Arlington, Texas, rather than the stadium for which the game is named. The match moves to prime time for the first time as well as part of an attempt to become a BCS bowl in the future.


WHO TO WATCH:
Texas A&M running back
Cyrus Gray
. He's been nothing short of outstanding over the second half of the season after his partner in the backfield,
Christine Michael
, broke his leg and ended his season. In the three games before the Aggies took on Kansas, Gray had a combined seven rushing yards. He finished the year with six consecutive 100-yard games. His 223-yard finale, in a win over rival Texas, brought him to 838 yards and 10 touchdowns in the Aggies' final six games. Not surprisingly they were all wins, and included two top-10 opponents in Nebraska and Oklahoma. Gray's emergence over the end of the year made the streak possible, and he'll likely need another 100-yard day for the Aggies to knock off No. 11 LSU.
WHAT TO WATCH:
The line of scrimmage. This game figures to be the most physical of the Big 12's bowl games, and neither team will be able to win without winning the battle up front. Texas A&M runs it downhill better than about anyone in the Big 12, and LSU ranks a manageable 40th nationally in rush defense. The Aggies will have to deal with superstar defensive tackle Drake Nevis, and protecting
Ryan Tannehill
is priority No. 2 for the offensive line. He'll need time to poke holes in a solid LSU secondary with his receivers, specifically
Uzoma Nwachukwu
and
Ryan Swope
.
Jeff Fuller
could be in for a tough day against the physical Patrick Peterson. Defensively, the Aggies will have to slow
Stevan Ridley
. Rushing for 1,000 yards in the defense-heavy SEC should come with some kind of multiplier, but Ridley did it, becoming only the fourth Tiger to achieve the feat.
WHY WATCH:
These are two teams competing for the "Quality Loss Championship." LSU's only losses are to BCS teams Arkansas and Auburn, while A&M's losses came to Oklahoma State, Missouri and Arkansas, all 10-game winners. What you have in this game is a pair of quality teams that couldn't quite get it done against teams that were better than them on that day, but the two could meet up for a classic.
PREDICTION:
Texas A&M 20, LSU 17. I like defensive coordinator Tim DeRuyter's chances against a mostly one-dimensional offense. Meanwhile, the Aggies' balance will be enough to get the win. Throwing the ball won't be easy, but when receivers do get open, if only slightly, Tannehill has proved he can get it to them. That hasn't been the case for LSU quarterbacks
Jarrett Lee
and
Jordan Jefferson
.
January, 5, 2011
1/05/11
1:15
PM ET
IRVING, Texas -- A little less than a year ago, Tim DeRuyter signed up to coach Texas A&M's defense. When he got to College Station he saw a young unit, albeit one full of playmakers. He saw the worst defense in the Big 12, one that let opponents ring up almost 34 points a game and one that gave up an average of more than 425 yards each time it stepped on the field.

Worst of all, he saw a defense with a glass jaw.

"When adversity hit them, they struggled, which is very stereotypical of young football players," DeRuyter said. "They don't understand, 'Hey, there's going to be some give and take in a game.'"

Said defensive tackle Lucas Patterson: "We were immature as a team. When things started to go bad, we kind of went in the tank. We were expecting, 'Oh, here we go again.'"

Opponents scored 40 points against the Aggies five times. Twice, Texas A&M gave up at least 60.

"There was a time where they were, I don't want to say embarrassed to be a defensive player, but they'd been beaten down a little bit," DeRuyter said. "So when I first came in here, there was that attitude of let's just try to slow someone down."

Said senior linebacker Michael Hodges: "We needed something new. We were coming off a season that none of us were pleased with, and so when you get an opportunity to do something new, you've got to jump all over it ... the best way to do that is to buy in to what coaches have."

Enter DeRuyter and his 3-4 defense that better fit the Aggies personnel.

"It really paid off on Day 1 of spring ball," Hodges said. "You trust a guy like him and he keeps delivering, the next promise he brings forward you're going to give it a shot, and sure enough, that one pays off.

"We bought in fully from the beginning because we had nothing to lose."

The Aggies defense looked dominant at times early against Stephen F. Austin, Louisiana Tech and Florida International, but that was, well, Stephen F. Austin, Louisiana Tech and Florida International.

Dates with offenses like Oklahoma State, Arkansas and Missouri meant the adversity had arrived. With it, three losses.

"If you want to play at a championship level, then you better play with your chin out there saying, 'Bring it on,'" DeRuyter said.

A year ago, Texas A&M sat at 3-3, and did it in the exact same way as in 2010. A 3-0 start preceded a three-game losing streak that brought them down to earth. The Aggies finished 6-7 in 2009 and looked headed for a similar finish once again.

Not this team.

"The big game was Oklahoma. We had some situations where we were backed up and had to make plays, and our kids did," DeRuyter said.

Three times, the Aggies stuffed Oklahoma's physical offense at the goal line, igniting the Kyle Field crowd. In 2009, the Aggies left Owen Field in Norman as 65-10 losers. This time, they were 33-19 winners who left to chants of "Wrecking Crew."

"I think our kids started feeling, 'Hey, if we can do this to Oklahoma, who laid one on us the year before, it doesn't matter who lines up against us, we can compete with anybody when we play well,'" DeRuyter said.

It continued with a physical 9-6 win over Nebraska two weeks later before beating arch rival Texas in Austin and finishing as Big 12 South co-champions. Now, with a win against LSU in the Cotton Bowl on Friday, the Aggies will have their first 10-win season since 1998.

How? By turning the team's biggest weakness into one of its strengths in just one season.
January, 5, 2011
1/05/11
9:00
AM ET
IRVING, Texas -- Texas A&M became the biggest story in the Big 12 with its six-game winning streak to close the season, knocking off a pair of top-10 opponents and doing what almost no one gave them a chance to do midway through the season.
Sitting at 3-3, the Aggies rescued one of the most hyped seasons in recent memory with the season-ending streak to reach the Cotton Bowl for the first time since the 2004 season.
But now that they're here, a win could mean even more than any of the six that preceded it.
"This is huge," defensive coordinator Tim DeRuyter said. "This can put an exclamation point on our season. We've made some strides this year, but playing a team that's been in the top 10 all year long, that has the tradition that LSU has had -- past and recent tradition of championships -- playing in a great, great league, if we can find a way to get these guys on Friday, I think it sends our seniors out the right way and it really launches us into next year and confirms that our guys really have made the strides we wanted to make."
The Aggies haven't punctuated a season like that in quite some time. Losers of their past four bowl games, the Aggies have finished the season with a bowl win just once since 1995. The one win came in the Gallery Furniture Bowl, a now-defunct game that was played just five times and lacks the prestige of the Cotton Bowl, which marks its 75th edition on Friday night.
A new bowl tradition for the Aggies could begin with a win over LSU.
"I don't even know the last time A&M won a bowl game," junior receiver
Jeff Fuller
said. "I just feel like winning, beating Nebraska, Oklahoma and Texas was a huge step. That's the first time we've ever beat all three of those teams, but to turn it around and have the Cotton Bowl against a team like LSU, possibly putting ourselves in the top 10 for next year, this game is definitely really important to us.
"It's a great opportunity to win a lot of respect."
January, 4, 2011
1/04/11
10:00
AM ET
LSU running back Stevan Ridley
was declared eligible
for Friday's AT&T Cotton Bowl matchup against Texas A&M.
He was declared ineligible on Dec. 22 for a one-time academic violation, which cost the Tigers their leading rusher for their bowl game. Miles, however, said he planned to appeal the decision.
The Tiger provided more information to the NCAA and the decision was reversed. That gives LSU its 1,042-yard rusher who finished with 14 touchdowns to take on the Aggies.
Texas A&M said it had prepared for LSU with or without Ridley.
"I don't think they change their personality because the quarterback in the read option is a major staple for [reserve running back] Alfred Blue. They're good backs. I'm sure they're a lot like us, we lost Christine Michael and we had a guy to step up. They have guys to step up," Aggies coach Mike Sherman told reporters at Sunday's media day before the report of Ridley's appeal broke. "Taking nothing away from Ridley and his 14 touchdowns, he's had a phenomenal season, but their offensive line is good, they block well for those guys. I'm sure they'll have somebody ready to go if [Ridley is ineligible]."
You'd like Texas A&M's chances a lot more if Ridley was forced to sit, but this was going to be a physical game decided on the line of scrimmage regardless. The Aggies have defended the run well all season, leading the Big 12 and ranking 15th nationally at just 117 yards per game, and LSU figures to be another major test on Friday night.
January, 4, 2011
1/04/11
9:00
AM ET
IRVING, Texas -- From time to time,
Jerrod Johnson
would approach his coaches and notify them that his practice day was over. The pain in his throwing shoulder would be too much.
This would happen, Texas A&M passing game coordinator and quarterbacks coach Tom Rossley said, as late as the week of the Aggies' lopsided 30-9 loss to Missouri.
Publicly,
everyone in College Station insisted Johnson's shoulder was "fine"
at worst and 100 percent at best.
[+] Enlarge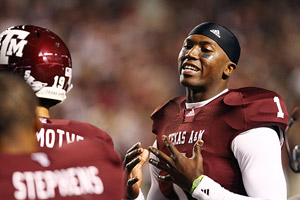 Thomas Campbell/US PresswireJerrod Johnson was never able to fully recover from offseason shoulder surgery.
Anyone who watched him play last year and
compared it to his play when he returned after offseason shoulder surgery
knew otherwise. Understandably not wanting to make excuses, Johnson told anyone who asked that his arm was 100 percent. He told his coaches when the season began that his arm strength was back to around "80-85 percent."
"I don't know if it was even that," Rossley said. "He always is going to say the cup is more full."
The media named him the Big 12's Preseason Player of the Year. Rossley -- and the rest of the conference and country -- saw a junior that could make every throw on the field and made plays with his feet. Deep balls floated into teammate
Jeff Fuller
's hands weekly. He'd drill passes over the middle to receivers like
Uzoma Nwachukwu
and
Ryan Tannehill
.
But this year, something was different.
"He just couldn't do that," Rossley said. "He could do it, but just not the same velocity and get it there on time like he did as a junior."
Texas A&M lost a crushing Thursday night game in Stillwater to Oklahoma State on a last-second field goal. Johnson threw for more than 400 yards and five touchdowns. He also threw four interceptions, the final one setting up the Cowboys' game-winner.
Only one of those four interceptions was a mental mistake.
"He just couldn't make some of the throws. They were making plays on us," Rossley said. "When you've got to get a ball into a window, you've got to get it there pretty quick, and he wasn't able to do that."
Doctors told Johnson and his coaches he would keep getting stronger as his arm got more work and the season progressed. It just didn't happen fast enough. And with a capable quarterback behind him, Rossley and coach Mike Sherman decided to make the switch to Tannehill against Texas Tech on Oct. 30, after giving the pair even playing time in a win over Kansas.
Tannehill hadn't played significant snaps before that Kansas game, but at 3-3, fans wanted something to change. The Aggies had more problems than just at quarterback, but the time had come to give Tannehill a chance.
"We kind of got to a point where we couldn't wait any more," Rossley said.
Though Johnson's injury derailed his senior season, doctors don't believe it will carry over to the rest of his career. When Rossley looks at Johnson, he sees a coach, but he also sees a quarterback whose arm has continued to progress as Tannehill carried the Aggies to a six-game winning streak and a berth in Friday's Cotton Bowl.
"He's getting stronger still," Rossley said of Johnson, who also visited renowned sports surgeon James Andrews recently for a consult on the throwing shoulder. "The best I've seen him throw was when we were warming up to play Texas [in the season finale on Thanksgiving], but he has ups and downs. He still needs some offseason strengthening to get him back to where he was."
Any talk of a second surgery has been between Johnson and his doctors, Rossley said.
If Tannehill should get injured against LSU, Rossley would feel better about his backup, the school's all-time leader in total offense, than just about anyone else in the country.
"He would definitely be better than he was back earlier in the year," Rossley said.
That could carry over to an NFL career. Johnson projected as a late-round NFL Draft pick before the season, and because of his struggles and injury, isn't likely to be drafted unless he can impress scouts with a showcase of his old arm in pre-draft workouts. Rossley says it should still take time, but the NFL types that he, Johnson and Sherman have talked to still say his future isn't on the sidelines.
"They feel like he can still be in the NFL. He's big, strong, smart, athletic. He has every quality that you could ever want in a quarterback. They'll get that [shoulder] fixed and he'll have a pro career," Rossley said.
January, 4, 2011
1/04/11
9:00
AM ET
Texas A&M receiver
Jeff Fuller
hasn't said much about his decision to either forgo his senior season for the NFL draft or fulfill his eligibility as an Aggie.
On Monday, he finally opened up about his plans, which must be made known before a Jan. 15 deadline.
[+] Enlarge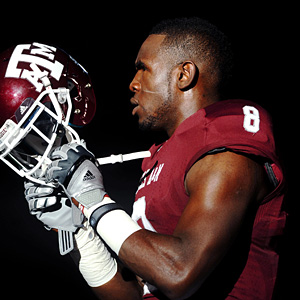 Mark J. Rebilas/US PresswireJeff Fuller will have eight days after the Cotton Bowl to decide whether he'll enter the NFL draft.
"I'm doing my best to kind of keep it not a distraction and just trying to focus on the bowl game, but it's definitely there," Fuller said. "I'm definitely thinking about it."
Fuller set school records in 2010 with 983 receiving yards and 12 touchdowns, and took over as the program's all-time leader in touchdown receptions midway through the season. His teammate, Von Miller, went through this process a year ago, but elected to return to College Station, where he won the Butkus Award as the nation's top linebacker.
"Von gave me a few pointers, I got to talk to [former Texas A&M and current Dallas Cowboy tight end] Martellus Bennett," Fuller said. He also met with coach Mike Sherman about the decision during pre-bowl practices in College Station. "It's good to get a bunch of different views. Nobody's going to just tell you anything wrong. Von told me either way, it's a good decision."
The difference between Miller and Fuller is Texas A&M played in the Independence Bowl last year on Dec. 28, a full two-plus weeks before the deadline for underclassmen to declare for the draft.
Fuller's junior season won't be over until Friday, just eight days before the deadline.
"He got to go through the bowl game and have a lot more time to think about it," Fuller said. "This year, you kind of have to take time before and take some time after."
He hasn't received his grade back from the draft advisory committee, but the most serious conversations about his future will begin once his paperwork is returned. Every player's situation is different, but Fuller says the typical concerns are influencing his decision.
"Injuries come into play. This is the best [NFL Draft] receiving classes in decades. That comes into play. At least I feel like it's one of the best receiving classes," he said.
And there's that other big buzzword: lockout. Players and owners are gridlocked over a new collective bargaining agreement to replace the old one, which runs out in March.
"I've heard it's going to happen, I've heard it's not going to happen," Fuller said.
Lockout or no lockout, there will be a draft. But there might not be an NFL season for all of 2011. Would-be rookies could be better off refining their skills on the field with the risk of career-altering injury, rather than checking the daily news for updates on when their careers will begin.
"You kind of go back and forth and think about it and it's just really going to be one of those situations where you'll have to sit by yourself," Fuller said. "Even my dad said, 'The decision is on you.'"
Jeff Fuller, Sr. played six seasons with the San Francisco 49ers in the 1980s before a spinal injury ended his career.
"This whole week has been about A&M and all about the Cotton Bowl," Fuller said. "That's the only thing on my mind this week, but I'm not going to lie, it's in the back of my head. But this is my main focus."