May, 19, 2011
5/19/11
2:00
PM ET
If you want to check out some pretty freaky football players, then perhaps you should watch some Sun Belt football.
Three Sun Belt players
got recognition in Bruce Feldman's annual college football "freaks" list.
Coming in at No. 5 is Troy linebacker Kanorris Davis. Teammate Brandon Boudreaux, one of Feldman's
top 10 strongest men
in college football, just missed the cut. So did ULM receiver
Luther Ambrose
, who is in the Jeff Demps mold -- short (5-foot-8), fast (won the Sun Belt title in the 100 meters in 10.47 seconds) and athletic (finished second in the long jump at the conference championships).
Feldman said of Davis:
Davis -- who has forced five fumbles in the past two seasons -- can run a 4.40; however, it's jumping ability that turns heads. Want proof? Check out this video of Davis, whose vertical has been measured at 42 inches, vaulting clear over 6-foot Troy punter Will Goggans (of Santa Claus beard fame) in the weight room.
Make sure to watch that video. It is pretty remarkable. Feldman also noted that Boudreaux has his own freak tendencies. He weighs just under 240 pounds but has repped 225 on the bench nearly 50 times.
Also making the list at No. 9: Boise State running back
Doug Martin
, otherwise known as the Muscle Hamster. Memphis defensive tackle Dontari Poe, No. 5 on the strongest man list, just missed the cut. Feldman says of Martin:
Martin's testing numbers are on top or near the top of the BSU program with a 405-pound bench, a 374-pound hang clean, a 530-pound squat and a 40-time of 4.42. He also vertical-jumped 37 inches and repped 225 pounds 28 times.
Indeed, several Boise State fans have let it be known that
Kellen Moore
is not the only superstar returning to the team. Martin should not be overlooked.
May, 19, 2011
5/19/11
11:10
AM ET
Marcus Lattimore
's behavior shouldn't be considered fearsome. It should be assessed as animalistic.
As a freshman at South Carolina last season, the running back bullied his way to 1,197 rushing yards and 17 touchdowns, earning SEC Freshman of the Year honors.
Off the field, he's equally as impressive by absolutely owning the weight room.
[+] Enlarge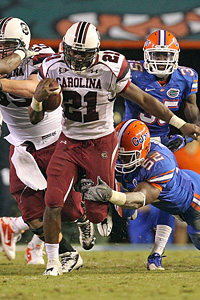 Mike Ehrmann/Getty Images Marcus Lattimore made a habit of running through arm tackles last season.
Strength and conditioning coach Craig Fitzgerald was amazed by the shape Lattimore arrived in a year ago and is still wowed by his efforts in the gym.
"He's a total animal in the weight room," Fitzgerald said. "He was our best worker out of all of our offensive skill players."
Lattimore arrived as a chiseled, well-conditioned freak of a kid in 2010. Coming from Byrnes High School in Duncan, S.C., Lattimore was able to get superb football and weight-training instruction.
Fitzgerald marveled at his form during lifts and his technique during runs. As Fitzgerald puts it, Lattimore was "as equipped and as technically sound as any freshman I've ever trained."
That's nice, but it wasn't enough for Lattimore. The gains in the gym weren't ample when he lifted with the running backs and his speed wasn't cutting it when sprinting with his backfield brethren.
Instead of adapting, Lattimore evolved. He took on new challenges by lifting with the bigger, stronger fullbacks and running with the speedier and more nimble wide receivers.
"He's always looking to do more," Fitzgerald said. "He's that kind of guy.
"He's done a hell of a job. He's much improved."
Lattimore exited last season weighing around 217 pounds, Fitzgerald said, but with his new workout partners he bulked up to 231 this spring, while lowering his 40 time to 4.5 seconds.
Lattimore also improved his lifting results. His back squat is up to 482 pounds from 425, his 275-pound power-clean has morphed into 315 pounds and his bench-press is above 300 for the first time in his life.
Not to mention, he now has a 35-inch vertical jump and his broad jump is just less than 10 feet.
Outside of his physical gains, Lattimore garnered more respect from his coaches and teammates as he excelled in the offseason workout events.
Split into teams by position, Lattimore was elected captain of the Jets crew. He kept his leadership role by dominating in drills and lifts, but also for his ability to take hold of his group. He became a taxi service to workouts for his teammates and even showed up early to run stadium steps with a teammate who failed to make it to his designated workout.
That dedication earned him the Jet Award as the top performer on his team.
The decision to pack on the pounds was all Lattimore's idea. He went to Fitzgerald wanting to be more durable in 2011. He wanted to deliver more punishment than he received.
Originally, Fitzgerald just wanted him to add 10 pounds, but as he saw that Lattimore's athleticism wasn't suffering from the weight gain, he allowed him four extra pounds.
His plan worked.
So as some coaches prepare for the worst when finally getting their hands back on their athletes after spring, Fitzgerald is far from worried about Lattimore.
To Fitzgerald, Lattimore's work ethic doesn't just stem from his incredible physical attributes; it comes from his own internal desire to continuously surpass his previous efforts.
"Obviously, he's got great genetics and you need great genetics to do what he's done," Fitzgerald said. "But what makes him a riser is the fact that the character and the attitude are off the charts."
May, 19, 2011
5/19/11
10:45
AM ET
In the case of Alabama junior running back
Trent Richardson
, weight room numbers tell just part of the story when you start to dissect what a freak of nature physically he truly is.
Ask his teammates about him and watch them gasp in amazement.
"You ever seen him with his shirt off?" asks Alabama center William Vlachos. "It's scary."
Offensive guard Barrett Jones adds, "You look at him, and the guy is a freak. You watch him work out, and he's one of the strongest human beings I've ever seen. I can't wait to see what he does this year on the field."
[+] Enlarge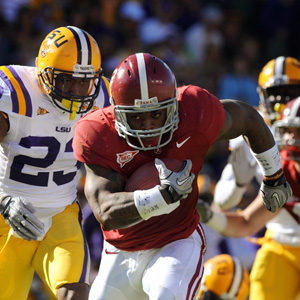 Chuck Cook/US PresswireTrent Richardson's rare combination of strength and speed make him one of the most dangerous players in the SEC.
Richardson, who steps in as Alabama's feature back now that Mark Ingram has departed for the NFL, doesn't necessarily want to be known as a "Workout Warrior." He wants to be known as one of the best players in college football and somebody who helped lead his team to championships.
That said, he concedes that the weight room in a lot of ways is his sanctuary.
"I feel lost if I don't work out," Richardson said. "It's a part of me. It's who I am. I've got to do something extra every day. I don't care what it is. Maybe it's wrestling my brother, but I've got to do something. If I don't, I feel like something's missing."
Richardson's exploits in the weight room are the stuff of legend at Alabama.
For starters, you're talking about a 225-pound guy who's run a 10.4 in the 100 meters and a 4.37 in the 40-yard dash.
If he sees a sliver of daylight, he's gone.
But he combines that speed with brute strength and explosive power.
You see, Richardson doesn't know for sure how high he could go on some of the weight-room lifts at Alabama.
He said the Alabama strength staff stopped him at 465 pounds on the bench-press.
"They didn't want me straining anything," Richardson explained. "But I wonder what I could do for real."
The same goes for squats and the power clean. Richardson said he wasn't allowed to go higher than 600 pounds on squats and "did that easy."
He's gone all the way up to 365 pounds on the power clean, but added, "I was doing right around that in high school."
He said his vertical jump is 36 inches, and he possesses just 6 percent body fat.
"I don't feel like I'm a weight-lifter," Richardson said. "I'm a football player who has natural strength, crazy strength, really. I've got a lot of God-given talent, and it's up to me to build on that talent and get the most out of it.
"That's why you never stop working, and you never think you've done enough."
Even though he was banged up with an assortment of injuries last season, Richardson averaged 6.2 yards per carry and was second only to Kentucky's Randall Cobb in the SEC in all-purpose yards per game (145.5).
One of the things that makes Richardson such a specimen is his blend of power and speed. He's a bruising runner who's adept at making yards after contact, and yet, he's also a burner when he gets on the outside.
And while Richardson doesn't think there are many players in the SEC who could beat him in a straight-up race, he jokes that there's one who definitely could.
"I thought I was pretty fast, and then I went up against my boy, Jeff Demps, in a high school track meet," Richardson said. "The race started, and I kept up with him for a couple meters and was thinking, 'He doesn't look that fast. I'm in this race.'
"But just like that, he pulled away and was celebrating before he finished. Now, that is one fast dude."
Indeed he is, but Richardson is one freakish dude in his own right.
May, 19, 2011
5/19/11
10:00
AM ET
In case you missed it -- and I don't blame you after all our of
Big Ten spring meetings
coverage -- but colleague Bruce Feldman
published his much-anticipated "Freaks" list

on Wednesday.
Feldman's freaks are the top workout warriors in college football, and Illinois fullback
Jay Prosch
is the Big Ten's lone representative on the list.
A few years ago there was a 250-pound fullback on top of this list named Owen Schmitt. Prosch, a rising sophomore, may top this list in a year or two. Illini staffers say Prosch has calves as thick as some men's waists. Still, he's been measured at 6 percent body fat. He power-cleans 382 pounds, hang-cleans 401 and can bench 405 for two reps. In high school he was a guard and a linebacker, but Ron Zook's staff loves his presence as a fullback.
Prosch is an interesting story who generated some attention this spring. He
left the team in early April for eight days
to be with his mother, who underwent emergency surgery to remove a cancerous tumor from her brain. Prosch returned to Champaign and drew praise from the coaches for his on-field performance.
After serving as an excellent lead blocker for Mikel Leshoure last season, Prosch saw more carries this spring as Illinois endured injuries at the running back spot. He's definitely getting it done both on the field and in the weight room.
Northwestern quarterback
Dan Persa
is among those who just missed the cut for Feldman's list. Persa has earned the team's "Top Cat" award as its top weight room performer for the past two years.
I'm hoping to do a more on Big Ten "freaks" in the coming weeks, so stay tuned.
May, 19, 2011
5/19/11
9:00
AM ET
When I attempted -- rather pathetically -- to go through
Cincinnati's winter workout program
earlier this year, I joked to the strength coaches that maybe I could at least do as well as a punter. They shook their heads and told me I had a long way to go to match their punter in the weight room.
Well, now I don't feel quite so bad about it. Colleague Bruce Feldman has released his annual
"Freaks" list of workout warriors
, and Bearcats punter Pat O'Donnell scored a victory for punters everywhere by checking in at No. 10. Writes Feldman:
"Yes, a punter. Don't roll your eyes, though. This guy is one of the more imposing punters since the Pittsburgh Panthers' MMA fighter Dave Brytus. The 6-foot-5, 217-pound O'Donnell has a 355-pound bench, broad jumps 9'2" and his 10-yard split of 1.53 seconds is actually faster than the time Jeff Demps clocks."
Feldman lists West Virginia defensive end Bruce Irvin among those players who just missed the cut. If O'Donnell is making this list ahead of Irvin, that tells you something.
OK, are there any long-snappers I could take on?
Also on the list, checking in at No. 4, is Syracuse receiver
Dorian Graham
. Feldman writes:
A converted defensive back, Graham uses his speed and explosiveness as a special teams standout for the Cuse as a gunner flying down the field covering punts. At 5-foot-10, 185 pounds, Graham hang-cleans 341 pounds, benches 405 and squats 525. His body fat, according to SU coaches, is a microscopic 4.3 percent. "Statistically, he's off the charts," says Orange head coach Doug Marrone. "The guy can almost power clean twice his body weight and ran an electronic 4.31 40." Marrone added that Graham is working hard to improve his route running, and the coach is hoping that Graham can become more than just a special teams star in his senior season this fall.
May, 18, 2011
5/18/11
12:40
PM ET
You don't get through most college football rosters without running into a handful of freaks. The sport is the ultimate freak show.
It's not creepy, carnival freaky, but it is scary, athletic freaky.
On Wednesday, ESPN The Magazine senior writer Bruce Feldman came out with his
2011 college football freaks list
.

To no one's surprise, the SEC has two representatives and both of them are at the top of his list.
Leading the way is Florida running back Jeff Demps. Demps might not look imposing at 5-foot-8, 190 pounds, but it's unlikely you will find anyone in college sports -- let alone college football -- who's faster than him.
Demps ran the fastest win-aided time in the world this season in the 100-meter dash at 9.96. Before arriving at Florida, Demps shared the world 100-meter junior record with a time of 10.01, which earned him a spot at the 2008 U.S. Olympic trials.
He also is a two-time national champion in the indoor 60-meter dash. This spring, he set a Florida school record with a time of 6.53 in the event.
Here's an excerpt from Feldman's part on Demps:
Demps, who led the Gators in rushing last season with 551 yards despite missing some time due to a foot injury, arrived at Florida weighing 170 pounds, and is expected to play this fall at 188. Gators strength coach Mickey Marotti says the back can squat "an ungodly amount of weight." And despite the added pounds, Demps has gotten faster. "He was a 10.1 guy, is now a 9.9 guy and probably will be a 9.8 guy," said Marotti, who adds that Demps has really improved his acceleration.
Behind Demps is LSU running back Mike Ford. At 5-10 and 202 pounds, Ford benches 435 pounds, squats 555 and power-cleans 352. He's also been clocked running a 4.41 40, has a 42-inch vertical and 11-foot-2 broad jump. Yikes!
Alabama linebacker Dont'a Hightower and Tennessee wide receiver
Justin Hunter
were listed as players who just missed the cut on his list.