NCF Nation:

2011 Gator Bowl
December, 19, 2011
12/19/11
10:07
AM ET
Anytime the SEC and the Big Ten square off, conference pride is at stake. Most of those matchups usually occur in bowl season, and this year is no different. The two leagues will face each other in three Jan. 2 bowls, with South Carolina playing Nebraska in the Capital One Bowl, Michigan State taking on Georgia in the Outback Bowl and Florida and Ohio State staging a 2007 national title game rematch in the TaxSlayer.com Gator Bowl.
So which league will come out on top this year? SEC blogger Chris Low and Big Ten blogger Brian Bennett debate that topic:
Brian Bennett:
Well, Chris, it's bowl season again, which means some more SEC vs. Big Ten showdowns. I think I read somewhere that the SEC has had a little bit of success in the postseason, especially against the Big Ten. So I suppose you want to brag a little bit about your league. Let's go ahead and get that out of the way first, shall we?
Chris Low:
Brag? Coming from SEC Country? We don't need to brag. We just flash our jewelry in these parts, and that usually suffices. Sure, it's been another banner year in the SEC with Alabama and LSU set to play for the BCS national championship and three other SEC teams ranked among the top 16 in the final BCS standings. But you've got to prove it every year, and South Carolina, Georgia and Florida all have tough matchups with Big Ten teams in the bowls. Speaking of the three bowl showdowns matching the SEC and Big Ten, which one do you think is the worst matchup for the Big Ten?
[+] Enlarge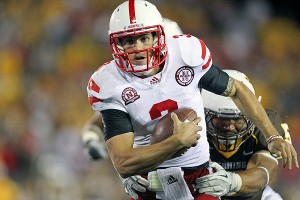 Zuma Press/Icon SMIWill Nebraska QB Taylor Martinez be able to run the ball effectively against South Carolina's speedy defense in the Capital One Bowl?
BB:
Very restrained of you not to bring up last New Year's Day, Chris. I actually think all three Big Ten/SEC showdowns this year are good matchups that could go either way. If I had to pick the toughest one for the Big Ten, I'd probably go with the Capital One Bowl. While Nebraska had a nice season at 9-3, it has a challenging assignment in trying to solve South Carolina's defense. Especially up front, the Gamecocks can cause serious problems for the Huskers' run game, and I don't think the option is going to work well against all that speed.
Taylor Martinez
will have to have one of his best games, and when Nebraska has to rely on the pass, it doesn't always look pretty. Then again, South Carolina isn't exactly a juggernaut of an offensive club, either.
What's your take on that one?
CL:
Couldn't agree more about South Carolina's defensive line. Those guys have played lights-out all season, and you're going to see three or four of them playing in the NFL at some point. They've made life miserable for opposing quarterbacks this season, and other than the Arkansas game, didn't give up much of anything the last nine games of the season. They're not the kind of dynamic pocket passing team you're used to seeing under Steve Spurrier, but sophomore quarterback
Connor Shaw
is tough as nails and isn't afraid to take off and run. They'll also run the zone read play with him. Honestly, the big concern with the Gamecocks is that they've been so wretched in bowl games. They've lost their past three and haven't played well in any of them. I want to see them break that drought before I get too high about their chances in the postseason.
Speaking of poor bowl performances, can Michigan State rebound from last year's debacle?
BB:
I think so. The Spartans ran into an Alabama buzz saw last year, and I don't see Georgia being nearly as talented or as angry as the Crimson Tide were a year ago. This Michigan State team was playing extremely well down the stretch and came within a play or two of going to the Rose Bowl. The Spartans can dominate defensively, especially up front with All-America tackle Jerel Worthy, and they can knock a quarterback off his rhythm with their blitz schemes. But I think the biggest difference between this year's Michigan State and the one that got manhandled last year is a more productive, diverse offense.
Kirk Cousins
was very sharp in the second half of the season, and the offensive line continued to improve. Both teams have top-five defenses, but Georgia may have a harder time scoring.
Motivation will be a key for both teams, though, as they each lost in their conference title game. How good are these Dawgs, really?
[+] Enlarge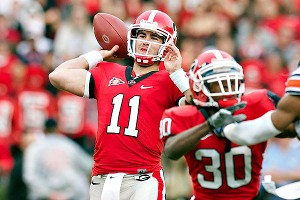 Dale Zanine/US PresswireGeorgia's Aaron Murray should get a stiff test from Michigan State's defense in the Outback Bowl.
CL:
Motivation shouldn't be a problem for Georgia. At least, it better not be. The Bulldogs have a chance to win 11 games and really set themselves up nicely going into next season. Georgia has a chance to be a top-10 team in 2012 and build the kind of momentum this program hasn't had in the offseason since its Sugar Bowl victory over Hawaii to cap the 2007 season. How good are these Dawgs? They're a good team, not a great team. Defensively, they should be the best test the Spartans have faced all season. Jarvis Jones and Alec Ogletree are an exceptional linebacker tandem. Jones was the SEC's best big-play defender this season, and the Bulldogs didn't give up much in the secondary, either. I wouldn't underestimate Georgia quarterback
Aaron Murray
. He spreads the ball around and threw 33 touchdown passes this season.
What's your take on the Urban Meyer Bowl?
BB:
The Meyer angle adds intrigue, but I'd be more interested to see these teams play next season. As is, we have a pair of 6-6 teams who had all kinds of offensive issues this year. Ohio State lost its final three games after looking like it might have turned things around. But at least the Buckeyes will be motivated to audition for Meyer, and they're a young team that should benefit from the extra bowl practices. Plus, the Buckeyes have a blossoming star at quarterback in freshman
Braxton Miller
. Maybe a new offensive coordinator can jump-start the Gators' attack, but we could be looking at a low-scoring game in Jacksonville. A 6-6 tie in regulation seems appropriate.
Can Florida finally put it all together?
CL:
Florida could use anything remotely resembling a quality win this season. Of course, I don't know that you could call Ohio State a quality win. One of these days, the Buckeyes are going to beat an SEC team in a bowl game and have that win stick. The win over Arkansas last season was vacated thanks to tattoo-gate, so technically Ohio State is still 0-9 against the SEC. The Gators were hard to watch on offense this season, and there's no reason to think they will be significantly better in the bowl game. I agree that a 6-6 tie sounds about right with somebody winning in overtime on a field goal. The Gators are good enough on defense to get it done, so I'm predicting an SEC sweep.
That's right, South Carolina, Georgia and Florida will all come out victorious. And not only that, but something tells me the SEC stands a pretty good chance of winning the Allstate BCS National Championship Game, too. Call it a hunch.
BB:
OK, so Ohio State's win over Arkansas may not count, but I was there and I know it did happen. So the Big Ten can actually beat the big boys from the SEC. I may be naive, but I think the Big Ten gets a little revenge this bowl season. All three games are winnable, and I predict the league I cover takes two out of three from your southern friends. And maybe someday soon the Big Ten will be back in the national championship debate.
January, 1, 2011
1/01/11
4:50
PM ET
Mississippi State defeated Michigan
52-14
on Saturday in the Progressive Gator Bowl.
Here's an instant analysis from the game:


How the game was won:
Michigan's
Denard Robinson
led the Wolverines on a 78-yard touchdown drive on the game's first possession. But after that, Mississippi State's defense clamped down on Robinson and the rest of the Michigan offense. Meanwhile, Mississippi State's offensive line took matters into its own hands and hammered the Michigan defense into submission.
Turning point:
After tying the game at 7 in the first quarter, Mississippi State's
Marvin Bure
blocked a Michigan punt. The Bulldogs took over at the Wolverines' 29 and tacked on a field goal, which was the start of a head-spinning 42-7 run to send Michigan packing.
Player of the game:
Mississippi State quarterback
Chris Relf
had a career game with 281 yards passing and three touchdown passes. He also rushed for a touchdown.
Unsung hero:
Mississippi State first-year defensive coordinator Manny Diaz made all the right adjustments after that initial touchdown drive by Michigan, and Robinson was never really a factor the rest of the game.
Stat of the game:
Robinson had two runs totaling 46 yards on Michigan's first drive. He only had 12 more yards on the ground the rest of the game.
Record performance:
Mississippi State's
Vick Ballard
tied the Gator Bowl record for touchdowns by a running back with three. He finished the season with 19 touchdowns.
What it means:
The Bulldogs (9-4) put the kind of bow on the season they were hoping for, punctuating that Dan Mullen indeed has this program headed in the right direction. By the same token, they likely drove the final nail in the coffin for Rich Rodriguez at Michigan.
December, 31, 2010
12/31/10
6:26
PM ET
Mississippi State coach Dan Mullen calls Derek Sherrod the best offensive tackle he has ever been around.
That's high praise for the Bulldogs' senior All-American.
But as good as Sherrod was on the field this season, he might have been even better in the classroom and in the locker room.
[+] Enlarge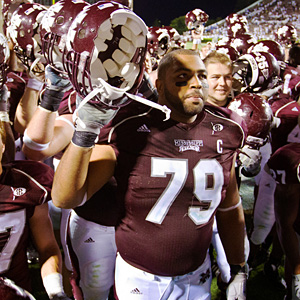 Shelby Daniel/Icon SMIDerek Sherrod has been integral to Mississippi State's offensive line and a leader on the team.
Simply, he was the quintessential student and the quintessential leader and one of the main cogs in this program's turnaround the past couple of years.
"Derek's the kind of player you build programs around," Mullen said.
Sherrod, one of 16 National Football Foundation scholar-athletes this season in college football, plays his final collegiate game on Saturday in the Progressive Gator Bowl against Michigan.
He does so with the satisfaction that Mississippi State's program is clearly headed in the right direction.
"We've seen a lot of changes here, been a part of a lot of changes," said the 6-6, 310-pound Sherrod. "We have a totally different mentality and attitude from the past when I first got here. I'm proud of the track the program is on, and obviously this game means a lot to all of us. We know how to win now, and we're going to try and continue that.
"I won't be here to see us reach all our goals, but I know we're going to get there."
Sherrod has been a staple at left tackle for the Bulldogs the past three seasons.
He's a polished pass protector, but also a physical run blocker. When the Bulldogs needed the tough yards, they usually followed No. 79's lead. They were second in the SEC this season in rushing offense after leading the league a year ago.
It's a shame more players haven't followed Sherrod's lead off the field.
He already has his undergraduate degree in business administration, compiling a 3.54 GPA. He's now in graduate school and pursuing a master's degree in sports administration.
Sherrod credits his parents, Louis and Harriet Sherrod, for instilling in him at a young age the importance of academics. He wishes more players would take advantage of their opportunities in the classroom.
"It just opens up so many other doors for you no matter how much pro football you play, and it's always something you can fall back on," Sherrod said. "It's a very competitive world, and you can never have enough things working for you in your corner."
Sherrod said this is the closest team he's played on, and it's a bond that only grew stronger after the death of teammate Nick Bell in November.
"It was tough on everybody," Sherrod said. "The only way we got through that was leaning on each other and being there for each other every way possible."
Sherrod has done a little reflecting these past few weeks, but not too much. He's accepted an invitation to play in the Senior Bowl and is being projected by several analysts to be a first-round selection in April's NFL draft.
Right now, though, Sherrod can't see past Saturday's game, the Bulldogs' first Jan. 1 bowl appearance since the 1998 season.
"The seniors have fought through a lot here and been through a lot," Sherrod said. "We've learned to fight for each other.
"Now, it's all come down to this. We want to make it our best game."
December, 31, 2010
12/31/10
10:33
AM ET
Michigan is back in a bowl game for the first time in three seasons. The Wolverines' last trip to the Sunshine State
worked out well
, and they'll try to end an up-and-down season on a good note.


Here's a look at Michigan's matchup against Mississippi State in the Progressive Gator Bowl.
WHO TO WATCH:
Michigan quarterback
Denard Robinson
. Who else? One of the most exciting players in college football returns to his home state and will try to lead Michigan to a much-needed victory. Robinson's
health has improved in the past five weeks
after getting banged around throughout the regular season, and it will be interesting to see if he can recapture his big-play ability. Mississippi State defends the run well, so Robinson will need to showcase his arm and take good care of the football.
WHAT TO WATCH:
The Wolverines' young defense. Michigan has played more true freshmen and more young players on defense than it ever imagined before the season, and the results have showed. The good news: a long layoff before the bowl has provided valuable practice time for the Wolverines' defenders, who need to upgrade their fundamentals and techniques for a good Mississippi State offense. If Michigan can create a turnover or two and find ways to get off of the field on third down early in the game, it could slow down the Bulldogs.
WHY WATCH:
In case you haven't heard, Rich Rodriguez might be coaching for his job at Michigan. Rodriguez's future remains uncertain heading into the bowl game, and he certainly could help his cause by sending an improved product onto the field. Michigan is 8-0 in nonconference games under Rodriguez the past two seasons and should benefit from the lengthy layoff before the bowl. A convincing win against Mississippi State could buy Rodriguez more time, while a poor showing might send him packing.
PREDICTION:
Mississippi State 34, Michigan 28. Robinson will do some damage on home soil, but I don't have enough faith in Michigan's defense or the defensive coaching staff to see a substantial improvement for the bowl game. Dan Mullen is a terrific offensive coach who will find the fairly obvious weaknesses in the Wolverines' defense. Michigan keeps it close, but Mississippi State wins.
December, 31, 2010
12/31/10
9:00
AM ET
Here are three keys for Mississippi State in its Progressive Gator Bowl matchup with Michigan:

1. Win the turnover battle:
It's not real complicated for the Bulldogs. They've turned the ball over 12 times in their four losses this season and only eight times in their eight wins. Forcing turnovers has also been one of their fortes. They were tied for second this season in the SEC with 26 forced turnovers and will look to create some short fields for the offense in this game by forcing the Wolverines into mistakes.
2. Avoid third-and-long:
The Bulldogs want to run the ball and be in a lot of third-and-3 and third-and-2 situations. Quarterback
Chris Relf
improved as a passer this season, but he's much more effective when he has that run-pass option available to him. If he's having to throw the ball down the field repeatedly because Mississippi State isn't having success running the ball on first down, that's not good news for the Bulldogs.
3. Wrap up and tackle:
The Bulldogs need one of their best tackling efforts of the season. Michigan quarterback
Denard Robinson
, who has 1,643 rushing yards and 14 touchdowns, is one of those players who turns missed tackles into touchdowns. When the Bulldogs get to him, they better wrap him up. He has great moves in the open field and is just like a running back when it comes to making people miss.
December, 31, 2010
12/31/10
9:00
AM ET
Let's look at three keys for Michigan heading into its Progressive Gator Bowl matchup against Mississippi State.

1. Strong defensive line play:
Everyone knows Michigan's biggest weakness is the secondary, including Mississippi State coach Dan Mullen and his players. The Wolverines need to help their shaky defensive backs with strong play up front. Nose tackle
Mike Martin
must be a difference maker, and Michigan needs Craig Roh and others to penetrate the backfield. Bowl prep provides Michigan's young defenders the time to improve, but the Wolverines don't win this game without a good performance up front.
2. Hang onto the ball:
This applies not only to Michigan players who have the ball, but Wolverines receivers trying to catch it. Michigan had too many dropped passes at critical times, and
Denard Robinson
needs
Roy Roundtree
,
Darryl Stonum
and others to be sure-handed in this game. Turnovers were a real problem down the stretch in Big Ten play, and Michigan will need to make the most of every possession in this game.
3. Start fast:
If Michigan wins, I see the game playing out much like the season opener against Connecticut. The Wolverines must set the tone from the get-go, score some points, avoid drive-killing turnovers and gain the emotional edge. Michigan fell behind big in too many Big Ten games before finding a rhythm on offense. That formula won't cut it against Mississippi State in Jacksonville.
December, 31, 2010
12/31/10
8:00
AM ET
Mississippi State makes its first Jan. 1 bowl appearance since the 1998 season on Saturday when it faces Michigan at 1:30 p.m. ET on ESPN2.
Here's a quick preview of the Progressive Gator Bowl:


WHO TO WATCH:
Middle linebacker Chris White had an All-SEC senior season after moving over from an outside linebacker spot as a junior. He was fourth in the SEC with 15.5 tackles for loss and led the Bulldogs with 105 total tackles. White and fellow senior linebacker K.J. Wright combined for 198 tackles and were the backbone of a Mississippi State defense that was 27
th
nationally in scoring defense, allowing an average of 20.3 points per game. White, who's always around the football, will no doubt keep close tabs on Michigan quarterback
Denard Robinson
.
WHAT TO WATCH:
When the Bulldogs were at their best this season, they leaned heavily on the running game and played keep-away from teams. That will be especially important in this game in terms of trying to keep Robinson and that Michigan offense on the sideline. The Bulldogs were second in the SEC in rushing offense, averaging 215.8 yards per game. They'd like to get
Vick Ballard
going early and keep him going. Ballard is one of those move-the-chains kind of backs who has 16 rushing touchdowns, and he's complemented by
LaDarius Perkins
, who's more of a speed guy. The Bulldogs would love nothing more than to turn this game into a smash-mouth affair and shorten the game with long, sustained drives.
WHY TO WATCH:
Mississippi State coach Dan Mullen just received a new contract that will pay him $2.65 million per year, and he has the Bulldogs on the move in his second season in Starkville. The Mississippi State fans are genuinely stoked for the future. For Michigan coach Rich Rodriguez, there's no guarantee of a future, at least not in Ann Arbor. Whether or not he returns for a fourth season remains to be seen, but a loss to Mississippi State certainly wouldn't help his cause.
PREDICTION:
Mississippi State 28, Michigan 24. Robinson is as healthy as he's been since early in the season, which means he's probably going to get his yards. The key is keeping him out of the end zone, and the Bulldogs have been stingy all season when it comes to giving up points. They also thrive on pounding teams in the running game, and the Wolverines haven't been able to stop the run all season. What makes anybody think that's going to change now?
December, 30, 2010
12/30/10
7:11
PM ET
I really enjoyed reading
Tate Forcier
's quotes this week
about his drama-filled career at Michigan
.
The sophomore quarterback talked about losing his starting job to
Denard Robinson
, nearly transferring early this season and then choosing to stick it out in Ann Arbor. He discussed his maturity, his respect for Robinson and how everything is part of a plan.
Here's Forcier in his own words:
On Rich Rodriguez's statements last spring about Forcier's immaturity: "Just being a freshman, hitting the freshman wall. Having too much success, letting it get to my head, going out [partying]. I used to love going out. Now it's like, it's old. Being a freshman, everything's so new to you. You get overwhelmed with everything. Believe it or not, it hurt me having a lot of success so early. You take any kid, not just a quarterback, and put them on a stage like this and have success, it's going to be hard for them to be able to handle it, especially being so far away from home. It's just different. I learned a lot after my freshman year. It's not all about you; it's about the team."
Forcier was candid and entertaining. He sounded like a guy who had evolved after dealing with some disappointment.
Now he's dealing with more disappointment, and so is Michigan.
The school announced Thursday that
Forcier is ineligible for Michigan's matchup with Mississippi State
in the Progressive Gator Bowl. According to a news release, Forcier "did not meet university standards." That sounds a little vague, but Forcier's situation likely relates to academics.
It's an unfortunate situation for a player who earned respect for remaining with Michigan and backing up Robinson throughout the season. Forcier appeared in eight games and passed for 597 yards and four touchdowns with four interceptions.
His situation puts Michigan in a tough spot entering the bowl game. The Wolverines had been seeking a medical hardship waiver for freshman
Devin Gardner
, who appeared in the first four games this fall before back problems kept him sidelined. Gardner, who has been simulating Mississippi State quarterback
Chris Relf
on the scout team leading up to the bowl game, now is a play away from the field. Gardner won't retain a season of eligibility if he plays in the bowl.
Michigan really needs Robinson to remain on the field Saturday, for multiple reasons.
What's next for Forcier? We'll have to wait to find out.