NCF Nation:

2011 heartbreakers
February, 14, 2011
2/14/11
2:12
PM ET
For every love won, there is love lost. For every thrill of victory, there is an agony of defeat.
While we only wish you happiness on Valentines Day, here are six top heartbreaks from the Pac-12.
[+] Enlarge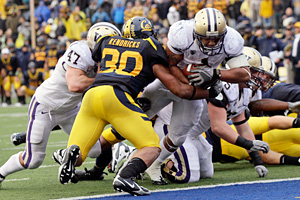 AP Photo/Marcio Jose SanchezWashington's Chris Polk lunges past California's Mychal Kendricks for the game-winning TD.
6.
Cal gets Polked
: Jeff Tedford had never had a losing season since he took over at California in 2002. And all his Bears had to do to maintain that impressive run was stop Washington on a fourth-and-goal from the 1-yard line with two seconds left, which would then earn them a bowl berth. Nope. Chris Polk scores a TD for a 16-13 Huskies win. The Memorial Stadium crowd, with no postseason to look forward to, goes home grumbling. The Huskies ride the win to their first bowl game since 2002.
5.
Thomas spurns USC for Oregon
:
DeAnthony Thomas
, widely considered one of the most dynamic athletes in the 2011 recruiting class, was a long-time USC commitment. He was expected to be one of the jewels of the Trojans' top-five class. But he took a late visit to Oregon just before signing day, when he broke USC hearts by signing with the Ducks.
4.
Trojans get kicked
: USC lost consecutive games the first two weekends of October -- 32-31 to Washington and 37-35 to Stanford -- on last-second field goals. And there was much gnashing of teeth.
3.
Buffalo slaughter
: Colorado led Kansas 45-17 with 14:52 left. Stick a fork in this one, right? Hey, maybe there was some life in Dan Hawkins' Colorado team. And Kansas, after all, was a bad team in turmoil under first-year coach Turner Gill, having lost 11 consecutive conference games. But no. Kansas scored the final 35 points in the fourth quarter and won 52-45. Epic collapse or epic comeback? Either way, it was stunning.
2.
James Brooks swats Alex Zendejas twice
: A blocked extra-point attempt is rare. Two in one game -- by the same guy -- is even more rare. And two PATs blocked by the same guy in game-deciding situations in a rivalry game? Well, that's great theater. But the thrill for Arizona State's James Brooks -- the mad swatter -- was pure agony for Arizona kicker Alex Zendejas. Brooks rejected Zendejas' PAT late in the fourth quarter, which forced overtime. He then turned away a Zendejas PAT in the second overtime, giving the Sun Devils an improbable upset win, 30-29.
1.
Dyer circumstances
: Auburn's freshman running back Michael Dyer looked down, tackled by Oregon rover Eddie Pleasant. If you watch the replay, you can interpret it any way you want, as many have. But the bottom line is Dyer's apparent short run late in the national title game turned into a controversial 37-yard scamper, which set up the Tigers' winning field goal as the clock expired in a 22-19 victory. One word: Ouch.
February, 14, 2011
2/14/11
2:08
PM ET
Valentine's Day isn't for everyone. Some have been scorned. Hearts have been broken. Facebook status' changed. Here's a look at the top five heartbreakers responsible for a few breakups in the the ACC this year:
1. Quarterback Jacoby Brissett.
He broke the Canes' hearts with a commitment to rival Florida, leaving Al Golden without a quarterback in the 2011 class. The transfer of former Michigan quarterback Tate Forcier helped Miami fans rebound.
2. Don Brown.
Maryland's former defensive coordinator made a lateral move to Randy Edsall's old school, leaving the Terps' defense in the dark.
3. Ryan Williams.
The Virginia Tech running back didn't even call to say goodbye before he bolted for the NFL. With two years of eligibility remaining, Williams didn't hold a news conference to announce his decision.
4. NC State quarterback Russell Wilson.
His love affair with baseball continues this spring, but coach Tom O'Brien is still willing to welcome his No. 1 back with open arms.
5. Four-star defensive end Stephon Tuitt.
He flirted with Georgia Tech, only to break up with Paul Johnson and embrace Notre Dame as his home.
February, 14, 2011
2/14/11
10:00
AM ET
For every tale of love on Valentine's Day, there are also hearts breaking.

The SEC has spawned its share of heartbreakers:

1. Cyrus Kouandjio: The country's No. 1 offensive tackle prospect announced live on ESPNU on national signing day that he would sign with Auburn. The only problem was that he never sent in his signed scholarship papers and began to have second thoughts. So after spending a few days sorting things out, Kouandjio reversed course and signed with Alabama. Auburn not only lost him, but lost him to its archrival.

2. LSU's passing game: Not that one part of the game is ever the sole reason a team fails to win a national championship, but LSU was a passing game away from being right in the middle of that equation last season. The Tigers finished 107th nationally in passing offense. They managed just 10 touchdown passes all season to go along with 11 interceptions.

3. Derek Dooley: In his first season as Tennessee's coach, Dooley and his players had to endure the pain of losing two games they thought they'd actually won. In both cases -- against LSU in Baton Rouge and against North Carolina in the Music City Bowl -- the Vols were out on the field celebrating because they thought they'd won. But having 13 defenders on the field cost them against LSU, while a controversial officiating decision cost them against North Carolina.

4. Manny Diaz: Not only did he leave Mississippi State and take his many talents as a defensive coordinator to Texas, but several key in-state prospects that had committed to the Bulldogs backed out and went elsewhere after Diaz vacated Starkville.

5. Urban Meyer: The truth is that Meyer got it right the first time, but simply couldn't bring himself to walk away when he stepped down prior to the Sugar Bowl at the end of the 2009 season. Meyer either talked himself out of it or was talked out of it and returned for what was an unfulfilling 2010 season for everyone associated with the Florida program. The edge was gone, the same edge that steered the Gators to two national championships in six seasons under Meyer, and there were also lingering health concerns. So this time, he walked away for good.
February, 14, 2011
2/14/11
10:00
AM ET
Valentine's Day can be great. Unless you've had your heart broken recently.
The Big East knows all about heartache. Here are the five biggest heartbreakers for the league:
Landry Jones:
The Oklahoma quarterback helped the Sooners get by Cincinnati at Paul Brown Stadium last September and then led his team to a Tostitos Fiesta Bowl romp over Connecticut in January. Jones threw for 799 yards and five touchdowns in the two wins.
Russell Wilson:
The NC State quarterback engineered a win over Cincinnati early in the year before beating West Virginia in the Champs Sports Bowl. Wilson threw for 675 yards, five touchdowns and no interceptions while running for another 74 yards in the two victories. The Big East is anxious to see Wilson concentrate on baseball.
Randy Edsall, Brian Kelly, Bobby Petrino and Rich Rodriguez:
These four coaches have combined to claim the last six BCS bids in the Big East. Each one left his school for a supposedly better gig. Edsall became the latest, ditching his team right after the Fiesta Bowl for Maryland and not even bothering to tell the players in person first.
Mike Haywood:
He was Pittsburgh coach for all of about two weeks before his brush with the law in South Bend made the Panthers and athletic director Steve Pederson a national punching bag. The Pitt players, though, weren't too heartbroken to see Haywood leave after he lectured them about discipline in their lone meeting.
Dave Teggart:
Teggart is a hero in Connecticut, but he broke other Big East teams' hearts along the way. He kicked the game-winning field goals against West Virginia and South Florida and contributed heavily to the two-point win over Pittsburgh.
Tom Savage:
Rutgers fans thought last year was the start of a beautiful relationship with Savage. Instead, the sophomore quarterback got hurt, benched and then decided to transfer, which briefly led to a dispute with Greg Schiano over his destination. The Scarlet Knights will now bat their eyes at
Chas Dodd
and hope for a different fate.
February, 14, 2011
2/14/11
10:00
AM ET
Valentine's Day isn't all chocolate and kisses and hearts. Plenty of those hearts get broken. The same is true throughout any Big 12 season. Here's who left a few opposing fans in tears in 2010.
1. Landry Jones.
Oklahoma State had him backed up deep in his own territory with a two-point lead and a deafening crowd behind him with less than three minutes to play. He'd already teased them with a pick-six earlier in the game. But Jones connected with
Cameron Kenney
for
an 86-yard touchdown
to put the Sooners up by nine points. He later hit
James Hanna
for a 76-yard score to ice the game after the Cowboys returned the ensuing kick for a score. That's cold.
2. Kenji Jackson.
It looked like a fairly harmless hit at the time, one that happens countless times in any game. But late in the first half, the Missouri safety came up to the line of scrimmage and laid a solid hit on
Taylor Martinez
's lower body. Martinez stayed in the game to finish the half, but didn't play in the second half. Nebraska won, but Martinez's sprained ankle changed Nebraska's season, and
he was never quite the same player
after he hurt the ankle. Jackson's hit was the gift that kept on giving. If it didn't happen, who knows where Nebraska's season would have finished.
3. The Ames wind
. I'll give Iowa State backup punter Daniel Kuehl the benefit of the doubt on this one. If the wind at Jack Trice Stadium hadn't been absolutely swirling, he probably
could have completed the pass that would have meant the Cyclones beat Nebraska and Texas
in the same season and would go to a bowl game. But the pass floated in the wind, and Nebraska's Eric Hagg intercepted the fake extra point to preserve the win. If it had been completed, it would have put the Cyclones in the driver's seat of the Big 12 North, too.
4. Officials in The Bronx.
Adrian Hilburn
made the catch, made a defender miss and sprinted 30 yards into the end zone to cut Syracuse's eight-point lead to two with less than a minute to play in their bowl game. He
shook off a defender after scoring and saluted a group of K-State fans
in the stands who made the trip from one Manhattan to the other for the week before the Pinstripe Bowl. "Wrong move, buddy," one official reportedly told Hilburn. He tossed a flag and the Wildcats' lengthy conversion was incomplete. The dagger!
5. Oklahoma State's defense against Texas A&M.
What a cruel, cruel win. The defense struggled a bit and let the Aggies jump out to a 21-7 lead at the half. Then a sack and fumble returned for a touchdown put them up 35-21 in the fourth quarter against the Aggies, a stretch of 28 consecutive points. The defense allowed the Aggies to tie the game, but Shaun Lewis intercepted
Jerrod Johnson
-- his fifth turnover of the night -- and set up a game-winning field goal to beat the Aggies at the gun. If Texas A&M had beaten the Cowboys, it would have won the Big 12 South outright for its first division title since 1998. What a painful way to go down.
February, 14, 2011
2/14/11
10:00
AM ET
Valentine's Day is about love, but it's also about heartbreak.
Every Big Ten team has felt a little heartbreak from time to time, whether it's a coach leaving for another position, a recruit choosing another college destination or key players veering off track.
Here are some heartbreakers for Big Ten squads:
1. Ohio State's Tat 5:
Quarterback
Terrelle Pryor
and four of his teammates broke some Buckeye fans' hearts by selling memorabilia, including Big Ten championship rings and Gold Pants, for cash and tattoos. The "Tat 5" helped themselves with their Sugar Bowl performances and their pledge to return for their senior seasons, but their absence for the first part of the 2011 season could sting.
2. Brent Pease, Jerry Montgomery, Corey Raymond and Jemal Singleton:
All four assistants joined Kevin Wilson's new staff at Indiana but soon bolted for other jobs. Montgomery (Michigan) and Raymond (Nebraska) left for other posts within the Big Ten. Ouch.
3. Derrell Johnson-Koulianos and Adam Robinson:
Iowa's all-time leading receiver and top running back the past two seasons both missed the Insight Bowl following December arrests. DJK, who had an extremely productive career in Iowa City, is
trying to restore his rep
before the NFL draft.
Robinson wants another chance at Iowa
but right now it looks like a long shot.
4. Tate Forcier:
After an encouraging season on the field, the Michigan backup quarterback was ruled academically ineligible right before the Gator Bowl. It proved to be the end for Forcier, who last week transferred to Miami.
5. Jacoby Brissett:
Wisconsin held a scholarship spot for the quarterback recruit, but he didn't even have the Badgers in his final two choices (Miami and Florida). Brissett ended up signing with the Gators.