NCF Nation:

2011 Hunger Bowl
December, 30, 2011
12/30/11
11:45
PM ET
I have a contract with ESPN.com. It has a start date and an end date. It has a predetermined salary structure. It includes job expectations, company policies and, like any contract, a lot of legalese. But the important things are spelled out clearly.
Before agreeing to the terms, ESPN's legal department sends me the contract to review. I read it over. Usually several times. And then I sign it and send it in.
It's all right there in print -- no gray area.
[+] Enlarge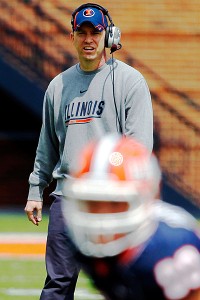 Michael Heinz/US PresswireJeff Brohm is among the Illinois assistant coaches who will fulfill their duties during Friday's bowl despite a contract dispute.
Four Illinois assistant coaches are steamed because they put pen to paper before fully studying what was written on the paper. They thought they had two-year rollover contracts and were surprised to learn recently that their deals had been reworked in the summer of 2010 and as a result, they no longer would be paid after Feb. 28. Illinois fired head coach Ron Zook on Nov. 27, and only one assistant (defensive line coach Keith Gilmore) is remaining on staff with new boss Tim Beckman.
The assistants were irate and lashed out. Offensive line coach Joe Gilbert called the situation "very unprofessional." They even threatened to boycott Saturday's Kraft Fight Hunger Bowl against UCLA, adding even more controversy to a game filled with it.
But the Bizzaro Bowl Boycott won't be taking place.
Zook told ESPN colleague Gene Wojciechowski on Friday night that
his former aides will show up Saturday at AT&T Park
.
"They're going to coach," said Zook, when contacted by ESPN.com Friday evening. "They're [the assistants] frustrated. But they're going to coach. They know it's about the kids. But they were trying to make a point. They've got careers, family, all of those things. They're class guys. And it's important that everyone knows they're really good people."
More from the story:
The dispute centers around a contract promise that Zook said was made to several of his assistant coaches by him and former Illinois athletic director Ron Guenther. According to Zook, the assistants -- Jeff Brohm, Ron West and Chip Long -- were told they would receive two-year deals which would run through the 2012 regular season. Assistant Joe Gilbert has told SI.com that he also was promised a multiyear contract.
"Somewhere -- I'm not sure how -- a couple of the contracts got changed," said Zook. "I truly believed they had two-year contracts. ... I'm not exactly sure how things got changed. I feel awful about it. They're great people and they did a great job. I don't know where it went wrong. I was under the understanding that they had two-year contracts."
I feel for the Illinois assistants. It's a bad deal for them, but it's because they signed bad deals. As athletic director
Mike Thomas told SI.com
, "We have a contract that's pretty clear, and we intend to honor that contract. We assume they'll honor it as well."
Boycotting would have been worse for the coaches and for the Illini players than it would have for the administration. If you want to stick it to your bosses, boycotting the Kraft Fight Hunger Bowl probably isn't the best move. If you want to stick it to your players, boycotting is the way to go.
Plus, these assistants are looking for jobs. They have good credentials. But no employer wants to see "quitter" on a résumé.
Who knows what to expect Saturday afternoon in San Francisco? But at least the Illini assistants with be with the players they've coached all season.
December, 30, 2011
12/30/11
7:30
PM ET
What are the three keys for UCLA against Illinois in the Kraft Fight Hunger Bowl on New Year's Eve? Glad you asked.


1.
Care
: The first step toward winning this game is really caring about winning this game. Both teams fired their coaches. Both teams had extremely disappointing seasons. Both teams looked awful late in the year. Both teams suspended players for various reasons after the season ended. Many of the players on the field are going to play hard because that is who they are: Competitors caught in a tough situation who never mail it in because competitors never do. But some won't. If you watch closely, in fact, you'll be able to say, "Did you see that? He didn't even try!"
2.
Run and stop the run
: Neither team passes the ball well. In fact, neither team is very good on offense period. But both teams' best weapon is running the ball, even if the Illini's leading rusher,
Jason Ford
, is academically ineligible. If one team is decisively better running the ball -- and doesn't turn the ball over a bunch -- it's going to win this game.
3.
Block Illinois defensive end Whitney Mercilus
: Illinois has a good defense that is led by a great player in defensive end Whitney Mercilus. He led the nation in sacks (14.5) and forced fumbles (9). He's a beast and fun to watch. And guess what? One of the guys who will try to block him much of the night -- along with senior tackle
Mike Harris
-- will be a former walk-on making his first career start: junior Brett Downey. The Bruins' offensive line, in fact, has issues with sophomore guard Alberto Cid academically ineligible and Chris Ward and Wade Yandall out with injuries. Have Mercilus!
December, 30, 2011
12/30/11
5:39
PM ET
The Kraft Fighting Hunger Bowl features two teams that fired their coaches, but that doesn't mean neither will show up and play hard. Not necessarily, at least.


WHO TO WATCH
: UCLA quarterback
Kevin Prince
. This is almost certainly Prince's last game running the Bruins' run-first pistol offense. Next year under new offensive coordinator Noel Mazzone, the Bruins will be spreading the field and throwing all over the place. Still, considering that interim coach Mike Johnson is more of a pro-style offensive coordinator, it wouldn't be surprising to see fewer QB keepers and more passes. And Prince, a junior, can make a statement to his new coaches about who should be the starting signal-caller in 2012.
WHAT TO WATCH
: The mood. Illinois lost its final six games and fired Ron Zook. UCLA lost its final regular-season game to rival USC 50-zip and fired Rick Neuheisel, then subsequently needed a waiver from the NCAA to play in a bowl game after finishing with a losing record. Both teams suspended players after the regular season ended due to academic or behavior issues. With two interim coaches, and two staffs that aren't fully invested in the program going forward, it's likely one or both teams will be sloppy and uninspired. Things could get ugly. The question is whether ugly describes both teams imploding or just one.
WHY TO WATCH
: Because it's college football and college football is awesome. Because it's hard not to slow down and rubberneck a traffic accident. Because there will be a quiz on this game on the Pac-12 blog on Tuesday, and the person who gets the most answers right wins $1 zillion. Maybe.
PREDICTION
:
Illinois 20, UCLA 14
: Both teams enter amid down circumstances. Both teams have damaging player suspensions/ineligibility. The difference is that, despite everything, Illinois does something well — play defense — and UCLA does not.
December, 30, 2011
12/30/11
2:30
PM ET
Let's take a look at three keys for Illinois heading into Saturday's Kraft Fight Hunger Bowl matchup against UCLA.


1. Establish the run early:
Top running back
Jason Ford
is out (academics), but Illinois still can establish the ground game against a UCLA defense ranked 95th nationally against the rush. The Bruins have surrendered more than 200 rush yards in seven games, including 352 in the Pac-12 championship against Oregon. Illinois freshman
Donovonn Young
has impressed in stretches and gets an opportunity to establish himself as the team's back of the future after missing the regular-season finale with an ankle injury. With fullback
Jay Prosch
also out (staph infection)
, Illinois really needs its offensive line to show up from the get-go. The line was supposed to be a strength for Illinois but has fallen short of expectations. If the Illini can get the ground game going early behind Young,
Troy Pollard
and quarterback
Nathan Scheelhaase
, they'll open up the pass attack with
A.J. Jenkins
.
2. Maintain motivation and composure:
Both Illinois and UCLA are dealing with coaching transitions, suspensions and other turmoil. UCLA players
recently skipped a practice
. Many question how motivated the teams will be to play a minor bowl game before moving forward with new leading men (Tim Beckman and Jim Mora Jr., respectively). Illinois players say practice has gone well, and they will be playing for interim coach Vic Koenning, fired coach Ron Zook and themselves on Saturday. The Illini didn't handle adversity well down the stretch of the regular season and must keep their composure if things don't go well Saturday. Illinois must continue to limit penalties after tying for 22nd nationally in penalties per game (4.83). UCLA hasn't been nearly as disciplined, ranking 91st in penalties per game (6.85).
3. Contain UCLA's ground game:
Illinois' defense will be the best unit on the field Saturday in San Francisco, but the Illini need a strong effort against the run. UCLA's rushing attack is the strength of its team, ranking 29th nationally (190.7 ypg). The Bruins have three players with more than 450 rushing yards, including quarterback
Kevin Prince
, who had 163 yards in a win against Cal earlier this season. Illinois struggled against the run down the stretch and needs a strong performance from a talented line featuring Whitney Mercilus, Michael Buchanan and Akeem Spence. Defensive tackle Corey Liuget had a huge performance against Baylor in last year's bowl victory. It will be interesting to see if Spence can do the same against UCLA.
December, 30, 2011
12/30/11
1:00
PM ET
One team lost its final six games and fired its coach. The other team finished with a losing record and fired its coach. Still, they're both going to play a bowl game in San Francisco, and one team has to win it. Let's take a look at the Kraft Fight Hunger Bowl essentials:


WHO TO WATCH:
Illinois defensive end Whitney Mercilus. The junior leads the nation with 14.5 sacks and nine forced fumbles. He showed up on everybody's All-America team and will almost certainly head to the NFL after this game. So he may be primed to go out with a bang against a UCLA offensive line that is decent but not overpowering. Bruins tackle Jeff Baca may need some help containing the explosive Mercilus off the edge.
WHAT TO WATCH:
The Illini defense has been strong all season, but can the offense generate anything? After starting the season well, Illinois averaged just 11 points per game in its six straight losses to end the year. The offensive line was a mess, and quarterback
Nathan Scheelhaase
appeared to lose his confidence -- not surprising, considering how little time he was given to throw. Leading rusher
Jason Ford
is academically ineligible for the bowl, and offensive coordinator Paul Petrino bolted for Arkansas, leaving quarterbacks coach Jeff Brohm in charge of the playcalling. If Scheelhaase can get some protection, he has one of the top receiving threats in the country in
A.J. Jenkins
. But that's a big if.
WHY TO WATCH:
Well, you need something to do while getting ready to go out for New Year's Eve, right? We can't pretend this isn't one of the least appealing bowl matchups, given the complete lack of momentum or enthusiasm on either side. But, hey, it's still a Pac-12 vs. Big Ten meeting in California, even if this is about as far away from the Rose Bowl as you can get. Both teams have talent and tradition, and both will be looking to impress their new incoming head coaches.
PREDICTION:
Illinois 17, UCLA 9. I have little confidence in the Illini's ability to do much offensively. But the Illinois defense will be the best unit on the field and should be motivated to play for Vic Koenning, the defensive coordinator/interim head coach who is leaving after the game. It probably won't be pretty -- except for the background shots of San Francisco.
TOP 25 SCOREBOARD
Saturday, 12/21
Monday, 12/23
Tuesday, 12/24
Thursday, 12/26
Friday, 12/27
Saturday, 12/28
Monday, 12/30
Tuesday, 12/31
Wednesday, 1/1
Thursday, 1/2
Friday, 1/3
Saturday, 1/4
Sunday, 1/5
Monday, 1/6