NCF Nation:

2011-LSU-AllAccess
November, 1, 2011
11/01/11
6:09
PM ET
BATON ROUGE, La. -- We are saying goodbye to the bayou.
It was a fun day with the
LSU Tigers
, but now it's time for them to get rid of us and totally concentrate on the task at hand: beating Alabama.
While these players and coaches have been as loose in front of the media as they could be, you can tell there is a lot of intensity flowing throughout the football complex. The players are confident, the staff is confident and the people behind the scenes are confident.
Coach Les Miles has said he's trying to make this as much like a regular game week as possible. He understands it isn't, but his players are responding to Miles' level head.
The playful nature of the players showed true again right before practice. Wide receiver
Rueben Randle
was eating a piece of candy -- probably some leftover Halloween candy -- while quarterback
Jordan Jefferson
was playing catch with freshman offensive lineman Jonah Austin. With every pass Austin made, Jefferson's face lit up more and more and he laughed.
After watching Austin "throw," I don't think the "Mad Hatter" will be calling on him to line up under center anytime soon.
It's only Tuesday, but you can tell this team is just about ready for the Crimson Tide. Today likely will be the Tigers' toughest day out on the practice field, and after that, mental preparation is key.
Then, it's game day.
"They're a very dominant team, and so are we," safety
Brandon Taylor
said. "They call us the two best teams playing in a regular-season game to see who goes to the SEC championship game and maybe the national championship, so there's a lot [riding on Saturday's game]."
November, 1, 2011
11/01/11
4:59
PM ET
BATON ROUGE, La. -- There could be some big names in Bryant-Denny Stadium Saturday.

And I mean big.

The buzz around LSU's athletic department is that former LSU and NBA star Shaquille O'Neal is still looking for a ticket. Someone has to help the Big Aristotle with a ticket, right?

Also on the the list? How about Miami Heat star Dwayne Wade and New Orleans Hornets point guard Chris Paul?

No word yet if LeBron James will be joining his boys.
November, 1, 2011
11/01/11
4:37
PM ET
BATON ROUGE, La. -- It's no secret who LSU's defense will be keying in on Saturday.
Alabama running back
Trent Richardson
has made defenses wince more than once this season and LSU is looking to not be just another victim on Richardson's path.
But it's not just Richardson who is on the mind's of LSU's defensive players. They know that backup
Eddie Lacy
is a tough body to bring down as well, and they expect to see a heavy dose of both.
LSU defensive tackle Michael Brockers said that if you take the names off the backs of their jerseys, he sometimes can't who which one is which because of their similar running styles and their stylish dreads.
Oh and don't forget about
Jalston Fowler
, who has made his presence known now and again against opposing defenses this fall.
"They both run physical, high and tight," Brockers said of Richardson and Lacy, who have combined for 1,454 yards and 22 touchdowns. "Both are two physical backs. And then they got somebody else, No. 45. I thought he was a fullback when I saw him in there. I was like, 'Oh, this guy is huge.' Just bruising backs and if we get three-and-outs, I feel like we'll be fine, but if we keep letting them run the ball, I think it's going to be a long day."
LSU enter Saturday's game allowing 76.6 rushing yards per game and 2.5 yards per rush. Both are second in the SEC to, of course, Alabama.
November, 1, 2011
11/01/11
3:13
PM ET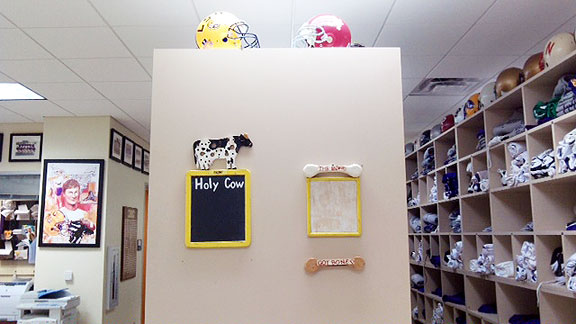 Edward Aschoff/ESPN.comMaking the "Holy Cow" or "The Bone" board is a goal for LSU players.
BATON ROUGE, La. -- You can imagine that there are a few pretty fun moments for LSU's football team.
OK, a lot of fun moments.
One of those fun moments is when the team likes to congratulate players for individual plays that will someday make the LSU highlight reel. Inside LSU's equipment room is a large cubby with three boards on the side that read: "Holy Cow," "The Bone" and "Got Boned."
You want your name or your picture on the Holy Cow and The Bone signs. Those are designated for players who made a big play in a game or a bone-crushing hit. Excuse the pun.
Knocking a kicker out on a special-teams block, beating a defensive back for a big catch, hurdling a defender or making an opponent cry gets you on these coveted boards.
However, slip up, and you'll be blasted by your teammates and placed on Got Boned. To make this disgraceful side of the wall means you were the recipient of such plays. You are razed for that week and shamed until you redeem yourself, or someone takes your place.
Also, there is another team tradition associated with this cubby. At the beginning of every game week, it is customary to put the opposing team's helmet at the top opposite the LSU helmet. It's a constant reminder of the goal ahead.
Welcome back to LSU's equipment room Alabama.
November, 1, 2011
11/01/11
1:44
PM ET
BATON ROUGE, La. -- It's not every day that a 6-foot-3, 304-pound offensive lineman can freely admit that he's a certified nerd, but LSU's T-Bob Hebert has no problem doing just that.

LSU's versatile lineman uses his downtime to perfect his third-person shooter skills on his Xbox.

"This fall, I've really hurt my wallet," Hebert said.

Anyone's wallet will take a hit when grabbing video games like "Gears of War 3," "Batman: Arkham City" and "Battlefield 3" off the shelves in a span of only a couple of months.

You'd think it might be pretty hard for an LSU football player to find time for video games, but as a fifth-year senior, his class schedule is pretty light, so when he isn't taking time to look at film of opposing teams, he's kicking back in either LSU's players' lounge or at his house playing away.

He takes his game online with the likes of fellow linemen Josh Dworaczyk and Will Blackwell. Hebert says he's pretty good, but Dworaczyk is the man when it comes to video games. Hebert fancies himself as more of a third-person expert, so "Gears of War" is more his style, but Dworaczyk is more first-person, making him the "Battlefield" champ. But Dworaczyk usually dominates no matter the title.

Hebert uses these games as a release from his football life, but with Alabama looming, he admits that his video game habit has been put on the backburner ... for now.

"I haven't gotten to get in much action this week, so I probably won't be playing too much," he said.
November, 1, 2011
11/01/11
1:18
PM ET
BATON ROUGE, La. -- The players aren't the only ones having to deal with tons of ticket requests for the Alabama-LSU game.

LSU's athletic staff is also having to field phone calls and emails dealing with people wanting tickets for this epic matchup. From friends and family to NFL personnel, coach Les Miles' secretary, Ya'el Lofton, has had at least 500 requests for extra tickets. She was allotted 20 and was able to get 30 more.

Needless to say, she wasn't able to come close to hitting that 500 number, but having such requests is a good thing, Lofton said.

"If we had a million extra, it wouldn't be enough," she said.

"It's always a good thing to not have enough tickets. There was a time around here when we couldn't give them away, so it's wonderful to have these problems."
November, 1, 2011
11/01/11
12:22
PM ET
BATON ROUGE, La. -- No wonder LSU does so well in recruiting.

Outside of the state-of-the art facilities, the personable coach and the winning tradition, LSU has quite the recruiting lounge. This is where all those personal conversations between recruits, coaches and family members go down.

It has such an inviting feel when you walk in. It's like you're sitting in a huge LSU fan's living room, complete with LSU candles, lamps, vases, rugs and tiger-striped chairs that are actually pretty comfy.

There are huge framed photos from the 2007 national championship, a Glenn Dorsey jersey, a plethora of LSU football books and the jersey signed by former President George Bush from the Tigers' celebration at the White House.

There are also tall, wide glass windows looking out into the hallway and coach Les Miles' office. It might seem like you're on the spot, but it's a great way to take a peak at big-name players from the past or present.

But it isn't just about football in this quaint little room. There are family pictures spread out everywhere -- on bookshelves and tables -- and a framed picture of Miles with some of his players during their graduation ceremony. On the frame it reads: Coach Miles' Team Goal: "100% Graduation and Win Championships."

You get a taste of the football side of LSU's program and also the more relaxed, family feel.

There are also a few open spots on the wall that seem primed for frames with the words "2011 National Champs" plastered on them.
November, 1, 2011
11/01/11
10:00
AM ET
By
ESPN.com staff
| ESPN.com
Join our ESPN.com college football experts as they preview the biggest match up of the season: No. 1 LSU at No. 2 Alabama.

Contribute your thoughts and questions beginning at 2 p.m. ET. See you there.


November, 1, 2011
11/01/11
9:48
AM ET
BATON ROUGE, La. -- For now, everything is peaceful on campus.

Students were trudging around after what was surely a fun Halloween in Baton Rouge. The number of Honey Badger costumes had to be staggering.

There are "Beat Bama" signs sitting in a few yards outside of campus and the students seem more eager than the players and coaches.

Linebacker Ryan Baker said that his phone has been inundated with text messages and phone calls all about Alabama. It can get a little overwhelming, but Baker said it adds even more excitement to the game.

Defensive end Barkevious Mingo said one thing that helps him is the fact that head coach Les Miles is as loose as ever. It might sound weird for a head coach, even for a coach as unorthodox as Miles, to keep the same demenor he's had all season for a game of this magnitude, but his players certainly don't mind.

"If he's calm," Mingo said, "we're calm."
November, 1, 2011
11/01/11
8:39
AM ET
BATON ROUGE, La. -- ESPN will go inside with LSU's football program on Tuesday, bringing you a behind-the-scenes look at the the top-ranked Tigers.
Erin Andrews will be handling the TV side of things, hanging with coach Les Miles and his group of laid-back, chummy players all day. She'll also take you in for some inside looks at how this coaching staff is preparing for the epic matchup with No. 2 Alabama Saturday.
I'll be blogging away from morning to night, keeping you updated on the Tigers' day of preparation.
You can follow all the updates on ESPN and ESPN.com on the
SEC blog
.
After hanging with this team Monday, I got the sense that it is really cool and collected right now. None of the players seemed stressed about such a big matchup and they certainly weren't afraid to speak their minds. That is totally a reflection of their head coach. Miles was an absolute riot with the media during his Monday news conference.
Some players were talking about defensive bragging rights being on the line and others talked about showing who has the best team.
There wasn't any trash talk toward Alabama and it's obvious that the Tigers have tremendous respect for the Crimson Tide, but it's finally time to settle who really is the best in college football.
We'll take a closer look at what Tuesday is like during Alabama game week for this fun group of Tigers.