NCF Nation:

2011 recruiting needs
January, 26, 2011
1/26/11
9:00
AM ET
Signing day is exactly a week from today, and it's time to take a look at who needs what in its 2011 class.
Some schools have addressed these with their current class. Some haven't. Others are still trying.
We'll kick things off with the artists formerly known as the Big 12 North and examine the South later today.

COLORADO
Cornerback:
Jalil Brown and Jimmy Smith were pretty reliable for the Buffaloes, but both are headed to the NFL, and the Buffaloes could definitely use some depth behind their first-year starters. It's not quite as pressing of an issue considering their move to the less pass-happy Pac-12, but they still like to sling it out west.
Receiver
: Colorado isn't exactly starving anywhere on offense, but receiver sticks out a bit.
Toney Clemons
was good, but maybe not quite what the Buffaloes hoped he'd be in 2010, but they caught a break in getting
Paul Richardson
back after a great freshman season. The Buffaloes need some complementary pieces around Clemons and Richardson to replace departed pass-catchers
Scotty McKnight
and
Travon Patterson
. Next year, that should be tight end
Ryan Deehan
and receiver
Will Jefferson
.

IOWA STATE
Receiver:
It's been a struggle for Iowa State in recent years, but they have to get better outside to help out their quarterback.
Sedrick Johnson
's transfer only worsens the Cyclones depth at the position, but
Jake Williams
and tight end
Collin Franklin
, the team's leading receiver, are gone.
Shontrelle Johnson
looks ready to become a big factor in the offense, but the Cyclones filling the space at receiver will make it easier for Johnson to replace running back
Alexander Robinson
.
Safety:
Both starters, David Sims and Zac Sandvig, are gone. So is the Cyclones top reserve at the position, Michael O'Connell. Sims was a top-notch talent that will be tough to replace, but Iowa State needs more depth here. They should be solid at corner with Leonard Johnson, Ter'ran Benton, Jeremy Reeves and Anthony Young, which could make the new safeties' jobs easier.

KANSAS
Defensive line:
KU is losing three of four starters on the line, including the team's only All-Big 12 talent, defensive end Jake Laptad. Turner Gill wants more speed, and this is a place to install it. Tackles that tip the scales at 320 pounds aren't too necessary in this league, but speed on the edge can go a long way in stopping the pass.
Quarterback:
Neither
Jordan Webb
or
Quinn Mecham
look like long-term answers at quarterback for the Jayhawks. Mecham will be a senior, and Webb might develop into a better player as a sophomore next year, but Kansas needs other options. The Jayhawks hope Brock Berglund, the top-rated recruit in Colorado, is the solution to the problem.

KANSAS STATE
Running back:
I hear your cries for
Bryce Brown
, Wildcats fans, but K-State can't expect to hitch their wagon to the former blue-chip recruit turned Tennessee transfer in the same way it did for
Daniel Thomas
. Thomas and his backup,
William Powell
, are gone, and the Wildcats need some depth at running back to show up.
Interior offensive linemen:
K-State loses both guards and its center from an offense that produced the Big 12's leading rusher in 2010. Don't expect them to do it again in 2011 without Wade Weibert, Kenneth Mayfield and Zach Kendall, as well as Thomas and Powell, but finding some new talent behind them will help them come close.
Cornerback:
David Garrett emerged as a budding star in 2010 ready for a breakout senior year in 2011, but the Wildcats lose Terrance Sweeney and Stephen Harrison, as well as safety Troy Butler. Like we've mentioned earlier, good secondaries are a must for success in the Big 12, and K-State had one of the league's worst in 2010.

MISSOURI
Receiver:
Missouri has some good ones ready to suit up in 2011, namely
Wes Kemp
,
Jerrell Jackson
and
T.J. Moe
, but the Tigers don't have a true gamebreaker. They have some younger players in
Marcus Lucas
and
Jimmie Hunt
who they hope will develop into big-time, All-American caliber receivers, a la Jeremy Maclin and Danario Alexander. In Missouri's system, though, adding a few receivers is always a good idea. They certainly don't need any more running backs.
Defensive backs:
Mizzou doesn't have any huge holes that need to be filled with recruiting, but the Tigers lose both corners, Carl Gettis and Kevin Rutland from their 2010 team. Kip Edwards and E.J. Gaines look likely to fill those roles, but the Tigers could use some depth and keep recruiting in the secondary to help add some talent around Tavon Bolden and Matt White, safeties who will replace departed Jarrell Harrison, who actually had to play some linebacker in 2010 because of injuries.

NEBRASKA
Every kind of kicker:
Alex Henery, the team's punter and kicker is gone. So is kickoff specialist and lover/producer of touchbacks, Adi Kunalic. Fan favorite Henery was hardly underappreciated by the Nebraska faithful, but they'll miss him even more if the Huskers can't find a suitable placekicker and punter. Bo Pelini was reportedly after Wake Forest commit Mauro Bondi this week.
Receiver:
Niles Paul
and
Mike McNeill
are gone. The Huskers need
Brandon Kinnie
to come through with another good year and it'd be nice if
Quincy Enunwa
broke through in 2011, but
Taylor Martinez
needs some more help at wide out, and a couple new recruits could provide it as Martinez's passing prowess matures.
January, 25, 2011
1/25/11
10:00
AM ET
We looked at the recruiting needs for the Legends division earlier today. Now let's take a look at what the teams are looking for in the Leaders division.
As a reminder, I tried to look at positions that have depth issues for the 2011 and/or the 2012 seasons.

ILLINOIS
Linebacker:
Martez Wilson's early departure to the NFL leaves a void at middle linebacker, and Illinois also says goodbye to playmaker Nate Bussey and reserve Aaron Gress. Ian Thomas comes back and Jonathan Brown showed a spark, but Illinois has to rebuild some depth in its defensive midsection.
Wide receiver:
Offensive coordinator Paul Petrino wants to run the ball, but quarterback
Nathan Scheelhaase
showed in the Insight Bowl that he can be an effective passer.
A.J. Jenkins
returns to serve as Scheelhaase's No. 1 option in 2011, but Illinois needs other pass-catching options to emerge.
Quarterback:
The Illini have lost two scholarship quarterbacks (Jacob Charest and
Chandler Whitmer
) in each of the past two seasons, creating a depth issue behind Scheelhaase. Given Scheelhaase's style of play, Illinois needs other options under center and must address this position with this class.

INDIANA
Secondary:
The Hoosiers simply haven't had enough Big Ten-ready defensive backs in recent seasons. This might be a recruiting need for several years as Indiana has to begin building a talent base in the secondary.
Quarterback:
Kevin Wilson has done wonders with quarterbacks at his previous coaching spots, but he needs talented players who can flourish in his system.
Ben Chappell
's departure leaves Indiana with no proven options at quarterback. Although the Hoosiers bring back all of their reserves, they should keep looking for the right answer under center.

OHIO STATE
Wide receiver:
All-Big Ten receiver
Dane Sanzenbacher
departs, and
DeVier Posey
is suspended for the first five games of 2011, pending appeal. Ohio State hasn't developed much depth at wideout in recent seasons, and a capable freshman could put himself into the mix.
Quarterback:
Ohio State needs someone to take the snaps during
Terrelle Pryor
's suspension, and it's unknown whether
Joe Bauserman
or
Kenny Guiton
will be the answer. The Buckeyes also must address life after Pryor in this recruiting class.

PENN STATE
Offensive line:
The Lions began addressing this need with last year's class and will continue to do so with the 2011 crop. Getting the offensive line in order is the biggest key to Penn State reclaiming a place among the Big Ten title contenders. Penn State loses standout guard Stefen Wisniewski and will have more departures after the 2011 season, so building depth is paramount.
Defensive line:
Penn State lacked a dynamic pass rusher in 2010 and could bolster the end spot, but it can't neglect the defensive tackle position, either. Ollie Ogbu departs and Devon Still will be gone after the 2011 season. Although Jack Crawford returns at end, the depth there could be enhanced through recruiting.

PURDUE
Running back:
The Boilers should avoid a depth disaster like the one they endured in 2010, but they can't take any chances, either. Coach Danny Hope and offensive coordinator Gary Nord want to run the ball a lot and they need more options to emerge around
Ralph Bolden
and
Al-Terek McBurse
. There are opportunities for freshmen to emerge here.
Tight end:
Purdue should be fine at receiver in 2011, but it loses starting tight end
Kyle Adams
, the team's top pass catcher, as well as backup
Jeff Lindsay
. Expect the Boilers to address the tight end position in the 2011 class, as it is a big part of the plan on offense.

WISCONSIN
Secondary:
The Badgers lose a multiyear starter at safety in Jay Valai this season, and three more starters (safety Aaron Henry and cornerbacks Antonio Fenelus and Devin Smith) will depart after the 2011 season. It's important to start building depth with this class.
Wide receiver:
Wisconsin benefits from
Nick Toon
returning for his senior year, but the overall depth at receiver isn't great.
David Gilreath
,
Isaac Anderson
and
Kyle Jefferson
all depart and with Toon gone after the 2011 season, the Badgers need to find playmakers to complement
Jared Abbrederis
.
Pass rusher:
J.J. Watt's early departure to the NFL draft creates a potential depth issue at defensive end. Returning starter Louis Nzegwu and David Gilbert both are good options, but the Badgers are young and unproven after those two. Young players like Beau Allen will take on bigger roles in 2011, and the team could use an incoming player or two to emerge.
January, 25, 2011
1/25/11
9:00
AM ET
National Signing Day is just about a week away, so let's take a look at the recruiting needs for each Big Ten team.
In compiling these lists, I tried to look at positions that have depth issues for 2011 and/or 2012.
Let's start off with the Legends division.

IOWA
Running back:
Marcus Coker
's breakout performance in the Insight Bowl got Iowa fans excited for the future, but there's still a significant depth issue here. If
Adam Robinson
can't get reinstated, the Hawkeyes will be looking for No. 2 and No. 3 options behind Coker. As we've seen the past two seasons, freshmen backs will see the field at Iowa.
Linebacker:
Iowa felt the losses of Pat Angerer and A.J. Edds this season, and it must continue to rebuild the depth at the three linebacker spots. Multiyear starter Jeremiha Hunter departs along with players like Jeff Tarpinian and Troy Johnson. Iowa needs to build around rising star James Morris.
Wide receiver/tight end:
Iowa loses Derrell Johnson-Koulianos,
Allen Reisner
and
Colin Sandeman
this year. Also, receiver
Marvin McNutt
and tight end
Brad Herman
depart after the 2011 season. Although the Hawkeyes boast young talent at both positions, they need to build depth with this class.

MICHIGAN
Secondary:
The Wolverines couldn't find many answers here in 2010, and though the return of players like cornerbacks Troy Woolfolk and J.T. Floyd will help, there are opportunities for freshmen to make an immediate impact. Michigan simply needs more options at both secondary spots in 2011.
Defensive line:
It's crucial for coach Brady Hoke and defensive coordinator Greg Mattison to begin building depth up front. Future NFL player Mike Martin departs after 2011 along with Ryan Van Bergen, so Michigan needs to solidify both line positions.
Kicker:
Field goals were an adventure in 2010, and Michigan simply can't have so much uncertainty at kicker going forward. The Wolverines need a reliable leg here ASAP.

MICHIGAN STATE
Linebacker:
I like some of the young linebackers the Spartans bring back in 2011, but you can't overlook the losses of multiyear starters Greg Jones and Eric Gordon, not to mention reserve Jon Misch. Michigan State should have a decent group of first-string 'backers, but wants to build depth in the defensive midsection.
Offensive line:
Not only do the Spartans lose three starters from the 2010 line, but they're still not where they need to be depth-wise up front to become a consistent top-tier Big Ten program. Michigan State wants to become like Iowa and Wisconsin. The big step is to keep fortifying both lines, especially on the offensive side.

MINNESOTA
Pass rusher:
Minnesota finished last in the Big Ten in sacks last season (9) and hasn't had an intimidating pass rusher since Willie VanDeSteeg in 2008. The recent departure of defensive tackle Jewhan Edwards, who led the team in both sacks and tackles for loss in 2009, underscores this need.
Offensive line:
The Gophers lose three starters up front, and while they boast some promising young linemen like tackle Ed Olson, the depth just isn't there yet. Minnesota's best teams had powerful offensive lines, and new coach Jerry Kill must continue to create competition up front.

NEBRASKA
Running back:
The Huskers lose standout
Roy Helu Jr.
, and while
Rex Burkhead
quickly will become one of my favorite Big Ten players, he might not be an every-down back for Nebraska going forward. You always want options in the backfield, and Nebraska must continue to address its run game with the 2011 class.
Wide receiver:
Nebraska loses
Niles Paul
and wants to identify playmakers to surround
Taylor Martinez
or whomever starts at quarterback.
Brandon Kinnie
departs after the 2011 season, and while Burkhead helps in the receiving department, Nebraska needs others to emerge.

NORTHWESTERN
Running back:
Although
Mike Trumpy
and
Adonis Smith
emerged as possible answers late in the 2010 season, Northwestern needs to create real competition here. The Wildcats have lacked a dominant back during the Pat Fitzgerald era and need a dangerous rushing option to complement
Dan Persa
.
Defensive line:
The Wildcats lose only one starter (Corbin Bryant) from the 2010 squad, but four more rotation players (Vince Browne, Jack DiNardo, Kevin Watt and Niko Mafuli) depart after 2011. Fortifying the pass rush is a major priority going forward.
January, 24, 2011
1/24/11
10:00
AM ET
This morning we looked at the main recruiting needs for the Atlantic Division. Here are the priorities for each team in the Coastal Division:
DUKE
Offensive line:
The Blue Devils will have to replace one starter in center Bryan Morgan, and it's still a relatively young group, but with several redshirt sophomores on the roster, the staff wants to load up two grades behind them to fully stock the position for the future.
Defensive line:
This has always been Duke's deficiency, which means it will always be a priority to catch up and build depth. The Blue Devils will have to replace two starters in Wesley Oglesby and Patrick Egboh. Noseguard Charlie Hatcher will be a redshirt senior.
Cornerback:
Duke only loses one starter, cornerback Chris Rwabukamba, but it's another position that has been weak and needs better athletes.
GEORGIA TECH
Offensive line
: The early departure of Nick Claytor to the NFL didn't help the depth, but there were still several young players who gained valuable experience and others who redshirted to help the depth. While no true freshman is likely to make an immediate impact, the staff is still looking to build the numbers up front.
Linebacker/defensive line:
The Jackets need to find more athletes who are suited for Al Groh's 3-4 scheme. Fast athletes who are versatile enough to play a hybrid role, with the ability to move in space, will be a priority in this class.
MIAMI
Quarterback:
With
Jacory Harris
being a senior, A.J. Highsmith moving to defense, and
Spencer Whipple
struggling in what little time he has played, the position needs a boost. It didn't help that Teddy Bridgewater reneged on his commitment.
Linebacker:
This is a position former coach Randy Shannon had put an emphasis on building, and there are young players and depth, but it was also a veteran group in the 2010 two-deep, with mainly juniors and seniors.
Wide receiver:
The upperclassmen did all of the work in 2010, with
Leonard Hankerson
leading the way.
Travis Benjamin
,
Aldarius Johnson
and Laron Byrd will all be seniors. An influx of young talent is needed.
Defensive end:
The staff is looking to improve the depth here, get stronger up front, and build upon the success from 2010. Marcus Robinson, Adewale Ojomo, and Micanor Regis will all be seniors.
NORTH CAROLINA
Tailback:
Injuries depleted this group in 2010, and
Anthony Elzy
,
Johnny White
and
Shaun Draughn
were both seniors.
Ryan Houston
was able to redshirt and will return as a fifth-year senior, but the Tar Heels need more dependable runners and a foundation for the future.
Defensive line:
The Tar Heels have to prepare for some departures, especially on the interior, where all four players on the two-deep roster in 2010 were juniors.
Secondary:
UNC will have to replace three starters in the secondary this spring, and three backups this year were juniors. Because of the NCAA investigation, this is a group in which backups had to develop quickly, so there are some experienced younger players, but the group still needs to reload.
Tight end:
The loss of Zach Pianalto and his backup,
Ed Barham
, leaves the position thin.
VIRGINIA
Offensive line:
With starting right guard B.J. Cabbell gone, starting center Anthony Mihota a senior, and starting left guard Austin Pasztor a senior, the staff has to prepare for some departures. Morgan Moses and Oday Aboushi are talented young players, but the rotation needs more of them.
Defensive line:
End Zane Parr's decision to leave early for the NFL draft hurt the position's depth, and the Cavs will also have to replace John-Kevin Dolce at tackle. Three other players in the two-deep will be rising seniors, and with Virginia switching back to a 4-3 defense under Mike London, the Cavs have to rebuild up front.
Secondary:
Cornerback is of particular concern, as Chase Minnifield will be a senior, and starter Mike Parker will graduate.
VIRGINIA TECH
Running back:
The early departures of
Ryan Williams
and
Darren Evans
to the NFL left
David Wilson
as the only tailback with any significant experience. Overall, the Hokies have four tailbacks on their current roster.
Defensive line:
The Hokies will have to replace redshirt senior starters Steven Friday and John Graves, and starting left end Chris Drager will be a redshirt senior this year.
Wide receiver/tight end:
Starters
Jarrett Boykin
and
Danny Coale
will be seniors, and tight end
Andre Smith
will graduate.
Secondary:
Half the players on the two-deep roster against Stanford were either juniors or seniors, and the Hokies will have to replace rover Davon Morgan and cornerback Rashad Carmichael.
January, 24, 2011
1/24/11
9:00
AM ET
It's time to reload in the ACC. Here's a look at the position needs for each team in the Atlantic Division for the 2011 signing class:
BOSTON COLLEGE
Offensive linemen:
Six players on the final two-deep roster for 2010 were either juniors or seniors, and the Eagles will have to find replacements for Anthony Castonzo, Rich Lapham and Thomas Claiborne. There were two juniors at center in 2011, and the recruiting overall at this position hasn't been as strong in recent years.
Defensive linemen:
The Eagles have been thin at the position to begin with since the departures of Ron Brace and B.J. Raji. The interior line should be a priority, as tackle Damik Scafe will graduate, and Kaleb Ramsey will be a senior. Defensive end Brad Newman will also graduate.
CLEMSON
[+] Enlarge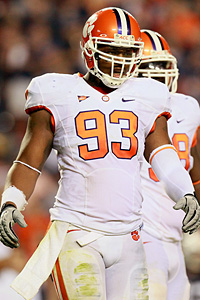 Kevin C. Cox/Getty ImagesReplacing Da'Quan Bowers is a top priority for Clemson.
Defensive line:
The early departure of defensive end Da'Quan Bowers and the loss of Jarvis Jenkins makes this group a priority. Seven of the eight players up front on the final two-deep roster were either juniors or seniors.
Quarterback:
Prior to the early enrollees, Clemson only had one scholarship quarterback on the roster -- projected starter
Tajh Boyd
. The depth needs to be rebuilt after the loss of starter
Kyle Parker
and transfer of backup Willy Korn.
Running back:
The early departure of
Jamie Harper
to the NFL left a hole in the Tigers' lineup. It's not completely empty, as
Andre Ellington
remains the best back on the roster and
Roderick McDowell
was a redshirt freshman backup to Harper.
FLORIDA STATE
Offensive lineman –
The departures of Rodney Hudson and Ryan McMahon will leave gaping holes up front, and A.J. Ganguzza and Antwane Greenlee aren't expected to return. Overall, the staff is looking for bigger, better players. With the exception of right guard, this was a veteran group.
Running back:
Despite the current depth, the coaching staff still wanted to sign about three more running backs in this class.
Wide receiver:
This would be the third priority for the staff.
Bert Reed
and
Taiwan Easterling
will both be seniors, but the team has lacked some dynamic playmakers at the position.
Linebacker:
The Noles lost two starters from last year's Atlantic Division championship team, and there are several young players on the rise like Jeff Luc and Telvin Smith, but the staff wants more numbers at the position.
Safety:
The Noles need an upgrade at this position.
Defensive line:
This is a matter of mostly building depth and size and continuing to get better.
MARYLAND
Kicker/ Punter:
Nick Ferrara has the ability to do both, but he also struggled at both in 2010. Travis Baltz was a four-year starter at punter who has to be replaced. The kicking game should be a top priority in this class, and a concern if Ferrara doesn't become more consistent.
Wide receiver:
The early departure of standout
Torrey Smith
to the NFL leaves quarterback
Danny O'Brien
without a favorite target. Seven of the nine receivers listed on the most current depth chart for 2010 were either juniors or seniors.
Running back:
The Terps have to replace starter Da'Rel Scott, and
Davin Meggett
will be a senior. There is some talent behind Meggett in
D.J. Adams
, but the position could use more depth.
Secondary:
Six of the top 10 players in the secondary were either juniors or seniors in 2010, including safety Antwine Perez, who will graduate. Kenny Tate and Cameron Chism will both be seniors, and the corner position is the biggest need.
Defensive end:
Defensive coordinator Don Brown would like to bring in at least one player who can really bring some speed off the edge.
NC STATE
Kickers:
The Wolfpack lost their starting punter and place-kicker, easily making kickers the biggest need in this recruiting class.
Defensive linemen:
With the exception of sophomore Brian Slay, the entire 2010 line was comprised of juniors and seniors. The Pack have to replace two starters, and two returning starters, Jeff Rieskamp and J.R. Sweezy, will be seniors.
Linebackers:
This was another veteran group for NC State, with five of the six players on the two-deep either juniors or seniors. Nate Irving's graduation will be a big hit and Audie Cole will be a senior.
Quarterback:
If
Russell Wilson
leaves early, the position will be even thinner, but backup
Mike Glennon
will be a junior, so the staff needs to build more depth.
WAKE FOREST
Offensive linemen:
The Deacs will have four redshirt juniors returning up front, and have to replace redshirt senior center Russell Nenon. The staff is looking to increase the depth and talent up front.
Linebackers:
The position hasn't been the same since the 2008 class (Aaron Curry and Stanley Arnoux). They were both drafted and two of the fastest players the program has ever seen. The staff needs to bring in more talent and speed here.