NCF Nation:

2011-season-moments
January, 12, 2012
1/12/12
11:22
AM ET
As we take another look at the 2011 season, we'll check out the top 10 moments from the SEC's year.
It's not as easy as it looks, but someone has to do it.
I'm sure we'll think of a couple more as the days go by, but here are our top 10 moments from 2011 in reverse order:

10. Houston Nutt's dismissal:
Ole Miss said goodbye to its head coach after Nutt was fired toward the end of the season. After back-to-back nine-win seasons that ended with Cotton Bowl victories, Nutt was fired after two dismal seasons in Oxford. He coached the entire season, but ended his tenure with 14 straight losses to SEC opponents.
9. Kentucky's last stand:
There wasn't much for the Wildcats to be proud of in 2011, but Kentucky's 10-7 win over Tennessee was truly memorable. It snapped a 26-game losing streak to the Vols (dating back to when Joker Phillips played at Kentucky) and eliminated Tennessee from postseason play.
[+] Enlarge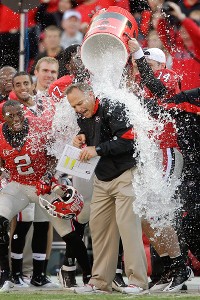 AP Photo/David GoldmanMark Richt and the Bulldogs overcame an 0-2 start to the season to win the SEC's Eastern Division.
8. Georgia clinching the East:
After starting the season 0-2, Georgia won 10 straight, but its ninth win meant the most. Georgia's 19-10 win over Kentucky on Nov. 19 clinched the SEC Eastern Division and sent the Bulldogs back to the SEC championship for the first time since 2005.
7. Vandy's bowl bid:
Coach James Franklin promised change at Vanderbilt and he got it in his first year. The Commodores reeled off six wins and their 41-7 win over Wake Forest on the last weekend of the regular season sent Vandy bowling for the first time since 2008.
6. Richardson's run:
Trent Richardson
's Heisman moment came on a run and a move for the ages. Before he could finish off his eventual 76-yard touchdown run in the third quarter against Ole Miss, he had to embarrass defender Senquez Golson by cutting back and then immediately forward, leaving the rookie stumbling to the turf just before the end zone.
5. Adams' return:
No plays were as exciting to watch in the SEC -- and probably nationally -- than
Joe Adams
' amazing punt return against Tennessee. Adams was scintillating, as he reversed field 10 yards and shook off five tackles before darting down the right sideline for what stood as a 60-yard touchdown return.
4. South Carolina's 11th win:
Last year, the Gamecocks made history when they made it to their first SEC championship game. In 2011, South Carolina won 11 games in a season for the first time when the Gamecocks routed Nebraska in the Capital One Bowl. It also ended a streak of three straight bowl losses.
3. Reid's interception:
When you think back at the 2011 season, Eric Reid's interception against Alabama at LSU's own 1-yard line has to be one of the first images you see. With the Tide running a trick play involving a pass from receiver
Marquis Maze
to tight end
Michael Williams
, Reid out-muscled Williams for the ball in midair. The play propelled LSU on its magical run and sent Alabama home with what seemed like a season-changing loss.
2. LSU's magical run ends:
LSU was a win away from entering the "best ever" conversation, with eight wins over ranked teams, but LSU ran into a freight train named Alabama in the hated rematch in the Allstate BCS National Championship Game. LSU's offense fell flat as the Tide ran over the Tigers 21-0 in their own backyard of New Orleans.

1. Alabama hoists the crystal football ... again:
The state of Alabama clearly owns college football at the moment. Alabama's 21-0 win over LSU in the national championship gave the state three straight crystal footballs and was the second for the Crimson Tide in three years. Nick Saban admitted that this championship (his third) was the sweetest and you could tell because he actually smiled afterward and took his Gatorade bath like a true champ.
January, 12, 2012
1/12/12
11:00
AM ET
Let's take a look back at some of the top moments from the non-AQs in 2011, both good and bad.
[+] Enlarge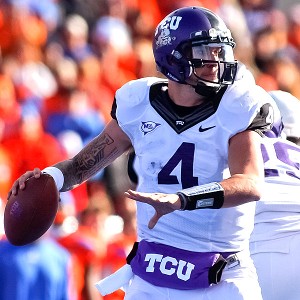 Otto Kitsinger III/Getty ImagesQB Casey Pachall and TCU stopped Boise State's 65-game regular-season home win streak en route to a third straight Mountain West title.
1. A missed field goal strikes again.
Everybody knew the Boise State-TCU game would have major implications in the national picture. No. 5 Boise State came in undefeated, with a 65-game regular-season home winning streak and veteran
Kellen Moore
leading the way. But the Horned Frogs are never an easy out, as Boise State has learned through the years.
Casey Pachall
rallied his team from a fourth-quarter deficit with 1:05 to go when he threw a 25-yard touchdown pass to
Brandon Carter
. Rather than go for the extra point to tie the game at 35, Gary Patterson went for 2. It was a bold move, but it was one he felt was necessary if he wanted to win in regulation. Pachall converted with a pass to
Josh Boyce
and TCU went up 36-35. Moore wasn't done. He guided the Broncos into position for the game-winning field goal. But for the second straight year, they missed. This time, it was Dan Goodale's 39-yard kick sailing wide right, denying Boise State a shot at a BCS game. TCU left the Mountain West with its third straight conference title.
2. Houston collapses.
All Houston had to do to secure its first BCS berth was beat Southern Miss in the Conference USA title game. The Cougars were the favorite, having gone undefeated in the regular season with
Case Keenum
behind center. Southern Miss had lost to UAB. So yeah, most everybody expected the Cougars to romp. Instead, the Golden Eagles pulled one of the biggest upsets of the season, shutting down Keenum and winning 49-28 in a game they dominated from start to finish. Keenum threw two interceptions and was harassed all day long. The end result: Houston ended up in the TicketCity Bowl, a far cry from one of the major BCS games. Southern Miss won its first C-USA title game.
3. Records broken.
The two best non-AQ players this year ended up breaking two of the most meaningful stats for quarterbacks. Moore ended his career as the NCAA all-time wins leader with 50, passing Colt McCoy of Texas; Keenum ended his career with several NCAA marks -- 19,217 passing yards; 20,114 yards of total offense; 155 passing touchdowns; and 1,546 completions. They both did all they could to lead their teams with maturity and class, and were great representatives for their respective programs.
4. No BCS.
For the first time since the BCS expanded to five games, there were no non-AQ teams represented. Much was made about a one-loss No. 7 Boise State team getting passed over for an at-large selection in favor of two teams ranked lower in the BCS standings (Michigan and Virginia Tech). Though four non-AQs finished the season ranked in the AP poll (Boise State, TCU, Houston, Southern Miss), this season will be remembered as one in which there were no undefeated non-AQs for the first time since 2005.
5. Expansion.
One of the biggest storylines to eclipse the entire season was expansion, and its impact on the non-AQs. The Mountain West and Conference USA announced they were forming an alliance in the hopes of gaining an automatic bid, and bolstering itself in the event they lost teams. Well, the inevitable happened and they both lost teams. Boise State and San Diego State are leaving the MWC for the Big East, along with UCF, Houston and SMU of C-USA. With TCU going to the Big 12, you can say the non-AQs have been stripped of nearly every single one of their most consistently good teams. There is no word on the future of the alliance between the MWC and C-USA.
[+] Enlarge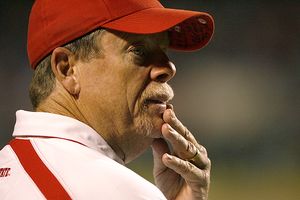 AP Photo/Gary KazanjianPat Hill won 112 games and made 11 bowl appearances in 15 seasons at Fresno State.
6. End of an era.
Pat Hill had become an institution at Fresno, guiding the Bulldogs to some of their most important victories in the past 15 years while putting this program on the national map. But this team has slid in recent years and hit rock bottom in 2011 -- going 4-9, tying the mark for most losses in school history. The administration decided it was time for Hill to go and
fired him
after winning 112 games and going to 11 bowl games in his career there.
7. End of an era, Part II.
Many wondered how good TCU would be this season with Andy Dalton headed to the NFL. After a few early-season struggles, the Horned Frogs proved they would be just fine. TCU ended its Mountain West reign with its third straight conference title; 11 victories; and yet another top 15 ranking. In fact, TCU is one of just four schools (Alabama, Boise State and Oregon) to finish in the top 15 of both major polls over the past four seasons. On top of that, TCU and Boise State are the only schools to win at least 11 games each of the past four years.
8. Navy streak ends.
For the past eight years, we have come to expect Navy in a bowl game. But it was not meant to be this season. The Midshipmen lost one heartbreaking game after another -- five games by three points or fewer. The last one of those was a 27-24 setback to San Jose State in the second-to-last game of the season. Navy led going into the fourth quarter, but could not hold on. A victory in that game would have ensured a bowl appearance, because Navy finished the season with its 10th straight win over Army.
9. Got any D?
The wildest game in college football happened in the MAC this year, between Northern Illinois and Toledo. Now this game is what MAC-tion is all about. The Huskies outlasted the Rockets 63-60 in a game that featured eight lead changes, 1,121 combined yards of offense and a MAC-record 17 touchdowns.
Chandler Harnish
won the game when he threw a 4-yard touchdown pass to
Perez Ashford
with 19 seconds left. The victory gave Northern Illinois the MAC West title, and allowed the Huskies to make it to the conference title game, where they won their first title since 1983. They also ended up tying the school record with 11 victories.
10. Turn it around.
This season, the Sun Belt literally turned itself upside down. Louisiana-Lafayette, Arkansas State and Western Kentucky went a combined 9-27 in 2010. This season, they went 26-12 and each finished with a winning record. Arkansas State won the league and finished 10-3; ULL went 9-4. Both teams made bowl games. Western Kentucky, which went winless in 2009, finished 7-5 but was left out of a bowl.
January, 12, 2012
1/12/12
11:00
AM ET
Now that the season is over, it's time to take a look back at our Top 10 moments of the year in Big Ten football, on and off the field:
No. 1
"Rocket" men (Oct. 22)

[+] Enlarge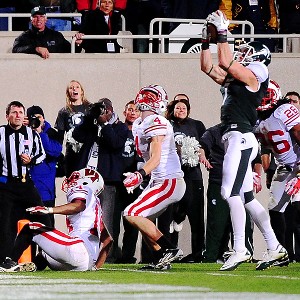 Andrew Weber-US PRESSWIREMichigan State Spartans wide receiver Keith Nichols' (right) catch to defeat the Wisconsin Badgers was the top play of the 2011 Big Ten season.
Michigan State's 44-yard Hail Mary pass from
Kirk Cousins
to
Keith Nichol
(via
B.J. Cunningham
's facemask) stands as the most memorable play of the Big Ten season and, we would argue, the top play of the college football year. The Spartans' 37-31 win over Wisconsin derailed the Badgers' national title hopes and helped propel Michigan State to a Legends Division title. And that set up another fantastic moment ...
No. 2
Badgers get revenge (Dec. 3)
The first Big Ten championship game couldn't have asked for much more drama, as Wisconsin and Michigan State staged a highly-anticipated rematch of their earlier classic. This one played out in almost the same fashion, with each team trading huge plays in a thrilling game. This time, the Badgers completed a desperation heave, as
Russell Wilson
found
Jeff Duckworth
on a long pass in the fourth quarter to set up the go-ahead touchdown. A running-into-the-punter penalty ended the Spartans' chances of winning in the final minute again. Wisconsin clinched a second straight Rose Bowl appearance with its 42-39 victory, and another Spartans-Badgers epic duel made the inaugural title game a smashing success.
No. 3
Michigan's miracle (Sept. 10)
If not for those Michigan State-Wisconsin games, Michigan's 35-31 win over Notre Dame would likely be remembered as the most exciting game of the Big Ten season. The Wolverines trailed 24-7 after three quarters and couldn't get much going offensively. But then
Denard Robinson
took over. The two teams scored three touchdowns in the final 1:12, until Robinson ended matters with a 16-yard scoring strike to
Roy Roundtree
with two seconds left. That kind of magic would stay with Michigan all season long, right through its equally improbable Allstate Sugar Bowl win over Virginia Tech.
No. 4
Braxton's bomb (Oct. 29)
A week after losing on that Hail Mary in East Lansing, Wisconsin had its guts ripped out all over again in Columbus. Precocious Ohio State freshman quarterback
Braxton Miller
scrambled and nearly crossed the line of scrimmage before firing a 40-yard touchdown pass to a wide-open
Devin Smith
with 20 seconds left as the Buckeyes won 33-29. Little did we know then that it would be Ohio State's last great moment of the season, or that the Badgers would somehow regroup to still win the league championship.
No. 5
The fall of an icon (Nov. 9)
No story in the Big Ten, or in all of sports, was bigger than the child sex abuse scandal that erupted at Penn State in November. The rape allegations against former assistant coach Jerry Sandusky, as well as charges that school administrators failed to stop him and/or lied under oath, became international news. And on Nov. 9, that scandal led to the firing of legendary head coach Joe Paterno, who won 409 games while leading the program since 1966. Everything about that week in State College, from students rallying on Paterno's front lawn to the bizarre, circus-like atmosphere at the Board of Trustees news conference announcing his dismissal, was and remains surreal.
No. 6
A time for healing (Nov. 12)
After all the events and controversy leading up to Penn State's home game against Nebraska, which included student riots in the streets of downtown a few days earlier, there was serious concern about what would happen at Beaver Stadium that Saturday. Security was on high alert. But the Nittany Lions and Huskers players helped diffuse the tension by meeting at midfield just before kickoff for a moving prayer. Nebraska won the game and won some admirers for how it handled the difficult situation.
No. 7
Urban renewal (Nov. 28)
Most of Ohio State's season, which featured a 6-7 record and a 2012 NCAA bowl ban handed down in December, was something its fans would like to forget. But Buckeyes fans can't wait for the future after the school hired Ohio native Urban Meyer as its next head coach. Meyer's first season will be hampered by the postseason ban. Still, for Ohio State to go through the mess it faced during 2011 and still end up with a coach of Meyer's stature and pedigree has to be considered a victory.
No. 8
Gophers go hog wild (Oct. 29)
Minnesota barely looked like an FBS team, much less a Big Ten one, during its 1-6 start. The Gophers had lost to North Dakota State and were outscored 144-31 in their first three league contests. But the rivalry game against Iowa brought out the best in them. Minnesota scored two touchdowns in the final 8:22 and pulled off a daring onside kick to stun the Hawkeyes 22-21 in the upset of the Big Ten season. The Gophers kept the Floyd of Rosedale trophy in Minneapolis for a second straight season.
No. 9
Huskers' historic comeback (Oct. 8)
Nebraska's first Big Ten home game was one to remember. The Huskers trailed Ohio State by 21 points in the second half before rallying for the biggest comeback victory in program history.
Taylor Martinez
,
Rex Burkhead
and Lavonte David all had huge nights as the team scored 28 straight points for a 34-27 victory. And by beating the league's reigning blue-chip program, Nebraska proved it belonged in the Big Ten.
No. 10
The Streak ends (Nov. 26)
Brady Hoke promised to "Beat Ohio" when he took the Michigan job. And he delivered with an exciting 40-34 victory
that snapped an infuriating seven-game losing streak to the hated Buckeyes. Robinson accounted for five touchdowns as the Wolverines held off a big performance from Ohio State's Miller. With Hoke and Meyer now battling it out every year, The Game could resume its place as college football's top rivalry.
January, 12, 2012
1/12/12
11:00
AM ET
What were the top 10 games or moments of the 2011 season? Here's a stab at a list.
10. Colorado wins 17-14 at Utah
: If the Utes had won Nov. 25, they would have won the Pac-12 South Division -- instead of UCLA -- and played at Oregon in the first Pac-12 championship game, in their first year of Pac-12 play. As it was, the Buffaloes' surprising victory ended a 24-game losing streak outside of the state of Colorado.
9. Shelly Lyons' pick-six vs. Matt Barkley
: Arizona State ended an 11-game losing streak to USC on Sept. 24 in a quaking Sun Devil Stadium. The most memorable play was Lyons returning an interception 41 yards for a touchdown to ice the 43-22 victory. This victory seemed to announce the Sun Devils' arrival as a top-25 team.
8. Third-and-29
: Arizona State's shocking 29-28 loss at UCLA on Nov. 5 was the first of five consecutive losses that derailed the Sun Devils' season and got coach Dennis Erickson fired. While it's most remembered for kicker Alex Garoutte missing three field goals, the biggest play of the game was the Bruins converting on a third-and-29 play on their go-ahead drive late in the fourth quarter.
Kevin Prince
connected with
Nelson Rosario
for 33 yards to the Sun Devils' 6-yard line. After that play, pretty much nothing went right for the Sun Devils the rest of the season. Further, UCLA wouldn't have played in the Pac-12 championship game without that play.
7. Halliday
!
Celebrate
! Freshman
Connor Halliday
, the third quarterback Washington State used this season, threw for a Pac-12 freshman-record 494 yards and four touchdowns in a 37-27 victory over Arizona State on Nov. 12. It was his first significant playing time.
[+] Enlarge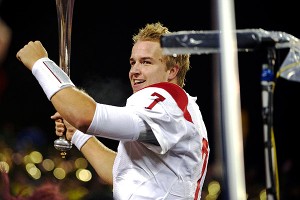 Jim Z. Rider/US PresswireUSC's win at Oregon, and Matt Barkley's decision to stay, signaled the Trojans' return to relevance.
6. Utah at USC, Sept. 10
: It was a good game that wasn't decided until the waning moments, with USC prevailing 23-14, but that's not why it was memorable. It was the first official Pac-12 game. (California's trip to Colorado earlier in the day didn't count as a conference game; it had been pre-scheduled as a nonconference game).
5. LSU-Oregon, third quarter
: The Ducks were statistically superior but trailed LSU 16-13 at halftime on Sept. 3 because Tyrann Mathieu scored a touchdown after stripping the ball from
Kenjon Barner
on a punt return. Then the third quarter happened. Two fumbles from
De'Anthony Thomas
in Oregon territory set up a pair of Tigers touchdowns, and the game was pretty much over before it got to the fourth quarter.
4. Stanford wins at USC 56-48 in triple overtime
: Start with this: The Oct. 29 meeting was a fantastic game, clearly one of the top five regular-season contests in the nation this year. What was most memorable to me wasn't the fumble that ended it, but Cardinal quarterback
Andrew Luck
regrouping after throwing a 33-yard pick-six to Nickell Robey and coolly leading a 76-yard touchdown drive to tie the count with 38 seconds left.
3. USC wins at Oregon 38-35
: When the Ducks missed a late field goal to tie the Nov. 19 game, several things happened, starting with the end of a 21-game home winning streak as well as the end of a 19-game conference winning streak. It eliminated Oregon from the national title hunt. It also announced USC's return to national relevance. This victory -- as well as quarterback Matt Barkley's decision to return for his senior season -- is why many see the Trojans as 2012 national title contenders.
2. Black Mamba strikes in the Rose Bowl
: For those in the college football world who only remembered De'Anthony Thomas from his fumbles in the opener against LSU, they got reintroduced in the Jan. 2 Rose Bowl. Thomas' touchdown runs of 91 and 64 yards were two of the most stunningly athletic plays of the bowl season. Immediately everyone thought: 2012 Heisman?
1. No Fiesta for Williamson
: Stanford kicker Jordan Williamson missed a 35-yard field goal wide left as time expired that would have given the Cardinal a victory over No. 3 Oklahoma State in the Fiesta Bowl on Jan. 2. Williamson then missed from 43 yards in overtime, setting up the game-winning kick for the Cowboys. Of course, Stanford wouldn't have been in that situation if it had stopped the Cowboys on one of their two fourth-down conversions. Or if they tackled Oklahoma State receiver
Justin Blackmon
better. Or if they hadn't fumbled inside their 10-yard line.
January, 12, 2012
1/12/12
11:00
AM ET
There were plenty of memorable moments in 2011, some amazing individual performances, and numerous records set. It wasn't easy to narrow the list down to 10, but I gave it my best shot. Feel free to drop me a note
in the mailbag
with your nominations, and if I get enough good ones, I'll do a separate post on Friday with your suggestions. These are the top 10 in my book:
1. ACC expansion.
It was the morning after Florida State lost to Oklahoma and I was scrambling to wake up and get on a plane home when the ACC announced its decision to add Pittsburgh and Syracuse to the league. It was an historic moment for the conference, and it was a strong, stable move in a time of great uncertainty throughout college football. A lot of things happened this season, but none affected the entire conference like this one.
2. Clemson goes 8-0 for the first time in 11 years.
With a 59-38 victory over North Carolina, Clemson started 8-0 for just the fourth time in school history. That week, the Tigers were ranked No. 5 in the country in the BCS standings, and had a legitimate shot at playing for the national title.
3. NC State's comeback over Maryland.
It was the biggest comeback in school history and the second-biggest comeback in the ACC. NC State overcame a 27-point deficit to beat Maryland 56-41 and keep its bowl hopes alive. NC State trailed 41-14 with six minutes left in the third quarter before scoring six consecutive times. The Pack had 35 fourth-quarter points.
[+] Enlarge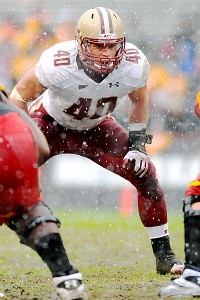 Evan Habeeb/US PresswireLuke Kuechly of Boston College is one of five players to record 500 career tackles in ACC history.
4. Luke Kuechly wins it all.
In a span of eight days, BC's star linebacker won the Bronko Nagurski Trophy, the Butkus Award, Lombardi Award and the Lott Trophy. He was a consensus All-American for the second consecutive season, and named the ACC's Defensive Player of the Year. His interception return for a touchdown against Miami helped the Eagles end the season on a winning note, and it was quite the encore performance for the NFL draft-bound Kuechly.
5. David Amerson's record-setting Belk Bowl.
The defensive back's two interceptions in the victory over Louisville broke the ACC's single-season record and moved him into a tie for second place in FBS history for single-season interceptions with 13. He returned one 65 yards for a touchdown, and the other sealed the win on fourth down at the goal line.
6. Frank Beamer gets win No. 200 at Virginia Tech.
A 17-10 victory over East Carolina on Sept. 10 gave Beamer his 200th win as head coach at his alma mater. Only nine other FBS coaches have won that many games at one school.
7. Sammy Watkins' record-setting season.
The true freshman was one of the nation's most spectacular players, and he finished the season with school records for receiving yards and receiving touchdowns. His reception total was second best in school history, and his 2,288 all-purpose yards were the second best in ACC history. His most memorable performance came against Maryland, when he racked up 345 total yards.
8. Logan Thomas' game-winning touchdown run against Miami.
It was one of the most memorable games of the season, and Thomas provided the highlight. With 56 seconds remaining in the game, Thomas ran 19 yards for a touchdown on fourth-and-1 to help Virginia Tech beat Miami 38-35 on Oct. 8. He scored more touchdowns in that game (three) than he threw incompletions (two).
9. Virginia becomes bowl-eligible for first time since 2007.
With a 31-13 win over Maryland on Nov. 5, the Cavaliers exceeded expectations in just the second season under coach Mike London. Virginia was picked to finish fifth in the Coastal Division, but a four-game winning streak proved otherwise.
10. Two BCS bowl teams for first time.
Had Virginia Tech or Clemson been able to do anything with these opportunities, this would have been much higher on the list. It almost didn't make the cut, but you can't ignore it -- especially considering how shocking Virginia Tech's selection was and what kind of national news it generated. For better or for worse, most college football fans aren't going to forget the year the ACC had two BCS bids.
Just missed the cut, in no particular order:
• FSU almost blanks Florida with 21-7 win
• Record crowd at the ACC title game
• Beating Auburn and Ohio State in Week 3
•
Dwayne Allen
wins Mackey Award
• Wake Forest defensive back Merrill Noel tied for national lead in passes defended
• North Carolina running back
Giovani Bernard
becomes the nation's leading freshman runner
• Florida State's Shawn Powell leads the nation in punting average
• Wake Forest upsets Florida State
• Georgia Tech's big day against Kansas
• Maryland's Labor Day uniforms
January, 12, 2012
1/12/12
11:00
AM ET
Now it is time to relive the top moments in the Big East for 2011 -- both the good, and the bad.
1. Eric LeGrand returns.
Not only was this the top moment in the Big East, it was one of the
top moments in all of sports in 2011
. Seeing the injured LeGrand lead his Rutgers teammates onto the field in his wheelchair before the start of the West Virginia game Oct. 29 in middle of a snowstorm had to soften the hearts of even the most jaded. What LeGrand has been able to do is truly inspiring in the year since he was paralyzed making a hit against Army in 2010. He has gone further than anybody ever anticipated -- he has started rehab work on a treadmill and gotten twitches and sensations throughout his entire body. And he has begun to do radio and television work for Rutgers, as well.
[+] Enlarge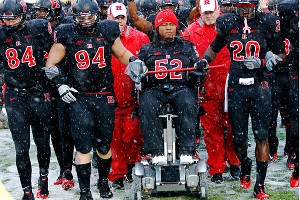 Noah K. Murray/The Star-Ledger via US PresswireEric LeGrand, injured in 2010, led his Rutgers teammates onto the field Oct. 29.
2. Expansion.
This is the storyline that eclipsed most everything else for the entire season. First it was Pitt and Syracuse leaving, seemingly catching commissioner John Marinatto off guard. Then TCU jumped ship. Then West Virginia. When everything was tidied up in December, the Big East had gone Big Country, adding Boise State, San Diego State, SMU, UCF and Houston. West Virginia's fate remains tied up in pending lawsuits. However that saga plays out, the Big East is prepared to launch Version 3.0 in 2013.
3. West Virginia goes BOOM!
You could make the case that the way the Mountaineers dismantled Clemson in the Discover Orange Bowl should be ranked higher. In any other season, it would be No. 1. But when folks look back on the 2011 season, I think the first two stories are more likely to come to mind because of the way they transcended sports, and signaled the dawning of a new era. If we are going with purely on-the-field stories, then this one is the hands-down choice. West Virginia scored a bowl-record 70 points on the Tigers. For perspective, not even the worst teams in the nation -- New Mexico, FAU, Indiana and Akron -- had 70 scored on them this year. The ACC champ did. Unforgettable moment: Darwin Cook returning a fumble 99 yards to swing momentum, then taking down Obie the Orange Bowl mascot.
4. Down goes Collaros.
One play changed the entire complexion of the Big East race. Too simple to say? Nope. Cincinnati had a two-game lead on everybody else on Nov. 12 when West Virginia came to town. In the second quarter, Bruce Irvin sacked
Zach Collaros
, who fumbled on the play. Julian Miller recovered in the end zone for a touchdown but the damage was done for the Bearcats. Collaros broke his ankle, and Cincinnati dropped two straight. West Virginia won out and finished in a three-way tie with Cincinnati and Louisville. The Mountaineers clinched the BCS berth -- leading to the eventual walloping of Clemson -- because they finished as the highest-ranked team in the final BCS standings.
5. Todd Graham bolts.
In one of the most stunning turns of events this season, Todd Graham decided he had enough of Pittsburgh after 11 months on the job and a 6-6 record. He bolted for Arizona State without saying good-bye to his players, gleefully spewing the same speech he gave to the Panthers when he was hired for his "dream job." His coaching move drew universal scorn, and outrage from his players, as well. They took to Twitter to lambaste their former coach for his lies and unseemly departure.
6. Four clutch plays.
West Virginia faced a must-win against USF in the regular-season finale Dec. 1. With the game tied at 27 and 5 minutes left in the fourth quarter, the Bulls embarked on a drive that took them down to the West Virginia 28. That's when clutch play No. 1 happened. Najee Goode forced
B.J. Daniels
to fumble and the Mountaineers recovered.
Geno Smith
took over with 3:02 left. Clutch play No. 2:
Stedman Bailey
makes an unbelievable catch on fourth-and-10 for 26 yards, down at the USF 16. Clutch play No. 3:
Shawne Alston
drags Bailey back to the line of scrimmage
after the catch so the Mountaineers can get the snap off without a penalty. Clutch play No. 4: Tyler Bitancurt hits a 28-yard field goal to win the game 30-27 and a share of the Big East title.
7. Ray Graham gets hurt.
Pitt running back Ray Graham ranked second nationally and led the Big East in rushing yards per game (134.1) headed into Week 9 against UConn. But early on against the Huskies, Graham crumpled to the ground while making a cut, clutching his right knee. He had torn his ACL, and his season was over. You could almost say the same for the Panthers, who struggled to do anything on offense without their best player.
8. Charlie Strong, surfer.
You know how momentous Louisville's 38-35 victory over West Virginia was this season? So momentous it sent coach Charlie Strong bodysurfing over his players in a jubilant locker room afterward. He had Adrian Bushell and
Andrew Johnson
to thank. On the first play of the fourth quarter, West Virginia lined up for a 23-yard field goal to tie the game. Bushell blocked the kick; Johnson returned it 82 yards for a touchdown and the momentum went to the Cardinals. It was their first win in Morgantown since 1990, and third win ever in the series.
9. Syracuse does what?
Surely Syracuse's win over West Virginia in Morgantown in 2010 was a fluke. Surely the Mountaineers would gain revenge in the Dome. Yeah. About that. The Orange schooled West Virginia and reintroduced the Mountaineers to the tight end, pulling the biggest upset of the season 49-23. Syracuse had not scored that many points in the series since 1960. The game also marked the triumphant return of
Chandler Jones
-- who had two sacks and six tackles in his first game back from a knee injury.
10. USF collapse.
The Bulls began the year 4-0 with a national ranking and a victory at Notre Dame. Then Big East play happened. USF lost seven of its final eight games and missed a bowl for the first time as members of the Big East. The Bulls also posted their worst record in Big East play (1-6). A team pegged as a dark horse disappointed in every possible way, losing five games by six points or fewer.
January, 12, 2012
1/12/12
11:00
AM ET
Another 8-5 season left a lot to be desired for Notre Dame fans. Nonetheless, there were plenty of memorable moments from the Irish's 2011 campaign.
1. Jonas Gray's remarkable stretch.
Coach Brian Kelly said he had never seen it all click for a senior the way he had with Gray. The running back rushed for 791 yards and 12 touchdowns, including at least one in eight consecutive games. Unfortunately, he tore an ACL against Boston College, ending his college career. But when on the field, Gray was the feel-good story of 2011.
[+] Enlarge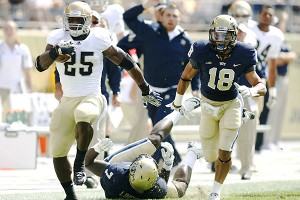 Charles LeClaire/US PresswireRunning back Jonas Gray, left, averaged 6.9 yards per carry in a season cut short by a torn ACL.
2. Manti Te'o announces return.
This might have come off the field, but the likely first-round pick couldn't help but blurt out his announcement to return to school for one more year Dec. 11, while at the Lott IMPACT Trophy ceremony. The junior linebacker is the team's best all-around player and exemplifies all that's right about the game, on and off the field.
3. Aaron Lynch's sack and forced fumble vs. MSU.
One week after not playing at Michigan, the freshman end announced his arrival to college football, turning the game around with a big hit on
Kirk Cousins
in what went on to be the Irish's first victory, and their most impressive one. Lynch had a standout freshman campaign and will be a star for the Irish moving forward. Robert Blanton's game-sealing interception deserves some recognition as well.
4. Michael Floyd's TD vs. FSU.
A ridiculous five bobbles. Two defenders absorbed. An upper-body injury suffered that kept him out of the rest of the game. Still, the senior held on for his 100th catch of the season, and final one of his career, as Floyd hauled in Notre Dame's only offensive touchdown in the Champs Sports Bowl.
5. Andrew Hendrix's run vs. Air Force.
Late in the fourth quarter of a rout, the sophomore quarterback burst up the middle for 78 yards, his legs giving out two yards shy of the end zone. Hendrix turned plenty of heads in his first college game, and he will fight it out with two others this offseason for the starting quarterback job with two others.