NCF Nation:

2011 SEC spring meetings
June, 2, 2011
6/02/11
9:00
AM ET
DESTIN, Fla. -- It appears the Janoris Jenkins saga is finally over with in Gainesville, Fla.
Wednesday, Florida Today first reported that the former Florida cornerback
pled no contest
to possession of less than 20 grams of marijuana. Jenkins was given no probation or community service, but was ordered to pay a fine of $421.
The All-SEC corner was dismissed from the team by new coach Will Muschamp in late April after being arrested on marijuana possession charges for the second time in the span of three months. Jenkins was also arrested in June of 2009 after being involved in a fight outside a downtown bar.
"Whether Mr. Jenkins wants to learn a lesson from the last few months or not is up to him,'' State Attorney Bill Cervone told Florida Today. "If he can't figure out that smoking pot is illegal maybe he can at least learn to be more circumspect about it.''
Regardless of Jenkins' major goof(s) this spring, he cost himself millions by deciding to stay in school. While there is absolutely nothing wrong with that and it should be encouraged, in retrospect he's no doubt wishing he had left. Who would have thought that Jenkins electing to stay his senior season might have ended up costing him almost everything?
The question now is if his actions will cost him millions next year.
One of the reasons Jenkins decided to stay was because he suffered a torn labrum in his shoulder at the beginning of last season. The injury would have inhibited what he could have done at the NFL combine this year, so he underwent surgery and decided it would be best to return and go through another season at full health.
It made perfect sense at the time, but two extremely poor decisions changed everything. Florida lost its best defensive player and Jenkins lost another shot at the college limelight.
Jenkins is still exploring his options and could still end up in the supplemental draft that
will be held in July
if there are applicants.
Jenkins could very well do that, or he could follow the rumor mill and head to Division II North Alabama, where some have him going.
It might be smarter for him to go the D-2 route and take a year to mature and show that his shoulder is fine. Jenkins was one of the best cover corners in the country last season and ESPN NFL draft analyst Todd McShay has him listed as a top-10 pick in
next year's draft
.
Uncertainty with the NFL might push him toward the college ranks as well.
Change would be good for Jenkins. He's done in Gainesville and done with the Gators. He needs to find a new place where he can reshape his image. He needs to stay away from guilty pleasures and concentrate on his future because there's no he's an outstanding player, but who knows if he's worth the investment.
June, 1, 2011
6/01/11
1:00
PM ET
DESTIN, Fla. – On paper, you'd assume the
Jeremiah Masoli
experiment at Ole Miss was a failure.
[+] Enlarge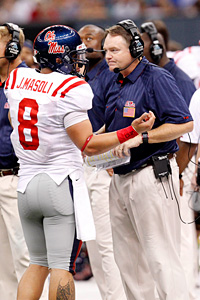 AP Photo/Gerald HerbertOle Miss coach Houston Nutt said working with Jeremiah Masoli last season will help him in developing his next starting quarterback.
The Rebels went 4-8, including an embarrassing 49-48 loss to Jacksonville State at home. And while Ole Miss averaged 30.6 points per game, Masoli passed for 2,039 yards with 14 touchdowns and 13 interceptions.
It just wasn't a banner year in Oxford.
But when coach Houston Nutt puts the paper down and throws the record aside, he's very pleased with the job Masoli did in his only season at quarterback with the Rebels.
Arriving under controversial terms after run-ins with the law forced his dismissal from Oregon, Nutt took a ton of ridicule for his decision to recruit and sign Masoli in 2010.
During the first day of the SEC spring meetings in Destin, Fla., Nutt glowed about Masoli and the role he played at Ole Miss last season.
"Not a better guy that I've met in just a one-year time," Nutt said Tuesday. "I'd do it again.
"He was a class act and I know he made mistakes out there [on the field] but boy he came in and helped our locker room.
"He did right by us."
With a team struggling for leadership last fall, Masoli was the one who stepped up to guide the team behind the scenes. This year, Nutt will be breaking in yet another new quarterback, but the new guy won't be as experienced as Masoli.
The Rebels will have redshirt junior
Randall Mackey
, junior college transfer Zack Stoudt and West Virginia transfer
Barry Brunetti
competing for the starting spot this fall. Mackey and Brunetti are the leaders.
Mackey impressed the most at the beginning of the spring, but Brunetti made the strongest push at the end, leading Nutt to currently favor Brunetti, who has the only Division 1 experience.
"If we played tonight, Brunetti would probably go out there first tonight," Nutt said. "But we're not playing tonight."
Regardless of who gets the nod, Nutt is hoping the new starter takes the path Masoli took when he arrived. Watching how Masoli acted and how he prepared, Nutt said he has a better handle on how to deal with this season's first-year quarterback.
The first thing Nutt wants to do is drill the notion of enhancing their work ethic into each one. That was the staple of Masoli's character with the Rebels, and Nutt is hoping that trend continues with his new, younger gunslingers.
"Some of them can handle it," he said. "Some of them it may be a little bit harder transition.
"[Masoli] wanted to be accepted by his peers and his teammates and he did it with work ethic. I think that's key."