NCF Nation:

2011 St. Petersburg Bowl
December, 20, 2011
12/20/11
11:40
PM ET
Marshall beat FIU
20-10
in the Beef 'O' Brady's Bowl on Tuesday night. Here is a look at how it happened:


How the game was won:
Marshall special teams. The Thundering Herd have been excellent all season at blocking kicks, and Tuesday night was no exception. With its offense stalling left and right, Marshall got the big play it needed with 7:35 left in the game. FIU set up to punt from its own 22, but Zach Dunston blocked the kick -- the seventh block of the season for Marshall (three kicks, four punts). The Herd appeared to score on the play, but the touchdown was negated because there was an illegal forward pass. A personal foul call on Tyrone Carper was tacked onto the end of the play. But Marshall was able to stay in field goal range, and Tyler Warner made a 39-yard kick that hit off the inside of the upright to put the Herd ahead.
Aaron Dobson
caught his second touchdown pass of the game on a fourth-down play with 30 seconds left to ice the game.
Turning point:
The block was a huge turning point for Marshall. For FIU -- it was the play of
T.Y. Hilton
. The Panthers were determined to get him going early, and he had some nice plays -- including their only touchdown of the game. But he bruised his thigh in the first half and was mostly ineffective when he returned to the game in the second half. After Marshall kicked its go-ahead field goal, Hilton had a costly play that ended up being a deciding factor. He fumbled after a catch near midfield with 4:24 remaining, and Marshall recovered. It was his second fumble of the game, though he recovered his first.
Player of the game:
Dunston. His blocked kick turned the tide in the game.
What Marshall learned:
The Thundering Herd won their seventh bowl game in the last eight appearances, and Doc Holliday led this team to a winning record in his second season. This win is huge for the momentum he is building at program eager to restore its past traditions.
Rakeem Cato
was inconsistent in the game, but playing as a true freshman can only help next season.
What FIU learned:
Without an effective quarterback, it is hard to win games. The Panthers decided to start senior
Wesley Carroll
, but he struggled. Backup
Jake Medlock
came in briefly in the fourth quarter but was equally ineffective. They had no downfield passing game, also hurt because of a hobbled Hilton. Now the question that looms is whether FIU coach Mario Cristobal returns next season. He is a candidate at Pitt.
December, 20, 2011
12/20/11
9:00
AM ET
FIU posted a school-record eight wins and is making back-to-back bowl appearances for the first time in school history. Marshall is back in a bowl under second-year coach Doc Holliday. Both teams feature the top players in their respective conferences --
T.Y. Hilton
has been a force in the Sun Belt, while Vinny Curry has been a menace to Conference USA opponents. This is the first meeting between the schools and just the second time FIU will play a team from C-USA. The Panthers beat UCF this season.


WHO TO WATCH:
Hilton. One of the most dynamic playmakers in all of college football, Hilton was slowed earlier this year with a hamstring injury but has returned to form. This season, Hilton broke the FIU and Sun Belt career records for receiving yards (3,443), receiving touchdowns (24), all-purpose yards (7,351) and kickoff return yards (2,819). He also was named to the Sun Belt first-team as a receiver, kick returner and all-purpose player. That's as well-rounded as you can get.
WHAT TO WATCH:
Quarterback situation. Neither team has the most stable quarterback situation. Marshall will start true freshman
Rakeem Cato
, who is back in the starting lineup after he got benched midway through the season. With
A.J. Graham
out because of a shoulder injury, the Herd must rely on Cato to help lead the team to victory. He was great in an overtime win over East Carolina to get Marshall bowl eligible, but he has been maddeningly inconsistent this season (10 interceptions to 13 touchdown passes). Meanwhile, FIU is expected to play both Wes Carroll and
Jake Medlock
-- coach Mario Cristobal will probably make a game-time decision. Carroll was benched this season as well but played again after Medlock got hurt. Both are healthy going into this game.
WHY TO WATCH:
This is your last chance to get a look at Curry before he moves on to the NFL. The C-USA Defensive Player of the Year, Curry has put together back-to-back outstanding seasons. Cristobal says Curry "discombobulates people." That is an astute way of putting it. This season, Curry is tied for third nationally with six forced fumbles, ranks second in tackles for loss (21) and is sixth in sacks (11).
PREDICTION:
FIU 28, Marshall 21.
Neither team jumps off the page statistically speaking. In fact, Marshall is the only one of the 70 bowl teams to rank 80th or worse in both total offense and total defense, according to ESPN Stats & Information. FIU has Hilton, and he makes the difference in this game.
December, 20, 2011
12/20/11
8:00
AM ET
The scene is one that FIU coach Mario Cristobal easily recalls, some four years later.
[+] Enlarge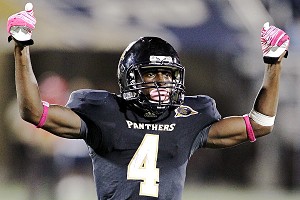 Robert Mayer/US PresswireT.Y. Hilton set multiple school and league records in four seasons at Florida International.
There was his prized recruit,
T.Y. Hilton
, playing for Miami Springs High, ripping balls out of the sky. Scoring at will. Cristobal turned to the coaches with him and said, "Fellas, this is the guy who's going to change our program."
Cristobal had a little problem. Florida was at the game scouting Hilton, too. Ole Miss and West Virginia were after Hilton as well. FIU had no weight room, no real facilities, no stadium at the time. It was a fledgling program playing in the shadow of the University of Miami, the Gators, the Seminoles, the Dolphins.
But Hilton, a Miami native, hit it off with Cristobal. "He struck me as a man who wanted to create his own footprints," Cristobal says now. Hilton had a tough time choosing between the Panthers and West Virginia. So tough, that he needed a little bit of intervention to help him make a decision.
Hilton placed an FIU cap and a West Virginia cap on his bed. He then had his infant son crawl toward the caps. If his son picked up the FIU cap, he would go there. If he picked up the West Virginia cap, he would go there. Little Eugene Junior picked FIU. Not once. But eight times.
"I never told him I put a Snickers bar behind that cap," Cristobal jokes.
The decision is one that has impacted not only Hilton but the FIU program. Hilton is no doubt the best player in school history, having rewritten the FIU and Sun Belt record books. This season, he set a career high with 64 receptions, and was selected to the Sun Belt first team as a receiver, kick returner and all-purpose player. Hilton owns the school and league marks for receiving yards (3,443), receiving touchdowns (24), all-purpose yards (7,351) and kickoff return yards (2,819).
FIU, meanwhile, is in the midst of the best two-year run in school history -- winning its first Sun Belt title last season and a program-record eight games this season while making back-to-back bowl appearances. Hilton will take the field for the Panthers for the final time Tuesday night against Marshall in the Beef 'O' Brady's Bowl in St. Petersburg, Fla., with yet another chance to make a huge impression on the national stage.
His son, now 4, will be there watching as his daddy closes out his career -- one that Hilton thought would be possible when he arrived at FIU in 2008.
"I knew I could through hard work, because hard work always pays off," Hilton said in a recent phone interview. "Coming in, I took myself to a different level. I did things differently, went back to the fundamentals, and did a lot of conditioning, and that took me to where I am now."
Hilton began the season on a huge tear, and got national headlines after catching seven passes for 201 yards and two touchdowns in a win over Louisville in Week 2. But the following week against UCF, Hilton strained his hamstring. He tried to play through the injury, but it bothered him for the next month. After beating the Knights, FIU dropped three of its next four games and was in a serious bind with its best player hobbled.
"When I was running, the injury was pulling me back, not letting me do more things I was capable of doing," Hilton said. "I couldn't go in and out of cuts, so it was very painful. But I was able to play through it a little bit just to help the team any way that I could."
Hilton says he is completely healthy and "200 percent" ready to take on his final game. After that, a trip to the Senior Bowl awaits, and then most likely a spot in the pros.
"I'm trying to go out with a bang and let people know my talents and what I'm able to do," he said.
December, 4, 2011
12/04/11
10:10
PM ET
Florida International Golden Panthers (8-4) vs. Marshall Thundering Herd (6-6)
Dec. 20, 8 p.m. (ESPN)

FIU take by college football blogger Matt Fortuna:
FIU's 8-4 this season was the best in school history, and it will look to punctuate that mark with a bowl win in its second-ever bowl appearance after beating Toledo last season in the Little Caesar Bowl. The Golden Panthers' Sept. 9 win at Louisville was its first against a BCS automatic qualifying opponent in school history.
Quarterback
Wesley Carroll
lost his job to
Jake Medlock
but won it back after Medlock injured his shoulder at Louisiana-Monroe. Carroll, a fifth-year senior, stepped back in and completed 16 of 34 passes for 213 yards and three scores, leading FIU to a 28-17 win.
T.Y. Hilton
has been the most explosive player for the Golden Panthers, though he has been hampered by a hamstring injury. Hilton has 950 receiving yards and seven touchdowns while rushing for another 101 yards on just 16 carries. His seven receiving touchdowns tied the school's single-season record. Hilton has also returned a punt for a touchdown and added a 77-yard kickoff return in the regular-season finale. FIU finished the season tops in the nation in punt returns.
FIU's banner season included wins over in-state opponents Florida Atlantic and Central Florida, and the Golden Panthers finished with tied with Florida State for most wins in the state this season.
---

Marshall take from college football blogger Kevin Gemmell:
Needing to win their final two games to become bowl eligible, Marshall clutched up with a win on the road at Memphis before pulling out a 34-27 overtime win at home over East Carolina.
Defensive lineman Vinny Curry is a beast that makes the defense go. He has 11 sacks and 21 tackles for a loss this season (second best nationally). Marshall still ranks in the lower half of the nation in rush defense, yielding 155 yards per game. But Curry makes offenses work for every yard.
In the secondary, senior defensive back Rashad Jackson has had a nice season with nine pass breakups and four interceptions -- including a pair in the ECU win.
Quarterbacking is once again an issue with true freshman
Rakeem Cato
and
A.J. Graham
splitting time. But Graham was hurt in the season finale, and with bowl eligibility on the line, Cato orchestrated the overtime victory. Cato has more touchdowns (13), but also has 10 picks on the year. Graham has a 7-4 touchdown-to-interception ratio.
Tron Martinez
paces the offense on the ground with 591 yards and an average of 4.1 yards per carry. In the overtime win against East Carolina, he scored the winning touchdown and also showed some versatility out of the backfield, catching three balls for 34 yards.