NCF Nation:

2012 ACC Media Days
July, 24, 2012
7/24/12
2:00
PM ET
GREENSBORO, N.C. -- Media days have come to an end at the Grandover Resort, and after two days of interviews with players and coaches, a few lessons were learned at the ACC Football Kickoff. Here is a quick summary of this year's hot topics, in no particular order:

1. The usual suspects are once again the front-runners. Florida State and Virginia Tech were again picked to win their respective divisions, and the Noles were predicted by the media to win the program's first ACC title since 2005. This should come as no surprise. FSU coach Jimbo Fisher said he is more confident in his team than he was a year ago because of the depth that has developed in the program.

2. More change is coming for the ACC. Commissioner John Swofford said the league is exploring several scenarios for an Orange Bowl partner and is also looking into the possibility of a scheduling partnership like the one that fell through between the Pac-12 and Big Ten. Swofford said a broad group could be a possibility for the Orange Bowl, and that there is interest in Notre Dame.

3. If the coaches had it their way, the ACC would stay at an eight-game conference schedule. Most coaches throughout the league like things the way they are -- particularly those who already have a built-in SEC rival. The athletic directors have already decided, though, to move to a nine-game league schedule once Pitt and Syracuse join the league in 2013. "We're headed in that direction unless the athletic directors felt they'd want to revisit that and change it," Swofford said. "They discussed that as recently as May at our spring meeting, and the supermajority continue to prefer going forward with a nine-game schedule."

4. There are far more questions than answers for Miami. Coach Al Golden said he has no idea when the program might get closure on the ongoing NCAA investigation. A recent Yahoo! Sports story has implicated Golden in the violations, alleging that his staff violated recruiting rules. Golden declined to provide further details on the report and reiterated that he stands by his record of compliance.

5. North Carolina has moved on. A new era has officially begun in Chapel Hill, and first-year coach Larry Fedora was one of the more popular coaches interviewed Monday. Those within the program say they have put the NCAA investigation and sanctions behind them and that they are ready to concentrate on football again. The Tar Heels will have entirely new offensive and defensive schemes this fall, and Fedora said time will tell if he has the personnel to fit them.
July, 24, 2012
7/24/12
9:00
AM ET
GREENSBORO, N.C. -- It takes a whole heck of a lot for a coach to respond to widespread rumor and innuendo.
Do you know when Clemson coach Dabo Swinney reached his breaking point? When rumors about an impending Big 12 move started to overtake everything related to the Tigers. So Swinney
decided to speak out
last month before his high school football camp, saying a move from the ACC to the Big 12 "would be the worst thing we could do as a football program."
Swinney was asked at ACC media day why he decided to address the speculation with such a strongly worded statement.
"What I said was exactly what I believe," Swinney said. "It made no sense to me at all. To be honest with you, I don't respond to everything that somebody starts blogging about because a lot of it is it's here today and two days later it's something different. But that situation took on a life of its own, and it became a real distraction, especially when there was no reality involved at all. But people were putting things out like it was fact and this was done and on and on. It was really a distraction for us as a program, our recruiting, our coaches, and so forth.
"I don't believe that makes sense at all for us. That's why I said what I said. And that's just my opinion because if they tell me we're going to go play in Alaska, then that's where we're going. I just work there, but I certainly have an opinion as the leader of the football program."
Commissioner John Swofford also was
asked about Clemson
during his state of the league address Sunday, specifically about why he made a special trip to visit with the school's board of trustees earlier this month. It was the first time in 15 years he has been asked to visit with a full board.
Swofford was asked how confident he was that everybody was on board with the ACC.
"In a word: Totally," he said. "I had a great visit with Clemson. They're terrific people. I gave you my answer in one word."
July, 23, 2012
7/23/12
9:04
PM ET
By
ESPN.com staff
| ESPN.com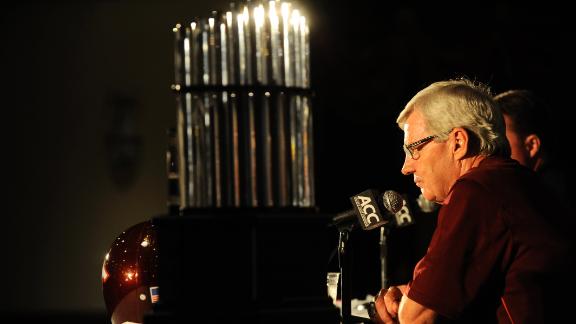 From Florida State's confidence to the reverberations of Penn State, Heather Dinich and Andrea Adelson wrap up Day 2 of
ACC media days in this notebook
.
July, 23, 2012
7/23/12
6:15
PM ET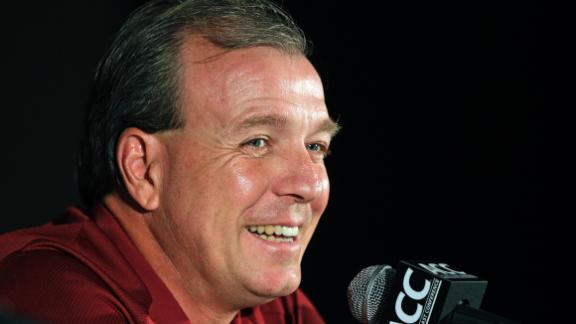 Heather Dinich talks to Florida State coach Jimbo Fisher about preseason expectations after his team was picked to win the ACC.
July, 23, 2012
7/23/12
1:31
PM ET
GREENSBORO, N.C. -- Florida State was predicted by the media to win its first ACC title since 2005, the league announced on Tuesday at the ACC Football Kickoff. It is the second straight season that the Noles have been projected to win the ACC title. Clemson sophomore receiver
Sammy Watkins
was named the league's preseason Player of the Year, edging out Virginia Tech quarterback
Logan Thomas
in the voting. Watkins had 25 votes and Thomas had 21.
Florida State received 72 of 95 first-place votes for the Atlantic Division, and 60 media members said the Noles would win the championship. Virginia Tech was predicted to win the Coastal Division with 83 votes. Here's a look at the final voting:
ACC Championship votes:
1. Florida State (60)
2. Virginia Tech (18)
3. Clemson (13)
4. Georgia Tech (3)
5. NC State (1)
Atlantic Division
1. Florida State (72)
2. Clemson (17)
3. NC State (5)
4. Wake Forest
5. Boston College
6. Maryland
Coastal Division

1. Virginia Tech (83)
2. Georgia Tech (10)
3. North Carolina (2)
4. Virginia
5. Miami
6. Duke
ACC Player of the Year
1. Sammy Watkins, Clemson (25)
2. Logan Thomas, Virginia Tech (21)
3.
EJ Manuel
, Florida State (19)
4.
Tajh Boyd
, Clemson (18)
5.
Mike Glennon
, NC State (5)
6.
David Amerson
, NC State (3)
7.
Giovani Bernard
, North Carolina (1)
Bryn Renner
, UNC (1)
Tanner Price
, Wake Forest (1)
Kyle Fuller
, Virginia Tech (1)
ACC Championship game predictions
1. FSU over Virginia Tech (60)
2. Virginia Tech over Florida State (12)
3. Florida State over Georgia Tech (4)
4. Virginia Tech over Clemson (3)
Clemson over Georgia Tech (3)
July, 23, 2012
7/23/12
11:30
AM ET
GREENSBORO, N.C. -- Good morning from Greensboro, ACC fans. Many of the coaches and media members are out golfing this morning before today's round of interviews with the head coaches. The players were only available yesterday, and here's a quick
recap of the news from Day 1
.
Here's a rundown of what today's schedule looks like:
COACHES' INTERVIEWS
2-3:10 p.m. ET
Dabo Swinney, Clemson
Mike London, Virginia
Tom O'Brien, NC State
2:52-4 p.m.
Paul Johnson, Georgia Tech
Larry Fedora, North Carolina
Jim Grobe, Wake Forest
4-5:10 p.m.
Frank Spaziani, Boston College
Jimbo Fisher, Florida State
Al Golden, Miami
4:40-6 p.m.
David Cutcliffe, Duke
Randy Edsall, Maryland
Frank Beamer, Virginia Tech
July, 23, 2012
7/23/12
10:30
AM ET
GREENSBORO, N.C. -- North Carolina linebacker
Kevin Reddick
has done his homework all summer, watching countless hours of the Southern Miss defense and the way it took to the unconventional 4-2-5 scheme the Tar Heels are now being asked to run.
Not only did he learn what coordinator Dan Disch likes his players to do. He also got a big helping of confidence, believing the style is the perfect fit for him and his teammates headed into his senior season.
[+] Enlarge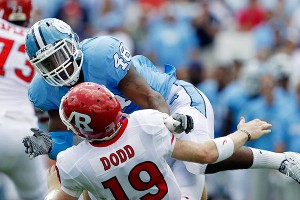 Bob Donnan/US PresswireLinebacker Kevin Reddick has spent his offseason preparing for UNC's new defensive scheme.
"I haven't seen anything like that in a while, everybody flying around, making plays," Reddick said at ACC media days. "I'm glad they bought their defense to us because I'm thinking the same thing. We need to be where they were. I think they have good athletes, but I feel we have a lot better athletes, so I feel like we should be able to do that."
Southern Miss was one of the best surprises of last season, especially after pulling a huge upset of Houston in the Conference USA championship game. A big reason for the success was the play of the defense, under Disch. Southern Miss set an FBS record with 11 interceptions returned for touchdowns and finished No. 29 in the nation in total defense -- 18 spots better than 2010.
It just so happened to be the first and only year Disch coached the Southern Miss defense. Now he and North Carolina coach Larry Fedora are in Chapel Hill, hoping for the same instant results they got from the Golden Eagles defense. Generally speaking, it takes at least a season for players to adapt to a radical scheme shift.
So hearing that Southern Miss did so well in Year 1 under Disch made Reddick even happier.
"That makes me smile more," Reddick said. "I can't wait to play in it. I look back at that and I watch film now from practice and I see things opening up, blitzes or packages or whatever we do. I know it's going to do wonders for us."
Last season, Reddick finished second on the team with 71 tackles playing in a more traditional 4-3 set. But after Fedora was hired and sanctions were handed down to the program, Reddick says he was contacted by coaches at other schools to see if he would be interested in transferring.
He declined, because he saw the opportunities Disch will give him in this new defensive scheme. Reddick will play inside, but he will also be used to blitz from the outside, something he has not been asked to do previously.
"There's going to be a lot of plays for me, I just have to make them," he said. "That's why I stayed. I had an opportunity to go to other colleges but I stayed. I wanted to experience this. I like this defense, and I feel it was based a little around me."
Reddick also believes the new scheme will help mitigate the loss of leading tackler Zach Brown, first-round pick Quinton Couples and four other starters. Because other players will be put into positions to do different things, versatility will be emphasized more. As an example, Reddick mentioned defensive end
Dion Guy
can line up with his hand on the ground but also drop back into coverage as a third linebacker at times.
In order to really prepare for his new and expanded role, Reddick took to watching lots of game tape, while also studying plays on his computer. So why does he think North Carolina has an opportunity to make an impact with a scheme that is is not among the most popular?
"For us, being that other teams are used to seeing the pro-style defense from us and we're going to bring this different defense to them, it's going to be a shock to them," he said. "As far as guys seeing things coming from different places it's going to be a shock to other teams in the league."
July, 22, 2012
7/22/12
6:15
PM ET
The ACC coaches have released a joint statement on what is happening at Penn State.
"The situation at Penn State is a tragedy from all angles, most specifically for the victims. It's our responsibility to represent the institutions we serve, while always being mindful of our place within collegiate athletics."
The NCAA is set to announce
sanctions against Penn State
on Monday morning in the wake of a massive child sex abuse scandal. Penn State decided Sunday to
take down the statue of Joe Paterno
outside the football stadium.