NCF Nation:

2012 Big Ten spring meetings
May, 17, 2012
5/17/12
4:15
PM ET
CHICAGO -- The first Saturday of the 2012 college football season is highlighted by a blockbuster game taking place at a cavernous NFL stadium.
On the night of Sept. 1, Michigan and Alabama will take center stage in Arlington, Texas, at a shrine to all things big and bold, nicknamed "Jerryworld" after Dallas Cowboys owner Jerry Jones. It will mark the latest in a series of national showcase games during the regular season that take place at neutral sites.
Last year, LSU and Oregon kicked off the season on the same field. Notable neutral-site games this fall include Miami-Notre Dame at Chicago's Soldier Field and Clemson-Auburn at Atlanta's Georgia Dome.
The trend is clear, and many major-conference teams see the neutral-site games as a nice alternative to the home-and-home series that take longer and give up a precious home game.
Big Ten athletic directors are split on the neutral-site issue. Michigan athletic director Dave Brandon, who helped organize the Alabama game, said last month that the school has had preliminary talks about
playing a neutral-site game at Sun Life Stadium near Miami.
Iowa opens the 2012 season against Northern Illinois at Soldier Field, and Hawkeyes athletic director
Gary Barta recently told the Des Moines Register
that he is "wide open to the concept" of more neutral-site games.
Northwestern athletic director Jim Phillips on Wednesday expressed interest in playing a game at New York's Yankee Stadium, and, with the Big Ten/Pac-12 scheduling partnership approaching, added, "We need to get out to California some." Northwestern moved its home game against Illinois to Wrigley Field in 2010, and the teams could play again at Wrigley or Soldier Field.
Illinois AD Mike Thomas also wants a bigger presence in Chicago and could
schedule a game at Soldier Field as early as 2013
, the Chicago Tribune reports. The Illini used to open the season against Missouri in St. Louis, but the series is on a hiatus.
The neutral-site surge isn't for everyone, though. Ohio State athletic director Gene Smith told ESPN.com last month that he's extremely reluctant to give up a home game for a neutral-site contest.
"I love Dave Brandon at Michigan and I applaud them," Smith said. "They're playing Alabama in Dallas, which I think is cool and unique. But if I can get eight home games, the economic impact we have here, I just can't pull it away. Because it's a home game. Now if an away game, like Indiana or somebody says, 'Hey, let's go to Maryland,' and it's their home game, I'd do that in a minute.
"But taking one of my home games, I just can't do it. The economic impact in this community is just huge."
Michigan State AD Mark Hollis has been very proactive in scheduling top nonconference opponents (Boise State, Oregon, Alabama, Miami). But those games will take place on campus.
Hollis acknowledges scheduling trends elsewhere impact what Big Ten teams do, but his position is firm.
"I'd rather bring big games into Spartan Stadium," Hollis said. "We talked to Boise State about playing in Chicago, but we had no interest in that. We want to play them at home. I want Miami there, I want Alabama there, I want Oregon, so our fans can see them."
May, 17, 2012
5/17/12
2:00
PM ET
CHICAGO -- Here's one possible reason the Big Ten decided not to push harder for playoff games at campus sites.

"We're trying to not be the barrier," Purdue athletic director Morgan Burke told ESPN.com. "We have strong values and strong opinions. We've said that throughout. You go back to 2008, and we wanted the BCS to remain intact. And we've have a 60-plus-year relationship with the Rose Bowl. We've never hid that fact.
"But it's pretty clear that some level of compromise is necessary. So instead of putting stakes in the ground and making it hard for the various constituencies around the country to get ideas up on the table, we're trying to be part of the process."
It's an important shift from the past, when the Big Ten, and specifically longtime league commissioner Jim Delany, have been portrayed as the primary barrier to a playoff in college football. Although the Big Ten/Delany wasn't the only party to oppose the four-team playoff proposed by SEC commissioner Mike Slive and ACC commissioner John Swofford four years ago, the other opponents weren't placed in the obstructionist role nearly as much.
These days, the Big Ten couldn't stop a playoff even if it wanted to, but the league could live up to its reputation by refusing to budge on the campus-sites issue. See, there's little to no support for campus sites elsewhere in college football. It almost certainly would be a losing battle for the Big Ten.
Is it worth fighting? Many folks think it is. But the Big Ten/Delany would be viewed mostly in a negative -- and familiar -- light.
The league's push for playoff games at bowl sites, which keeps the Rose Bowl as relevant as possible, isn't nearly as confrontational nationally as a campus-sites push would be. Why would leagues like the SEC and Pac-12 oppose bowl sites, which are located so close to their campuses?
"I'd like to be able to play more on my campus," Burke said. "But I recognize the chances of that occurring given the climate are probably [low]. ... You listen to the national debate, and it's not there. So that's where, to me, it leads you back and you try to figure out how the bowls can be integrated."
Asked if the Big Ten fought hard enough for campus sites, Burke replied, "We have, but there's also got to be give and take. Jim has tried to step back. He has been around the longest of all the commissioners. So you've got to be a little bit careful now. You've got to let others get into the debate at the table, so that they feel like you're not just trying to shove something down their throat.
"He has put some stakes in the ground on the field that are important. If it's an issue that is not absolutely core to our values, the values of our ADs and our presidents, we're going to try to help create a consensus."
Jim Delany, consensus builder? The label might never catch on, but there's definitely a push from the Big Ten to no longer stand in the way any more.
"There's a lot here that's happening that doesn't necessarily favor a conference," Delany said. "Basically, you try and do what's right for college football. That's part of our task."
May, 16, 2012
5/16/12
3:45
PM ET
CHICAGO -- Despite a few speed bumps, the Big Ten/Pac-12 scheduling partnership is "a go," Big Ten commissioner Jim Delany told his league's athletic directors this week.

The details are still being worked out, which isn't a surprise when you have 24 major-conference programs with unique interests, scheduling philosophies and scheduling agreements. But Delany hopes to have a more specific idea of the scheduling models in the next few months.

"We do want it all fit in," Delany said Wednesday. "Whether that means you have 12 games or 11 games or 10 games in the first cycle ... we're going to want 12 games ASAP. A lot of scheduling has been done in other nonconference areas that's reliant on this."

The original goal was to have a full round-robin schedule by 2017, but it could be wishful thinking. Ohio State, for example, has games scheduled with both Oklahoma and North Carolina, and athletic director Gene Smith told ESPN.com last month that he wouldn't add a Pac-12 opponent to the slate in 2017. Pac-12 teams have their own issues, namely a nine-game conference schedule -- as opposed to eight in the Big Ten -- and long-term agreements with teams like Notre Dame (USC, Stanford).

The partnership eventually will feature six home-and-home series, but it might not be complete until after 2017.

The scheduling process will be a "hybrid" effort between the schools and the two league offices. Big Ten and Pac-12 teams are facing one another with more frequency in the coming years -- three matchups take place this fall -- and some series are already set for 2017 and beyond. Northwestern and Stanford, for example, have a four-game series set for 2019-22.

Big Ten senior associate commissioner for television administration Mark Rudner and Pac-12 deputy commissioner Kevin Weiberg, are overseeing the scheduling elements.

"We may have to do less," Delany said, referring to the league. "In other words, if there are three or four games [set] in '17, '18, '19 and '20, maybe the conference will only have to come in and pick seven or eight other games."

Before announcing the Pac-12 partnership, the Big Ten had approved a nine-game conference schedule, supporting Delany's frequent statement that league teams should play one another more, not less. But the Big Ten decided to stay at eight league games because of the Pac-12 agreement.

"On balance, it's a close call," Delany said. "But in the nine-game conference schedule, who you don't play was one factor, but the other fact was five home games, four away. If you can create a situation where you improve your schedules, you improve the fan experience, you improve the games that are going on television without affecting the home/away segment inside of the conference, [it] was the preferred method. If we hadn't done the collaboration, we'd do nine [league games]. If we do the collaboration, we'll do eight.

"We're able to attract a higher-quality of game."

One potential concern is how the scheduling partnership will impact teams' other nonconference agreements. Purdue athletic director Morgan Burke has made it clear he wants to keep the annual Notre Dame series going as long as possible, and added that the Boilers have played Notre Dame and a Pac-12 team (Oregon, Arizona) in the same season before.

"It adds some name recognition to your schedules in September," Burke said. "Working together, we can try to get the programs in comparable stages of development, to compete against one another so we don't have an imbalance. It's not easy to do that, but that's something to work toward."
May, 16, 2012
5/16/12
11:00
AM ET
CHICAGO -- When the college football playoff push kicked off, Ohio State athletic director Gene Smith planted himself in the campus-sites camp.
Smith favored having the semifinals on the campuses of the higher-seeded teams. The setup would give Big Ten teams like Ohio State an advantage they've never enjoyed in the current BCS/bowl setup -- nationally significant games on Midwest soil in late December or early January. Big Ten commissioner Jim Delany was among the first major college football figures to stump for campus sites this winter.
"We've shifted," Smith told ESPN.com on Tuesday. "I was originally for campus sites, and I still go back there mentally every now and then as discussions occur, but the bowls have a really good system set up to host."
The reasons for the Big Ten's shift are well known by now. Nebraska athletic director Tom Osborne said Tuesday that a playoff outside of the existing bowls would "pretty much destroy the bowl system." Preserving and protecting the Rose Bowl is paramount to Delany and the rest of the Big Ten brass.
Smith also thinks there are operational advantages to keeping the biggest games at bowl sites.
"There are certain schools that would put it on and host it extremely well," he said. "Others might be challenged with that. Bowls have done this a long time. They have great local organizing committees. ... And it's good for the game."
The strongest counterargument is that campus sites would ease the burden on college football fans. Rather than make separate trips for a league title game, a national semifinal and a national championship game, fans of some teams could have one of those games closer to their homes.
Another apparent plus for Big Ten backers is the potential weather advantage Big Ten teams could exploit by hosting games. Unlike squads in the South and West, Big Ten teams are conditioned to play cold-weather football, but they typically face the best from the SEC, Pac-12 and Big 12 in ideal conditions at places like the Rose Bowl, the Mercedes-Benz Superdome and University of Phoenix Stadium.
The thought of a college football playoff in the snow is both novel and exciting to some Big Ten fans. But Smith actually sees it as a drawback.
Brace yourselves, Woody and Bo ...
"Let's say Ohio State is hosting and it's January or December, and let's say it is 5 degrees," Smith said. "Is that right for the game? We're not pro. We need to figure out what's best for the game, and I think a fast surface, good weather is important for the game. It's important for the kids."
Delany, Osborne and others acknowledge that campus sites could favor the Big Ten, which hasn't won a national championship since after the 2002 season. But in surveying presidents, athletic directors, coaches and even players, the overwhelming majority favored the bowl sites.
"It would be a competitive advantage to have semifinal games at home fields," Osborne said. "... but the bowls have been good to us."
The sentiment isn't sitting well with some folks. The Big Ten might have been alone in advocating for campus sites, but it's fair to ask if the Big Ten gave up on the crusade far too easily.
Yahoo! Sports' Dan Wetzel writes today
:
Somewhere Mike Slive of the SEC and Larry Scott of the Pac-12 are kicking back with a cackle of delight. These guys are angling for every possible edge while the Big Ten and the Rose Bowl sit in adjacent bathtubs, holding hands and waiting for the moment to be right.
Wait, the rest of college football has to be asking, you're not even going to fight and try to make us look like wimps for arguing against football in the cold?
Wait, you seriously are going to ask the same fan base to travel three times in a month -- Big Ten title game, semifinals and championship game, the last two at least via airplane? And you think we won't end up with the majority of the crowd?
The Rose Bowl's power over the Big Ten is something to behold. It makes normally intelligent men say ridiculous things.
Of the Big Ten groups advocating for playoffs at bowl sites, the coaches' position makes the least sense. These are guys who typically capitalize on every possible advantage presented to them. But they seem to value their players' bowl experience over the possibility of making Alabama or USC play them in the snow.
Why should the Big Ten care if TCU and Oregon have small stadiums and can't accommodate the media and the corporate sponsors? The Big Ten, for the most part, doesn't have those problems.
In my recent interview with Nebraska chancellor Harvey Perlman, I asked him why so many powerful people in the Midwest care so much about bowl games located so far away.
"It's part of the tradition of college football," Perlman said. "It is a good experience for student-athletes. It makes more sense in terms of ending the season than some kind of playoff. It helps the communities that have been supportive of intercollegiate football for a long time."
What about the local communities Big Ten schools can serve by keeping games on campus?
Wetzel writes:
There's no question Big Ten fans love the Rose Bowl, although not as much as they once did. They also like to win, also would like to shut the SEC up and also really like showing off their legendary stadiums and great cities, fighting against the idea that they live in some inhospitable, rusted-out region.
Plenty of them could use the economic impact of staging these massive events in the Midwest too.
That's not going to happen. The campus-sites ship has sailed. Perhaps it's a tradeoff the Big Ten made to ultimately ensure strong playoff access for league champions.
If and when the Big Ten champion qualifies for a playoff, however, it will more than likely play a virtual road game. The team will have to fight like heck to win.
A lot harder than the league did to have meaningful games on campus.
May, 15, 2012
5/15/12
8:20
PM ET
CHICAGO -- Big Ten teams will be playing fewer bowl games in the future. And they'll likely be playing them in different locations.
It's all part of a shifting bowl landscape that Big Ten commissioner Jim Delany discussed Tuesday at the league's spring meetings. Delany said there's a "very strong consensus" among the league's athletic directors that the bowl-eligibility requirement should increase from six wins to seven wins, a sentiment that's echoed nationally.
"We think it's better for our programs, better for our fans and better for the bowl system for us to have a winning season in order to qualify," Delany said. "... For us, it means redefining a successful year at 7-5 from the standpoint of a bowl season. We argued for 6-6. We've experienced 6-6. Now we're suggesting that it's in our best interest, the bowls' best interest as well as the other conferences that might benefit by these open slots to look at a 7-5 standard."
[+] Enlarge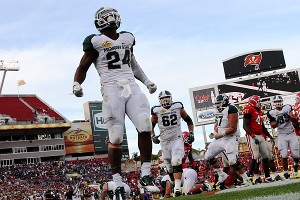 AP Photo/Margaret BowlesMichigan State's 2011 season ended in the familiar surroundings of the Outback Bowl.
Teams that finished the regular season at 6-6 have been eligible for bowls the past six seasons. In 2006, the Big Ten sent two 6-6 teams (Minnesota and Iowa) to bowl games, and both lost. The Big Ten has had a total of seven 6-6 teams in bowls, including four last season (Illinois, Purdue, Ohio State and Northwestern). Only two Big Ten teams that finished 6-6 since 2006 -- Northwestern and Iowa in 2007 -- didn't make bowls.
Coaches like Northwestern's Pat Fitzgerald and Purdue's Danny Hope oppose the increase from six to seven wins, but they're in the minority. Delany admits the increase "probably doesn't favor us," but he said it will help the health of the sport.
"We had one team in a bowl game last year at 6-7 [UCLA] that ended up at 6-8," he said. "... You got too much of a good thing, too much ice cream, too many bowl games, too many 6-6 seasons."
The Big Ten also could tweak its bowl lineup, which expires after the 2013 season. Ohio State athletic director Gene Smith said he "would imagine it will change a little bit," and Delany suggested as much during his session with reporters. Although the bowl lineup has taken a backseat to playoff discussions and where the Rose Bowl fits in, it will garner more attention in the coming months.
Five of the Big Ten's seven non-BCS bowl partners -- Capital One, Outback, Gator, Meineke Car Care, TicketCity -- are located in two states (Florida and Texas). The three Florida bowls take place against SEC foes, while the Meineke Car Care and, in some years, the TicketCity, pit Big Ten teams against Big 12 opponents.
Translation: there's not much variety. Wisconsin played bowls in Orlando or Tampa in six consecutive years (2004-09); Michigan State has played in Orlando or Tampa in four of the past five seasons.
"When you have three bowls in Florida and you're a school that is constantly in that range for selection, your fan base could end up, in a five-year period, four times in the state of Florida," Delany said. "So does that depress the interest? Again, sometimes less is more. Is there a way to give them a taste of Florida and Phoenix and Texas and other places in California? We want to have the fan base excited about going, about who they're playing and about where they're playing.
"After 20 years of experience with bowls, how do we make the next round of bowls stimulating, interesting and responsive, not only to our coaches and our players but also our fan base."
May, 15, 2012
5/15/12
5:19
PM ET
CHICAGO -- It has taken some time, but Big Ten nonconference schedules are finally beefing up.
Michigan opens the 2012 season against Alabama and Michigan State kicks off against Boise State. The Spartans also have contracts to face Oregon, Alabama and Miami. Ohio State has Virginia Tech and Oklahoma on its future schedules. Northwestern, which used to shy away from tough non-league foes, has series set with Stanford, California and Notre Dame. Traditional series with teams like Notre Dame (Michigan, Michigan State, Purdue) and Iowa State (Iowa) aren't going anywhere.
Add in the Big Ten's upcoming scheduling partnership with the Pac-12, set to begin in 2017, and things are looking up with non-league slates.
But will the trend continue in the post-playoff era?
Schedule strength is one of many components that college football's brass must weigh as they try to decide the selection criteria for a four-team playoff. The current BCS system rarely rewards teams -- or in the Pac-12's case,
an entire league
-- for challenging themselves during non-league play.
"It would be my desire to have strength of schedule play a much more significant role than it does now, which is there's no role for strength of schedule," Michigan State athletic director Mark Hollis said. "It's how many wins you get, not who you play. I think we need to come up with a system that motivates schools to want to play tougher non-conference games during the season."
Hollis feels so strongly about schedule strength that he wants it to be factored in selecting bowl teams, even for minor bowls.
Ohio State athletic director Gene Smith, who advocates a scheduling model that includes one marquee non-league game a year, is concerned about where schedule strength fits into the playoff selections.
"Will this make some teams play nobody in the nonconference schedule?" Smith said. "The strength of schedule in the polls changed. It's not as heavily weighted. So now, do I just not play Cal and Texas and all these schools? I don't know. That's going to be interesting to see. We cannot do anything that affects the greatness of the regular season."
The Big Ten and Pac-12 aren't going to rescind their scheduling partnership, which is designed to have 12 intra-league games per year. But if SEC teams can schedule patsies every year and reach a playoff based on the strength of their conference, where's the incentive to beef up?
"One of the reasons we're looking at the Pac-12 coalition is to instill that in our schedule rather than force it in," Hollis said. "But nationally, we need to have that in play, both for bowl eligibility and for championship qualification.
May, 15, 2012
5/15/12
4:15
PM ET
CHICAGO -- Ohio State athletic director Gene Smith has chaired the NCAA basketball tournament selection committee, so he knows a thing or two about difficult decisions and fan backlash.

While a four-team playoff in college football will please most fans of the sport, Smith thinks it won't mitigate the debate about who's in and who's out. Just the opposite, in fact.

Smith and his fellow Big Ten athletic directors on Monday began studying the polls, the final BCS standings and any other rankings since the 1992 season. They found that differentiating between No. 4 and No. 5 is often tougher than choosing the two best teams to play in the national title game.

"When you start looking at [Nos.] 3, 4, 5 and 6, you're going to be able to put a piece of paper between those teams," Smith said.

The final regular-season polls from recent seasons often show small differences between No. 4 and No. 5.

In 2010, No. 4 Wisconsin had only six more points than No. 5 Stanford in the AP Poll, 22 more points in the Harris Poll and 37 more points in the Coaches' Poll. In 2009, both Florida and Boise State were within 70 points of No. 4 Cincinnati in the AP and Coaches' polls. In 2004, the AP Poll had Utah at No. 4 and Texas at No. 5, while the teams were flipped in the Coaches' Poll, separated by just 24 points. In 2007, No. 4 Georgia led No. 5 Virginia Tech by just 35 points in the Coaches' Poll. The final Harris Poll that year had USC at No. 5 and Virginia Tech at No. 6.

"Who's going to pick that 4 and 5?" Smith said. "It's just like in the NCAA tournament. Who's left out? That's what's going to happen."

It's not surprising that the conference commissioners spent so much time on potential selection procedures for the playoff at last month's BCS meetings in Florida. Several Big Ten ADs say there's support for a selection committee to be used for the future format.

The playoff also will put more teams in the mix for berths than the current system, when usually only one team can have a legitimate claim to one of the spots in the title game.

"In the FCS, now they've got 20 teams in the playoff and they're talking about going to 24 because the 21st, 22nd, 23rd, 24th teams are not happy," Nebraska athletic director Tom Osborne said. "Well, you can only imagine what's going to happen here. Every team probably in the top 10 or 12, they're going to have some argument as to why they should be in the four-team playoff.

"People think this will settle it on the field, this will diminish the amount of controversy. I don't think that'll happen at all. If anything, it will escalate it because you have more teams involved."
TOP 25 SCOREBOARD
Thursday, 12/5
Friday, 12/6
Saturday, 12/7
TOP PERFORMERS