NCF Nation:

2012 Compass Bowl
January, 7, 2012
1/07/12
4:32
PM ET
SMU beat Pitt
28-6 in the
BBVA Compass Bowl on Saturday. Here is an instant analysis.
How the game was won:
Pitt looked uninspired from the outset, and was totally outplayed in every aspect of the game. After SMU jumped out to a 21-0 first-quarter lead, you had to figure the game was just about over because the Panthers' anemic offense is simply not equipped to come from behind. The Pitt offensive line struggled once again, particularly left tackle Greg Gaskins, and so did quarterback
Tino Sunseri
-- who had two turnovers. Though Pitt was able to get pressure on SMU quarterback
J.J. McDermott
, he was able to avoid major sacks and find holes in the man-to-man defense to find wide open receivers.


Turning point:
First quarter. This is all you need to know about how the first quarter went. Total yards: SMU 159, Pitt minus-5; First downs: SMU 7, Pitt 0; Time of possession: SMU 10:56, Pitt 3:49.
Stat of the game:
7. Total rushing yards for Pitt in the game.
Player of the game:
SMU DE Margus Hunt. Pitt has now given up over 60 sacks on the season after the Mustangs got seven in the game. Hunt had four as he simply overpowered Gaskins all game long.
Second guessing:
Pitt was terrible inside the SMU 25 today. In four opportunities, the Panthers came away with two field goals, a missed field goal and an interception. The interception was a fluke, as it bounced off
Isaac Bennett
's hands, then off a helmet and into the arms of Stephon Sanders. On several of the other possessions, Sunseri took sacks at the worst possible time. Sums up the story of the season. Pitt also had two opportunities on special teams taken away -- one was a recovered onside kick negated by an inadvertent whistle; another was a fake punt for a first down negated because of a false start. SMU also blocked one Pitt punt.
Well wishes:
SMU running back
Jared Williams
broke his left leg on a scary hit with Pitt safety Andrew Taglianetti. Williams was carted off the field on a stretcher with an air cast on his leg, and Taglianetti was visibly distraught over the hit.
What Pitt learned:
There is plenty of work for new coach Paul Chryst to do. As has been the case in 2011, quarterback and offensive line play are two of the biggest issues that have to be fixed. Good thing Chryst and incoming offensive coordinator Bob Bostad have the experience needed to make these two areas better. Pitt is going to be a more traditional offense in the future, and to be able to do that, the offensive line has got to be better. One thing has to be said about the coaching in this game -- the Panthers only had five full-time coaches on the sideline, and interim coach Keith Patterson was put in an extremely difficult position to lead this team.
What SMU learned:
When the Mustangs are able to hold onto the football and make plays in the pass game, they win. SMU went into the game with the worst turnover margin in the nation (minus-17) but was plus-2 in this game. McDermott hit
Darius Johnson
for a 50-yard touchdown early in the game, and was able to pick apart a Pitt defense that at times had linebackers on the Mustangs' fastest receivers. Johnson ended up with seven catches for 121 yards -- and he returns next season along with injured running back
Zach Line
, Hunt and many other standouts on offense and defense.
January, 6, 2012
1/06/12
5:00
PM ET
Rather than dwell on the way Todd Graham left Pitt, center Ryan Turnley turned is mind to the future.
He watched Wisconsin play in the Rose Bowl against Oregon, just to get a first glimpse at what new coach Paul Chryst will bring to the Panthers.
"Just from watching Wisconsin play, I know he's going to bring a physical brand of football back to Pitt," Turnley said in a recent phone interview. "We're all looking forward to it. I watched the Rose Bowl. They executed their offense so well, which means they're taught extremely well. That's something as a player, when you watch other teams do that, you know they have great coaches, and we're looking forward to that."
[+] Enlarge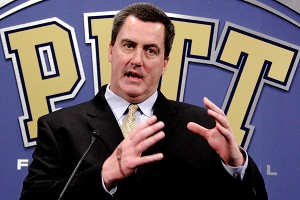 AP Photo/Gene J. Puskar Paul Chryst said his focus is on coaching football, not when Pitt is allowed to start playing in the ACC.
Turnley was probably not alone in watching that game. It is a way of looking ahead after the distractions of the last month. The players will attempt to put all that behind them as they head into the BBVA Compass Bowl against SMU on Saturday.
"I think everybody knows what (Graham) did, and I think he took some criticism for it," Turnley said. "It's time to move on. We've been through things like this before, and we're not going to dwell on it."
Turnley was much nicer than a few of his teammates, who began bowl week interviews with more scathing comments. Linebacker Max Gruder called Graham's actions despicable, and defensive tackle Chas Alecxih said he had no desire to ever see Graham again.
Because of all the turmoil, many have wondered where Pitt would find the focus or motivation going into a bowl game it already played in last season, under similar circumstances.
"We have to do it for each other and Pitt," cornerback Antwuan Reed said. "We're a Pitt family and we're keeping our Pitt family together. We've come closer because of everything that's happened, come closer. We've just got to play for each other and we'll be fine. That's the motivation."
This will be Reed's final game as a Pitt player, so ending it with a victory is something that would be special. Turnley also mentioned winning the game for all the outgoing seniors. Pitt is looking for its third straight bowl win, and also its first two-game winning streak since September.
This has been a maddeningly inconsistent team that finished the season 6-6, but one that did show signs of improvement on defense. You could make the argument that the defense is the the reason why the Panthers are in the bowl game at all, after forcing six turnovers in the regular-season finale against Syracuse.
But Turnley said he expects the offensive line to play better against SMU because it will have had the same unit playing together for the third straight game, and through all bowl practices. Expect Greg Gaskins, Ryan Schlieper, Turnley, Lucas Nix and Jordan Gibbs to start the game. Also, the Panthers have slimmed down their playbook and are not going to rush the offense.
"I think it's a good plan," Turnley said. "At times this year, we were a little out of control with our offense. If we slow down a little bit, that should allow us to execute a lot better."
January, 6, 2012
1/06/12
2:30
PM ET
You saw the preview and prediction. Now here are three keys for Pitt and SMU in the BBVA Compass Bowl:

Pitt
1. Focus.
The same question has to be asked again this year heading into the BBVA Compass Bowl: What will be the motivation for the Panthers, who are playing in this game for the second straight season under an interim head coach? There is no doubt these players and this program were rocked hard by the way former coach Todd Graham left. They must put those negative emotions behind them and play for themselves and each other. This is a team that has been maddeningly inconsistent, which led to a disappointing season. Can they pull it together one final time to win their third straight bowl game?
2. Run.
Pitt has experienced the most success this season when running the ball. That task got more difficult when
Ray Graham
was lost for the season. It will be even harder now that backup
Zach Brown
is questionable for the game with a bruised sternum. True freshman
Isaac Bennett
and
Corey Davis
will be relied upon to shoulder the load, so the game doesn't rest on the arm of quarterback
Tino Sunseri
.
3. Get after J.J. McDermott.
Pitt has been terrific with its pass rush all season, tied for fourth nationally in sacks with an average of 3.25 per game. The Panthers have 39 total sacks on the season. The Mustangs have given up 27 sacks on the year, so there should be plenty of opportunity for Aaron Donald and Brandon Lindsey to get after McDermott. That obviously is a huge key if the Panthers want to disrupt their passing game -- the strength of the team.

SMU
1. Limit the mistakes.
SMU ranks last in the nation in turnover margin (minus-17) and has at least one interception in 11 of its 12 games this season. Only East Carolina has thrown more interceptions than SMU's 19 in 2011, according to ESPN Stats & Information. On the bright side, Pitt only has eight interceptions this year. On the down side, Pitt did force six turnovers the last time out against Syracuse.
2. Make Sunseri win it.
SMU has some pretty talented players up front. Defensive end Taylor Thompson, who has seven sacks and six forced fumbles on the season, is going to need a big game to slow down the Pitt running attack and to take Sunseri down. Ja'Gared Davis is also an important player for the Mustangs on defense -- he has 4.5 sacks and 11 tackles for loss.
Taylor Reed
is a tackling machine and will be key to slowing down the Pitt run.
3. Pass game must get going.
There is no escaping this -- SMU has to pass the ball in order to win. The Mustangs went 2-4 in their last six games largely for this reason: Scoring an average of 17.7 points during the stretch, SMU averaged just 223.7 yards through the air and threw six touchdowns and 11 interceptions. The Panthers have been much better on pass defense in the second half of the season but will be challenged by
Cole Beasley
and
Darius Johnson
-- each has over 900 yards receiving and the duo has combined for nine of the team's 16 touchdowns this season. If SMU can protect McDermott and connect on big pass plays early to take a quick lead, Pitt could find itself in serious trouble. The Panthers are not equipped to play from behind.
January, 6, 2012
1/06/12
1:00
PM ET
Pitt (6-6) and SMU (7-5) will play for the first time in 29 years when they meet at 1 p.m. Saturday in the BBVA Compass Bowl in Birmingham, Ala. The Panthers and Mustangs last met on Jan. 1, 1983, in the Cotton Bowl. The SMU "Pony Express" backfield of Eric Dickerson and Craig James beat the Dan Marino-led Panthers 7-3.
The Panthers will try to give the Big East a 4-1 bowl record for the season.


WHO TO WATCH:
Pitt quarterback
Tino Sunseri
. It is hard to imagine any quarterback in the country taking as much criticism, and as many shots, as he has this season. He was sacked more than 50 times, and former coach Todd Graham essentially blamed him for not making his "high-octane" offense work. Through it all, Sunseri took the high road, kept his head up and kept playing. Say what you will about his football season -- he deserves credit for taking the hits while trying to remain a leader for this football team. Interim coach Keith Patterson said this week that the offense would slow down a bit to emphasize what Sunseri does best, which is running the football.
Zach Brown
(bruised sternum) is most likely out, so the load will fall once again to freshman
Isaac Bennett
.
WHAT TO WATCH:
Pittsburgh defense against SMU offense. The Mustangs have the potential to put up points in a hurry, but the key is being able to limit the passing game. More emphasis will be placed on that with leading rusher
Zach Line
out for this game. This is really all you need to know about what SMU does when it scores: The Mustangs are 7-0 this season when scoring first and 7-0 when scoring at least 21 points. Slowing down receiver
Darius Johnson
will be the biggest key. Johnson has five 100-yard games this season, and three with 10 or more catches.
WHY TO WATCH:
This could have been a future Big East game, but alas, Pitt is headed to the ACC when SMU joins with the Big East. Either way, June Jones has done a remarkable job in turning around the Mustangs, though they probably fell a little short of expectations this season. SMU is playing in its third straight bowl game -- tying a school record. When his offenses are on, they are fun to watch.
PREDICTION:
Pitt 28, SMU 17. From my predictions post a few weeks ago: Pitt has to do what has worked best this season -- establish the run and let Sunseri manage the game. The defense has been much improved in the second half of the season, and SMU has struggled to put up points of late. The Mustangs also will be without leading rusher Line, who played a big role in the offense. If the Panthers can continue to get after the quarterback and play well in the secondary, they should be able to win this game.
December, 26, 2011
12/26/11
11:00
AM ET
The time has come for me to make my can't-be-beat Big East bowl predictions. All year you guys wanted me to think outside the box and pick some upsets. I shall deliver today. The pick for the Orange Bowl comes later this week, so West Virginia fans have to wait a few more days.


Belk Bowl: Louisville (7-5) vs. NC State (7-5), Dec. 27, 8 p.m.
Here comes Test 1 against the ACC. The Wolfpack will have the benefit of playing in front of a partisan crowd, but Louisville goes into the game on a bit of a hot streak, having closed the season with a 5-1 mark. The Cardinals have simply found their identity. This offense is not going to light up the scoreboard, but it has become more efficient and balanced since play-calling duties switched to Shawn Watson. The defense has been solid, and will be one of the best the Wolfpack have faced this season. Louisville ranks No. 10 nationally in rushing defense (103.5 ypg), No. 14 in scoring defense (19.2 ppg) and No. 23 in total defense (327.8 ypg). Here is the bottom line for me: You know what you are going to get out of the Cardinals. They have been exceptionally consistent in the second half of the season. You cannot say the same for NC State, one of the most inconsistent teams in the nation. Will we see the NC State team that beat Clemson or the one that lost to Boston College and nearly lost to Maryland?
Louisville 24, NC State 20.


New Era Pinstripe Bowl: Rutgers (8-4) vs. Iowa State (6-6), Dec. 30, 3:20 p.m.
Once again, Rutgers is playing the quarterback shuffle game, and coach Greg Schiano has not announced whether
Chas Dodd
or
Gary Nova
will start in the bowl game. No matter who is behind center, you can bet one thing has been emphasized since Rutgers lost to UConn -- hold onto the football. Rutgers turned the ball over six times against the Huskies and simply never gave itself a chance to win. Iowa State has been solid at forcing turnovers, but the Cyclones have given the ball away too many times this season. Rutgers owned the turnover margin earlier this season but has fallen off lately. The key for Rutgers in all its wins this season has been simple -- create turnovers, limit mistakes and allow defense and special teams to carry the day. Schiano always gets his team up for bowl games, and Iowa State has dropped two games in a row since beating Oklahoma State.
Rutgers 27, Iowa State 20.


AutoZone Liberty Bowl: Cincinnati (9-3) vs. Vanderbilt (6-6), Dec. 31, 3:30 p.m.
I have been outspoken on this game in the past week so you know where I am going with this one.
Zach Collaros
might be back at quarterback for the Bearcats, which should be a huge advantage. Still, these teams are very similar -- good running backs (
Isaiah Pead
,
Zac Stacy
) and good defenses (Vandy ranks No. 19 in the nation, Cincinnati ranks in the top 10 against the run and leads in sacks). The quarterback matchup between
Jordan Rodgers
and Collaros should be a good one as well, but I still give the advantage to the Bearcats. This is a team that was on pace to get to a BCS game before Collaros broke his ankle. Cincinnati has been terrific at getting after the quarterback and making tackles behind the line, and the secondary is much improved. The seniors are eager to win their first bowl game and eager to prove the naysayers wrong once again.
Cincinnati 27, Vanderbilt 21.


BBVA Compass Bowl: Pitt (6-6) vs. SMU (7-5), Jan. 7, 1 p.m.
The big question headed into this one is how Pitt responds with interim coach Keith Patterson leading the way. The Panthers played under an interim coach in this game last year against Kentucky and won, so clearly this is not a unique situation. Pitt has to do what has worked best this season -- establish the run and let quarterback
Tino Sunseri
manage the game. The defense has been much improved in the second half of the season, and SMU has struggled to put up points of late. The Mustangs also will be without leading rusher
Zach Line
, who played a big role in the offense. If the Panthers can continue to get after the quarterback and play well in the secondary, they should be able to win this game.
Pitt 28, SMU 17.
December, 19, 2011
12/19/11
1:30
PM ET
This bowl season could be a very jolly one for the Big East. Even though Big East teams are favored in two of the five bowl games, I maintain the league has an excellent chance to go undefeated.
The matchups are favorable, and the largest line for an opponent belongs to Clemson, at 3 1/2 over West Virginia in the Discover Orange Bowl. So even the oddsmakers are expecting games that could go either way. The Big East generally does well in bowl games, too. The league has posted a losing record just once since 2005, and did go undefeated in 2006.
So let's take a closer look at the matchups and why I believe each game should go in the Big East's favor.


Belk Bowl, Dec. 27: Louisville (7-5) vs. NC State (7-5).
Line: NC State by 2 1/2. I understand why NC State is favored, because this is essentially a home game for the Wolfpack. But if you take a look at what these teams have done headed into their game, Louisville is the one that should win. The Cardinals ended the season on a 5-1 run, and their offense was much more productive at the end of the season than the start. NC State has been one of the most inconsistent teams in the ACC. This team lost to Boston College, then beat Clemson, and needed a massive comeback against a really bad Maryland team to become bowl eligible. NC State has two wins over FCS teams, so that makes the Wolfpack a five-win team over FBS competition. The only team they have faced with a better defense is FSU, and they lost that game 34-0. If you take out the Seminoles, who rank No. 6 in the nation in total D, the average defensive rank of the FBS teams NC State has faced this year is: 63. Louisville ranks No. 23.


New Era Pinstripe Bowl: Rutgers (8-4) vs. Iowa State (6-6), Dec. 30.
Line: Rutgers by 1 1/2. We can go the defense route in this analysis as well. Everybody knows defense is scarce in the Big 12, right? Four Big 12 teams rank 100 or below in the NCAA total defense rankings (Oklahoma State 107; Baylor, 114; Texas Tech 115; Kansas 120). Iowa State ranks No. 99 itself. Defense is the strength of this Rutgers team, ranking No. 14 in the nation. We still do not know who is going to start at quarterback for Rutgers. But all this team has to do is protect the football and play solid defense, and the Scarlet Knights should win. Also, coach Greg Schiano is 4-1 in bowl games and hopefully learned a valuable lesson from the UConn game the last time out.


AutoZone Liberty Bowl, Cincinnati (9-3) vs. Vanderbilt (6-6), Dec. 31.
Line: Vanderbilt by 2 1/2. Every Big East fan should be outraged that a 6-6 team from the SEC is favored over a co-Big East champion. Vanderbilt beat one bowl team this season (Wake Forest) and won two SEC games against two bad teams (Ole Miss, Kentucky). So I am really not sure what qualifies the Commodores to be favored in this game. Is it home-state advantage? That is the only reason I can come up with for this game. Cincinnati has the Big East Offensive Player of the Year in
Isaiah Pead
, and could also have
Zach Collaros
back. The defense ranks No. 1 in the nation in sacks (43) and tackles for loss (106.5). If Cincinnati loses, it would be a huge disappointment.


Discover Orange Bowl, Clemson (10-3) vs. West Virginia (9-3), Jan. 4.
Line: Clemson by 3 1/2. I think these two teams are as evenly matched as you can get. Both have talent on offense, especially at the quarterback and receiver positions. Both have had letdown games this season, and both had to overcome the odds to win their respective league championships. There is no doubting these teams can score points, but Clemson had a much deeper offensive lull during its slump than West Virginia (averaged 14 points in three losses). And the Mountaineers have come on strong on defense of late. Clemson tight end
Dwayne Allen
could be the huge X-factor in this game. It is a safe bet Allen has been repping the wheel route ad nauseum. West Virginia should have learned its lesson with
Nick Provo
and Syracuse.


BBVA Compass Bowl Pitt (6-6) vs. SMU (7-5), Jan. 7.
Line: Pitt by 3 1/2. For the second straight season, the Panthers will have an interim coach leading the way in this game, with defensive coordinator Keith Patterson calling the shots in the wake of Todd Graham's departure. The potential for distraction is there for Pitt, but something tells me these players are going to be fired up to show Graham just what he walked out on after just one season. SMU has hit a major lull on offense, and Pitt has made a huge improvement in its passing defense. If the Pitt offensive line can protect, the Panthers should win.
December, 4, 2011
12/04/11
11:40
PM ET
SMU Mustangs (7-5) vs. Pittsburgh Panthers (6-6)
Jan. 7, 1 p.m. ET (ESPN)

SMU take from college football blogger Matt Fortuna:
Following a Conference USA West division title, the Mustangs opened this season with a 5-1 record, including an overtime win at TCU. In the season's second half, however, things turned south. SMU lost four of its last six games and two of its final three to finish 7-5. A lot of that falls on the offense, which averaged 33.7 points per game through the season's first half before scoring just 17.7 points per game in its final six games.
Quarterback
J.J. McDermott
replaced
Kyle Padron
in a season-opening 46-14 loss at Texas A&M and has started every game since, throwing for 3,182 yards, 16 touchdowns and 16 interceptions. Running back
Zach Line
eclipsed the 100-yard mark in eight of SMU's first 10 games and led the conference in rushing, but he is out for the remainder of the season with a foot injury.
Cole Beasley
and
Darius Johnson
have emerged at receiver, with each just shy of the 1,000-yard mark for the season. Defensively, linebackers Taylor Reed (93 tackles, 7.5 tackles for loss, three sacks) and Ja'Gared Davis (11 tackles for loss, 4.5 sacks, two interceptions) lead the way for a Mustangs unit that ranks 37th nationally in total defense.
---

Pitt take from Big East blogger Andrea Adelson:
Expectations were high for the Panthers this season. First-year coach Todd Graham predicted his team would run a "high-octane" offense, a line he used over and over again to promote his program and the new regime hitting town. To be sure, it was a huge departure from the pro-style, smash-mouth football Pitt has been known to play. Graham says he has no regrets over ratcheting up hopes, even though Pitt failed to resemble anything high or octane. Simply put, he does not have the personnel to run the hurry-up, spread system that ran to perfection in his final season at Tulsa.
Quarterback
Tino Sunseri
never bought in or adapted to the changes, and that contributed to Pitt giving up 56 sacks this season. Injuries on the offensive line didn't help, either, as Pitt used myriad different starting lineups to help fill in the gaps. The line wasn't the only area that was impacted by injuries. The Panthers lost star tailback
Ray Graham
to a torn ACL against UConn in October and from that point on, it was an even bigger struggle for the offense to do anything with Sunseri behind center.
Pitt needed a 33-20 win over Syracuse in the final game of the season to become bowl eligible, but at least salvaged the season. What the Panthers do have is a much improved defense from Week 1. Defensive end Aaron Donald was a breakout star, with 10 sacks. The pass defense made a huge turnaround. After giving up more than 300 yards in two of the first three games of the season, the most they gave up in the final nine weeks was 271 yards to Rutgers.