NCF Nation:

2012 ESPNU 150
November, 7, 2011
11/07/11
1:30
PM ET
The
Penn State scandal
isn't going away any time soon, and it could affect several areas of the Nittany Lions football program, including recruiting.
Penn State has 16 verbal commitments for its 2012 class, including two ESPNU 150 selections -- offensive tackle
Joey O'Connor
and defensive tackle
Tommy Schutt
.
[+] Enlarge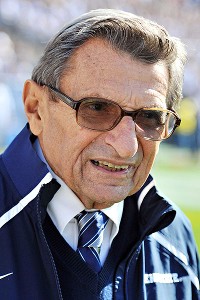 Jeffrey G. Pittenger/US PresswireSeveral recruits in Penn State's 2012 class say they are firm in their commitments whether Joe Paterno remains coach or not.
Colleague Jared Shanker of ESPN Recruiting, who covered Penn State football until last year for The (Harrisburg) Patriot-News,

checked in with several Lions recruits
during the weekend. The good news for Penn State: They're still on board.
O'Connor told Shanker he discussed the situation with his parents and still has every intention of being in State College next fall -- even if Joe Paterno is no longer Penn State's coach.
"You go to a school based on coaches, but then again you don't," said O'Connor, who officially visited Penn State in September and won't make it back to the campus before enrolling. "They could be gone tomorrow. No matter what, if coach Paterno is there or not, I still love Penn State."
Other recruits like athlete
Armani Reeves
echoed the sentiment about Paterno. The bigger issue could be if the scandal leads to major changes throughout the staff of assistants, who do the direct recruiting for Penn State.
If Paterno leaves for any reason, Reeves said he would still be solid. If the rest of the staff is also forced out or a new coach doesn't retain them -- the likely scenario -- Reeves could open things back up.
"Definitely," Reeves said when asked if he would be forced to reconsider if assistant coach Bill Kenney, his lead recruiter, was let go.
The recruits Shanker talked with seemed to have different levels of knowledge about the case. Linebacker recruit
Camren Williams
told Shanker, "It was the old coach [Jerry Sandusky] and coach Paterno actually turned him into the athletic director," Williams said. "He did his job. It's the AD under investigation for lying and not turning him in. I'm not concerned at all."
While Penn State's current commits are on board, a big question is how all of this affects the team's future recruiting.
Arguably Penn State's biggest recruiting target is
Noah Spence
, a defensive end from Harrisburg, Pa., rated as the nation's
No. 4 player in the 2012 class
by ESPN Recruiting. Spence has shut down his recruitment until after the football season but is considering Penn State and many other top programs.
"They're a very spiritual family, and Noah Spence's dad puts a high emphasis on character," Shanker told me Monday. "I can only this having a huge impact with Greg Spence, Noah's dad. The first thing he always says is he's a man of God, and he places a lot of emphasis on moral character. When I talked to him back in August, I don't think he mentioned Joe Paterno's coaching once. It was more about the person Joe is. Even though Joe's been cleared legally at this point, things are very up in the air."
Another factor is that Penn State's recruiting coordinator and wide receivers coach, Mike McQueary, reportedly was the
former graduate assistant who reported an alleged sexual assault
involving Sandusky to Paterno in 2002.
"That's huge," Shanker said. "He's going to be the first one usually [recruits] can contact. He might not end up being the lead recruiter, but in most instances he's the guy to initate contact with recruits or their parents. That's going to be something parents are going to ask. They're going to want to know what happened."
Questions also likely will be asked of other assistants who were on staff in 2002, including top recruiters like defensive coordinator Tom Bradley.
Shanker said many of the recruits he spoke to have been told that if Paterno were to step down -- Paterno's contract ends after this season -- a member of his staff would take over. The big factor going forward, if there are changes, is how dramatic those changes are.
"All of them didn't seem concerned about wholesale changes to the staff," Shanker told me. "If Paterno were to leave, that was pretty much a non-factor for them. They were building their relationships with the assistant coaches. If the assistants leave, they would have to reevaluate things."
June, 9, 2011
6/09/11
1:30
PM ET
We
released our ESPNU 150 on Wednesday
, but like you might have read, more than half of those on the list remained uncommitted to any single program.
According to our recruiting experts,
here are the rest of the players still considering Big 12 schools.
You can see more on each player by clicking his name.
3. Dorial Green-Beckham, WR (Springfield, Mo./ Hillcrest)
Green-Beckham is wide open with offers from virtually everyone. To date, he has visited only Oklahoma and Missouri.
12. Gunner Kiel, QB (Columbus, Ind./Columbus East)
Kiel continues to keep his recruitment well guarded, and although a decision will most likely come during the summer, it might not be made public until later.
15. Jameis Winston, QB (Hueytown, Ala./Hueytown)
Winston favors five schools -- Alabama, FSU, LSU, Oklahoma and UCLA. This will likely be a Seminole/Crimson Tide battle.
22. Andrus Peat, OT (Tempe, Ariz./ Corona Del Sol)
Nebraska, USC, Texas, FSU and Notre Dame are five of Peat's favorites. He will visit Notre Dame and Texas this summer, and he hopes to get to Auburn and Florida.
27. John Theus, OT (Jacksonville, Fla./ The Bolles)
He has narrowed his list to Georgia, Alabama, Florida, Notre Dame, Texas and Arkansas. His older brother signed with Georgia in the 2010-11 recruiting cycle.
31. Geno Smith, RB (Atlanta/ Saint Pius X Catholic)
Smith is down to five schools -- Alabama, Auburn, Texas, Notre Dame and Tennessee. He plans to see all of them this summer.
41. Nelson Agholor, ATH (Tampa, Fla./ Berkeley Prep)
Agholor's first trip during the offseason was to Texas. FSU, USC and Georgia are often mentioned as top schools.
45. Dominique Wheeler, WR (Crockett, Texas/ Crockett)
Wheeler is focused on Oklahoma, Baylor, SMU, TCU, Oklahoma State and Texas Tech.
55. Evan Boehm, OG (Lee's Summit, Mo./ Lee's Summit West)
Schools such as Missouri, Oklahoma, Auburn, Alabama, Nebraska, Iowa, Arkansas, Stanford, Michigan and Michigan State are involved with Boehm. He wants to see Missouri, Oklahoma, Auburn, Alabama, Nebraska and Iowa this summer.
78. Barry Sanders, RB (Oklahoma City, Okla./ Heritage Hall)
The five primary teams in the hunt for Sanders are Alabama, FSU, Oklahoma State, Auburn and Stanford. Oregon and Notre Dame have made up a ton of ground and are gaining momentum. He wants to visit FSU and Notre Dame this summer.
91. Vadal Alexander, OG (Buford, Ga./ Buford)
Alabama, Auburn, LSU, USC and Texas are the front-runners for Alexander. He will visit the Crimson Tide in June.
93. Dalton Santos, ILB (Van, Texas/ Van)
Santos has backed out of his commitment to Oklahoma State and says Oklahoma, Arkansas, Tennessee and Alabama are in the hunt.
98. Ty Darlington, C (Apopka, Fla./ Apopka)
Darlington could start to cut his list soon, but expect Oklahoma and Auburn to make any final group.
119. Avery Young, OT (Palm Beach Gardens, Fla./Palm Beach Gardens)
Recently Virginia Tech has tried to jump into the mix for Young, who has had Oklahoma and Florida at the top of his list.
142. Lorenzo Phillips, OLB (Patterson, La./Patterson)
This linebacker now has double-digit offers from teams such as LSU, Alabama, Texas A&M, Tennessee and Nebraska. He wants to visit Alabama, Clemson and Florida this summer.
June, 9, 2011
6/09/11
1:10
PM ET
With the release of the
ESPNU 150
on Wednesday, it seems like a good time to check in and see where each team stands in recruiting.
Every Pac-12 team has at least two commitments.
Click the team to read about recruiting class thus far.
Arizona
Commitments
: 4
ESPNU 150
: 0
Highest rated
: QB
Nate Sudfeld
Arizona State
Commitments
: 8
ESPNU 150
: 0
Highest rated
: WR
Kenny Lawler
California
Commitments
: 2
ESPNU 150
: 1 (QB
Zach Kline
, No. 60)
Highest rated
: Kline
Colorado
Commitments
: 3
ESPNU 150
: 0
Highest rated
: DT
Tyler Henington
Oregon
Commitments
: 5
ESPNU 150
: 1 (QB
Jake Rodrigues
, No. 138)
Highest rated
: Rodrigues
Oregon State
Commitments
: 2
ESPNU 150
: 0
Highest rated
: TE
Dustin Stanton
Stanford
Commitments
: 2
ESPNU 150
: 2 (OLB
Noor Davis
, No., 18, ATH
Alex Carter
, No.l 115)
Highest rated
: Davis
UCLA
Commitments
: 2
ESPNU 150
: 0
Highest rated
: ATH
Psalm Wooching
USC
Commitments
: 9
ESPNU 150
: 4 (OT
Arik Armstead
, No. 17, ATH
Jabari Ruffin
, No. 34, OT
Max Tuerk
, No. 57, WR
Jordan Payton
, NO. 146)
Highest rated
: Armstead
Utah
Commitments
: 4
ESPNU 150
: 0
Highest rated
: QB
Travis Wilson
Washington
Commitments
: 4
ESPNU 150
: 0
Highest rated
: QB
Jeff Lindquist
Washington State
Commitments
: 2
ESPNU 150
: 0
Highest rated
: WR
Dalen Jones
June, 8, 2011
6/08/11
3:15
PM ET
The
ESPNU 150 Class of 2012
was recently unveiled, giving you a chance to get to know some of the top prospects in the nation. There is some mixed news for the Big East.
Incoming member TCU is the only school that has secured verbal commitments so far from the top 150: No. 69
Devonte Fields
, a defensive end out of Texas, and No. 108
Tyler Matthews
, a quarterback out of Kansas.
But on the bright side, several current Big East teams are in play for many players listed in the top 150. Here they are:
No. 4
Noah Spence
, DE. Choosing from: Pittsburgh, Notre Dame, Penn State, Ohio State and Michigan.
No. 23
Rushel Shell
, RB. Choosing from: Pittsburgh, Penn State, Ohio State, Tennessee, Auburn.
No. 39
Devin Fuller
, ATH. Choosing from: Rutgers, Penn State, Florida State, South Carolina, Alabama.
No. 40
Yuri Wright
, CB. Choosing from: Rutgers, Notre Dame, Georgia, Tennessee, Michigan.
No. 67
Darius Hamilton
, DE. Choosing from: Rutgers, Florida, Penn State, Oregon, California.
No. 76
Caleb Peterson
, OG. Choosing from: Louisville, Auburn, Alabama, Georgia Tech, Stanford.
No. 80
Chad Kelly
, QB. Choosing from: Syracuse, Clemson, Alabama, Florida State, Michigan State.
No. 100
Tyriq McCord
, DE. Choosing from: USF, Florida, Florida State, Miami, South Carolina.
No. 143
Malcolm Lewis
, WR. Choosing from: West Virginia, Florida, Florida State, Miami, South Carolina. Lewis appears to be focused on Miami, FSU, Alabama, Florida and LSU right now.
No. 144
Sheldon Day
, DT. Choosing from: Cincinnati, Notre Dame, Michigan, Virginia Tech, North Carolina. Day has already been to Michigan a couple of times and has Penn State, Tennessee, LSU and North Carolina on his radar.
The fact that Pittsburgh is listed as a contender for two prospects ranked in the top 25 from the state of Pennsylvania says plenty about the job Todd Graham has done early on with the Panthers. It also is interesting to see Pittsburgh listed right alongside Ohio State. One has to wonder whether the problems with the Buckeyes right now could have an impact on their decisions.
As for TCU, the Horned Frogs join in 2012, but they are already seeing the benefit of joining an automatic-qualifying conference. ESPN Recruiting experts were asked about TCU during a live recruiting chat earlier Wednesday, and here is what Jamie Newberg had to say about the job coach Gary Patterson has done:
Someone I used to work with said to me a few years ago that TCU recruited like a BCS school. Now that they are a BCS school, watch out. Patterson and TCU will take it up a whole new level. Just more recruiting doors will open for them and you will start to see them landing even better prospects. It's already happening.
June, 8, 2011
6/08/11
2:15
PM ET
The newest ESPNU 150 -- ESPN.com's list of the top 150 high school prospects for the Class of 2012 -- was
released on Wednesday.
More than half the nation's top recruits on this list are still uncommitted, and even those who have pledged their services to a school can change their mind before February. But here's a look at the ESPNU 150 players who have already committed to a Big Ten school:
No. 68:
Terry Richardson
, CB: Committed to Michigan
No.97:
Jarron Jones
, OT: Committed to Penn State
No. 117:
Royce Jenkins-Stone
, OLB: Committed to Michigan
No. 139:
Michael Rose
, ILB: Committed to Nebraska
No. 140:
Kyle Kalis
, OT: Committed to Ohio State
Our recruiting folks also have a list of players
who just missed the cut
, and they include linebacker
Joe Bolden
and tight end
Devin Funchess
, both Michigan commitments. Brady Hoke is off to an excellent start in his first full recruiting season for the Wolverines, and his ability to attract elite defenders has to make his fan base smile.
Many people are going to be watching Ohio State's recruitment this year to see if the Buckeyes' off-the-field troubles and lack of a permanent head coach hurt their efforts to sign top prospects.
There is plenty of time for the Big Ten to rack up more blue-chippers off this list; for example, the No. 4-ranked player (defensive end
Noah Spence
) is considering Penn State, Ohio State and Michigan.
Look for ESPN.com's early 2012 class rankings in a few days.
June, 8, 2011
6/08/11
1:39
PM ET
The
ESPNU 150
for the 2012 recruiting class has been released, and nine prospects on it already have committed to Pac-12 teams.
USC and Stanford have seven of them -- the Trojans have four, Stanford three -- with Oregon and California with one apiece.
Here are the Pac-12 commitments and their national ranking.
No. 17
Arik Armstead
, OT, USC
No. 18
Noor Davis
, OLB, Stanford
No. 34
Jabari Ruffin
, ATH, USC
No. 57
Max Tuerk
, OT, USC
No. 60
Zach Kline
, QB, California
No. 88
Aziz Shittu
, DT, Stanford
No. 115
Alex Carter
, ATH, Stanford
No. 138
Jake Rodrigues
, QB, Oregon
No. 146
Jordan Payton
, WR, USC
The list, which includes 82 uncommitted players, features 24 players from Pac-12 states, which is less than just the state of Florida, which yields a whopping 28.
You can review a
breakdown of the list here
-- by positions, states and commitments so far.
A handful of players of interest -- including an Arizona commitment --
who just missed the list
.
June, 8, 2011
6/08/11
1:28
PM ET
The latest
ESPNU 150 list
-- ESPN.com's ranking of the top 150 high school prospects for the Class of 2012 -- is now out, and Notre Dame has three committed prospects among the elite. They are:

No. 70:
Ronald Darby
, ATH, Potomac H.S. (Md).
No. 75:
Justin Ferguson
, WR, Flanagan H.S. (Fla).
No. 89:
Tee Shepard
, CB, Central H.S. (Calif.)
Darby is a speedster who recently defended his Maryland state titles in the 100- and 200-meter dashes. The Irish have recruited him as a defensive back, and along with Shepard and Virginia safety C.J. Prosise, they have three players committed for the secondary, which head coach Brian Kelly called a position of need in this class.
Notre Dame also got a commitment on Tuesday from athlete
David Perkins
, who's from South Bend, Ind. It's rare that the Irish can find top-shelf talent right in their backyard, but Perkins is rated a four-star prospect by ESPN.com.
Notre Dame has 10 known commitments for the Class of 2012.
June, 8, 2011
6/08/11
1:01
PM ET
ESPN Recruiting has released its annual ESPNU 150, the nation's top 150 recruits. No more watch lists. No more guesses. The list can shift,
but here's how the full list looks
.
Committments are non-binding, and players won't be able to sign letters of intent until next February, but upon the list's release today, here's who is committed where:
And which players are committed where in the Big 12.
Texas (9 of 17 commits)
Texas A&M (3 of 22 commits)
Oklahoma (2 of 7 commits)
Texas Tech (2 of 8 commits)
Oklahoma State (1 of 6 commits)
Notes from the group:
Texas' nine commits are the most in the nation, leading Florida State (7) and Alabama (6). Texas A&M, with its three commits, is tied for seventh-most in the nation.
Oklahoma and Texas Tech's two commits have them tied for 12th most.
Of the ESPNU 150, 82 still remain uncommitted with about eight months to go before signing day.
Counting up the members of the list by state, Florida leads the way with 28 natives. Twenty of the players on the list call Texas home.
Six positions had more than 10 players on the list. Offensive tackles (21) were the largest group, followed by athletes and receivers (19), defensive tackles (16), defensive ends (14) and outside linebackers (11).
June, 8, 2011
6/08/11
12:58
PM ET
Let the recruiting craze ... continue.
The
2012 ESPNU 150
has debuted and we now have an early look at the superstars of tomorrow. While these prospects have yet to sign and are in the nonbinding phase of recruiting, the SEC currently has a solid contingent on the list.
There are currently 17 SEC commitments in the ESPNU 150 and teams in the conference are in the running for a handful of uncommitted prospects. And I'm sure there are committed recruits still getting attention from SEC schools as well.
Alabama has the most ESPNU 150 members in the SEC with six pledges on the list. Florida is second with four. Every year it seems like these two schools are battling to see who can get the most ESPNU 150 members and this year appears to be no different.
The defending champs have some ground to make up. Auburn has just two of its seven commitments in the ESPNU 150.
Alabama has the highest-rated commitment in Panama City, Fla., Arnold safety Eddie Williams, who is ranked as the fifth-best prospect on the list. Williams was the first prospect to commit to Alabama in the 2012 class. Williams has played all over the field, but will likely stay as a defensive back in college.
As a sophomore, he completed 26 of 65 passes for 371 yards, five touchdowns and two interceptions. He also carried the ball 59 times for 425 yards five scores. Williams even caught seven passes for 198 yards and three touchdowns. On defense, he registered 31 tackles, two interceptions and one pass breakup.
Five of Alabama's six ESPNU 150 members are defensive players. Remember, defense wins championships.
Here's a list of the current SEC commitments in the ESPNU 150:
Alabama (6)
No. 5 Eddie Williams, of Panama City, Fla., S
No. 25 Brandon Green, of Ellenwood, Ga., OT
No. 72 Dillon Lee, Buford, Ga., LB
No. 112 Reggie Ragland, of Madison, Ala., LB
No. 126 Tyler Hayes, of Thomasville, Ala., LB
No. 133 Dakota Ball, Lindale, Ga., DT
Florida (4)
No. 14 Jessamen Dunker, of Boynton Beach, Fla., OT
No. 83 Colin Thompson, of Warminster, Pa., TE
No. 106 Latroy Pittman, of Citra, Fla., WR
No. 113 Omari Phillips, of Venice, Fla., OT
LSU (3)
No. 42 Avery Johnson, of Pompano Beach, Fla., WR
No. 71 Torshiro Davis, of Shreveport, La., DE
No. 131 Ronnie Feist, Edgard, La., LB
Auburn (2)
No. 32 Ricardo Louis, of Miami Beach, Fla., ATH
No. 77 Joshua Holsey, of Fairburn, Ga., CB
Ole Miss (1)
No. 36 Isaac Gross, of Batesville, Miss., DT
South Carolina (1)
No. 59 Brock Stadnik, of Greensboro, N.C., OT