NCF Nation:

2012 guest coach with Gators
April, 7, 2012
4/07/12
7:35
PM ET
GAINESVILLE, Fla. -- The adventure as
a guest coach
at Florida's spring game continues ...
12:00 p.m.:
A host of former players get together for a flag football game dubbed the "Battle of the Decades," with players from the 1980s, '90s and 2000s participating. Thankfully, none of the old guys is hurt from all that running.
12:10:
The quarterbacks come out and SI.com's Andy Staples and I try to meticulously dissect every single part of
Jeff Driskel
's and
Jacoby Brissett
's games to figure out which one is better. Like everyone around Florida's program, we're unable to.
12:20:
I walk over to punt-return drills, nearly getting clocked by a ball the wind carried over toward me.
Marcus Roberson
,
Trey Burton
,
Loucheiz Purifoy
and
De'Ante "Pop" Saunders
are taking reps.
12:29:
One-on-ones between receivers and defensive backs begin. It's light, but it's something to look at and we still can't figure out which quarterback is better, but tight end
Jordan Reed
impresses with a one-handed catch and true freshman receiver Latroy Pittman out-muscles his opponents for a few tough catches.
12:35:
The offensive line goes through drills which incorporate a lot of spinning, slapping, pulling and pushing. It's humorous, until you realize how much bigger they are than you. Then you just think it's dangerous. Offensive line coach Tim Davis screams "Spin, spin, spin," until he's blue in the face and his voice is hoarser than before.
[+] Enlarge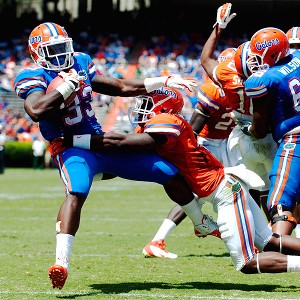 AP Photo/Phil SandlinRunning back Mack Brown (33) stumbles in for a touchdown during Florida's spring game Saturday.
12:49:
After watching the offensive line go at the defensive line, headlined by a rough battle between
Sharrif Floyd
and
Xavier Nixon
, the team jogs to the middle of the field for one last huddle before hitting the locker room.
12:51:
We're in the locker room and the fun begins. After the team splits up by position, the coaches start going over last-minute game plans and emphasizing technique. "Stay under control!" running backs coach Brian White yells. "Let's get this crowd jacked up! Have people leave this (game) knowing we're going to flat-out dominate up front!" Defensive coordinator Dan Quinn preaches mental toughness in loud, quick bursts. He doesn't want to see any walking around or hands on hips. He wants energy and aggression on the field. "Ball Out U!" he screams. "Put out great (expletive) tape! When we turn on the tape I want to make sure I can't wait to watch you."
12:57:
The excitement is growing inside the locker room. An animal is waiting to be unleashed. Players are hyped, as White walks around with a smile on his face saying, "Lotta nervous faces in here today," over and over. He's followed by verbose defensive backs coach Travaris Robinson, who constantly taunts the receivers and pretty much every offensive player. "Let's get to those quarterbacks today and get in their faces!"
12:59:
Floyd sits and stares at the floor, like he's ready to destroy it. The person giving bear hugs and high-fives at the Gator Walk is ready to rip someone apart like a bear. He sits in silence as a coach tosses him smelling salt. He sniffs and doesn't flinch. He's ready.
1:04:
Defensive end/Buck
Ronald Powell
shoots up out of his chair and starts dancing around, yelling inaudible words of encouragement to his teammates. He's pushing guys and slapping their pads. "Play
yo
game, baby! It's just practice! Everything you do, you've done before!"
1:05:
Floyd stands and walks to the center of the locker room. His teammates huddle around him. Players go silent when he speaks. "Do
your
job, not the man next to you!" His voice is deep, loud and haunting. He keeps shouting "aggressive" over and over, which fuels his teammates even more and incites a frenzy before head coach Will Muschamp arrives.
1:07:
Following the Lord's Prayer, Muschamp delivers a short pregame speech. "Fast and physical. Offense, run the ball down their throats!" The place explodes as players exit the locker room, tapping the orange "GRIND" sign above the locker room door on the way out.
1:10:
Kickoff.
We didn't get to actually coach or call plays, but here are some observations from the sideline:
Davis was very hands-on with linemen when they made mistakes. He made them verbally repeat their mistakes and asked them what they had to do to correct them. He was extremely thorough with players and took time to teach between plays.

Offensive coordinator Brent Pease was really concerned with clock management. He was constantly telling the quarterbacks not on the field to make sure that the one in the game knew about the clock and knew when it was running out, even though there was no delay-of-game penalty. That communication failed early in the scrimmage.

Even though Pittman had a pretty impressive day, receivers coach Aubrey Hill and receiver Andre Debose were coaching him on his routes, helping him get out of his breaks faster on the sideline.

Driskel and Brissett looked like old fishing buddies out there. They were joking with each other after plays and helping each other when they made mistakes. Competition didn't stop them from cooperating.

Tyler Murphy appears out of the quarterback race, but he showed some excellent coaching skills. He was spouting terminology and trying to help as much as he could. He was by Pease's side almost the whole time and was able to find a lot of the little things the other QBs missed. He might know the offense the best, but isn't as skilled as the others.
Quick quotes:
Running back Mack Brown after getting popped during his touchdown run: "He picked me good. He Goldberged me."

Receiver Solomon Patton after Chris Johnson's 15-yard run in the fourth quarter: "Man, we got some backs."

Debose to walk-on Michael McNeely after his 52-yard catch: "I bet you thought that ball was in the air forever, huh?"
2:53:
Blue defeats Orange 21-20 and I debut with a victory. As Muschamp jogs to meet Florida's band director, he stops to congratulate me on my win and I announce my retirement from the coaching profession.
April, 7, 2012
4/07/12
7:04
PM ET
GAINESVILLE, Fla. -- Four members of the media were chosen to be guest coaches and allowed to go behind the scenes of Florida's Orange and Blue Debut on Saturday. Brady Ackerman of Sun Sports, Pat Dooley of the Gainesville Sun, Andy Staples of SI.com and yours truly were granted access to join the Gators as they prepared for their spring game. We experienced the sights and sounds of the closest thing to a game day for a major college football program; this is what I saw ...
8:00 a.m.:
I arrive at Ben Hill Griffin Stadium with a Starbucks Doubleshot and a Snickers Marathon energy bar to start the day. The sun is up and there's a breeze in the air. It's almost the perfect setting to start a long day of running around Florida's football facility.
8:30:
We meet with coach Will Muschamp in his spacious office inside the stadium for a casual 15 minutes to talk shop. There are some laughs and some talk about the team, and he warns us that a poor performance by one of the two teams -- Orange or Blue -- will be followed by having the blame placed on the two media members coaching that side. Ackerman and I are placed on the Blue Team, while Dooley and Staples are assigned to the Orange Team.
9:05:
A true breakfast of champions. We walk over to one of the dinning halls across from the stadium. The first thing you notice is that the dining area couldn't be big enough to house all these football players, but somehow, it is. The Gators pile in and begin the feast. The basics are there: pancakes, bacon, eggs and grits. And at the end of the buffet line, steaks and grilled chicken breasts sat there ready to be devoured ... and they were. After sipping on some fine, freshly squeezed orange juice, we media members tried to blend in and snag some grub before the carnivores went back for seconds. Linebacker
Jelani Jenkins
stacked steaks on chicken, while fullback
Hunter Joyer
went with pretty much everything he could lay eyes on and added some pasta. The fruit was barely touched. I tried to mimic the players, throwing protein and starch together for a yummy, relatively healthy cornucopia of deliciousness. Grilled chicken and pancakes really do work.
[+] Enlarge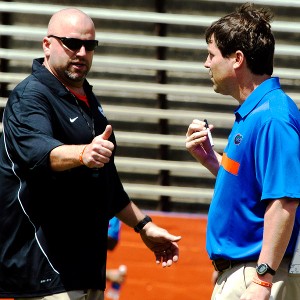 AP Photo/Phil SandlinStrength coach Jeff Dillman gives head coach Will Muschamp, right, a thumbs-up during Florida's spring game in April.
9:35:
After stuffing our faces, we head back over to the stadium and toward the locker room. We stand around as players, coaches, recruits and staff members wandered the halls. TV screens that surround a massive gator head in the middle of the room show highlights from the 2011 season, mixed with music videos featuring LMFAO, Will.i.am and Drake. Every player touches the gator before he runs out onto the field before games.
9:37:
Running backs coach Brian White, defensive coordinator Dan Quinn and offensive line coach Tim Davis gig us about coaching. We're asked what our game plan is, and we basically say not getting in the way. Dooley tells Quinn to blitz every down and I tell Davis that he should be glad I'm on his team because my PlayStation skills are unmatched. He laughs, realizing I'd be in over my head if this were real.
10:05:
After walking back and forth for a good 10 minutes, rising senior defensive tackle
Omar Hunter
embraces Quinn and yells "Last time, baby," signaling that his Gators career is coming to an end.
10:20:
We leave the locker room to go on the Gator Walk. Last year, the team bussed. This year, it walked, so we walked. The team is dressed in orange shirts and blue shorts -- nothing too flashy. Wide receiver
Quinton Dunbar
awkwardly raps the words to some song, while the freshmen converse about doing this for the first time.
10:26:
I finally hit the official start of the Gator Walk. It's spring break for Alachua County school districts, so the crowd is a little thin, but it's lively. Still, with the smaller crowd there to greet the Gators, kicker
Caleb Sturgis
utters this gem: "This is what happens when you go 7-6." Defensive lineman
Sharrif Floyd
looks at me and says that the Gator Walk never gets old, then counts the number of hugs he gave with the exact number of "a lot."
10:40:
As the team piles into the locker room, the offense stays on the field for a mini walk-through. Offensive coordinator Brent Pease goes over Xs and Os and formations ... lots of formations. He's pulling, pushing and quizzing guys along the way and even puts on player on the spot with a heap of questions about a certain play and formation. Luckily for the player, he passed Pease's test.
10:49:
The offense huddles up, with rising sophomore quarterback
Jeff Driskel
pushing to the middle, before breaking and heading to the locker room.
11:55:
After a lot of waiting and people watching, we finally head into the locker room with the players an hour before kickoff. Led by new strength coach Jeff Dillman, the players are going through dynamic stretching, with Dillman leading like a drill instructor with short, loud commands. Players isolate their cores, thoroughly stretch their legs and their backs; Dillman is very technical and very loud. "We're gonna have a great day today!" he yells. "Build that rage! One minute till we prime that engine!"