NCF Nation:

2012 most hated
May, 25, 2012
5/25/12
9:59
AM ET
We asked you on Tuesday to vote for the most hated coach in SEC history -- past or present.

We're all about the love here on the SEC blog, but this is after all "Hate Week" at ESPN.com. Seriously, this is all done in fun, and some of your responses were priceless.

Here's a sampling:

Drew in Greenville, S.C., writes: I don't think there is any doubt that Lane Kiffin is the clear winner (loser). The two glaring differences between Kiffin and all the other candidates is that he left the program in shambles and he didn't win anything. All the other coaches had success at their respective schools and Kiffin never sniffed success. With Kiffin at the helm, if felt like I was always having to defend my school's decision to hire that clown. Currently, Dooley may not be winning much, but at least I don't have to defend him for his lack of honor.

Darth Tripous writes: The most hated SEC coach has to be Lane Kiffin. My hope is that one day Alshon Jeffery will say to Kiffin, "Fill 'er up please."

Mike in Mandeville, La., writes: I'm down on Nick Saban, but not for the reasons most LSU dislike him. I just need to look at the last play of his tenure at LSU, the Iowa "Hail Mary." Saban was DB coach and that garbage could happen? Nicky was always pulling boneheaded stunts, only saved by the awesome talent he recruited. Anyone remember his annual inability to pick a starting QB? How about UAB 13 LSU 10? The 2000 Arkansas game he failed to use a time out to punt with the wind and ended up with a 3-yarder to start the 2nd quarter? How about 4th & inches at his own 27 during the 2001 SEC title game? The dog show from 2002 that started in Auburn and culminated in the Cotton Bowl loss to Texas? 2003 Florida? UGa 2004? Nick seems to have learned a great deal from the NFL, but the poor in-game calls that cost LSU from 2000-2004 will always have Lil' Nicky No. 1 on my dog list!

R.J. in Portland, Ore., writes: The biggest SEC villain is no doubt Nick (the dictator) Saban. He oversigns, ruthlessly cuts players, has hissy fits in front of the media and undermines them. Not to mention he compares losses to horrific tragedies such as Pearl Harbor and has a terrible personality. The guy is everything that is wrong with college football.

Jason in Athens, Ga., writes: By far, it's the "Evil Genius" now at South Carolina. Being a lifelong DAWG fan, I despised him when he was at Florida, when we could only pull out one win in the 90's (1997: behind Bobo and Edwards running the show). And now he has gotten the best of us the past few years for sure. But as much as I wish he would leave, I have respect for him because he is without a question one of the best college football coaches in history. Anyone who can win an ACC championship with Duke is a helluva ball coach.

Sam in Athens, Ga., writes: Spurrier is still the most hated coach in the SEC for his snide comments. Saban may be despised by Auburn fans, but the rest of the league recognizes he is simply the best coach in college football today.

Byrd in Houston, Texas writes: How can anyone beat out Tommy Tuberville for the most hated coach? Ole Miss hates him for leaving. Bama hates him for beating them more often than not. Auburn hates him for "losing" toward the end of his tenure. The rest of the SEC hates him. Close second: Jackie Sherrill.

Chris in Tampa, Fla., writes: It's Gene Chizik. He has a terrible record and a bought national title. But, somehow, he has the puppet Auburn fans dancing on his string.

Barry in Charleston, Tenn., writes: James Franklin is the coach I despise most. Dirty on the field and talks too much off it, especially for a program that has always been awful. I hope Candy's fans realize he won't be there once he gets a better offer from somewhere else.

Brian in Washington, D.C., writes: Saban. Period. Petrino would make the discussion if he still met the employment requirement. Without him, there is no argument.

Trevor writes: Gotta be Derek Dooley. He makes horrible remarks about Vanderbilt, has no originality, and let's face it, who really does like the orange pants? Even Johnny Majors still cringes at the thought of orange pants. Spurrier would be a close second.

Michael in Eden Prairie, Minn., writes: Pat Dye for sure. He was the one who turned my Gators into the NCAA in the early 1980s for paying players while the whole time doing it himself. Remember Eric Ramsey?

Realdawgsnocowbell writes: Does it have to be a head coach? How about Willie Martinez?

John in Baton Rouge, La., writes: There have been many coaches in the SEC that are so much fun to hate. For me, though it's none other than Phil Fulmer. Of all his accomplishments and successes, the first thing that comes to my mind is a particular game played Sept. 26, 2005. It was an extremely hot Monday night after Hurricane Rita. It was my freshman year at LSU and my first time in the student section. With the community recently rocked by two hurricanes, everyone was excited to have a game to watch in Tiger Stadium. Sadly, we squandered a 21-point lead and fell in overtime. I remember clearly the sight of Gerald Riggs scoring the winning touchdown and the moment of dead silence that came over the crowd as we realized what had just happened. Tennessee then planted their flag at midfield and Coach Fulmer in his post game interview said that Rick Clausen was now the greatest story in America . It wasn't the greatest story in America. The greatest story in America at the moment had just been ruined. Ever since, Fulmer has been the coach that I loved to root against!

Jordan in Birmingham, Ala., writes: Without a doubt, the most hated coach to ever come through the SEC is Phillip Fulmer! Roll Tide!
May, 25, 2012
5/25/12
9:24
AM ET
We asked which coach you hated most in the Pac-12. You have spoken with much bile. Congrats.
It was sometimes hard to figure out exactly which coach you hated the most in your notes, as many of you listed several coaches. Some of you listed several coaches and provided many details on the sources of your hate.
In total, you named more than 20 different coaches. Even Oregon State's Mike Riley got a vote. So did legendary coach Bill Walsh (Huskies!).
The only sitting Pac-12 coaches to not get a vote? Utah's Kyle Whittingham and Colorado's Jon Embree. Guess you guys don't know them well enough to hate them. Yet.
The race for most hated was far closer than I thought it would be. (And this was hardly scientific because I only used votes that were specific and unambiguous. And I may have skipped over some of the 1,500-word essays).
Your most hated coach? Here's the nip and tuck final tally from the mailbag.
Chip Kelly: 29
Lane Kiffin: 30
Third place went to Rick Neuheisel with 19, though that's misleading because he was mentioned by many of you in some fashion, mostly in the line of, "I used to hate Neuheisel the most but now I hate..."
I was surprised that Washington's Steve Sarkisian got 11 votes, but I guess I shouldn't be because some Cal fans aren't happy with him (Tosh Lupoi, now at Washington after bolting Berkeley, got a bunch of votes but he didn't count because he's an assistant coach).
New Arizona State coach Todd Graham got five votes. New Arizona coach Rich Rodriguez got two. New Washington State coach Mike Leach got three. New UCLA coach Jim Mora got two.
For those who chose to look back, former USC coach Pete Carroll got 10 votes and plenty of mentions. Former Washington coach Tyrone Willingham got two. Former USC coach John McKay and former Washington coach Don James also got a handful of votes.
The most surprising vote -- other than Riley -- was one for former UCLA coach Bob Toledo.
Here are some comments. Obviously, some comments aren't appropriate for a family Pac-12 blog.
Steve from Seattle writes
: By far the most hated coach is Chip Kelley. He certainly personifies the Oregon Fans with his snide comments to the media and better than everyone else attitude. Would love to see hard sanction get put on him and his institution!
Jack from Oakton, Va., writes
: I cannot stand Chip Kelly. That smug grin he carries around as if he's the smartest guy in the world just makes me want to smack him.
Glenn from Renton, Wash., writes
: Most Hated Coaches in the Pac-12: Chip Kelly. He's a smug jerk, but if I was an AD I would hire him in a New York minute.
Doug from Salt Lake City writes
: The coach I hate the most is undoubtedly Oregon's Chip Kelly.Yes, he's a fantastic coach among the nation's elite. But he's a total jerk.The last straw for me came last season when, on live TV, he took time out from his postgame interview to scream at his own fans, "shut the hell up!"
Adam from San Francisco writes
: Why is this even a question? Lane Kiffin.As for his new recent strides toward "maturity" - if I were a betting man, I'd bet a large portion of my heart, soul, and life savings that we all end up laughing at those statements by the time his tenure at Southern Cal is all said and done
Kent from Davis, Calif., writes
: Coaches We Love to Hate: Lane Kiffin. The guy has less credibility and integrity than John Edwards. He's the only person in the world who could have made the late Al Davis look like upright and ethical. How this arrogant, imperious guy keeps getting plum jobs is beyond me but clearly you don't have to produce results on the field but simply keep wearing the "up and coming innovative offensive genius" tag to make it work.
Paul from San Francisco writes
: No Pac-12 coach makes my blood boil more than Lane Kiffin. But it's not just his cavalier attitude and inexplicable career climb that drive me over the edge. It's his history against my Ducks. If you include his stint as USC's offensive coordinator from 2005 and 2006, Kiffin is 3-1 against Oregon, including last year's untimely win at Autzen that ended the longest home winning streak in the country. Needless to say, Nov. 3, 2012 has been circled on my calendar ever since
Kevin from San Francisco writes
: Pete Carroll. I hate Pete Carroll. Everyone outside of USC hates Pete Carroll. He was classy in interviews, gave the other teams in the Pac 10 respect; in fact called the Pac 10 conference games the toughest part of his schedule. The reason why he is hated is because he was the leader of the most arrogant, abrasive group of fans and players to grace the Pac 10 in the last decade. Everybody is glad we no longer have to listen to Matt Leinart tell us that he doesn't think he's a celebrity, just everyone else in the world does. After every USC game we had to listen to the fans explain that "of course we knew we were going to win, just we thought it be over by the first quarter." And probably the part that irritates me and my Cal brethren the most is that despite a campus culture of a lot of drinking and little studying, students we met from USC always attempted to equate the academics to Cal. They aren't the worst school, but Cal is in another league.
Chris from Othello, Wash., writes
: for us Oregon fans (And fans elsewhere in the conference), Rick Newheisel will always be a historical coach to hate. Growing up in the early 90's, I was consistently reminded about how that "New - weasel" in Seattle had consistently and infamously harmed our program throughout his various coaching positions. Even if he tried to turn a leaf while in UCLA, his history was never forgotten in Eugene.
Dee Dee from Portland writes
: There is no possible way any coach in the Pac is hated more than Rick Neuheisel. The Weasel is universally abhorred by no fewer than THREE Pac12 fanbases. I don't even think UCLA fans like him that much any longer, and he's an alum. As a matter of fact, opinion on Slick Rick is the ONLY thing that Oregon and Washington fans have in common
Evan from Seattle writes
: I must say, Steve Sarkisian is the lowest of low, slimiest of slime. Other than the obvious manner in which he talks, like a fake politician, he has a long list of shameless acts.
Dan from Spokane writes
: I hate Steve Sarkisian more than any other Pac-12 coach and it's not just because of his ridiculous adherence to wearing a visor in the rainy northwest. His twitter account is insufferable. "Woof" every time a new recruit commits? Give me a break! He should tweet "whimper" every time the dawgs opponent hangs more than 50 points on them.Go Cougs!
Pete from Missoula, Mont., writes
: When Utah first entered the Pac12, I instantly did not like Lane Kiffin. However, when I saw the class of not only him but the USC fans when my beloved Utes played them last year, my hatred shifted a bit. I decided that I need to stick with the hate that I already know. Hating Coach Sark from the Washington Poodles. You see Ted, it is easy to hate something you have hated before. I remember the years of hating Sark as the Team Down South, byWHO quarterback. I will always love to HATE byWHO, even if we do not play them anytime soon after this year. So Ted, this is the reason I hate Sark. It comes very naturally
Tana Vea from Sandy, Utah writes
: Most hated coach in the Pac-12. Todd Graham hasn't coached a game yet but I already hate his guts. But I use to hate Chip Kelly, not as much anymore.
Henry from slymar, Calif., writes
: Why limit your hating coaches column to head coaches? What about assistant coaches? I hate Tosh Lupoi mainly because he betrayed his alma mater for a boat.
Tim from Austin, Texas writes
: Nobody outside of Tucson likes Richy Rod!
Sar from Tacoma, Wash., writes
: regarding your request for all-time most hated coach. As a washington fan the answer is easy : 1992 Stanford Cardinal coach Bill Walsh. His well-timed (for him) block to the back of the Huskies football program is what I hold responsible for Don James' departure and a downward spiral to an eventual 0-12 season for the Huskies.
David from Tucson writes
: In order to answer which coach I hate the most I have to exclude any and all ASU coaches because, in my humble opinion, that football program is the worst thing to happen to college sports since...ever. So, that being said I'd have to say that I hate Jim Mora the most, and for a purely trivial reason: his smile makes me want to punch babies.
David from Calgary writes
: I hate Coach Mike Riley. Only because I was raised a Duck, and he's really like-able. So I hate that I can't hate him.
May, 25, 2012
5/25/12
9:24
AM ET
As part of ESPN.com's Hate Week,
we asked you on Tuesday
to vote for the most hated coach of all time in the Big Ten.
Now to wrap up Hate Week -- and we promise it's only going to be love from now on in this space (ahem) -- here are some of your comments on that topic. Let's conclude the Haters' Ball with a bang.
Philip from Iowa writes:
No question it's Jim Tressel. First, he wins a lot of Big Ten Championships so naturally everyone else hates him for that. Second, he lost twice in a row in the National Championship, embarrassing the conference on the national stage -- and it hasn't yet been rebuilt. To make matters worse, the 2 games were 1 where OSU was the overwhelming favorite (against FL) and the other was to a 2 loss team (LSU)! Finally, there is the Terrell Pryor saga that happens while Tressel puts out a book called "The Winners Manual for the Game of Life" There is no contest, every school in the Big Ten, including many OSU alums and fans, hate Jim Tressel. Not many coaches can manage that.
Bert from Portland, Ore., writes:
Most hated Big Ten Coach.Bo Schembechler. I attended Northwestern during 1975-79 and the football program won five games during that time (with an infamous 0-0 tie agaisnt Illinois). Woody Hayes would bring his team to town and in the post-game conference at least say that Northwestern played hard. Schembechler would complain that Northwestern did not belong in the Big Ten and that Michigan did not make enough money when it played in Evanston. He was a jerk of the worst kind. I remember watching the Homecoming game in 1978 when, during a rout, Northwestern managed to score a touchdown on a trick play embodiment of a fake punt fairly late in the game. Schembechler started screaming at his players and looked like he was on the verge of having a heart attack. The Northwestern fans started chanting "Rose Bowl! Rose Bowl!" In fact, Schembechler was probably the only man in the world who could make me root for USC in the Rose Bowl (which beat Michigan that season). Woody could be gracious in victory and even humble in own way. Schembechler could accomplish neither.
Logan D. from Saginaw, Mich., writes:
The most hated coach in the B1G, or who should be the most hated coach, is without a doubt Bret Bielema. The guy just radiates egotism. All you need to do is type his name into Google followed by "is" and you will know exactly what he's like from the suggested words. As a Michigan State fan, I'm not sure if I have ever been angrier with a coach than I was at the end of last year's Big Ten Championship game. After Wisconsin's punter made his Oscar-worthy dive to seal the game, I don't know if I've ever seen a coach as outwardly exuberant as Bret was in that moment. You would have thought his team just scored a touchdown on the most miraculous play in history. I don't know another coach that would be as excited over seeing a yellow flag in the backfield. Plus, not that the guy is in need of an ego-boost whatsoever, but what compels you to put up 70 on Austin Peay and 83 on Indiana? We get it. You can score a lot of points against bad teams.
Brad W. from Philadelphia writes:
Most hated coach? Hayden Fry. Unsportsmanlike, completely ungracious, score-runner-upper, never giving the opposition any credit, moronic 3rd-grade stuff like the pink locker room ... just an unpleasant, vicious old man. Could never beat his butt often enough. Runners-up: Earle Bruce, Mike White.
Rich H. from Wayne, N.J., writes:
Most hated coach ever? Woody Hayes without a doubt. Surly, unprofessional, a hick, temper tantrums and unpolished. Dial up an automatic loss in almost every bowl game he coached. Track record of more NFL busts than any program sans Nebraska. Unimaginative offense; never changed with the times either. Never scheduled a tough out of conference game regular season without a 2-1/3-1 deal. His famous bout with Ref Jerry Markbreit on the sideline circa 1971? Should have been fired right then and there. Of course 1978 vs Clemson and Mr. Baumann will live in infamy and is the most embarrassing complete breakdown of any major head-coach EVER and televised on national TV to boot. Good thing he wasn't around in today's day and age - that dooming episode would have gone virile in 20 seconds. Yet alums adore this basic jackwagon, go figure. Did I mention his graduation rate? Less than 70%. Should I continue? Nah, jury rests...
Paul from Johnstown, Pa., writes:
Love the Hate! I nominate two coaches, one current and one former. First, Bret Bielema...a totally spineless, classless jerk. Runs up the score. Goes for 2 late in the 4th Qtr with games in hand. Whines, whines, whines, whines like a 5 year old. Loses to TCU with a completely loaded team. Makes tacky comments about how great it is to be a Badger fan when questioned about the situations at PSU, OSU and UM. Sprints across the field like a tool to shake hands quickly with opposing coach in total disprespectful fashion .Second, Bo Scumbechler ... yes, "Scumbechler." As a PSU fan, I have an obligation to hate this man for the lack of class he showed when PSU was brought into the B1G. His comments and efforts to exclude PSU and/or to make PSU's admission into the conference unwelcoming still boils my blood.
Danny from Davenport, Iowa, writes:
Adam, as a Hawkeye fan it is becoming increasingly difficult to keep from hating Pat Fitzgerald. He may not be on the radar much outside of Iowa City and his body of work may leave some to question this hatred for PF. But, look at this from an Iowa fan standpoint. PF is a whiner and a coward. Take last year, for instance. PF hid behind one of his own players while that player took heat for admitting to the world that Pat Fitz hated Iowa with a passion. One cannot help but think that this is hostility boiling over from the injury incurred during a game when PF was still in pads. Grow up and get over it. Then, there was PFs whole twitter controversy, or should I say the "director of football operations" twitter controversy while he was "accidentally" logged into PFs account. SURE, man up.
Mark from Oklahoma City writes:
John Cooper. I was born in Ohio in 1986. Growing up and watching the pain and anguish that John Cooper put on my father's face Saturday afternoons in late November during the 90s was enough to make me despise him. Interestingly, it's during the same period I grew to despise Lloyd Carr. I hated him more at one point until I went to Ohio State during the Jimmy T era which he spent a good amount of time of beating the same Lloyd Carr into "retirement" which cemented Cooper as my most hated coach. Go back to Arizona State, take Gene Smith with you. Give me a coach from Ohio.
Shawn from Minneapolis writes:
You gotta admire talent, so I'm not picking on anyone who won, not even those [REDACTED] coaches from Michigan. Most hated B1G coach: Tim Brewster, with a pathetic record of (*googles* ... cripes it didn't feel like that many wins) 15-30 in FOUR LONG YEARS. Long live Coach Kill!
Zach from Lincoln, Neb., writes:
In regards to your most hated coach ever...Can the worst coach not have ever coached in the B1G? I think universally, Bill Callahan (excuse my french) is the dirtiest word that can be spoken in 'sker country.
Joe P. from Chicago writes:
My most hated Big Ten coach ever is John L. Smith. As a Spartan fan, it was bad enough getting regularly slaughtered by our rivals (and inferior programs like Indiana), but he made our program into a punchline. God Bless Dantonio.
Chris from Wisconsin writes:
As soon as Urban Meyer entered the B1G he instantly became the most hated coach of all time. As a Badger fan, I didn't even really hate any coaches in the Big Ten over the years but wow do I hate Urban Meyer and I can't even figure out what it is. I can't stand the guy and he has yet to coach a game at OSU hoping Bielema runs up the score on him for many years to come "and for Urban many is about 3 which is how long I expect him to stay at OSU.
Robert V. from West Bloomfield, Meechigan, writes:
Most Hated Big Ten Coach:Wayne Woodrow Hayes.
Travis form Midland, Mich., writes:
As a Michigan fan, I would have to say I hate Jim Tressel the most. I was not alive during the 10-year war between Woody and Bo, so I don't hate Woody as much as some other Michigan fans. The biggest reason I hate Tressel the most would be the violations. Before "tattoogate" broke, I hated him, but I respected him for running an honest program. After the NCAA violations, I hated him and I lost most of my respect for him. Personally (and this might be my Michigan fan bias), I believe Ohio State went beyond just the tattoos. I believe that there were rule infractions as early as Maurice Clarett. To sum it up, I hate Jim Tressel because, 1. He coached at Ohio State, 2. He was extremely successful against Michigan, 3. He turned his back to NCAA violations and is labeled a cheater in my mind because of this. My second least favorite coach might just be Jerry Sandusky, for obvious reasons.
John from New Hampshire writes:
Easy question: Lloyd Carr hands down without a doubt. His sideline ranting made it even easier to just despise Meeechigan. His BS screaming for more time on the clock won him a miracle game about five years ago when Penn State was in the Big House and winning till Lloyd's crying got the refs to make a historically insipient call, giving undue time on the clock and giving those hideously clad (...that bright yellow....) chumps the game - and costing my beloved Nittany Lions perhaps a perfect season.
May, 25, 2012
5/25/12
9:18
AM ET
Our series on coaches we love to hate is coming to a close. Go ahead, shed that tear.
Earlier this week, I asked you to vote for the
biggest Big East villain
in recent history. All week, it was a dead heat between vagabond Todd Graham and traitor Rich Rodriguez, ahead of Bobby Petrino, Brian Kelly and Randy Edsall.
The winner, as of 8 a.m. this morning: Rodriguez -- but he was just barely ahead of Graham. With 3,206 votes in, Rodriguez got 29 percent of the vote; Graham got 28 percent. Petrino was next, followed by Kelly and Edsall.
Here is a little of what you had to say, with a few entries for coaches not included in the poll.
John Ready in Youngstown, Ohio, writes:
I think you should add Steve Kragthorpe to the list. He absolutely ruined the Cards. I am a die hard Louisville fan, but found it hard to watch the Cards during the Krag-era. He may not be a villain, but he has been quite vilified for his job (not) done during his tenure.
Mark in Marlboro, N.J., writes:
With regards to the poll about the biggest villains, they all have their faults. Graham was a horrible coach, Edsall didn't take a much better job, Rich Rod went for the money and Petrino is a bad guy, even before his latest episode. As the father of a Cincy grad, I don't get on Kelly as much as their fan base. He made the program relevant taking them to two straight BCS Bowl games. My son went to school thinking the hoop squad would be playing in the Final Four. With a name like Kelly, you can't deny the man the opportunity to coach at Notre Dame
Jordan in Lakeland, Fla., writes
: He may not be the winner, but I am not sure how you could not include Jim Leavitt in your list of villians.
White Dog777 writes:
All the other coaches seem to have made upward mobile decisions but Randy Edsall leaving UCONN for his dream job at Maryland? Plus the way he left the team and not flying back from the Fiesta bowl with them was in my mind bush league. I really hope UCONN kicks the snot out of them in Maryland on Sept. 15th.
Bradenton Bull writes:
IMO it's Brian Kelly for leaving UC high an dry right before playing UF in the BCS Bowl. UC ended up getting killed, which obviously greatly contributed to the negative perception of the Big East.. That blow out was killer to the conference. Not saying they would've beat UF, but I don't think they'd have gotten worked over like that.
Calmteer writes:
Todd Graham and Petrino should be running away with this vote. The other three all put in their time and left their schools much better than they found them and all brought their schools multiple Big East championships and BCS games.
Eric 72785 writes:
They did not point out that RichRod left the day after losing a game against a TERRIBLE team... that had we won, would have placed WVU in the NC. He literally (threw) away a number 2 ranking, with zero shot at not being in the big show ... *uck RichRod.
IAM4WVU87 writes:
Funny Rodriguez and Graham receiving an almost equal number of votes, and now that are coaching in the same conference. Those poor $@%!$@%! have no idea what they're in for.
May, 25, 2012
5/25/12
9:17
AM ET
Today concludes "Coaches you love to hate" week at ESPN.com, and we'll conclude it with your take. Who gets your blood boiling?
Here's what you wrote.
Matt in Wrightsville, N.C., wrote:
Rich Rod. It pains me to go into detail: WVU had the best team in 2008 and lost in a game that WVU fans shall not speak of. This team was roughly 30 point underdogs and Rich Rod didn't prep for this game because his head was in Michigan as he already made up his mind (he already contacted a real estate agent in Ann Arbor obviously without anyone knowing at WVU). Loyalty is something WV residents hold higher than most and Rich Rod proclamed his loyality for his alma mater earlier in the year because he was a Mountaineer "For a long, long time". WVU probably would have won the national championship as they destroyed a heavily favored, and #3, Oklahoma in the Fiesta Bowl behind the late Bill Stewart... Ohh yeah after his departure WVU immeditely dropped out of the Julio Jones and Terrelle Pryor recruiting picture (On the bright side we got Gino Smith).
Brad in Manhattan, Kan., asked:
I know he is no longer in our conference but I can not stand Bo Pelini. His arrogant persona and his on and off the field tirades drive me insane. I love watching him lose and will forever cheer against him and any time he is affiliated with. The fit he threw at Snyder after the pounding K state gave Nebraska definitely does not help one bit. Especially considering he has done the same thing to other teams that he was complaining about. The guy is a clown
Joey Machak in Herndon, Va., asked:
Once a Mountaineer, always a Mountaineer.... except you Rodriguez.
Sayres in Hershey, Pa., wrote:
I hate Rich Rod. He ruined my 20th birthday on December 1, 2007. It should have been the happiest day of my Mountaineer life, but as we all know it didn't quite turn out that way. All we had to do was beat Pitt... PITT!!!
Steve in Phoenix, Ariz., wrote:
My blood boils when I see Bob Stoops get that cry baby look on his face when a call goes against him. This is especially true when the replay shows an obvious Oklahoma penalty. He looks as if he is going to cry and starts yelling at the referee as if it's possible that his "super star" loaded team could never do anything wrong. Truth be told, he kicks the snot out of K-state every year and it's frustrating but he looks like a two year old. His brother does the same thing. It will be double cry baby faces this year in the big 12.
Lucien in Omaha, Neb., wrote:
I hope that ISU can win a Big 12 championship if only to beat Gene Chizik in the new Champions Bowl. Anyone who says one day that they are fully entrenched in Ames then three days later bolts for "greener pastures" has no integrity.
Aaron in Owasso, Okla., wrote:
How can anyone say Bob Stoops get their bloodboiling??? Stoops has consistantly been a great role model, he always puts family first and never puts up with players crap. He's not afraid to make tough decistion i.e. Rhett Bomar. Bob Stoops changed a culture of poor character coaches like Switzer to a stand up program.
Jordan in Chanute, Kan., wrote:
Charlie Weiss... This guy thinks (or has implied) that he will beat K-State this year... Really? He can consider it a blessing if the Cats and Snyder dont embarrass him with another 38 or 52 point drubbing. With the game at Snyder Stadium I predict 59-3, I'll give there kicker a little credit
Jerry in Ames, Iowa, wrote:
Snyder. I respect the crap out of him for how well he can coach and teaching fundamentals and taking ksu to levels that no one thought was possible, but when he makes comments about how theyre in the big 12 and should get all nonconference games at home or how he wanted farmageddon to stay in kansas city every other year rotating between manhattan and arrowhead i started hating him
Richard in Orlando, Fla., wrote:
Tommy Tuberville...the defensive genius who has had 2 top 25 recruiting classes makes my blood boil. Most will say he fought injuries. I will say Tuberville lost the top strength and conditioning coach in all of college football in Bennie Wylie who could have prevented some of these injuries. Couple that with the 4th defensive coordinator in his short tenure and I will present you a coach who just doesn't have it anymore.
Hunter in Waco, Texas, wrote:
GUY MORRIS. His best player during his tenure was probably Daniel Sepulveda...a punter. Thank the Lord things have changed.
PDXKSUFAN in Portland, Ore., wrote:
Coach I hated: Remember when Rick Neuheisel roamed the Big 8/12 sidelines? He was a coach that everyone loved to hate. His sweater-vests, his smug grin, his deadly recruiting, his cocky attitude, sarcastic wit, and his winning teams (at first anyway). He is the only coach that I remember LOVING to beat.
May, 25, 2012
5/25/12
9:16
AM ET
Dear Tom O'Brien,
Run. Duck. Hide. Do whatever you have to do, but don't -- I repeat don't -- go to Chapel Hill alone.
You, TOB, have earned the crown of most hated coach in the ACC.
Poor fella.
Earlier this week, in keeping with ESPN.com's theme of "coaches we love to hate," I sought your opinion on who the most hated coach is in the ACC. North Carolina fans did not disappoint. O'Brien wasn't the only coach ACC fans are hatin' on these days, though. Georgia Tech coach Paul Johnson got a lot of votes, along with Clemson coach Dabo Swinney, Maryland coach Randy Edsall and Virginia Tech coach Frank Beamer.

Based on the mailbag responses, O'Brien wins, but let's put it to a vote for an official tally:
Tom O'Brien
Paul Johnson
Dabo Swinney
Randy Edsall
Frank Beamer
Here's a sampling of your hate mail. Thanks for playin':
John Witt in Richmond, VA writes:
Most Hated Coach Butch Davis (even though he is gone). He was a lying, cheating, scumbag, snakeoil salesman. He recruited well because some could not see through the facade. They know now and some are stuck at UNC playing for nothing because of it.
stephanie in NC writes
: Butch Davis - I'm a Tarheel grad and actually have pride in my university. That should say it all.
Russell in Asheville, NC writes:
UNC fans hate Tom O'brien for owning them 5 years in a row.UNC fans hate Everette Withers for forever renaming their University "THE flagship".
Trenton Tovar in Nashville, TN writes:
You'll probably get this one a lot. UNC fans hate Tom O'Brien. Pretty obvious why.
Matt Ethridge in Florence, SC writes:
My most hated coach has to be Tom O'Brian at NC State. He continually recruits sub par athletes and has beaten my Tar Heels 5 times in a row. Hopefully Fedora will change this in a BIG way this year!
Zach in Arlington, VA writes:
Poor old Tom O'Brien has to be one of the most hated on coaches in the ACC. He was key in BC's run towards excellence earlier in the decade and he's always making noise in November at NCSU, but year in year out everyone seems to question whether he's any good or not, or if he's on the hot seat. He's maybe a bit boring, but why does everyone keep talking smack about him, he's one of the better coaches in the ACC!
James in NY, NY writes:
I hate Paul Johnson for bringing the triple option to GT and confounding Clemson's defense ever since...
Lamar G. in Athens, GA writes:
Virginia Tech fans (and, for the record, Georgia fans) hate Paul Johnson. Why? We hate watching an offense that lends itself better to the black-and-white-TV era.
Jeff in California writes:
Heather, Welcome Back! with regard to the most hated ACC Coach.This one is simple, Paul Johnson.Watching his offense slowly and methodically march up and down on your defense, especially late in a close game, is a nightmare and an anxiety ridden experience most fans in the ACC have experienced more than once.The guy is one of the best minds and the game, and is successful with an offense nobody thought, nor wanted to work at this level.During his short stint in the ACC, he has played spoiler enough times, to enough teams, to draw the sort of hatred that any successful coach will have to endure. Losing to Johnson is like watching a troupe of army ant march slowly march away with your picnic basket, and you are powerless to stop them.
Randy in State College, PA writes:
All of them. The rationale being that none of them can consistently win out-of-conference, and thus they have all damaged the ACC brand. More specifically, I'll levy blame towards Frank Beamer for winning so many games in the ACC and losing so many big games OOC... -- A Tech Fan.
Walt in Columbia, MD writes:
Edsal at Maryland should get some "thoughtful consideration" as the most hated coach in the ACC. How can you go 2-10 when Ralph Friedgen left a stable of studs who should have put in a 10-2 season? Instead, Edsal ran off some of the best players ever to play at Maryland, and then blamed the former coach, the current players, and the assistant coached (whom he selected) for all of his woes? He also blamed the fans for not showing up to watch his pathetic performance in coaching. He could easily go another 2-10 this year.
Mark in Gaithersburg, Maryland writes:
As a Terp fan I used to hate Bobby Bowden and how FSU would always destroy us, but now as a Terp fan, I hate Randy Edsall, he's done more to hurt this team than any other coach in the ACC. We wouldn't have lost all 10 of those games last year if it wasn't for Edsall, he was our worst opponent.
May, 25, 2012
5/25/12
9:00
AM ET
Today wraps up Coaches We Love to Hate week, a theme that brought the readers out in full force the past few days.
On Tuesday, we
asked you who the most hated Notre Dame coach was
, in addition to fielding your feelings toward opposing coaches.
Unsurprisingly given his performance in South Bend, Charlie Weis
has run away in the most-hated poll
, with Dan Devine coming a distant second. Why? One reader, Aaron Short, suggested that could have more to do with his portrayal in "Rudy" than anything else.
Ah, the power of Hollywood.
As for opposing coaches you guys hate, the usual suspects filled my mailbag: Lane Kiffin, Urban Meyer, Pete Carroll and Mark Dantonio.
Here's why ...
Joe from Danville, Pa.:
Two words: Little Giants. Mark Dantonio by a margin so wide science has yet to determine a system of measure that can determine it.
Brian from Raleigh, N.C.:
Currently, I dislike Kiffin the most. If you really listen to nearly any interview he gives, he's still the snotty little brat we always thought he was. I don't know how the media can listen to him and not get that impression. I actually respect Dantonio a lot. I hate MSU, and fortunately that particular school is unable to have more than one really good sports team in a season so committed to mediocrity they are. So as long as [basketball coach Tom] Izzo is there, we won't have to worry about them being too good too often. The ND coach I disliked the most? Gotta be Weis in my lifetime. They all have driven me nuts from time to time ( was born under Devine, grew up under [Gerry] Faust and [Lou] Holtz) but those ND teams simply were not what Notre Dame football is about.
[+] Enlarge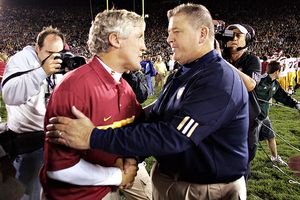 AP Photo/Tom StrattmanYears after their respective departures, coaches Pete Carroll, left, and Charlie Weis, seen here in 2005, still rub Irish fans the wrong way.
Rose from Los Alamitos, Calif.:
No longer a college coach, but Pete Carroll was the worst. The hair at my nape stood on end when I would hear him speak. Just a bad feeling that the guy was not to be trusted.
Jim from Notre Dame, Ind.:
Pete Carroll is far and away my least favorite (former) coach. The man never stopped badgering the officials about any call against his team (even blatant cheap shots ... which, with the players he recruited were frequent), was constantly on the playing field and outside of the coaches box (AT LEAST ISSUE HIM A WARNING!), and honestly, I've never hated an opposing coach more. That said, his replacement is making a run at Carroll's title. His comments about Notre Dame make me irate, and his general demeanor and pouting face are loathsome. I hate them, I hate USC (University of Spoiled Children/University of Sanctioned Cheating), I REALLY HATE USC, and I would love nothing more than for them to be undefeated when the Irish roll into town and beat them. P.S.: When USC was sanctioned (I thought they deserve the death penalty... REGGIE BUSH GOT A HOUSE!!!! A HOUSE!!!) and Pete Carroll got out of dodge, it showed just how slimy he really is.
Brett from Denver:
Im younger so I couldnt tell you about coaches predating the mid to late 90's, but since then, to me it has to be Lane Kiffin. Its not even about the ND USC rivalry either, its what he did to Tennessee. Then pile on his arrogance and I despise no one more.
Aaron Short from Bloomington, Ill.:
Do you think Devine is coming in second on the Notre Dame coach list because of how he was portrayed in "Rudy"? And in response to the opposing coaches. Lane Kiffin has to take this one. The guy jumps to the NFL, fails ... miserably, which I'm not putting the guy down for taking a chance but then Tennessee gives him a great opportunity. So he takes it and talks it up, saying and I quote "We'll be singing Rocky Top all night long after we beat Florida"... Urban Meyer's Florida, that is. Once again FAILS, miserably ... Pete Carroll darts out of LA before his crap hits the fan leaving Lane Kiffin a back door out of Knoxville. And even though he wants to try to beat Florida again because he reaallllyy wants to sing rocky top all night long, he leaves the Vols in the gutter and jumps back into the loving arms of USC, knowing that a 2 year post season ban would still be better than getting wiped up and down in the SEC. Him and Todd Graham need to set a lunch date together, if the two could commit to a place.
Mullin from Hamilton, N.J.:
Without a doubt it's Urban Meyer. Now we know why he wouldn't come to his dream job at Notre Dame. He already has secondary violations at OSU and complaints about his recruiting tactics ... and how come nobody ever brings up the 30 guys that got arrested in his tenure at FLA? That doesn't work at ND. Throw in the fact that he's stolen several top recruits from ND at those 2 schools puts him as public enemy #1.
And we have a voice from the other side, too, as reader Tom Jeffries from Gas City, Ind., defends Charlie Weis' work ...
Tom:
Matt I love reading your stuff every week. You do a great job. That being said, this poll was way off. Charlie got the most votes, but it was totally undeserved. First and foremost lets not forget that the last 2 BCS bowls ND was in, was under Charlie. Also I think we can all agree that he was a great person off the field. He did tons of charity work and donated more money than I will ever make in my lifetime. [He] is a good mind, who had trouble adjusting to the college game and getting the right staff together. [He] belonged in the press box, calling the plays. That why he went to Kansas City and dominated, had a good run at Florida, and is now back coaching at the BCS level at Kansas. Lets at least state the facts and give credit where credit is due.
As always, thanks a bunch for sharing your feelings. And for keeping things civil in a post like this. I can't say I'm too surprised by the amount of hatred toward USC's former and current coaches, and the expectations surrounding the Trojans this season should only add to the intrigue and animosity.