NCF Nation:

2012 NFL draft
May, 1, 2012
5/01/12
2:55
PM ET
Everybody talks about the best value picks come NFL draft time.
In other words, who were the best football players to go later in the draft?
Now that everybody else has had a say, I'll weigh in with regard to SEC players.
Below are my value selections. These guys either went in the last three rounds of the draft or went undrafted, and I'm betting that all five will be contributors in the NFL. They're listed alphabetically:
Josh Chapman, DT, Alabama:
The
Indianapolis Colts
took Chapman with the first pick of the fifth round, and all you really need to know about Chapman is that he played most of last season with a torn ACL. He waited until after the season to have surgery. That decision hurt his draft stock, but helped his team and was a big reason the Crimson Tide won their second national championship in the last three years. Had Chapman not been recovering from surgery at draft time, he would have gone a lot higher. He should be cleared for practice in July and will have a great chance to win the starting nose guard job this fall.
Tim Fugger, DE, Vanderbilt:
The Colts took Fugger with the seventh pick of the seventh round, and he projects as an outside linebacker in the Colts' 3-4 scheme. The thing you love about Fugger is how smart, tough and intense he is. Plus, he ran a 4.6 40-yard dash in his workout at 250 pounds. He has a knack for making big plays, as evidenced by his eight sacks and three forced fumbles last season, and he doesn't take plays off. There are more than a few former Vanderbilt defenders earning a living in the NFL right now. Fugger has everything it takes to join that fraternity.
Chris Rainey, RB, Florida:
The
Pittsburgh Steelers
took Rainey with the 24
th
pick in the fifth round. Just from a special teams perspective alone, Rainey figures to be a huge asset. He has game-changing speed and will certainly be a threat in the return game, but what a lot of people forget is that he's also Florida's all-time leader with six blocked kicks. There's just no substitute for the kind of speed Rainey possesses, and he's proven than he can both run and catch the football. The Steelers will find a niche for him, and Rainey will put his speed to use in a number of different ways.
Danny Trevathan, LB, Kentucky:
The
Denver Broncos
took Trevathan with the 18
th
pick in the sixth round. There were some who didn't think Trevathan would be drafted at all, but a savvy football personnel guy is always going to take a chance on a player as productive as Trevathan was during his career at Kentucky. He racked up 287 total tackles over his last two seasons and was one of the surest tacklers in the SEC. He doesn't have ideal size (6-0, 237), and he's not very fast (4.82 in the 40). But turn on the tape and watch him make play after play against some of the best competition in the land. The guy's a football player, and he'll get it done on defense and on special teams at the next level.
William Vlachos, C, Alabama:
Vlachos was not drafted and agreed to a free-agent deal with the
Tennessee Titans
. Let's face it. If Vlachos were about three inches taller, he would have gone as high as any center in the draft. But he's barely 6-0, and we all know the NFL's hang-up with measurables. It's a given that Vlachos isn't going to get any taller, but he's a natural when it comes to playing center. He was the engine for that Alabama offensive line last season and has started for three years. He's as smart as he is tough and always wins the leverage battle because he plays so low. Go ask
Trent Richardson
and Mark Ingram what they think of Vlachos, who went up against everybody from Nick Fairley to
Michael Brockers
to
Fletcher Cox
during his career.
April, 27, 2012
4/27/12
11:02
AM ET
You saw him beat up on Big East quarterbacks the last two years, so you know what West Virginia defensive end
Bruce Irvin
can do when he is playing at his best.
And yet, Irvin turned out to be the biggest draft-day surprise Thursday, when Seattle took him with the No. 15 overall pick, eliciting a chorus of "Who?" among the uninitiated. Most experts had pegged another Big East player -- Syracuse defensive end
Chandler Jones
-- to go to the Seahawks.
[+] Enlarge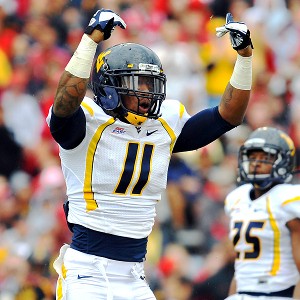 Randy Litzinger/Icon SMIFormer West Virginia defensive end Bruce Irvin was only one of two players with Big East ties selected in Thursday's first round of the NFL draft.
Jones did eventually go in the first round, at
No. 21 to the
New England Patriots
. They were the only two players with Big East ties selected on the first day of the draft, which turns out to be more than most everybody expected. A few months ago, most wondered whether the Big East would even have one player taken in the first round.
A few months ago, most had Irvin pegged as a second or third-round pick. Scratch that. A mere
24
hours
ago, most had Irvin pegged as a second or third-round pick. His measurables are undeniable. He can run like a cheetah, as he proved at the NFL combine with his blazing 4.41 in the 40-yard dash. He can take down quarterbacks like a possessed man-child, as evidence by his 23 sacks in two years with the Mountaineers.
The Seahawks called him the best pure pass-rusher available in the draft, which is why they made him the first defensive end selected Thursday night. So why all the shock? The doubters? The haters?
For one, Irvin is a raw talent, having only played two years on the highest level in college football. He played in a defensive formation that nobody uses in the NFL. He struggled on non-passing downs, so much so that West Virginia took him out of the starting lineup after five games so he could return to his duties as a pass-rush specialist.
Listen to him
when he says
, "I've heard I'm a one-trick pony. But the crazy thing is I got 23 sacks in two years and I've never been coached. If I get a little coaching, just imagine what I can do."
He has a background that no doubt scared some teams off, when in fact, they probably should have taken a much harder look to see how the adversity he overcame built his character and gave him an unparalleled work ethic. Irvin could very well be homeless in Atlanta today, had he not accepted help and made the conscious
decision to change his life
. There are many others who have failed given the same opportunities.
Granted, Irvin did not help his situation when he was arrested last month and charged with destruction of property and disorderly conduct. Those charges have
since been dropped
. Was it a reminder to some teams to throw up a red flag?
That hardly matters now. Seattle coach Pete Carroll is fully aware of what Irvin has gone through, having recruited him out of Mt. San Antonio Junior College while still coaching USC. Most of all, he is fully aware of the incredible potential Irvin has to fill a need that the Seahawks sorely need.
Coaches often say players succeed or fail in the NFL based on the organization that drafts them, and whether or not they have NFL coaches who believe in them. Drafting Irvin so high is a huge risk. But every team takes a risk of some kind in the NFL draft, so that should not make this pick any more shocking than Miami drafting a quarterback who went 7-6 last year at perennial underachiever Texas A&M.
Drafting is all about projecting, same as in recruiting. There is no complete player in the draft. Every pick is a guess. Seattle is guessing Irvin will be worth the risk.
The spotlight is firmly on Irvin and the Seahawks now. He has the potential to be great. Now in addition to learning a new system and accepting the coaching, he will have to deal with expectations that come with being a first-round pick. Folks will want him to live up to some preconceived notion of what first-round picks should do. If Irvin is as ferocious rushing the passer in the NFL as he was in college, I believe he will not only meet those expectations.
He will exceed them.
April, 26, 2012
4/26/12
9:00
AM ET
Chandler Jones
made the decision to leave Syracuse after the NFL draft advisory board told him he would be a third-round pick.

Jones
Four months later, third round seems way too low. Jones has seen his stock rise perhaps more than any other prospect, with ESPN expert Mel Kiper pegging Jones to go No. 12 overall to the
Seattle Seahawks
as the NFL draft begins tonight.
So how has Jones balanced preparations for the next level, along with growing expectations among many that he has found a place in the first round?
"My mom always gets mad at me when I say this, but I'm going into the draft with the impression that I'm going in the third round," Jones said in a recent phone interview. "Whenever I do get picked, it's going to be shocking to me. I just want to play football again and be an impact player, but as far as going in the first round it would be a dream come true."
Jones is well aware of the way his stock has risen. He believes there are two factors that have helped him. First, he had a terrific performance at the combine, where he ranked in the Top 10 among defensive linemen in the vertical jump (35 inches) and broad jump (10 feet).
Then came his interviews.
"I stay humble through it all, but I feel like what raised my stock was the way I interviewed," he said. "I met with 14 different teams, talked to the head coach, general managers, talked to coordinators and position coaches. I felt like I carried myself very well. I came to every single interview like it was a job interview. I sat down with a coach, told him what I know, and all the coaches were impressed with how much I know, and were very intrigued with me. We watched film, and I explained what went on. They were impressed with my football knowledge."
None of that should come as a surprise. Jones has a gregarious personality, enough to leave a big impression about his character. He also has an older brother, Arthur, who plays for the
Baltimore Ravens
and has been a mentor in the sport. Another brother, Jon "Bones" Jones, is the UFC light heavyweight champion -- adding to the family's sporting bloodlines.
Jones played defensive end at Syracuse, but he may play more as an outside linebacker in a 3-4 scheme in the NFL, depending on where he gets drafted.
"Teams love that I'm versatile," Jones said. "Throughout my college career, I played nose tackle, I played defensive tackle and I played defensive end. With the body frame I have, 6-5, 265 pounds, I can play the 5 technique or stay where I am and play outside linebacker. I have not played in a 3-4 scheme, but there were different looks at Syracuse University where we would shift into a 3-4, and I felt comfortable. I can come off the edge real fast, so I do not think it would be too foreign. Dropping into coverage is something I will have to get used to, and it's a challenge I'm ready to tackle."
Jones also has bulked up in the time he left Syracuse, putting on 13 pounds during his time at API Performance in Pensacola, Fla. That obviously helps as well. Jones will watch the draft from the media room at the new home his brother, Jon, bought in Ithaca, N.Y.
But, it hardly matters when his name will be called.
April, 5, 2012
4/05/12
1:00
PM ET
LSU defensive coordinator John Chavis seeks out the cameras and microphones the way a vampire does daylight.
But when it comes to having his players' backs, Chavis is going to be there all day and every day.
So when he heard the fallout from former LSU cornerback
Morris Claiborne
's reported score of four on the Wonderlic Test, Chavis was eager to set the record straight.
"I've heard what's out there about that test, but I also know the kid, who he is and what he did for us," Chavis said. "We run a very multiple scheme. You don't just line up and play in our scheme. You have to know what's going on and be able to make adjustments.
"You have to be able to think and move and do those things, and let me tell you: I've coached a lot of great players, and Mo Claiborne had no problem picking up anything in our system and doing all the things we wanted him to do."
Claiborne, who gave up his senior season to enter the draft, is rated as the No. 5 prospect overall on Mel Kiper's latest Big Board. He won the Thorpe Award last season as the top defensive back in college football.
However, it leaked out earlier this week that he scored a four on his Wonderlic Test at the NFL combine. The NFL average on the test is 21.
"I don't know how many defensive backs I've coached that have gone on and played and been successful in the NFL, and Mo will handle it as well or better than any of them that we've had," said Chavis, who was the defensive coordinator at Tennessee for 14 seasons before moving to LSU in 2009.
Chavis pointed out that two-thirds of LSU's defensive calls in the season opener against Oregon last season were made on the field. Furthermore, Claiborne moved inside to nickel the week of the Arkansas game after
Eric Reid
was injured and unable to play.
"If we had asked him to play safety, he would have and could have done that," Chavis said. "He had three days to get ready at the nickel spot, which is a totally different animal, and was going against some talented Arkansas receivers in the slot and was able to do that with no problem at all.
"The bottom line is that Mo Claiborne can make adjustments and understands concepts, and obviously, people know that he can play the game."
April, 5, 2012
4/05/12
9:45
AM ET
Oklahoma receiver
Ryan Broyles
hasn't been heard from much since tearing his ACL in November, weeks after setting the FBS record for career receptions.
That's especially been true as the pass-catcher has been unable to work out for NFL scouts, leaving Broyles in danger of being overlooked in favor of numerous other receivers who lacked his production.
Two weeks before the draft and five months after injuring the knee, Broyles will give scouts a chance to see what he can do with a workout on April 12,
according to The Sports Xchange
.
"I'm feeling confident and I feel great," Broyles told the site. "I can't give you a percentage, it's not 100 percent but the left leg is getting closer to being as strong as the right leg."
The fluky, non-contact injury left Broyles in tears and OU's receiving corps in shambles as the Sooners lost two of their final three games in the regular season. Broyles has become a likely sixth-round selection after being seen as a possible second- or third-round pick before the injury.
"My dream has always been to play in the NFL, not be a first-round draft pick, just to be a pick," Broyles said. "It's not about where you get picked. It's not about how much money you make. It's about how much you save. I've heard that a lot. I'm on my saving kick already."
Broyles' feel for space was unrivaled in the Big 12 last season and was the biggest reason for his production, but Broyles looked the part of speedster at times, too. It'll be interesting to see what he can do this soon, and if he can help his stock with the very late workout.
The 5-foot-10, 192-pounder is undersized for the position, but it's hard to imagine he won't land in an NFL camp and earn a living as a slot receiver at the next level. Here's hoping he's at least healthy enough to get a fair shot.
March, 22, 2012
3/22/12
9:00
AM ET
Baylor quarterback
Robert Griffin III
put on a show at his pro day on Wednesday, but today is
Andrew Luck
's turn at Stanford.
ESPN Insider/numbers guru KC Joyner
will take the leap

on what's a somewhat tentative debate .
Should RG3 go No. 1 ahead of Luck, the man most assumed for the past year would be the top pick in the 2012 NFL draft?
Joyner says yes, and provides 10 reasons why. You'll need Insider to see the full story, but here's a quick look at some of his most compelling reasons.
Some have argued that the reason Griffin III had better downfield numbers is because he was able to throw to Kendall Wright, a speed merchant whom Mel Kiper and Todd McShay both have listed as a late first-rounder in their most recent mock drafts.

The issue in taking this tack is that Griffin III actually had better vertical numbers when throwing to someone other than Wright last year.

RG3's vertical numbers on passes to Wright: 45 targets, 693 yards, 15.4 vertical YPA (VYPA)

RG3's vertical numbers on passes to other players: 70 targets, 1,146 yards, 16.4 VYPA

Luck was the exact opposite in that his vertical totals dropped off dramatically when not throwing to his best vertical target (tight end Coby Fleener):

Luck's vertical numbers on passes to Fleener: 29 targets, 533 yards, 18.4 VYPA

Luck's vertical numbers on passes to other players: 99 vertical targets, 1,167 yards, 11.8 VYPA
Interesting stuff. Personally, I think whichever NFL teams select them will be pretty happy with both guys. The physical skills are there, but for me, what gives confidence to both selections is their minds.
Both are great combinations of brilliance and hard work, and good decision-making (on and off the field) can help ease the transition for any player.
One other reason Joyner likes Griffin? The rest of the Big 12.
Last year RG3 faced three teams that ranked in the top 30 in the FBS in passer rating allowed in 2011, and two of those teams (the Texas Longhorns and Oklahoma State Cowboys) had exceptionally strong starting cornerback batteries.

By contrast, Luck faced only one team (the Utah Utes) that ranked in the top 30 in passer rating allowed last year.
What do you think? Any buyers? Should the Colts take the Heisman winner over Luck?
March, 20, 2012
3/20/12
4:00
PM ET
WACO, Texas -- Heisman winner
Robert Griffin III
earned accolades for his performance at the podium at last month's NFL combine, but he elected not to throw until his pro day at Baylor.
The day for NFL scouts, GMs and coaches to see it up close and in person has arrived. Or, at least, it will on Wednesday.
[+] Enlarge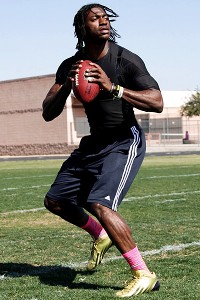 AdidasRG3 will get his chance Wednesday to show off for NFL scouts, GMs and coaches at Baylor's pro day.
"It'll probably be the biggest pro day Baylor's had in awhile," Griffin said on Monday after arriving to campus to take in his former team's spring practice.
Now, when would Baylor have ever had a bigger pro day?
"Well, I didn't want to say that," Griffin said with a laugh.
Make no mistake, it's the biggest ever. Around 130 media members were credentialed for Wednesday's event, and 60-80 more NFL personnel are expected to arrive. That number was trimmed from around 120 after the
Washington Redskins
traded up to No. 2 with intentions to select Griffin.
"We'll see what happens," Griffin said of his future destination. "Either way, if it's Indy or Washington or whatever happens in the draft, I'll be excited to play for that team."
The Bears had originally planned to allow fans to attend, and expected around 1,000 to show up and watch Griffin go throw a scripted set of throws, but that plan was scrapped.
Several networks, including ESPN, will broadcast the pro day live. The Big 12 Blog will be on hand, too. It's not only about Griffin throwing, though.
"We're trying to show [NFL teams] we've got two really good running backs in
Terrance Ganaway
and Isaac Williams. Kendall [Wright]'s going to show off and do his thing and run great routes," Griffin said. "We've got a couple older guys coming back in Ernest Smith and Krys Buerck. They're looking forward to a shot at the NFL, so I'm trying to help, help everybody out, not just show what I can do. Tape doesn't lie, so I don't have to prove anything at pro day, it's about going out and having fun and helping those guys be successful, so we're looking forward to it."
Griffin's spent the past two-plus months training in Arizona for Wednesday, and explained some of what Wednesday's workout can prove to NFL teams that want to see more than just his extensive, impressive game tape.
"The routes are all different in different systems, but they give you that generic NFL route tree and they want you to go run that and show them, 'Hey, I can run the basics, now teach me everything else,'" Griffin said. "So, just matching the drops to those throws, because they're not what anybody does in the college level, no matter whether they're in a pro system or in a spread system.
"I don't think I've ever seen a quarterback go seven [steps], plant and throw -- throw an out route at the college level. So, it doesn't matter if you're in a spread or in a pro style at college. It's still a different game and I'm excited to go play that game."
He'll get his chance this fall, but even with an adidas endorsement deal, Griffin isn't showing off any newfound cash just yet.
He hasn't made any car or house purchases, and doesn't have any plans to change that just right now.
"Not at all," he said. "I'm still broke."
February, 29, 2012
2/29/12
12:00
PM ET
Cornerback
Cliff Harris
admitted during media interviews at the NFL combine that he likes to drive fast -- see his citation for driving 118 mph last June, a significant step toward his ultimate dismissal from Oregon.
His biggest problem now, however, is his apparent inability to run fast. Harris clocked a 4.64 40-yard dash Tuesday, a pedestrian time for a prospective NFL cornerback.
Writes ESPN.com's
Steve Muench:
Former Oregon CB Cliff Harris played in just six games in 2011 before being dismissed form the team, so he needed a solid week both on and off the field. No word yet on how he interviewed, but Harris did not perform as well as expected during drills. He stumbled early on, didn't show great body control overall and failed to field the ball cleanly, including two double-catches in the final drill.
It's also worth noting that the defensive backs end their session with a ball-skills competition, and an excited Harris punted the ball after that second double-catch. While it's good to see competitive spirit coming out and it's important not to exaggerate here, Harris should be more careful and avoid drawing any kind of attention that could be viewed as negative. He needs to show teams he's not going to be a distraction going forward.
Harris wasn't the only Pac-12 DB to run poorly. Former California safety
Sean Cattouse
ran a 4.74.
Former Arizona CB
Trevin Wade
ran a middle-of-the-pack 4.59. Former Arizona State CB
Omar Bolden
didn't run the 40, but did lead all defensive backs with 24 reps at 225 pounds.
Harris will get an opportunity to run again during individual workouts with NFL scouts, as will Bolden, who's status on draft boards won't be established until he shows how well his surgically repaired knee is responding.
February, 23, 2012
2/23/12
1:30
PM ET
Alabama running back
Trent Richardson
won't
participate in on-field drills during the NFL combine
this week after undergoing minor knee surgery.
ESPN NFL Insider Adam Schefter reported Wednesday that Richardson's representatives sent all 32 NFL teams a memo about the procedure. The memo said that Richardson will be able to participate in on-field activities by the end of March, which means he won't take part in them during Alabama's pro day, which is set for March 7.
Richardson suffered the injury during practice leading up to the Allstate BCS National Championship Game, a game in which he ran for 96 yards and a touchdown (the lone TD in the two meetings between Alabama and LSU). It doesn't appear to be very serious, as Richardson is being held out of on-field drills only as a precaution.
That's very good news for Richardson and NFL teams. Richardson didn't need the NFL combine in order to stay in the first round of April's draft. He might have needed it to insure that he's a surefire top-10 pick, but that's all. In a pre-combine video, in which Richardson was shown training for the combine, he said that he wanted to show everyone that he's the best prospect there by blowing up the drills.
There's little reason to believe he wouldn't have, either.
Now, he won't be able to do that, but it's hard to believe that his accomplishments during his only season as a starter won't be enough reassurance for scouts, coaches and general managers. He set school single-season rushing records with 1,679 yards and 21 touchdowns, accounting for more than 36 percent of Alabama's offense in 2011. Not to mention, he won the Doak Walker Award as the nation's top running back and was a unanimous first team All-American and All-SEC member.
Although he won't be able to wow people on the field this week, he'll still have the opportunity to wow them during the interviewing process, which is a tremendously important part of the combine.