NCF Nation:

2012 pac-12 take 2
December, 21, 2012
12/21/12
12:00
PM ET
There are seven bowl games left with Pac-12 teams. Which one is a must-win? Your bloggers weigh in.
Ted Miller
: Oregon and Stanford are obviously playing in the bowl games with the highest stakes, so both have plenty to gain. And lose.
But Arizona State's showdown with Navy in the Kraft Fight Hunger Bowl feels like a must-win for the Sun Devils, in large part because it's the conference's biggest "should-win."
[+] Enlarge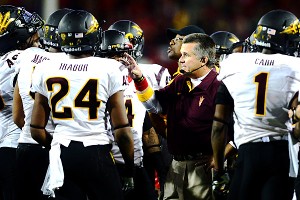 Mark J. Rebilas/USA TODAY SportsA bowl victory would keep the good feelings going into Todd Graham's first full offseason at ASU.
The Sun Devils are one of the biggest favorites of the bowl season, as they are more than a two-touchdown favorite against the Midshipmen. Navy, though 8-4, doesn't have a terribly impressive resume. Its best win was probably over East Carolina. Its triple-option attack was shut out by San Jose State. On Nov. 10, it lost by 10 points to Troy.
If Arizona State shows up with its B game, it should win. It might even get the W with its C game. But if it shows up without passion or interest, it could get embarrassed.
And that is something previous iterations of the Sun Devils might have done.
First-year Arizona State coach Todd Graham's mantras this season have been about discipline, focus and consistency. What has most juiced Sun Devils fans is not really the 7-5 record or even the comeback victory at Arizona, though it does seem there are a few more wide grins in Tempe these days. It's the (mostly) consistent, disciplined way their team has played. It has bought into Graham's preachings and created a new culture that has revealed itself on the field.
If the Sun Devils futz around and lose to Navy, that becomes a step backward. Not a catastrophic one, mind you, but definitely a negative heading into the offseason, one that also might prevent the Sun Devils from getting preseason top-25 consideration.
And if they win? Well, it's expected, sure. But it also allows the euphoria over the Territorial Cup win to endure into the offseason. Further, a three-game winning streak to end the season is nice, as is getting an eighth win for only the second time since 2003.
Bowl games take on a life unto themselves. It's a bit of a stretch to call any bowl game a must-win. But Arizona State gets the nod among other Pac-12 teams because it's most clearly a should-win.
Kevin Gemmell
: In the little corner of the world occupied by college football, perception is reality. And for a while, the perception was that Oregon was completely unstoppable.
Stanford brought all of that crumbling down with one overtime kick from
Jordan Williamson
and one heck of a defensive performance. The Ducks need to get that mojo back. Fast.
[+] Enlarge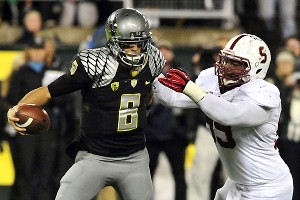 Steve Dykes/Getty ImagesQB Marcus Mariota and Oregon need a Fiesta victory to regain the aura they lost against Stanford.
And it starts with a big performance in a BCS bowl game against a top-five team.
The Ducks have a golden opportunity to re-establish their national perception when they square off against Kansas State in the Tostitos Fiesta Bowl. Because the Ducks aren't just playing to close out 2012, they are playing for how they will be perceived in 2013.
If Oregon loses -- regardless how much talent is coming back or coming in -- it will take a hit in the 2013 preseason rankings. With a strong performance, the Ducks will enjoy a nice bump -- probably into the range of No. 2 or No. 3. We still have a year of the BCS system, so rankings are everything. If Oregon can start in one of those high positions, it doesn't have to rely on other teams losing so it can move up.
That's not to say it can't be done. Look at Notre Dame, which started the season unranked in the AP Top 25 and No. 24 in the coaches' poll. Winning has a funny way of working things out. On the other hand, the Irish's BCS title game opponent, Alabama, was No. 2 in the preseason and No. 1 most of the year. So when the Crimson Tide did lose, the slide was minimal.
It's much easier to reach the national championship if you are already positioned among the top handful of teams. Of the past eight national champions, six were ranked in the AP top five in the preseason (Auburn was No. 22 in 2010 and Florida was No. 7 in '06).
Plus, the Ducks probably will take a perception hit if head coach Chip Kelly departs for the NFL.
And that leads us to the importance of this game for 2012. Of course, we know about the non-history between these two schools and the intrigue that goes along with it -- the game that should have been but wasn't. History is written by the winner. No one is going to care about a scheduling snafu if the Ducks roll.
Oh yeah ... and they are supposed to win. There's some pressure that goes with being a nine-point favorite in a high-profile BCS game. A loss would be a significant upset and stains what should be considered a very impressive 2012 for the Ducks. A victory reaffirms that Oregon is an elite program and worthy of national championship consideration next season.
Perception is reality. And Oregon has a chance to set the 2013 perception agenda.
December, 14, 2012
12/14/12
12:00
PM ET
In a league loaded with depth, sometimes really good players get overlooked when postseason awards are handed down. Today your Pac-12 bloggers are looking at which players we believe were the most underrated in the Pac-12.
Ted Miller
: While I'm already on record as saying Oregon cornerback
Terrance Mitchell
is the Pac-12's most underrated player
, I'm going to go in another direction here. Why? Well, I want to list statistics, and Mitchell's value most reveals itself in his not having many numbers because opposing offenses don't throw his way very often.
[+] Enlarge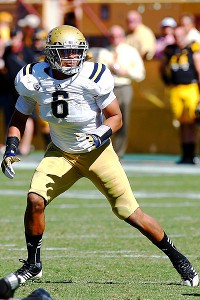 Rick Scuteri/USA TODAY SportsUCLA sophomore LB Eric Kendricks set himself up for preseason Pac-12 honors in 2013.
My pick for most underrated is UCLA linebacker
Eric Kendricks
, who was a tackling machine this year.
Tackling machine? Well, he led the Pac-12 with 137 tackles. He averaged 10.5 tackles per game, which is a full tackle ahead of Arizona State's
Brandon Magee
in the No. 2 spot, ranked 12th in the nation. Moreover, he did a lot of things well for a defense that was significantly better than it was in 2011, giving up 5.5 fewer points and 36 fewer yards rushing per game.
The 6-foot, 230-pound sophomore finished the regular season with six tackles for a loss, two sacks, an interception, five pass breakups, three fumble recoveries, two forced fumbles and a blocked kick.
He also came up big in big games. How many of his 17 total tackles -- seven more than any teammate -- made the difference in the nailbiting win over Arizona State? Or what about his effort in the Win of the Season, a 38-28 triumph over USC? He recorded 10 tackles, a tackle for a loss, an interception, a forced fumble and blocked punt against the Trojans.
The forced fumble in the first quarter set up a Bruins touchdown. His punt block, which came after USC had closed to 24-20 in the third quarter, led to another UCLA touchdown, extending its lead to 31-20. The interception was a key play in the fourth to seal the red-letter victory.
That performance earned him Pac-12 Defensive Player of the Week.
There were a lot of good linebackers in the Pac-12 this year. But four of the six on the coaches' All-Pac-12 teams were seniors. We expect Kendricks to get a first-team preseason nod in 2013.
Kevin Gemmell:
It's so easy for us to take our running backs for granted in the Pac-12, isn't it? That's why I'm tapping Washington's
Bishop Sankey
as the most underrated player in the conference this year.
Playing in a league with
Ka'Deem Carey
,
Kenjon Barner
,
Johnathan Franklin
and
Stepfan Taylor
, it's easy to see why Sankey was left off of the first and second team. And no, I wouldn't replace any of those guys with Sankey. The running backs in the league this year were so ridiculously deep that a 1,200-yard rusher on a 7-5 team is an afterthought. That's not to say Sankey isn't a really good player -- because he is. It just speaks to the depth of the conference.
[+] Enlarge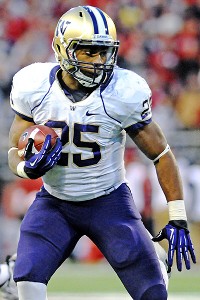 James Snook/USA TODAY SportsA tremendous crop of Pac-12 running backs kept Bishop Sankey from getting more attention.
If Sankey played in pretty much any other conference, he'd be either first- or second-team all league. But he doesn't. He plays in the Pac-12, where three of the four All-American running backs come from.
Sankey rushed for 1,234 yards and 15 touchdowns. Looking at the other five BCS conferences, those numbers would have led the league in rushing in the ACC and Big East. They would put Sankey second in the SEC and Big 12 and fourth among running backs in the Big 10 (fifth overall if you count Ohio State quarterback
Braxton Miller
). Those are first- or second-team credentials. In the Pac-12, it's just a mention ... even if it is honorable.
Originally thought to be a by-committee guy, Sankey's role changed dramatically when
Jesse Callier
went down with a season-ending knee injury in the first game of the year against San Diego State. As he grew more comfortable in the role, Sankey's numbers and confidence skyrocketed. He ended the year with six 100-yard games and three games of at least 140 yards.
And since we're talking about showing up in big games, one of this best games of the year came against Stanford -- yes, top-five rushing defense Stanford -- behind a patchwork offensive line. He rushed for 144 yards and a season-high 7.2 yards per carry, including a 61-yard touchdown that sparked the Huskies come-from-behind victory. He went for 100-plus against Oregon and Utah -- considered two of the stingier fronts in the league. He had two touchdowns against Oregon State -- another elite defense.
At 5-10, 200 pounds, the sophomore has perfect size. He's the 11th Husky to rush for 1,000 yards; his total is the eighth-highest in school history and his 15 touchdowns are tied for second-most ever. With similar production next year -- coupled with the departure of Taylor, Barner and Franklin -- I wouldn't be shocked to see Sankey rise from the honorable mention ranks to the first- or second-team.
November, 30, 2012
11/30/12
12:00
PM ET
Pretty straight forward this week. There is a championship game tonight and we make a case for each of the teams.
Ted Miller:
The easy answer for what Stanford needs to do to win the Pac-12 championship game over UCLA is to point at the Cardinal's 35-17 win last weekend and type, "You should do that again, Stanford. Only better."
To beat UCLA, Stanford needs to do what it typically does: Run the ball. Stop the run. Sack the opposing QB. Protect the football. Lots of
Stepfan Taylor
with a little
Zach Ertz
mixed in.
In last week's game, Stanford outrushed UCLA 221 yards to 73. Its star running back back, Taylor, eclipsed UCLA's star running back,
Johnathan Franklin
, 142 yards to 65, with Taylor averaging 7.1 yards on his 21 carries compared to Franklin's 3.1 on 21.
The Cardinal sacked UCLA QB
Brett Hundley
seven times. It won the turnover battle 2-1. It was Stanford by the book, just as coach David Shaw would script it up.
[+] Enlarge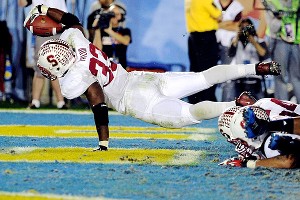 Jayne Kamin-Oncea/US PRESSWIREStanford's Stepfan Taylor rushed 20 times for 142 yards and two touchdowns against UCLA last week.
The question, however, is if nearly duplicating a game plan will work against a smart UCLA staff that -- I know Bruins fans don't like reading this but I suspect it's true -- probably held some stuff back last week.
I expect UCLA to be more creative and aggressive on both sides of the ball. I suspect you'll see Hundley run the ball a lot more. While Stanford's credo is to be itself, they also need to anticipate some specific scheme wrinkles from the Bruins.
Of course, you mute potential fanciness when you win the battle at the line of scrimmage, which Stanford did on both sides of the ball in Game 1. It was particularly noteworthy that the Cardinal wasn't forced to blitz much to get to Hundley. I wonder what Bruins offensive coordinator Noel Mazzone might do to counter the likelihood his young O-line won't be able to win the battle up front?
So Stanford essentially needs to show up with last week's game plan, but with a page two. Stanford needs to line up and be itself and see if UCLA wasn't itself last week. Stanford needs to anticipate potential counters and be ready to counterpunch if the Bruins application of those counters is successful.
But, really, Stanford should just do what it did last week. Only better.
Kevin Gemmell
: Any and all stories about UCLA and their chances of winning tonight have to start with the offensive line play. I'm not exactly breaking news here, but Hundley is going to get sacked. Franklin will take negative plays. That's the nature of playing against one of the best defenses in the country.
But seven sacks (as was the case last week) and nine tackles for a loss (as was the case last week) isn't going to cut it. Neither will 12 penalties for 135 yards. That's the good news for the Bruins heading into tonight's Pac-12 championship game. There is room for improvement -- in both the physical and the mental aspects of the game.
A lot of it is on the offensive line. But not all of it. Hundley needs to do a better job of recognizing where the pressure is coming from and getting rid of the ball quicker than he did last week. He's still a fantastic athlete, but he's still learning to be a complete quarterback -- that includes reading defenses. The Cardinal run a fairly sophisticated, NFL-style 3-4. And when Jason Tarver was the co-defensive coordinator last year, he installed a lot of different strands and stunts. And with their base defense and limited blitzing, they were still able to disrupt UCLA's offense. I'm sure Stanford defensive coordinator Derek Mason watched game film this week and in his best Mr. Burns voice, tapped his fingers together and cooed "exxxxcellent."
To counter this, I'd expect Mazzone to make Hundley more mobile this week -- more designed runs, sprint outs, a couple of boots, etc. Just enough to take some of the pressure off of the offensive line, back the Cardinal up a little bit, create some space for Franklin and buy Hundley a little more time.
I'd also expect a big game out of tight end
Joseph Fauria
. Just as the Zach Ertz/
Levine Toilolo
combo is a mismatch for the Cardinal offense, Fauria is Hundley's primary mismatch. He has more touchdowns than any FBS tight end (11) and Hundley is completing 75 percent of his throws with 11 touchdowns and zero picks when he targets a tight end.
And let's not forget whatever cosmic forces may be at work. Just consider the 2012 season: USC was No. 1; Oregon was unstoppable; Washington beat two Top 10s but lost to Washington State; Stanford was supposed to drop off; three of the four new coaches are going to the postseason and a sophomore from Arizona leads the nation in rushing. Apropos of nothing, but it would almost be a fitting bookend to this year if exactly what we all expect to happen -- Stanford winning -- doesn't.
November, 16, 2012
11/16/12
12:00
PM ET
It's crunch time. And as the saying goes, big-time players make big-time plays in big games. Who will step up this weekend? We debate.
Ted Miller
: There will be plenty of star players on the field Saturday when Oregon hosts Stanford. And there will be plenty of key players who are question marks. But my choice for a player who could play a crucial role is not one on many folks' immediate radar.
It's a fullback. Stanford fullback
Ryan Hewitt
, actually.
[+] Enlarge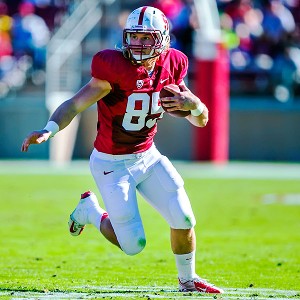 Cal Sport Media via AP ImagesRyan Hewitt has been a huge part of Stanford's run attack, and is coming off a huge receiving game.
Oregon, of course, doesn't even have a fullback. In fact, only about half of the Pac-12 even plays one regularly. But Stanford loves its fullbacks -- recall two-way star Owen Marecic -- and Hewitt is among the best in the country.
First, the obvious: Hewitt is the guy who will regularly be running immediately in front of Stanford running back
Stepfan Taylor
, the Cardinal's best offensive weapon. He's the guy providing the final block that often means a 6-yard gain or a 2-yard gain. The difference will be key in this game.
Ideally from the Stanford perspective, Taylor will run about 30 times, average 6 yards a carry -- and the Ducks offense will find itself chilling on the sidelines during a number of six-, seven- and 10-minute stretches. Stanford wants to pound a beaten-up Oregon defense, convert third downs and win a battle of attrition.
Oregon's beaten-up defensive line adds another layer to Hewitt's value. More often than not, he's a blocker seeking a linebacker. Oregon is very good at linebacker, and the Ducks linebackers will play an even more crucial role than usual because of the injuries up front and the fact that Stanford is a downhill running team. You can expect
Michael Clay
and
Kiko Alonso
each to be around 10-plus tackles. Where those tackles take place depends a lot on Hewitt.
Further, if the Cardinal running game is surging like an army of steamrollers, it will make life much easier for redshirt freshman quarterback
Kevin Hogan
, who is making his first road start in raucous Autzen Stadium. And guess what a consistent running game sets up? That's right, play-action passing.
While Stanford would rather go downfield with its play-action game, that's always a risk. Guess who made his presence felt for the first time all season in the passing game against Oregon State? Yep. Hewitt.
Not only did he lead the way for a running game that ground out 163 yards against a run defense that had been yielding just 91.8 yards per game, he caught four passes for 52 yards, including a 12-yard touchdown, against the Beavers.
The 6-foot-4, 248-pound Hewitt, who was recruited as a tight end, could be a key target, both on third down and in the red zone, while the Ducks try to gang up against the Stanford tight ends.
Of course, if Stanford posts the upset Saturday, you probably won't read much about Hewitt afterward. That's the way it is with fullbacks. But here's a guarantee that if Stanford does pull the upset, everyone in the Cardinal locker room will be giving Hewitt a special fist-bump.
Kevin Gemmell
: First off, that's a great call, Ted. On a team without a ton of star power, Hewitt is certainly deserving of the recognition.
[+] Enlarge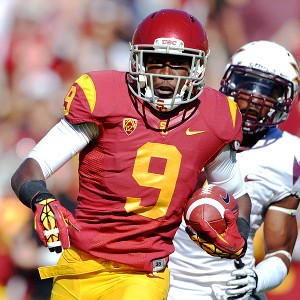 Kirby Lee/Image of Sport/US PresswireUSC receiver Marqise Lee, already well clear of his Pac-12 counterparts, gets a big stage Saturday.
But Southern California is home to the stars, and the Rose Bowl field is going to be littered with A-list playmakers when the Trojans travel crosstown to face UCLA. It's very possible that an under-the-radar player has an impact in this game, but with at least a dozen or so guys from both squads with NFL futures, it's more likely than not that one of the superstars will emerge and carry ... or catch ... or throw ... or intercept ... or sack at a key time of the game and lead his team to the South Division title.
Sometimes there is nothing wrong with going with the obvious -- and
Marqise Lee
is the obvious. The USC wide receiver has been one of the -- if not
the
-- most dynamic playmakers in the Pac-12 and, at the very least, should win the Biletnikoff Award for the nation's top wide receiver. Even Oedipus could see that.
The numbers speak for themselves. He has 36 more receptions than the next-closest Pac-12 wide receiver (98), 424 more receiving yards than the next-closest receiver (1,447), and he's averaging a ridiculous 144.7 receiving yards per game.
If ever there was a game for him to show up big-time, this is it.
Regardless of what your standards are, this has so far been a very disappointing season for the Trojans. They will not be playing for a national championship after starting the year as the Associated Press preseason No. 1. But they can still play in a BCS game -- namely the Rose Bowl. To get there, they have to go through the Bruins, then likely through Oregon again -- this time at Autzen.
Aside from maybe
De'Anthony Thomas
, there is no player in the Pac-12 who can shift momentum faster than Lee. Be it with an 80-yard touchdown after the defense gives up a score or a long kick return (he also leads the Pac-12 in all-purpose yards by a huge margin, at 223.4), Lee has the capability to change the game with a single catch, carry or return.
Teams have tried to bracket him, double-team him and even triple him. But he still makes the plays before, during and after the catch. Stanford head coach David Shaw gave Lee the ultimate praise when he said he hasn't seen a college wide receiver do what Lee has done since he scouted Randy Moss. No doubt he'll tax a UCLA secondary that gives up a ton of yards through the air and ranks in the bottom half of the league in pass-efficiency defense.
And while the Trojans' unfinished business -- i.e., a national championship -- will remain just that, it's quite possible we'll see a Trojan in New York for the Heisman ceremony after all. Another huge game for Lee on a national stage (and yes, I promise a lot of people will be watching) could help garner some more Heisman support. There is still work for this team to do, and I'd expect Lee to play his usual, significant and spectacular role tomorrow against the Bruins.
November, 2, 2012
11/02/12
12:00
PM ET
What are the keys to Saturday's showdown between USC and Oregon? Glad you asked.
Ted Miller
: USC can beat Oregon on Saturday, but it needs to play efficient, disciplined football.
That sounds like coach-speak, and I don't like it any more than you. But after watching USC's bafflingly sloppy effort at Arizona, it's clear that we can't really know these Trojans, who unquestionably have loads of talent, until they get out of their own darn way. Or perhaps they're just a group that is incapable of doing that.
[+] Enlarge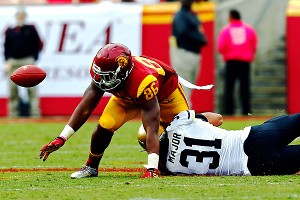 Cal Sport Media via AP ImagesSloppy with the ball all season, USC's 18 turnovers are the most for all but two Pac-12 teams.
Consider the numbers. USC is the nation's most penalized team. That includes 18 personal fouls, which is horrid and doesn't speak well for the Trojans or their coaches. They've turned the ball over 18 times. Only Washington State and Colorado have more in the Pac-12. The Trojans are tied for the league "lead" with 10 fumbles. Quarterback
Matt Barkley
has eight interceptions, one more than he threw all of last year.
USC needs to win the turnover battle and avoid the yellow hanky to beat Oregon. That alone won't guarantee victory, seeing the way the Ducks have been playing, but it's impossible to imagine that the Trojans' can win if their effort doesn't have that as a Point A.
That won't be easy. The Ducks force a lot of turnovers -- 23 -- and are tied for the Pac-12 lead with 15 interceptions. The Ducks have returned four of those picks for touchdowns.
Of course, there is more than one way to skin a cat. USC can win the turnover battle 5-2 just as it could win it 3-0. USC has also forced 23 turnovers this season and grabbed 15 interceptions.
The Trojans don't have to be perfect. They just need to be more perfect than Oregon. More disciplined, more efficient.
If USC pulls the upset, here's a confident bet that it will have fewer turnovers and penalties than the Ducks.
Kevin Gemmell:
One of the cool things about working for ESPN is we have access to all kinds of obscure stats. So a tip of the cap to the ESPN Stats & Information group for coming up with this little gem that I will now share with you: On 42 of
De'Anthony Thomas
' 113 career carries, he hasn't been touched until he was 5 yards beyond the line of scrimmage. That means 37.2 percent of the time he carries the ball, he's getting 5 yards without so much as a finger finding fabric. And that goes a long way toward explaining his 9.7 career yards-per-carry average.
[+] Enlarge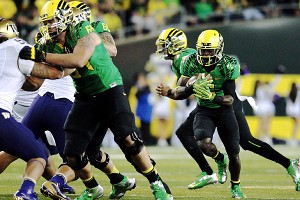 Scott Olmos/US PresswireThe big fellows up front are key in getting De'Anthony Thomas, right, into the clear untouched.
What's the point, you ask? Well, if you're looking for keys to the game for Oregon, you'd probably start with
Kenjon Barner
and finish with Thomas. Barner, who has four consecutive 100-yard games, and eight touchdowns over that span, is the key to the Oregon offense. He'll pound away at USC's defensive line inside and out, but it's Thomas who can deliver the proverbial knockout punch with one of his trademark jaw-droppers.
So the key to the game for Oregon: just keep doing what it has been doing. For USC, it's all about getting penetration from the front four. Easier said than done, right?
Ah, but peel back the layers and you find it's not just about Thomas and Barner.
I think back to the fumble
Will Sutton
caused in the first series of the game at Arizona State. Sutton blasted up the middle and disrupted the play in the backfield, causing a fumble that led to the subsequent ASU touchdown. Unfortunately, Sutton was injured on the play -- and much of the Sun Devils' defensive game plan revolved around moving Sutton up and down the line. I still think Oregon would have won that game regardless of the Sutton injury, but this serves as an example that with good penetration, the Ducks can get rattled.
Try as it might, USC isn't going to make Oregon one-dimensional. It just doesn't happen that way. Oregon can fail on 20 consecutive plays and then go for an 80-yard touchdown on the 21st. And then when you figure out what happened on the last series, they've scored again. It happens that fast.
So while this game might be chock-full of big-name players at the skill positions, it's the five up front for Oregon and the four up front for USC (and the many who will shuffle in throughout the game) that will really make the difference. And therein lies the true key to the game. After all, Oregon's front five are a big reason why Barner has 100-plus his past four games and Thomas can jaunt 5 yards without getting touched. For all the fancy stats and numbers, it still comes down to one undeniable truth: Win at the point of attack, win the football game.
October, 19, 2012
10/19/12
12:00
PM ET
As we turn the corner at the midway point of the season, your Pac-12 bloggers recount what has surprised them the most in the first half of the season. One is a pleasant surprise. The other, not so much.
Kevin Gemmell:
I think we're all a bit taken aback by the remarkable success Oregon State has had so far this season. Let's be honest -- even the most devout of Beavers believers didn't think their team was going to have the school's best start since 1939. If you did, you are a real-McCoy psychic and you should immediately send all relevant stock tips
here
.
What's so impressive -- aside from the 5-0 start and top-10 spot in the BCS standings -- is the way Oregon State has gone about doing it. Great offense. Great defense. And above all, a no-nonsense, physical approach to football. There is an attitude -- a focused swagger, if you will -- that is really fun to watch.
[+] Enlarge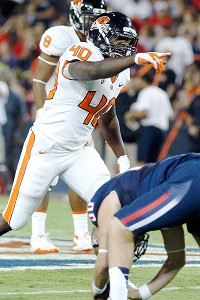 Rick Scuteri/US PresswireLinebacker Michael Doctor has helped point the way for Oregon State's top-five rush defense.
The Beavers have been solid in the trenches on offense and relentless on defense. The offensive line has come together faster than most anticipated -- which obviously has contributed to a rushing attack that averages 119.6 yards per game (up from a league-worst 86.9 in 2011).
Defensively, you can't say enough about the play of
Scott Crichton
,
Jordan Poyer
and a player I think is flying under the radar:
Michael Doctor
.
Naturally, the growth of quarterback
Sean Mannion
has been helpful. He's done a much better job taking care of the ball (OSU ranks 12th nationally in turnover margin), and we've been talking about
Markus Wheaton
and
Brandin Cooks
as a potential breakout duo since we started doing weekly Take 2s in the spring.
Heading into this week's games, the Beavers owned the second-best pass attack in the Pac-12. Again, with teams such as Washington State, USC and UCLA expected to air it out, did anyone really see that one coming?
And the fact that they can plug in
Cody Vaz
and not miss a beat is impressive.
But as much credit as Mike Riley deserves for the offense, defensive coordinator Mark Banker deserves equal praise -- if not more. The Beavers have the top rush defense in the conference and the No. 4 rush defense in the country, allowing just 70 yards per game on the ground. That's elite status, and it takes more than just talented players to attain it. It takes an attitude. It takes an unwavering mentality that our defense is going to dictate to you, not the other way around.
Talking with Poyer and Crichton throughout the season, they said the simplest answer is that they are motivated by being 3-9 in 2011. It was a crummy season, and they didn't want to feel like that again. That's pretty good motivation.
The fact that Oregon State is better than last season isn't a surprise. It's the fact that the Beavers are
so
much better that is both surprising and pleasant.
Ted Miller
: The mediocrity of USC's offense is shocking. No one saw that coming.
This is where someone claims he or she saw it coming. No you didn't. Stop it. No you didn't. Hush.
USC welcomed back nine starters from an offense that in 2011 averaged 35.8 points, 456.8 yards and 294.2 passing yards per game. Among those starters were quarterback
Matt Barkley
, the nation's leading Heisman Trophy candidate; 2011 All-American wide receiver
Robert Woods
; second-team All-Pac-12 wideout
Marqise Lee
, the co-freshman offensive player of the year; second-team All-Pac-12 center
Khaled Holmes
; and 1,000-yard rusher
Curtis McNeal
.
[+] Enlarge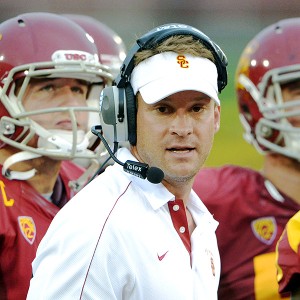 Kirby Lee/Image of Sport/US PresswireCoach Lane Kiffin has reined in his offense and let the defense hold on to USC leads.
Barkley had completed 69 percent of his passes with 39 touchdowns and seven interceptions in 2011. He ranked eighth in the nation in passing efficiency. And he had all his weapons coming back. Oh, and the Trojans added a second 1,000-yard rusher when
Silas Redd
transferred from Penn State.
There were no weaknesses. While the departure of Matt Kalil left a sizable void at left tackle, the consensus was that
Aundrey Walker
was the next surefire NFL draft choice at a position where USC always has a surefire NFL draft choice.
Yet here we are. With the more difficult portion of the schedule ahead, USC is worse in just about every area on offense. Heck, the Trojans are 112th in the nation on third down, behind teams such as Memphis, Colorado and Kansas.
Heading into this week's games, Barkley ranks 30th in the nation and third in the Pac-12 -- behind a pair of first-year starters -- in passing efficiency. He's thrown six interceptions after throwing seven in 12 games last season. He's completing just 62.7 percent of his throws. He's been sacked nine times after going down just eight times all last season.
Woods is 99th in the nation with 60 yards receiving per game and five touchdowns; he had 15 TDs and averaged 107.67 yards per game last season. McNeal, now a backup, has only 44 carries.
Lee's numbers are better than last season, but he hasn't been consistent catching the ball.
Some of the blame falls on coach Lane Kiffin, the offensive playcaller who's opted for a more conservative approach, particularly when the Trojans have a lead. With an improved defense, Kiffin seems content to run the ball and play to his defense once he gets ahead.
Still, in the preseason, there was a legitimate discussion of whether this offense might end up ranked among the best in college football history. The question now is whether it will be among the top half of the Pac-12.
And that is a huge surprise.
October, 12, 2012
10/12/12
12:00
PM ET
It's Oregon's bye week. What else are we going to talk about? Which Ducks back has the better shot at winning the Heisman?
[+] Enlarge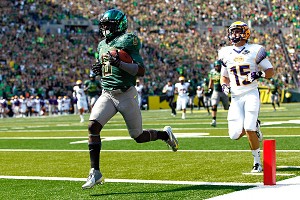 Jonathan Ferrey/Getty ImagesDe'Anthony Thomas is averaging 9.2 yards per carry and 10.3 yards per catch.
Ted Miller:
With
De'Anthony Thomas
and
Kenjon Barner
, it's pick your poison. Both are players who tax a defense. But the Heisman Trophy has always been about more than being good and posting good numbers. Barner very well could win the Pac-12 rushing title, but that's sort of what Oregon running backs do. The Ducks have been the best rushing team in the conference since Chip Kelly first showed up in 2007.
What Thomas has is pizzazz. When he gets the ball, everyone holds their breath. It's the Reggie Bush effect. At any moment, not only could Thomas go yard, he could go yard in a way that makes folks go, "Are you kidding me? I've got to see that again!"
Truth is, Thomas has been fairly quiet of late. He has solid numbers as a receiver, runner and return man, but they certainly aren't going to wow you. His numbers must get better for him to be considered a legitimate Heisman Trophy candidate.
I believe they will. And I believe they will when he posts spectacular, Are-You-Kidding-Me? plays in big games, such as he did in the Rose Bowl against Wisconsin. I believe the Black Mamba is about to provide a series of deadly strikes as the Pac-12 race heats up. He's going to get Arizona State. Then he's going to get Colorado. Then, with the entire nation watching, he's going to -- snap! -- get USC.
Those plays will pile up on "SportsCenter." Those plays will form a portfolio of spectacularness. Those plays will offset a lot of other guys' fancy-pants numbers.
Thomas will get himself invited to New York for the Heisman Trophy ceremony not because of numbers. He will get there due to his highlight reel.
Kevin Gemmell:
When we decided on this topic, the first thing that popped into my head was that it smacked of an old "Saturday Night Live" sketch -- the old Bob Swerski's Superfans. In one sketch, a question was posed: "Da' Bears versus Da' Bulls?" And the answer was this (imagine the Chicago Southside accent): "The senseless waste of pitting these two mighty forces of nature against each other, like matter versus anti-matter, will be a tragedy, not only for the teams involved, but for our planet. All nations must band together, to ensure that such a conflagration never takes place."
Obviously when you are comparing Thomas and Barner, you are comparing two phenomenal football players.
[+] Enlarge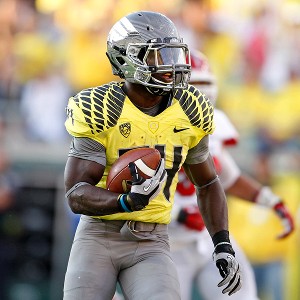 Kevin Casey/Getty ImagesKenjon Barner has 127 touches on offense and 10 TDs to De'Anthony Thomas' 61 and 9.
First off, there is nothing fancy-pants about the way Barner does his work. He grinds when he has to, but he also has the big-play potential. For the record, Thomas' longest rushing play this year is a 59-yard touchdown. Barner's is an 80-yard touchdown. You don't go 80 yards without a little pizzazz of your own.
I love a good DAT highlight as much as the next guy. And I still have him in the top five on my ESPN.com Heisman ballot. But I have Barner higher, for the simple reason that I think, right now, Barner is the more valuable player for the Ducks and therefore a better Heisman candidate.
And as he continues to get about three carries for every one that Thomas gets, he's only going to distance himself. I'm totally on board with the idea that every time Thomas touches the ball, your heart skips a beat. But the longer he goes without those jaw-droppers -- and the more Barner keeps piling up 100-yard games -- the tougher it's going to be for Thomas to close the gap.
Anyone concerned that Barner couldn't fill the deep crevasse left by LaMichael James (by the way, that never should have been a concern) should rest easy knowing that in six games, Barner has 727 yards, is averaging 6.3 yards per carry and has nine rushing touchdowns. Some Thomas highlights might end up on "SportsCenter," but it's a good bet that they will be preceded by two Barner touchdowns as part of a 150-yard performance.
The Heisman isn't all about numbers. But that's a huge part of it. And the fact that Barner has them and Thomas doesn't simply can't be ignored.
October, 5, 2012
10/05/12
12:00
PM ET
Who has the best wide receiver duo in the Pac-12 right now? We thought for sure it would be a no-brainer with the guys at USC. But a pair of receivers from Oregon State are making a case. That's the question your Pac-12 bloggers attempt to tackle today.
Ted Miller:
Despite popular belief, the season isn't over. They play 12 regular-season games, then a Pac-12 title game and then a bowl game. Some guys who are blowing up statistically now will fall off. Others who are struggling will find their rhythm. It happens every season.
That's why I've still got a "buy" rating on USC's
Robert Woods
and
Marqise Lee
as the Pac-12's best receiver combination. Both will be All-Pac-12 by season's end.
Lee is already well on his way. He leads the conference with 10 receptions per game and six touchdown catches. Sure, he trails the outstanding Oregon State tandem of
Brandin Cooks
and
Markus Wheaton
in yards per game, but his 114.2 ypg still ranks 10th in the nation.
[+] Enlarge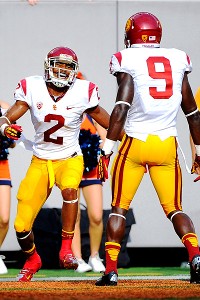 Rich Barnes/US PresswireRobert Woods (2) hasn't put up the numbers of teammate Marqise Lee (9), but there's much season left.
Woods has four touchdowns, which is good, and 50.8 yards per game, which isn't. But having seen Woods for two years, do you really believe his numbers are going to stay down? I don't either. I mean … he's Robert
Freaking
Woods, a 2011 All-America, for criminy sakes!
I suspect that Wheaton and Cooks shortly will get the Woods-Lee treatment. Opposing defenses will decide to use a lot of Cover 2 and bracket coverages that practically function like double-teams and dare the Beavers to run the ball. Defenses will decide they'd prefer that Beavers quarterback
Sean Mannion
look elsewhere when he drops back -- or be forced to take chances throwing into multiple defenders. Those defenses also would rather take their chances with the Beavers still questionable, though clearly improved, running game.
I expect USC coach Lane Kiffin and quarterback
Matt Barkley
to figure things out over the second half of the season. They will find ways to get the ball to Woods and Lee. They will counterpunch against schemes that have worked during the early going. They'll take more shots down field, but they'll also create glorified handoffs with short dumps to let them both do their thing in space.
Stanford tackled well in the secondary when it upset USC. Not all teams will.
By season's end, both Lee and Woods will have more than 100 yards receiving per game. And we'll wonder why we ever doubted them and Barkley.
Kevin Gemmell:
When we're wrong, you guys love to tell us -- over, and over and over -- usually accompanied by colorful language and GPS-like directions about where we can stick our opinions.
So the few times we're right, we have no trouble patting ourselves on the back. And a few months ago, we did
a Take 2 on potential breakout players in the conference
. I went with Cooks. I felt good about the pick then. I feel great about the pick now.
[+] Enlarge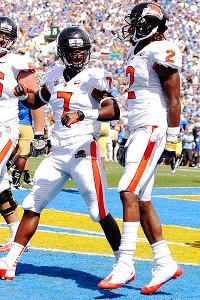 Adam Davis/Icon SMIBrandin Cooks (7) and Markus Wheaton (2) are both averaging more than 134 yards per game.
The Wheaton/Cooks duo is coming together just as Oregon State coach Mike Riley had hoped. Mannion is an older, wiser quarterback and is playing big-boy football. The offensive line has come together and is playing well and the Beavers have a running game. That means play-action. And that means big plays downfield, as evidenced by their stellar yards per catch (19.2 for Cooks, 14.9 for Wheaton).
There are only three players in the Pac-12 who are averaging more than 100 receiving yards per game. One is from USC, two are from Oregon State. There are only two players averaging more than 130 yards per game. Neither of them are from USC. So, at least as of right now, I would say that puts an end to the debate.
And you're right, Ted. Teams are going to start paying more attention to them. That's fine, because there is no defense for speed. We know Wheaton can blaze. And Cooks has comparable speed. If you look at some of their big plays -- a lot of the ground that is covered comes after the catch -- such as Cooks' 75-yard touchdown against UCLA. Mannion saw the blitz and hit Cooks on a quick slant, and his legs did the rest.
Plus, the West Coast offense is the perfect scheme for busting the Cover 2 because the short-to-intermediate routes suck up the safeties. You can't bracket every down against a pro-style team (unless you want your defense on the field for 15-play, seven-minute drives all of the time). All it takes is one play-action and either of these guys can be gone.
And if a big throw with a soft touch is needed, Mannion has shown several times this year that he can split defenders and lead his receivers. And so long as they have half a step, he can place it where it needs to be and hit those guys in stride.
Lee is great. In fact, I'm more than willing to declare him the No. 1 wide receiver in the conference -- and country -- right now. Woods is great. And Ted could be right, noting that by the end of the year they might emerge as the top duo. But right now, I trust my eyes and I trust the numbers. And both, indisputably, favor the Beavers' tandem.