NCF Nation:

2012 SEC spring meetings
June, 1, 2012
6/01/12
1:52
PM ET
As expected, the SEC presidents are firmly behind their coaches, athletic directors and their commissioner.
They favor a
national playoff that includes the best four teams
and one that doesn't give preferential treatment to conference champions.
That announcement came Friday as the SEC spring meetings wrapped up in Destin, Fla.
And at least one of the SEC presidents, Florida's Bernie Machen, is pretty confident that the SEC will get its wish when everything is finalized this month.
Check out this quote from Machen: "I think that's what the public wants (the best four teams). So I think everyone is going to have to come to us on that."
May, 31, 2012
5/31/12
9:00
AM ET
DESTIN, Fla. -- South Carolina coach Steve Spurrier has a new plan for
paying college athletes
.
During last year's SEC spring meetings, Spurrier floated a proposal to pay players $300 a game for expenses. Now, he's taking it a couple thousand steps further and wants to pay players approximately $3,500 to $4,000 a year for "living expenses, academic expenses and game-related expenses."
[+] Enlarge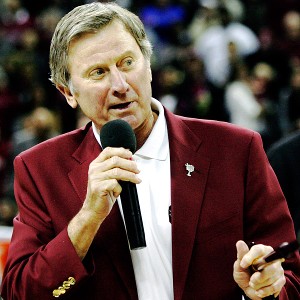 AP Photo/Mary Ann ChastainSteve Spurrier's plan would see athletes in revenue sports getting as much as $4,000 a year.
Sure, the NCAA is mulling over the idea of paying college athletes a $2,000 stipend, but Spurrier's idea goes well beyond that -- and a little off the deep end. His plan is to pay athletes in revenue-producing sports. That means football and some men's basketball.
LSU coach Les Miles said one reason Spurrier brought up the proposal was because he didn't think the NCAA would pass the $2,000 stipend proposal, so this is a way for revenue-producing sports to share some of the wealth with its athletes. The "billions," as Spurrier puts it.
The problem is that if schools are going to pay the starting quarterback, they have to pay the men's and women's swimmers, too. Paying athletes this kind of stipend has to be on a national level and it has to be every scholarship athlete.
Besides major hurdles this proposal would have to overcome, particularly the Title IX implications, there's just no way all schools can afford to pay athletes like this. The revenue for some schools isn't the same for others, so the thought of paying athletes from the little they make has to be a scary thought for those on the lower end. It widens the gap even more in recruiting and creates an even larger competitive advantage for bigger, wealthier schools.
Miles also said Spurrier talked about not paying some athletes as much as others. Does that mean the starting quarterback makes more than the backup right guard? Maybe. Now
there's
an opportunity for an arms race with schools when it comes to recruiting. Surely, recruits won't play the ultimate free agents by discussing money while on official visits ...
While Spurrier said all of the SEC coaches were in favor of paying their student athletes, it might have been that coaches were more in favor of the philosophy of it, as Vanderbilt coach James Franklin said he was.
"It's one of those things as coaches that we're constantly fighting for kids and doing everything we can to help them," Franklin said. "And I really appreciate that. I'm the same way, but on the same hand, I also know it's more complex than we maybe think it is and there's a lot of things that go into it. You have to be aware of that."
Basically, it's a nice gesture, but it's likely to die before it's really considered outside of talks inside the Hilton Sandestin.
But don't think this idea won't turn out to be a positive for coaches publicly discussing it. Current players and recruits will take kindly to it. For current athletes, it says coaches are looking out for their best interests. For recruits, it says these coaches
will
look for their best interests when they get on campus.
Just saying all this will paint coaches in a better light with players.
May, 30, 2012
5/30/12
7:15
PM ET
DESTIN, Fla. -- My how quickly things can change when you get a lot of people with different ideas together in one room.
Hours after the consensus was that the SEC was set on moving to a 6-1-1 scheduling model beyond the 2012 season, some SEC coaches stepped in and gave their thoughts.
Now, it appears as though the model that SEC commissioner Mike Slive described as the "frontrunner" before the 2012 SEC spring meetings now has come competition.
[+] Enlarge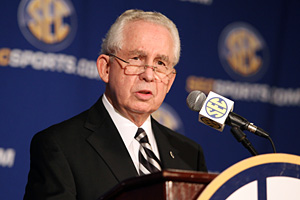 AP Photo/ Butch DillSEC commissioner Mike Slive said he aims to have a format for future league scheduling on Friday.
A 6-2 model, which has two rotating cross-division opponents, was brought up and so was the idea of having some schools rotate crossovers, while others could preserve their permanent crossover rivalry. Even a nine-game conference schedule was discussed, though the current feeling is that it has little traction.
"We had a vigorous discussion," Slive said Wednesday. "It was good. Coaches, I thought were really impressive. They came in and they were very thoughtful. It was a sharing session with our athletic directors and looking, thinking about the various different formats and the pros and cons."
There are people on both sides, but the feeling coming out of meetings in Phoenix was that the preference was to go with a 6-1-1, Ole Miss athletic director Ross Bjork said. That gave teams six divisional opponents, a permanent crossover and a rotating crossover, which would change each year.
Bjork said he's for the 6-1-1, but only if it preserves Ole Miss' permanent crossover game with Vanderbilt. However, Bjork said there was discussion of trying to change the way permanent crossovers are determined, which Bjork doesn't like.
"If they end up changing that, then 6-2 might be more advantageous for us," he said. "But right now, going into it, 6-1-1 is [Ole Miss'] preference."
One AD not in favor of keeping the 6-1-1 model is LSU's Joe Alleva, who is also looking to take Florida off as LSU's permanent East opponent -- a game that's been played every year since 1971. Alleva prefers the 6-2 model, which creates two rotating crossovers. He believes it's the "fairest and most equitable way to do it."
"Anybody who doesn't vote that way is simply voting in the best interests of their institution," Alleva said, "not the best interests of the conference."
A 6-1-1 keeps traditional rivalries like Alabama-Tennessee, Georgia-Auburn and Florida-LSU, and Alleva still believes that model will prevail.
"As of right now I think that's probably what's going to happen," he said. "I think there's going to be some more discussion to go to a 6-2 model, but I don't think there's enough votes in the room for a 6-2 model.
"Even though it's unfair and inequitable, I think it will still pass."
Alleva said he believed there was a vote of 11-3 for keeping permanent opponents and that South Carolina and Texas A&M sided with LSU on the 6-2 idea.
For some it's coming down to competitive equality and for some it comes down to preserving rivalries.
"When you play a team a hundred years in a row or something like that, that's a rival game," said Georgia coach Mark Richt, who said he'd like to keep Auburn as a permanent crossover opponent. "That's been happening forever and that's something you want to protect. But there's some schools that cross over and it's considered a rival game, but is it really a rival for them?"
Slive made it clear that his hope is to have a concrete format down Friday. Right now, the 6-1-1 still appears to lead, though other ideas are now on the table. You very well could see a delay in this if the 6-1-1 loses support, and it might be better for the league to hold off on making a definitive decision for the moment.
Maybe waiting to see how the 2012 season plays out is an option. Besides, the 2012 model wasn't set until late December of 2011.
With two new teams coming in, so much is changing so fast for the league. Those schools have to be accommodated for and it affects things like scheduling and TV contacts. These things take some time and cause some headaches along the way.
There are obviously people on both sides who feel very strong one way or the other, but if what seemed like a no-brainer before has turned into a more complicated issue after just a few hours of talks with coaches, then maybe the league should slow down.
The good news is that league officials will have Thursday off to clear their heads and think. Thursday's down time will be the most important time for people to sit and collect their thoughts after two days of meetings.
The 2013 schedule -- and beyond -- will be completed. One way or the other, the SEC will figure things out. It could come as soon as Friday or it could come later in the month of June. People clearly aren't on the same page and it's stalling compromise.
But Slive, who seems to hold so much college football power in just his pinky, made a very good point Tuesday. He knows there are strong opinions in the league, but he also knows that more voices can be more powerful.
"One thing in this league you can trust -- and you know if you follow the league -- is that the First Amendment is alive and well and the majority rules," he said.
May, 30, 2012
5/30/12
5:35
PM ET
DESTIN, Fla. -- Nick Saban isn't looking to compare his 2012 football team to past ones, but he'd like to take one key ingredient from 2011 and sprinkle it around his team right now, especially on defense.
What Saban hopes to see more of from his defense when the players and coaches get back together shortly before fall camp is leadership. This defense can be as hungry as it wants, but Saban knows it won't go very far without a few chiefs stepping up.

He saw progress this spring, but it wasn't enough.
"I'm never satisfied," Saban said at the 2012 SEC spring meetings. "That's an area of our team that we need to continue to develop and mature."
Gone are upperclassmen leaders like Dont'a Hightower, Courtney Upshaw, Mark Barron and Josh Chapman. In are seniors
Nico Johnson
(linebacker) and
Jesse Williams
(defensive tackle) and linebackers
C.J. Mosley
(junior) and
Adrian Hubbard
(sophomore). All seemed to make strides this spring, but there's still a lot of room for them and others to grow, Saban said.
This defense isn't on the same level as the historic one in 2011, but it's still pretty talented. But so was the 2010 defense and its slow start hurt Alabama's chance to repeat as SEC champs. Though this unit is older than the 2010 defense, Saban made it clear that leadership and maturity can take a team further than talent and experience.
There's still plenty of time for all the leadership kinks to be worked out and there's no doubt that Saban will take a different approach in helping that growth after what transpired in 2010.
"I've been pleased with the leadership on this team so far," he said," but it's a work in progress and it's developing. It's going to have to continue to develop for them to be what we need them to be successful on a consistent basis."
May, 30, 2012
5/30/12
2:00
PM ET
DESTIN, Fla. -- Dan Mullen doesn't know how much his thoughts on this whole playoff thing will impact any decisions, but he has his own interesting idea on what a four-team playoff should look like.

Mississippi State's coach would like to see the semifinal for the playoff played on the Saturday before Christmas, which Mullen referred to as the "dead weekend," and have the national championship game played after New Year's Day. Teams still could play the other bowls between the semifinal and the final, Mullen said.

"I'd be a fan of that," Mullen said Tuesday at the SEC spring meetings.

It's an intriguing idea by Mullen that might catch some off guard, but he does have a pretty good argument for why it might be beneficial to space the games out -- injuries.

Any injury in the semifinal could change the landscape of the final. Obviously, injuries happen all the time in football and the quality of a team doesn't make it any less or more susceptible to them, but spacing out the playoffs would certainly help the healing process.

Having only a week to shake off an injury sustained in the semifinal could leave one team with a significant disadvantage, and Mullen said that would hurt the quality of the championship.

"You don't get a real champion then," he said.

Mullen also would like the bowl system to stay intact and hopes this helps. SEC commissioner Mike Slive said Tuesday that he thinks the bowl system could be used in some capacity in a four-team playoff.

Like his SEC colleagues, Mullen also wants to see the top four teams in the country in the playoff and doesn't want it focused on conference champions and wild cards. Restricting the playoff model like that would diminish the playoff's importance, Mullen said.

"Then it's not really a final four," he said. "Everything that everybody's clamoring for and all the fans and all the media and everybody wants to fight for you didn't get it because you might have one of the best four teams in the country not involved in it.

"If you're gonna do it, and we wanna do it, you better do it right."
May, 30, 2012
5/30/12
11:15
AM ET
DESTIN, Fla. -- When SEC commissioner Mike Slive and the rest of the SEC elites leave the 2012 SEC spring meetings later this week, the hope is that there will be a concrete scheduling format for the 2013 football season and possibly beyond.
The addition of Missouri and Texas A&M means teams will have to play six divisional games instead of five, making things a little complicated.
Right now, it looks as though the most likely format, which could be set as early as Friday, will be a 6-1-1 model. That gives teams six divisional games, one permanent crossover game and rotating crossover. The rotating crossover no longer would be a traditional two-year home-and-home series. It simply would be a one-year rotation. It's the same model that will be used for the 2012 season.

LSU coach Les Miles said he'd like the structure of future SEC schedules to be "definable," and wouldn't mind if the league re-examined how it chose permanent crossovers.
"Legitimately tell me about how you're picking crossover games," Miles said at the spring meetings Tuesday. "Is it the best team in the East, the best team in the West, top three and top three? OK, if you guys want to do that, let's do that. It might change the matches, but if you want to say, 'Well, we really are going to seed the best teams versus the lesser teams,' well, OK, let's do that, but define the structure and let's stay with it.
"In my mind, here's what happened: They added two teams this go-round, and very conceivably they could add another two. So let's build a structure that's desirable and helps build toward a champion."
Slive said talks would become more detailed as the week continued, and while he wouldn't go into detail about formats or permanent opponents, he did say he sensed that most of the schools wanted to keep their permanent crossover games.
Those games likely would be Alabama-Tennessee, Arkansas-Missouri, Auburn-Georgia, Florida-LSU, Kentucky-Mississippi State, Ole Miss-Vanderbilt and Texas A&M-South Carolina. However, there has been talk of the Florida-LSU series possibly not being renewed.
Missouri coach Gary Pinkel said he expects Arkansas to become Mizzou's permanent crossover, which should help create a rivalry between the two schools.
"That's what I'm told is probably going to happen," Pinkel said. "To me, just tell me who our rival is, and then they'll be our rival. Obviously, we're adjacent to [Arkansas]. Obviously, we've been associated with [Texas A&M] for years. That's above me. Nobody has asked me for my opinion."
Mississippi State coach Dan Mullen and Ole Miss' Hugh Freeze said they'd prefer to keep their schools' current permanent Eastern Division opponents -- Kentucky and Vanderbilt, respectively.
"Having that, it gives you a little bit of a rivalry," Mullen said about playing Kentucky each year. "I do think in the last three years being there … you see that rivalry spill over. I know in basketball it is that way for everybody, but because we play them every year in football, because there's that familiarity it spills into basketball, it spills into baseball.
"That works for us, and geographically it works for us as far as East teams go."
Added Freeze: "I'd like to continue with Vandy. That's been a healthy rivalry game. In recent pasts it's been very equal, and it's a good game for fans to watch. We've got a lot of people in Nashville, and we recruit that area, and it's just good for us and good for them."
CBSSports.com reported
Tuesday that the SEC will create a model for the next 12 years, but Slive told reporters Tuesday that wasn't necessarily the case.
"That's a long time," Slive said. "I'm not sure that's what we'll do."
What seems sure is that the league won't go to a nine-game conference schedule. It essentially forces the conference champion to play 10 SEC games, and adding just one more to the regular season has drawn little interest from coaches.
"None at all," Freeze said. "Not from me."
May, 30, 2012
5/30/12
9:00
AM ET
DESTIN, Fla. -- The idea of having a four-team playoff drifted into the 2012 SEC spring meetings and was met with a resounding "yes."
You would have been hard-pressed to find anyone toting an ounce of SEC pride who didn't like the idea of having the four best teams in the country playing for a chance to go to the national championship at season's end.
"I think the event is spectacular," LSU coach Les Miles said of a Final Four-like ending to the college football season. "Any play that is tournament-style and ends with a championship is preferred."
And one reason it's
really
preferred around these parts is that it'll give the SEC an even better shot at competing -- and winning -- more national championships. The conference dripping with power, confidence and championships stacked on championships wants more of those three things and believes it'll get them with this playoff model.
"If you take four teams that have won a conference championship, it will be a guarantee that only one of us could go," Georgia coach Mark Richt said. "If you had it the other way, we'd have a shot of two going. You can say it any way you want, but that's kind of what everyone's talking about. We also could be shut out in that scenario as well."
Hence why Big Ten commissioner Jim Delany had been so outspoken about having a four-team playoff constructed purely of conference champions. He knew it would somewhat level the playing field with the mighty SEC. More chances for the SEC means fewer for the Big Ten -- and Delany wanted to ensure Alabama-LSU never happened again.
[+] Enlarge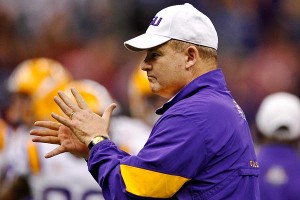 Derick E. Hingle/US PresswireLSU coach Les Miles is among those who doesn't want a playoff restricted to conference champions.
Unfortunately for Delany, you wouldn't always get No. 1 versus the true No. 4. A No. 5 or 6 could easily slide in there with a conference championship under its belt, hardly making this a battle of the top four.
But at the heart of this fight, the SEC is concerned with continuing its dominance. And coaches know that. Even if their school hasn't sniffed the BCS national championship game during its existence, they're still going to side with what benefits the league as a whole and generates a more powerful brand that it's attached to.
While Alabama coach Nick Saban called those clamoring for the conference champion mode "
self-absorbed
," the SEC is guilty of being a little self-absorbed as well.
"I'm not a fan of a four-team playoff if it only includes conference champions," Ole Miss coach Hugh Freeze said. "That's a negative for our conference. Our conference has proven it's possible that we should have two teams in it. So, I'm not in favor of anything that rules us not having more than one team in [the playoff]."
Under Delany's original idea, Alabama wouldn't be coming off its second national title in three years. But it also means LSU might have its second under Miles. Yet Miles, who would have benefited from not facing Alabama in the last BCS national championship, is against the conference championship idea.
"I want to be the team that wins the conference, plays the best teams that they can play, sees the best team in the championship game and wins it for the championship," Miles said. "Simply put: We wanted to play the best team in the country when we got there. And doggone it, we did."
SEC coaches know that a four-team playoff (or really any playoff at all) gives this conference an even better shot at maintaining the league's supremacy at a steady rate. The SEC has won six consecutive titles and could very well win its seventh this season. But if a playoff does come -- and it could come as soon as 2014 -- the SEC wants to make sure it's covered and has the opportunity get into that playoff each and every year.
The SEC won't win national titles forever. The streak is bound to end sooner or later, but the day a playoff comes where multiple SEC teams have a chance to get in, real fear will manifest itself throughout the rest of the college football world.
"I think it needs to be the four best teams in the country," Florida coach Will Muschamp said. "I don't think it needs to be the conference champions because in our league, we might have four of the best teams in the country."
May, 29, 2012
5/29/12
8:20
PM ET
DESTIN, Fla. – Alabama coach Nick Saban hasn't held back from talking about his disdain for placing only conference champions in a four-team playoff. He's very much for a four-team playoff, but he won't go for one that alienates teams by only picking the top four conference champions.
The whole reason any of this playoff talk even started is because people outside of the game are passionate about seeing one in college football. To take away the chance for the four BEST teams to play makes no sense to Saban.
"There's no question that we're even doing the top four because fans and the people who are interested in college football are interested in seeing the best four teams play in a playoff," Saban said Tuesday at the 2012 SEC spring meetings.
[+] Enlarge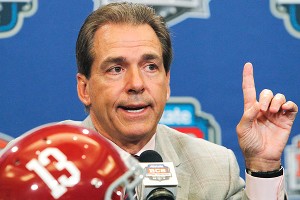 AP Photo/Dave MartinA four-team playoff shouldn't be limited to conference champions, Alabama head coach Nick Saban reiterated.
"Now, we're going to mess that up by saying you have to be a conference champion. I think somebody's a bit self-absorbed and worrying about how it affects them and how they can best get somebody in the (national championship) all the time, rather than getting the best four teams. I don't think that's fair to the fans and the people who really have made it known that they want to see the four best teams play in a playoff.
"The bigger these conferences get the better chance you have to have two very good teams in that."
Saban didn't go as far as to name names, but anyone paying attention to all of this playoff talk knows he's talking about Big Ten commissioner Jim Delany, who has been extremely outspoken about having only conference champions represented in a four-team playoff and has taken a few shots at Alabama and its 2011 title along the way.
Saban went a bit further during an interview with SECSports.com:
"It's self-absorbed people who are worried about how it affects their circumstance or their league rather than what's best for college football who would want to do that," Saban said. "It's not what's best for the fans because they've made it very clear what they want it to be."

"People want to see the best four teams play in a playoff. The problem in college football is there's not equal parity in the leagues. Some leagues are stronger than others in different years. It's not always going to be where the SEC is stronger than another league. There's going to be years when other leagues are stronger than the SEC. It's not an SEC thing. History in recent years would say that, but that's how it's been all the way through.

"I think you're going to get a lot of real complaining if we have a four-team playoff and we go through all this that we're going through to try to implement this and execute it and, all of a sudden, next year we have the No. 1 team, the No. 3 team, the No. 7 team and the No. 11 team being the four teams in the playoffs. There's going to be a mutiny on the ship, there's no question about that."
Saban isn't alone, as many of the other SEC coaches agreed with getting rid of the conference champs idea. SEC commissioner Mike Slive continued to plug a four-team playoff that takes the four best and continued to say he won't support a plus-one model, either.
"It's going to allow access in a way that the plus-one does not allow access," Slive said. "It's better for college football as a whole than just the plus-one."
Other notes from Slive:
While he wouldn't come out and say it, Slive doesn't appear to be on board with South Carolina coach Steve Spurrier or LSU coach Les Miles about having divisional games count more toward determining division champs: "It's hard for me to think about a conference game that doesn't count."

There haven't been many discussions about who will determine the four teams for the playoff (committee or otherwise), but Slive said those talks will continue this week.

He also hopes to finalize a scheduling format with the presidents, chancellors and athletic directors by the end of the week.

Even with all the expansion talk yet again swirling around the sport, Slive said the SEC is happy at 14 and isn't in a hurry to expand further: "We were in an expansionist mode and we're not in an expansionist mode now."

As for TV deals, Slive didn't go into much detail at all. There have been rumblings about the SEC having its own network and channel. Plus, there have been renegotiation talks concerning TV deals with the league. But Slive wasn't interested in talking about any of that, as he offered up a childlike smile and this gem when asked about any of it: "We're talking with our television partners about our future and we'll see how that develops."
May, 29, 2012
5/29/12
6:13
PM ET
DESTIN, Fla. -- Florida coach Will Muschamp isn't going to bet against
Ronald Powell
coming back this fall.

Despite the rising junior defensive end/linebacker undergoing ACL surgery on April 23, Muschamp said he's still holding out hope that Powell will return at some point during the fall.
"I think so. I really do," Muschamp said during the 2012 SEC spring meetings Tuesday. "I'm not going to bet against him. He's working extremely hard. His range of motion is way ahead of where it should be at this time. His strength levels are good. Everything points really good."
By all accounts, Powell, who led the Gators with six sacks and recorded nine tackles for loss in 2011, had a tremendous spring and showed a lot of improvement in the maturity department before his injury during Florida's spring game.
Earlier this month, Muschamp said that Powell was off crutches and appeared to be ahead of schedule, but he's still in wait-and-see mode.
"Like I've said, I think the last 30 percent of an ACL is the hard part," he said. "That's when you start cutting, that's when you start to take on people, the weight, all of that that you've got to deal with. Those are the things that I think will decide (when he returns) as we move closer and when we get into August and September and that four-month timeframe. Our (medical) people do a great job and the surgery went very well. We're pleased with how the surgery went and how the swelling and all things hold up."
Redshirt senior
Lerentee McCray
backed Powell up at the Buck position last fall, but missed spring while recovering from shoulder surgery. Muschamp also said that sophomore linebacker Neiron Ball could compete at Buck or the Sam linebacker position this fall if he's medically cleared to play. Ball missed all of the 2011 season because of the arteriovenous malformation found in his brain in February of 2011, but Muschamp said Ball has recently started lifting and running again.
"He's got one more appointment with the doctor," Muschamp said. "I think he should be fine. He's in Gainesville.
"You never know, something might pop up at the end. But he's going back for one more deal to make sure he's really cleared. Our medical people would not clear him if they thought there was an issue of any sort.
"I totally trust their opinion. Nor would he want to play if there was any chance for anything happening."
May, 29, 2012
5/29/12
5:35
PM ET
DESTIN, Fla. -- South Carolina coach Steve Spurrier made news earlier this spring when he let his feelings be known about how the SEC should pick its division champions.

To him, it's simple. All he wants is for divisional play to count for getting teams to Atlanta, while interdivisional games won't. East vs. East will count, but East vs. West won't.

If that were the case last year, Spurrier's Gamecocks, who were 5-0 against East foes and 1-2 against the West, would have made it to back-to-back SEC championship games, while Georgia, which went 4-1 against the East and 3-0 versus the West, would have been at home for the game.

Well, Spurrier's idea, which probably has little real hope of actually passing during this week's SEC spring meetings, is being backed by at least one other coach.

LSU's Les Miles said Tuesday that he's in favor of having divisional games weighed more heavily when it comes to seeding for the SEC championship game.

"I want it to be fair," Miles said during the first day of the 2012 SEC spring meetings. "I don't want to lock in an Eastern-Western Division opponent that historically has won the conference and that those games make a difference in how you fare in the East and in the West."

Basically, Miles said he doesn't want to see a team from the West play an Eastern Division team (or vice versa) that has historically succeeded every year and have it count toward the West race. He's not against having a tough crossover opponent. He just doesn't want it to count in the title race.

"You have to find the SEC champion the best way you can," he said. "You have to find the West and East division champions without regard to a crossover game.

"The best team in the West should play for the championship. The best team in the East should play for the championship. I think there's a view of a loss in a crossover game that it could be detrimental and not allow the best team to come into the championship game."

Miles tossed around the idea of maybe using national rankings or points scored as possible tiebreakers.
Spurrier added to his idea Tuesday by saying that schools could play interdivisional games early in the season and then play true division games later in order to crown "true division winners."

Unfortunately for Miles and Spurrier, there wasn't a lot of support tossed their way.

"It's hard for me to say that I could lose to an Eastern Division team and have that Eastern Division team lose to two Western Division teams and go play for the SEC title," Florida coach Will Muschamp said. "That doesn't make any since to me. An SEC game should count as an SEC game."

Added Mississippi State coach Dan Mullen: "I hate doing anything to devalue those league games because every game you play in this league is so critical and it's such a competitive game against tough teams that you'd hate to devalue that game."

Then there was Georgia coach Mark Richt, who benefited from not having Spurrier's rule in 2011. He said he's happy with the way things are and wondered aloud if Spurrier would be happy with his proposal every year.

"If it gets changed, then good for him I guess this year," Richt said. "I don't know if he'd feel that way every year. This year he'd probably feel good about it. I don't think it's going to change. I've always said for me personally tell me what the rules are at the beginning of the year and let's go play by them.

"I'm used to what we do. My mind's ingrained that every game counts. The reality is in our league play if you lose to somebody head to head or if you beat somebody head to head you've basically got a two game lead on that team. So there is an advantage to that still. It's not like there is no advantage or difference."
May, 29, 2012
5/29/12
4:33
PM ET
With June just around the corner, it's sounding more and more promising that Missouri quarterback
James Franklin
will be back to full strength in time for the start of the 2012 season.

Missouri coach Gary Pinkel reiterated Tuesday at the SEC spring meetings in Destin, Fla., that Franklin was ahead of schedule in his recovery from shoulder surgery. Franklin missed most of the spring after having surgery on March 23 to repair a torn labrum in his throwing shoulder.
Pinkel said Franklin had already resumed throwing a Nerf football again, and that all of Missouri's medical personnel expected Franklin to be ready for the Tigers' Sept. 1 opener against Southeastern Louisiana.
The 6-foot-2, 225-pound Franklin passed for 2,865 yards and 21 touchdowns last season, and also rushed for 981 yards and 15 touchdowns.
Pinkel also said Tuesday that he'd been told that Missouri and Arkansas would play every year beginning in 2013 as cross-divisional foes. In the past, Arkansas' cross-divisional foe from the East had been South Carolina. The Gamecocks will now be paired up with Texas A&M every year from the West starting in 2013.
May, 29, 2012
5/29/12
9:00
AM ET
DESTIN, Fla. -- The 2012 SEC spring meetings get under way on Tuesday at the Sandestin Hilton.
The SEC football coaches, men's and women's basketball coaches and athletic directors will meet over the next two days, while the presidents and chancellors arrive later in the week.
But there's more to this week in the Sunshine State than just checking out that white sand and the blue ocean. There's a little business that needs to be discussed.
For one, the league is welcoming in two new schools in Missouri and Texas A&M. It's time for everyone to get nice and acquainted with one another. I can't think of a better location to do that at this time of year.
For the football side of the conference, one of the hot topics will be about future scheduling for the regular season. With two new teams, there are a lot of questions about how the league will schedule in the future. Remember, 2012's football schedule is a test run, so future schedules might not look like it.
There's been talk about a nine-game conference schedule in order to preserve cross-divisional rivalries like Alabama-Tennessee and Georgia-Auburn. While a nine-game league schedule would certainly make it possible to keep those rivalries, it's hard to believe it will happen. That means your SEC champion would have to play 10 SEC games before playing in a bowl game. I don't think SEC commissioner Mike Slive wants to make it any harder for an SEC team to make it to the national championship.
Talks will also surround keeping the current 6-1-1 scheduling model, which has a permanent opponent and one that's rotated each year.
There will also be discussions about the SEC's new bowl partnership with the Big 12. The conferences' own Rose Bowl should get a lot of attention in Destin, and it'll be interesting to see what the coaches think about the new game.
Here are some other topics that will be discussed:
College football playoff: Slive and the SEC are such big players when it comes to this, so you better believe the future of a college football playoff will be discussed behind closed doors. And don't expect any push for the notion of only having conference champs in a four-team playoff. That idea should be discussed for about a second.
Stipends: The NCAA could approve college athletes receiving extra funds starting this fall, so that should come up in conversations this week. Remember, South Carolina coach Steve Spurrier felt very strongly about paying players last time everyone was in Destin.
New college football rules: Kickoffs are being moved up 5 yards to the 35-yard line, which should have a big impact on field position. Let's see what coaches have to say about this.
Expansion: The SEC flexed its muscles when it expanded to 14 schools, but with the college football landscape changing almost daily, Slive won't get caught looking. If he feels the league needs to grow, he'll make sure it happens. But is there any rush to expand to 16 schools? What do the presidents think about possibly growing even more? Hopefully, we'll find out something. Just imagine the scheduling issues then ...
Early signing period: It's been brought up plenty of times before, so it might as well be brought up again.
Championship credentials: Spurrier made it clear this spring that he'd like to see divisional records used to determine which teams make it to the SEC championship game. It'd be tough to pull it off, but Spurrier will likely made his feelings on the subject known again this week.