NCF Nation:

20120709 winning coaches
July, 9, 2012
7/09/12
9:32
AM ET
Everybody can recite who's the all-time winningest coach in the SEC.
Bear Bryant won 232 career games at Alabama and became one of the most iconic figures in college football along the way.
To this day, Bryant's name is mentioned with reverence around the Capstone.
But even if you take his 232 career wins out of the equation, the Crimson Tide would still have 582 wins.
[+] Enlarge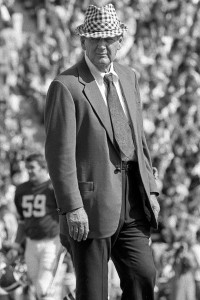 Bernard Troncale/US PresswireBear Bryant won 232 career games at Alabama.
So while the guy with the Houndstooth hat carved out a legendary career at Alabama, the Crimson Tide's success on the football field hasn't been defined solely by the Bryant years.
Frank Thomas won 115 games. Gene Stallings won 62 games. Wallace Wade won 61 games. Nick Saban -- in just five seasons -- has already won 55 games.
All five men, including Bryant, have also won national championships at Alabama.
In surveying the winningest coaches at all 14 SEC schools, some of what you find, especially when you take away each school's all-time wins leader, is telling.
For instance, Bryant is actually the winningest coach at two different SEC schools. He was 60-23-5 at Kentucky from 1946-53, and led the Wildcats to eight consecutive winning seasons.
Since Bryant's departure from the Bluegrass following the 1953 season, the Wildcats have had 10 other head coaches, but only one of them compiled better than a .500 record, Blanton Collier, who succeeded Bryant, was 41-36-3 in eight seasons.
Steve Spurrier could join Bryant this coming season as the second coach to earn the distinction of being the winningest coach at two different SEC schools.
Spurrier owns that distinction at Florida. He won 122 games in 12 seasons in Gainesville from 1990-2001. He's 55-35 in seven seasons at South Carolina, and can pass Rex Enright as the Gamecocks' winningest all-time coach with 10 wins this season. Enright was 64-69-7 in two different stints at South Carolina from 1938-42 and 1946-55.
Since Enright stepped down following the 1955 season, the Gamecocks have had 13 head coaches. Spurrier is one of five since Enright to post a winning record. Other than Enright and Spurrier, only two other coaches have won more than 40 games at South Carolina -- Jim Carlen (45) and Paul Dietzel (42).
Georgia and Tennessee are the only schools in the SEC with three head coaches in their history to have won 100 or more games.
Vince Dooley is Georgia's all-time leader with 201 wins. Wallace Butts won 140, and Mark Richt has won 106. Georgia has 747 wins all-time.
Gen. Robert Neyland is Tennessee's all-time leader with 173 wins. Phillip Fulmer won 152, and John Majors 116. That's a total of 441 of the Vols' 794 wins.
In fact, Tennessee is the only SEC school that still has 600 or more wins if you take away the winningest coach's win total. The Vols would still have 621 even if you didn't count Neyland's 173 wins.
Only eight other schools nationally would have more than 600 wins if you took away their winningest coach -- Miami (Ohio), Michigan, Navy, Notre Dame, Ohio State, Oklahoma, Texas and USC.
Florida has won 669 games, and 187 of those wins have come courtesy of two of the Gators' past four head coaches. In addition to Spurrier's 122 wins, Urban Meyer won 65 in six seasons from 2005-10.
At Ole Miss, John Vaught won career 190 games. Nobody else has won more than 67 there (Billy Brewer). Anybody want to guess who is No. 3 on the Rebels' all-time wins list? David Cutcliffe was 44-29 (.603) from 1999-2004.
The biggest difference in the SEC when you start taking the winningest coach out of the equation can be found at Vanderbilt. Dan McGugin was 197-55-19. But without him, the Commodores would be just 367-519-31 all-time. McGugin last coached at Vanderbilt in 1934. Nobody else at Vanderbilt has won more than 39 games.
At some schools, there simply hasn't been much longevity by coaches.
Charles McClendon is LSU's all-time winningest coach with 137 career wins in 18 seasons from 1962-79.
But since McClendon retired, the only LSU coach to last longer than five seasons has been current coach Les Miles, who's won 75 games in seven seasons.
Below is a look at the win totals for all 14 SEC schools and the winningest coach at all 14 schools:
Alabama – 814 (Bear Bryant 232)

Tennessee – 794 (Gen. Robert Neyland 173)

Georgia – 747 (Vince Dooley 201)

LSU – 733 (Charles McClendon 137)

Auburn – 711 (Shug Jordan 176)

Texas A&M – 681 (R.C. Slocum 123)

Arkansas – 680 (Frank Broyles 144)

Florida – 669 (Steve Spurrier 122)

Missouri – 625 (Don Faurot 101)

Ole Miss – 621 (John Vaught 190)

Kentucky – 578 (Bear Bryant 60)

Vanderbilt – 564 (Dan McGugin 197)

South Carolina – 555 (Rex Enright 64)

Mississippi State – 506 (Jackie Sherrill 75)
July, 9, 2012
7/09/12
9:00
AM ET
Knute Rockne compiled a 105-12-5 record during his 13 seasons as head coach of Notre Dame. His teams have accounted for 12.3 percent of the wins in the program's history, the most of any man to coach the Irish.
[+] Enlarge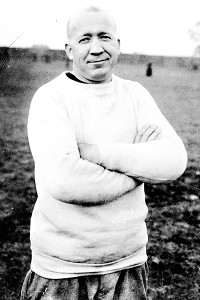 AP PhotoKnute Rockne laid the foundation for generations of Irish football.
Other coaches have put bigger dents in their schools' history books, notably:
Bobby Bowden, who has accounted 64 percent of Florida State's wins.

Joe Paterno, who has accounted for 49.5 percent of Penn State's wins.

Lavell Edwards, who has accounted for 49.2 percent of BYU's wins.

Chris Ault, who has coached 44.3 percent of the Nevada's wins (and is still going.)
Like other coaching greats, those four are, in many ways, the faces of their programs. Predecessors and successors dull in comparison, and their schools' football teams would not be the same without them.
Rockne's .881 career winning percentage remains the best among FBS coaches, and his six national titles and five unbeaten and untied seasons are not too shabby, either.
It is easy to brush aside Rockne's numbers when considering the other greats who roamed the Notre Dame sideline after him -- notably, Dan Devine, Ara Parseghian, Frank Leahy and Lou Holtz. Each, after all, has his own statue outside Notre Dame Stadium.
But the numbers don't tell the story of Rockne's impact at Notre Dame. His motivational tactics became renowned. His aerial attack was instrumental in growing the game. And he was a master showman, taking his team to bigger stages in faraway places.
On the surface, removing 105 wins from a program with 853 of them would do little damage to Notre Dame's eventful football history. But without Rockne to lay the foundation for what have become so many Irish traditions, it is impossible to imagine what the South Bend, Ind., school would look like some 80-plus years later.
July, 9, 2012
7/09/12
9:00
AM ET
We're looking at coaches this week on ESPN.com. It's a big subject, sure. In our blog network, we'll be breaking it down each day to smaller topics.
Today, a simple question: What would a program look like without the winningest coach in program history? Which coaches had the biggest impact?
Here's how it breaks down for each program in the Big 12 (all-time record in parentheses):
[+] Enlarge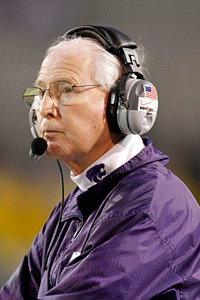 Brett Davis/US PresswireKansas State's winning percentage plummets without Bill Snyder.
BAYLOR: 524-530-44 (.497)
Winningest coach: Grant Teaff: 128-105-6

Wins without winningest coach: 396
IOWA STATE: 500-594-24 (.458)
Winningest coach: Dan McCarney: 56-85

Wins without winningest coach: 444
KANSAS: 572-560-58 (.505)
Winningest coach: A.R. Kennedy: 52-9-4

Wins without winningest coach: 520
KANSAS STATE: 475-612-41 (.439)
Winningest coach: Bill Snyder: 159-83-1

Wins without winningest coach: 316
OKLAHOMA: 821-307-44 (.718)
Winningest coach: Barry Switzer: 157-29-4

Wins without winningest coach: 664
OKLAHOMA STATE: 530-523-47 (.503)
Winningest coach: Pat Jones: 62-60-3 (Mike Gundy needs three wins to tie Jones)

Wins without winningest coach: 468
TEXAS: 858-330-33 (.716)
Winningest coach: Darrell Royal: 167-47-5

Wins without winningest coach: 691
TCU: 593-514-57 (.534)
Winningest coach: Dutch Meyer: 109-79-13 (Gary Patterson is tied at 109-30.)

Wins without winningest coach: 484
TEXAS TECH: 524-405-32 (.562)
Winningest coach: Mike Leach: 84-43

Wins without winningest coach: 440
WEST VIRGINIA: 701-457-45 (.601)
Winningest coach: Don Nehlen: 149-93-4

Wins without winningest coach: 552
That's a wide variance of wins. It's clear that no man means more to his school than Bill Snyder does to Kansas State. The program has a rather depressing .358 winning percentage if you remove Snyder's win from the equation. He took two seasons to get Kansas State from a perennial doormat to a team above .500. Snyder then went on a historic run that included a Big 12 title in 2003 and two BCS bowl bids.
Don't ever doubt why some consider what Snyder has done in Manhattan as the single greatest coaching job in the history of the game. Snyder's career win percentage at Kansas State is .656, almost double what the program's overall win percentage is. No other coach comes close to those numbers. There's a reason why many of the nation's coaches are often in awe of Snyder and why he is so respected.
The biggest surprise for me was the relative dominance of West Virginia compared to the rest of the Big 12. That .601 win percentage is behind only Texas and Oklahoma over the course of the program's history. And you wonder why folks are so excited about their entrance into the league?
Looking elsewhere, Texas Tech's decision to fire Mike Leach looks worse and worse while the Mike Gundy hire at Oklahoma State looks better and better. Gundy is three wins from passing Pat Jones as the school's biggest all-time winner. He did so in just 89 games while Jones needed 125 matches to reach 62 victories.
Conversely, how about the job Gary Patterson has done at TCU? Sure, the schedule is different, but he's suffered the same amount of losses as Gundy with 50 more wins. He's also reached 109 wins in 62 fewer games than Dutch Meyer.
We're living in the age of some great, great coaches in this league. History shows us that.
July, 9, 2012
7/09/12
9:00
AM ET
Joe Paterno has become a polarizing figure in recent months, but all parties would agree that he defines Penn State football.
Paterno was affiliated with the Nittany Lions program for 62 years of its 125-year existence. He served as Nittany Lions coach for nearly 46 seasons before being fired in November. And his impact is particularly significant in the program's victories total.
[+] Enlarge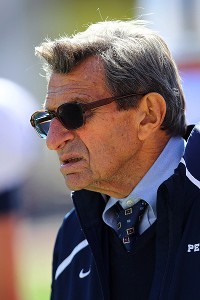 Michael Hickey/US PresswireAccounting for nearly 50 percent of the program's wins, Joe Paterno was the face of Penn State.
Of Penn State's 827 all-time victories in football, Paterno coached the team for 409, the most of any coach in Division I history. Other than former Florida State coach Bobby Bowden, who accounts for an astounding 64 percent of the Seminoles' all-time wins (304 of 475), Paterno's percentage of Penn State's wins (49.4) places him in select company. Only Air Force's Fisher DeBerry (49.1 percent) and BYU's LaVell Edwards (49.2 percent) have accounted for a similar chunk of program wins -- among FBS programs that have been around for more than 30 years -- as Paterno has at Penn State.
ESPN.com is taking a closer look at coaches this week, and today's topic examines which programs are defined by one coach. Penn State fits the description because of Paterno's long and successful career. Penn State also is unique because its program has been around so long, and while there was success before JoePa -- eight undefeated seasons between 1894-1947, a Rose Bowl appearance in 1923 -- almost all of the program's significant achievements (two national titles, 24 bowl wins) occurred on Paterno's watch.
What about the other Big Ten teams?
In terms of winningest coaches, here's how they look:
Illinois:
Robert Zuppke, 131 of program's 580 wins (22.6 percent)
Indiana:
Bill Mallory, 69 of 449 (15.3 percent)
Iowa:
Hayden Fry, 143 of 593 (24.1 percent)
Michigan:
Bo Schembechler, 194 of 895 (21.7 percent)
Michigan State:
Duffy Daugherty, 109 of 638 (17.1 percent)
Minnesota:
Henry Williams, 136 of 646 (21.1 percent)
Nebraska:
Tom Osborne, 255 of 846 (30.1 percent)
Northwestern:
Lynn Waldorf, 49 of 488 (10.04 percent)
Ohio State:
Woody Hayes, 205 of 837 (24.5 percent)
Purdue:
Joe Tiller, 87 of 586 (14.8 percent)
Wisconsin:
Barry Alvarez, 118 of 635 (18.6 percent)
As you can see, no coach comes close to Paterno in terms of percentage of his program's wins. But this ratio is just one gauge of a program-defining coach.
Another important factor is a team's history both before and after a coach took the job. Look at Wisconsin before Alvarez arrived in 1990. The program had endured five consecutive losing seasons and had just six winning seasons since 1963. Wisconsin's previous two coaches, Don Morton and Jim Hilles, had gone a combined 9-36 at the helm.
Alvarez transformed Wisconsin into an upper-tier Big Ten program, leading the Badgers to three Big Ten titles and three Rose Bowl championships. His hand-picked successor, Bret Bielema, has carried on Wisconsin's momentum, but Alvarez fostered the change. He is Wisconsin football, period.
Two iconic coaches regarded by many the faces of their respective programs are Ohio State's Hayes and Michigan's Schembechler. They tied for the most Big Ten championships with 13. Hayes won the most Big Ten games (152 to Schembechler's 143), while Schembechler owns the record for best winning percentage in conference games (.850).
But both men led programs that had success under other coaches. Michigan was a national superpower under the likes of Fielding Yost (.888 career win percentage), Harry Kipke, Fritz Crisler and Bennie Oosterbaan, while Schembechler never won a consensus national title. The Wolverines boast six coaches who have served 10 or more years, most recently Lloyd Carr (1995-2007).
Ohio State carved a place among the nation's elite under shorter-tenured coaches like Francis Schmidt and Paul Brown, while Jim Tressel won a national title and more than 81 percent of his games during his 10 years in Columbus.
Are Michigan and Ohio State defined by Schembechler and Hayes, respectively? Depends on your perspective. My take: both are iconic, but Hayes is more defining.
Iowa's Fry fills a similar role to Alvarez. He took over a program on the downturn for several decades and put it in the Big Ten's top half. Fry is the coach people think of when Iowa comes to mind, although his successor, Kirk Ferentz, has put his own stamp with a solid run since 1999.
Other Big Ten programs seem to fit into different categories.
Programs with two great coaches:
Nebraska -- Osborne (255-49-3) and Bob Devaney (101-20-2)

Purdue -- Tiller (87-62) and Jack Mollenkopf (84-39-9)
Programs that had its most successful coaches many years ago
Illinois -- Zuppke (131-81-13 from 1913-41); Arthur Hall (27-10-3 from 1907-12)

Minnesota -- Williams (136-33-11 from 1900-21; Bernie Bierman (93-35-6 from 1932-41 and 1945-50)

Michigan State -- Daugherty (109-69-5 from 1954-72); Biggie Munn (54-9-2 from 1947-53); Charles Bachman (70-34-10 from 1933-46); Chester Brewer (58-23-7 from 1903-10, 1917, 1919)
Historically weak programs with a lot of coaching turnover
Indiana -- No coach with career winning record since Bo McMillin (1934-47), no coach with 70 or more wins at school

Northwestern -- No coach with 50 or more wins at school, only one coach with tenure longer than 10 years
You could argue Zuppke remains Illinois' defining coach, even though he hasn't coached in more than 70 years. Osborne is undoubtedly the face of Nebraska's program, but is he the Huskers' defining coach? Tough to say that after looking at what Devaney did (two national titles, eight Big Eight titles).
Could any current Big Ten coach end up being a program-defining figure? None will occupy his job as long as Paterno did at Penn State. Northwestern's Pat Fitzgerald is just nine wins shy of Waldorf's victories mark, and he turned 37 in December. Fitzgerald's strong ties to the program, plus Northwestern's poor history and absence of coaching greats, create an opportunity should Fitzgerald have success for a long period.
What are your thoughts? Which Big Ten programs are defined by a coach, and which are not? Share them
here
.
July, 9, 2012
7/09/12
9:00
AM ET
Does a coach define your program? Think Alabama and Bear Bryant, Penn State and Joe Paterno and Florida State and Bobby Bowden.
Does he cast a shadow that's hard to escape? Or is your all-time winningest coach mostly incidental?
[+] Enlarge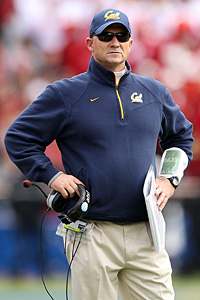 Ezra Shaw/Getty ImagesCoach Jeff Tedford is Cal's winningest coach of all time, but is he the face of the program?
ESPN.com is looking at the winningest coach for each FBS program today, and the results from the Pac-12 are interesting.
Some teams are trying to regain the past glory of a legendary coach (Arizona State and Frank Kush, Colorado and Bill McCartney, UCLA and Terry Donahue and Washington and Don James).
Some teams all-time wins leader paved the way for present glory (Oregon and Mike Bellotti and USC and John McKay).
Some are just names on a list, Hall of Famers or otherwise, men glaring at us from black and white photos (Pop Warner for Stanford, Lon Stiner for Oregon State, Ike Armstrong at Utah and Babe Hollingbery for Washington State).
And for some teams, well, things are complicated.
For one, Jeff Tedford, who has been hot-seated by many reporters and California fans, is the Bears all-time winningest coach. Then there's Oregon State's Mike Riley, who most feel is sitting on the second-warmest seat in the Pac-12. He needs just three victories to eclipse Stiner as the Beavers winningest coach.
A guy who might identify: Arizona's winningest coach Dick Tomey. Tomey went 12–1 in 1998 but was forced out in 2000.
Hey, look at this patch of grass. It's lovely. Not perfect, though. Is that a clover? Hmm. What about the grass ... over there?
The most interesting names, of course, are Kush, McCartney, Donahue and James. Each is the standard for his program. Even fans too young to have witnessed their tenures know who they are. While these coaches' programs have experienced varying degrees of success both before and after them, no one has been able to duplicate their consistency. And those who have tried over the past couple of decades seem as though they shriveled up under the shadow of the legends who preceded them.
While fans fervently cling to the "It happened before, so it can happen again" position, the truth is comparisons are sometimes unfair. College football is much different than it was before the BCS era, which none of these four experienced.
But that doesn't keep fans from hoping for a second-coming.
July, 9, 2012
7/09/12
9:00
AM ET
Today, we begin a weeklong series looking at college coaching -- from the longest-tenured head coaches, to the best jobs, to up-and-coming assistants.
First up is a look at the all-time winningest coaches at each Big East school, and whether each program has been defined by its most successful coach. It is no secret that the Big East has had a difficult time retaining high-profile, winning coaches in recent years. It also is no secret that coaches rarely stay in one place for more than 10 years no matter which conference they're in. In fact, there are only 13 coaches in all of FBS that have been at their respective schools for 10-plus seasons; none in the Big East after the departure of Greg Schiano.
Simply put, the pressure to win immediately is much greater than it was 50 years ago.
Given these two factors, then, it should not come as much of a shock to find that the winningest coaches at nearly every Big East school come from an earlier era. Only one coached into this decade -- UConn coach Randy Edsall, who went 74-70 from 2000-10 with the Huskies, with one BCS appearance.
[+] Enlarge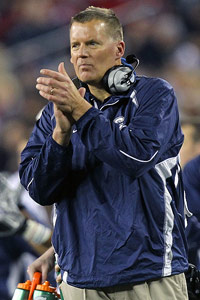 Ronald Martinez/Getty ImagesRandy Edsall led UConn to a 74-70 record and five bowl game appearances, but left under controversial circumstances.
While his overall record is just above .500, the overall winning percentage for the program is below .500 without him in charge. That includes a 5-7 season under Paul Pasqualoni a season ago. UConn has not been an FBS member for very long, but Edsall was able to direct this team to five bowl games and at least a share of two Big East titles during his tenure.
But the messy and classless way in which he left the school means you are not going to find too many Huskies fans with warm and fuzzy feelings for Edsall, despite his status as the winningest coach in program history.
Perhaps more than any of the other winningest coaches in the Big East, Jim Leavitt essentially defined USF. He built the program from scratch, took it from I-AA to the Big East and went 95-57 from 1997-2009. In the two years since Leavitt was fired, Skip Holtz has gone 13-12.
The only winningest coach on the list with a losing record -- Rick Minter at Cincinnati. He compiled a 53-63-1 record from 1994-03, with one Conference USA championship. The two men who came right after him -- Mark Dantonio and Brian Kelly -- left after only a few years on the job. Butch Jones just won a share of a Big East title in his second year.
Here is a look at each of the all-time winningest coaches across the Big East. Do any of these coaches define your program?
Cincinnati:
Rick Minter, 53-63-1, 1994-2003. Four bowl appearances, 2002 C-USA title.
UConn:
Randy Edsall, 74-70, 2000-10. Five bowl games, BCS appearance 2010.
Louisville:
Frank Camp, 118-95-2, 1946-68. Brought the program back after it was suspended three years because of World War II, went 7-0-1 in 1947.
Pitt:
Jock Sutherland, 111-20-12, 1924-38. Won five national championships, four Rose Bowls and selected Eastern football champs seven times.
Rutgers:
Frank R. Burns, 78-43-1, 1973-83. Took Rutgers to its first bowl game.
USF:
Jim Leavitt, 95-57, 1997-2009. Took Bulls to five bowl games.
Syracuse:
Ben Schwartzwalder, 153-91-3, 1949-73. Won Syracuse's only national championship, in 1959.
Temple:
Wayne Hardin, 80-52-3, 1970-82. Took Temple to its best ever season, 10-2 in 1979.
July, 9, 2012
7/09/12
9:00
AM ET
George Welsh. Frank Howard. Bobby Dodd. Bobby Bowden. Wallace Wade.
For ACC fans, these names should be as familiar as their next-door neighbors'. They're the some of the ACC's most successful coaches, and through years of winning, they became the faces of their programs, the namesakes of their fields and stadiums – and, in one case -- a rock.
[+] Enlarge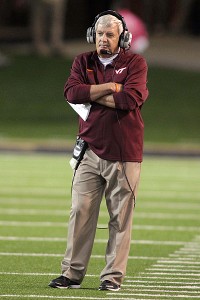 Jeremy Brevard/US PresswireVirginia Tech coach Frank Beamer is currently the winningest active coach in the country.
ESPN.com this week is looking at the game's greatest coaches and the impact they had on their respective programs. The project is a measure of which programs have been defined by their most successful coaches, and which have found success from a variety of leaders. For that, we turn to the numbers. The following is a list looking at the most successful coach for each school in the ACC, followed by his win-loss record there, and what the program's winning percentage is without its No. 1 coach:
Boston College:
Tom O'Brien 75-45 (.577 without coach)
Clemson:
Frank Howard, 165-118-12 (.594)
Duke:
Wallace Wade 110-36-7 .440
Florida State:
Bobby Bowden, 304-97-4 (.551)
Georgia Tech:
Bobby Dodd, 165-64-8 (.565)
Maryland:
Curley Byrd, 119-82-15 (.515)
Miami:
Andy Gustafson, 93-65-3 (.645)
North Carolina:
Dick Crum, 72-41-3 (.560)
NC State:
Earle Edwards, 77-88-8 (.513)
Virginia:
George Welsh, 134-86-3 (.511)
Virginia Tech:
Frank Beamer, 209-98-2 (.583)
Wake Forest:
D.C. Walker, 77-51-6 (.384)
Now that you've been introduced to Curley Byrd, and learned Andy Gustafson is Miami's winningest coach and not Jimmy Johnson, let's take a closer look at these numbers. Obviously this research is based on total wins, not winning percentage. Jimmy Johnson was 52-9 (.852) and Dennis Erickson (63-9) was .875. Those are the names, along with Howard Schnellenberger, that are synonymous with national titles and tradition at Miami. The other coach that seems a bit out of place is D.C. Walker at Wake Forest. Jim Grobe has been credited with ushering the Deacs through their most successful period in school history, yet he enters his 12th season with 68 wins at the school. There should be little doubt Grobe finishes his career there with more than 77 wins.
While Grobe is likely to end up on this list, there are two current coaches already on it in O'Brien and Beamer. O'Brien, of course, is now at NC State, where he has a 33-30 record in five years. (You'll notice the Wolfpack's leader is the lone coach listed who actually has a losing record.) Beamer is currently the winningest active coach in the country. Technically, there are three current ACC coaches listed on the entire database, as Maryland's Randy Edsall is also the winningest coach at Connecticut with 74 wins (74-70). As for which coach might be considered the most valuable to his program based on its record without him?
Take a look at the numbers for Duke and Wake Forest -- the only two programs that fell below .500 without their No. 1 coach. For all of the praise heaped upon Beamer for building his alma mater into a national contender -- and deservedly so – I would have thought the Hokies struggled more without him. Instead, the numbers remind us what a tremendous impact Walker and Wade also made on their respective programs.
It's also worth noting that without Bobby Bowden, Florida State only won 171 games. Total. That's remarkable, considering Bowden alone won 304. It also puts into perspective the longevity of his career, as Beamer is still coaching and enters this season with 251 career wins in 31 years. Bowden won 64 percent of the program's games (304 of 475). Beamer won 30.3 percent of Virginia Tech's (209 of 689). Of course, Virginia Tech's program has played many more games overall than Florida State, but it's interesting to see just how much of the program's overall success each coach has contributed to.
Factors such as the length of the coaches' careers, how long the program has existed, and actual winning percentages should be considered when analyzing these numbers. There's always more to the story, though, than statistics. Imagine this: What would Florida State and Virginia Tech look like today without the contributions of Bowden and Beamer?
Some things simply can't be measured.