NCF Nation:

20120711 coaches cost
July, 11, 2012
7/11/12
9:09
AM ET
In the SEC, it's the norm to throw money at coaches. According to
USA Today research
, there were nine college football head coaches making $3 million or more last season. Five resided in the SEC.
The bank trucks literally park outside the homes of Nick Saban and Les Miles. Saban received a raise and contract extension worth $5.62 million a year in May. He's set to receive $5.32 million in 2012, with a $50,000 raise next year and then $100,000 annually.
Miles is sitting second in the conference with a salary of a little more than $3.8 million.
[+] Enlarge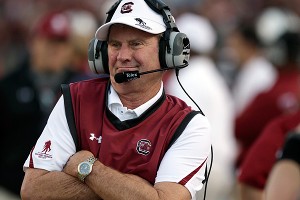 AP Photo/Brett FlashnickCoach Steve Spurrier has moved up the salary scale each year since his start at South Carolina in 2005.
But those coaches have brought SEC and national titles to their respective schools. Hauling in the big bucks is no surprise for coaches who have consistently won in college football's toughest conference. Saban has averaged 11 wins a year during his five seasons at Alabama, while Miles has averaged 10.7 wins during his seven seasons with the Tigers.
So who are the bargain gets in the SEC? While it could be tough to consider some coaches in the conference "bargains" because of the high salaries (Florida coach Will Muschamp makes $3.22 million and he only has been in the league a year), there are a few who have done a little more than their salary has implied.
Immediately you look at South Carolina's Steve Spurrier. Now Spurrier did get a significant raise this year, thrusting him into the $3 million club after his contract went up to $3.3 million per year through the 2015 season. He even had his
contract bonus enhanced
late last month. Before his raise, Spurrier wasn't very high on the SEC salary totem pole.
He was set to make a little more than $2.8 million in 2012, then $2.95 million in 2013, 2014 and 2015. That's much higher than the $1.25 million he came in making in 2005.
But this certainly has been a bargain for South Carolina. Spurrier has truly revitalized the program, making the Gamecocks serious contenders in the SEC East. A program that averaged just four wins a year during its first eight years in the SEC then struggled with inconsistency during the five years before Spurrier's arrival is now a team that could be playing in the program's second SEC championship game. The first came under Spurrier's watch in 2010.
Spurrier is 55-35 in his seven seasons at South Carolina, and with 10 wins this season he will pass Rex Enright as the Gamecocks' all-time winningest coach.
Spurrier has picked this program up and made it respectable, and he's done so by keeping some of the top in-state talent for himself. Alshon Jeffery and Stephon Gilmore came in 2009. Now
Marcus Lattimore
,
Jadeveon Clowney
and Shaq Roland are on the roster.
In only a short time, Spurrier has resurrected this South Carolina program and put the Gamecocks on the national map, and he did it for cheap. His raise was more than just well-deserved.
Here are a few more bargain-priced SEC coaches:
Mark Richt, Georgia:
Richt, who is set to make $2.9 million this year, is the longest-tenured coach in the SEC (11 years). In that time, he has compiled a 106-38 record, had seven seasons with 10 or more wins, is 2-2 in SEC championship games and 2-1 in BCS bowls. He currently has the Dawgs poised to compete for a second straight SEC East crown.
Gene Chizik, Auburn:
While Chizik is third on the SEC salary list at $3.5 million a year, he's still considered a bargain after what he's done in just three seasons. He has a national championship squeezed between two eight-win seasons and a Heisman Trophy winner. He's done a great job recruiting in his three years and should have another impressive class in 2013.
Gary Pinkel, Missouri:
According to USA Today, Pinkel's salary is at $2.7 million a year, but he has done so much for this Missouri program. He enters his 12th year at Missouri with an 85-54 record that includes six straight seasons with eight or more wins. Before Pinkel arrived in 2001, Missouri had been to just two bowl games since 1983. He's now taking his rather deep Tigers team into its first season in the SEC and should contend in the East.
July, 11, 2012
7/11/12
9:00
AM ET
When Clemson coach Dabo Swinney was hired in 2009, his original contract was for a base salary of $900,000. Since then, he has won two Atlantic Division titles and an ACC championship.
When Maryland coach Randy Edsall was hired last year, he signed a contract worth $2 million per year for six years. Since then, he has won two games.
Who in the ACC is getting the biggest bang for their buck when it comes to head coaches' salaries?
Clemson athletic director Terry Don Phillips.
[+] Enlarge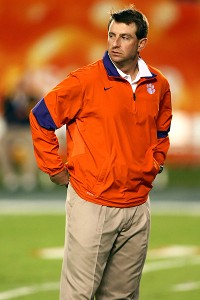 Douglas Jones/US PresswireDabo Swinney took a pay cut to help compensate his Clemson staff.
Swinney, who signed a contract extension last month, earned a raise to increase his salary to $2.2 million this year, but he agreed to take $300,000 less to help compensate his staff. It worked. The Tigers hired defensive coordinator Brent Venables away from Oklahoma with a five-year, $4 million deal. Offensive coordinator Chad Morris earned a revamped contract after just a season and has a six-year, $7.8 million deal. Clemson's assistants will earn a program-record $6.1 million in 2012.
Swinney, like most coaches, has his doubters, but given his accomplishments it's clear he is earning his money. He has put together a knowledgeable staff, recruited back-to-back top 10 classes and led the program to its first ACC championship in 20 years and first Orange Bowl appearance in 30 years. He met all major contract escalators from his 2009 contract, which meant his base compensation would rise to the median salary of all ACC coaches with an Atlantic Division title. He checked that off the list in 2009. He met the other major escalator by leading Clemson to the ACC championship this past season, which boosted his base salary to the average of the top seven ACC head coaches.
Jimbo Fisher ($2.7 million), Paul Johnson ($2.3 million), Frank Beamer ($2.32 million) and Jim Grobe ($2.2 million) are the only ACC coaches making more than Swinney, according to the USA Today coaches' salaries database and several other sources. (Al Golden's salary was unavailable.) Mike London's recent raise brings him to $2.1 million, and it was well-deserved after the program's first bowl appearance, best record since 2007 and an ACC Coach of the Year Award.
There are some coaches in the league, such as Beamer and Grobe, who have earned their tenure and their salaries. Some might say what they've done for their respective programs has been priceless. As the youngest coach in the ACC, Swinney, 42, has had to pay some dues. He doesn't have the longevity of Beamer, the coach of the year titles of Johnson or the hurdles to overcome of Grobe. He does, however, have two title game appearances in three seasons.
That's called getting what you paid for.
July, 11, 2012
7/11/12
9:00
AM ET
ESPN.com's series on FBS coaches continues with this question: Which coach in the Pac-12 provides the biggest bang for the buck?
That's tough to answer for a number of reasons.
There are four new coaches in the Pac-12 this season.

There were two new coaches last season.

USC and Stanford, as private schools, don't provide salary information for their coaches, though USA Today reported that Lane Kiffin made $2.4 million in 2010, way less than had been widely reported.
Two years ago, it would have been easy to say that Oregon State's Mike Riley provided the most bang for the buck. Riley won 36 games from 2006-09 before the Beavers tumbled to consecutive losing seasons. And he did that with a
fairly modest salary
.
[+] Enlarge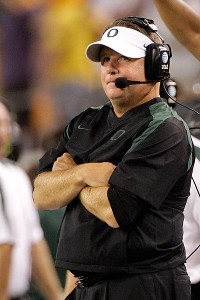 AP Photo/Tony GutierrezChip Kelly may be the Pac-12's highest-paid coach, but he's worth the money.
Here are the latest numbers.
Chip Kelly, Oregon, $2.8 million

Lane Kiffin, USC, $2.4 million*

Jim Mora, UCLA, $2.4 million**

Jeff Tedford, California, $2.3 million

Steve Sarkisian, Washington, $2.25 million

Mike Leach, Washington State, $2.25 million

Todd Graham, Arizona State, $2 million

Kyle Whittingham, Utah, $2 million

Rich Rodriguez, Arizona, $1.91 million

Mike Riley, Oregon State, $1,313,471

Jon Embree, Colorado, $725,000
*It's perfectly reasonable to posit that Kiffin made more than this in 2011 and also will in 2012.

**Mora's number is an average of his five-year, $12 million contract. He'll likely make less than this figure this season.
By the way, David Shaw's salary at Stanford has been
estimated at $1.75 million
. It seems, in any event, that it's too early to rate Shaw and Colorado's Embree as second-year coaches. And it makes no sense to look at the track record of the four new coaches, because the past doesn't mean anything for the new schools, though you could say Arizona got Rodriguez at below market value.
So who provides the most bang for the buck? I have two answers: Whittingham and Kelly.
Why? Well, name the two coaches on the above list who have won BCS bowl games at their present job.
Whittingham is 66-25 (.725) at Utah, including double-digit wins in three of the past four seasons. His worst season in seven years was 7-5 in 2005. After an 0-4 start in Pac-12 play last fall, he rallied his team behind a backup QB who transferred from Nebraska-Omaha, and the Utes nearly won the South Division. Oh, and he's 7-1 in bowl games.
Further, Whittingham has been loyal to Utah. He's had opportunities to leave but he's stuck around.
Kelly is the Pac-12's highest-paid coach by a fairly wide margin. He was guaranteed $2.8 million in 2011 and will make $3.5 million this season,
according to USA Today
. So why does he rate highly in terms of bang for the buck? Well, there's a 34-6 (.850) record, including a 25-2 mark in Pac-12 games (.926). And there are three consecutive conference titles. And an undefeated regular season in 2010, after which the Ducks fell just short of beating Auburn for the national title. And there's the Rose Bowl victory over Wisconsin in January.
Kelly has delivered a super-elite level of performance in his three seasons. If you were to name the nation's best coaches, you wouldn't have to wait long after Nick Saban and Urban Meyer to get to Kelly.
He gets big bucks, yes, but he has delivered unprecedented bang to the Ducks' program.
Any Oregon fans think he's overpaid?
July, 11, 2012
7/11/12
9:00
AM ET
There's only one way to truly measure value among coaches.
How much bang are programs getting for the buck they're paying coaches? A handful of coaches stood out.
The biggest problem? Three of the four coaches on our list got big raises this season. Can't be undervalued for too long, right?
[+] Enlarge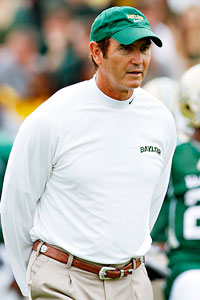 Brett Davis/US PresswireArt Briles made the lowest paycheck per win of any coach in the Big 12 last season.
The coach who offered the biggest bang for the program's buck in 2011? Baylor's Art Briles. Briles reportedly made $1,549,346 last season, ranking 45th nationally. Chalk up Baylor's 10-win season (and some Heisman award thingy), and Briles made the lowest paycheck per win of any coach in the Big 12.
The Bears paid Briles an average of
$154,934 per win
, which was more than $20,000 less than any other coach in the Big 12. Impressive. The problem? Baylor can't get that value for much longer. He got a raise this postseason to somewhere around $2.5 million, the same money new Kansas coach Charlie Weis got.
No. 2 on the list? The coach of the Big 12 champs: Mike Gundy. Gundy's 12 wins broke down his $2.1 million contract into $175,000 per win, ranking second in the Big 12. Like Briles, though, Gundy got a big pay raise this offseason, by far the biggest in the Big 12.
Next season, Gundy will make $3.275 million to begin his new eight-year, $30.3 million contract. It's well-deserved, but that "bang for the buck" is about to lose a little of its punch.
No. 3 on the list of best values is Paul Rhoads. The Big 12's resident upset master knocked off Gundy's No. 2 Oklahoma State team in Ames to reach a bowl game for the second time in three years, but made $191,666 per win last season. His $1.15 million deal got a big boost in the offseason. Pitt reportedly came calling for its former longtime defensive coordinator, and Iowa State responded with a 10-year contract extension that pays Rhoads $1.6 million in 2012 and goes up $100,000 every year. Rhoads will be making $2.5 million in 2021.
He's still a value for sure, but not quite what he used to be.
The king of value, though? When it comes to long-term value and coaching acumen, it's going to be the king once again.
Kansas State's Bill Snyder made $192,500 per win during last season's 10-win season that paid him $1.925 million. Snyder's got a case for college football's greatest coach ever, but at the end of last season, he was the 33rd highest-paid coach? That, friends, is value. Chalk it up to one more reason why Kansas State's athletic department is the nation's most profitable.
New WVU coach Dana Holgorsen won the Big East last year and won 10 games, and he would have had the lowest average of any coach on this list. He made $1,490,000 last season, which could have averaged out to less than $150,000 per win, but can he do that in the Big 12? We'll find out this season, and if he does it, when you factor in the new money coming to Morgantown, Holgorsen can expect a raise, too.
July, 11, 2012
7/11/12
9:00
AM ET
When Michigan State's Mark Dantonio and Wisconsin's Bret Bielema posed behind the Big Ten trophy a day before the inaugural football championship, they didn't only represent two of college football's blossoming coaches.
They also represented two of the sport's better bargains.
Bielema and Dantonio are ranked No. 4 and No. 5, respectively, in
salary among Big Ten coaches in 2011
. Both men have since been bumped down a notch after Ohio State hired Urban Meyer at $4 million per season.
[+] Enlarge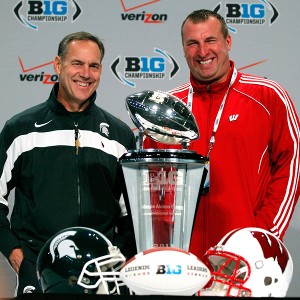 AP Photo/Michael ConroyMichigan State's Mark Dantonio and Wisconsin's Bret Bielema are Big Ten bargains.
Dantonio received a new contract in October that included a slight increase in his annual compensation ($1.83 million). He still makes less than the average salary for a coach from a major conference ($2.125 million in 2011, according to USA Today).
Dantonio has won 22 games the past two seasons, translating to $165,000 per victory. Texas' Mack Brown, meanwhile, the nation's highest-paid coach at $5.2 million per year, earned $800,000 per victory during the past two seasons.
Bielema commands a slightly higher salary (approximately $2.5 million), although he has earned his keep at Wisconsin, averaging 10 wins per season during his six-year tenure as Badgers coach. Bielema boasts four seasons of 10 or more wins.
A similar track record in the SEC almost certainly would result in a salary of more than $3 million annually.
Speaking of the SEC,
nine of the league's 12 coaches earned $2.5 million or more
in 2011. Bielema's salary would rank 10th in the expanded 14-team SEC, while Dantonio's would rank above only Kentucky's Joker Phillips.
When it comes to coaches who bring the biggest bang for the buck, Dantonio and Bielema top the chart in the Big Ten.
Northwestern's Pat Fitzgerald also has been a coaching bargain so far. A first-time head coach who took over after the sudden death of Randy Walker in 2006, Fitzgerald has guided Northwestern to a record four consecutive bowl appearances and 7.2 wins per season during the past five years.
Fitzgerald received a new contract last spring
that reportedly puts his
salary at $1.8 million annually
(Northwestern doesn't release salary figures). Before the extension, Fitzgerald made in the neighborhood of $1.2 million, putting him near the bottom of the Big Ten.
Who else fits the description? Keep an eye on Michigan's Brady Hoke. The former Wolverines assistant took his dream job in Ann Arbor without signing a contract, and when one was finalized months later, it showed Hoke earning just $2 million in his first year. While Hoke's six-year deal goes up in compensation -- he'll average $3.25 million if he completes the contract -- it still puts him below some of the coaches at name-brand programs in the SEC and the Big 12.
Several other Big Ten coaches could turn out to be bargains, including new Penn State boss Bill O'Brien, another first-time head coach who agreed to a five-year contract that
pays him $2.3 million annually
. Minnesota's Jerry Kill, Indiana's Tim Beckman, Indiana's Kevin Wilson and Purdue's Danny Hope are also among the lower-earning major-conference coaches.
But when it comes to best bang for the buck, Dantonio and Bielema are at the top of the list.
Don't be surprised if they're taking a similar picture in December.
July, 11, 2012
7/11/12
9:00
AM ET
Big East coaches do not typically make what SEC coaches make.
There are myriad reasons for that, but the truth remains that Big East schools have got to get the "biggest bang for the buck" when it comes to the coaches they hire and the salaries they are able to pay.
Of the six league coaches whose salaries have been reported, only two make $2 million or more. Louisville coach Charlie Strong just got a new deal worth $2.3 million a year to make him the highest paid coach in the league, while USF coach Skip Holtz also got a new deal worth $2 million a year. That easily puts them in the top half of all
head coaches in FBS.
[+] Enlarge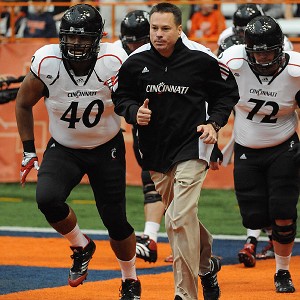 Richard Mackson/US PresswireButch Jones hasn't let a smaller athletic budget hinder him from having success at Cincinnati.
Both are good at what they do. But I think Cincinnati coach Butch Jones gets the nod as the Big East coach that delivers the "most bang for the buck."
Jones just got a new contract with a pay raise, taking his 2012 salary up to $1.575 million. That still ranks him No. 4 among the six head coaches whose salaries have been reported, behind Strong, Holtz and UConn coach Paul Pasqualoni ($1.6 million).
Of the eight head coaches currently in the Big East, only Strong and Jones have led their teams to Big East championships. But Jones has done more with less. Not only does he make less, his budget ranks No. 5 among the six schools that disclosed financial information through public information requests.
Just to compare, Louisville had athletics department expenses of $81.1 million for 2010-11; Cincinnati had expenses of $43.7 million. That is nearly half. The Bearcats also rank third to last in athletics spending among all public schools in AQ conferences.
Yet Cincinnati has found a way to win regardless, as Jones explained in a behind-the-scenes feature I did on programs that
win with less
last month. This is what Jones told me:
"First of all, we can never let the word budget become an excuse," Jones said. "You've got to find a way. What it does is it tests your creativity. You have to find creative ways to bring revenue into your football program. The age-old thing is building relationships, selling your program, getting more out of your boosters, getting fans to get emotionally invested in your program. I think one word that describes everything is creativity. We have to do more with less. I will never let a shortage in the budget be a reason. We're going to find ways to make it work."
Jones is heading into his third season at Cincinnati, coming off Big East Coach of the Year honors, a co-Big East title and a 10-win season. He had similar success at Central Michigan, winning two MAC titles. Cincinnati is clearly a program that has established itself in the Big East, so much so that Jones turned down a job offer from a bigger program last December to continue his work with the Bearcats.
He may not be the highest paid coach in the Big East, but last season he proved he is one of the best.
Big East coach salaries
Charlie Strong
, Louisville, $2.3 million
Skip Holtz
, USF, $2 million
Paul Pasqualoni
, UConn, $1.6 million
Butch Jones
, Cincinnati, $1.575 million
Doug Marrone
, Syracuse, $1.23 million
Kyle Flood,
Rutgers, $750,000
Steve Addazio, Temple, N/A (Note: Former coach Al Golden made a reported $550,000 in his last season in 2010)
Paul Chryst, Pitt, N/A (Note: Former coach Todd Graham made a reported $2 million last season)