NCF Nation:

2013 Big Ten Media Days
July, 26, 2013
Jul 26
2:15
PM ET
CHICAGO -- After fielding questions about the NCAA's new targeting policy for two hours, Big Ten coordinator of football officials Bill Carollo nearly escaped the interview area Thursday morning when a former Ohio State safety tracked him down.
Nebraska coach Bo Pelini shook Carollo's hand and joked that he, too, was tired of talking about targeting. Pelini remains a bit peeved about the
targeting penalty called on
Huskers receiver
Kenny Bell
in last year's Big Ten championship game.
[+] Enlarge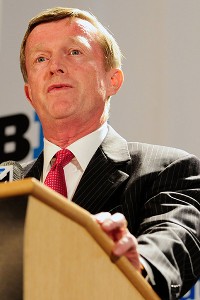 Reid Compton/USA TODAY SportsBig Ten coordinator of officials Bill Carollo on the NCAA's targeting policy: "It's a severe penalty, but I don't think it's too harsh."
All this targeting talk isn't a bad thing. It's a topic that merits attention from now until the start of the 2013 season, mainly because of the new consequences when a defenseless player is targeted above the shoulders.
Starting this season, players guilty of the foul will be ejected from games. On-field officials and replay officials must both agree before a player is disqualified.
"They might want to be on 'SportsCenter' for a big hit, but you're not going to be on 'SportsCenter' when you're sitting in the locker room," Carollo told ESPN.com. "As long as that consistent message gets to the players through the coaches, I don't think the game is going to change a whole lot."
The ejection penalty, spurred by the increasing focus on head injuries in football, is a game-changer of sorts. While the targeting rule itself doesn't change entering the season, it will be a focal point when training camps kick off next month.
It was a
major topic of discussion
this week at Big Ten media days.
Here's a sampling of comments:
Nebraska's Pelini: "I don't think it's an easy thing to call. And in my opinion it's going a little bit overboard right now. And some things I've seen on TV and different examples that they've shown, you know, like even as a coach watching it on TV, I haven't quite agreed with some of the things they've talked about. But I understand where it's coming from. It's about the safety of the players, and we're all for that. We just have to make sure that we're not messing with the integrity of the game or the sport and how it's supposed to be played."

Minnesota defensive lineman Ra'Shede Hageman: "Me being [6-foot-6] and going full speed at a running back who's like 5-7, that's hard. And you have to understand that. I'm not trying to go head-to-head with somebody. But I feel like I have to fix my game a little bit. It's a new rule for our safety, so I can't hate on it. But it's kind of difficult when you're 6-6 and you go out at a running back or a quarterback. If I knock off somebody's helmet, now I'm going to get ejected? That's crazy."

Indiana safety Greg Heban: "If that's the decision they're going to make, then that's what they're going to make. It's going to be something kind of different for us, and we have to realize when we go to hit, we have to kind of think about what we're going to hit instead of just attacking."
Carollo met with the Big Ten coaches in February and showed them about a dozen potential targeting fouls from the 2012 season. He also told them the NCAA playing rules oversight panel likely would approve ejections for the most egregious offenders. Carollo spent the spring and early summer educating his officials on the rule.
The focus now turns to players as the season approaches.
"There's still a lot of work to be done," Carollo said. "We have a plan in place that we'll get to every team, whether it's myself or a head referee or senior official. The same information that we gave our officials, the same message is going to the coaching staffs, and if there's a need, we'll take it to the players ourselves and spend a couple hours showing plays."
Michigan State All-Big Ten linebacker
Max Bullough
said the Spartans' defense hasn't discussed the targeting policies yet as a group. He didn't know much about the increased penalties until he came to media days.
"It's not something you do on purpose," Bullough said. "If something like that happens, it's an accident, anyway, so there's nothing you can do about it. Whether they penalize you or eject you, there's nothing different you can do. It happens so fast. The rules they make are a little bit ridiculous.
"What, are you just going to stop and think? What are you going to do when a running back puts his head down? It's just too hard."
When informed of Bullough's concerns, Carollo acknowledged that it's difficult to change course or angle at full speed.
"I'm not asking you to adjust in midair," he said. "I'm asking you to adjust in June, July, August. I'm not asking you to change the way you teach players how to make tackles. I'm asking them, don't launch and lead with your head, keep your head up, move it to the side, wrap up with your arms, put a shoulder into [the opponent's] chest, hit 'em as hard as you want, but don't hit them in the head."
The much-publicized
Jadeveon Clowney
hit against Michigan's Vincent Smith in the 2013 Outback Bowl, while vicious, was a legal play because Clowney didn't target Smith's head, Carollo said.
Although the coaches aren't in total agreement about the rule and its heavy consequences -- Northwestern's Pat Fitzgerald this week proposed a soccer-style approach with a warning (yellow card) for the first offense and an ejection (red card) for the second -- they all want to protect players. But Carollo thinks the number of targeting fouls will drop "once they start losing players."
"The good coaches will get out ahead of it," he said. "Some coaches that don't totally buy into it, if [their players] don't make changes, that's fine, but they're subject to greater risk of not playing. It might take a year. It might take our officials another year to really perfect this call.
"It's a severe penalty, but I don't think it's too harsh. The intent was to make it immediate, and raise the stakes a little bit to get attention and change players' behavior."
July, 26, 2013
Jul 26
11:00
AM ET

Indiana coach Kevin Wilson talks with ESPN.com's Adam Rittenberg about the outlook for the Hoosiers in 2013.
July, 25, 2013
Jul 25
3:45
PM ET
CHICAGO -- Penn State coach Bill O'Brien and his Purdue counterpart, Darrell Hazell, will face the same decision sometime next month: Should I start a true freshman quarterback this season?
It's a daunting and exciting possibility, depending on who you ask. It's also a realistic one for both Penn State and Purdue heading into 2013.
Danny Etling enrolled early at Purdue and put himself in position to compete for the team's top quarterback job following a solid spring. Christian Hackenberg didn't even need to go through the spring to be considered for Penn State's starting job. When camps kick off in August, Etling will compete with senior
Rob Henry
and possibly redshirt freshman
Austin Appleby
for the Purdue job, while Hackenberg will vie with junior college transfer
Tyler Ferguson
in State College.
Both Hazell and O'Brien vow to play the best quarterback, regardless of age, but there are added risks of going with a true freshman, including the impact on the rest of the roster. Will the Purdue locker room support Etling if he beats out Henry, a former team captain and one of the most popular players on the squad? How will a Penn State team carried by veteran leadership in 2012 respond to a quarterback who hasn't played a meaningful down at the college level?
According to players on both teams, they'll be just fine.
"If it is Danny, we'll be behind him," Purdue defensive tackle
Bruce Gaston
told ESPN.com. "We'll be behind whoever, especially if it is Danny because we're not going to let a freshman go in there thinking that he has no support. That's not going to do anything but hurt us in every aspect of the game.
"We have no clue who [the starter is] going to be, but we'll support them."
So will Henry, according to Gaston.
"Rob is one of the most humble people I know," Gaston said. "Rob would definitely not make a fuss or anything. He'll handle it in the most professional way."
Penn State's situation is a bit different as both Ferguson and Hackenberg are newcomers. Although Ferguson went through the spring with the team, players had much more familiarity with
Steven Bench
, last year's backup quarterback who transferred to South Florida after being told he wouldn't compete for the starting job.
Whoever emerges in camp at Penn State will be a new voice of leadership.
"They're definitely going to need a little bit of help, a little bit of guidance," senior linebacker
Glenn Carson
said, "but they're both guys that have a lot of confidence, have that swagger that is much needed as a quarterback. I think they're going to be fine. They might need a teammate's helping hand, but I really don't feel like I have to go too far out of my way because they have that confidence built in."
A young quarterback can help himself by reaching out to older teammates, like Minnesota's
Philip Nelson
did in 2012. Minnesota took the redshirt off of Nelson midway through the season, and the true freshman started the Gophers' final seven games.
"It's easy to get behind somebody who asks for help," Gophers running back
Donnell Kirkwood
said. "He was new, he was a freshman, Wisconsin was his first start and he was a little shaken up by that, but he took on a leadership role."
Carson has no concern about a divided or apathetic locker room at Penn State, depending on who wins the quarterback job.
"This team understands how important these guys are to us," Carson said. "Even though they're freshmen and they're young, they're just getting into the program, the team really respects these guys and knows how important they are. It's going to be a really big camp for both of these guys.
"They're going to have to truly emerge, not only as players but as leaders so that they really can take the locker room."
July, 25, 2013
Jul 25
3:00
PM ET
CHICAGO -- Michigan offensive tackle
Taylor Lewan
caused a stir this past spring when he announced that he and some Wolverines teammates had
bought a pig and named it Dr. Hamlet III
. The blogosphere, naturally, went nuts over this revelation.

On Thursday at Big Ten media days, Lewan went whole hog on the details of his short-lived swine time. Getting a pet pig was the brainchild of him and his roommates
Erik Gunderson
,
Michael Schofield
,
Jack Miller
and
Graham Glasgow
, who are all fellow offensive linemen.
"So we bought a pig," Lewan started off, and if there's a better way to begin a story, I haven't heard it. "Offensive linemen are hogs, and that's how that works."
Where do you find a pig? Craigslist, of course. The linemen pooled their money and spent $250 for a teacup pig. As for the robust name?
"I don't know," he said. "I just wanted my pig to have a Ph.D."
The Wolverines players weren't quite prepared for what they had gotten themselves into, however.
"It was fun for about two weeks," Lewan said. "Then the pig got kind of mean. We weren't neglecting it or anything. We were being sweet to it."
The little porker's sour disposition wasn't totally his fault. The house Lewan and his teammates are renting has a lot of hardwood floors and tile, which does not combine well with a pig's hooves. Lewan said Dr. Hamlet III ended up confined to a small rug area roughly the size of a ballroom round table.
"I thought it was going to be a good deal, but I didn't realize the hooves of a pig struggle so hard with the tile," Lewan said. "It got in the kitchen one time, and it was like watching Bambi on the ice, if you've ever seen that movie. It was so comical."
After about two weeks, the players decided that their pig experience needed to end. Lewan said Gunderson arranged for Dr. Hamlet III to find a more suitable home.
"A living animal can't be confined to a small space like that," he said. "So we decided that the best thing for the pig was to give it away, and now he's a happy pig. We sent it to a farm where it could do pig things."
As for the Wolverines linemen, Lewan said they've given up on the idea of having a pet this year. Not even a dog or a cat?
"Nah," he said. "That's too normal for us."
July, 25, 2013
Jul 25
2:07
PM ET
CHICAGO -- Minnesota running back
Donnell Kirkwood
was browsing the Web about the developments in the Ed O'Bannon antitrust lawsuit against the NCAA when two names caught his eye.
They belonged to his Gophers teammates
Moses Alipate
and
Victor Keise
.
"I was on the Internet and their names popped up and I was like, 'What?'" Kirkwood said Thursday at Big Ten media days. "We support them all the way with it, as long as it doesn't interfere with the team and bring negative attention. As long as they show up to workouts every day and do their part, I think it's all right."
Alipate and Keise are among
six current FBS players who joined the O'Bannon lawsuit
, which alleges that the NCAA, EA Sports and Collegiate Licensing Co., the nation's leading trademark and licensing firm, violated antitrust laws by using players' names, likenesses and images without compensation. Both Minnesota players are fifth-year seniors who haven't played much at the college level.
Kirkwood hasn't discussed the case with Alipate and Keise other than to ask one question.
"If y'all win, how much do we get?" he said with a laugh.
Like many college players, Kirkwood played the "NCAA" video game from EA Sports, which has contained his likeness in recent years. He doesn't feel as strongly as Alipate and Keise about the pay-for-play debate but would like to see the value of his athletic scholarship go a little further, a proposal the Big Ten has backed for several years.
"When I signed my letter of intent, I knew I wasn't going to be getting paid, so it never really crossed my mind," Kirkwood said. "I started finding out about the revenue when I got to college. It'd be nice to have a little extra money in your pocket when times get rough at the end of the month, but I know we're not NFL players and we shouldn't get millions of dollars in college."
A stipend could help players with basic living expenses, Kirkwood said, as well as help their families travel to far-away games. But the Gophers junior opposes a full-blown pay-for-play system in college football featuring agents and contracts.
"That would be too much," he said. "That might mess up the whole entire recruiting process. If they choose to do that, everybody should get the same amount across the country."
July, 25, 2013
Jul 25
8:00
AM ET
By
ESPN.com staff
| ESPN.com
Big Ten bloggers Adam Rittenberg and Brian Bennett will be joined by BuckeyeNation's Austin Ward, NittanyNation's Josh Moyer and WolverineNation's Michael Rothstein to bring you live coverage of Big Ten media days from the Hilton Chicago. Send along any questions or comments below or
@ESPN_Big Ten
and join us at 10 a.m. ET.
July, 24, 2013
Jul 24
7:33
PM ET
CHICAGO -- It's not Jim Delany's style to simply restate the party line. The Big Ten commissioner has always been one to step out on his own.
Wednesday, he took the ongoing discussion about the NCAA one step further.
Delany didn't echo the pointed criticism of the NCAA from his commissioner colleagues, but he agreed that some restructuring needs to be done with college sports' governing body. He devoted much of his media-day address
presenting a four-point proposal
shaped around academics -- "the substance" to go along with the necessary structural changes, including the possibility of the major football-revenue-generating schools forming a separate division within the NCAA.
"Restructuring, great; high-resource institutions, great," Delany said. "But if we don't reattach and reconnect on these educational-based initiatives … I don't care what restructuring comes out of it -- we're not going to be where we want to be."
Here's a look at Delany's reform ideas:
1. Lifetime educational coverage for college players
Under Delany's plan, an educational trust would be set up by institutions, conferences or at a national level that would ensure education coverage for athletes even if they drop out or leave school early to turn pro. "We'll stand behind you, so when you're ready to get serious, or when you have the time, we'll support your college education degree for your lifetime," he said.
2. Limits on time spent on sports
Delany acknowledged the obvious, that major-college athletes spend way more than 20 hours per week (the NCAA limit) on their respective sports. He also admitted that athletes are specializing in one sport at an earlier age, and that training regimens have ramped up more and more. Delany met with the Big Ten football coaches earlier Wednesday and asked how they can help enforce stricter limits. "It's my belief that if you're going to be a full-time student, you have to have time to be a full-time student."
3. At-risk student-athletes
Delany is supportive of providing educational opportunities to athletes from tough backgrounds, but he questions their readiness to handle the academic and athletic workloads at major colleges. He proposes "a year of residence," by which athletes can acclimate to the athletic environment without losing a year of eligibility. "Give them the financial aid they need," Delany said, "but let's make sure that we haven't shortchanged anyone or exploited anyone because we've taken at-risk students and haven't given them the adequate time to prepare to transition educationally."
4. Increasing the value of athletic scholarships
This is hardly a new issue. Delany first brought it up more than
two years ago at the Big Ten spring meetings
. Despite support from NCAA president Mark Emmert and other major-conference commissioners, there has been no movement nationally on increasing scholarship values with a stipend, possibly all the way to federal cost-of-attendance values. This would apply to all full-scholarship athletes and meet Title IX standards. "It's the right thing to do," Delany said. "Whether that's $2,000, $3,000 or $4,000, I don't know, but we need to address that." He added that some schools in the five major conferences -- Big Ten, SEC, Big 12, Pac-12 and ACC -- haven't supported the plan to increase the value of scholarships, but it's time to get on the same page.
[+] Enlarge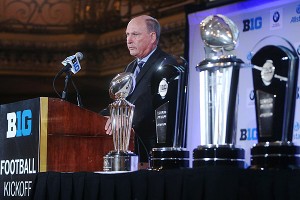 Jerry Lai/USA TODAY SportsOf major NCAA reform, Big Ten commissioner Jim Delany said, "we may get it within a year."
Delany's plan will resonate with some and come off as idealistic to others. He prefaced it by talking about his belief in college sports and his experiences as a basketball player at North Carolina.
"I believe in the opportunity for young people to go to college through intercollegiate athletics, who otherwise wouldn't have an opportunity to go there," he said. "I believe in the equal opportunity of players and students to achieve that opportunity. These, in some ways, seem like maybe quaint ideals, but they're more than a quaint ideal to me."
There's no denying that Delany presented his plan with the ongoing
Ed O'Bannon-NCAA antitrust lawsuit in mind
. He has been steadfast in his belief that college athletes shouldn't be paid and that it could destroy the structure of college sports.
Delany said Wednesday that the O'Bannon lawsuit could end up reaching the U.S. Supreme Court and that Congress could get involved with the Title IX component.
Although Delany's talk centered on the NCAA going forward, he also addressed the organization's embattled leader, Emmert, saying that the NCAA president has done some good things and also made some mistakes along the way while he's "learned on the job."
"We've tried to work with him in every way we can on every major issue that's come up," Delany said. "I wish him the best and have no motive other than to see him and the NCAA succeed, but there's no doubt that we have challenging times and he's the leader of an entity that's our group but also is responsible and accountable for where we are over the last three years.
"But most of the challenges we have at the NCAA predate Mark Emmert."
Delany later told ESPN.com that the NCAA's scrutinized enforcement group has been "a lightning rod within a lightning rod." As a former NCAA investigator, Delany said he plans to study the situation further and provide some suggestions going forward.
"I would like to see the people who make the mistakes pay the price and see the institution pay a lesser price," Delany said. "I would like to see it clearer when an institution is in jeopardy on institutional control that that's reserved for the worst of the worst. And I want to make sure if you make a mistake, there's a process. … We should be able to communicate better which are the major [infractions] and which are the not-so-major ones."
Delany doesn't think the major football-revenue schools have to separate themselves from the rest, and the big schools still will likely always compete against those with fewer resources. But "some autonomy" is needed.
Although the NCAA has come under fire in recent months, Delany sees better days ahead with major reforms now on the table at the highest levels.
"Very optimistic we'll get [change]," he said. "And I think we may get it within a year. The conference commissioners I've spoken with throughout the range of Division I are open for that discussion. It's necessary, and it's a traditional organization and it needs to innovate -- as we all do -- and I'm pretty optimistic that we'll do that."
July, 24, 2013
Jul 24
6:30
PM ET

Adam Rittenberg and Austin Ward review the day's news at Big Ten media days, including Ohio State's controversies, Jim Delany's proposals, and new targeting rules.
July, 24, 2013
Jul 24
9:00
AM ET
By
ESPN.com staff
| ESPN.com
Big Ten bloggers Adam Rittenberg and Brian Bennett will be joined by national columnist Mark Schlabach, ESPN.com's Matt Fortuna, BuckeyeNation's Austin Ward, NittanyNation's Josh Moyer and WolverineNation's Michael Rothstein to bring you live coverage of Big Ten media days from the Hilton Chicago. Send along any questions or comments below or
@ESPN_Big Ten
and join us at 10 a.m. ET.
July, 22, 2013
Jul 22
9:00
AM ET
Big Ten media days are just around the corner, as the league's coaches and top players convene at the Hilton Chicago on Wednesday and Thursday. ESPN.com will be there, providing comprehensive coverage of the happenings, mainly through our live blog.
Remember what we did this spring at schools like
Michigan
and
Nebraska
? We're doing the same thing during media days, much like what
our friends at the SEC blog
brought you last week from Hoover, Ala.
We'll kick things off Wednesday at 10 a.m. ET and go until around 5 p.m. ET, before picking up the blog again Thursday at 10 a.m. ET.
Brian Bennett and I will lead the coverage along with national columnist Mark Schlabach, WolverineNation's Michael Rothstein, BuckeyeNation's Austin Ward and NittanyNation's Josh Moyer. The live blog will feature videos, notes, pictures and chats with us and Big Ten players (more on that later). An avalanche of content is coming your way, so be ready.
We also need your help. If you have questions for us or for the players and coaches, send them to our mailbags
here
and
here
. You can also submit a question for us on
our Twitter page
. We'll attempt to interview all the players and coaches in attendance, so don't be surprised if we ask them one of your questions.
We're setting up several player chats -- Wisconsin linebacker
Chris Borland
is tentatively on the docket -- and will get you the days and times as soon as possible.
This is the unofficial start to the 2013 season. Get fired up!
TOP 25 SCOREBOARD
Thursday, 12/5
Friday, 12/6
Saturday, 12/7
TOP PERFORMERS