NCF Nation:

2013 buy-sell
April, 12, 2013
4/12/13
4:00
PM ET
With recruiting behind us and spring well underway, the Pac-12 blog thought it would be fun to examine each team's chances of winning its respective division.
This is not whether the team of the day can win the Pac-12. And we're not predicting any winners. Rather, this is our take on the team's chances of winning the North or South.
And so we conclude the series. ... Buy or sell Washington State winning the North?
Kevin Gemmell
[+] Enlarge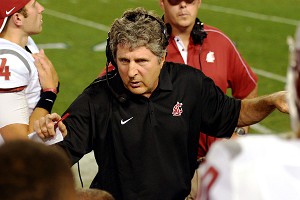 Jake Roth/US PresswireMike Leach and Washington State will try to give their fans hope for the future in 2013.
Sell
: As we bring this series to a close -- it's pretty evident where Ted and I stand. We both believe there are four teams that could win the South and only two teams that could win the North. Unfortunately for Washington State, the Cougars aren't one of those two. Not yet, anyway.
I fully own up to the fact that I bought the preseason Washington State hype last year. That coach, that quarterback, those receivers and that scheme? It seemed like the perfect match. And yes, I picked them over BYU -- my worst prediction of 2012. I figured I'd get it out of the way early. I ate my crow with fava beans and a nice Chianti.
Guess what. I haven't abandoned ship yet. But I'm a little more realistic on the time table.
The schedule isn't particularly favorable for the Cougars this year. They open with two games on the road -- first against Auburn and then at USC. Auburn isn't in great shape right now -- so the Cougars could steal one. But road games at USC, at Cal, at Oregon, at Arizona and at Washington will all be difficult. Plus, they surrender one of their home games and face Stanford at CenturyLink in the Seattle Game.
Whether there are six wins on the schedule is up for debate. Whether there are 10 or more is almost certainly a no. Not with questions at quarterback and a defense that continues to be tweaked. The Cougars gave up a lot of points last season. But there was progress. They were 8th nationally in tackles for a loss (T-74th in 2011) and 11th in sacks (94th in 2011). But they were also last in the country in sacks allowed. Whoever wins the QB job better stock up on Icy Hot.
The Cougars are a few years away from making a serious push in the North -- maybe more than a few. Stanford and Oregon aren't going anywhere and Washington and Oregon State are trending up. Cal might be on the upswing, also. The fact is the North is vicious. And will continue to be vicious for years to come. For now, getting to a bowl game would be a nice step forward.
Ted Miller

Sell
: Kevin is a bit hard on himself. Just about everyone thought the Cougars would take a step forward in 2012. And you can make a pretty good argument that the talent was better than the result: 3-9 record and some obvious transitional pains under new coach Mike Leach.
Further, I think my chief motivation for picking BYU against the Cougars was so all Kevin and my picks wouldn't all match that week.
As they have throughout this series, of which some of you have astutely pointed out weaknesses.
My belief is strong that Washington State will not win the North Division next year. There are more talented, veteran teams ahead of them, and
the schedule is a further burden
. Dropping Colorado from the slate means the Cougs lose the one conference game in which you could mark them as a favorite, ignoring, of course, what happened in last year's matchup.
The more legitimate question might be the Cougars' bowl hopes. I, however, wouldn't put a buy rating on that, either.
My feeling is the more sober-minded Coug fans -- sober Coug fans, Ha! -- aren't obsessing over reaching a bowl game for the first time since 2003. What they are looking for is hope. And respectability.
That means not getting whipped by at least 24 points four times. That means not losing to teams like Colorado. That means winning games the Cougars should win and stealing one or two they shouldn't. The fourth quarter needs to matter again. It shouldn't be a time for driving home.
There are ways to get to 5-7 this fall that will be quasi-satisfying. Think of Rocky's first fight with Apollo Creed.
That's the image: A bunch of nobly battered Cougs screaming "Leach ... Leeaaach!" at season's end, while the crowd applauds the effort and notes, "We've got a lot of guys coming back in 2014!"
April, 1, 2013
4/01/13
7:00
PM ET
With recruiting behind us and most schools in the swing of spring drills (the last of the bunch kick off next week), the Pac-12 blog thought it would be fun to examine each team's chances of winning its respective division.

This is not whether the team of the day can win the Pac-12. And we're not predicting any winners. Rather, this is our take on the team's chances of winning the North or South.
Buy or sell California winning the North?
Ted Miller
Sell
: We don't want to squelch California fans' optimism. This team has some intriguing talent on both sides of the ball. But there's a lot weighing against it challenging for the top spot in the North Division, starting with … the North Division. It's brutal.
The Bears seem like a long shot to break the top four, with Stanford and Oregon at the top and Washington and Oregon State looking like top-25 teams. In fact, the basement dweller might still be thinking bowl game into the final weeks of the season. Washington State looks like the main rival this year for the Bears.
Just consider: You've got a team coming off a 3-9 season with a new coaching staff, significantly new systems on both sides of the ball, a new starting quarterback and a brutal schedule.
There are eight teams with legitimate top-25 potential on the slate, and three are among everyone's national title contenders: Ohio State, Oregon and Stanford. The South Division misses -- Arizona State and Utah -- are a decided mixed bag.
[+] Enlarge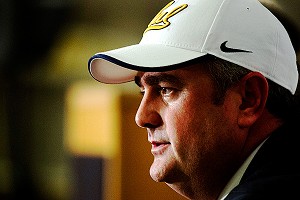 AP Photo/Bay Area News Group, D. Ross CameronSonny Dykes' challenge in 2013? Keep Cal competitive during its rugged schedule.
An enthusiasm bump for coach Sonny Dykes can only do so much. There's a reason coach Jeff Tedford was fired after 11 seasons: The program had plateaued and started a downward trend. Hard to correct that in a single year.
It's reasonable to put a long-term buy rating for the Bears under Dykes, particularly with sparkling new facilities bolstering recruiting. But for the short-term investor, we suggest a buyer beware.
Kevin Gemmell
Sell
: I'm selling, too. However, it's not because California is installing new systems on both sides of the ball. We saw last year what kind of a jump start new coaches running new systems can bring to a program. Three of the four new coaches in 2012 with their newly-installed systems -- Rich Rodriguez, Todd Graham, Jim Mora -- had immediate success and went to bowl games. Heck, the Bruins won the South with complete offensive and defensive overhauls. So there is precedent.
Plus, we've seen that having a first-time starter at quarterback doesn't necessarily mean a one-year death sentence for a program anymore. From
Brett Hundley
and
Marcus Mariota
to
Kevin Hogan
and
Taylor Kelly
, we saw what first-time starters are capable of.
I don't see either of these as Cal's major obstacles.
The reason I'm selling the Bears is because I don't think they can win the division with the current level of competition within the North. Ted used the word brutal. That's generous. Barbarous might be a more apt description. And I just don't see a scenario this year where they beat three of those top four teams Ted mentioned.
I will say this, however. The Bears are going to spoil someone's season. I don't know if it will be Stanford, Oregon, Oregon State or Washington, but I wouldn't rule out Cal knocking off one of those teams along the way. Because the talent is there on both sides of the ball to catch one of those teams off guard. And I wouldn't count them out of a bowl berth, either. But I don't see the Bears knocking off enough of those top-end teams to earn a spot in the conference title game.
March, 29, 2013
3/29/13
12:00
PM ET
With recruiting behind us and most schools in the swing of spring drills (the last of the bunch kick off next week), the Pac-12 blog thought it would be fun to examine each team's chances of winning its respective division.

This is not whether the team of the day can win the Pac-12. And we're not predicting any winners. Rather, this is our take on the team's chances of winning the North or South.
Buy or sell Arizona State winning the South?
Kevin Gemmell
Buy
: I haven't decided yet if I'm picking the Sun Devils to win the Pac-12 South. We still have a few months before the media poll. But it's hard for me to come up with reasons why they shouldn't be No. 1 in the division.
I like the offense -- not just the players -- but the ingenuity behind it. I like the multiple ways Mike Norvell uses the running backs in the screen game and split out in the slot. The mismatches are abundant when you get
Marion Grice
and
D.J. Foster
in space.
I like the fact that they are digging deeper into the playbook this spring because they have a returning quarterback in
Taylor Kelly
who was so efficient in his first year as a starter and looks to be even better in his second year. I like that they have depth at quarterback and they went out and got some big wide receivers who should be able to get separation.
[+] Enlarge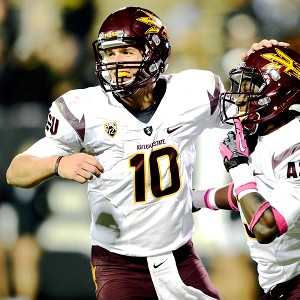 Ron Chenoy/US PresswireTaylor Kelly is entering his second season as the starting quarterback for Arizona State.
And, of course, it's hard not to like the defense -- headlined by the returning Pac-12 defensive player of the year and Morris Trophy winner in
Will Sutton
. And let's not forget about
Carl Bradford
, who was fourth in the league in sacks last season with 11.5 and second only to Sutton in tackles for a loss per game. With so much attention being given to Sutton this season, look for Bradford's numbers to skyrocket.
The question mark for the Sun Devils is the schedule. A four-game stretch early on that includes Wisconsin, Stanford, USC and Notre Dame is really going to test what this team is made of. If they can come out of that at 4-0, 3-1 or even 2-2, it will be a huge confidence boost for this team moving into the second half of the season -- when they close out with Oregon State, UCLA and Arizona.
The South figures to be an exciting race right up until the end of the season. But when you look at what ASU has in its arsenal, it's hard not to like them.
Ted Miller
Buy
: Kevin and I already talked about how the second guy in this can't just go, "Ditto." But Kevin correctly touched a lot of bases.
I go back and forth between the Sun Devils and UCLA as the Pac-12 South Division front-runner. Both look like top-25 teams.
Both are solid at quarterback and have an All-American coming back to lead strong defensive fronts. Both give some pause in the secondary. Both have some questions at receiver. The Sun Devils are much better at running back, the Bruins a little better at linebacker. Both offensive lines seem solid. Heck, both must replace good punters.
So there's a lot to like about Arizona State heading into 2013. The biggest question is the schedule. It's entirely possible the Sun Devils could be a whole lot better next fall than 2012, but only win eight or so regular-season games. Yet if things fall into place, this also could be a 10-win team.
The key is the nonconference schedule, but perhaps not as you think. A visit from Wisconsin and game with Notre Dame in Cowboys Stadium -- read: a road game -- are sandwiched around a trip to Stanford and home date with USC. Those conference games are infinitely more important to Arizona State than the nonconference games, because the name of the game here is winning the South Division. Ergo: At least splitting the conference dates is the priority compared to beating the Badgers and Fighting Irish.
I realize that's not genius analysis, and that the Sun Devils will prepare to win each and every week. The point is this: Win or lose versus Wisconsin and Notre Dame, Arizona State needs to be focused and mentally tough. The results against the Badgers and Fighting Irish -- celebration or sadness -- can't distract from what immediately follows.
Say the Sun Devils start 4-0 or 3-1. They can't get full of themselves. Just as a 1-3 start won't doom the season, particularly if that one win comes against South Division rival USC.
So my "buy" here is about more than returning talent. It posits a belief in coach Todd Graham, his staff and the new, more disciplined culture in the locker room. It's a statement of belief that the Sun Devils will hit mid-October still focused on the immediate task at hand instead of thinking big picture, one way or the other, which would be a kiss of death to a promising season.
March, 28, 2013
3/28/13
7:00
PM ET
With recruiting behind us and most schools in the swing of spring drills (the last of the bunch kick off next week), the Pac-12 blog thought it would be fun to examine each team's chances of winning its respective division.
This is not whether the team of the day can win the Pac-12. And we're not predicting any winners. Rather, this is our take on the team's chances of winning the North or South.

Buy or sell Arizona winning the South?
Ted Miller
Buy:
Arizona has a sneaky-strong position as it sets up for the 2013 season and the South Division race.
It starts with the schedule, which includes fortuitous misses of Stanford and Oregon State. In fact, when you toss in three horribly weak nonconference games -- the nonconference schedule would make an SEC team blush -- you can envision seven games in which the Wildcats will be clear favorites. After that, you see three rugged road games -- Washington, USC and Arizona State -- and a pair of home games in which Arizona figures to be the underdog: UCLA and Oregon.
As it stands now, this schedule suggests seven or eight wins. What could swing the Wildcats in the upward direction -- or downward, if you want to be a pessimist -- is quarterback play. While the Pac-12 blog suspects many Wildcats fans don't realize just how good
Matt Scott
was last season -- obviously the Ted Miller half of the Pac-12 blog believes he was one of the elite players in the conference in 2012 -- the recent strong performances across the Pac-12 of first-year starters at the position means it doesn't require a Herculean leap of faith to wonder this with a degree of hope: What if the Wildcats are at least solid at the position?
[+] Enlarge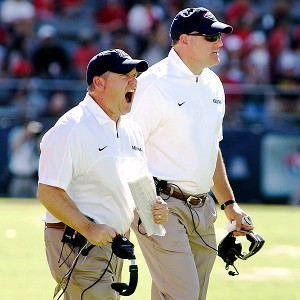 AP Photo/John MillerA second season under coach Rich Rodriguez and defensive coordinator Jeff Casteel, left, could boost the comfort level for Arizona's returning players.
Solid at quarterback, coupled with a lot of guys coming back everywhere else, would make Arizona a dark horse in the South, particularly if the defense is significantly improved. And the front-runners falter.
Now, I'm not picking the Wildcats to win the South. I'd rate them fourth at this point, behind Arizona State, UCLA and USC. But none of those teams is a sure thing. I also see a team that should be more comfortable with second-year coach Rich Rodriguez, one that has a lot of intriguing elements coming back.
Looking at this like a stock purchase, if you're willing to take on some risk, the Wildcats might be a team that will yield high reward.
Kevin Gemmell
Buy:
I wanted Ted to go first for Arizona because I wanted to see how long it would take him to mention Matt Scott in relation to skeptical Arizona fans. He waited all the way until the middle of the third paragraph. His restraint is commendable. (Though it took him only three sentences to sneak in an SEC jab. Golf clap.)
The Wildcats are right on the edge -- and I agree that they are probably fourth in the pecking order of teams in the hunt for the division. As of today, I wouldn't pick them to win the South. But I wouldn't rule them out either. So I'm buying because of … wait for it … the improved defense! That's right, Jeff Casteel, this is your time to shine.
We're not talking about a handful of returners, we're talking about the entire defense returning. Are the Wildcats going to be at the same level as Stanford, Arizona State, Oregon State, et al? No. Probably not even in the same neighborhood. But they will be better than 105th against the run, 118th in total defense and 102nd in points allowed.
If the Wildcats make even incremental defensive progress, it is going to be a huge step forward and should be enough to offset a quarterback change on the other side of the ball. The 3-3-5 is a risk-reward scheme that, when run properly, can give offenses fits. It's unique to the conference, so teams aren't going to be used to seeing it, and Year 2 is usually when teams start to see progress because there is a better understanding of the big-picture concepts. I'm expecting the sacks to go up, the turnovers forced to go up and the yards allowed to go down.
The offense has enough elite playmakers to put points on the board. I think whoever wins the quarterback job is going to have enough warm-up time before that Sept. 28 game at Washington (and as of today I'd pick the Huskies in that one). With guys such as
Ka'Deem Carey
and
Austin Hill
, the Wildcats will again be an offensive force to be reckoned with. More importantly, the defense should do a much better job protecting leads in 2013, which gives the Wildcats a fighting chance against the South elite.