NCF Nation:

2013 MEAC/SWAC Challenge
July, 16, 2013
7/16/13
1:25
PM ET
By
Jason Joseph
| Special to ESPN.com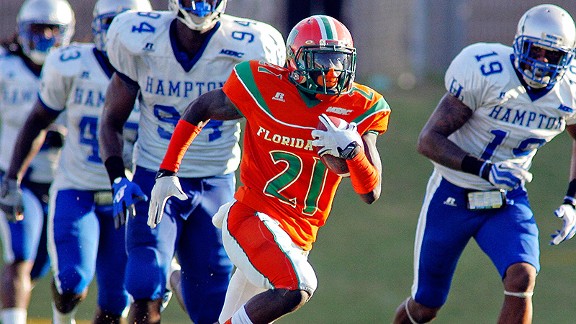 AP Photo/Phil SearsJames Owens' speed makes him a home run threat at running back for Florida A&M.
James Owens
was looking forward to the 2011-12 season at Florida A&M, until a setback forced him to miss the entire year. Now a redshirt junior, the running back from Apopka, Fla., was ruled academically ineligible, which forced him to put his athletic goals -- and NFL dreams -- on hold.
"Everything was going good, then I was declared ineligible for one year due to grades, so I had to bounce back from that," said the 21-year-old Owens, a criminal justice major whose career goals also include starting an after-school and summer program for young people.
Setbacks aren't new territory for Owens. While poised to have a strong season for the Rattlers this year, he's also focused on his other priority: 1-year-old son Jaden.
"It can be very difficult at times, but he's a blessing to have … seeing his face every day," Owens said. "He lets me know I have to grind harder and harder to make sure he had things that I couldn't [have] growing up."
At 5-foot-9, 185 pounds, Owens has been timed at 4.29 seconds in the 40-yard dash. He models his game after speedy running backs like Chris Johnson, C.J. Spiller and Jamaal Charles. It's that kind of skill set that he hopes first-year coach Earl Holmes, who replaced legend Joe Taylor, will notice and make use of.
"Me and Coach Taylor had a pretty good relationship, but I feel Coach Holmes is a great fit for us because he's a player's coach," Owens said. "He has set high expectations on us because he sees our potential as a team, and he wants to restore that pride in the program. I'm looking to be one of the leaders in the FCS in rushing, and I'm working hard to make sure I get there."
Like Owens, FAMU is looking for a breakout year after going 4-7 last season. It all starts on Sept. 1, when FAMU faces Mississippi Valley State in the MEAC/SWAC Challenge presented by Disney. The game will be played at the Florida Citrus Bowl in Orlando, near Owens' hometown.
Owens sees an opportunity to emerge as the unquestioned starter in the backfield this season. As a freshman in 2010, he rushed for 370 yards on just 65 carries. Despite limited touches, he also led the team in all-purpose yards, with 1,415 (including 904 yards as a kick returner).
Holmes knows what he has in Owens, and has high expectations.
"James played a lot for us [as a sophomore] and was very productive," Holmes said. "A very crafty kid in space, [he] can make you miss, can win his one-on-ones and is one of the fastest guys on the team."
Getting to this point has been a series of twists and turns for Owens, but he has no regrets.
"I was originally supposed to go to Florida International, but I came to Florida A&M and earned my spot as a walk-on," Owens said. "I really didn't know where I was going to go, but I decided to apply for FAMU, and when I got accepted I decided I would walk on and I made my name from there. So I guess it's a funny story of how I got here."
Owens is ready to shine and always points to his first game at FAMU as his inspiration.
"It was my first college start against Hampton," he recalls. "They were projected to be division winners that year. I came in with the mindset to leave everything I had on the field. I finished with 11 carries, 295 all-purpose yards and three TDs."
Jason Joseph is a junior at Florida A&M University, majoring in broadcast journalism.
July, 2, 2013
7/02/13
2:11
PM ET
By
Malcolm R. Miller
| Special to ESPN.com
Julian Stafford
has Sept. 1 circled on his calendar.
The 5-foot-9, 185-pound redshirt sophomore expects to be lined up at wide receiver for Mississippi Valley State when the Delta Devils open the football season by taking on Florida A&M University in the
MEAC/SWAC Challenge presented by Disney
. The Memphis, Tenn., native is coming off a stellar season where he caught 52 passes for 800 yards and four touchdowns -- an impressive feat when you consider he had 57 yards as a freshman.
[+] Enlarge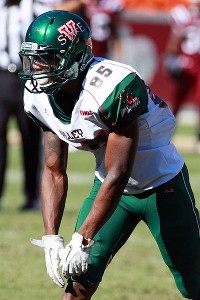 Courtesy of Mississippi Valley State UniversityJulian Stafford wasn't highly recruited out of high school in Memphis, but had a breakout season for Mississippi Valley State last year.
"Once he gets going, a player of his caliber is hard to slow down," says Coach Karl Morgan, who recalled the game against Grambling State last October, when Stafford amassed 262 all-purpose yards and two kick return touchdowns.
"That game was my coming-out party," says Stafford. "Everybody finally found out who I was."
Stafford's growth has been a welcome surprise for Delta Devils fans.
He wasn't highly recruited out of Sheffield High School in Memphis.
"I was a little disappointed that I didn't get the offers from big schools. Mississippi Valley State University was the school that gave me a chance to play Division I college football, and I'm really thankful for that."
Yet, he was far from the focal point of the offense when he first arrived on campus.
"There were times when I got frustrated [as a freshman], because I really wanted to help the team," he said. "But I knew if I stayed patient and worked hard my time would eventually come."
Stafford saved his best performance for the final game of the season against Texas Southern University last November. That's when he registered a career-high 282 all-purpose yards as MVSU cruised in a 34-3 rout.
Stafford credits a change in offensive coordinators (from his freshman to sophomore year) and his own increased dedication to his early success. "I've really stepped up my work ethic this past season by giving everything I do on the field 110 percent -- lifting weights more, studying more film and training hard every day," he says.
As expressive as his game is, Stafford is anything but. "I still don't like to go out much; I'm more of a homebody," admits Stafford, who pledged Kappa Alpha Psi last spring. "[Pledging] was something I've always wanted to do and I'm proud to be a part of."
While Stafford isn't looking beyond the MEAC/SWAC Challenge game, he does expect his team to have a breakout season. With a defense that finished third in the FCS standings and dynamic newcomers (including wide receiver
Richard Drake
and standout defensive end
Robert Simpson
), the Delta Devils could be a force.
"This could be a big year for us," Stafford said. "I think we will be very successful this year because the team has matured. No one on our roster is self-centered. We have a lot of veterans on the team who lead by example and really want to win."
Stafford can certainly count himself in that group.
Malcolm R. Miller is a junior at Mississippi Valley State majoring in Mass Communication with an emphasis in Broadcasting.
June, 19, 2013
6/19/13
11:30
AM ET
By
Morgan Culler
| Special to ESPN.com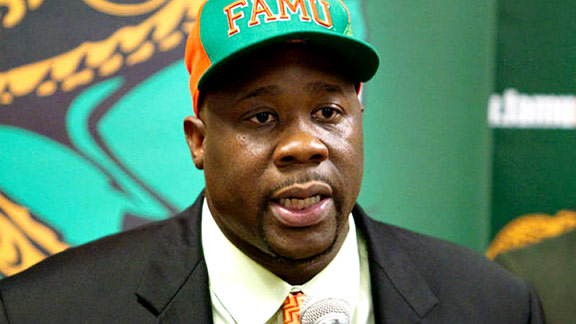 James HolmesFormer NFL linebacker Earl Holmes is determined to make his mark at Florida A&M, his alma mater.
After 10 seasons as a linebacker in the NFL, Earl Holmes retired in 2005, content with a life away from big-time football.
Two short years later -- in 2007 -- his alma mater, Florida A&M, came calling. More specifically, Rattlers coach Joe Taylor.
"When I retired -- my home is in Orlando -- I started coaching high school football in Lake Mary," Holmes said. "One day Coach Taylor called and asked if I was interested in coaching for my alma mater."
It didn't take Holmes long to answer.
"Of course!" he said.
Not only would Holmes be getting his break as a college football assistant, the Tallahassee native would also be returning home. As an All-American at FAMU, Holmes was a three-time first team All-MEAC selection and earned the Sheridan Broadcasting Network College Defensive Player of the Year award in 1995. Holmes' 509 tackles set a Rattlers career record.
In addition, Holmes would get an opportunity to coach under Taylor, one of the most successful coaches in the NCAA's Football Championship Subdivision, who had replaced Rubin Carter as Rattlers head coach in 2007.
In November, however, with two games remaining in his fifth season at FAMU, Taylor announced his retirement, and Holmes was immediately named interim head coach. He was formally offered the head coaching job in January.
Holmes knows the spotlight is on him, replacing Taylor, who went 233-96-4 in his career. Holmes is focused on putting his imprint on this Rattlers team and staff. In addition to Holmes, the Rattlers have five new coaches who previously played in the NFL.
Holmes' first big test comes in the MEAC/SWAC Challenge Presented by Disney: Florida A&M vs. Mississippi Valley State on Sun., Sept. 1 (ESPN, 11:45 a.m. ET). It is the the ninth installment of the annual HBCU matchup.
The Rattlers are coming off of a 4-7 season, including two disappointing losses at the Bank of America Atlanta Classic (against Southern University) and in the Florida Classic (against rival Bethune-Cookman).
"The discipline is the first and most important thing, because if I can't trust you off the field, I can't trust you on the field," says Holmes, who will also serve as defensive coordinator. "Our guys understand that and buy into the type of football we're trying to play here. It's pretty much line up and play. You have to be physical, and you have to be smart. You can't beat yourselves. It's hard enough to win on Saturdays."
FAMU is making its second MEAC/SWAC Challenge appearance -- it lost to Southern 33-27 in 2007 – and Holmes understands that this game is a Super Bowl, of sorts, for both schools and both conferences.
"I think [this game] is good for both conferences," says Holmes of the second-ever meeting between FAMU and Mississippi Valley, and first since 1990. "It's good for both programs because any time you have a big game as your first game, and kids understand that, then they understand the sense of urgency."
Holmes' players are getting the message. "[Last year] we were a slow-pace, casual team," says senior linebacker
Bobby Jackson
. "Coach wants to focus a lot on increasing the speed of play, and he wants us to be a physical -- don't think, just a react-type of team. With Coach Holmes being a younger coach and having prior knowledge with the NFL, he can relate more to how we want to play."
Drafted in the fourth round of the 1996 NFL draft by the Steelers, Holmes played five seasons in Pittsburgh, one in Cleveland and his last three years in Detroit.
"He will have to split his time with everybody, but with his methods and beliefs toward the linebackers and defense, he now has to spread it out to everybody," Jackson said. "I think it will be very beneficial to us, and will help us win a lot of games."
Adds sophomore linebacker
Akil Blount
: "Coach is trying to perfect every aspect of the game to help us become better on and off of the field. He always helps players. He is very supportive and gives a lot of great constructive criticism."
Morgan Culler is a junior at Florida A&M University, majoring in business management and broadcast journalism.