NCF Nation:

2013-midseason-overview
October, 14, 2013
10/14/13
10:00
AM ET
The ACC has arrived.
At the halfway point of the season, the once-beleaguered conference now has top 10 teams in No. 3 Clemson, No. 5 Florida State and No. 10 Miami. It has Heisman candidates in Clemson quarterback
Tajh Boyd
and Florida State quarterback
Jameis Winston
. It has four ranked teams, including No. 19 Virginia Tech. It has wins over Florida and Georgia. And it's the No. 3 conference in the country, trailing only the SEC and the Pac-12.
Doesn't matter that Virginia can't score in the red zone, Syracuse can't find a consistent quarterback and Georgia Tech has lost three in a row. All of the blemishes and imperfections of the others can be overlooked when there are two striking beauties walking down the runway first. With not one but two legitimate national title contenders, and the resurgence of Virginia Tech and Miami in the Coastal Division, the ACC's premier programs have helped elevate the league's perception through the first half of the season.
[+] Enlarge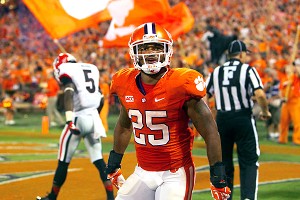 Joshua S. Kelly/USA TODAY SportsRoderick McDowell and Clemson announced the ACC's presence in the season opener with a win over SEC power Georgia.
Even Boston College, a program that has won just six games in the past two seasons, has earned respect under first-year coach Steve Addazio. Nobody has played Atlantic Division heavyweights FSU and Clemson tougher than the Eagles, who have adopted their new coach's blue-collar work ethic and passion. The Eagles have proven to be a fundamentally sound, well-coached team intent on running the ball first, and Clemson was lucky to escape with a win on Saturday night.
Much like Boston College, Maryland has already surpassed last year's win total with its 5-1 record. Even with starting quarterback
C.J. Brown
sidelined with a concussion on Saturday, the Terps found a way to beat Virginia and come within one win of bowl eligibility. Virginia Tech, which needed a win over rival Virginia last year in the regular-season finale to become bowl eligible, has already reached that milestone with Saturday's win against Pitt. Much improved from a year ago, and with one of the premier defenses in the country, the Hokies are now bowl eligible for the 21st consecutive year. Quarterback
Logan Thomas
continues to improve each week, and the players around him have gotten noticeably better. The Hokies are starting to hit their stride offensively just when it matters most.
The ACC enters the second half of the season with three unbeaten teams remaining in Clemson, Florida State and Miami, and four teams (Virginia Tech is the other) undefeated in league play.
Of course, it hasn't all been Heisman happy.
League newcomers Pitt and Syracuse already have played themselves into irrelevance in their respective division races. Virginia coach Mike London's seat is starting to sizzle. And Tobacco Road is ready for basketball season.
North Carolina, Duke and NC State are a combined 0-7 in league play. Wake Forest, with its lone ACC win coming against the Wolfpack, has underachieved and spent the first half of the season trying to find an identity on offense. UNC, meanwhile, has to win five of the final seven games just to get to a bowl game, and it doesn't look good.
That's not what the rest of the nation is watching, though, and that's why the ACC is sitting pretty through the first half of the season.
Offensive MVP: Clemson QB Tajh Boyd --
He recently became the program's all-time leader in passing yards with 9,836. He is second in total offense in ACC history. He has won 27 games as Clemson's starter, and he's the ACC's best hope at a Heisman Trophy winner this year. Boyd's leadership is one of the biggest reasons Clemson is ranked No. 3 in the country and in contention for a national title.
Defensive MVP: Clemson DE Vic Beasley --
The redshirt junior has emerged as one of the top pass-rushers in the country this fall. He's No. 2 in the country in sacks at 1.5 per game, and he's tied for fourth in the country in tackles for loss with two per game and 12 total.
[+] Enlarge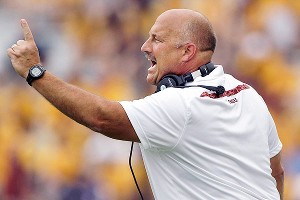 AP Photo/Mary SchwalmFirst-year coach Steve Addazio has Boston College playing at a higher level than any preseason prognostication.
Biggest surprise: Boston College --
After winning just two games a year ago, expectations were tempered for the Eagles, who are under the direction of first-year coach Steve Addazio. The Eagles have already surpassed last year's two-win total, though, and have played with an intensity in every game that has exceeded the expectations of most.
Biggest disappointment: North Carolina --
The Tar Heels won eight games last year, but this season they might not even get to a bowl game under Larry Fedora. The offense and the defense have looked atrocious, and UNC has lost three in a row heading into Thursday night's game against Miami. Despite losing Giovani Bernard and Jonathan Cooper, Fedora said this year's offense could be better, but it only has gotten worse.
Newcomer of the year: FSU QB Jameis Winston --
He arguably has been the most exciting redshirt freshman in the country this year. He has gone from being Florida State's biggest question to its biggest asset. He's No. 2 in the country in passing efficiency, and he's No. 4 in the country with a QBR of 91.3 In his first season as a starter, he's already in the Heisman mix.
Best coach: Miami's Al Golden --
He beat Florida. He has the Canes at 5-0 and ranked in the top 10 for the first time since 2009. Oh, and the program still hasn't heard if it will face further sanctions from the NCAA. Golden has kept his team focused and winning, and brought the Canes back to relevance in the national picture.
Best game: Clemson 38, Georgia 35.
This was the game that changed the entire perception of the ACC and legitimized Clemson's hopes at a national title. Finally, the ACC had the upper hand against the SEC on the big stage in a season opener. Not only was it a win for the ACC, but the seesaw game lived up to all of the preseason hype and was an instant classic.
October, 14, 2013
10/14/13
10:00
AM ET
The SEC set a record on Sunday with eight teams cracking the Associated Press Top 25 poll, further underscoring the balance in this league.
But will that balance work against the SEC in the national championship race?
The midway point of the season is upon us, and only two teams in the league are still unbeaten. Two-time defending national champion Alabama would have been a runaway choice to be one of those teams back in the preseason, but not a lot of people would have targeted Missouri to be the other one.
[+] Enlarge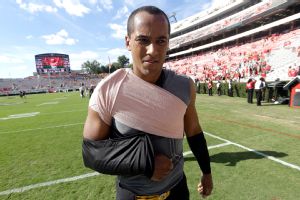 AP Photo/John BazemoreMissouri will try to stay hot without the services of injured QB James Franklin.
The Tigers are coming off back-to-back SEC road wins and now return home for three straight games. Their 41-26 win at Georgia on Saturday was a costly one. Senior quarterback
James Franklin
separated his throwing shoulder and is out indefinitely.
Injuries, period, have been a common theme during the first half of the SEC season. Florida's
Dominique Easley
, who was playing better than any defensive lineman in the league, suffered a season-ending ACL tear a week after the Gators lost their starting quarterback,
Jeff Driskel
, for the season.
Georgia has been depleted on offense, leaving senior quarterback
Aaron Murray
without his top playmakers. The Bulldogs hope to get star running back
Todd Gurley
back from a high ankle sprain in the next week or two, but have already lost receivers
Malcolm Mitchell
and
Justin Scott-Wesley
and running back
Keith Marshall
for the season. Receiver
Michael Bennett
is also out for a few more weeks with a knee injury.
Meanwhile, everybody is still chasing Alabama, which survived a 49-42 scare at Texas A&M the third week of the season and a few other shaky outings to play its best football the past two weeks.
The Crimson Tide have steadily improved defensively since giving up 628 yards of total offense (the most ever by an Alabama defense) to
Johnny Manziel
and the Aggies back in September. The Tide are ranked second nationally in scoring defense (11.3 points per game) and are starting to look like Alabama defenses of old.
If anybody's going to unseat Alabama, it's probably LSU. The Tigers have a brutal schedule, but it's easily the most explosive offense they've fielded under Les Miles. First-year offensive coordinator Cam Cameron has been the acquisition of the year in the league, and senior quarterback
Zach Mettenberger
has been the most improved player in the league.
During the SEC's seven-year national championship streak, only twice have the teams hoisting the crystal football at season's end been unbeaten.
This season has a similar feel to it, especially given the way the teams in the league have beaten up on each other to this point. In other words, the odds are against anybody going unbeaten, although Alabama has the most favorable schedule.
There's no getting around the metamorphosis that has taken place in this league in the first half of the season. In fact, the norm has suddenly become the 38-35 shootout, filled with explosive plays on offense and some of the finest quarterback play this league has seen in a long time.
Defense has long been the SEC's trademark, but only two teams at the midway point are ranked in the top 20 nationally in total defense -- Florida (No. 3) and Alabama (No. 8).
And then there's Texas A&M. The Aggies can score with anybody and lead the league in total offense (586.5 yards per game) and scoring offense (47.8 points per game). Unfortunately for them, they can't stop anybody and rank last in the league in total defense (474.3 yards per game) and next to last in scoring defense (32 points per game).
We'll see what the second half of the season holds, but times would seem to be changing in the SEC.
Here's a look at some midseason accolades:
[+] Enlarge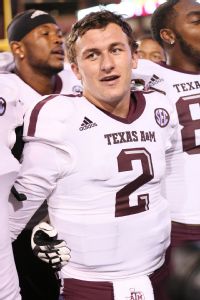 Nelson Chenault/USA TODAY SportsJohnny Manziel is having another outstanding season.
Offensive MVP:
Texas A&M quarterback Johnny Manziel. Having to defend Johnny Football really isn't fair. He's impossible to get on the ground. He's throwing the ball better than ever, and his instincts are off the charts. Manziel leads the league in total offense with an average of 377 yards per game and has accounted for 19 touchdowns.
Defensive MVP:
Alabama linebacker
C.J. Mosley
. He's the Crimson Tide's quarterback on defense, and as valuable as Mosley is when it comes to making game-turning and game-saving plays, he's just as valuable with his ability to make everybody else around him better. Mosley leads the Tide with 48 total tackles, including 3.5 for loss.
Biggest surprise:
Missouri. The Tigers are off to a 6-0 start after limping to a 5-7 finish a year ago in their first season in the SEC. They were picked sixth in the East this season at the SEC media days. One of the keys to their success has been a string of good fortune on the injury front, but that changed Saturday when Franklin separated his shoulder in the 41-26 win at Georgia. Even so, this is a team playing with a lot of confidence and right in the thick of the East race.
Biggest disappointment:
SEC defenses. Maybe it's a back-handed compliment to how good the offenses have been this season, but what has happened to the defense in this league? Seven of the 14 teams are allowing more than 26 points per game, and some of the scores during the first half of the season have been better suited for the game room at the arcade.
Newcomer of the year:
Arkansas running back
Alex Collins
. This was a tough one. Florida cornerback
Vernon Hargreaves III
and Alabama defensive end A'Shawn Robinson have both made tremendous impacts, but Collins has been Mr. Steady for the Hogs. He's third in the SEC in rushing with an average of 102.9 yards per game (720 yards) and is also averaging 5.9 yards per carry.
Best coach:
Missouri's Gary Pinkel. In his 13th season at Missouri, Pinkel has gone from the hot seat to being the SEC's Coach of the Year at the midway point. Without Franklin, he's really going to have his work cut out, but Pinkel has done an excellent job in rallying the Tigers in their second year in the SEC. They've scored 38 or more points in all six of their games and lead the league in turnover margin.
Best game:
Georgia 44, LSU 41, Sept. 28. To be honest, there were several thrilling games to choose from during the first half of the season. The Alabama-Texas A&M and Ole Miss-Texas A&M contests both deserve honorable mention, but the Dawgs and Tigers played one for the ages at Sanford Stadium a few weeks ago. Aaron Murray and Zach Mettenberger were both terrific in a back-and-forth game that nobody wanted to end.
October, 14, 2013
10/14/13
10:00
AM ET
As we turn the page on the first half of the 2013 season, the big takeaway is this: The Pac-12 still has a viable national championship contender in Oregon and at least one viable BCS at-large team. An undefeated Oregon team obviously advances to the national championship game. A one-loss Oregon, Stanford and/or UCLA would all be prime candidates for an at-large bid (we'll know more after UCLA plays both of those teams).
Either way, the Pac-12 clearly distinguished itself as one of the top two leagues in college football with a 29-5 mark against out of conference competition. And a strong argument can be made that, top to bottom, it is on par if not superior to the SEC.
The Pac-12 is deep, which, as we've learned the last couple of weeks, is its blessing and its curse.
[+] Enlarge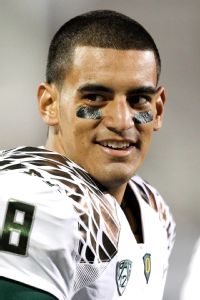 AP Photo/David ZalubowskiMarcus Mariota has every reason to smile, leading an undefeated team and not committing a single turnover through six games.
The blessing is Oregon stayed highly visible through the first half of the season, even though it hadn't played a ranked team until Saturday's win at Washington. But the way the Ducks have won, by starting the year with five games of scoring 55 points or more, and the way they were able to squash most naysayers with dominant performance after dominant performance speaks to the sheer impressiveness of what Oregon has accomplished so far. A Heisman front runner also helps.
Plus, ASU and UCLA picked up critical wins over Wisconsin and Nebraska, and Washington topped Boise State. Those were all marquee wins that bolstered the conference's national perception. Washington has dropped two games but remains in the top 25 because voters are recognizing the quality of competition in the Pac-12.
The curse is Washington plays in the Pac-12 North, in which wins are hard to come by. The curse is that a four-win Washington State team would have a much better shot at going bowling if the Pac-12 played an eight-game conference schedule. The curse is Stanford ran into a surging Utah team that finally had its "hello Pac-12" moment. Stanford didn't lose that game. Utah won it. And the Utes aren't going to make things easy in the South. Just as Washington State isn't going to make things easy in the North. They led the Beavers late into the third quarter on Saturday night.
Now UCLA, Stanford, Oregon, ASU, Washington UCLA, Utah and Oregon State are all going to cannibalize one another throughout the course of a vicious conference schedule. UCLA has back-to-back trips to Stanford and Oregon. Washington has to go to ASU. Utah is on the road for four of its next six games. ASU must try to clinch the South in Pasadena. UCLA has to try to clinch the South at the Coliseum. That's right, don't rule out USC just yet.
Or maybe we see Stanford do what it did last year -- drop a game on the road after a failed goal-line push (starting to sound familiar?) and then close strong in the last mile. Then again, Stanford could conceivably drop its next two to UCLA and Oregon State and then beat Oregon. That would almost seem apropos for this wacky conference. Almost.
If we learned anything these first seven weeks, it's that the Pac-12 has changed the perception of how it's viewed around the country. It started the year with five teams in the top 25. A total of seven have been in and out of the rankings. It has four in this week -- all four in the top 20 -- two in the top 10 and one, at No. 2, receiving first-place votes. Three other teams have been in and out of the rankings -- USC, Oregon State and ASU -- and the Beavers, Sun Devils and Utes are receiving votes.
And as the conference continues gorging itself, it's only going to get more interesting from here on out.
Offensive MVP:
You can make a case for a few guys, but Oregon quarterback
Marcus Mariota
gets the nod because not only has he accounted for 25 touchdowns, but he's responsible for zero turnovers. All he has done in the first half of the season is be dominant, help his team without hurting them, and garnered legitimate Heisman buzz.
Defensive MVP:
Tough call here between UCLA's
Anthony Barr
and Stanford's
Trent Murphy
. Barr leads the conference with by two more tackles for loss than anyone else, despite playing fewer games. Murphy has more sacks and a freakishly athletic pick-six. We're giving the nod to Barr, who has more total tackles, has forced three fumbles and recovered two.
[+] Enlarge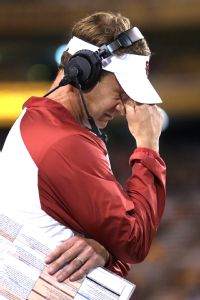 Christian Petersen/Getty ImagesUSC was a mess under Lane Kiffin; will the Trojans rally without him?
Biggest surprise:
Utah's win over Stanford certainly qualifies. As does Washington State's win over USC in Week 2. Both of those teams sit at four wins, and that Nov. 23 date between the Utes and Cougs in Pullman could have bowl implications for both teams who were home for the holidays last year.
Biggest disappointment:
While things might be looking up in Troy, the way the quarterback situation was handled followed by the dismissal of head coach Lane Kiffin was disappointing. The Trojans had bought enough good will to start the year in the top 25, but that faded quickly. Now they are searching for someone who can restore the brand.
Newcomer of the year:
Coin toss between the unbelievably versatile
Myles Jack
of UCLA -- who has future first-rounder written all over him -- and Colorado linebacker
Addison Gillam
. We're a Gilliam lean simply because of the sheer volume of his production. The true freshman leads the conference with an average of 10.6 tackles per game, is second in the league in solo stops (35) and has 53 tackles and a couple of sacks on the year.
Best coach:
It's hard to overlook the job Mark Helfrich has done with Oregon. And if we're talking strictly on the field, he gets the vote. But we're tipping our cap to Jim Mora for keeping his team together through a tragedy that would rock any program. He has been an emotional beacon for his players and the university and shepherded them through an extremely difficult time. All the while staying perfect on the season, a distant second to the job he has done off the field.
Best game:
There has been plenty of drama, but halfway through the season we're sticking with Oregon State's overtime win at Utah in Week 3.
Travis Wilson
engineered an outstanding second-half comeback, and the Utes eventually erased a 27-10 deficit and turned it into a 38-37 lead. Late touchdowns from both teams forced overtime in the conference's most thrilling game to date.
October, 14, 2013
10/14/13
10:00
AM ET
Texas was on its deathbed; now it's a contender. The Oklahoma schools, once bastions of quarterbacking, suddenly have issues there. West Virginia's defense is better than its offense. TCU can't score. Kansas State can't buy a win. And the teams picked to finish fifth and seventh in the conference are the only ones without a loss.
If the second half of the Big 12 season is anything like the first, who knows what might happen? Good luck guessing which game will ultimately decide the conference race, too.
Before the season, Bedlam looked most likely to be that game. Now, another showdown the very same day could end up overshadowing it.
Bedlam decided the Big 12 in 2011. It decided the Big 12 South in 2010. But will anything more than bragging rights be on the line this time? That will depend on whether either team can solve quarterback problems that plagued both in their losses.
[+] Enlarge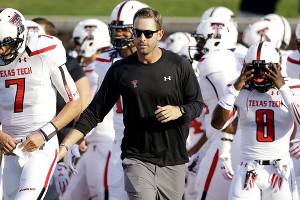 AP Photo/LM OteroKliff Kingsbury's calm, cool demeanor has resonated with his players, as Texas Tech is one of two undefeated teams in the Big 12.
After
Trevor Knight
was ineffective in two lackluster wins to begin the season, the Sooners turned to
Blake Bell
. The Belldozer took care of the ball and made plays in the fourth quarter in wins over Notre Dame and TCU. But he did neither in a 36-20 loss to Texas that shook up the league race. According to QBR, Bell's Texas performance was the worst by a Big 12 quarterback this year, raising questions about whether he's the answer for the Sooners after all.
Oklahoma State is in a similar raft.
J.W. Walsh
took the starting job from
Clint Chelf
two series into the opener against Mississippi State. But the past two games, including a loss at West Virginia, have seen the Cowboys flatline offensively. Oklahoma State, in fact, failed to get a single first down the second half against Kansas State until a late game-winning drive. Like the Sooners, the Cowboys can't run the ball lately, because they can't get anyone to take their downfield passing game seriously.
That hasn't been a problem in Waco, which is one of the reasons why Baylor has ascended to conference favorite status. Every one of Tevin Reese's six touchdown receptions has gone for more than 40 yards. Five of Antwan Goodley's six touchdown catches have gone for at least 60. As a result, 32 of Baylor's 40 touchdown drives have taken less than two minutes.
While Oklahoma and Oklahoma State could still turn things around, Texas and Texas Tech could wind up being the biggest roadblocks to Baylor's first Big 12 title.
Despite playing two true freshmen quarterbacks, the Red Raiders have spread the ball around as well as anyone in the league, claiming four of the Big 12's top eight receivers. Tech also leads the conference in third-down defense. Back-to-back road trips to West Virginia and Oklahoma the next two weeks will shed more light on whether the Red Raiders are ready to contend.
A week ago, virtually everyone had written the Longhorns off as possible Big 12 contenders. Then they pulled off the biggest Red River upset in 17 years to move to 3-0 in the league standings. Texas' rushing attack looked formidable, and quarterback
Case McCoy
looked poised. If that continues, who knows? Maybe Texas will be playing for the conference title at Baylor in the season finale.
The season's first half is done. Much is yet to be decided.
But as we gear up for the second half, below is a breakdown of the Big 12 at midseason:
Offensive MVP:
Baylor junior quarterback
Bryce Petty
has picked up where Robert Griffin III and Nick Florence left off, posting an Adjusted QBR of 95.1. That's second only to Heisman frontrunner
Marcus Mariota
of Oregon. Thanks in large part to Petty's precision passing, the Bears led the nation with a scoring average of 63.4 points per game.
Defensive MVP:
The Horned Frogs haven't had the kind of the season they'd hoped for so far. But that's to no fault of cornerback
Jason Verrett
, who has been lights out. Even with opposing quarterbacks leery about throwing his direction, Verrett leads the Big 12 in passes defended. And even with a tender shoulder, he has continued to be one of the surest tackling cornerbacks in the league.
Biggest Surprise:
The Red Raiders were picked to finish seventh in the Big 12. But seven weeks into the season, they join Baylor as the league's only teams still without a loss. Amazingly, Texas Tech has gotten to 6-0 rotating true freshman quarterbacks
Baker Mayfield
and
Davis Webb
, who, despite some rocky moments, have been solid.
Biggest Disappointment:
In ESPN.com's preseason player poll, the league's players tabbed TCU as the team to beat. The Horned Frogs, however, have already been defeated three times. TCU has faced a difficult schedule, and the injuries to quarterback
Casey Pachall
and defensive end
Devonte Fields
have really hurt. But at the season's midway point, the Frogs are already just one loss away from falling completely out of the conference title hunt.
Newcomers Of The Year:
West Virginia running back
Charles Sims
was the Big 12's preseason pick for newcomer of the year, and for good reason. But the impact of Texas Tech true freshmen quarterbacks Mayfield and Webb has been greater. Mayfield is 5-0 as a starter. Webb, who quarterbacked Tech to a win over Iowa State over the weekend, also threw the game-winning touchdown pass to beat TCU.
Coach Of The Year:
In his first year as its coach, former Texas Tech quarterback Kliff Kingsbury has resurrected his alma mater. The Red Raiders have already taken on the personality of their cool, confident coach, who has Tech at 6-0 for the first time since 2008.
Best Game:
Most of the intriguing matchups in the Big 12 will come later in the season. But so far, the most entertaining game in the league has been Texas' 31-30 victory at Iowa State. Yes, the game had some questionable officiating. And some questionable low blocking. But it was also wonderfully compelling, from Texas coach Mack Brown staving off disaster to Paul Rhoads rallying his team during a fiery postgame news conference.
October, 14, 2013
10/14/13
10:00
AM ET
Look at the Big Ten standings at the halfway point, and there are not a lot of surprises.
Ohio State stands undefeated, as expected and just like in 2012. Michigan State and Nebraska have glittering records despite some lingering (though perhaps dissipating) questions about one side of the ball. Michigan, Northwestern and Wisconsin are all still very much in contention but a notch below the Buckeyes. For the most part, these teams are who we thought they were.
But that doesn't mean there haven't been some unforeseen twists and turns along the way during the season's first half.
[+] Enlarge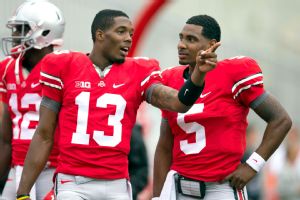 Greg Bartram/USA TODAY SportsThe play of Kenny Guiton (13) made some wonder if he was a better QB option than Braxton Miller.
Wisconsin lost at Arizona State when some Pac-12 officials turned into the Keystone Cops in the final 15 seconds.
Kenny Guiton
, not
Braxton Miller
, looked like a Heisman Trophy candidate at quarterback for a couple of games while Miller was out, prompting some to actually debate whether Ohio State should play its backup. Indiana beat Penn State for the first time in 17 tries. Michigan very nearly lost to Akron and UConn during a 5-0 start, then lost at Penn State in one of the weirdest four-overtime games you'll ever see. Bo Pelini found himself in a firestorm after a two-year-old, secretly-recorded, profanity-laced audiotape was leaked. Minnesota coach Jerry Kill had two more game-day seizures and took an indefinite leave of absence. Four different teams turned to freshmen starting quarterbacks.
We've also learned that there's not much of a separation between most of the teams in the league. The Buckeyes might be undefeated, but they got pushed to the wire at home versus Wisconsin and on the road against Northwestern. The Legends Division is a five-way scrum -- yes, five, because Iowa has greatly improved from 2012 -- with Minnesota the only real non-contender. (The Gophers could still get to a bowl game if they ever rediscover the forward pass.) The November showdowns involving Michigan, Michigan State, Nebraska and Northwestern, in particular, should provide outstanding drama.
The Leaders Division race is far more defined with Ohio State in the pole position and Wisconsin hoping for a 10-car pileup. But that division also has three of the conference's best offenses, in Illinois, Indiana and Penn State, the latter of which proved against Michigan that it is not going to simply succumb to NCAA sanctions as long as Bill O'Brien is the coach. The Illini and Hoosiers still hold out hope for a postseason bid. As for Purdue, well, there's always next year.
And there's always the second half of the season to give us plenty more unexpected developments.
Offensive MVP:
Wisconsin RB
Melvin Gordon
. The Badgers' home-run hitting back ranks third in the FBS with 870 rushing yards through six games, and he's averaging an eye-popping 9.7 yards per carry with eight touchdowns. He has scored on an 80-yard run and a 71-yard dash this year. Others in consideration: Penn State WR
Allen Robinson
, Nebraska RB
Ameer Abdullah
.
[+] Enlarge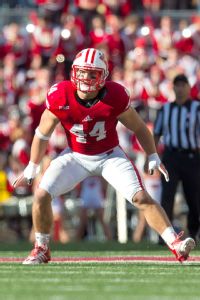 Jeff Hanisch/USA TODAY SportsChris Borland had helped Wisconsin stay among the league's top teams.
Defensive MVP:
Wisconsin LB
Chris Borland
. He is third in the league in tackles and seemingly is involved in every play as the Badgers' defensive leader. Others considered: Ohio State LB
Ryan Shazier
, Michigan State CB
Darqueze Dennard
.
Biggest Surprise:
The revitalization of Illinois' offense. Nearly punchless last season in a 2-10 campaign, the Illini have turned things around under new coordinator Bill Cubit and a healthy
Nathan Scheelhaase
. They are scoring 36 points per game, while Scheelhaase is averaging nearly 260 passing yards per game. Illinois has already surpassed last year's win total at 3-2.
Biggest Disappointment:
A coaching change and a brutal early schedule spelled trouble all along for Purdue. Still, we didn't think the Boilermakers would be this bad. They are 1-5, with the lone win coming in a nail-biter against Indiana State, and the team ranks near the bottom of the FBS in just about every major category. Remember that Purdue went to bowls in each of the past two seasons. First-year coach Darrell Hazell should eventually turn things around, but so far his early tenure has been ugly.
Newcomer Of The Year:
Penn State handed the reins of its offense to true freshman quarterback
Christian Hackenberg
, and he has rewarded that decision. Hackenberg leads the Big Ten in passing yards (1,672), and while he's had some ups and downs, he has also displayed great poise and a big-time arm. We'd say he's a future star, but he kind of already is one.
Best Coach:
Sometimes we make these things too complicated, looking for coaches who have overachieved. No one has achieved more during his time than Ohio State's Urban Meyer. He has guided the Buckeyes to a 6-0 start, including key wins over Wisconsin and Northwestern, and has done so despite a young defense and some crucial injuries. An 18-game streak of perfection isn't too bad, either.
Best Game:
Ohio State 40, Northwestern 30, Oct. 5.
Joey Bosa
's fumble return for a touchdown on the final play made the margin look wider than it actually was. ESPN's "College GameDay" came to Evanston, and these two teams did not disappoint, engaging in a back-and-forth thriller that hinged on a late fourth-and-one play by Northwestern. It was Ohio State's toughest test of the year so far, and it made for great theater.