NCF Nation:

2013 Pac-12 championship
December, 8, 2013
12/08/13
9:00
AM ET
So who deserves a helmet sticker for a job well done?

Tyler Gaffney, RB, Stanford
: Gaffney earned Pac-12 championship game MVP honors after rushing for 133 yards and three touchdowns in the Cardinal's 38-14 win over Arizona State.
Kevin Hogan, QB, Stanford
: Hogan played perhaps his best road game of the year, completing 12 of 18 passes for 277 yards and a touchdown against Arizona State. He also rushed for 24 yards.
D.J. Foster, RB, Arizona State
: Foster rushed for a 51-yard touchdown and turned a short pass into a 65-yard score against Stanford.
Trent Murphy, OLB, Stanford
: Murphy had seven tackles, two tackles for a loss, a sack and a forced fumble against the Sun Devils.
Chris Young, LB, Arizona State
: Young had a team-high eight tackles, including a game-high four tackles for a loss against Stanford. He had a sack, forced fumble and a fumble recovery.
December, 8, 2013
12/08/13
2:00
AM ET
TEMPE, Ariz. -- Arizona State was one of the nation's hottest teams heading into the Pac-12 championship game against Stanford. It had won seven in a row, the longest winning streak in the conference. Further, it was playing at home, where it was 7-0 with a 28-point average margin of victory. The Cardinal's only two losses came on the road.
That was reasonable grounds to believe that the 11th-ranked Sun Devils would fare better against No. 7 Stanford than in their Sept. 21 meeting, a 42-28 Cardinal whipping that wasn't nearly as close as the final score suggests.
Nope.
Stanford did its smashmouth Stanford thing, and Arizona State was pretty helpless to do what it wanted to do in a
38-14 victory
that will send the Cardinal to its second consecutive Rose Bowl, this time opposite Big Ten champion Michigan State.
"They dominated the game -- beat us in every way you can," Arizona State coach Todd Graham said.
And how does Stanford dominate? Said Graham, "They destroyed the line of scrimmage."
[+] Enlarge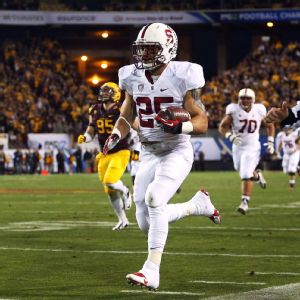 Christian Petersen/Getty ImagesTyler Gaffney got Stanford off to a fast start with a 69-yard touchdown run in the first quarter.
That's Stanford's thing. While many teams are spreading out defenses and outflanking them while going up-tempo, Stanford just lines up and tries to knock you over. It's not always pretty. But when Stanford is playing its best, it often renders all schematic complexities used against it irrelevant.
Arizona State had a plan, one that it thought would make things different this time. But it couldn't get started because, as Graham said, Stanford was destroying the line of scrimmage.
"I mean, they've made changes, but the way this team operates and the way we function, it's about us," Cardinal linebacker
Shayne Skov
said. "Offenses will change, but what matters is what we do defensively and offensively. We have to set the tone. We never want to adjust or have to adapt. We want to be the ones setting the tempo and forcing people to adjust to our style of football."
The Cardinal is now 11-2 after playing one of the nation's toughest schedules. How good are they in big games? Stanford is 10-0 in its past 10 games versus AP-ranked opponents, including 6-0 this season.
It's fair to ask how Stanford lost two games, to Utah and USC. But you won't get many excuses from the Cardinal.
"We bring the effort every week, but we didn't get the results we wanted," Skov said.
Stanford doesn't only grind it out, however. It got its first of nine plays of longer than 20 yards on its first possession when running back
Tyler Gaffney
slipped around the Sun Devils defense and ran 69 yards for a touchdown.
Gaffney would go on to rush for 133 yards on 22 carries with three touchdowns, earning game MVP honors. When the Cardinal went to the Rose Bowl last year, he was a professional baseball player watching from the sidelines in Pasadena. His return to the team, spurred in large part because of that game reigniting his football itch, is a big reason he's going to play in the Granddaddy himself.
"This is exactly why you come back," he said. "This is what you play for."
He now has rushed for 1,618 yards and a Pac-12 high 20 touchdowns this season.
"There is no question that Tyler Gaffney has been the heartbeat of our offense all year," Stanford coach David Shaw said. "Gaffney, you just watch him play, and he gets stronger and stronger. He just drags guys."
While Gaffney was the offensive star, junior quarterback
Kevin Hogan
's performance was perhaps more notable. He has been up and down this year, but he was decidedly up against the Sun Devils, completing 12 of 18 passes for 277 yards and a score with no interceptions. He also rushed for 24 yards.
[+] Enlarge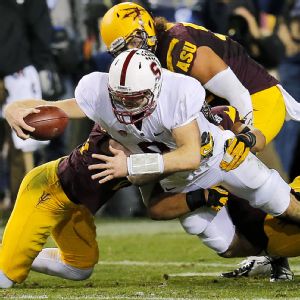 AP Photo/Matt YorkQuarterback Kevin Hogan accounted for 301 yards and a touchdown in directing the Cardinal offense.
"With some of those step-up in the pocket throws and runs, those are huge plays, and we don't win without those plays," Shaw said. "Kevin's got ice water in his veins."
Of course, in contrast to many Pac-12 teams, the Cardinal is defense-first. Stanford held an opponent to 20 or fewer points for the seventh time in as many games. The Cardinal has held opponents to 20 or fewer points in 20 of its past 25 games.
Stanford outgained the Sun Devils 517 yards to 311 and outrushed them 240 to 138, with the Sun Devils getting more than a third of their yards on the ground from a 51-yard first-quarter touchdown run from
D.J. Foster
. The Sun Devils' other score came on a short pass that Foster turned into a 65-yard touchdown play.
Shaw admitted there was some big-picture, retrospective thinking in his locker room leading up to the game. Stanford, which went 1-11 in 2006, is on an unprecedented run of success, as it becomes the fifth -- and final -- team to go to four straight BCS games.
"I told the players what was at stake," Shaw said. "What was at stake is their legacy."
That legacy is a very specific set of skills. It's simple. And just a bit brutal.
Explained Skov: "We're going to come after you offensively, defensively and attack the line of scrimmage. It's what we do, and we were successful today."
Today and for four consecutive seasons that featured 46 victories, most of which looked a lot like the 2013 Pac-12 championship game.
December, 6, 2013
12/06/13
3:00
PM ET
"Been there, done that" doesn't fly with this year's Stanford team.
True, the Cardinal are in the Pac-12 championship game for the second straight year. But the team is different. The circumstances are different. The opponent is different. And, perhaps most importantly, the venue is different.
"I think there is a sense of excitement because it's a challenge," said Stanford head coach David Shaw. "Last year we were fortunate enough to have it at home. This year we have to go on the road, and it's going to be loud. It's going to be an exciting environment against a really good football team that feeds off of that environment. Our guys are getting geared up for that. They know it's a completely different world than last year and it's going to be a tough game to win."
[+] Enlarge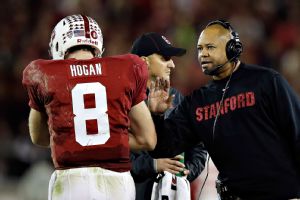 Ezra Shaw/Getty ImagesQuarterback Kevin Hogan and head coach David Shaw have led Stanford to a 5-0 record against ranked opponents this season.
With 14 seniors listed as starters on the depth chart -- plus seniors at both kicking spots -- Stanford's veteran group has seen its share of tight games and hostile environments. On defense, 10 of the 11 starters are juniors or seniors.
"They want to see how far they can push themselves and see what their legacy is," Shaw said. "It's still a phenomenal legacy. There's only three teams in the nation with 10-plus wins in four years. That's already a legacy. To go to back-to-back Rose Bowls would be an addition to the legacy. How high we finish ranked is an addition to the legacy. All those things work together. They don't think about the negative because it's all positive."
As it was in last year's title game, the Cardinal will be playing an opponent for the second time in a season. This time, they at least have more than six days between meetings.
But the Sun Devils have a pretty veteran group, as well -- especially on defense and in their front seven -- and they, too, are trying to establish their own legacy. ASU coach Todd Graham vividly remembers the lessons learned when these teams met earlier this season, a game Stanford won 42-28 after jumping out to a 39-7 lead through three quarters.
"When we went to play them earlier in the year, we felt like we were pretty confident," Graham said. "We were coming off a big win over Wisconsin. We're a pretty talented team. We thought we were pretty disciplined. And we found out what a disciplined team looked like."
Since that game, the Sun Devils have gone on to win eight of nine while Stanford has gone 7-2 over that stretch -- including wins over four teams ranked in the top 25.
"There is no question they are a veteran team," Graham said. "But more importantly, they are the defending Pac-12 champion. The defending Rose Bowl champion. That experience is big. We talk to our players about being humble and being hungry. We are the contender. They are the defending champion. You have to take it from them. They aren't going to give it away. You can see that maturity. You can see they won the Rose Bowl and they are the defending champion."
Both of Stanford's losses have come on the road this season to unranked teams -- though it's worth noting that quarterback
Kevin Hogan
is still perfect as a starter against teams ranked in the AP Top 25. But on the road there is a significant drop-off in offensive production as the Cardinal have averaged fewer than 20 points per game in their past three contests away from Palo Alto.
"I think it's high school, college, NFL -- you play better at home," Shaw said. "Everybody does. You just have to find a way to win the game at the end. ... For us, it's about keeping our composure. We don't want to kick a bunch of field goals. You've got to end those drives in the end zone and hopefully we can slow them down on defense."
Despite the perceived advantage of playing at home -- where ASU is 7-0 this year and outscoring opponents by an average of more than four touchdowns per game -- Graham said his team can't take anything for granted.
"We are the contender," he said. "We have not won a championship. We have to outwork, outprepare -- we have to be twice as hungry. And we'd better be humble and respect that these guys are champions."
December, 6, 2013
12/06/13
9:00
AM ET
Stanford whipped Arizona State all sorts of ways on Sept. 21. It blew away the Sun Devils at the line of scrimmage on both sides of the ball. It overwhelmed them on special teams. It looked like such a finely oiled machine that it cleared its bench in the fourth quarter, which allowed for a furious Arizona State rally that made the final score deceivingly close at 42-28.
The Cardinal players know they pushed around the Sun Devils. So you'd think there would be some danger of them being at least a little overconfident when they square off in Tempe, Ariz., on Saturday in the Pac-12 championship game with a Rose Bowl berth on the line.
"Not at all," Stanford coach David Shaw said. "Our guys are smart. You put the film on, and you watch these guys run by people. You watch them dominate games. You watch them dominate teams that we struggled with. You put two game films on, you immediately have a lot of respect for these guys."
[+] Enlarge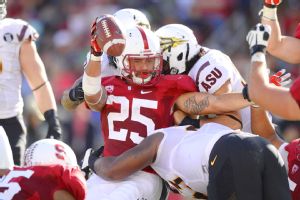 Bob Stanton/USA TODAY SportsTyler Gaffney had 87 of Stanford's 240 rushing yards and scored two touchdowns vs. ASU in September.
That's reasonable. It's Arizona State that is riding a conference-high seven-game winning streak. It's Arizona State that earned home-field advantage with a superior conference record (8-1 to Stanford's 7-2; both are 10-2 overall). And it's Arizona State that is favored.
Further, the Sun Devils haven't forgotten what happened in Stanford Stadium. As if a first Rose Bowl since the 1996 season wasn't enough motivation, the Sun Devils players specifically want a piece of Stanford, the defending conference champs.
"It's a chance for us to redeem ourselves," defensive tackle
Will Sutton
said.
The Sun Devils probably can make things a lot closer just by being less sloppy. They saw a punt blocked and missed a field goal in just the first half of the teams' first meeting, when they fell hopelessly behind. Quarterback
Taylor Kelly
threw two interceptions. And, to make matters worse, the Pac-12's least penalized-team was flagged six times for 65 yards.
ASU coach Todd Graham said the Sun Devils are improved in every area, most particularly special teams.
But the biggest advantage Arizona State has is playing at home. It is 7-0 in Sun Devil Stadium this year with an average margin of victory of 28 points. Meanwhile, Stanford's two losses, to Utah and USC, came on the road.
"I think it's the greatest advantage we have in this game, that we're playing right here in the valley in Sun Devil Stadium," Graham said.
That said, Stanford still has the biggest -- literally -- pieces in place that led to its previous win against the Sun Devils: Physical offensive and defensive lines that dominated the smaller Sun Devils.
Arizona State rushed for only 50 yards at Stanford while yielding 240 yards on the ground to the Cardinal. Those numbers need to be closer for the Sun Devils to prevail.
As Shaw sees it -- and Arizona State hopes he's right -- the earlier meeting is mostly irrelevant, just as it was in last season's Pac-12 title game. Stanford dominated UCLA in the final 2012 regular-season game 35-17, but just six days later, the Cardinal were pushed to the brink by the Bruins before prevailing 27-24.
What matters is the present, not the past.
"That was a long time ago," Shaw said. "We're a different team. They are a different team. This is a new game. It's almost like a new season."
Yep. It's bowl season, and these two teams are hunting roses.
December, 5, 2013
12/05/13
12:00
PM ET
The Pac-12 championship game is a venue for stars to shine. And there will be plenty of star power on both sides of the ball when Stanford travels to Arizona State for the 2013 title game. There will be 12 first-team all-conference players, six from each team, squaring off. But who are the guys who aren't first-teamers but could end up making a difference? Who are the unsung heroes from each team? Your Pac-12 bloggers offer up their thoughts. Ted Miller takes the ASU side, while Kevin Gemmell picks a Stanford player.
Ted Miller:
While I think the key for Arizona State is establishing some type of running game against the rugged Stanford defense, I want to go the other way on Arizona State's unsung hero: LB
Chris Young
.
[+] Enlarge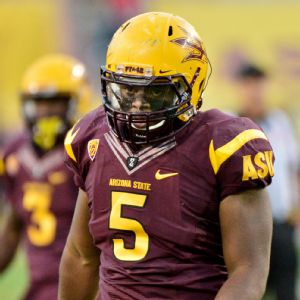 Matt Kartozian/USA TODAY SportsIf Arizona State is going to topple Stanford in the Pac-12 championship game, Chris Young is going to have to play a big role.
Now, Young is no longer a complete secret. He earned second-team All-Pac-12 honors at a position that's stacked in the conference, but it does seem most folks don't know much about him, a point that two-time Pac-12 defensive player of the year
Will Sutton
brought up Monday when he singled out Young as a "baller" when talking about the Sun Devils defense.
Young not only led the Sun Devils in tackles with 95, he had 35 more tackles than anyone else. So you'd think he'll play a key role as the Arizona State defense tries to contain
Tyler Gaffney
and Stanford's power running game. In the first meeting at Stanford, a 42-28 Cardinal domination, Young had a game-high 10 tackles.
But in that game, he only had half a tackle for a loss, as Gaffney and the Stanford O-line dominated. In fact, the Sun Devils only had five tackles for a loss in the game. They averaged 7.3 per game in the other 11 games. Young himself had 12.5 tackles for a loss this season to go along with 6.5 sacks, including three against UCLA.
The Sun Devils run an aggressive, attacking defensive scheme. They are willing to take risks to get a handful of negative plays. They need negative plays against Stanford. They can't afford to give the Cardinal third-and-short over and over again.
Of course, Young also could make a couple of plays on third-and-short, and that likely would energize his defense and the home crowd. Stanford likes to go mano-a-mano at the line of scrimmage. If Young leads a charge that wins some of those battles during the early going, you'll see the Sun Devils taking a major step forward from their first meeting at Stanford.
Young needs to make plays against Stanford, both behind or close to the line of scrimmage. You'd have to like the Sun Devils chances if Stanford and QB
Kevin Hogan
are forced to throw the ball more than they'd like.
Kevin Gemmell
: I'm on board with picking a defensive player. It's always
Trent Murphy
this and
Shayne Skov
that when talking about the Stanford defense, which is fine. Those guys are All-America candidates and worthy of all of the praise that is heaped upon them.
But you know who always gets lost in the shuffle? The forgotten linebacker,
A.J. Tarpley
. Let's not forget about the guy who is second on the team with 80 tackles, including five for a loss, and a sack.
Tarpley often gets overlooked because of bigger-name players. But who is the guy usually coming up with a big play in a big game? That's right, it's Tarpley.
See his 2011 interception of Matt Barkley. See his 2012 pick of
Marcus Mariota
. And don't forget about his pick this season of
Keith Price
and Washington. Tarpley is a big-game player. And the Cardinal will need another big-time performance out of him as they travel to Tempe.
That's not to say that Tarpley is going to get a pick in this game.
Taylor Kelly
doesn't throw many -- though six of his 11 interceptions have come at home this season. When Kelly throws an interception in his career, the Sun Devils are 6-7. When he doesn't, they are 11-0. So pass rush and turnovers will obviously be critical, as is the case every week.
A lot has been made about this game being at ASU and the fact that both of Stanford's losses have come on the road, which is an important storyline. But some of Tarpley's best performances in his career have come on the road.
In fact, when you look at just this season, Tarpley averages 8.1 tackles per game on the road and 6 tackles per game at home. Twice he's had double-digit tackles this year. Both came on the road, as Tarpley had 13 at Oregon State and 12 at Utah.
This is the kind of game Tarpley was made for; on the road, a tense situation, and everyone looking for the superstars to make a play. But it might just be Tarpley who ends up being the true difference-maker.
December, 5, 2013
12/05/13
10:15
AM ET
Five things to keep an eye on in Saturday's Pac-12 championship game between Stanford and Arizona State:
Oh, what a rush: One thing we know for sure about both of these teams is they can get after the quarterback. The interesting element is they do it in very different ways. Per ESPN Stats & Info, since the start of last season, the Cardinal have an FBS-best 92 sacks. And when they are sending just four pass-rushers, they have an AQ-high 67. On the flip side, ASU leads all AQ schools with 48 sacks when sending five or more pass-rushers since the start of last year. They love to attack and blitz. This is important because of …

[+] Enlarge

Jeff Gross/Getty ImagesHow will Kevin Hogan do against Arizona State's pressure?

… The Hogan factor: Stanford quarterback Kevin Hogan has completed 51.8 percent of his passes against the blitz this season compared to 65.3 percent when he doesn't face extra pressure. And if ASU gets too aggressive, it's also worth noting that he has seven passing touchdowns after play-action, six of which have come on throws of at least 15 yards downfield. Of his 19 passing touchdowns this year, 18 have been to wide receivers.

Grice on ice: Marion Grice, Arizona State's leading rusher and third-leading receiver, is likely out because of an injury he suffered against Arizona last Saturday. Grice has been responsible for one-third of Arizona State's offensive touchdowns this season, and his 20 touchdowns (14 rushing, 6 receiving) rank second among FBS skill position players.

Here we come: It's no surprise what Stanford wants to do offensively -- run at the heart of ASU's defensive line. Tyler Gaffney has been one of the top running backs in the country over the second half of the season. He has rushed for 1,023 yards and 11 touchdowns (146.1 yards per game) in the past seven games. ASU's defense is tops in the country at getting offenses off of the field. So far this season ASU's defense has 79 drives where it forced a three-and-out. Stanford converts 52 percent of its third downs, and the average distance to go is an FBS-low 5.2 yards.

Containing Kelly: Stanford wants to pound away with Gaffney for a couple of reasons. First, he's a bruiser and it wears down the defense. But it also keeps ASU's offense off the field. ASU's Taylor Kelly has seven rushing touchdowns over the past six games. This is of note because he had only one rushing touchdown in 18 games prior to the current streak. Through 12 games, Kelly already has 3,337 passing yards and is averaging 278.1 yards per game. Worth noting, too, that ASU is 6-7 when Kelly throws an interception and 11-0 when he doesn't.
December, 5, 2013
12/05/13
9:00
AM ET
Kevin and Ted, with the exact same picks, went 5-1 last week and improved to 74-17.
Just one game on tap, but it's a biggie.
Saturday: Pac-12 championship game


STANFORD at ARIZONA STATE
Kevin Gemmell
: That this game is being played in Tempe is scary. I don't have a great history picking road dogs this season. ASU, riding a seven-game home winning streak, is a much stronger team in the desert and both of Stanford's losses have come on the road. The defense has been on a tear since the Notre Dame loss and QB
Taylor Kelly
's increased production in the run game has given the offense a boost. The question is whether the offense can be as potent without
Marion Grice
. Having Grice and
D.J. Foster
on the field at the same time allows the Sun Devils to do a lot of different things. That element is missing. I see
Tyler Gaffney
breaking 40 carries again as the Cardinal control the clock and keep ASU's offense off the field.
Stanford 31, Arizona State 28
.
Ted Miller
: In the Sept. 21 game -- a 42-28 Stanford blowout that wasn't nearly as close as the final score indicates -- Arizona State gave the Cardinal two interceptions and two blocked punts. It was a messy performance from an ASU team that was learning who it was. Over the past seven games -- all wins -- the Sun Devils have matured. They won't be the sloppy team they were at Stanford. They are 7-0 at home this year with an average margin of victory of 28 points. They won't reach that margin against the rugged Cardinal, but they are going to do enough to earn the school its first Rose Bowl berth since the 1996 season.
Arizona State 28, Stanford 24
.
December, 4, 2013
12/04/13
11:00
AM ET
Back in August, the Arizona State backfield storyline was about a dynamic duo, a most excellent partnership. It was about
Marion Grice
here,
D.J. Foster
there, and defenses seeing double from running backs who were as capable catching passes as taking handoffs.
[+] Enlarge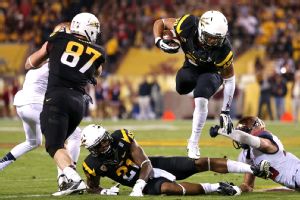 Christian Petersen/Getty ImagesWith Marion Grice sidelined, expect Arizona State to put the ball in the hands of the very capable D.J. Foster on Saturday in the Pac-12 title game.
But that narrative quickly got re-written. Grice became the marquee star, a touchdown-making machine. And Foster became … what? Mostly a second option in the passing game.
"They used me to spread out the offense," Foster explained. "They moved me all over the place. Every week, every game plan was a little different."
Foster entered last weekend's Territorial Cup against Arizona with just 42 carries for 183 yards. Last season, he had 102 carries for 493 yards. He had become more of a slot receiver than a running back, the position he was recruited to play, ranking second on the team with 54 catches for 550 yards.
There can be no question that the 11th-ranked Sun Devils' offensive plan has worked. They rank eighth in the nation in scoring with 43.3 points per game and are hosting Stanford on Saturday in the Pac-12 Championship Game. There is probably some question, however, on whether Foster was happy how things worked out for him.
"That's just how it worked out. I trust my coaches 100 percent," he said. "They try to put us in the best position to make plays. I wasn't really disappointed. I'm happy for all the success that Marion has had this year."
Of course, Foster might just be playing good soldier there. He might be frustrated but doesn't air his frustration to nosy reporters. Which is probably a good thing, a sign that coach Todd Graham is running a tight ship. A developing team culture of winning helps keep complaints to a low murmur.
Yet, when Grice got hurt at UCLA, an injury that will also sideline him this weekend, Foster knew that he had an opportunity to remind everyone what he could do with 20-plus touches in a game.
With 23 carries against Arizona, Foster played a key role in the 58-21 blowout of archrival Arizona. He rushed for 124 yards and two scores as the Sun Devils' high-octane offense didn't flinch without Grice.
"I just took it in my mind that it's my time, and I've got to step up and take charge at the running back position," Foster said. "It felt really good to be back there."
While Graham tipped his cap to Foster's performance immediately after the game, he revisited it during his Monday news conference. Turns out Graham had a different reaction after watching the game film.
"I knew D.J. had done well but going back and looking at the film, man, very, very impressive performance by him," Graham said. "He had a different gear. He stepped it up big time."
He'll need an even higher gear against Stanford, which ranks No. 3 in the nation in run defense, holding foes to a meager 87.3 yards rushing per game. In the Cardinal's 42-28 blowout win over Arizona State on Sept. 21, Grice and Arizona State had just 50 yards rushing. Foster didn't record a carry, though he caught eight passes for 80 yards.
The Sun Devils will need balance to beat Stanford. They can't just rely on the passing game against a furious Stanford pass rush. Foster will need to step up. Again.
Foster's performance against Arizona certainly caught the attention of Stanford coach David Shaw.
"D.J. Foster is a big-time back," Shaw said. "He was that way coming out of high school, he's that way now, and he's going to continue to be that way in the future."
Just like his coaches and teammates, Foster is eager to get a second shot at Stanford, particularly inside the friendly confines of Sun Devil Stadium, where they are unbeaten this season with an average winning margin of 28 points per game.
Foster's role has changed more than a few times this season. But change can be good. It can spur growth. Foster believes that's going to be the difference on Saturday. He and his team have matured and are now ready to go mano-a-mano with the Pac-12's most physical program.
"We've gotten better every week since that game," Foster said. "There's definitely a chip on our shoulder about how we performed last time."
December, 4, 2013
12/04/13
9:00
AM ET
Stanford isn't going to go out of its way to try and play the misdirection game with Arizona State in Saturday's Pac-12 championship game.
And ASU isn't expecting surprises. It knows what Stanford wants to do and what Stanford is going to do. Hand the ball to running back
Tyler Gaffney
. Rinse. Repeat.
[+] Enlarge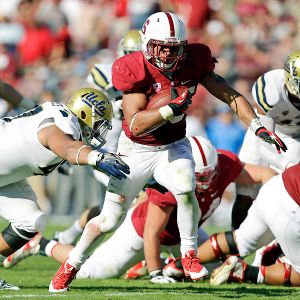 AP Photo/Marcio Jose SanchezTyler Gaffney has gotten stronger and more relentless as the season has wore on.
"He's a consistent warrior," Arizona State coach Todd Graham said. "He's the key. And the key for him is the guys in front of him. Best offensive line we've played against all year long, hands down. Best-coached football team we've played against."
This is why Gaffney came back to Stanford following a one-year hiatus to play minor league baseball. He missed out on playing in the Pac-12 championship game and winning the Rose Bowl last season. And nothing would make him happier than to make up for lost time.
"This is exactly the kind of thing you come back for," Gaffney said. "You come back for the whole game experience, but this game is more touted because the Pac-12 championship is on the line. I came back to play with my boys and play for the Cardinal. But playing for the Pac-12 championship doesn't hurt, either."
In the first matchup between these teams in September, Gaffney rushed for 87 yards and a pair of touchdowns. That was Stanford's third game of the season and Gaffney was still returning to football form. Physically, he was there, but , there were still kinks to work out in regards to technique, timing and tempo.
But over the second half of the season, he's figured it out big time. Gaffney has rushed for 1,023 yards (146.1 yards per game) with 11 rushing touchdowns in his last seven games. Only six other backs in FBS football have more yards over that stretch.
"I feel like it took me a few games to figure it out and catch my stride," Gaffney said. "Every game I'm becoming a better back because I'm figuring out something new. It could be a little nit-picky thing or a big thing. I'm not making the same mistakes twice and not running that many new plays anymore, so I think most of the time I'm right. It comes down to execution in this offense."
And even when that execution breaks down, Gaffney has still found success. Of his 284 carries this season, only 25 have gone for zero or negative yards.
"You've seen unbelievable determination," Stanford head coach David Shaw said. "And not everything is blocked perfectly. He takes a lot of pride in not having negative plays. If a play looks like it's about to be minus-2 and its plus-2, that's a huge play for him. When a play is supposed to be four yards and he gets 12 yards, he loves those. He runs with so much determination and leg drive and body lean. He loves when the game gets tight and he loves when the game is really physical. Right now he's the embodiment of our running game."
With the departure of Stepfan Taylor, Stanford's all-time leading rusher, finding a running back who could carry the load was a priority. And then when Gaffney contacted Shaw about coming back, the coach knew he'd have a consistent, bruising running back who could carry the ball 300 times and get the hard yards.
"You can tell he's a very seasoned, mature, veteran player," Graham said. "He just brings it every single play. Whether it's the first quarter or the last quarter, he gets stronger as the game goes on and he's gotten stronger as the season has gone on. We've got to make sure we do a great job of keeping him contained. The key is winning the line of scrimmage, which is a big challenge. It's going to be a heck of a war between a great offensive line and a great defensive line and a great tailback."
Likewise, Gaffney recognizes that while he might be a better back than he was in September, ASU's defense is better as well. ASU wrapped up the season yielding 133.8 yards per game on the ground (27th nationally), finishing eighth in sacks and 22nd in tackles for a loss. Much like Stanford's, ASU has a defense that knows how to wreck backfields.
"They're night-and-day better from the first time we played them," Gaffney said. "I like to think we're the same. We're both better teams and it's going to be a great matchup. We match up well. They are super athletic so we're going to have to do what we do best and that's execute and keep their offense off the field."
December, 3, 2013
12/03/13
7:15
PM ET
Arizona State had a great run under Frank Kush in the 1970s. The Sun Devils went 10-2 under Darryl Rodgers in 1982. They won the Rose Bowl over Michigan after the 1986 season under John Cooper. Bruce Snyder's only loss in the 1996 season was a nail-biting Rose Bowl against Ohio State. Dirk Koetter was 9-3 in 2004. Dennis Erickson opened his ASU tenure with a 10-3 mark in 2007.
But each Arizona State surge was followed by mediocrity and losing seasons. Since Kush was controversially forced out in 1979, the only thing that has been consistent about Sun Devils football has been inconsistency.
[+] Enlarge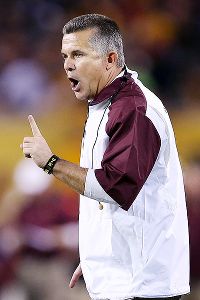 Christian Petersen/Getty ImagesTodd Graham says players should take charge of leadership on a team.
That has baffled many folks, particularly sportswriters, who have repeatedly called Arizona State a "sleeping giant." In fact, the Pac-12 blog has done this a couple of times over the past five years --
here
and
here
. It's been
a national story
a number of times. It's
been debated
. It's been
a topic this season
.
That's why the Sun Devils' rise under Todd Graham should be approached cautiously. While there's plenty of evidence suggesting a cultural transformation, unfettered optimism has been a dangerous state of mind for Sun Devil fans.
How about just the facts? Graham took over a team that went 6-7 in 2011 and went 8-5 his first season. In his second, he has the Sun Devils at 10-2, ranked 11th and facing No. 7 Stanford on Saturday for the Pac-12 championship and Rose Bowl berth .
Arizona State had been a notoriously undisciplined program. In 2011, the Sun Devils ranked last in the nation in penalty yards per game. Last year, they ranked eighth in the nation, and this year they rank third.
The discipline has extended off the field. The Sun Devils have been mostly avoiding the police blotter and doing well in the classroom, see nine players earning Pac-12 All-Academic honors, the program's most since 2006.
"We've always lacked consistency," said running back
D.J. Foster
, a Scottsdale native. "Even before I came here, just watching stuff. I feel like this program finally has constancy with Coach Graham. His work ethic is rubbing off on the players."
Graham said that even before he took the Arizona State job he had talked to other coaches about the football program's potential, most notably Cooper, who bolted Tempe for Ohio State after going 7-4-1 in 1987. Cooper is the last Sun Devils coach whose tenure didn't end with a pink slip. Graham, who has notoriously called multiple places his "dream job," wasn't worried about the dreaded "sleeping giant" label, which typically became a subject for off-the-record derision among former Sun Devils coaches.
"I think it just points to the potential," Graham said. "This is a great place."
There was an outside perception that the team Graham took over didn't lack athletic ability but that it might be thin on character. Fair or unfair, the Sun Devils have long been dogged by a reputation as a self-centered team that lacked mental toughness. But what Graham says he found was a locker room eager to embrace change.
"I think they were somewhat tired of some of the discipline things," Graham said. "I believe young people will meet whatever standard you set."
Want buy-in? Two-time Pac-12 Defensive Player of the Year
Will Sutton
on Monday was finishing up a 15-page paper on leadership. Guess who it was about: Graham.
"It's about leadership and change in the community, and what better person to do than Coach Graham?" Sutton explained.
For Graham, however, the message that he advanced this season compared to last is players taking charge of leadership instead of the coaches. That's part of a team and a program maturing.
"Our players are leading the team," he said.
The improvement this fall has been impressive. The Sun Devils are 10-2 against one of the nation's toughest schedules and they are riding a Pac-12-best seven-game winning streak. While Stanford is the defending conference champion, it's the Sun Devils who are favored.
"This has been the best situation I've ever been in in coaching," Graham said. "We've really gelled really quickly. We had a great plan and we really fit the place. I think the players were really hungry for what we've brought."
If the Sun Devils keep winning, it certainly
will bolster efforts to renovate Sun Devil Stadium
, a project that is critical to the program remaining competitive. And retaining Graham.
While the previously nomadic Graham seems to -- finally -- be content, leading Arizona State to a Rose Bowl will refocus the nation on his program building skills, not his controversial departures from previous schools. Keeping him and his coaching staff happy will be an important test for the athletic department, which already is replacing athletic director Steve Patterson, who left for Texas this fall.
Further, everyone knows nothing big has been accomplished yet. This is about establishing a consistent winner, not just breaking through every five or 10 years for a magical run. It's no good if the sleeping giant just got up to grab a glass of warm milk before again retiring.
"I feel the sleeping giant is awoken but we've still got a lot more work to do and a lot more big games to win to be established as a dominant program," Foster said.
December, 2, 2013
12/02/13
3:00
PM ET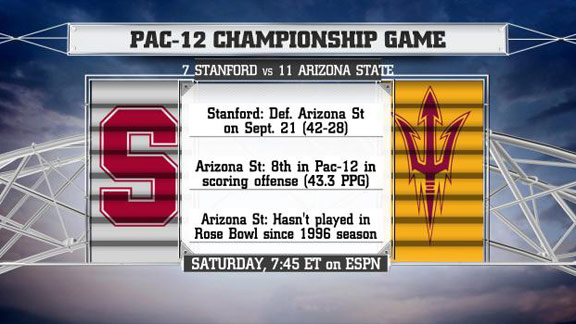 ESPNStanford is seeking its second straight Pac-12 title, but has to go through Tempe to get it.
The Pac-12 race has ended with Arizona State the champion of the South Division and Stanford the champ of the North. The Cardinal will visit the Sun Devils on Saturday with the winner going to the Rose Bowl on Jan. 1.
How we got here, well, it was quite a ride.


Consider: Oregon lost to Arizona, which lost to USC, which lost to Washington State, which lost to Oregon State, which lost to Washington, which lost to UCLA, which lost to Arizona State, which lost to Stanford, which lost to Utah, which lost to Oregon. You can include everyone but California, which beat no one in conference play, and Colorado, which beat only Cal.
Just about every team has a "regret" game, one that it believes strongly it should have won.
If Arizona State would have beaten Notre Dame, it might be in the national title mix as a contender for "best one-loss team." Stanford (USC or Utah) and Oregon (Arizona) can commiserate. The depth of the conference -- nine bowl-eligible teams for the first time -- is the biggest reason why the Pac-12 likely will have only one BCS bowl team for the first time since 2009.
Still, the Pac-12 title game is a good matchup of highly ranked teams, with seventh-ranked Stanford, the defending conference champion, coming in representing the old guard as a team that has played in three consecutive BCS bowl games, and No. 11 Arizona State entering as the hot-to-trot upstart trying to grab the program's first Rose Bowl berth since 1996.
A victory from Stanford, the conference's preseason co-favorite with Oregon, means business as usual. A victory from Arizona State, the preseason South Division co-favorite with UCLA, means the Pac-12 takes a southward shift. After two years or North domination, the South was 12-12 versus the North this fall.
An Arizona State win likely would make Todd Graham Pac-12 Coach of the Year. That would greatly pain his myriad critics, but it also might shift the story from his frequent coaching migrations to his talent as a program builder.
A Stanford win would further cement David Shaw's status as one of the nation's elite coaches.
[+] Enlarge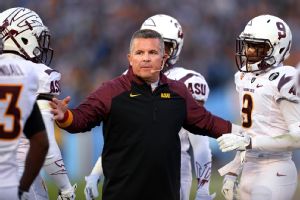 Robert Hanashiro/USA TODAY SportsArizona State has been a much better team since its first battle with Stanford.
Don't expect the game to look much like the Sept. 21 meeting, a 42-28 Stanford mashing, While the Sun Devils made a big comeback in the fourth quarter against the Cardinal backups to make the score respectable, they got dominated -- see a 39-7 count entering the final frame.
Arizona State is a different team since them, one of the hottest in the nation, riding a seven-game winning streak. The Cardinal has lost twice since then in games in which it was favored. Further, the Sun Sun Devils are favored by three points, in large part because they are playing at home, where they are 7-0 this season with an average margin of winning of 28 points per game.
The most obvious matchup is the Sun Devils' potent offense, which ranks No. 2 in the conference in scoring with 43.2 points per game, and the stout Cardinal defense, which ranks No. 1 in the Pac-12 in scoring, yielding just 19.0 points per game.
Yet this one likely comes down to how the Sun Devils defense plays against the Stanford power running game.
In the first matchup, Stanford rushed for 240 yards and its offensive line dominated. The Cardinal ranks fourth in the conference in rushing with 208.5 yards per game.
Run defense is one of Arizona State's most improved areas. It ranks fourth in the conference against the run, yielding 133.5 yards per game.
That said: Arizona rushed for 249 yards on Saturday in the Sun Devils 58-21 win. Know that the Cardinal coaches will want to test that first.
If the Sun Devils can slow the Cardinal running game, it probably likes its chances with
Kevin Hogan
throwing the ball. The Sun Devils 36 sacks this year rank second in the conference, though the Cardinal has yielded only 11, fewest in the conference.
While the third Pac-12 title game isn't what most expected, Stanford at Arizona State seems a fitting way to conclude a Pac-12 season that included many unexpected swings of momentum.