NCF Nation:

2013 Pac-12 Q&A
August, 30, 2013
Aug 30
4:30
PM ET
Arizona State has to wait an extra week before taking the field, and its players are itching to get out there and start proving that all of the preseason hype surrounding the team is justified. Running back
D.J. Foster
, who shares the backfield with running back
Marion Grice
, chatted with the Pac-12 blog about his hopes for 2013 and what it's like being a tandem with Grice.

You had your first offseason in a college training program. What's better about D.J. Foster heading into this year?
D.J. Foster:
My body has matured a lot. I put on a lot of weight -- healthy weight -- that I needed to be a Division I running back. I'm in a lot better shape and I feel like a more durable back.
What do you still need to improve on before the first game?
DF
: Body-wise, I can always improve everything. My quickness, my speed, my strength. That's always an ongoing process. As a football player, my pass blocking. That's another challenge I'm trying to step up this year and be more reliable this year and get better at that.
What's the biggest thing you learned as a freshman that you can apply this season?
DF
: It's a long season. There are a lot of ups and downs. As a freshman, I'm not sure you really understand that. There are so many ups and downs in a 13- or 14-game season. You need to be mature and learn how to maintain your body.
Expectations are a lot higher for you guys this year. Do you feel like the team is prepared for the mental grind it's going to face?
DF
: I think we are. I think that the offseason training we put in, our mindset is good. We feel like we are the strongest team out there. We have put in the work. We know our potential and we know what we can accomplish. It's all about keeping that mindset and keeping it throughout the whole year.
Is it tough not playing in Week 1?
DF
: It is and it isn't. It has its pros and cons. You get a little extra rest and watch the first games. But you're eager and you have to time to wait. We've been practicing against ourselves and right now we're pretty hungry to play another opponent.
You never want to look past your opponent (FCS Sacramento State), but at the same time, after that game you have four straight against Wisconsin, Stanford, USC and Notre Dame with no break in between. That might be the toughest four-game stretch in college football this year. Have you guys started thinking about that all, even a little bit?
[+] Enlarge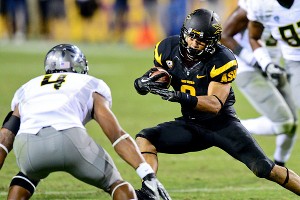 Matt Kartozian/USA TODAY SportsArizona State running back D.J. Foster predicts the Sun Devils will be Rose Bowl champions.
DF
: We think about it every day. We can't look past Sac. State, but we know those first five games are going to be a grind. That's what we've been working toward for Day 1. We're putting in the extra work conditioning. We call it "echo" when we go into the next drill without taking a break. We've been preparing ourselves because we know it's going to be a grind.
What's the best part of being a tandem along with Marion Grice?
DF
: It's great. I love watching him run. We have two different styles and we really play off of each other. I know what kind of player he is and I'm working hard to reach my potential. I'm honored to be in the backfield with him and be called one of the best duos in the nation.
And yet running backs by nature want the ball. They want to be 25- or 30-carries a game guys. How do you suppress that urge to want the ball every down?
DF
: It's a team sport at the end of the day. The way our offense is, I'm blessed to be able to move around in the slot and get receiving yards as well. It's a great offense to be a part of. As long as the ball is moving and we're excelling, there are no problems with how many times I touch the ball.
Now that you and Taylor Kelly, and Chris Coyle and the offensive line have all had a year in this system under coach Mike Norvell, what can we expect from you guys in Year 2?
DF
: Everything, but better. I see a lot more consistency and maturity. We made a lot of mistakes last year. One thing we've been preaching is turnovers. That's something we have to eliminate if we want to go as far as we want to go. Less mistakes.
Finish this sentence for me: In 2013, Arizona State will be …
DF
: In 2013, Arizona State will be Rose Bowl champions.
July, 9, 2013
Jul 9
9:00
AM ET
The hopes are high for the
Washington Huskies
and their quarterback,
Keith Price
, who had his share of struggles in 2012. But the always-smiling player has a positive attitude heading into this fall, and he took a few minutes to chat with the Pac-12 blog about his expectations, blocking out the negatives of last season, and what he has to do to return to his 2011 form.
What are your thoughts on the new up-tempo offense?
Keith Price
: I think it fits our players. It's very up-tempo. We dumbed-down the terminology from our previous system and I think the younger guys have really caught on. You can see they are starting to mature. I think it's going to be a lot of fun.
[+] Enlarge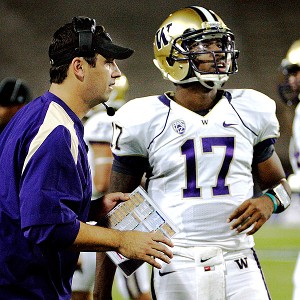 AP Photo/Wily LowWashington QB Keith Price said he's high on coach Steve Sarkisian's fast-paced system.
You took a lot of flak last year -- maybe unfairly, when you consider how injured your offensive line was (note: Price is audibly laughing at this point). How much of that did you have to shoulder simply because that comes with being a quarterback?
KP
: I don't mind it. I don't mind it. Obviously, you want to do better. But you learn a lot, man. That comes with the position. I set a certain standard for myself. I have to perform at a high level no matter what is going on around me. I don't mind the expectations. But I know we have a lot of guys around me this year who are healthy and who are better and who are more mature. If I do perform like I did the year before last, it's going to be because of the guys around me.
What do you do to keep that negativity from creeping into your brain? You are known for your smile and positive attitude. How do you not let it get to you?
KP
: It's easy. I just don't read anything and I don't listen to anything. I've always been the same guy through the success and through the failure. I've never changed the way I work. I know how good I am and I know what the expectations are for me. I know I'm expected to play at a high level. So don't worry. I'm going to be back to my old self and this is going to be a great season.
At the same time, you do have to take some of the responsibility. It wasn't your best year. What needs to happen for you to get back to that 2011 form?
KP
: To be honest, just staying within the system. Not trying to do too much and not trying to shoulder everything. I have a lot of playmakers around me and I need to get them the ball and let them make plays instead of trying to play hero. When things didn't go so well, a lot of times it was me trying to force things and not seeing the whole defense and predetermining my reads and trying to force things down the field. I have to do a better job this year because those usually resulted in turnovers.
Is that a maturity thing? You see Jesse [Callier] go down and you see your offensive linemen go down and then you feel like you have to be the guy to make a play instead of trusting the system?
KP
: I think so. Even if you look at our game plans, it was a lot of quick stuff to get the ball out of my hand to protect the integrity of our offensive line. But when you see four out of your five starters go down, I'm not sure if there is any quarterback in the country that wants to see that. But you have to adjust to your team. You have to adjust to your offense. That's part of the game. I have to do better at that. It could happen again this year. At least I have some experience with it now.
And that leads us to 2013. Obviously, a lot of hype and lot of expectations for you guys considering who is coming back. What are the short-term and long-term goals for you guys?
KP
: Short term is obviously Boise State. We have to take care of them. We had a chance to close them out and we didn't do that. That's on me. I put the last two losses on myself. There were a couple other games also where I feel like I lost the game. Long term we're looking at the Rose Bowl and we're looking to compete. We have a tough conference and our division is tough with Oregon and Stanford and Oregon State. But we have to focus on ourselves and not worry about them. We know we can perform at a certain level. We set a standard for ourselves by beating two top-10 teams last year. It's just about being consistent.
I assume you liked playing at CenturyLink. But what are you expecting getting back to Husky Stadium?
KP
: It's going to be electric. I can't wait to get in there. We do our little "dawg walk" before the game and seeing the fans tailgating, it gets your blood flowing and your juices flowing. Playing at CenturyLink was different because we didn't have our dawg walk. We walked right into the stadium. Now we can interact with the fans and it's going to be fun.
Finish these sentences for me: In 2013, Keith Price will be _______?
KP
: Better.
In 2013, Washington will be _______?
KP
: We'll be better.
April, 29, 2013
Apr 29
5:30
PM ET
With spring ball in the books, Washington head coach Steve Sarkisian took some time to chat with the Pac-12 blog about his impressions over the 15 practices, moving on without
Austin Seferian-Jenkins
and what it's like to actually have a healthy offensive line.
I know every coach has a laundry list of things that they want to get done in spring. But was there one particular thing you felt like you wanted to address?
[+] Enlarge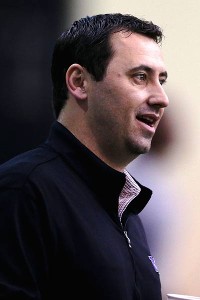 Elaine Thompson/AP PhotoCoach Steve Sarkisian says the Washington Huskies had a successful spring season, despite some distractions along the way.
Steve Sarkisian
: There's always more than one. When you come out of a season and you assess your football team and the things you have to work on and the needs you have -- whether it's from a team standpoint, personnel, development -- there were numerous things I felt like we had to address. I feel like we addressed the majority of those things by design. Some of those we found out couldn't be addressed until some of the players we signed arrived on campus. But I felt good about having a purpose going into spring on a variety of fronts and then addressing those things of purpose and feeling good about them coming out.
Where's your confidence level with [quarterback] Keith [Price]?
SS
: I felt great about Keith coming out of spring, quite honestly. Of the 15 practices we had, he might have had one that wasn't his best and another where he was just OK. But outside of that I thought he was fantastic. Bringing Marques Tuiasosopo back on board as a quarterbacks coach -- he's a guy I coached in the NFL at Oakland and he was with us here for two years when we first came on board -- bringing him back has been good and the style of coaching he has is what I'm looking for and it's consistent with myself. Keith has really responded to that. He came out and had a really good spring. He's upbeat about what we're doing offensively. I think he feels good about what we're doing up front with the offensive line and also with the wideouts and the running back situation. That genuine confidence that he has in himself, as well as his confidence in what's going on around him, is as high as it's been.
You talked about the offensive line. It seems like you guys finally have healthy depth. How nice has it been to have the same five working with the offense and then knowing you've still got Erik [Kohler] and Colin [Tanigawa] waiting in the wings?
SS
: It's been huge. For myself and Dan Cozzetto, our offensive line coach, just the continuity up front of having those five guys communicate with one another, playing with one another, making decisions with one another on the fly has been big. But also for us, having depth -- and not just depth in number -- but depth in experience. You look at
Colin Tanigawa
. You look at
Erik Kohler
.
Shane Brostek
is a backup who has a lot of game experience as well. Really, we have eight offensive linemen who have a lot of game experience against some top-level talent who could step in and play, as well as some younger guys who are really developing. We feel really good about that position group as long as we can stay healthy.
I talked with Bishop [Sankey] a couple of weeks ago and all he wanted to talk about was how he needs to get better at everything -- very little about what he's already accomplished. What's the next step for him?
SS
: Bishop is a great kid. Everyone sees what he did on the field and they see how he progressed and got better and better as the year went on and the maturity he exuded -- not only through the tough times early on -- but also in the good times late in the year for himself. The beauty of it all is you turn around and look at our GPA -- he had the highest on the team with a 3.8.
He didn't mention that when we talked.
SS
: He'd be the first not to tell you that. He's such a humble kid. But it's everything he does. And it's not just on the field. It's in the classroom, it's in the community. We're seeing now more than ever the leadership he possesses, and I'm really proud of what he's been able to accomplish. I think his best days are ahead of him. There's a lot he can improve on and he's working hard at improving and we're working hard to make him better.
How much of a distraction has the situation with Austin [Seferian-Jenkins] been this spring?
SS
: It really wasn't bad. Especially internally. At the end of the day, we touched on this with the team, guys are going to make mistakes. I deal with 18-to-22-year-old males and I've got 105 sons on this roster. To think that all 105 aren't going to make mistakes in a four-to-five year span isn't reality. What I do know, and what our team knows, is that Austin is a really good guy. He's done a great deal for our community. He's a good student. He just got over a 3.0 as well. He's been working hard and was having a good offseason. But
he made a mistake
. Is that mistake truly indicative of Austin's character? No, it's not. We all understand that. We all have to learn from the mistake he made, unfortunately. But we're moving on. We practiced 12 times without Austin. It was actually good for us. It allowed some of the other guys in his position group to develop and improve. And when the time is right for him to re-join us, he'll re-join us and we'll move on.
You guys were really two different teams when you were at home versus on the road last year. I know there is no magic-bullet answer, but what do you need to do to improve the road play?
SS
: We have to continually try to expand our comfort zone. We're obviously a very good team when we're in the friendly confines -- whether it's CenturyLink Field or Husky Stadium -- I think what's key for us is no matter where we go, who we play, what time the game is, what the weather is that we go play Husky football. That's something we've talked about since the locker room of the Las Vegas Bowl, quite honestly, and we continue to talk about it every single day. That won't change.
Speaking of Husky Stadium, what are you expecting from the fans, and what's the game day experience going to be like for them?
SS
: I would rival the game day experience with any other school in the country. I had a chance to go through it [last week] and I'm still blown away every time I go in there. I think the proximity to the fans and how close they'll be to the field is going to enhance the game day experience for the fans and for our players. From a crowd noise standpoint. From an energy standpoint they'll provide, it will be a great environment. To go along with the setting of Lake Washington and Montlake Boulevard, I don't know what's better out there in college football.
The defense was much better last year. What's the next step for them as a unit?
SS
: I think we have to continue to be an opportunistic defense -- one that creates turnovers. We did a great job of that last year. Continue being really sticky in pass defense. You have to be in our conference with so many people throwing the football. And play really good red-zone defense. Those are three areas we drastically improved last season. To continue to build upon that; our ability to defend the up-tempo offense is going to be big for us; and our ability to disrupt quarterbacks -- whether that's sacks or knockdowns, things of that nature -- playing in the offensive backfield more than we had last season are two areas we're very focused on. We focused on that this spring and we'll continue to focus on it in the fall. Defending the up-tempo offense and then wreaking havoc in the offensive backfield.
Whose name are we going to be hearing in 2013 that we didn't hear about in 2012?
SS
: I think a name to keep an eye on is a kid who redshirted for us last year and I think can be a playmaker for us in the defensive backfield and in the return game is
Cleveland Wallace
. He's a guy that possess a really high football IQ. He has a knack for being around the football. He really improved this spring. I think he's a guy to keep an eye on.
April, 24, 2013
Apr 24
11:00
AM ET
Oregon State running back
Storm Woods
suffered some concussion symptoms
after practice on Monday. As a precaution, he was kept out of practice Tuesday and it's unlikely he'll play in the spring game Friday night. But not even a rung bell could keep him from talking with the Pac-12 blog. We appreciate his grit. The rising star chatted about his goals for 2013, Oregon State's quarterback competition and some of OSU's post-victory celebrations.
What are some of your personal goals for this season?
Storm Woods
: I have to be more confident. Sometimes last year I would second-guess myself as a freshman and I made some mistakes. I want to be able to run more than we did last year. I also want to be a bigger threat in the passing game and have better execution in the red zone. Field goals are good. But touchdowns are better so we definitely need to get our red zone efficiency up.
(Note: Oregon State ranked No. 1 in the Pac-12 in red zone efficiency in 2012 and No. 9 nationally, scoring 91.4 percent of the time).
You started out so great at 6-0 and then went 3-4 down the stretch. Are you guys still frustrated with the way the season ended or have you moved on?
SW
: Yes sir. Very frustrated. I know the Stanford and Washington games, we were very capable of winning those. Just mental mistakes with us. Offsides, stuff like that. With Oregon, we just have to capitalize. We gave them great field position with special teams and you can't do that against a high-powered offense like theirs. We just have to learn from our mistakes and get it together.
Is it strange for you not knowing who your quarterback is going to be?
[+] Enlarge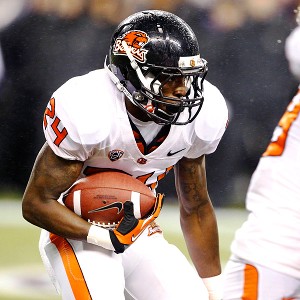 Joe Nicholson/USA TODAY SportsStorm Woods hopes his better feel for the offense will lift Oregon State's running game.
SW
: Not at all. Both guys throw a pretty good ball. Tight spiral. Both are leaders on and off the field. They help me out in the film room. We just have to do what's best for the program. Them being in a competition, they have to work their butts off, spring and fall. I'm confident in both guys being able to win a football game and to lead us if we do need that game-winning drive.
Are there any adjustments you have to make to them? Sean [Mannion] is a little taller. Does Cody [Vaz] have a different type of cadence?
SW
: Not really. It's all pretty similar. We do a lot of ball-handling and I've worked with both, and I work with both throwing me routes so I can get used to both.
You talked about wanting to improve the running game. It was much better in 2012 than it was in 2011. But I'm sure it's not where you guys want it to be. What has to happen for you to take it where you want it?
SW
: I'm going to have to stay healthy, durable. Watch more film. And get bigger, stronger and faster in this next offseason and the summer leading up to fall. A lot of it is on me. There were times when I didn't trust a play and I'd bounce outside instead of cutting up. I have a lot of growing to do. I need to get better at trusting the system. I feel like I've got a better feel for the offense and think the ground game is really going to take off this year.
Was there one game last year when it all clicked and started to come together for you?
SW
: The Texas game was probably my most complete game -- blocking, catching, running. The other was probably Arizona. I was feeling really good that whole week of practice.
Not surprisingly, those were your two 100-yard games last year.
SW
: Yeah. Funny how that works.
I understand you watch film with the offensive linemen. Is it different watching film with other position groups rather than just the backs?
SW
: I watch film with all the different offensive positions. Watching with the quarterbacks, I learn to be more tactical in my route-running. Learning to come back to the football because if you don't, that's when interceptions happen. With the offensive linemen, I see the scheme and who blocks who and where the play will hit and where there might be holes in case I need to cut back.
What else do you do to build that relationship with the offensive linemen, since those are the boys who take care of you?
SW
: I'm always hanging with them. I'm always eating with them. I have study group with all of them. If something's going on after practice, I'll go out with them. Play video games. There's no greater bond than a running back and his linemen.
What's the best part of winning? Is it the hip-hip-hooray cheer? Or going to In-N-Out?
SW
: Ah man. You can't make me choose. I love the hip-hip-hooray. But you can't beat In-N-Out. Best burgers in town.
Fill in the blank. In 2013, Oregon State football will be "__________."
SW
: Among the top five in the nation.
TOP 25 SCOREBOARD
Thursday, 12/5
Friday, 12/6
Saturday, 12/7
TOP PERFORMERS