NCF Nation:

2013 Pac-12 take 2
December, 13, 2013
12/13/13
3:00
PM ET
For obvious reasons, the more bowl games a conference can win, the better it is for the league's national reputation. But is there one game that is more important? Your Pac-12 reporters debate.
Ted Miller
: While you could make a strong case that Oregon State needs to win it's bowl game in order to take some heat off of Mike Riley, just down the road at Oregon there's already significant pressure on Mark Helfrich to guide the Ducks into the offseason on an up note.
[+] Enlarge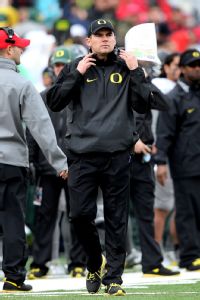 Christian Petersen/Getty ImagesWould a loss to a struggling Texas team signal trouble in Eugene for Oregon coach Mark Helfrich?
If Oregon beats Texas in the Valero Alamo Bowl, which it is favored to do by two touchdowns, you could spin Helfrich's first season after replacing the much-ballyhooed Chip Kelly as a moderate success. Sure, the Ducks didn't get picked for a fifth consecutive BCS bowl game, but it did finish with 11 wins and a top-10 ranking, neither of which Kelly achieved in his first season. Keep in mind that Kelly did inherit a very good team, one that went 10-3 and finished ranked 10th in 2008, Mike Bellotti's last season.
If Oregon beats Texas, it can trace its late-season swoon to QB
Marcus Mariota
's sprained knee. An excuse? Absolutely. But a legitimate one when assessing what went wrong during the season. The Ducks can look at 2013 and say, "Hey, we lost to a very good Stanford team on the road with our QB hurt, and we had one weekend at Arizona when we didn't show up. Could be worse. Stanford lost two games, too, by the way."
If Oregon beats Texas, it sets Mariota up as the leading 2014 Heisman Trophy candidate and it likely ensures a preseason ranking near the top 5 or at the very least the top 10. That means it starts 2014 squarely in position to play its way into the inaugural four-team College Football Playoff.
If Oregon beats Texas, it will still seem all Win the Day-y.
But what if Oregon doesn't beat Texas?
If the Ducks go down, some of the more demanding Ducks fans will see Helfrich's seat as warming in only Year 2. If the Ducks go down, there will be quite a few smirks in the Pac-12 and across the nation. Folks in SEC country will talk about a "gimmick team" whose run is over. Washington fans will look at their coach -- Chris Petersen -- and then Helfrich and start to make plans for a breakthrough after 10 years of woe. Oregon State fans will start to see a glimmer of hope on the horizon.
If the Ducks go down, that might give more than a few recruits pause. They might wonder if signing with Oregon means signing with a program that has plateaued and might be headed in the wrong direction. A disappointing recruiting class would give frustrated Ducks fans more to fret about during the long offseason.
If the Ducks go down, it will seem like a lost season.
Stanford is going to the Rose Bowl for a second consecutive year, and Washington just got a Big Fish coach. UCLA and Arizona State are rising in the South, and USC will emerge from scholarship reductions a year from now. The Ducks position in the North Division and the Pac-12 as a whole is being challenged.
Beating a middling Texas team that still has a marquee name will answer that challenge and slow the offseason handwringing to a manageable level.
Losing to a middling Texas team will put the program on red alert.
Kevin Gemmell
: The Pac-12 is at a critical juncture, and nationally speaking, it can ill afford to drop its BCS game. That's why the Pac-12's must-win game has to be Stanford vs. Michigan State in the Rose Bowl Game presented by Vizio.
Right now the rest of the country is looking at the Pac-12, top to bottom, and thinking, "Gosh, that is a tough league. Hard to believe they only have one BCS game." Which is exactly why Stanford has to win. Because if they don't, the "overrated" chants will rain down heavy and hard for the next nine months.
The Pac-12 is better off when Oregon is ranked in the top five and going to BCS bowl games every year. And the Pac-12 needs the Ducks -- or UCLA -- or ASU -- or USC -- or Washington -- or Arizona -- or someone else to pick up the slack next year as we head into the playoff era. Easier said than done, of course, given the way the league's nine-game conference schedule plays out.
[+] Enlarge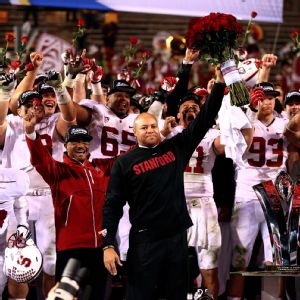 Mark J. Rebilas/USA TODAY SportsStanford will be playing for the Pac-12's reputation in the Rose Bowl against Michigan State.
National perception is forged on how you do against teams from other conferences. In that regard, the Pac-12 had a stellar year in terms of regular season nonconference play. The league went 31-6 against out-of-conference competition with seven of the 12 teams posting a perfect record and 11 of 12 teams posting a winning record.
That's all well and good for the end of September. But no one cares about that if you don't do well in the bowl season.
If the Pac-12 goes 8-1 in the bowl season, but loses its BCS game, the league takes a massive PR hit; because, let's be honest, outside of Pullman Wash., or Fort Collins, Colo., there won't be a ton of buzz if Washington State beats up on Colorado State -- which it should. Opinions won't be swayed too much if UCLA beats Virginia Tech or Arizona beats Boston College. And even if Oregon wins, it won't make a huge dent.
Right now, Stanford carries the flag for the rest of the conference. The Pac-12 needs all of the national credibility it can get its hands on because the last Top 25 poll is usually a starting point for the first poll of the 2014 season. Oregon getting inside the top 10 is important. UCLA and ASU getting in the top 15 is important. USC getting into the top 20 is important. But Stanford getting in the top two or three is more important right now. And from a league perspective, beating a Big Ten team in the 100th Rose Bowl Game is the most important.
April, 12, 2013
4/12/13
12:00
PM ET
We've been talking a lot about running backs this week. There was the
feature
on Washington running back
Bishop Sankey
. Some
chatter about Arizona
and looking ahead to
Ka'Deem Carey
in 2013 and the ESPN conference-call video segment featuring a dapper Pac-12 blogger talking about
the running back race at UCLA
.
But with some of the league's top backs from 2012 moving on, who is going to be the rushing king of 2013?
Ted Miller
: Why do I think Washington's Sankey will lead the Pac-12 in rushing in 2013? First of all, because I think Huskies quarterback
Keith Price
will play more like Arizona's
Matt Scott
in 2012 than Keith Price in 2012.
No, I don't think Price will put up spinning slot machine numbers, as Scott did. But I think the Huskies' improved passing game and more experienced offensive line will mean a more efficient Price. That will mean bigger holes for Sankey, who averaged 154.6 yards per game over the last five games of 2012, a per-game total that would have led the nation if extended over the entire season.
[+] Enlarge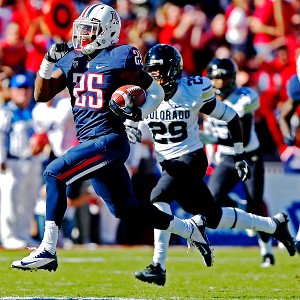 Rick Scuteri/US PresswireArizona's Ka'Deem Carey will be trying to put up big rushing numbers with a new QB under center.
Don't buy it? Well, consider what Sankey did last year with Price in the dumps and the Huskies' offensive line shuffling injured players in and out. He rushed for 1,436 yards and 16 touchdowns, and his 110.7 yards per game ranked fourth in the Pac-12 and 21st in the nation.
The three backs in front of Sankey -- Arizona's Carey, Oregon's
Kenjon Barner
and UCLA's
Johnathan Franklin
-- each played for an offense that ranked in the nation's top 25. The Huskies' offense ranked 97th in the nation.
Further, Carey, the only other returning Pac-12 back with more than 1,000 yards in 2012, won't have Scott. We don't know who he will have playing quarterback, but there's been little to suggest this spring that the Wildcats will approach Scott's production at the position in the fall.
So I expect Sankey's numbers to go up and Carey's to go down. When the smoke clears, they both likely will be first-team All-Pac-12. But this go-around, Sankey will be 1A and Carey 1B.
Kevin Gemmell
: Ted stole my choice! But only because as the guy going first this week, I just assumed he'd go with Carey and I'd slide right in and make all the same arguments in favor of Sankey that he just made. Sneaky, Ted. Very sneaky.
Oh well, I guess that leaves me talking about the guy who actually led all of FBS football last season -- the aforementioned Carey, who totaled 1,929 yards on the ground and a robust 6.4 yards per carry.
I don't think the offensive drop-off at Arizona is going to be as significant as Ted does. Carey certainly benefited from Scott -- but Scott also benefited from Carey. It works both ways.
Whoever wins the quarterback job at Arizona has a deep and talented wide receiver corps to throw to -- including Biletnikoff semifinalist
Austin Hill
and returners
Johnny Jackson
,
Terrence Miller
and
Tyler Slavin
, among others. This isn't an offense that is suddenly going to flatline because Scott is gone. In fact, by the very nature of the offense Arizona runs, it's likely that Sankey is going to see far more eight-man boxes than Carey. You don't sell out against the run with Hill running sluggos all day.
It's also worth noting that Sankey has to face Stanford, which had the nation's No. 5 rush defense last season, in Palo Alto. The Wildcats miss the Cardinal this season. Sankey had a big game against Stanford last season -- but when we're talking about rushing titles, one game could be the difference, and that's certainly worth considering.
Plus, Washington is hoping to have
Jesse Callier
back from the knee injury that initially thrust Sankey into the starting role. I'm not saying they'll be by-committee -- but a healthy Callier will certainly cut into Sankey's carries. Great for Washington. But when you're talking rushing titles, that could have a big impact.
I think the Arizona offense takes a natural step back with a new quarterback at the helm. But it's not going to be a giant leap. Carey will get his 300-plus carries again, and the Wildcats should continue to move up and down the field. And if you've got your calendars handy, the two square off Sept. 28 in Seattle. You might want to tune in for that one.
March, 15, 2013
3/15/13
12:00
PM ET
You might have noticed a theme this week. We kicked off the "
Biggest Shoes
" series and had two polls (
North
and
South
) on replacing departed players. So that means it's now time for your Pac-12 bloggers to weigh in on which two players we believe leave the biggest holes. Given our penchant for quarterbacks, you might find our two choices surprising. Read on.
Ted Miller:
I do not know what size 6-foot-3, 320-pound Utah defensive tackle
Star Lotulelei
's shoes are, but I'd bet they are among the biggest in the Pac-12 -- in more ways than one.
The thing about replacing a dominant interior defensive lineman is that it's difficult to measure what you're losing. An All-America receiver or running back or even cornerback leaves, and you feel fairly comfortable quantifying what is lost and must be replaced. Lotulelei, however, was more than the sum of his stats -- 42 tackles, 10 tackles for a loss, five sacks, four fumble recoveries, three forced fumbles and a very important blocked kick.
Lotulelei changed what an offense could do. He changed blocking schemes. He demanded specific attention from an offensive coordinator and a line coach. He made sure the interior of the opposing offensive line -- even if the offense was winning the overall battle -- wanted to ask for its check.
He was a unique presence. An anomaly. A college center could start 48 games in his career and face a guy like him just once. That's why Lotulelei will be a first-round NFL draft pick, even with a heart condition. He could get picked in the top five if a team deems him healthy.
But his shoes are even bigger because Utah, after a disappointing defensive campaign in 2012, is replacing three of four defensive linemen. Moreover, the Utes were unhappy with their linebacker play last fall, even with all the protection Lotulelei provided. Opposing offensive lines, unencumbered by the need to double-team Lotulelei every play, will get a lot more hats on those linebackers in 2013. Not what coach Kyle Whittingham wants.
[+] Enlarge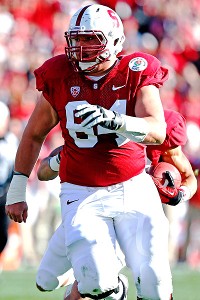 Charles Baus/CSMCenter Sam Schwartzstein was a huge piece of Stanford's recent offensive success.
The cupboard isn't empty. The Utes are high on
Tenny Palepoi
, a 305-pound senior who played well as the backup to defensive tackle
Dave Kruger
last season. And there are other big bodies:
LT Tuipulotu
, Stevie Tu'ikolovatu, a 320-pound redshirt freshman, and
Viliseni Fauonuku
will be in the mix.
Yet the Utes defensive coaches won't even pretend one of those guys will fill Lotulelei's shoes. They are just too big.
Kevin Gemmell:
This is a tough one. I've been going through a bunch of players all week long trying to come to a conclusion on which one I wanted to write about (and Lotulelei was already taken). All of them are important --
Matt Barkley
,
Khaled Holmes
,
Robert Woods
,
Jordan Poyer
,
Travis Long
,
Markus Wheaton
,
Brandon Magee
,
Desmond Trufant
,
Stepfan Taylor
,
Johnathan Franklin
,
Zach Ertz
,
Dion Jordan
and … (insert name I unintentionally omitted and now you feel wildly offended).
There really is no wrong answer here. Each player is a major contributor to his team in his own way. But the one name that kept coming back to me is Stanford center
Sam Schwartzstein
. I know, not as exciting as
Kenjon Barner
or glamorous as
Matt Scott
. But in terms of sheer contributions to the team that will be tough to replace, Schwartzstein has to be in the conversation.
In 2011, he was regarded as having the second-best football mind on the team -- behind only Andrew Luck. And he didn't lose any of that in 2012.
After the quarterback, there is no more important position on Stanford's offense than the center. He makes all of the scheme and protection calls at the line of scrimmage. He even calls plays in the huddle when the Cardinal go into the Wildcat.
Schwartzstein started every game since taking over for All-American Chase Beeler, and twice he blocked for a 1,000-yard rusher in Taylor. The Cardinal played 14 games in 2012 and allowed just 20 sacks. In the 12-game regular season, they had allowed a conference-best 17. The year before that? Just 11 in 13 games. I know for a fact that there were zero quarterback-center exchange fumbles in 2011. And none comes to mind in 2012.
Khalil Wilkes
, who started almost every game last year at left guard (one start at left tackle) moves over to compete with
Conor McFadden
for the gig. Maybe the transition from Schwartzstein to one of those guys will go as smoothly as the handoff from Beeler to Schwartzstein. After all, the new center will have one bona-fide All-American at his side and potentially a couple more on the line.
But they won't be the ones making the calls. That falls on the center -- and Schwartzstein was outstanding at it. He was second-team all-conference and honored with the school's leadership award. Not Taylor, not Ertz. Not
Shayne Skov
nor
Ryan Hewitt
nor the aforementioned All-American
David Yankey
. The center … the most crucial position in Stanford's offense that you never hear about.
Tough shoes to fill, indeed.
February, 8, 2013
2/08/13
12:00
PM ET
Once lauded as the preseason No. 1 with the Heisman Trophy favorite at quarterback, the USC football program sank to historic depths in 2012. What's the state of the program and is the sky falling on USC? Your bloggers debate:
Ted Miller
: Is the sky falling for USC? Maybe just a little, at least if you believe in momentum.
In August, the Trojans were ranked No. 1 in the Associated Press poll. They were rolling with the nation's No. 1 recruiting class. Quarterback
Matt Barkley
was the golden boy of the preseason, the top Heisman candidate, lauded for his unselfish decision to return for his senior season. And coach Lane Kiffin, after leading the Trojans to a 10-2 finish in 2011, seemed to be well on his way to proving his skeptics wrong and rewriting the story of his coaching career.
Now, in February, USC is coming off a 7-6 season, the first time a preseason No. 1 team lost six games. It lost five of its final six games, including an execrable performance against middling Georgia Tech in the Sun Bowl. After the game, there was a locker-room altercation that involved some players bad-mouthing Barkley. Further, Kiffin has been -- fairly -- blamed for the collapse, and many of his actions during the season served to reinforce his image as a guy obsessed with working the angles instead of focusing on the details. All this serves to put Kiffin on perhaps the hottest seat in the nation heading into 2013.
Further, the recruiting class, the one constant during the surprising losing, ended up ranked 14th in the nation after several players decommitted. A handful of those decommitted players added salt to the Trojans' wounds by signing with rivals UCLA and Notre Dame.
Why did they decommit? The reasons are likely to be specific to the individual athlete, but it's fair to say that the program's fall from grace and Kiffin's uncertain status played a role.
The program was perceived in a much different way in August than it is today. The considerable momentum of the preseason has reversed. Considerably.
[+] Enlarge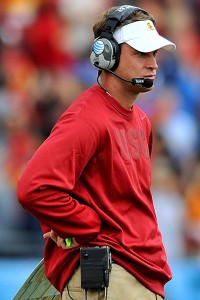 AP PhotoLane Kiffin might be on the hot seat in 2013, but perhaps a dimmer spotlight will help his Trojans.
Of course, USC still signed an outstanding recruiting class, with 12 of the 13 members earning four stars and nine ranking among the nation's top 150 players. The present negative momentum can be quickly reversed with a fast start to the season. If Kiffin wins nine or 10 games, he'll probably be back in 2014, especially if he can beat UCLA and Notre Dame in the process -- and the Bruins in particular.
So, really, the sky is not falling over Heritage Hall.
But it is definitely blocked by dark, threatening clouds no USC fan likes to see.
Kevin Gemmell
: No, the sky is not falling on USC. And I'll tell you why. There aren't many schools in the country that finish 7-6 and can bring in a recruiting haul -- considered by some to actually be a disappointment -- like the Trojans did earlier this week. There aren't a lot of schools that can look as bad as the Trojans did in 2012 and still ink six players rated in the top six for their positions nationally -- including the Nos. 1 and 3 safeties, the No. 2 pocket passer and the No. 3 defensive tackle. USC is a brand name and is always going to attract elite recruits. Even in the worst of times. And it can't get much worse than it did last season.
I've been very critical of the 2012 edition of USC football
. In a word, it stunk. It was like watching a train wreck crash into a train wreck that crashed into a manure pile. For whatever reason, despite an abundance of talent, the chemistry proved toxic. Kiffin has, rightfully so, shouldered the lion's share of the blame.
All that said, with the talent USC has on its roster as of today, the Trojans can win at least nine games in 2013 (pause for laughter). I say again, the Trojans can win more games in 2013 than the team with Barkley,
Robert Woods
,
Khaled Holmes
,
Nickell Robey
and
T.J. McDonald
.
Bad years -- for whatever reason -- happen. But folks weren't screaming to fire Kiffin when he took over a program on probation and went 18-7 in his first two seasons -- including the aforementioned 10-win campaign in 2011. People weren't calling for his head when the Trojans won at Autzen Stadium in 2011 -- something only one other Pac-12 team has been able to do since 2008.
What made 2012 so much worse than it should have been were the off-field issues that came across as bush league. Those are easily corrected. You know how? Stop doing stupid things off the field! That should do the trick. And while we're at it, stupid things on the field don't work that well either. Free tip.
The spotlight won't be nearly as bright in 2013 as it was in 2012. The Trojans will probably start off in the preseason top 25. Maybe they even sneak into the top 20. That's a lot more psychologically manageable than No. 1. The schedule sets up nicely with four very winnable games before the Trojans travel to Arizona State at the end of September for their first Pac-12 South showdown. Then they get a week and a half to prep for Arizona and an extra two days to prep for Notre Dame. More importantly, it gets a lot of young players time to get acclimated. There is also a lot of returning talent that saw a great deal of playing time in 2012 -- for better or worse.
As of Feb. 8, 2013, I'm not sure who is going to win the Pac-12 South. I might give a slight edge to either Arizona State or UCLA. But discounting the Trojans is just foolishness. No, USC fans, the sky is not falling. Sometimes you just have to put the past behind you and -- as you folks say -- fight on.
January, 25, 2013
1/25/13
12:00
PM ET
We've been handing out individual grades to each team with our
2012 team-by-team season review
. But on the whole, what grade does the Pac-12 get? That's the question your bloggers are tackling this week.
Ted Miller
: The Pac-12's 2012 season gets a B-minus.
There were some positives and some negatives. The poor showing in the bowl games, however, did significant damage. The conference was favored in seven of eight bowls and went just 4-4.
That led to just three Pac-12 teams ending up in the final top-25 rankings. Instead of showcasing the depth that had typified most of the season, the Pac-12 ended up looking top-heavy.
The good news is two top-seven teams, with Oregon finishing No. 2 in both polls and Stanford finishing seventh and sixth (Associated Press and coaches' polls, respectively). Both won BCS bowl games. Despite USC's epic and widely mocked collapse as the first preseason No. 1 to lose six games, the Pac-12 remained relevant nationally.
The Pac-12 was 21-14 versus FBS competition this year, including an 8-8 mark vs. other AQ conferences. Best victories? Oregon over then-No. 5 Kansas State in the Fiesta Bowl, Arizona over Oklahoma State, Oregon State and Stanford over Wisconsin and UCLA over Nebraska. Stanford's win over San Jose State certainly looked much better by season's end, too.
The conference had a strong position in the debate versus the Big 12 for second best league. It moved solidly in front of the Big Ten and ACC along those lines.
But there's a lot of what-could-have-been had the end of the regular season and bowls gone differently. Arizona, UCLA and Washington were in position to join Oregon, Stanford and Oregon State in the final polls if they'd taken care of business. The Wildcats and Huskies both lost rivalry games as favorites -- the Huskies as a substantial favorite over Washington State. UCLA imploded in the Holiday Bowl against Baylor, while Washington yielded a last-second field goal to Boise State, which killed an impressive MAACO Bowl comeback.
[+] Enlarge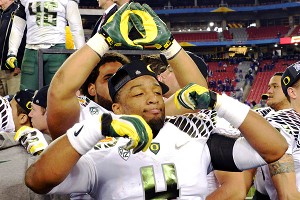 Kirby Lee/Image of Sport-USA TODAY SportsOregon's Fiesta Bowl dismissal of Kansas State was one of two Pac-12 BCS victories.
Five or six ranked teams along with two in the top seven would have made a strong statement nationally, one that would have carried over to the 2013 preseason ranking. While folks often say it's not where you start, it's where you finish, college football followers know that the former tends to help the latter.
So it was a pretty good season for the Pac-12. It just could have been much better.
Kevin Gemmell
: There's really only one way to describe the Pac-12 on the whole this year: inconsistent. It was so top-heavy with Stanford and Oregon, so bottom-light with Colorado and Washington State, and just a glob of good, bad and what-the-heck-was-that? jammed in between.
So grading the overall season creates some challenges. You'd like to give an A to the conference for winning two BCS bowl games. Not unlike the NCAA tournament, this is where conference reputations are earned. And the fact that only the SEC and Pac-12 had multiple teams ranked in the final top 10 is impressive. But it could have been so much better.
As Ted notes, losing four bowl games -- when the conference was favored in seven of eight -- is a blight on the season. And I'm going to ding the conference a little harder for that and hand out a C-plus overall.
The expectations for the Pac-12 as a whole were much higher than where it actually finished. Stanford picked up the slack by exceeding expectations, so big snaps to the Cardinal for its second BCS bowl victory in three seasons. But no team in the history of college football disappointed liked USC. Three losses would have been a bummer of a season for the Trojans. Six is inexcusable.
Much like a driver's test, I started with a perfect score of 100 and deducted points along the way as I went through the season in my head.
Failing to win a national championship despite having two teams ranked No. 1 early and later in the season: minus-5 (95 total)

The preseason No. 1 lost six games for the first time since the history of history: minus-5 (90).

The league lost three bowl games in which its teams were favored, including two against the Big 12 (the window has passed for the Cody Vaz just got sacked again jokes): minus-5 (85).

A conference member lost to an FCS team: minus-5 (80).

No Heisman Trophy finalists (though there should have been): minus-2 (78, final grade).
Ted has talked about as many as eight Pac-12 teams being ranked to start the 2013 season. Of course, I'd like to see that -- but I don't believe it will happen. Because the national perception of the league right now is that it's Stanford and Oregon -- and then a stew of teams with an abundance of question marks. And people are right to think that way given what happened in the postseason. Besides the BCS wins (again, very, very good), the other two victories were a blowout over an independent service academy and a miracle against a Mountain West team. Don't get me wrong, I loved Arizona's win. But the Cats certainly didn't leave people thinking the middle of the Pac-12 is a force to be reckoned with.
Utah saw its nine-year bowl stretch come to an end. Washington State was one bad storyline after another and poor Colorado, bless 'em for the effort, just looked lost. There were too many gags and gaffes along the way to merit anything better than slightly above average when looking at the league on the whole.
January, 18, 2013
1/18/13
12:00
PM ET
No big debate today. Instead, your Pac-12 bloggers thought it would be fun to look back fondly on the favorite games they covered in person during the 2012 season.
Kevin Gemmell
: In January 2009, I covered the San Diego Chargers' wild-card playoff game at home against Peyton Manning and the Indianapolis Colts. The Chargers won 23-17 at Qualcomm Stadium in the loudest football environment I've ever experienced.
The previous season, in 2007, I covered the Chargers on Christmas Eve against the Denver Broncos: holiday game, "Monday Night Football," AFC West rivals -- things got pretty loud. But that game didn't even come close to the audio assault from the Washington faithful at CenturyLink Field for
the Huskies' upset over Stanford back in Week 5
.
[+] Enlarge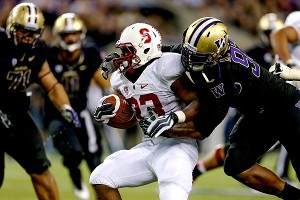 Otto Greule Jr/Getty ImagesWashington's defense held Stanford's Stepfan Taylor to 75 yards on 3.6 per carry on Sept. 27.
I was on the sidelines for the final five minutes -- and deafening doesn't begin to describe just how loud it was. It was great!
And this isn't just me spouting hyperbole. A few days after the game, Stanford coach David Shaw told me it was the third-loudest game he'd ever experienced. One of them was an NFL game, and the second was at Oregon's Autzen Stadium a couple of years ago.
The Stanford-Washington game itself was a bit of a clunker. Neither offense looked particularly sharp -- save Huskies RB
Bishop Sankey
's 61-yard touchdown run,
which came on a fourth-and-1
. Stanford's only touchdown was
an uber-athletic pick-six
from linebacker
Trent Murphy
.
The Cardinal were the talk of the college football world after knocking off No. 2 USC a week and a half earlier. Of course, at the time, USC was still believed to be one of the true juggernauts of the 2012 season. And given Stanford's recent history against Washington, we figured we'd be watching the Winter Olympics from Satan's backyard before Washington had any hope of upsetting the Cardinal.
But the Huskies' defense shut down
Stepfan Taylor
and the M.A.S.H.-unit offensive line kept Stanford's vicious front seven at bay as best it could -- enough to pull off a 17-13 victory.
No doubt, Washington was a much different team at home than it was on the road in 2012. And you can probably attribute a lot of that to The CLink and its boisterous 12th man.
I was fortunate enough to witness three top-10 upsets this year: Stanford's win over USC, Washington's win over Stanford, and Washington's win over Oregon State. Even Stanford's victory over Oregon State was technically an upset, since the Cardinal were No. 14 at the time and OSU was No. 11.
But nothing came close to those closing minutes in Seattle. And when
Desmond Trufant
intercepted
Josh Nunes
to clinch the win -- followed by a good old-fashioned field storming -- it was a pleasant reminder of just how cool college football is.
Ted Miller
: My favorite game that I covered this year also made me a sourpuss.
[+] Enlarge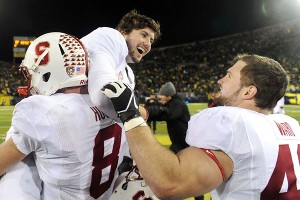 Steve Dykes/Getty ImagesJordan Williamson's 37-yard field goal handed Oregon its lone loss and ended its BCS title chances.
When Oregon
lost 17-14 in overtime to Stanford
--
Jordan Williamson
hit a 37-yard field goal for the red-letter victory -- I turned to a couple of guys in the press box and said, "You know what just happened? The Pac-12 blog won't get to go to South Florida for a week and the SEC just won a seventh consecutive national title."
We now know more fully that this overtime loss probably prevented the Ducks from claiming the program's first football national title. You'll find few people today who would pick Notre Dame to beat Oregon, and that would have been the title game if the Ducks hadn't been smothered by Stanford.
And, of course, that was it, too. Stanford played brilliantly. It was perhaps the best performance by a Pac-12 team against the Ducks in four years under Chip Kelly. The defensive game plan and execution were darn near perfect, but the performance of redshirt freshman quarterback
Kevin Hogan
shouldn't be forgotten. He shined in the Pac-12's toughest venue and did what Andrew Luck was unable to do: beat Kelly and the Ducks.
Of course, Stanford's defense was what left everyone with an open mouth in Autzen Stadium. Oregon entered the game ranked No. 1 in the nation in scoring, at 54.8 points per game. No opponent had been within double digits of the Ducks. Heck, just two foes had been within three touchdowns. But Stanford held a team that had been averaging 562.6 yards per game to 405, 77 of which came on a
Marcus Mariota
run that led to no points.
Want a number? The Ducks were 4-of-17 on third down and 0-for-2 on fourth.
After the game, I took my tale of woe to Cardinal coach David Shaw: "You know what you just did? The Pac-12 blog won't get to go to South Florida for a week and the SEC just won a seventh consecutive national title."
He seemed less concerned about that than I was.