NCF Nation:

2013 SEC spring meetings
May, 31, 2013
May 31
3:20
PM ET
The rich just keep getting richer in the SEC.
On the final day of the SEC spring meetings down in Destin, Fla., commissioner Mike Slive announced that the league will
distribute approximately $289.4 million
among its 14 schools. This will be the most distributed in SEC history.
That's around $20.7 million for each school, which is about $400,000 more than the 12 SEC schools -- not counting Missouri and Texas A&M -- brought in last year with a distribution number of $244 million.
That might not sound like a major increase, but when you add two more teams it's still a good amount for each school. Now, that number should only increase with the SEC Network coming in 2014.
But just think about how much money the league is bringing in. The SEC will distribute more than $289 million among its schools. Back in 1980, the SEC distributed only $4.1 million and didn't cross $100 million until 2003 ($101.9 million).
And
more
money is coming for the league in the future. It's a big-boy league with big-time money all around.
May, 31, 2013
May 31
2:47
PM ET
To nobody's surprise, the SEC has decided to stick with eight conference games for 2014 and 2015, but the presidents and chancellors will then review future scheduling beginning in 2016.

The translation: By 2016, the SEC will be playing nine conference games.

That was the vibe all week at the SEC spring meetings in talking with coaches and athletic directors, and it's clear that SEC commissioner Mike Slive wants to see schools upgrade their schedules. Slive was careful not to come out and say it, but most in and around the league agree that he's in favor of going to nine conference games.

And, typically, what Slive wants, he gets.

He was on the record this week as saying that he's communicated very clearly to SEC schools that he wants to see them schedule more attractive nonconference games. Down the road, what you're probably going to see is SEC schools playing nine conference games and then one marquee game out of conference.

Or as Alabama athletic director Bill Battle said, "Ten good games."

But in the short term, what's it all mean in terms of who will play whom?

The format will remain 6-1-1. Schools will play everybody in their division, one permanent cross-divisional opponent and one rotating cross-divisional opponent.

A few of the permanent opponents will change. For example, South Carolina and Texas A&M will be paired up, while Arkansas and Missouri will be paired up. In the past, Arkansas and South Carolina were permanent cross-divisional foes.

At least through 2015, LSU and Florida will continue to play every year as permanent cross-divisional foes. LSU has been pushing to do away with permanent cross-divisional opponents and wants to see everybody play two rotating opponents from the other division. LSU coach Les Miles argues that doing it that way makes the schedule more balanced for everybody in the league.

To his point, in their last 10 meetings, both Florida and LSU were ranked in the top 25 of the coaches' poll nine times.

Slive said the 2014 schedule would be released in a matter of weeks.

The league had already approved a rotation based on a 6-1-1 format through 2026. As part of that rotation, Alabama is scheduled to face Georgia in 2014 and Florida in 2015.

Also, the Alabama versus Tennessee and Auburn versus Georgia rivalries will continue to be played on a yearly basis, at least until the league reassesses its scheduling beginning in 2016.
May, 31, 2013
May 31
11:44
AM ET
DESTIN, Fla. -- Former SEC commissioner Roy Kramer still gets a kick out of reminding coaches, and even media members, of all of the gloom and doom they were spreading when the league made the bold move in 1992 of going to a conference championship game, and expanding and splitting into two divisions.
The fear was that having to play an extra game after making it through the eight-game grind of the league schedule would put the SEC at a huge disadvantage in terms of winning national championships.
A few coaches even suggested that the SEC could forget about having much of a say in the national championship equation going forward.
Well, Alabama went 13-0 that first year of the conference championship game and won its first national title in 13 years.
In fact, 11 of the past 21 national champions have come from the SEC, including the past seven.
[+] Enlarge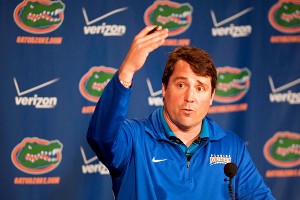 AP Photo/Phil SandlinWill Muschamp knows just how high the expectations are for the Gators and Florida officials say that despite this year's record he has things heading in the right direction.
Suffice it to say that the changing landscape of the SEC two decades ago didn't send the league into football oblivion, and something says it will continue to prosper in this current climate of change.
Even so, the unknown is always a little scary.
"There are a lot of question marks out there that are really hard to answer right now, kind of like the nine-game [conference] schedule," Florida coach Will Muschamp said. "Is that best for our league? We really don't know right now.
"At the end of the day, it's going to be great for the fans. It's going to be great for TV. But is that what's best for the Southeastern Conference? I don't know right now."
Even though the coaches voted 13-1 to keep it at eight conference games, which will be the way the league goes in 2014 and probably in 2015, the overriding feeling this week at the spring meetings was that nine conference games are coming.
Alabama's Nick Saban has been the one coach pushing for nine games. Everybody wants to know his rationale.
For starters, he understands as well as anybody that when the College Football Playoff gets here in 2014 that strength of schedule (and who you beat and where you beat them) will be the most important component in making it into the "final four," as Steve Spurrier calls it.
"If we're going to get more than one team from the SEC [in the playoff], we're going to have to play more than eight games," Saban said. "So we're going to have to play nine. Some of us already do, and even 10 of what I'm going to say are BCS-quality opponents.
"It's hard to schedule those people, and it's difficult to do home-and-homes and make it work. So why not play nine conference games and make it work and then play one other [marquee nonconference] game?"
But at some point, the SEC's national championship streak is going to end.
And Muschamp is right. Nobody knows for sure what the landscape will look like once the selection committee is picked and a four-team playoff becomes a reality.
It could be a few years into the playoff before we have a true read.
One of the other hot debates this week in Destin was permanent opponents. LSU has been leading the charge to do away with permanent cross-divisional opponents. Les Miles would like to see a format (in an eight-game schedule) where teams play their six divisional foes and then two rotating foes from the other division.
Of course, Auburn and Georgia, as well as Alabama and Tennessee, are dead set on keeping their annual rivalries.
For the time being, it's going to stay at eight conference games, and a 6-1-1 rotation already has been approved through 2026. Obviously, the presidents will have the final say, and nothing says that can't become a 6-1-2 format in a couple of years if (when) the league goes to nine conference games.
Alabama, which has avoided the best teams from the East Division each of the past two regular seasons, would get Georgia in 2014 as its cross-divisional foe and Florida in 2015. Again, this is assuming the rotation approved through 2026 sticks.
There are sure to be a few twists and turns, and it's only natural that adding a ninth SEC game would be unnerving for coaches and athletic directors.
Keep in mind that in the past six years, Alabama, Florida and Georgia all have gone to bowl games with six regular-season wins.
One thing we know about this league is that it changes fast. But it's also a league that has proved it can handle change with the best of them.
Does anybody really expect
that
to change?
May, 30, 2013
May 30
4:00
PM ET
DESTIN, Fla. -- SEC coaches might have voted 13-1 to keep an eight-game conference schedule, but they could be getting more than they bargained for down the road.

For now, the eight games are safe and so is the 6-1-1 scheduling format, but with the College Football Playoff and the SEC Network looming, it's hard to believe that both of these models will stay after the 2015 season for college football's top conference.

Florida coach Will Muschamp might have said it best on Wednesday. He prefers an eight-game conference schedule -- which certainly benefits the Gators, considering they already have Florida State on the schedule -- but he understands that with all the change coming, nine games appears inevitable, even if it might not be what he thinks is best for the conference.

"There's a lot of question marks out there that are really hard to really answer right now, kind of like the nine-game schedule," Muschamp said. "Is that best for our league? We really don't know right now. At the end of the day, it's going to be great for the fans, it's going to be great for TV, but is that what's best for the Southeastern Conference? I don't know, right now."

Nick Saban began the week with the idea of SEC teams playing 10 BCS games every year -- during the regular season. That could be nine league games and then a bigger nonconference game or it could be eight league games with two bigger nonconference games.

Alabama athletic director Bill Battle echoed those same thoughts Wednesday.

"I don't know if nine (SEC) games is the answer. What I think is that we really need to play at least 10 good games," Battle said. "My personal feeling is we shouldn't be playing three or four games with, I guess, Football Championship (Subdivision) teams. Whether we play more conference games or just more FBS games, I think we need to play 10 (quality) games because our fans are going to get tired (of going to games with lesser opponents)."

He certainly has a point. Fans don't show up for the cupcakes like they show up for the creme brulee or even the carrot cake. Those games don't do well with ratings and they just aren't very exciting to watch in person or otherwise.

SEC commissioner Mike Slive even hinted earlier this week that he'd like to see teams beef up their nonconference schedules, which could be sort of a tradeoff for teams if the league stays at eight conference games. Regardless, he wants to see more meat on teams' schedules going forward.

So while SEC coaches left Destin Wednesday with an almost unanimous vote on keeping eight league games, their votes might not mean too much in the end. This means a more difficult road to the playoff and the national championship for the league that has won seven straight BCS titles.

Think about it, if the the SEC moves to nine conference games the SEC champion will have to play 10 SEC games and another BCS game before even starting the playoff.

Personally, I'm in favor of all the SEC teams beefing up their schedules. It's just a better product to watch. And the league's new network probably won't want a lull during the season with a weekend of, well, weak opponents littering its lineup.

Texas A&M coach Kevin Sumlin suggests you can spread conference games throughout the season to ensure that an SEC matchup occurs every weekend.

"I know with television and with everything that becomes important there's a way to maintain that and maybe reconstruct the schedule so that it serves the national need of fans and our television needs and still gives us an opportunity to play in the toughest league in America," Sumlin said.

Makes sense, but if there's a chance to bring in more fans and money by toughening up the schedule, the league will do it. And this is a chance for the league to flex its muscles even more. Sure, the old method has worked, but things change. The SEC took a major step with the first conference championship game in 1992, and this would be another one.

Coaches could get more than they asked for, but they should embrace the challenge should it arise.
May, 30, 2013
May 30
10:45
AM ET
DESTIN, Fla. -- With the schedule debate raging in the SEC, South Carolina coach Steve Spurrier shed perhaps the best perspective on things.
"Nobody said it's always going to be fair," said Spurrier at the SEC spring meetings, referring to the differing opinions about permanent cross-divisional opponents and how the rotation falls every year.
"You know who you're going to play in your division. There's only two other games over there. So however they switch it around is fine."
Keep in mind that the Gamecocks had to play at LSU last season. They beat then No. 1-ranked Alabama at home in 2010, and their permanent Western Division foe has been Arkansas, which was a top 15 team and won 10 or more games in both 2010 and 2011. Starting in 2014, assuming the 6-1-1 format survives with permanent cross-divisional foes, South Carolina would play Texas A&M every year. The Aggies will start the 2013 season ranked in the top 10.
Spurrier remains undaunted. He points out that Georgia has won the Eastern Division each of the last two years despite losing to South Carolina.
He doesn't stop there, either.
"Give Georgia credit. They won all the rest of their games and beat Florida down there," said Spurrier, who's 14-2 against East opponents over the last three years. "They were division champs. Heck, they were one play away from winning the national championship. That pass gets off (against Alabama), and if their guy catches it at the end of the game, I believe they would have been favored over Notre Dame."
Spurrier then cracked: "They were close to winning it all and got clobbered at our place."
South Carolina routed Georgia 35-7 last season in Columbia and has won three in a row over the Bulldogs.
Spurrier was asked how many SEC teams would have been favored against Notre Dame in the BCS National Championship Game a year ago.
"Some people say six of our teams would have been favored against Notre Dame, the top three on each side," he said.
Was that right?
"You'd have to ask Danny Sheridan. He's the oddsmaker," Spurrier quipped.
Here's a little more from Spurrier on various topics:
On the possibility of his serving on the College Football Playoff selection committee after he retires: "I don't know if they would want me on that committee. I may have too many loyalties. That's what you have to look at. Archie Manning would be a good one on there, probably … unless Ole Miss was in the Final Four."
On his beloved golf game: "My golf game is lousy. It may keep me coaching, it's so lousy."
On dealing with all the fast-paced, no-huddle offenses in the SEC and college football now: "The answer is for the other team's offense to stay on the field and make that other fast-paced team stay on the sideline. That's just a part of football, rapid-fire, no-huddle. Some people like it. It's good … if you do it well."
On being ranked No. 3 in The Sporting News' preseason Top 25 poll: "I've been telling everybody we were No. 10. I'm still going to tell everybody we're 9 or 10. That's our comfort spot. We don't need to be 3. We lost too many good defensive players to think we're right in that category, and receiver-wise, little Ace Sanders was a good one."
On whether he will still take a few jabs at coaches and rival schools in the offseason: "I will still say something in the offseason that's light, but nothing to irritate anybody too badly. I think you can joke around a little bit. I called North Carolina Dabo (Swinney's) favorite team. It's supposed to be funny. It's no big deal. Dabo is starting to laugh about it now."
On who will start at quarterback for the Gamecocks in 2013: "I think Connor [Shaw] will definitely be our starter, and we'll get Dylan [Thompson] in some every game. I don't know how it's going to play out. If one guy plays a whole bunch better than the other, then he'll be playing more than the other. They're both very qualified and both excellent leaders. I can see them both playing a lot."
On
Johnny Manziel
handling being a Heisman Trophy winner at such a young age: "Johnny's a free spirit, as we all know. I think he'll handle it well. From what I heard, he had an excellent spring. Kevin Sumlin is a sharp guy, and they'll give him excellent guidance. Hopefully, he'll go pro after this year."
May, 29, 2013
May 29
8:19
PM ET
DESTIN, Fla. – The short-term answer for the SEC is to keep the number of conference games at eight, but coaches and athletic directors agreed Wednesday that a move to nine conference games is probably inevitable.
The head coaches voted 13-1 to stay at eight conference games. The only coach voting for nine was Alabama's Nick Saban.
Larry Templeton, who has headed up scheduling during the SEC's transition to 14 schools, said a rotation has been approved through 2026 that would include eight conference games with six divisional opponents, one permanent cross-divisional opponent and one rotating cross-divisional opponent.
That rotation will begin in 2014, but the question becomes: How long will that format remain in place?
"Personally, I think we'll end up moving to nine (conference) games eventually," Florida coach Will Muschamp said. "My personal opinion (is) you create an SEC Network, at the end of the day, it's going to be driven by the dollar, and having those games is going to be important, and having enough quality games on television promoting a nine-game SEC regular season, in my opinion, will eventually happen."
SEC commissioner Mike Slive said it's doubtful the 2014 schedule will be finalized this week at the league's spring meetings. He's declined to weigh in on whether he's in favor of going to nine conference games. But he didn't hold back on the importance of SEC schools upgrading their nonconference schedules.
"I don't want us playing four games that mean less," Slive said. "I made that very clear."
Click
here
for the rest of the story.
May, 29, 2013
May 29
8:15
PM ET
DESTIN, Fla. -- There's more than just schedules and permanent opponents on the docket at the SEC spring meetings here in Destin.
Coaches and athletic directors have spent time discussing the new rule that would allow officials to eject players who target and hit defenseless players above the shoulders. The goal is to get rid of head-to-head hits that seriously endanger players.
The rule, passed by the NCAA Playing Rules Oversight Panel in March, calls for immediate ejection for a player whom the head field official deems "targeted" a defenseless player above the shoulders. The official's call is final unless the replay official decides the call was incorrect.
As with the fighting rule, if the foul occurs in the first half of a game, the player will be suspended for the rest of that contest. If it happens in the second half, the player will be suspended for the remainder of the game and the first half of the next one.
"I'm all for it," Missouri coach Gary Pinkel said.
[+] Enlarge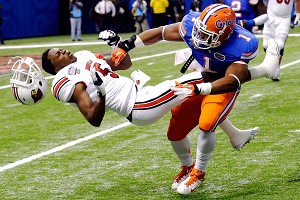 AP Photo/Bill HaberJon Bostic's hit on Louisville's Teddy Bridgewater might have earned the Florida linebacker an ejection under new NCAA rules.
"We have to protect this great game and to act like we should just keep on going and let things go as they go is not the right thing to do," Pinkel added. "We gotta protect kids, and it's a such a great football game -- it's our calling to make sure we make the rule changes to make it safer. I don't think it's going to hurt the quality of the game in any way."
SEC commissioner Mike Slive said the idea of creating a new rule has been on his mind for some time now. Last year, he suspended two players for controversial above-the-shoulder hits. Controversy also swirled around Alabama defensive end Quinton Dial's nasty hit on a defenseless
Aaron Murray
in last year's SEC championship game. The hit appeared to be helmet-to-helmet, but no flag was thrown and Dial wasn't suspended for the BCS title game.
An example that likely would have earned an ejection was Florida linebacker Jon Bostic's hit on Louisville quarterback
Teddy Bridgewater
in the first quarter of last season's Sugar Bowl.
Florida coach Will Muschamp said he is happy about the rule, but wants more.
"I want to even take it further, to blocking below the waist," Muschamp said. "You want to talk about player safety, let's talk about ACLs and the injuries that occur with blocking below the waist if you want to continue to talk about player safety."
Slive said league coaches met with the rules committee and Rogers Redding, the national coordinator for college football officials, earlier this year to discuss punishment for blocking below the waist.
"They would like it done right now for the coming season, so we will communicate with Rogers about it," Slive said.
While it's obvious the SEC is looking out for player safety, some coaches are cautious about the new rule.
Kentucky coach Mark Stoops believes officials will lean toward protecting players and that the new directive will have a "dramatic impact on the game" whether it's called or not.
"It's gonna be a tough rule for a lot of people," Stoops said. "It's going to affect a lot of people. It's going to affect a lot of defensive players. We all understand the commitment to protect players. It's going to have a dramatic affect on a lot of people.
"We see it and we understand it, but it's going to hurt some teams at times."
Added LSU's Les Miles, "I hope that it's done in a very moderate fashion. Change has to be incremental and not wildly applied. I think it's a great rule. Protecting our players is a great rule, but it's going to be very difficult to administer because if I go to tackle you and I lower myself and you go to defend yourself from being tackled and you lower yourself and we collision at the chest and I come up and hit the head, oh my gosh. Suddenly, I'm targeting."
It'll be interesting to see how coaches approach the rule change, but making sure player safety is more of a priority is a good thing for the sport.
May, 29, 2013
May 29
2:35
PM ET
DESTIN, Fla. -- Schools will have until Friday to submit names to SEC commissioner Mike Slive for the College Football Playoff selection committee.

According to several SEC athletic directors and coaches, their preference is to have non-active coaches, athletic directors and administrators on that committee, which would be different from the selection committee for the NCAA basketball tournament. Current commissioners and athletic directors serve on the hoops committee.

However, Bill Hancock, the executive director of the College Football Playoff, said Wednesday that the working model for the selection committee doesn't necessarily rule out current athletic directors, although current conference commissioners would not be a part of the committee.

"I think past ADs, old coaches and old players, but guys who are really for the college experience, is the way to go," LSU coach Les Miles said. "They'll be able to do the job without reflection on where they're from. The problem with the current coaches and current ADs is that they all have a bias, and it's impossible to remove it from them."

Florida athletic director Jeremy Foley said he's submitted two names, and he's keenly aware of how much scrutiny the committee will face.

"Now, there may be criticism on who they pick or how they pick them," Foley said. "That's all going to be part of the process, and one of the goals when the names get released is that people are saying, 'You know something? That's a good group. Those people know what they're doing and they're the right people in terms of integrity.'

"It has to be a committee that can not only do the job, but is accepted publicly."

Foley's understanding is that current coaches, athletic directors and commissioners will not be part of the model.

"I just don't see that. That may change. That's kind of what I've heard," Foley said. "I don't think they want to be in that room and be perceived as representing a league. Everybody leaves their hat at the door, and you go in and do what's best for college football and not be perceived as representing this league or you're the commissioner of this league or the athletic director of this school.

"Now, that may change because having some people who are currently involved in the profession would be helpful in the process. Again, that's one guy's opinion, and I have zero votes. Well, I have one vote. I'm not serving. I've already made that clear."

The hope is to have the committee members named by sometime this fall, Hancock said.

"It has to happen sooner rather than later," Foley said.
May, 29, 2013
May 29
9:00
AM ET
DESTIN, Fla. -- Scheduling talk has been at the top of the list of topics at this year's SEC spring meetings, but it looks like the league's current 6-1-1 format is hanging around for the time being.
SEC commissioner Mike Slive said Tuesday that while he's "wide open" to discussing other scheduling formats, teams will continue to play six divisional games, a permanent cross-divisional opponent and a rotating crossover opponent through the 2014 season.
"We have a format. We have a 6-1-1 format," Slive said. "Last year we voted overwhelmingly to do the 6-1-1 permanent [crossover divisional opponent] and one rotator. The discussion about that format and any other possible formats is a conversation that's underway. So until that format changes that's our format.
"We'll leave here with that format, but I think there's going to be a lot of discussion at all levels about whether that format should continue indefinitely."
The 2014 schedule could be finalized this week, Slive said.
So what about 2015?
[+] Enlarge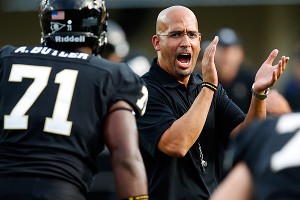 AP Photo/John RussellVanderbilt's James Franklin is not among the coaches on board with a nine-game SEC schedule.
"Most likely a 6-1-1," Slive said.
The 6-2 format (six divisional games with two rotating crossover opponents) isn't dead by any means, but you likely won't see it implemented in the SEC any time soon.
Slive, who certainly doesn't like to give away too much when surrounded by the media, said there isn't a concrete date set for figuring out when or if the conference will change its scheduling format, but it doesn't look like there will be any change within the next three seasons.
Now, the league could decide to move to nine conference games or decide to move to the 6-2 format this week, but chances are it won't go into effect until the 2016 season.
In talking to some coaches, the 6-2 scheduling model can be worrisome because it could mean some schools would drop regular nonconference rivalry games -- like Kentucky dumping Louisville -- in order to lighten their load at times. No Eastern Divison team wants to play Alabama and LSU during the same season, and no West team wants to play Florida and Georgia in the same year.
LSU coach Les Miles has been very vocal about getting rid of the permanent crossover opponent because LSU is tired of playing Florida to go with its SEC West schedule every year. That makes sense, but there are a handful of other crossover rivalries that schools would like to keep.
Vanderbilt coach James Franklin isn't close to being in favor of a 6-2 format:
"We'll go to nine and people will say, 'We don't have enough sexy out-of-conference games anymore, so you're going to have to play nine and another.' When's it going to stop? Two years from now they're going to say, 'You know, we probably ought to schedule an NFL team. You're probably going to have to play the Jets. You're going to have to play the Falcons.' Now we're going to play nine games and and an NFL team. When's it going to end?"
Obviously, the SEC won't be scheduling any NFL teams, but you get the point.
Nothing official could come out of this week's spring meetings, and the league might not make a decision until after spending a year in the college football playoff, but it's clear that all of this schedule talk is very important to just about everyone involved.
May, 28, 2013
May 28
5:25
PM ET
DESTIN, Fla. -- Alabama's Nick Saban knows he's in the minority, but when has that stopped him?
Saban reiterated his support Tuesday for nine conference games in the SEC, even though his coaching brethren in the league are more than content to keep it right where it is at eight games.
Ultimately, Saban's probably going to get his wish, at least somewhere down the road. But the 2014 and 2015 schedules the league is working to finalize this week at the SEC spring meetings are expected to be eight-game formats.
[+] Enlarge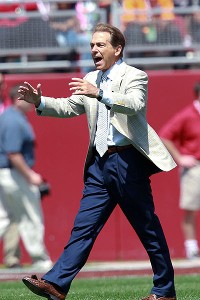 Marvin Gentry/USA TODAY SportsNick Saban said one reason for playing nine SEC games per year is to enhance fan interest.
"I just think if we increase the size of the league by 15 percent, then we really need to increase the number of games," said Saban, who's 38-6 against all SEC opponents over the past five seasons.
"There are people who want to keep their cross-division rivalries. I think every player should have the opportunity to play every school in his career. If you don't play two rotating games on the other side, that doesn't happen. I really don't think we should become a conference of just two divisions, where you just play your division and never play anybody on the other side.
"Now, there's going to be arguments that say, 'Well, we have to play some rivalry team in our state that makes us have another tougher game.' Well, we're scheduled out until 2017 with tougher games already. We play Virginia Tech, West Virginia, Wisconsin and Michigan State twice. I would really like to see everybody, not just in our conference, but everybody in the country play at least 10 games from the five major conferences."
Saban said it's the fans who are getting the raw end of the deal by not having more marquee games.
"The biggest thing we all need to do in some of these decisions we're making about who we play and what we do is: What about the fans?" Saban said. "One of these days, they're going to quit coming to the games because they're going to stay at home and watch it on TV. Everybody's going to say, 'Why don't you come to the games?' Well, if you'd play somebody good, then we'd come to the games.
"That should be the first consideration, the fans. Nobody's considering them. They're just thinking about, 'How many games can I win? Can I get bowl qualified? How many tough teams do I have to play?' After coaching in the NFL for eight years, everybody in the NFL plays everybody in the NFL, and you lose some games. The Giants lost how many games and won the Super Bowl … six? I think it makes it more exciting if you don't have to go undefeated or lose just one game to be able to have a chance to qualify to play for something at the end."
The SEC has won seven straight national championships, and Alabama has won three of the past four.
So, obviously, playing just eight conference games hasn't hurt the league. What nobody knows is how playing just eight league games will be viewed by the selection committee when the College Football Playoff goes into effect in 2014.
"If you look at it through a straw and how it affects you and you're self-absorbed about it, then you're not going to be for it," Saban said. "I shouldn't be for it. We'd have a better chance to be successful if we don't do it, but I think it's best for the game and for the league.
"I'm trying to look at it from 1,000 feet."
Saban said he's not lobbying to expand the playoff or even change the playoff in any way. He just wants to see more weight given to strength of schedule and less given to how many games you lose.
"I just think it would be better if people were talking about more teams at the end of the season rather than just two teams that might be able to get into the championship game," Saban said. "I think what makes it healthier for college football and the fans is if they're talking about 20 teams that have a chance to get into the Final Four ... and there aren't going to be 20 teams undefeated."
May, 28, 2013
May 28
5:00
PM ET
DESTIN, Fla. -- The joking and chances to take shots at opposing coaches is alive and well on the coaching caravan circuit.
Off-the-cuff remarks to get crowds going at booster club meetings bring cheers and applause inside those well-catered rooms, but they can bring controversy once they're made public.
[+] Enlarge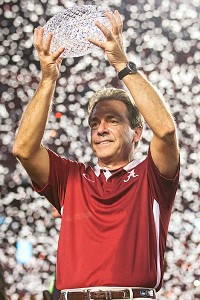 Cal Sport Media/AP ImagesApparently Alabama's Nick Saban has had it with fellow football coaches taking shots at him.
The SEC isn't a stranger to such incidents, but a recent devil-related comment from Florida offensive line coach Tim Davis directed at Alabama's Nick Saban has created a little more awkwardness than expected.
Here's the rundown: Davis, who coached under Saban while with the NFL's Miami Dolphins, called Saban
"the devil himself"
while trying to compare his old boss to his new boss, Will Muschamp, at a booster club meeting in mid-May.
"I've always wanted to work with Will [Muschamp]," Davis said. "Will's got a plan. Will coached under the devil himself for seven years. I only did three. He did seven. And his DNA is not any different than Nick."
At the time, it didn't seem that much would come from a comment made to excite a crowd of Gators fans. It was all in fun, and the tongue-in-cheek association of Saban and Satan is nothing new. Vanderbilt coach James Franklin even called Saban "Nicky Satan" during a high school banquet earlier this year.
But even the conference's most focused man is a little fed up with the whole thing. Shortly after Davis' comments hit the Internet, Saban responded by saying he was
"disappointed" with his former assistant's comment
.
Tuesday, Saban expanded on his disappointment during the first day of the SEC spring meetings:
"I'm disappointed because when guys work for you you have feelings for them and you're hopeful that they don't feel that way, but if somebody did feel that way I just wish they would tell me because I'm not trying to make anybody feel bad.

"When you're in a position of leadership, sometimes you have to make people do things they don't want to do for the betterment of the program and to get them to do their job the way they need to. I'm not directing that to anybody in particular, but somebody may not like that."
Saban added that Muschamp and Florida athletic director Jeremy Foley both called to apologize for Davis' comment. Saban isn't mad at Muschamp or Florida, but it's clear that he isn't totally over what Davis said. If he was, he'd make it pretty clear by not discussing the issue. Saban has way more important things to worry about.
That's what makes this all very interesting. Saban usually doesn't care what anyone thinks about him or his program. He goes about his business -- and very well, I might add -- and gets his players and coaches focused on the pigskin. Outside comments rarely make much of an impact on Saban.
But the mudslinging is getting to him:
"If we're in a position of leadership, we should set an example that somebody should want to emulate. … So why do we need to say things like that that's detrimental to somebody else if you're in a position of leadership? Because you don't need to do that. You don't need to tear down somebody else to make yourself look better, or whatever. You need to be focused on what you need to do in your program so that you can be the best that you can be. And that doesn't have anything to do what anybody else is doing."
Saban has a point, but jokes are going to be made at booster clubs. You take shots to generate excitement. This is nothing new, and I don't think Saban cares about jokes being made, but he's not pleased with a former assistant comparing him to the Prince of Darkness.
I get it, and I think most people would be irked by that. It's way more personal when a former employee takes a shot like that, but when you're on top, people will come after you. It's human nature.
Saban has more to worry about than Davis popping off, but I'm sure he won't forget this if the Gators find a way to play Alabama in the near future.
TOP 25 SCOREBOARD
Saturday, 12/21
Monday, 12/23
Tuesday, 12/24
Thursday, 12/26
Friday, 12/27
Saturday, 12/28
Monday, 12/30
Tuesday, 12/31
Wednesday, 1/1
Thursday, 1/2
Friday, 1/3
Saturday, 1/4
Sunday, 1/5
Monday, 1/6