May, 17, 2012
5/17/12
2:30
PM ET
ALPHARETTA, Ga. -- When Florida defensive tackle
Leon Orr
violated the terms of his deferred prosecution agreement for his misdemeanor marijuana possession charge by
being cited
for knowingly driving with a suspended license on Monday, he became the ninth Florida player arrested and the 11th overall arrest during Will Muschamp's short coaching tenure.
Though Orr wasn't taken into custody, his citation did count as an official arrest.
With that, there's a growing perception that Florida has an off-field discipline problem. The numbers are hard to ignore, but Muschamp isn't convinced there's a problem. He acknowledges the run-ins that have taken place since he officially took over for Urban Meyer in January of 2011, but insists that perception isn't his reality.
While he wouldn't comment on Orr's situation, he did say that increased media outlets have placed the microscope closer to college athletes.
[+] Enlarge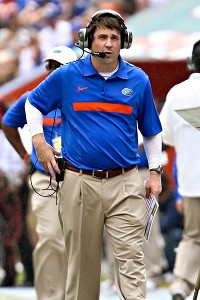 Rob Foldy/Icon SMIWill Muschamp insists discipline in his program is better now than it was when he first arrived.
"When you're dealing with young people, it's an ongoing educational process, especially in this day and age," Muschamp told ESPN.com shortly before he greeted the Atlanta Gator Club at The Metropolitan Club in Alpharetta Wednesday. "I'm not taking a shot at anyone in the media. It's your job to report and more things are being reported now than 15, 12, eight, five years ago. There's more social media outlets now where there's more information. There's a lot of misinformation out there, too."
Of the 11 arrests, only three have occurred during this calendar year, while five occurred during Muschamp's first spring.
You can see a summary of the arrests
here
.
The overall number is high for less than two years, but it's obvious the off-field incidents have steadily decreased and Muschamp said there's "no question" the discipline is better now than it was when he first arrived ... and he's right.
It hasn't been an overnight transformation, but the improvement is there. Muschamp took over a team that experienced 32 arrests during Meyer's six-year tenure and feels things are turning around. He especially sees it in the fact that during his first five months on the job he had five arrests on his hands. Since September, he's had three.
"At the end of the day, our players understand that there are consequences for their actions," Muschamp said. "They understand there's a certain accountability within the program. It's not a right to play at Florida, it's a privilege."
Though not all punishments have been made public, action has been taken by Muschamp. Star cornerback Janoris Jenkins was dismissed after his two marijuana-related arrests, while former linebacker Dee Finley didn't play against Tennessee last year following his arrest for driving with a suspended license and resisting arrest without violence. He later transferred to North Alabama last October.
Tight end
A.C. Leonard
, who was arrested for battery in February, was suspended for part of spring and Muschamp has said there will be further suspension this fall, meaning he could miss multiple games.
Three of the nine players arrested are no longer with the program.
With spring practice over with, Muschamp said the concerns of the offseason are on his mind. Players have less strict class schedules and more time on their hands. More time away from the coaches can be a dangerous time for programs.
Muschamp is putting the team in the hands of the players and strength coach Jeff Dillman. Muschamp said he isn't relying on a select group of players to lead the team, but expects everyone to hold each other accountable for workouts, off-field behavior and classroom work ethic. Muschamp said reports from Dillman have been positive.
Muschamp also said off-field issues haven't affected recruiting. He said conversations concerning that have gone over well with recruits and their parents and he's been able to promote Florida and its players well.
"We've got the right guys in our locker room," he said. "Are they all deacons in the church? No, but we've got a good locker room. I know one thing: My two young boys love being in the locker room."
February, 17, 2012
2/17/12
10:09
AM ET
Florida coach Will Muschamp didn't waste any time in disciplining
A.C. Leonard
and
suspending the freshman tight end Thursday evening
from all team activities.
Leonard was arrested Wednesday night and charged with simple domestic battery. According to a Gainesville Police Department arrest report, a woman Leonard had been dating for the past 17 months and living with for the past month said Leonard shoved her to the ground following an argument, causing her to hit her head on a dog cage. She said Leonard then told her to leave and grabbed her by the hair in the bedroom and tried to drag her out of the apartment. The report stated that when she resisted, Leonard grabbed her by the feet, pulled her out of the apartment and then locked her out of the apartment.
Leonard told police that he never hit the woman and just wanted her to leave.
In a statement, Muschamp said: "This behavior will not will be tolerated and A.C. has been suspended from team activities at this time. I certainly don't condone this type of behavior -- it is not what we expect from the University of Florida football program."
There have been 10 arrests of Florida players since Muschamp took over as head coach a little more than 13 months ago, although all but one of those players either signed or committed to the Gators under former coach Urban Meyer. Muschamp made a strong statement last year that he wasn't going to tolerate serious off-the-field issues when he dismissed his best player, cornerback Janoris Jenkins, following Jenkins' second drug arrest.