September, 19, 2013
9/19/13
10:15
AM ET
Week 4 of the SEC season is here, and though the latest "Game of the Century" is behind us, there is still much to watch in the league this week. There are a couple of conference games on tap, including a rivalry game, and a chance for many SEC teams to either reset or find their footing against nonconference opponents. Let's take a look at 10 things to watch on Saturday around the conference.
[+] Enlarge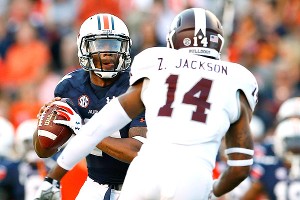 Kevin C. Cox/Getty ImagesNick Marshall and Auburn want to start 2-0 in the SEC, but have a tough test playing at No. 6 LSU at night.
1. Can Auburn go 2-for-2?:
Auburn won its first SEC game in nearly two years, beating Mississippi State 24-20 last week. Can Auburn, under new head coach Gus Malzahn, start 2-0 in the league? That's a tall task, considering its opponent and location: LSU in Death Valley. It's hard enough to play in Baton Rouge, La., but a night game at LSU is asking a lot, where the team is 39-2 under Les Miles in that scenario. But Auburn quarterback
Nick Marshall
has showed some promise and the team gained confidence from last week's win. Never say never.
2. A chance to bounce back for Alabama's secondary:
The Crimson Tide were victorious last week, but their defensive backs were torched against Texas A&M quarterback
Johnny Manziel
and receiver
Mike Evans
. Manziel threw for 464 yards against the Tide and Evans routinely beat man-to-man coverage. Head coach Nick Saban hinted this week that not everybody's jobs might be safe in the secondary, so it'll be worth watching if there are any changes back there when Alabama hosts Colorado State on Saturday.
3. Continued success from Mettenberger:
Through three games, LSU looks like a capable passing team behind quarterback
Zach Mettenberger
. He completed 65.2 percent of his passes (45 of 69) for 797 yards and nine touchdowns with zero interceptions. He has thrown eight touchdown passes in his past two games. These are all positive developments for the Tigers, who want to be able to make teams pay in the air when they stack the box to control the running game. Can Mettenberger continue the solid play when LSU hosts Auburn?
4. Reversing course for Georgia run D:
The Bulldogs have allowed a whopping 211.5 yards per game on the ground in their first two games, putting them 102nd in the nation in the category. They're also allowing 6.2 yards per carry. It's worth noting that Georgia opened up with a schedule as tough as anybody's, playing a pair of top-15 teams out of the gate. But figures like that won't get it done when Georgia gets into the meat of its SEC schedule. This weekend's matchup against Conference USA foe North Texas is a chance for the Bulldogs to shore up things on the defensive end before a huge showdown with renowned running team LSU the following week.
5. Can A&M's D show signs of life?:
The Aggies were dominated by Alabama's offensive line last week in a 49-42 loss and overall, the Aggies haven't been proficient at stopping other teams, particularly on the ground. They've allowed more than 200 rushing yards in each of their three games, and against Alabama failed to generate a pass rush. This week they host SMU and it will be the second straight week that the Aggies have most of their starting defensive players available and not subjected to a suspension of some sort. Now that most of the key players are back, namely linebacker
Steven Jenkins
, will the Aggies show some improvement on the defensive side of the ball?
6. Renewing a rivalry that's been one-sided of late:
Florida and Tennessee meet at The Swamp on Saturday and the Gators are going to try to extend an eight-game winning streak against the Volunteers. The last time the Vols defeated Florida was in 2004, a 30-28 win in Neyland Stadium. This is the first installment of the rivalry for Butch Jones as Tennessee's head coach though. The Vols are coming off a 59-14 pounding at Oregon; fortunately for them Florida's offense is nowhere near as high-powered. The No. 19 Gators have their own wounds to lick, having lost to Miami 21-16 last time out and with key players like
Jeff Driskel
and
Matt Jones
trying to get to full strength healthwise. It's the SEC opener for both so it's an important game, no matter how you slice it.
7. Bulldogs, Commodores look to get back on winning track:
Mississippi State and Vanderbilt both suffered SEC losses last week: The Bulldogs dropped a 24-20 decision to Auburn while the Commodores fell 35-25 to South Carolina. Mississippi State hosts Sun Belt squad Troy while Vandy travels to Massachusetts. Both teams are 1-2 and though wins won't help their efforts in SEC play, where both are winless so far, simply going out and getting a win -- which both should here -- will be a needed positive
8. Allen or Derby at QB for Arkansas?:
Starting quarterback
Brandon Allen
injured his shoulder in a 24-3 win over Southern Miss last week and backup A.J. Derby relieved him during the Razorbacks' victory. Arkansas coach Bret Bielema hasn't publicly said for certain that Derby will start and hasn't ruled out Allen, but will monitor the progress of his shoulder before making the decision. Don't be surprised if Derby gets the start. He went 4-for-6 for 36 yards in relief duty. He was at Iowa his first two years before transferring to Coffeyville Community College and eventually Arkansas.
9. Mizzou looking for 3-0:
The Tigers are looking for their third straight win, heading on the road to Indiana after a pair of home victories over Murray State and Toledo. While nobody will consider their nonconference schedule daunting, wins are wins. Quarterback
James Franklin
and running back
Henry Josey
are healthy, the team is productive (averaging 539 offensive yards per game and 48 points) and the confidence that comes with success can be contagious. Another win this week over Indiana and next week over Arkansas State would give the Tigers a lot of momentum heading into SEC play.
10. Time to heal up, improve, for Kentucky, Ole Miss, South Carolina:
With these three teams having an open date this week, it's a chance to heal up any lingering injuries and work on fundamentals to help the team get better. Ole Miss probably would rather keep things going after a strong 3-0 start, including a win at Texas on Saturday, but the Rebels instead get extra time to prepare for No. 1 Alabama. South Carolina defensive end
Jadeveon Clowney
could use the rest to reset from what has been a rough start, and this week can be a valuable teaching time for someone like head coach Mark Stoops at Kentucky, whose team is 1-2 after the first three weeks.
January, 16, 2012
1/16/12
5:46
PM ET
More tough news for Iowa, as the team announced Monday that redshirt freshman
A.J. Derby
will
transfer after asking for his release
from his scholarship.
Derby, an Iowa City native, came to the Hawkeyes as a heralded quarterback recruit with terrific athleticism. He was one of Iowa's most decorated recruits and instantly became a fan favorite.
He redshirted the 2010 season and entered the 2011 campaign as a quarterback, completing 3 of 6 passes for 30 yards, before moving to linebacker in October. He entered the year as Iowa's No. 2 quarterback but moved to linebacker shortly after
serving a two-game suspension
following an arrest for fourth-degree criminal mischief and public intoxication.
Although he made the move to linebacker, he seemed to
do so a bit reluctantly
. Derby's next stop likely will provide him another chance to call signals on offense.
"I would like to thank the University of Iowa and football coaches for the opportunity," Derby said in a statement. "Unfortunately, I don't feel this is the best fit for me personally to reach my goals as a student-athlete. I especially wish my brother [Zach, a junior tight end for Iowa] the best of luck in the coming year. I will miss all of my teammates, family and friends who have supported me here. Good luck to everybody. Once a hawk, always a hawk."
Iowa coach Kirk Ferentz wished Derby well, calling him "a pleasure to coach."
It would have been interesting to see where Derby's career would have gone at Iowa. The team seems fairly set at quarterback for the next few years, as starter
James Vandenberg
returns in 2012 and
Jake Rudock
, a heralded recruit, redshirted the 2011 season.
Without much of a chance to compete for snaps, Derby is likely best served to play elsewhere.
August, 30, 2011
8/30/11
5:17
PM ET
The first Big Ten coaches teleconference of the season took place earlier Tuesday. Given all the news and nuggets of Week 1, we're compiling notebooks for both divisions. We'll try to do these as often as possible on Tuesdays during the season.
Let's get things started with the Legends division.
IOWA

Coach Kirk Ferentz said if the Hawkeyes played a game today, A.J. Derby would serve as James Vandenberg's backup at quarterback. Derby, a fan favorite who boasts tremendous athleticism, has clearly made strides during camp to move slightly ahead of John Wienke, who Ferentz said also is improving. After so much talk about where Derby would end up playing, it seems like his future is at quarterback.
Ferentz said the biggest change we'll see on Iowa's defense this fall will be a larger rotation up front. Iowa typically went with a 5-man rotation the past few seasons, but after losing three linemen to the NFL draft, the Hawkeyes will rotate 6-8 players and possibly nine up front this season.
Jason White will get the next shot at running back behind starter Marcus Coker. Ferentz also said Iowa will use its freshmen tailbacks early in the season to get them accustomed to games. The past two seasons have shown Iowa can't take anything for granted injury-wise at running back.
MICHIGAN
Brady Hoke fielded several questions about the defense and not surprisingly spoke mainly about the line. He likes the depth the Wolverines have in the front four but emphasized the need to get off blocks and maintain "gap integrity" when the games begin. Got to love that football lingo.
Hoke gave a shout out to his boss, athletic director Dave Brandon, for allowing the Wolverines' kickers to use Michigan Stadium often during camp. The stadium not only provided a more realistic setting for the kickers, but the wind conditions in the Big House are different than on the practice fields. Hoke also praised Brendan Gibbons, who will handle field goals, saying he's "very excited about his progress."
MICHIGAN STATE
I asked Spartans coach Dantonio a bit about all the co-starters on his Week 1 depth chart, and he basically said anyone listed in bold will play a lot Friday night against Youngstown State. Not only will Michigan State rotate quite a few defensive ends Friday, but the offensive line rotation also likely will be larger as the Spartans figure out spots like left tackle and center. "How they play in a game situation determines where we go from there," Dantonio said.
Despite four consecutive bowl appearances and a Big Ten co-championship in 2010, Michigan State remains a fairly young team. The offense boasts a mix of veterans and youth, while the defense is fairly young entering 2011. "We're a young football team with a blend of experience," Dantonio said. "We have three seniors on defense in our top 22 players, so good things should be around the corner for us."
Dantonio began the call by thanking everyone for their support since the passing of his father, Justin, on Sunday. He'll return home to Zanesville, Ohio, in the middle of the week for the funeral and be back for the Youngstown State game.
MINNESOTA
Coach Jerry Kill said he has discussed a plan for future nonconference scheduling with the university administration, although he declined to provide details. Don't expect Kill's plan to include many more openers at USC. Said Kill: "Would I like to open up with USC every year? No. I'd like to open up right here at home."
Kill's Week 1 depth chart is filled with true freshmen and redshirt freshmen, but he considers his entire roster freshmen because they haven't gone through a season with the coaches. The result will be a more pared down game plan for Saturday. "There's no question we have to keep things simpler," Kill said. "We can't be like we were at Northern Illinois, so we'll have to adjust."
NEBRASKA
Coach Bo Pelini wants to see efficiency from his offense Saturday against Chattanooga. He stressed the need to limit penalties and turnovers, and to form sustained scoring drives against the Mocs. "At the end of the day, that's what's going to determine our success, how efficient we can be," Pelini said. You can tell Nebraska's poor finish on offense at the end of the 2010 season still irks Pelini.
Like his brother, Carl, the Huskers defensive coordinator, Bo is excited about what the team brings back in the secondary. He singled out the preseason play of cornerback Andrew Green, who likely will start in place of the injured Alfonzo Dennard on Saturday.
NORTHWESTERN
Coach Pat Fitzgerald said the competition between running backs Mike Trumpy and Jacob Schmidt will continue through game week. Trumpy has come on strong as of late, while Schmidt's consistency has impressed the coaches. "Both guys are going to play," Fitzgerald said. "If one guy gets hot, he'll take over the role and be the bell cow."
Fitzgerald didn't say much about the status of quarterback Dan Persa for Saturday's game. He does, however, know what to expect from Boston College. "They will try to run it down your throats until you stop them," he said.
June, 21, 2011
6/21/11
2:20
PM ET
It's time to hop back into our preseason position rankings, and today brings a look at the most visible position on the field: quarterback.
These are our rankings for the entire position group on each team, so depth is usually very important. With quarterback, it's a little different. There's no substitute for an experienced/accomplished starter. So the teams that have one of those plus some backups who have seen some time will get the highest rankings here, while those with unsettled or untested signal-callers will bring up the rear. Later on, we'll rank the individual quarterbacks in the league.
The envelope please ...
[+] Enlarge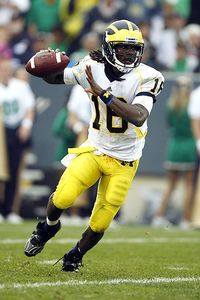 Brian Spurlock/US PresswireDenard Robinson is the most dangerous returning starter in the Big Ten.
1. Michigan:
If there were such a thing as a half-season Heisman,
Denard Robinson
would have won it last year. It will be fascinating to see how he adjusts to a new offensive scheme and whether his running will be reined in, but there's no more electric player in college football than "Shoelace" when he's doing his thing. (And he's an underrated passer.) Tate Forcier left town, but
Devin Gardner
is talented enough to prevent much of a drop-off if Robinson leaves the game. Both must stay healthy, however.
2. Michigan State:
Senior
Kirk Cousins
enters his third year of starting and ranks first all time among Spartans quarterbacks in passing efficiency and completion percentage. He's as steady as it gets.
Andrew Maxwell
got his feet wet last year as a redshirt freshman and will back up Cousins again.
Joe Boisture
retired from football for medical reasons, which hurts the depth. But that looks like more of a problem for next year.
3. Northwestern:
Dan Persa
was the coaches' first-team All-Big Ten quarterback after completing an FBS-best 73.5 percent of his passes and accounting for more than 3,000 yards of offense. Assuming he comes back healthy from his ruptured Achilles' tendon, he'll again stake a claim to being the Big Ten's best quarterback. Backup
Evan Watkins
gained valuable experience by starting the final three games, including the TicketCity Bowl vs. Texas Tech. But
Kain Colter
and
Trevor Siemian
competed with Watkins this spring, and Colter may have the edge for the No. 2 spot.
4. Nebraska:
When healthy, sophomore
Taylor Martinez
is an exciting dual-threat player with game-breaking speed. He set virtually every Nebraska freshman quarterback record last season despite being hobbled down the stretch.
Cody Green
's transfer dealt a blow to the Cornhuskers' depth and means that if Martinez goes down, redshirt freshman
Brion Carnes
will have to take over. But Carnes was impressive at times this spring.
5. Illinois:
Depth? Not so much here. But starter
Nathan Scheelhaase
gives the Illini a great place to start. As a freshman, he compiled 22 touchdowns on the ground and through the air, improving greatly as the season went on and had a huge bowl game against Baylor. Another year in Paul Petrino's system should mean big things in 2011. Illinois would be very green if Scheelhaase gets hurt.
6. Iowa:
Junior
James Vandenberg
takes over for the reliable Ricky Stanzi. Vandenberg threw only eight passes in 2010 but started the final two games for an injured Stanzi in the pressure-packed 2009 season. It looks like this is his time. Backups
John Wienke
and
A.J. Derby
lack game experience, however.
7. Purdue:
The Boilermakers have two quarterbacks who have each played in plenty of games, with incumbent starter
Rob Henry
and former Miami transfer
Robert Marve
, who suffered a torn ACL at the beginning of last season. Both players need to improve and find more consistency, though; Henry completed just 53.1 percent of his passes in 2010.
Caleb TerBush
is back after being ruled academically ineligible in 2010 and adds depth.
8. Penn State:
Matt McGloin or Rob Bolden? That has been the question hanging over the Nittany Lions for a while, and transfer rumors followed Bolden after spring practice. The competition and another year in the system should help both guys, but a potential quarterback controversy could hurt the team. Bolden has more natural talent, but can he harness it?
9. Minnesota:
MarQueis Gray
takes over as the full-time starter after splitting time as a receiver and quarterback last season. The junior has the potential to be a dangerous dual-threat playmaker. He's learning a new system, but coaches liked what they saw from Gray this spring. There's no experience behind him.
10. Ohio State:
The Buckeyes would have ranked much closer to the top of the list with
Terrelle Pryor
, even for half a season. As it stands, they have a muddled quarterback picture, with four candidates vying to take the reins. Senior
Joe Bauserman
backed up Pryor the past two years and can give the team a steady if unspectacular hand under center. Or Ohio State could go for potential and talent with true freshman Braxton Miller. The Buckeyes are likely to climb these rankings, but for now there's too much uncertainty at the position.
11. Wisconsin:
The Badgers must replace rock solid two-year starter
Scott Tolzien
, and the leading candidate for now is redshirt sophomore
Jon Budmayr
. Though slight of stature, Budmayr has a big arm. He has played in only three career games, however. Wisconsin could rocket up this list if former NC State star
Russell Wilson
decided to transfer to Madison.
12. Indiana:
Dusty Kiel
and
Edward Wright-Baker
competed for the starting job this spring, but no clear winner emerged. Between them, they've thrown 29 career passes. New coach Kevin Wilson knows how to teach the quarterback position, and this offense will be friendly for passing stats. But the Hoosiers still have a long way to go.
April, 8, 2011
4/08/11
6:00
PM ET
IOWA CITY, Iowa -- Greetings from the press box at Kinnick Stadium. Am I early for kickoff?
Unfortunately, football season is about five months away, but Iowa is gearing up for the 2011 campaign in spring practice. I had a chance to visit with head coach Kirk Ferentz and several players earlier today. Most of my Iowa coverage will appear early next week, but there were several interesting nuggets from today.
QUARTERBACK SITUATION

No surprise here, but
James Vandenberg
has established himself as Iowa's No. 1 option. The junior's experience filling in for
Ricky Stanzi
in 2009 certainly helps, but he has continued to make progress this spring after a strong pre-bowl session.
[+] Enlarge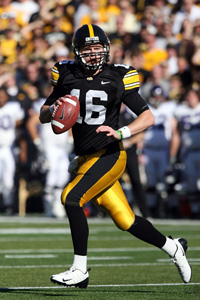 Reese Strickland/US PresswireAs expected, James Vandenberg has taken the lead in the race to replace quarterback Ricky Stanzi.
"James has separated himself from the other two guys," Ferentz said. "And after that, it's a pretty good competition between John [Wienke] and A.J. [Derby]."
Vandenberg's teammates
expressed complete confidence in him
at the start of the spring, and nothing has changed. Barring a significant change between now and Sept. 3, Vandenberg will start the season for the Hawkeyes.
"James is one of those guys, he's not not going to leave the door open too much," Ferentz said. "He really gives himself a chance to be a good player."
LATEST ON RHABDO FALLOUT
Ferentz confirmed that defensive back Willie Lowe, one of 13 Iowa players hospitalized with rhabdomyolysis in January, is not with the team. Lowe and Ferentz last spoke in March before Iowa's spring break, and Lowe's situation with the team is "clearly unresolved," Ferentz said.
Although the school has granted Lowe his release, Ferentz echoed AD Gary Barta in saying he hopes Lowe remains with the team.
The other 12 players remain with the team. There have been non-rhabdo-related injuries within the group that have limited players, but the expectation is all will remain on the squad.
"Everybody's out working, and nobody else has asked for a release," Ferentz said.
Ferentz reiterated his support for head strength and conditioning coach Chris Doyle and Iowa's strength program, which drew criticism after the rhabdo situation.
"Chris Doyle is the top guy I've been around in that realm, and he's widely recognized," Ferentz said. "Chris' name is very highly regarded in the NFL circles, he's had a lot of opportunities to go that route. Fortunately, he's stayed here and I'm very appreciative of that. ... There's no question in my mind he's a huge part of any success we've experienced."
INJURIES
Ferentz mentioned Iowa has 6-8 players who would normally be in the two-deep who aren't practicing this spring because of injuries. Defensive lineman Steve Bigach is out following offseason surgery, and defensive lineman Tom Nardo has been out with a foot injury.
"Those are two older guys we'll have back in the fall," Ferentz said.
Wide receiver
Marvin McNutt
, linebacker Shane DiBona and safety Tanner Miller all are missing the spring with injuries. McNutt looked good walking around the complex Friday and should be fine for preseason camp.
PERSONNEL NUGGETS
It will take some time for Iowa to figure out the secondary for 2011. Micah Hyde, who has played the past two seasons at cornerback, is seeing time at safety this spring, and Jordan Bernstine is being used at both safety and cornerback. Shaun Prater has the left cornerback spot essentially locked down. "If he gets beat out, there's something wrong," Ferentz said. "He's practicing well and performing well." Up to eight players are in the mix for the other three spots.

Ferentz has been pleased with sophomore running back Marcus Coker, who is building off of his superb performance in the Insight Bowl. You never know how success affects young players, but Coker seems to be approaching it the right way. Ferentz noted that if Coker hadn't fractured his collarbone in preseason camp, he could have played a much bigger role in the run game last season. "He showed us a lot about his mental makeup, just how he caught up," Ferentz said. "He did remarkably well from a mental standpoint for all the time that he missed. He's got the potential to be a lot better football player as he moves along."

Ferentz also seems pleased with the spring progress of older defenders like linemen Mike Daniels and Broderick Binns, linebacker Tyler Nielsen and Prater. The offensive line returns three starters and Ferentz noted that Adam Gettis, who would have been a starter if not for injuries last season, has had a good spring.

A final thought from Ferentz on the team: "We're a young team, but we have a good core of seniors that are good players, good leaders and good team guys. We've been pretty enthusiastic about the last couple groups of recruits we've brought on campus. Some of those guys have played and other guys have not played but we feel good about [them]. But I like what I see about the way guys are working. We're not a real good team right now, but I like what I see with the potential they have."
March, 30, 2011
3/30/11
4:07
PM ET
It's unfair to say
James Vandenberg
won Iowa's starting quarterback job on Nov. 14, 2009.
[+] Enlarge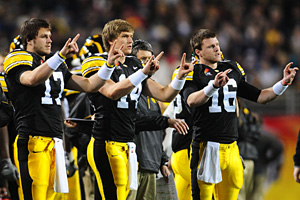 Mark J. Rebilas/US PresswireIowa quarterbacks, from left, A.J. Derby, John Wienke and James Vandenberg are competing for the starting job vacated by Ricky Stanzi.
To earn the title, Vandenberg still must perform well this spring and distance himself from fellow Hawkeyes signal callers
John Wienke
and
A.J. Derby
. A non-factor for most of the 2010 season, Vandenberg, who completed 5 of 8 passes for 45 yards and a touchdown in three games last fall, must keep the pedal down in spring ball.
But his impressive performance a year and a half ago at Ohio Stadium still resonates with his teammates. Vandenberg, then a redshirt freshman, made his first career start in relief of the injured
Ricky Stanzi
and
nearly led Iowa to an upset of Ohio State
in what was essentially the Big Ten championship game.
"To go into Ohio State and do what he did as a redshirt freshman is nothing short of exceptional," Hawkeyes senior tight end
Brad Herman
told me Wednesday. "Right now, everybody sees him as being the guy."
Before Iowa kicked off spring practice, coach Kirk Ferentz singled out Vandenberg for his work, particularly during practices before the Insight Bowl. But Ferentz added, "He's going to get good competition. John Wienke has improved a lot, A.J. Derby is set on winning the job, too. That will make all three of the guys better."
Herman has seen good things from both Wienke and Derby this spring, but there's no doubt about who should take the first snaps this fall.
"I'm just glad Vandenberg's our guy," Herman said. "So many times you see teams struggle, and it's because they don't have stability at quarterback. I'm just relieved that Vandenberg is that No. 1 quarterback. I'm confident in his ability to perform at a high level."
A quarterback has to win over the locker room, and Vandenberg took the first step toward doing so against Ohio State in The Shoe.
"It built confidence in him," Herman said. "Especially when you're a quarterback, when you have the confidence of your teammates and they trust that you know what's going on back there and you know what you're doing, that's huge for an offense."
March, 23, 2011
3/23/11
9:30
AM ET
Kirk Ferentz and the
Iowa Hawkeyes
hit the practice field Wednesday for the first of 15 spring workouts.
Here's a snapshot of the Hawkeyes in spring ball:

The big story:
Football mercifully resumes as Iowa tries to turn the page on a rough offseason and start fresh. Aside from the dramatic Insight Bowl win against Missouri, Iowa hasn't enjoyed much good news in the past four months. There were off-field problems and player discipline, followed by the hospitalization of 13 players with rhabdomyolysis in January and a subsequent internal investigation. The football field will be a welcome sight for Ferentz and his players as they try to regain their mojo from 2009. Iowa loses a large senior class but returns a group of promising young players and a very solid offensive line. Ferentz's teams typically fare better when outside expectations aren't as high, but the growth process must begin right away this spring.
Position in the spotlight:
Quarterback jumps to mind as Iowa begins the task of replacing three-year starter
Ricky Stanzi
. Remember
James Vandenberg
? The plucky freshman who nearly led Iowa to a Big Ten title-clinching win at Ohio State in 2009? He now sets his sights on the starting job but could be pushed by junior
John Wienke
and redshirt freshman
A.J. Derby
, a fascinating player who could see time at other positions. I'd also include safety here as the Hawkeyes must replace both starters (Tyler Sash and Brett Greenwood).
Coaching changes:
Ferentz's staff stability continued as Iowa was one of only two Big Ten squads to avoid any coaching changes during the offseason. The only potential uncertainty is veteran defensive coordinator Norm Parker, who missed most of last season following foot amputation surgery. Parker is a battler, though, and will be helping the Hawkeyes as long as his health holds up.
Keep an eye on:
Keenan Davis
. Iowa needs a No. 2 receiver to emerge alongside
Marvin McNutt
, and Davis will get every chance to fill the role this spring. A heralded recruit, Davis has just 15 receptions in his first two seasons and needs to take the next step at a position of need.
Spring game:
April 16
February, 18, 2011
2/18/11
10:00
AM ET
Our Big Ten spring preview continues with a look at the Legends Division.

IOWA
Start of spring practice:
March 23
Spring game:
April 16
What to watch:
Succession plan for Stanzi: Remember James Vandenberg? The plucky young quarterback who nearly led Iowa to a milestone win at Ohio State in 2009 returns to the spotlight as Iowa looks to replace three-year starter Ricky Stanzi. Vandenberg had only eight pass attempts in 2010, so it'll be interesting to see how he adjusts to a potential featured role. John Wienke and A.J. Derby also will be in the mix.
A new-look defensive front: Iowa loses three multiyear starters along the defensive line, all of whom likely will go onto the NFL. Mike Daniels and Broderick Binns return, but Iowa must begin building depth around them after not playing a large rotation of linemen in 2010. It'll be a big spring for reserve defensive linemen like Lebron Daniel and Steve Bigach.
Rhabdo fallout: Iowa expects the 13 players hospitalized last month with rhabdomyolysis to be ready for spring ball, but there are questions about how the group responds to the rigors of practice. Expect the staff to take every precaution to make sure the players are ready to go. Iowa's internal investigation into what happened could reach its conclusion during the spring practice session.
MICHIGAN

Start of spring practice:
March 19
Spring game:
April 16
What to watch:
Hoke springs eternal: All eyes will be on new coach Brady Hoke as he oversees his first 15 practice sessions as the leading man in Ann Arbor. Hoke and his staff introduce new offensive and defensive systems, and Hoke likely will spend much of his time with a defense that reached historic lows during former coach Rich Rodriguez's tenure. An adjustment period can be expected, but Hoke wants to get things rolling as soon as he can.
Denard Robinson: The 2010 Big Ten offensive player of the year thrived in Rodriguez's spread offense. How will he be used in coordinator Al Borges' system? Will Robinson's unique talents still be maximized? After making major strides last offseason, Robinson must continue to grow as he adjusts to a new offense. This is also a big spring for backup quarterback Devin Gardner.
The move to the 4-3: Michigan is going back to a 4-3 defensive alignment under coordinator Greg Mattison, and the transition begins this spring. The defensive front has to lead the way, and the personnel is there to get it done. The Wolverines are a little thinner at linebacker, but saw some encouraging signs from Kenny Demens this past fall. Others must emerge at the position this spring.
MICHIGAN STATE

Start of spring practice:
March 29
Spring game:
April 30
What to watch:
Familiar face, new leadership: Dan Roushar takes over as Spartans offensive coordinator, and while you shouldn't expect many dramatic changes, the veteran assistant will put his personal touch on the system. Roushar wants to fully re-establish the run game Michigan State displayed in the early part of the 2010 season. It'll also be interesting to see how he works with quarterback Kirk Cousins.
Reloading at linebacker: Michigan State loses two of the more productive linebackers in recent team history in Greg Jones and Eric Gordon. Returning starter Chris Norman will take on an enhanced role, and the spring will be big for younger linebackers like Max Bullough, Steve Gardiner and Denicos Allen.
Elevating the O-line play: You can bet Roushar will have an eye on his old position group, the offensive line, as it replaces starters at both tackle spots and at center. If Michigan State can get its offensive line play where competitors like Iowa and Wisconsin have it, the Spartans will be Big Ten title contenders for years to come. Michigan State has some nice pieces like veteran guard Joel Foreman, but it must build depth this spring.
MINNESOTA

Start of spring practice:
March 24
Spring game:
April 23
What to watch:
A time to Kill. Jerry Kill conducts his first 15 practices as Minnesota's coach and he has no shortage of challenges. He and his assistants must install new systems on both sides of the ball and, perhaps more importantly, get across their expectations for the players going forward. Kill wasn't overly thrilled with his first impression of the squad, so he has a lot of work to do.
Gray back at QB: After a season playing primarily wide receiver, MarQueis Gray is back at his preferred position of quarterback. Kill and his assistants made no secret of the fact that they see tremendous potential in Gray, a dual-threat signal-caller who could end up being a terrific fit for Kill's offense. It will be interesting to see how much Gray can absorb this spring as he prepares to lead the unit.
Kim Royston's return: Minnesota's defense got a huge boost when the NCAA somewhat surprisingly granted safety Kim Royston a sixth year of eligibility. Royston, who had a strong season in 2009 before breaking his leg last spring, is ready to go and should provide some much-needed leadership in the secondary. New defensive coordinator Tracy Claeys will be on the lookout for playmakers and leaders this spring, and he'll find one in Royston.
NEBRASKA

Start of spring practice:
March 12
Spring game:
April 16
What to watch:
New vision on offense: Nebraska likely will have a championship-level defense in 2011, but will the offense bounce back from a poor finish to last season? Tim Beck is the man pegged to get things back on track. Coach Bo Pelini promoted Beck to offensive coordinator, and Beck will begin to implement his vision for the unit this spring. Nebraska figures to stick with the spread, but what version Beck wants to use remains to be seen.
The quarterbacks: Taylor Martinez stiff-armed the transfer rumors, and in January said he looked forward "getting healthy and getting my strength and speed back." The big question: Will he also get his job back as Nebraska's starting quarterback? Martinez can help himself with a strong spring, but Cody Green also is in the mix and things could get very interesting if Bubba Starling decides to stick with football rather than pursue a pro baseball career.
New faces on staff: In addition to promoting Beck, Pelini hired three new assistants: Corey Raymond (secondary), Ross Els (linebackers) and Rich Fisher (receivers). Raymond takes over a talented group that must replace three standout players, including cornerback Prince Amukamara. It'll be interesting to watch Fisher, who most recently coached in high school and also served as a golf teacher, as he transitions back to big-time football.
NORTHWESTERN

Start of spring practice:
March 7
Spring game:
April 16
What to watch:
Rebuilding the defense: Northwestern figures to have one of the Big Ten's top offenses this fall, but there are major issues on the other side of the ball. The Wildcats' defense flat-lined in the final three games, surrendering 163 points and getting dominated at the line of scrimmage. It's a big spring for coordinator Mike Hankwitz, who must fill gaps at spots like linebacker, but more importantly must restore the aggressiveness seen in 2008 and part of 2009.
The backup QB race: Dan Persa is still rehabbing his surgically repaired Achilles' tendon and won't do much in spring ball. It provides an opportunity for Northwestern to hold an extensive competition to see who backs up Persa this coming season. Kain Colter provided a spark in the bowl game and could be the answer. Evan Watkins needs a bounce-back spring, and Trevor Siemian will be in the mix after redshirting this past fall.
Here's the kicker: Northwestern loses four-year starting specialist Stefan Demos and will look to identify a replacement this spring. Neither Jeff Budzien nor Steve Flaherty has attempted a field goal in a game -- they have combined for two PAT conversions -- so the race will be wide open. Special teams has cost Northwestern at inopportune times over the years, but it could be an area of strength in 2011 if the kicker situation is sorted out.
February, 4, 2010
2/04/10
11:35
AM ET
Iowa Hawkeyes
The class
Recruits:
21 (all high school seniors, two players have enrolled early)
Top prospects:
Tight end
C.J. Fiedorowicz
is an ESPNU 150 selection who should challenge for playing time right away following the departure of Tony Moeaki. Offensive tackle
Andrew Donnal
certainly fits the mold at Iowa, which always produces great O-linemen.
Marcus Coker
won't contribute right away at a crowded running back position, but he'll be very good down the line. Athlete
A.J. Derby
will find a spot on the field early in his career.
Sleepers:
Linebacker
James Morris
could end up being a key contributor for the Hawkeyes defense.
Austin Vier
is an intriguing prospect who will get a shot at quarterback but likely will move to tight end.
Needs met:
Iowa will need to reload along the defensive line beginning in 2011, so five recruits at either end or tackle should help. The same goes at linebacker. The offensive line has a few question marks this year, and while Donnal could step in as a freshman, both he and
Brandon Scherff
will help in the future. This class addresses the tight end position for years to come.
Analysis:
Arguably no staff in the Big Ten gets more out of less than Iowa's coaches, so fans clamoring for five-star recruits should simply consult the history books. Iowa doesn't need immediate help at too many positions, though Fiedorowicz could be a key contributor this season alongside
Allen Reisner
. There's a lot of versatility in this class, so it will be interesting to see what Kirk Ferentz and his assistants do with players like Derby and Vier.
Scouts Inc. grade:
B-minus
What Kirk Ferentz said:
"This year we went a little heavier maybe on defense, certainly with three of our four defensive linemen next year being seniors. The next two guys being juniors. It was real important to us to get some guys in that we felt could be involved right away. And same thing with our linebacker position, we've got a heavy group of seniors next year. We just graduated two outstanding players [Pat Angerer and A.J. Edds]. So those are two positions we felt were really, it was important to fortify."
(On A.J. Derby) "He's a winner. And on top of that, you know, we think he's got a lot of upside at the quarterback position. If that doesn't work down the road, there's probably a lot of things he could do. ... That's our intent is for him to play quarterback. We're eager to see how he can progress and improve. And if things change in our style a little bit, that's fine."
"There aren't too many guys we're counting on to save our team next year. But they're really going to be important in our future. And we'll have the discussion down the road possibly about are you going to be a special teams guy, a back-up guy, get your feet wet, and then we're going to have a lot of vacancies a year from now. I know that."
February, 3, 2010
2/03/10
6:11
PM ET
Penn State has announced the signings of 20 players who make up the Big Ten's top recruiting class for 2010. Although Penn State's class fell one spot to No. 8 in ESPN's rankings today, the Nittany Lions had one of the nation's most complete classes, particularly on the defensive side. Players like Dakota Royer, Khairi Fortt, Evan Hailes and several others should help Penn State very early in their careers. Quarterback Robert Bolden should compete for the starting job right away as the Nittany Lions try to replace Daryll Clark.
Iowa head coach Kirk Ferentz finalized a 21-man recruiting class that features several of the Midwest's top players. The Hawkeyes didn't land any ESPNU 150 prospects, but players like offensive lineman Andrew Donnal, running back Marcus Coker, tight end C.J. Fiedorowicz and athlete A.J. Derby all should be key contributors. Iowa's class really bolsters the defensive front with five linemen and three linebackers.
Michigan State hasn't sent out an official release just yet, but the Spartans' 21-man class is signed and sealed. Defensive-minded coach Mark Dantonio bolstered the defense with players like ESPNU 150 prospect William Gholston, linebacker Max Bullough and defensive backs Mylan Hicks. The Spartans also added depth at quarterback with Joe Boisture. This class might not have made quite as big a splash as last year's haul, but Michigan State once again did very well within the state and the Big Ten region.