April, 11, 2013
4/11/13
9:00
AM ET
With half of the conference playing spring games this weekend, here's a look at what to watch if you're keeping an eye on the ACC as spring ball comes to a close:

CLEMSON
When:
4 p.m. ET on Saturday (ESPN3)
What to watch:
Quarterbacks of the future. You know Tajh Boyd is good. Expect Cole Stoudt and Chad Kelly to take most of the snaps. Boyd played just four snaps in the last scrimmage. Let's see his backups.
The tight ends. Clemson tight ends Dwayne Allen and Brandon Ford have been the first team All-ACC tight ends the past two years. Clemson tight ends have 118 receptions and 21 touchdowns the past two years, perhaps the most underrated area in Chad Morris' offense. So who moves in there this year? Sam Cooper is the most experienced, but freshman Jordan Leggett has been impressive this spring.
How much better is the defense? All eyes will be on Brent Venables' group to see how much progress it has made this spring. If the D gets better, it could be a special season in Death Valley.
FLORIDA STATE

When:
2 p.m. Saturday, (ESPN3)
What to watch
:
The quarterbacks. It's been one of the hottest topics this spring in the ACC and arguably the biggest position battle in the conference. Check out Clint Trickett, Jacob Coker and Jameis Winston as they all battle to replace starter EJ Manuel.
The defensive line. The competition is on to replace Bjoern Werner and Tank Carradine. Mario Edwards Jr. is ready to jump in, along with Giorgio Newberry.
Don't forget the kicker. It's big at FSU. The Noles have to replace Dustin Hopkins, the ACC's all-time leading scorer and the NCAA's all-time kick scorer. It's your chance to see Roberto Aguayo, who was one of the nation's top kickers coming out of high school.
MARYLAND

When:
7 p.m. on Friday in Byrd Stadium
Parking/admission:
Free
What to watch:
The running backs. Both Brandon Ross and Albert Reid have had strong springs and will be competing for playing time come the fall.
The receivers. This group should be a strong point for the team this year, as Stefon Diggs, Deon Long and Nigel King are a talented trio.
New faces on defense. The Terps have to replace six starters on defense, including some of their best leaders in Joe Vellano and A.J. Francis.
DUKE

When
: 4 p.m. ET on Saturday (ESPN3) in Wallace Wade Stadium
Parking/admission:
Free
What to watch
:
Booooooone. Anthony Boone takes over at quarterback, and there have been rave reviews about him from within the program all spring. He's got a strong arm and is mobile.
New faces at safety. Some big names are gone, as Duke has to replace graduates Jordon Byas and Walt Canty, and Brandon Braxton, who moved back to receiver. Jeremy Cash, eligible now after transferring from Ohio State and sitting out last fall, headlines the group that includes sophomore Dwayne Norman (60 tackles in 2012 as true freshman) and redshirt freshman Corbin McCarthy.
Front and center: There is one hole to fill on the offensive line and Matt Skura takes over at center for Brian Moore.
MIAMI

When:
3 p.m. ET at Sun Life Stadium (ESPN3)
Gates open:
12:30 p.m.
Parking/admission:
Free
What to watch:
Defensive improvement. Is there any? The Canes were one of the worst in the country last year, but they return every starter up front.
The No. 2 QB. Who is it? Gray Crow started the last scrimmage as the backup to Stephen Morris and completed 8 of 13 passes for 73 yards, with a touchdown and interception. Ryan Williams, who entered the spring as the expected No. 2, completed only six of his 12 passes with a touchdown and an interception. The coaches will be watching these guys closely on Saturday, so should you.
Running back Dallas Crawford. You know Duke Johnson. It's time to get to know this guy. Those within the program have said Crawford has had a great spring and could be a rising star this fall. He scored two touchdowns in a scrimmage in Naples earlier this month.
NORTH CAROLINA

When:
3 p.m. ET on Saturday at Kenan Stadium (ESPN3)
Admission:
Free
Parking:
$5/vehicle
What to watch:
Gio's replacement(s). A.J. Blue and Romar Morris have been working to ease the loss of leading rusher Giovani Bernard. Can they be as effective as he was, how much progress have they made and who will replace Bernard in the return game?
The O-line. Former guard Jonathan Cooper should be a first-round draft pick later this month, and it won't matter how good Blue and Morris are if they can't find anyone to help block for them. A total of three starters have to be replaced on the offensive line.
Replacing big names on D. Cooper and Bernard aren't the only big names that will be missing. The defense is going to miss tackle Sylvester Williams, who could be another first-round draft pick, and linebacker Kevin Reddick (85 tackles, 8.5 for loss). How does the D look without them?
PITTSBURGH

When
: 7 p.m. ET on Friday at Bethel Park High School (ESPN3)
Gates open:
5:30 p.m.
Admission:
Free
What to watch:
The quarterbacks. Fifth-year senior Tom Savage has taken most of the reps with the first team, and redshirt freshman Chad Voytik appears to be the backup, but coach Paul Chryst has yet to name a starter.
The running backs. Earlier this month, it was announced that Rushel Shell has decided to transfer. Since then, the bulk of the carries have gone to junior Isaac Bennett, sophomore Malcolm Crockett and senior Desmond Brown. How they fare will go a long way in determining how Pitt fares in its first season in the ACC.
The offensive line. It's been problematic for the Panthers in each of the past two seasons, and Pitt now has to break in two new starters in Gabe Roberts and Adam Bisnowaty.
October, 10, 2012
10/10/12
9:00
AM ET
Maryland defensive end
A.J. Francis
grew up a huge Cowboys fan and remembers watching Brian Stewart lead the Dallas defense back in 2008 and 2009.
Francis loved the way Stewart coached. So imagine his surprise when Stewart was named defensive coordinator at Maryland back in January. Francis could hardly believe his luck, and was eager to get coaching advice from somebody he had grown to admire.
Their relationship blossomed in the months that followed, so much so that Francis said of Stewart, "He's the best defensive coach I've played for and my favorite coordinator I've played for." It is hard to argue with the results Stewart has gotten out of Francis and every other Terrapins defender this season.
[+] Enlarge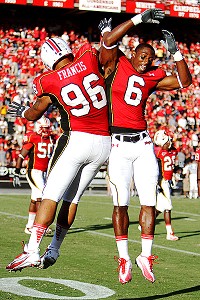 Mitch Stringer/US PresswireMaryland defenders A.J. Francis and Kenny Tate should be giddy. They're part of a unit that ranks No. 7 nationally in total defense.
The worst defense in the ACC has blossomed into one of the best, this despite a coordinator change and a defensive scheme shift. Headed into their game at Virginia (2-4, 0-2) on Saturday, the Terps (3-2, 1-0) rank No. 2 in the ACC in total defense and No. 7 in the nation. That group is a big reason why Maryland has already surpassed its win total from a year ago.
"Usually it takes at least a year to be comfortable in a new defensive scheme, but this scheme we have this year, I've never seen us get as comfortable as we have been as a team," Francis said in a telephone interview. "I feel like everybody feels great in their role, and everybody's willing to accomplish anything that's put ahead of them. There's no task too tall. We feel we can make all the plays."
Francis points squarely at Stewart, along with the return of nearly every position coach on the defense. Both have allowed players to feel good about what they are doing on the field.
"Playing for the same guy who coached my favorite player, DeMarcus Ware, I felt like that was an honor that not a lot of people get to appreciate and so I knew as soon as I got the chance, anything he told me to do I'd be willing to do it without hesitation," Francis said.
He is not alone. Consider these outstanding stats:
For the first time since 1999, Maryland has held its opponent under 300 yards of total offense in four of the season's first five games. West Virginia was the only team to go over 300 yards. But, consider Maryland held the Mountaineers to a season-low 363 total yards of offense and a season-low 31 points.

The Terps rank seventh nationally in total defense (257.2 ypg), seventh in rushing defense (81 ypg) and 15th in passing defense (176.2 ypg). They are holding opponents to 2.3 yards a carry to rank third nationally.

Last week, Wake Forest managed just 45 yards in the second half, including only 4 in the entire fourth quarter. Maryland has been at its best in the second half all year, giving up an average of just 121.4 yards in the second half.
When asked whether he thinks Maryland has the best defense in the ACC, Francis said, "The stats say Florida State is the best in the ACC. Until the stats say so, we're not."
Maryland is considerably better than a year ago, when it ranked last in the ACC in total defense (457.2 ypg) and scoring defense (34.2 ppg). But nobody is allowing themselves a moment to look ahead at a possible bowl berth. There are too many areas of concern that remain, particularly an inconsistent offense that has turned the ball over too much and cannot get its ground game going.
Still, the headlines out of College Park these days are not the negative ones that filtered out at a rapid pace a year ago. Coach Randy Edsall seems to have his team looking ahead, not back. If they keep up their current pace, the Terps could end up being one of the most pleasant surprises in the ACC this season.
"You don't go to a bowl game off three wins," Francis said. "Everybody told us we were going to be bowl bound after getting back to 2-2 last year. Things didn't work out the way we thought they would and I think that's still fresh in everyone's mind. It's hard to win football games. Every game from here on out is an ACC game -- everybody is going to be familiar with us and our personnel. They're going to be pretty good teams. We have to be ready to go out and get the wins."
September, 24, 2012
9/24/12
10:00
AM ET
Here's a look back at Week 4 in the ACC:
The good:
Florida State remained in national championship contention after its come-from-behind 49-37 victory over No. 10 Clemson. The Seminoles went on a tear in the second half, erasing a 14-point deficit with 35 points -- including 28 straight. The last time FSU won after trailing by 14 or more points was at North Carolina on Oct. 22, 2009. In that game, the Seminoles trailed 24-6 before winning 30-27. In the win over Clemson,
EJ Manuel
got his Heisman campaign going and led Florida State to 667 yards of total offense -- its highest total since racking up 771 yards against Clemson in 2000. For those inquiring minds, West Virginia had only 595 total yards in the Orange Bowl against Clemson.
The bad:
Clemson was not the only team that blew a double-digit second-half lead on Saturday. Georgia Tech lost a 17-point lead to Miami, blowing its biggest lead in a loss since the 2007 Toyota Gator Bowl, when Tech led 35-17 and lost to West Virginia. Georgia Tech has now lost two overtime games on the young season. The last time Tech played two overtime games in a season was 2001, when the Jackets lost to Clemson and Maryland. But if you want to know how bad it was on defense for Georgia Tech, let's move on to the next category.
[+] Enlarge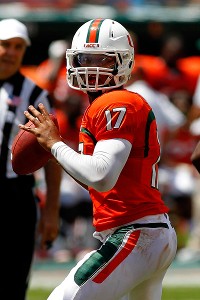 Robert Mayer/US PresswireStephen Morris' sizzling finish to this season is part of the reason why Miami coach Al Golden says he's so optimistic for 2013.
The ugly:
Miami was the first team this season to have an offensive play longer than 46 yards against the Yellow Jackets, and the first team to score a rushing touchdown on this defense. Georgia Tech allowed more than 20 points for the first time this season. The Yellow Jackets allowed more than 500 yards in total offense for just the fourth time in Paul Johnson's five seasons and for the first time since 2010. And Miami's 609 yards of total offense is the third-highest total Georgia Tech has allowed all time and the second-highest total in an ACC game. Miami's 30 first downs are the most allowed under Johnson.
The ugly II:
Virginia had its second straight disappointing performance, and in back-to-back losses, the Hoos have six turnovers and 650 yards of total offense. That is fewer than Florida State had on Clemson, by the way. In the loss to TCU, Virginia just hurt itself with all the mistakes, not to mention going 3-of-16 on third-down conversions.
The surprise:
Miami pulled the biggest surprise of the weekend, winning its fourth straight on the Yellow Jackets behind inspired performances from
Stephen Morris
and
Mike James
. I would be remiss if I did not mention
Anthony Chickillo
, who was terrific up front for Miami. Chickillo recorded career highs with seven solo tackles and three tackles for loss. More on Miami below.
The surprise II:
Maryland lost 31-21 to No. 8 West Virginia, but the Terps continued to show signs that they may be all right this year. First area of note: The defense held West Virginia to 1 yard per carry. The Mountaineers had averaged 226 rushing yards per game but against the Terps had only 25 yards on 25 carries.
Demetrius Hartsfield
,
Joe Vellano
and
A.J. Francis
got after
Geno Smith
, as the Terps totaled nine tackles for loss and two sacks on the day. Meanwhile, freshman quarterback Perry Hills had the best game of his career, going 20-of-29 for 305 yards and three touchdowns, all career highs. His lone interception came on a fourth-down desperation heave late in the fourth quarter. Fellow true freshman
Stefon Diggs
had his second straight game with 200-plus all-purpose yards. He had a team-high 113 receiving yards and two touchdowns on three receptions. Diggs also had 25 punt return yards and 63 kickoff return yards.
The stat:
Miami is 4-0 in road overtime games since becoming a part of the ACC in 2004. In Miami, though, the Canes are just 1-4 for an overall 5-4 overtime record.
The stat II:
Morris had a career-high 436 yards passing against Georgia Tech -- the second-highest total in the ACC this year. It was also the most yards by a Miami quarterback since Gino Torretta threw for a school-record 485 yards against San Diego State in 1991.
The stat III:
Clemson quarterback
Tajh Boyd
was unable to evade Florida State's pass rush, completing 20 percent of his passes while throwing under duress. According to ESPN Stats & Information, Boyd completed 1 of 6 passes for minus-5 yards and an interception while facing pressure in the second half.
The record:
North Carolina quarterback
Bryn Renner
threw for 321 yards in a win over East Carolina, and set a school record for most passing yards in consecutive games. Renner threw for a career-high 363 yards a week ago at Louisville, giving him 684 yards passing in two straight games. The previous record was 683, shared by T.J. Yates (2007, against East Carolina and Virginia) and Darian Durant (2002, against Arizona State and NC State). Renner also set the total yardage mark in back-to-back games with a total of 713 yards. The previous record was 712 by Ronald Curry against Marshall and Georgia Tech in 2000.
The runners:
As
noted Sunday
, Virginia Tech, Wake Forest, NC State and Duke all had season highs in rushing on Saturday. The Deacs had
Josh Harris
and
Deandre Martin
go over 100 yards, while the Wolfpack relied on true freshman
Shadrach Thornton
, Duke got a season-high 88 yards from freshman
Jela Duncan
and Virginia Tech went for more than 200 yards rushing for the first time this season. Last year, the Hokies hit 200 yards six times, and won all six games.
The overmatched:
The Citadel looked pretty strong headed into its game against NC State. But this team was no match for the Wolfpack, trailing 42-7 before losing 52-14. The Bulldogs had 12 first downs and 226 yards of total offense. The Citadel's first third-down conversion came early in the third quarter. Dating back to the end of the Connecticut game, the Pack has kept opponents from converting on 16 straight third-down attempts.