NCF Nation:

A.J. Hilliard
October, 21, 2014
Oct 21
12:00
PM ET
Texas A&M's
59-0 loss
to Alabama on Saturday raised a lot of questions about the Aggies. The team was inferior to the Crimson Tide in all three phases of the game -- offense, defense and special teams -- and the loss brings into question the direction the Aggies are headed.
One of the many areas of concern is a theme that hasn't drastically changed since last season: the struggles on defense.
Texas A&M's 2013 defense was poor by any measure. This season began with some promise, but many of the reasons for optimism have gone by the wayside with recent performances. Texas A&M head coach Kevin Sumlin, in discussing his team's loss Saturday, noted the Aggies had to evaluate where they are in all three phases of the game and that changes could be in store.
[+] Enlarge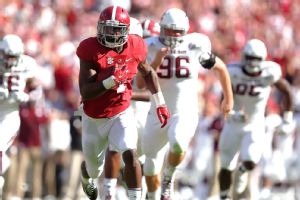 AP Photo/Brynn AndersonThe Texas A&M defense has been behind the curve far too often in the past four games.
Defensively, the question is whether the changes need to be in personnel, coaching staff or both. The reasons for the struggles have been varied, but let's take a look at each season and where the defense is under coordinator Mark Snyder, who is in his third season at the defensive helm.
The 2012 season was by far the Aggies' best under Snyder. Though depth wasn't ideal, the combination of experience and leadership in key areas in Texas A&M's first-team defense is something the group hasn't had since. Players like linebackers
Sean Porter
and Jonathan Stewart, safety
Steven Terrell
and defensive tackle Spencer Nealy (not to mention the pure pass-rushing production of defensive end
Damontre Moore
) are what the Aggies have been missing the last two seasons.
That season, the Aggies ranked in the top half or, in some cases, the top third nationally in several categories. They were 26th in scoring defense (21.8 points per game), 37th in yards per play (5.22), 31st in yards per rush (3.72), 43rd in yards per pass attempt (6.72) and 16th in third-down conversions (32.4 percent).
In other areas they weren't as strong but still respectable, like yards per game (390.2, 57th nationally), rushing yards per game (139.5, 35th), red-zone efficiency (58.1 percent, 51st) and goal-to-go efficiency (71.4 percent, 46th).
The 2013 season, on the other hand, was easily the worst so far. With those aforementioned veterans moving on as graduated seniors (or in Moore's case, early entry into the NFL draft), the Aggies plugged in a ton of youth and were a porous unit for virtually the entire season.
Last year's defense ranked worse than 100th nationally in yards per game (475.8), yards per play (6.36), rushing yards per game (222.31), yards per carry (5.38) and red-zone efficiency (71.4 percent).
Their rankings in several other areas weren't much better. Those included scoring defense (32.2 points per game, 95th), passing yards per game (253.46, 95th), yards per pass attempt (7.56, 91st), sacks (21, 84th) and third-down conversions (41 percent, 78th).
That brings us to 2014, where the Aggies have shown statistical improvement in every one of the above-mentioned statistical categories. A solid start in the first four weeks of the season against South Carolina and three non-Power 5 teams in nonconference play gave the illusion of marked improvement.
In addition, increased depth, particularly along the defensive line thanks to the 2014 recruiting class, has helped. A pass-rushing presence that was sorely missed last season has been found in a player like true freshman
Myles Garrett
, a four-star recruit who is closing in on
Jadeveon Clowney
's SEC freshman sack record.
Depth is still thin at linebacker, however, where the Aggies dismissed a starter this offseason (
Darian Claiborne
) and lost another to injury in the season opener (
A.J. Hilliard
). In the secondary, there's a mix of veterans and youth, seemingly plenty of depth but much inconsistency in terms of performance.
While the start to this season was good, the past four games, which have all been against SEC opponents (Arkansas, Mississippi State, Ole Miss, Alabama) have established an alarming trend. The Aggies' defense is trending statistically worse in that four-game stretch.
In just the last four games, the Aggies have allowed 42.5 points per game, which ranks 119th nationally. Yardage numbers have been poor, too: yards per game (495.8, 110th), yards per play (6.96, 117th), rushing yards per game (255.75, 117th), yards per carry (5.78, 117th) and yards per pass attempt (8.89, 115th).
In key conversion areas, Texas A&M has also struggled. The Aggies' third-down conversion defense in the last four games (41.2 percent, 75th nationally) is about where it was a season ago. Similar traits apply for red-zone efficiency (68.2 percent, 103rd) and goal-to-go efficiency (76.5 percent, 72nd).
And while the numbers tell enough of a story, so do a layman's eyes. It doesn't take a genius to understand the Aggies are struggling defensively. Just look at Saturday's game against Alabama and watch Crimson Tide quarterback
Blake Sims
evade about six Texas A&M defenders en route to a 43-yard touchdown run. Or
Amari Cooper
catch eight passes for 140 yards and two touchdowns. Or
T.J. Yeldon
run for 114 yards and two touchdowns on 13 carries. The Aggies allowed 602 total yards -- poor any way you slice it.
Senior linebacker
Justin Bass
put it plainly after Saturday's game.
"You can't play defense if you can't tackle," Bass said. "It's as simple as that. ... If you don't tackle, you aren't going to win games."
October, 9, 2014
Oct 9
3:00
PM ET
If we've learned anything from the past few years, it's that SEC teams with one loss are still very capable of reaching the national championship game. There is an even greater chance of that happening this season with the debut of the College Football Playoff. That's good news for teams like Alabama, Georgia, Texas A&M and Missouri.
With that said, all four of those one-loss teams still have deficiencies they need to overcome to get back in the playoff conversation.
Alabama: A compliment to Cooper
Amari Cooper
has been exceptional this season. Through the first five games, he leads the SEC in receptions (52) and yards (746), and is tied for second in the league with five touchdowns. But despite Cooper's best efforts against Ole Miss, nine catches for 91 yards, the Alabama passing game still struggled in last Saturday's loss to Ole Miss.
That is because the Crimson Tide need somebody else to step up.
There is no lack of talent in Tuscaloosa. Tight end
O.J. Howard
is as gifted athletically as you will find at the position, but he is hardly used. Howard finally made a big play last weekend, but he was also responsible for a critical holding penalty on the last drive.
The bigger surprise has been wide receiver
Christion Jones
. The senior was expected to play a bigger role this season, but he is averaging two catches per game, and his season-high in yards is 52 against Southern Miss. To make matters worse, it was his fumble on a kickoff return that led to Ole Miss scoring the game-winning touchdown.
The loss of
Kenyan Drake
didn't help either. Offensive coordinator Lane Kiffin had been using him out wide in certain sets, and no other back on the team provides that type of versatility.
Georgia: Help in the secondary
At this point, do we even know who's playing in Georgia's secondary? The scarier question might be who comes in if one of the starters goes down with injury.
It hasn't been easy for first-year defensive coordinator Jeremy Pruitt. The Bulldogs dismissed two starting defensive backs this offseason, and a third transferred to Louisville. In the past week and a half, the team lost three more defensive backs for various reasons.
Rico Johnson
was given a medical disqualification because of a spinal cord injury,
Sheldon Dawson
is no longer with the team, and Shaquille Jones was dismissed from the team after he was charged with shoplifting. The mass exodus in the secondary leaves Georgia with 10 scholarship defensive backs and very little experience among them.
It didn't hurt them last week in a win against Vanderbilt, but both
Dylan Thompson
and
Justin Worley
have thrown for more than 250 yards and three touchdowns against the Bulldogs already this season. On Saturday, they travel to Missouri to face
Maty Mauk
, one of the SEC's top quarterbacks.
It's too late to add depth at this point, but this UGA secondary is going to have to grow up in a hurry if it wants to reach the playoff.
Missouri: More options for Mauk
Speaking of Mauk, he played his worst game of the season the last time out against South Carolina. At one point in the fourth quarter, he was 9 of 29 for just 52 yards passing. He did lead the Tigers to a stunning come-from-behind victory, but it wasn't pretty.
The biggest reason for Mauk's struggles? He was missing two of his top wide receivers --
Jimmie Hunt
and
Darius White
. The two had combined for more than 400 yards receiving and eight touchdowns in the first four games, but the offense wasn't the same without them. As talented as Mauk is, he still needs playmakers to throw to, and
Bud Sasser
can't do it all by himself.
Both Hunt and White are likely to return this Saturday against Georgia in what has become a critical game in the SEC East. That will certainly help, but can you imagine if Missouri still had
Dorial Green-Beckham
on its roster? It would take an above average position group and make it exceptional.
Instead, the Tigers are going to have to make do with what they have and hope everybody remains healthy the rest of this season.
Texas A&M: Somebody who can tackle
OK, that might seem a bit harsh, but the Aggies' defense looked downright awful last week against Mississippi State. It's not everybody. Freshman
Myles Garrett
is a star in this league, and the defensive line has actually played pretty decent this season. The same can't be said for the linebackers and the secondary, though.
It's typically not a good sign when three of your top four tacklers are defensive backs. That means running backs are getting to the second level and wide receivers are catching their fair share of passes. It also means your linebackers aren't making plays.
Justin Bass
is second on the team in tackles, but he was a walk-on prior to this season.
Jordan Mastrogiovanni
is a solid captain for the defense, but he's missed time because of injury and the jury is still out as to whether he can be a good SEC linebacker.
Texas A&M is missing players like
Darian Claiborne
, who was dismissed from the team in June. He was third on the team last season with 89 tackles. The loss of TCU transfer
A.J. Hilliard
, who dislocated his ankle in the season opener at South Carolina, was another big blow to this defense. The staff had high expectations for him.
With three of the next four games against top-10 opponents, the Aggies need to play better on defense to have any chance of making the playoff.
September, 1, 2014
Sep 1
11:00
AM ET
Texas A&M's biggest question mark coming into this season -- even more so than its quarterback -- revolved around its defense and whether it could show significant improvement after a brutal 2013 campaign.
One game into the 2014 season, there is sufficient reason for optimism in several areas the Aggies struggled a year ago.
[+] Enlarge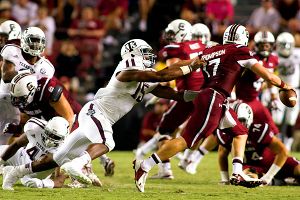 Jeremy Brevard/USA TODAY SportsTexas A&M's defense, including true freshman Myles Garrett, showed significant improvement from 2013 in its season-opening win, harassing South Carolina QB Dylan Thompson all night.
Overshadowed by the record-breaking starting debut of sophomore quarterback
Kenny Hill
was the fact that the Aggies showed signs of progress on defense in their
52-28 dismantling of South Carolina
on Thursday.
The most noticeable difference was the Aggies' ability to rush the passer. A sore spot last season (the Aggies had only seven sacks in their first seven games in 2013), Texas A&M showcased its increased depth and athleticism on the edge and harassed South Carolina quarterback
Dylan Thompson
to the tune of six quarterback hurries and three sacks.
One of those sacks and two of those hurries came courtesy of the Aggies' prized 2014 recruit, true freshman
Myles Garrett
.
"Myles can run with the best of them," junior defensive end
Julien Obioha
said.
At 6-foot-5, 255 pounds, Garrett showed why he was pursued by most major programs in the country. He displayed strength, athleticism and determination that made him a factor in his collegiate debut.
He wasn't alone. Defensive ends
Daeshon Hall
and
Jay Arnold
and defensive tackle
Hardreck Walker
also recorded hurries, while linebackers
Donnie Baggs
and
A.J. Hilliard
got sacks of their own.
Texas A&M's much-maligned run defense held up well, too, though it got some assistance. Standout running back
Mike Davis
played sparingly because of a rib injury, and the Aggies' put up points at a pace that forced South Carolina to abandon the running game to some extent.
Still, when the Gamecocks did run the ball, they were largely ineffective, averaging only three yards per carry and finishing with 67 yards on 22 attempts.
"I think we just came out and showed that we can stop the run against an experienced offensive line, one of the best offensive lines in the country," Obioha said. "They have a great group of backs. Mike Davis couldn't play that much [Thursday], but we came out and stopped the run against a very good offense."
The night wasn't without its flaws. Thompson beat the Aggies' secondary deep for two long first-half touchdown passes of 69 and 46 yards, and in both cases there were errors in Texas A&M's young secondary that contributed to the big plays.
"We had a safety jump a route and get the first touchdown open and didn't get any help for [cornerback]
Deshazor [Everett]
and then [we had] a bust [in coverage]," Aggies coach Kevin Sumlin said. "Those two big plays really kind of changed the complexion of the first half and it was a different ballgame because of two plays."
But one encouraging sign for the secondary was the play of true freshman safety
Armani Watts
, who recorded an interception and two pass breakups. Sumlin and defensive coordinator Mark Snyder stressed multiple times this offseason that the Aggies needed upgraded safety play, and Watts showed signs Thursday that he might be the one to help provide it.
It wasn't a perfect night, but given the lack of outsider expectations and last season's forgettable performances, 2014 has already given the Aggies reason to believe this year will be better.
June, 3, 2014
Jun 3
5:41
PM ET
A defense that struggled mightily in 2013 will go into the 2014 season without two of its top players. That's not what
Texas A&M
defensive coordinator Mark Snyder needs as he tries to rebuild the Aggies' defense, but that's the hand he is dealt after the
news of the dismissal
of starters
Darian Claiborne
and
Isaiah Golden
.
[+] Enlarge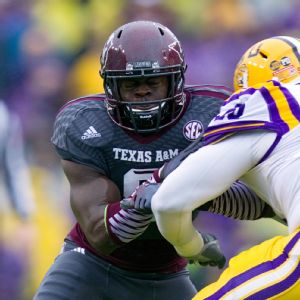 John Korduner/Icon SMIFormer ESPN 300 recruit Isaiah Golden, who played as a true freshman in 2013, is one of two Aggies who were dismissed from the program on Tuesday.
Texas A&M coach Kevin Sumlin made the announcement on Tuesday. The Aggies will enter the fall without two players who were All-SEC freshman team selections.
But it's a decision Sumlin had to make. Both Claiborne and Golden were arrested on charges of aggravated robbery on Tuesday from an incident that occurred on May 23. Both have already had second chances (Claiborne was on his third), so they were already on thin ice. The seriousness of the charges made the decision easy for Sumlin.
Claiborne emerged as perhaps the defense's best player late last season after he began to find his groove as a middle linebacker, which isn't his natural position. He finished the season with 89 tackles in his 12 games, nine of which came as starts.
Golden, meanwhile, was forced into the starting lineup after the Aggies lost senior
Kirby Ennis
to a season-ending knee injury. With the kind of size (6-foot-2, 310) the Aggies were looking for in a defensive tackle, Golden held his own well as a true freshman.
Both would have started this fall, which means the Aggies must come up with new plans to replace them. Claiborne would have likely been the starting weakside linebacker as
Jordan Mastrogiovanni
has emerged as the team's new middle linebacker.
The absence of Golden makes a January recruiting coup by the Aggies even bigger. In mid-January, the Aggies were able to flip four-star defensive tackle
Zaycoven Henderson
, who was originally committed to Texas. An early enrollee, Henderson was on campus shortly thereafter and participated in spring football with Texas A&M. He showed flashes of potential, enough to get practice time with the first team and give the coaching staff optimism that he can contribute quickly.
Now, Henderson could be a starting candidate at defensive tackle, along with sophomore
Hardreck Walker
, who played as a true freshman last season. The Aggies also have an incoming recruit in ESPN 300 defensive tackle
DeShawn Washington
, who will join the team this summer. Their top defensive recruit from the 2013 class,
Justin Manning
, redshirted last season but saw plenty of repetitions this spring. One of those two might have to get game-ready sooner rather than later.
Losing Claiborne is a significant blow as well, but fortunately, the Aggies are building solid depth at linebacker and should have a myriad of options. Two outside linebackers in particular,
A.J. Hilliard
and
Shaan Washington
, turned in good showings during spring practice and are likely to fight for a starting spot in August. Hilliard transferred from TCU and sat out last season because of NCAA transfer rules, and Washington found himself in a special teams role last season, as well as a reserve linebacker. They have plenty of ability, but neither have much experience, which is the quandary the Aggies found themselves in last season en route to a horrific defensive showing. The Aggies were last or near-last in the SEC in most major defensive statistical categories in 2013.
Senior
Donnie Baggs
, who started early last season and played plenty, likely figures into a significant role somewhere as an outside linebacker. He received praise from linebackers coach Mark Hagen this spring. The Aggies also have incoming outside linebacker recruits in ESPN 300 duo
Otaro Alaka
(who they flipped from Texas) and
Josh Walker
.
Another linebacker who showed some promise in the spring is one who has been around but hasn't seen much of the field -- senior
Justin Bass
. One of these players will have to emerge as the Aggies search for options to replace the once-promising Claiborne.