September, 25, 2014
Sep 25
4:00
PM ET
Curt Maggitt
doesn't have fond memories of the last time he faced the
Georgia Bulldogs
.
The Tennessee junior linebacker missed last season with a torn ACL, but recalls a dizzying 2012 road game in which Georgia was the last team standing in a 51-44 shootout. The offenses combined for more than 1,000 yards.
"It was like a basketball score," he said on Tuesday. "Too much. Too many points."
Tennessee (2-1, 0-0 in the SEC) heads back to Athens, Georgia, on Saturday for a date with the No. 12 Bulldogs (2-1, 0-1), who are averaging 48.7 points a game.
[+] Enlarge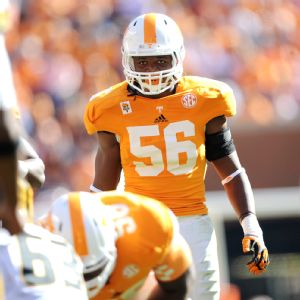 Wade Rackley/Getty ImagesTennessee linebacker Curt Maggitt says he's ready for the challenge Georgia will present on Saturday.
Maggitt and his mates on Tennessee's improving defense are determined to not let this one get away from them. But it won't be easy. Vols coach Butch Jones this week called Georgia "the great challenge that lies ahead."
No hyperbole there. Jones expects his defense to be tested physically and mentally.
"Our young football team is going to find out what life is in the SEC with the grind that we are about to embark on," he said. "I think there is no secret. When you think of the University of Georgia, you think of their stable at running backs, and it is a stable. Very talented, very physical."
The Dawgs average 304 yards a game on the ground and run the ball more than 60 percent of the time.
The stable consists of junior
Todd Gurley
(402 yards, 9.8 yards per carry) and three true freshmen --
Sony Michel
(206 yards, 10.3 yards per carry),
Nick Chubb
(114 yards, 9.5 yards per carry) and
Isaiah McKenzie
(71 yards, 17.8 yards per carry).
"Make no mistake about it," Jones said. "We have to be a great tackling football team."
Maggitt, one of just three defensive players remaining who played in that 2012 game, says it will take a total team effort to contain Georgia's runners.
"It's not going to be just one or two guys tackling you," he said. "We're looking for all 11 hats and try to swarm to the ball every time."
And then there's the passing game.
While Tennessee is properly focused on Georgia's running game, sophomore defensive back
Cameron Sutton
is aware of the threat that Georgia senior quarterback
Hutson Mason
poses if (or when) the Bulldogs get their ground game churning.
"They're great out of play-action," he said. "He's got those running backs back there to complement that passing game. So they all play together. It's just our job to limit their explosive plays."
Limit. Contain. That's about all a defense can hope for against this offense.
The primary focus is Gurley, whom Tennessee senior middle linebacker
A.J. Johnson
called one of the top backs around. Johnson is another one of those three veteran Vols who in 2012 experienced firsthand what Gurley and Georgia could do once that offense got going.
Gurley was just a freshman in 2012. Now he's a strong Heisman Trophy candidate.
Johnson and Maggitt say they're ready.
"We are going to play our defense," Maggitt said. "We are going to swarm to the ball ... and he's going to feel us."
September, 25, 2014
Sep 25
10:00
AM ET
Saturday will bring two teams closer than the 165 miles that separates their games.
Missouri's trip to face No. 13 South Carolina (3-1, 2-1 SEC) and Tennessee's game against No. 12 Georgia (2-1, 0-1) in Athens, Georgia, stand as reminders of what inches can mean in a football game.
A year ago, Missouri (3-1, 0-0) and Tennessee (2-1, 0-0) were inches from huge wins against their respective Saturday opponents.
For Missouri, kicker
Andrew Baggett
clanked a 24-yard field-goal attempt off the left goal post in a stunning home overtime loss to South Carolina. At Tennessee, there are still haunting visions of Vols receiver
Alton "Pig" Howard
stretching across the goal line inside Neyland Stadium, seemingly giving the Vols a shocking upset victory in overtime against Georgia, only for the ball to slip out just before hitting the pylon. Bulldogs kicker
Marshall Morgan
nailed a game-winning field goal on the ensuing possession.
[+] Enlarge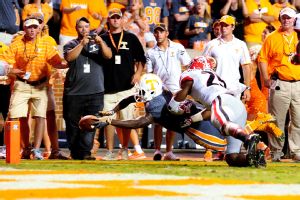 Scott Cunningham/Getty ImagesTennessee's Alton Howard fumbled the ball through the end zone during overtime on this play last season, and Georgia went on to win.
"Alton was making a play," Tennessee senior linebacker
A.J. Johnson
said. "If it hadn't have been for him, we wouldn't have been in the game. He was making plays for us all through the game, and he was trying to make another play and the ball slipped out. That wasn't on him -- that was him just trying to make a play and help the team."
Two heartbreaking losses that didn't exactly define either program, but have left faint scars that could be rubbed away with a little redemption Saturday.
"Missing those [field goals] is a bad feeling, but especially missing one like that last year is unforgettable," said Baggett, who missed two field goals in that game and actually received threats via social media afterward.
"Regardless, I have to make that. When it's sideways on the ground, I have to hit that."
Both teams went down much different paths after those losses. They both rebounded -- Tennessee upset No. 11 South Carolina two weeks later and Missouri became SEC Eastern Division champion -- but the Vols missed out on being bowl eligible by
one win
.
Both teams have tried to put the losses behind them, but Saturday does serve as a platform for redemption for both teams. They can squash their demons from last season's showdowns and get a nice jump in SEC play.
Saturday is the SEC opener for both teams, and wins by both would propel them to the top of the division and help them take a crucial lead on such a topsy-turvy side of the conference.
"This is where it really counts," Johnson said. "Every game really counts on this stretch, because it's SEC play. We don't have any SEC losses, so this will be a big win for us."
A Tennessee win against Georgia would show how far this program has come under second-year coach Butch Jones. With a leg up in the divisional race, this season's 34-10 loss to No. 4 Oklahoma would be forgotten.
For Mizzou, this is a chance to regroup after an ugly home loss to unranked Indiana last week. The defense surrendered 241 rushing yards and the offense was atrocious on third downs, converting just 5 of 16 attempts (24 percent).
"It's kind of a coming-to-Jesus moment for us as a team," redshirt senior offensive lineman
Mitch Morse
said. "Really figuring out what we need to fix. We can bring more to the table, and that shows that we're going to this week."
Last season's loss to South Carolina was the only loss for quarterback
Maty Mauk
during his month-long stretch of being the Tigers' starting quarterback, and he sees similarities in last season's loss and last week's performance against the Hoosiers.
"The main thing I remember is there was a lot left out there for us," Mauk said. "It was kind of similar to Indiana. There was so much more that we could've done, so much left out there, and to know that you were 3 points away in overtime, it's frustrating.
"That's going to be the motivation for us this week -- that we want to come out, start fast and finish strong."
August, 31, 2014
Aug 31
11:00
PM ET
There's been quite a bit of excitement in Knoxville recently, and it was easy to see why with Tennessee's opening-day performance Sunday. In front of a capacity crowd -- the first sellout in a home opener since 2007 -- the Volunteers dominated a dangerous Utah State team who many thought could pull off the upset,
38-7
.
A little old, a little new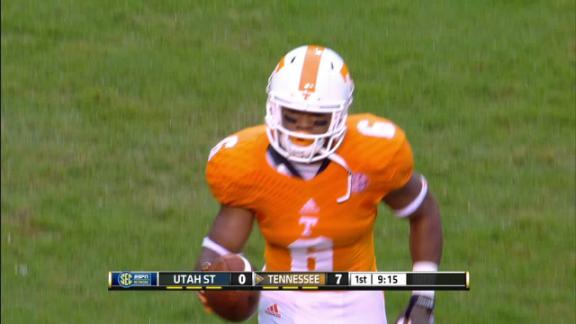 After scoring the opening touchdown, Tennessee's special teams came up with a big play, and it was fitting that senior linebacker
A.J. Johnson
made the play. Johnson, an All-SEC talent who could've left early for the NFL, ran down on kickoff coverage and jarred the ball loose from the Utah State returner. To nobody's surprise it was
Todd Kelly Jr.
, one of 21 UT true freshmen (and 32 newcomers) to play Sunday night, who was there to recover the fumble.
Fourth-down stand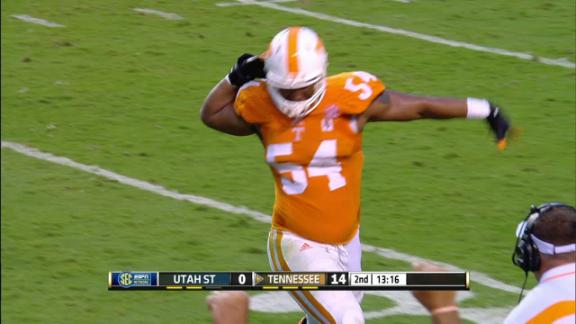 All we've heard about this offseason is how the Volunteers are having to replace every starter on both their offensive and defensive lines. Well, the defensive line is tired of hearing about it. They held
Chuckie Keeton
and Utah State to 34 yards rushing in the first half, and when the Aggies tried to go for it on 4th-and-1 early in the second quarter,
Jordan Williams
and
Derek Barnett
were there to fill the hole and stuff Utah State, forcing a turnover on downs.
Welcome to Rocky Top, Von
Everybody saw
the sick one-handed touchdown grab
that junior college transfer
Von Pearson
made in spring practice, so it should come as no surprise that Pearson caught a touchdown in his first game as a Volunteer. No, the catch wasn't an instant SportsCenter Top-10 nominee, but it was certainly more meaningful. The play capped off a 13-play, 69-yard drive that ate up six minutes of clock and gave Tennessee a 24-0 lead.
More from Johnson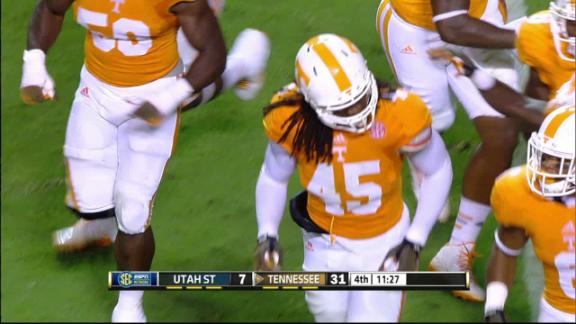 Did you think Johnson was done just yet? The guy didn't turn down the NFL and come back to Tennessee to not make plays. With the Volunteers already up 31-7 early in the fourth quarter, Johnson got the capacity crowd back into it when he intercepted Keeton and nearly took it back for a touchdown. It's safe to say he's not regretting his decision to stay. If anything, his stock will continue to rise with more games like this.
August, 19, 2014
Aug 19
3:30
PM ET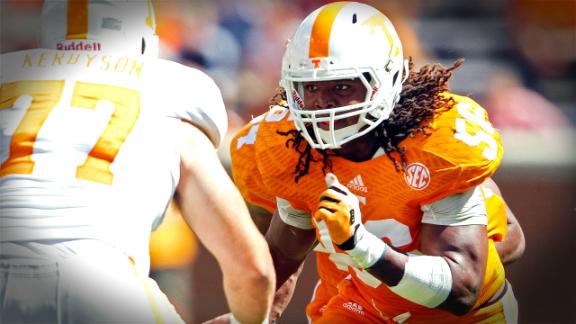 Unlike a wide-eyed freshman, nothing is exactly new for Tennessee defensive end
Curt Maggitt
, but he does enter the 2014 season hoping for a fresh start after injuries ravaged the better part of his first three years on campus.
There was the lingering high school shoulder injury his freshman year, and his sophomore season brought turf toe, an everlasting shoulder stinger and an eventual season-ending ACL injury.
After multiple surgeries, and some frustratingly long recovery time, Maggitt sat out all of the 2013 season.
An ankle injury is currently nagging Maggitt during fall camp, but all indications are that his coaches have held him back for precautionary measures, making sure he's ready for the season, because Tennessee needs a healthy Maggitt in 2014.
"We missed Curt a lot [last season] because we know what he can bring to the table," said linebacker
A.J. Johnson
, who is Maggitt's roommate. "He's like a brother to me and we missed him a lot. We know how much he's going to help us and how much work he's put in to get back to be ready for this season."
What the Vols missed was an elite pass-rusher and finisher. Last season, Tennessee was last in the SEC with 18 sacks and 12
th
in the league with 65 tackles for loss.
Getting Maggitt back – and fully healthy – would be a major upgrade for a team completely rebuilding its defensive line. Maggitt will line up all over at linebacker this fall, but will spend most of his time with his hand in the ground at defensive end, a position Maggitt said he prefers to outside linebacker.
Maggitt has endured a career-long struggle with his body at Tennessee. The once-prized recruit from West Palm Beach, Florida, arrived in Knoxville and promptly recorded 56 tackles and 5.5 tackles for loss, despite a surgically repaired shoulder that needed surgery again after the season.
In 2012, Maggitt suffered a nasty case of turf toe in the season opener when his foot got caught in the turf of the Georgia Dome while he blocked NC State quarterback Mike Glennon during an interception return by teammate Prentiss Waggner.
Trainers made him a thick, plastic cast for his toe, which forced him to wear a size 14 shoe on his right foot and a normal size 13 on his left.
"You really realize how important that big toe is," Maggitt said. "Every time I would try to plant or push off of it, it would hurt."
The cast helped, but it created an awkward, wobbly running style. Maggitt couldn't stop properly on his right foot, which he thinks resulted in his subsequent ACL injury against Missouri on Nov. 10, while landing awkwardly on his right foot after hurdling Mizzou quarterback James Franklin.
Maggitt missed spring and part of summer before he, his father, Roosevelt, and coach Butch Jones decided to officially shut his season down after the Oregon game.
The heart of Tennessee's defense was forced to helplessly sit and watch, as the Vols suffered through Jones' inaugural 5-7 season.
"When he's been playing ball since he was 9 years old, it's really tough because he has it in his bloodstream to be out there," Maggitt's father said. "No matter the intensity level of the game, whether it's in the backyard, he loves playing. It was tough for him."
Maggitt said he got down on himself a lot and needed extra comfort from his teammates at times. His injuries kept him away from football and normal workouts. He went from having a max bench press of 330 pounds to not being able to lift the bar.
While he still assumed the role of the team's top leader, Maggitt felt the pain of separation during road games, when Maggitt couldn't travel.
"It was weird because since Day 1 when I was a freshman, I was never left behind," Maggitt said. "It was kind of a salty feeling, feeling like you're being left, put up for adoption almost."
However, Maggitt found his release by taking advantage of his time away from the field. He recorded his highest GPA of 3.5 for a semester and began to plan for a future without football.
Very personable, Maggitt's interest in becoming a sales rep for a business drew him to an internship with Omega Technical Services in Oak Ridge, Tennessee. There, Maggitt shadowed a business developer and did everyday work, like writing and sending emails, organizing meetings and sitting in on meetings with potential clients.
The day-to-day work helping to organize and develop a business really interested Maggitt, but that's for the future. For now, his focus is on getting back on the field and making an impact for his team.
Maggitt is excited about having a more versatile role within Tennessee's defense and already knows the first time he steps on the field he'll have his eyes pierced on the quarterback lining up opposite him, waiting to make first contact.
"I'm excited about that," he said. "It's been a long time, especially in Neyland [Stadium]. "If I get a sack in Neyland, man, I might just end up laying on the ground for a little bit and soak that moment up."
August, 19, 2014
Aug 19
10:30
AM ET
»
More team previews:
ACC
|
Big 12
|
Big Ten
|
Pac-12
|
SEC
Previewing the 2014 season for the
Tennessee Volunteers
:
2013 record:
5-7
Final grade for the 2013 season:
Butch Jones' first season on the field at Tennessee was a mixed bag. The Vols took Georgia to overtime and upset South Carolina two weeks later. They also lost for a second straight season to Vanderbilt, lost four of their final five games to end the season and wound up below .500 for the fourth straight season. All in all, it was just a notch below average, so a C-minus sounds about right.
[+] Enlarge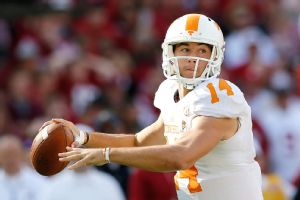 Kevin C. Cox/Getty ImagesWith more weapons around him this season, Justin Worley is aiming to deliver Tennessee to a bowl game.
Key losses:
RB Rajion Neal, OT Ja'Wuan James, OT Antonio Richardson, DT Daniel McCullers, DE Corey Miller, PK/P Michael Palardy
Key returnees:
QB
Justin Worley
, WR
Marquez North
, OG
Marcus Jackson
, DE
Curt Maggitt
, DE
Corey Vereen
, LB
A.J. Johnson
, CB
Cameron Sutton
Instant impact newcomers:
RB
Jalen Hurd
, WR
Von Pearson
, WR
Josh Malone
, TE
Ethan Wolf
, OT
Coleman Thomas
, DE
Derek Barnett
, CB
Emmanuel Moseley
Breakout player:
Most of the preseason drama at Tennessee revolved around the quarterback race, but Jones ended that last week when he named Worley the starter. Had he not injured his thumb and missed the remainder of the season a year ago, the Vols probably would have gone to a bowl game. He's been put in some tough positions during his career, including being thrown to the wolves as a true freshman before he was ready. But he's persevered. His arm has gotten stronger. He's healthy now, and he also has more playmakers around him this season. Nobody's pushing him for the Heisman Trophy or even All-SEC honors, but here's betting Worley has a very solid senior season after throwing more interceptions (13) than touchdown passes (11) in his previous three seasons.
Most important game:
We'll cheat and go 1A (Florida on Oct. 4) and 1B (Missouri on Nov. 22). Both games are at home, and both will go a long way toward determining whether or not the Vols can make it to the postseason. They've lost nine in a row to Florida, so ending that drought would be a big step in the right direction for Jones and the program. The Missouri game is sandwiched between a home game with Kentucky and the regular-season finale at Vanderbilt. It could be that the Vols have to win all three to go bowling.
Biggest question mark:
It's gotta be the defensive line. The Vols don't return any starters up front defensively and are hopeful Maggitt can stay healthy and become that finisher off the edge after moving from linebacker to end. He missed all of last season with a knee injury and has been banged up in preseason camp. The Vols like their collection of young defensive linemen, but how well they're able to hold up right there in the middle of their defense is a huge concern.
Upset special:
Right out of the gate, Tennessee had better be on its toes.
Chuckie Keeton
and Utah State aren't coming to Neyland Stadium on Aug. 31 to soak up the sights and sounds. The Aggies are coming to win.
Key stat:
Tennessee is the only FBS team in the country without a returning starter in the offensive or defensive lines.
They said it:
"We're going through the realities of building a football program. Sometimes, I think of us as an expansion team. But our players have done a great job. They've really embraced everything. Our older players are really mentoring the younger players. The whole key for us is how we manage the natural adversities that a football season brings about." -- Tennessee coach Butch Jones
Preseason predictions:
ESPN Stats & Info:
5.4 wins
Bovada over-under:
5.5 wins
Our take:
The killer for Tennessee is being so unproven in both the offensive and defensive lines. The Vols will be counting on a ton of players up front who are seeing their first meaningful SEC action. The good news is that they've added speed on both sides of the ball and have more players at the offensive skill positions capable of making big plays. Jones has given everybody in the Tennessee family a reason to believe again with his recruiting prowess. The Vols are still a year away from contending in the East, but should be able to squeeze out six wins and get to a bowl game in 2014.
July, 14, 2014
Jul 14
2:30
PM ET
The opening of SEC media days isn't the only news of the day. Two more college football award watch lists debuted Monday, and the SEC is a major player on both.
Thirteen of the 123 watch list honorees for the Lombardi Award, which is given annually to the top lineman or linebacker, are from the conference. Likewise, nine of the 51 nominees for the Butkus Award, which goes to the top linebacker, are SEC players.
Here are the full lists of SEC nominees:
Lombardi
G
A.J. Cann
, South Carolina
OT
La'el Collins
, LSU
C
Reese Dismukes
, Auburn
DE
Trey Flowers
, Arkansas
LB
Leonard Floyd
, Georgia
LB
A.J. Johnson
, Tennessee
DT
Chris Jones
, Mississippi State
OG
Arie Kouandjio
, Alabama
LB
Benardrick McKinney
, Mississippi State
DT
Robert Nkemdiche
, Ole Miss
OT
Cedric Ogbuehi
, Texas A&M
DE
A'Shawn Robinson
, Alabama
LB
Ramik Wilson
, Georgia
Butkus
Trey DePriest
, Alabama
Leonard Floyd, Georgia
Kris Frost
Jordan Jenkins
, Georgia
A.J. Johnson, Tennessee
Benardrick McKinney, Mississippi State
Braylon Mitchell
, Arkansas
Reggie Ragland
, Alabama
Ramik Wilson, Georgia
August, 9, 2012
8/09/12
11:07
AM ET
Auburn coach Gene Chizik's only proclamation about his quarterback battle coming out of Wednesday's scrimmage was that the Tigers' quarterback play across the board was "too inconsistent."

The biggest news was that junior
Clint Moseley
is still battling soreness in his right throwing shoulder and conceded Wednesday that he was throwing through pain. He underwent an MRI on his shoulder this summer, but nothing structurally wrong was discovered.
Moseley's lingering shoulder issues likely make sophomore
Kiehl Frazier
the favorite, although Chizik wasn't ready to go that far Wednesday.
Chizik said there simply hasn't been enough separation to make a call.
One of the highlights of the scrimmage, which was closed to the media, was a 65-yard touchdown run by senior running back
Onterio McCalebb
.
Gurley stars in Georgia's scrimmage
It sounds like freshman
Todd Gurley
may have taken the early lead in Georgia's starting tailback race.

Gurley had 58 rushing yards on six carries, including a touchdown, in the Bulldogs' first scrimmage on Wednesday.
Ken Malcome
had 32 yards on five carries.
Senior receiver
Marlon Brown
also showed up with six catches for 103 yards and two touchdowns.
Georgia coach Mark Richt said the first-team offense scored touchdowns on its first three drives and that the first-team defense didn't allow but one first down on the first three drives.
True freshman
John Theus
was working with the first unit at right offensive tackle during the first series of the scrimmage.
High praise for Vols' sophomore linebackers
Tennessee first-year defensive coordinator Sal Sunseri was around some outstanding linebackers during his three seasons on the Alabama staff, but he suggested Wednesday that sophomores
A.J. Johnson
and
Curt Maggitt
could be in a different class.

"Those two kids might be the finest young linebackers that I ever coached," Sunseri said. "Their attitude, their work ethic, their toughness … I am really, really pleased with those two guys."
Johnson was second on Tennessee's team last season as a true freshman with 80 total tackles. Maggitt was fourth with 56.
Also, receiver
Cordarrelle Patterson
turned more than a few heads in the one-on-one goal-line work during Tennessee's evening practice on Wednesday.
He's such a big target and separates so well. The Vols can't wait to see what the heralded junior college newcomer does in games, especially with opposing defenses also having to deal with
Justin Hunter
and Da'Rick Rogers.
LSU opening up deep passing game
Whereas former LSU quarterbacks Jordan Jefferson and Jarrett Lee shied away from throwing the ball down the field unless something was wide open, the new guy pulling the trigger for the Tigers has the tools and the license to let it fly this season.

Early on in preseason practice, LSU offensive coordinator Greg Studrawa said it's been obvious that
Zach Mettenberger
is comfortable throwing some of those deeper routes in traffic.
"That kid, when he sits back there and (a deeper seam route) is called, he's going to make that throw," Studrawa said. "He's going to zip that thing in there. He's got the confidence to do it. That's why (
Russell Shepard
) and those wideouts are excited. They've run those routes before, and if it's not wide open, it wasn't thrown.
"You run 50 yards down the field and not get the ball a few hundred times. That's why they're excited."
Hogs being careful with Davis

Arkansas is still waiting to pick its spot as to when star running back
Knile Davis
will take part in full contact this preseason.
Davis, who missed all of last season after fracturing his ankle, didn't participate in Tuesday's scrimmage and also sat out Wednesday's live tackling drills.
Arkansas offensive coordinator Paul Petrino said it was an "ongoing conversation" on when the Hogs would get Davis some contact this preseason.
February, 16, 2012
2/16/12
3:54
PM ET
As disappointing as last season was for Tennessee, particularly the way it ended with the loss to Kentucky, it wasn't a total loss for Volunteers coach Derek Dooley.
He learned a lot about himself, learned some hard lessons along the way and also feels like he goes into the 2012 season with a much clearer picture of what has to happen if the Vols are going to make a move in the Eastern Division.
"The number one thing is that we have to do a much better job of coaching at all levels," said Dooley, whose Vols have suffered through back-to-back losing seasons.
[+] Enlarge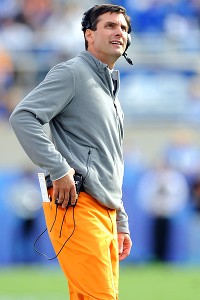 Jim Rinaldi/Icon SMIDerek Dooley says he learned a lot about himself last season.
"I watch these cut-ups of what we're doing. What we were doing schematically was good. How we were doing it was not good. Where I think I failed more than anything, and I told the team this, was making too many excuses for our players. It's so important as coaches that you set a standard and demand it and hold everybody accountable to it. That's what the players ultimately want."
The Vols' players will have a lot of new faces to learn from going into next season. Six of the nine assistant coaches are new, including defensive coordinator Sal Sunseri.
"We have to do a better job of teaching and holding our players accountable to what we're teaching, and we have to improve our teaching," Dooley said. "Look, I put it on us as coaches and me as the head coach. Sometimes, I used the youth and inexperience as too much of an excuse for allowing things to happen we shouldn't have allowed to happen."
Dooley thinks the Vols have the talent and the experience to compete now on a consistent basis in the SEC. He's equally convinced that the staff dynamic is also in place now with the six new assistants and thinks the coaching turnover was actually an energizer for the program.
"I think it's going to be very healthy," Dooley said.
That said, he concedes there may be some early growing pains with the Vols moving to a base 3-4 defense under Sunseri.
"It will be an adjustment. It always is," Dooley said. "But at the end of last season, I felt we were going to need to do more of that anyway [the 3-4 defense] even if we didn't have a change at coordinator."
The reason being is that the Vols' defensive tackles are more in the 275-pound range, and now those guys will become defensive ends in the 3-4 scheme.
"Our defensive ends were 245 pounds, and when you're playing a 4-3, those are two undersized positions," Dooley explained. "When you stand the defensive end up and he becomes an outside linebacker, he's a perfect size, and you move that 3 technique out to a 5 technique, and he's the perfect size.
"What's the challenge? You've got to find a noseguard in the middle who has some mass, and your inside linebacker's got to be a little more physical."
The Vols hope they've found that mass in 6-foot-6, 380-pound junior college transfer Daniel McCullers.
Maurice Couch
is another bigger junior college product who played last season for the Vols and should be even better his second year in the program.
Former Alabama defensive end Darrington Sentimore is already on campus and will go through spring practice after spending last season in junior college. He's played end in the 3-4 before when he was at Alabama, and Dooley thinks rising sophomore
A.J. Johnson
will be a perfect fit inside at linebacker and rising sophomore
Curt Maggitt
a perfect fit as a stand-up outside linebacker.
"I felt our personnel was more suited for the 3-4 on base downs, but we're still going to run some four-man front stuff," Dooley said.
December, 21, 2011
12/21/11
3:30
PM ET
Now that you've seen our
SEC West surprises
from the 2011 season, it's time to take a look at the surprises in the SEC East:

FLORIDA
The offense didn't take a step forward:
Even though quarterback
John Brantley
appeared better suited for Charlie Weis' pro-style offense, the Gators didn't look much better after last year's ugly offensive output. Things looked better during the first four weeks, but the more SEC defenses the Gators saw, the worse they got. A complete turnaround wasn't expected, but improvement was and Florida just didn't have it.
Weis leaving for Kansas:
Staying with the offensive theme, Florida received quite the surprise when Weis left Florida to take over as Kansas' head coach. People around the program were pretty surprised when they received the news, but it seemed especially odd considering how outspoken he was about staying at Florida for the long haul.

GEORGIA
Jarvis Jones:
Anyone unfamiliar with Jones' situation would have never guessed that Jones didn't play a down of football last year. After sitting out 2010 because of transfer rules, the USC transfer linebacker was an absolute beast in his first season of SEC football. Jones was named an All-American after leading the SEC in tackles for loss (19.5) and sacks (13.5).
Georgia's resolve:
The Bulldogs had recently been marred by seasons of under performing, but after a 0-2 start Georgia pulled off 10 straight wins and made it back to the SEC title game for the first time since 2005. Not a lot of people outside of that locker room thought Georgia would dig itself out of its early hole, but the Bulldogs did and found a way to have a very successful season.

KENTUCKY
Morgan Newton:
Remember when it appeared as though Newton was primed for a solid career after a successful freshman season? It seems so long ago, now, especially after such a poor 2011 season. Newton never looked very sharp all year, and after a late-season ankle injury he lost his starting job to freshman
Maxwell Smith
. Newton finished the season with 793 passing yards with eight touchdowns and seven interceptions.
Kentucky beat Tennessee:
For all of the Wildcats' offensive struggles, they found a way to finally beat Tennessee after 26 straight years of losing to the Vols. The win not only stopped a lot of suffering for the Wildcats, but it eliminated Tennessee from bowl contention.

SOUTH CAROLINA
Surviving without Marcus Lattimore:
The moment the news hit that Lattimore, South Carolina's most consistent offensive weapon, was lost for the season with a knee injury, most felt the Gamecocks' season was doomed. But the Gamecocks stayed on course. South Carolina lost just one game after and finished the regular season with 10 wins for only the second time in school history.
Brandon Wilds:
When Lattimore went down against Mississippi State, Wilds was thrust into the starting spot. For someone who started the season as the fifth-string running back and a redshirt candidate, Wilds did a heck of a job. He averaged 82.2 yards in South Carolina's final five games and eclipsed 100 yards three times during that span.

TENNESSEE
A.J. Johnson and Curt Maggitt:
It's not every day that a team has a standout true freshman at linebacker. Well, Tennessee had two of them. Both were named to the SEC All-Freshman team after combing for 136 tackles and 10 tackles for loss. The season was pretty rough, but these two were major bright spots.
Tennessee's collapse in the finale:
All the Vols had to do was beat Kentucky and a season full of injuries and agony would have been saved by a bowl berth. But Tennessee fell flat against a Kentucky team that was eliminated from a bowl berth the week before. Tennessee turned the ball over three times and couldn't muster more than seven points, snapping a 26-year win streak over the Wildcats.

VANDERBILT
Vandy's attitude:
James Franklin promised things would be different and they were for the Commodores. The defense was aggressive, the offense was exciting and the Commodores didn't back down from anyone. There were postgame outbursts from Franklin and teams learned early on that this wasn't the same Nashville pushover.
Zac Stacy/Vandy's defense:
Stacy started as a relative unknown, but finished the season third in the SEC in rushing with 1,136 yards and was second with 13 touchdowns. He had five 100-plus-yard games, averaging 162.8 yards in each. As for the defense, it had to replace three starting linebackers, but finished the year sixth in the SEC in total defense.
December, 13, 2011
12/13/11
10:51
AM ET
It was a big year for freshmen in the SEC, and some of the most hyped newcomers turned out to be the most productive.
Here's our ranking of the top 15 true freshmen this season based on their productivity and overall impact on their teams:
1. Jadeveon Clowney, DE, South Carolina:
The nation's No. 1 prospect coming into the season made a big splash with six sacks and 10 tackles for loss, leading all SEC freshmen in both categories. His five forced fumbles tied him for second in the league among all players.
2. Isaiah Crowell, RB, Georgia:
Had it not been for injuries and durability issues, Crowell was on his way to a 1,000-yard season. He had only 36 carries in his past five games but still managed 837 rushing yards and had 100-yard games against four SEC opponents -- Auburn, Mississippi State, Ole Miss and South Carolina.
3. A.J. Johnson, LB, Tennessee:
He started in 10 of the Vols' 12 games and led all SEC freshmen with 80 tackles, which was second on Tennessee's team. He had his best games against the best teams with 11 tackles against LSU, 12 against South Carolina and 13 against Alabama.
4. Malcolm Mitchell, WR, Georgia:
One of the most explosive players on Georgia's team, Mitchell emerged as the Bulldogs' top deep threat, catching 38 passes for 614 yards and four touchdowns. He averaged 16.2 yards per catch.
5. Reese Dismukes, C, Auburn:
A mainstay on Auburn's offensive line, Dismukes started all 12 games at center and helped pave the way for the Tigers to rush for 2,097 yards this season, ranking them fourth in the SEC.
6. Curt Maggitt, LB, Tennessee:
One of the more promising big-play defenders in the league, Maggitt tied for third on Tennessee's team with 56 total tackles, including 5.5 tackles for loss. He started in eight games.
7. Anthony Johnson, DT, LSU:
His numbers weren't eye-popping, but part of that is because the Tigers rotate so many defensive linemen. Johnson was a force in the middle and has three tackles for loss heading into the national title game.
8. Brian Randolph, S, Tennessee:
He started in eight games and led all Tennessee defensive backs with 55 total tackles. Randolph was a safety for most of the season but started at cornerback against Alabama.
9. Donte Moncrief, WR, Ole Miss:
One of the Rebels' top playmakers, Moncrief led the team in catches (31), receiving yards (454) and touchdown receptions (4). He averaged 14.6 yards per catch.
10. Kenny Hilliard, RB, LSU:
The Tigers didn't really unleash Hilliard until the Auburn game on Oct. 22, but he's been LSU's best power back since. He has nine touchdowns and is averaging 5.6 yards per carry.
11. Trey Flowers, DE, Arkansas:
With Jake Bequette and Tenarius Wright both suffering through injuries, Flowers stepped up in a big way with 5.5 tackles for loss, including a sack.
12. Vinnie Sunseri, DB, Alabama:
He jumped right in as a valuable cog in an Alabama secondary that was one of the best in the country. Sunseri ranks eighth overall on the team with 31 total tackles.
13. Marcus Roberson, CB, Florida:
He suffered an injury late in the season but held down one of the Gators' starting cornerback jobs up until that point. Roberson has all the tools to be a great one in this league.
14. Tevin Mitchel, CB, Arkansas:
He emerged as one of the Hogs' starters at cornerback late in the season and wound up sixth on the team with 53 total tackles. He had 13 in the comeback win over Texas A&M.
15. De'Ante Saunders, S, Florida:
One of two true freshmen in the Gators' starting secondary, Saunders intercepted two passes and broke up two passes this season from his safety position.
August, 19, 2011
8/19/11
6:50
PM ET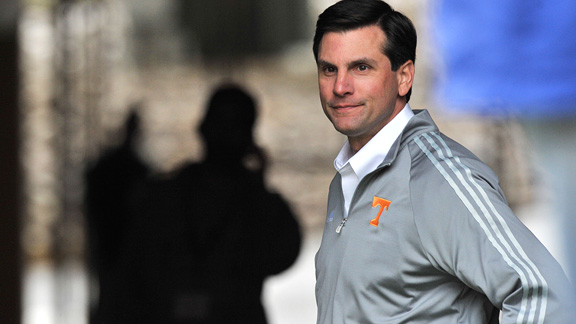 Jim Brown/US PresswireDerek Dooley's young Volunteers will face a brutal schedule this season.
KNOXVILLE, Tenn. -- Derek Dooley finally feels like a football coach again.
Not that the hard part is necessarily behind him as he enters his second season at Tennessee, but the tedious and often times frustrating task of establishing the kind of infrastructure he wants within his program is all but complete.
Now, it gets down to football, and more specifically, winning a few more football games.
"We were able in this preseason camp to do what we were hired to do, and that's to go coach and motivate and teach our team instead of dealing with a lot of drama and explaining to everybody that that's not how we're going to do it here and that we're going to do it a certain way here," Dooley said. "There's a lot less emotion and drama with this year's team, and that's good."
It's also a more talented team thanks to back-to-back top-15 recruiting classes nationally.
Dooley is convinced the Vols have upgraded height, weight, speed and athleticism at every position.
But they had to. Only four seniors are slated to start this season, and as many as 14 of the 22 position starters are projected to be freshmen or sophomores. That goes for both of the kicking specialists, too.
[+] Enlarge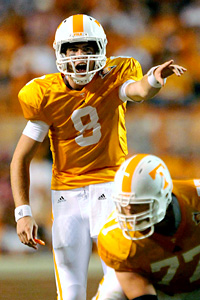 Jim Brown/US PresswireTyler Bray is now expected to lead Tennessee's offense.
Two of the three starting linebackers will be true freshmen -- Curt Maggitt on the weak side and A.J. Johnson on the strong side.
"We feel like we're better. We feel like we're a lot better," Dooley said. "But I don't know if we're any good … if that makes sense."
For one thing, Dooley knows what he's up against in taking such a young team into the teeth of the SEC gauntlet.
The Vols are the only Eastern Division team this season that has to face all three of the highest-ranked Western Division foes: No. 2 Alabama, No. 4 LSU and No. 14 Arkansas.
They do trade Oregon for Cincinnati in the nonconference schedule, but as Dooley is quick to point out, they trade a home game against Ole Miss for a road date at Arkansas in league play.
After going 6-7, including a controversial loss to North Carolina in the bowl game, in what Dooley calls "Year Zero" last season, what are realistic expectations for the Vols this season?
Dooley, a former lawyer, is too slick to be pinned down on that one.
He doesn't dare toss out a number. Instead, he points to a sign hanging up in the Vols' Neyland-Thompson Sports Center.
"It goes back to what our whole core value is: 'Relentless pursuit of continued improvement,'" Dooley said.
The translation: The Vols sure can't take a step backward this season, and just about anybody in orange would tell you that another 6-6 finish in the regular season would be a step backward.
At Tennessee, you're always going to be measured by how well you do against Alabama, Florida and Georgia. And here lately, you could probably throw South Carolina into that mix.
Beating one or two of those teams and finishing above. 500 in the regular season would go a long way toward living up to that standard of relentless pursuit of continued improvement.
It would also be a nice segue to a 2012 season in which the Vols will be expected to compete for the SEC title.
The Tennessee players are clearly motivated by so little being expected of them this season. They're also tired of hearing their youth being used as an excuse as to why they won't be a factor in the Eastern Division race.
"We're going to shock a lot of people this year, so just be on the lookout for Tennessee. Old Rocky Top is coming back," said sophomore defensive end Jacques Smith, who has a chance to be one of the real breakout players in the league this season.
The Vols have several of those players, especially on offense. Six of their projected starters on that side of the ball either started or played extensively a year ago as true freshmen, including quarterback
Tyler Bray
.
Dooley said it will be a completely different ballgame for those guys this season.
"We didn't have any pressure last year [on offense]," Dooley said. "Our two receivers (
Justin Hunter
and
Da'Rick Rogers
) had no pressure. They had two seniors ahead of them. They'd go into a game, and if they couldn't make a big play, would get out. They didn't have any pressure. The quarterback [Bray] came in and we were 2-6. If we lost a game, there was no pressure.
"Now, we start over. It's their team. It's a different story."
Dooley said it's imperative that the Vols run the ball more effectively this season, and he's seen signs of being able to do that in the preseason. It's helped having a deeper stable of running backs, and true freshman
Marlin Lane
has added the speed element to the equation.
Defensively, Dooley's two biggest areas of concern remain the interior of the defensive line and cornerback.
The good news is that senior end Ben Martin has come back from a pair of Achilles tendon injuries, and Smith is a budding star at the other end.
"It's nice to have Ben Martin back," Dooley said. "He's got some size and stature and provides leadership. That's been a little bit of gravy that we weren't counting on.
"What we're seeing is that we're not where we need to be at certain positions. Our concerns are at defensive tackle and cornerback. Austin Johnson is the new mike (middle) linebacker, but we're showing signs that we're going to get a lot better pressure with four guys, which we didn't last year. And we're showing signs that we're matching patterns and covering better.
"So we're showing signs that we're going to make offenses work a little bit more to score points, and that's encouraging."
June, 29, 2011
6/29/11
2:00
PM ET
Now that we are done looking at 10 true freshmen from the SEC West who could make impacts on their teams this fall, it's time to look at the youngsters in the East.

FLORIDA
Marcus Roberson, CB/S:
With Janoris Jenkins gone, Roberson could come right in this fall and compete for solid playing time. He's a bigger corner at 6 feet, 170 pounds and could wind up at safety, where the Gators are pretty thin. He has great field instincts and will play somewhere this fall.
Ja'Juan Story, WR:
Story was a raw athlete in high school and played more quarterback than receiver during his senior year, but at 6-foot-3, 190 pounds, he will be one of Florida's biggest receiving targets. He'll need some time to develop, but should be a nice, lengthy weapon in Charlie Weis' offense.

GEORGIA
Isaiah Crowell, RB:
He arrives in Athens with a ton of hype. Georgia has yet to find its feature back and Crowell has all the talent to be that player. Some think he could start by the midpoint of the season. He was the nation's top running back and in 2010 he rushed for 1,721 yards and 18 touchdowns.
Malcolm Mitchell, WR:
Mitchell played both sides of the ball in high school, but Georgia's staff really likes what he could do at receiver. He's a tremendous athlete and will get a chance to earn playing time for the fall, especially with some unproven receivers already on Georgia's roster.

KENTUCKY
Josh Clemons, RB:
Raymond Sanders
might have left spring as the starting running back for the Wildcats, but Kentucky is still looking for help at the position. Clemons will get a chance to get in the backfield rotation after rushing for more than 2,000 and have 25 touchdowns during his senior year of high school.

SOUTH CAROLINA
Jadeveon Clowney, DE:
Clowney will enter preseason camp with a mound of expectations. He was the country's top high school player last year, and even though there is a lot of talent on South Carolina's defensive line, it will be hard to keep him off the field with his freakish ability. He recorded 162 tackles, including 29 tackles for loss, 29.5 sacks, 11 forced fumbles, six recovered fumbles and scored five touchdowns last fall.

TENNESSEE
A.J. Johnson, LB:
He has the size and strength to play in the middle, but has the athleticism to play off the edge as well. With Tennessee needing a lot of help at linebacker, Johnson will get a shot at playing time. He registered 186 tackles, 12 tackles for loss, one sack and one interception during his senior year.
Curt Maggitt, LB:
He's another linebacker who will be in the mix for playing time this fall. He played outside in high school and has great speed coming off the edge. He'll need to add some pounds, but should be one of the fun youngsters to watch this fall in Knoxville.

VANDERBILT
Jake Bernstein, OL:
Bernstein was a solid tackle in high school, but with so many questions surrounding Vanderbilt's offensive line, he could move around once preseason camp begins. He could line up at center or guard.
Josh Grady, QB:
Vanderbilt coach James Franklin is very excited about getting Grady out on the practice field. He comes in as a quarterback, but he's dynamic enough that he could play other positions as well. He accounted for 3,061 yards of offense and 26 touchdowns. He also had five interceptions.
February, 25, 2010
2/25/10
10:00
AM ET
Here's a breakdown of three issues facing each program heading into the spring:

Boise State Broncos
Spring practice starts:
March 8
Spring game:
April 17
What to watch:
" All starters but Kyle Wilson return in 2010. Jerrell Gavins, who started at Wilson's outside cornerback position during the Fiesta Bowl (Wilson moved to safety) likely will slip into that starting slot.
" With so many players returning and few questions to answer, the Broncos can really start working on the 2010 season. This will also be a good time to sort out the offensive line (10 O-linemen had at least one start last year) and looking for some redshirted playmakers that could find their way into the lineup this season.
" Defensive line coach Pete Kwiatkowski steps in as the new defensive coordinator for Justin Wilcox, who went to Tennessee, but don't expect any major changes to the defense. Kwiatkowski was Wilcox's mentor and the two shared the same vision for the Broncos defense.

Fresno State Bulldogs
Spring practice starts:
March 15
Spring game:
April 16
What to watch:
" Fresno State lost three top backs in
Ryan Mathews
,
Lonyae Miller
and
Anthony Harding
and will spend the spring looking for a replacement.
Robbie Rouse
is the top returning back, but he's a smaller back than the ones the Bulldogs lost. Look for
Michael Harris
to get a chance this spring.
" With
Seyi Ajirotutu
,
Marlon Moore
and
Chastin West
gone, the Bulldogs will be looking to fill their receiver depth to help starting quarterback
Ryan Colburn
. Coach Pat Hill noted on signing day that he wants to spread things out this year and he's looking forward to some speed joining the team in the fall. In the meantime, sophomore
Rashad Evans
, redshirt freshman
A.J. Johnson
and sophomore
J.J. Stallworth
will work for playing time with
Jamel Hamler
and
Devon Wylie
.
" The defensive front, which struggled late against the running game (most notably Nevada and Wyoming), will be a focus this spring. The Bulldogs return nine starters from the bowl game, including All-WAC first team defensive end Chris Carter and linebacker Ben Jacobs.

Hawaii Warriors
Spring practice starts:
April 1
Spring game:
April 30
What to watch:
" The offensive line was a question heading into the 2009 season and will be again in 2010. The Warriors lose four senior starters, including center John Estes. Backups Kainoa LaCount, Matagisila Lefiti, Andrew Faaumu, Bronson Tiwanak, Clayton Laurel and Adrian Thomas will be among those competing for starting roles.
" Bryan Moniz finished the season as the starting quarterback and will go into spring ball as the leading candidate to start in 2010, but
Shane Austin
, who played some in 2009, will challenge for the starting role this spring. Moniz finished the season completing 57 percent of his passes for 2,396 yards, 14 touchdowns and 10 interceptions.
" The Hawaii defense struggled some last year, but should be better if star linebacker Brashton Satele receives a sixth season. The Warriors will be looking for a new right tackle as well as a couple of starting linebackers, but the defense, which improved as the season progressed, should be a pleasant surprise in 2010.

Idaho Vandals
Spring practice starts:
March 23
Spring game:
April 23
What to watch:
" The top priority this spring will be reloading the offensive line. The Vandals lost four starters on the offensive line, including All-American guard Mike Iupati. The only returner is left tackle Matt Cleveland. Guy Reynolds Jr. was Iupati's backup, and players such as Clell Hasenbank, Tevita HalaHolo and Tyron Novikoff will be competing for starting roles.
" The offense carried the team last year, especially the passing game, but starting quarterback
Nathan Enderle
will have to work out three new receivers this spring. The biggest loss is slot
Max Komar
, who made key catches all season, including in the Humanitarian Bowl win over Bowling Green.
" The Idaho defense was one of the worst in the country allowing 433.23 yards per game and 36.00 points per game. More often than not, the Vandals were trying to outscore their opponents instead of stopping them defensively. Eleven players with starting experience from last year's bowl team return; the only loss is strong safety Jeromy Jones. But with the way the defense played last season, it wouldn't be a surprise to see some of those positions open this spring.

Louisiana Tech Bulldogs
Spring practice starts:
March 17
Spring game:
April 10
What to watch:
" The loss of running back
Daniel Porter
and tight end
Dennis Morris
takes out a lot of the offense and scoring the Bulldogs had in 2009. New head coach Sonny Dykes and offensive coordinator Tony Franklin will spend the spring looking for playmakers to fit their wide-open offensive style.
" Wide receiver will be a key competition this spring for Louisiana Tech's new spread offense. Tennessee transfer
Ahmad Paige
and LSU transfer
Tim Molton
are both eligible and will join RP Stuart,
Cruz Williams
and
Phillip Livas
in the receiving corps.
" Louisiana Tech will be looking for some consistency in the punting game after Cade Glasgow struggled last year. Overall, the Bulldogs punting game averaged 32.91 yards per game, which ranked last in the WAC. The Bulldogs didn't recruit a punter, so expect some potential walk-on help.

New Mexico State Aggies
Spring practice starts:
April 5
Spring game:
May 1
What to watch:
" Second-year coach DeWayne Walker was unhappy with the team's scoring, especially in the second half of the season, which prompted him to replace his offensive coordinator and running backs coach. His main priority this spring is finding some consistency at quarterback.
Jeff Fleming
and
Trevor Walls
return and redshirt freshman
Tanner Rust
and true freshman Andrew Manley will challenge, but junior college transfer Matt Christian is the favorite to be the starter.
" The running game was the one bright spot for the offense last season with
Seth Smith
rushing for 1,016 yards, but he had just one rushing touchdown. Redshirt freshman Marquese Dunn will get a look this spring and will challenge for playing time as Walker looks for playmakers.
" Shoring up a total defense that allowed 423.62 yards per game and 31.62 points per game will be Walker's project this spring. The Aggies return some key players, but Walker said most of the help on the defensive line will come in the fall.

Nevada Wolf Pack
Spring practice starts:
March 5
Spring game:
April 3
What to watch:
" The running game is Nevada's bread and butter and it should stay that way with quarterback
Colin Kaepernick
and star running back
Vai Taua
returning. However, the Wolf Pack need to spend this spring working on depth with players such as
Lampford Mark
,
Mike Ball
and
Stefphon Jefferson
.
" The offensive line needs to replace Kenneth Ackerman and Alonzo Durham this spring in order to keep the running game effective. Center Jeff Meads and tackle Jose Acuna are the primary backups for those two spots. The Wolf Pack also will look to build offensive line depth across the board.
" The Nevada defense will spend the spring learning a slightly altered 4-3 defensive scheme under new defensive coordinator Andy Buh. The defense has been the weak link of the Wolf Pack for the past few years, so shoring that up this spring will be a high priority.

San Jose State Spartans
Spring practice starts:
March 12
Spring game:
April 22
What to watch:
" For the second consecutive season, San Jose State had trouble producing offense mostly because of inconsistent play at quarterback.
Jordan La Secla
returns as the incumbent, but junior college transfer Matt Faulkner, who enrolled in January, will challenge this spring.
" For as much as the passing offense struggled, the rushing offense was worse.
Lamon Muldrow
, who led the team with 592 yards and three touchdowns last season will be counted on in the running game, but the Spartans signed three running backs for 2010, including Forrest Hightower, who will challenge in the fall.
" Most of spring practice will be spent learning the new coaching staff and the new offensive and defensive schemes. The Spartans are transitioning from a spread offense to a more traditional style that will incorporate an H-back and a tight end. The Spartans also will move toward an attacking style defense, but will stay in a 4-3 base that will feature both man-to-man and zone coverage.

Utah State Aggies
Spring practice starts:
March 23
Spring game:
April 24
What to watch:
" The primary concern this spring will be finding running back depth after star
Robert Turbin
suffered a torn ACL during winter workouts. All eyes will be on Michael Smith,
Derrvin Speight
and Kerrwynn Williams as they try to pick up the slack.
" Second-year head coach Gary Andersen is showing his commitment to defense after shuffling several players on that side of the ball. Nathan Royster is moving from defensive tackle to end, Junior Keiaho and Devin Johnson are moving from end to linebacker, wide receiver
Cameron Sanders
has moved to defensive back and the Aggies are hoping to get some defensive contribution out of Page Clifford, a transfer from Utah.
" There should be some good competition at wide receiver this spring with
Matt Austin
returning from injury and Travis Van Leeuewen coming off a redshirt season. Mid-year signees
Xavier Martin
and Dontel Watkins also will challenge for starting roles. Utah State had a good passing offense with 246.75 yards per game from starter
Diondre Borel
.