February, 9, 2012
2/09/12
4:00
PM ET
It is time to evaluate the receiver position in the Big East. For the postseason rankings, I am going to include tight ends as well. Before the season started, I did them separately, but it makes more sense to do them together.
This is a position group that has a clear-cut 1-2. To me, the rest are pretty interchangeable, as no other group really stood out to me this season.
1. West Virginia.
Slam dunk to have the Mountaineers on top, given the way
Tavon Austin
and
Stedman Bailey
performed this season. Each had 1,000-yard seasons -- the first time in school history two players hit that mark. Bailey led the Big East with 12 receiving touchdowns, and was No. 1 in receiving yards per game. Austin was third in receiving yards per game and second in receptions per game. Add in
Ivan McCartney
, also ranked among the top-10 receivers in the Big East and that says it all.
Preseason ranking: No. 2.
[+] Enlarge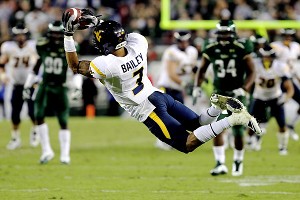 Kim Klement/US PRESSWIREWest Virginia's Stedman Bailey led the Big East in touchdowns and yards receiving per game.
2. Rutgers.
Mohamed Sanu
had an unbelievable season for Rutgers with a school and Big East record 115 receptions. He dominated at receiver, leading the league in receptions per game and finishing second in receiving yards per game. That domination meant his teammates did not get as many opportunities --
Brandon Coleman
only had 17 receptions;
Mark Harrison
14,
Quron Pratt
had 32. But when you have an unstoppable force like Sanu, you keep going to him.
Preseason ranking: No. 1.
3. Syracuse.
When you think of the Orange, you don't necessarily think of high-profile receivers. But
Alec Lemon
and
Nick Provo
teamed to have outstanding seasons this year. Both posted career years, Provo made the Big East first team and Lemon made the second team. The two combined for 119 catches and 13 touchdowns. Depth wasn't great, but the performance of Lemon and Provo make up for that and vaults Syracuse here.
Preseason ranking: No. 5.
4. Cincinnati.
I thought the Bearcats receivers had a down year.
D.J. Woods
didn't really live up to his potential, and
Anthony McClung
led the team with 683 yards. That is the fewest yards for the team's leading receiver since 2006. What really sticks out: when
Zach Collaros
got hurt, the receivers as a whole never really stepped up the way they should have to help
Munchie Legaux
.
Preseason ranking: No. 3.
5. Louisville.
The Cardinals did get much better play out of their receivers, and were helped with the impact freshman
DeVante Parker
and
Eli Rogers
made. They didn't have anybody with eye-popping numbers, but they did have consistent enough performances out of this group.
Preseason ranking: 7.
6. USF.
The Bulls were really hurt by injuries at this position, and never really had a go-to guy emerge.
Sterling Griffin
was en route to a good season before he got hurt;
A.J. Love
got hurt as well. That left the position in the hands of many young, inexperienced guys. I thought
Deonte Welch
really had a nice second half. He was their best receiver when Griffin was out.
Preseason ranking: 6.
7. UConn.
Considering the way the Huskies struggled in the pass game,
Kashif Moore
,
Isiah Moore
and
Ryan Griffin
all put together solid seasons for UConn. Both Moores ranked in the top 10 in the Big East in receiving, and Griffin was the second-best tight end behind
Nick Provo
. Depth was lacking at the position -- as only five players caught double-digit passes, and only three are true wide receivers.
Preseason ranking: 8
.
8. Pitt.
The Panthers got their tight ends and running backs involved heavily in the pass game, probably because there was depth lacking at the actual receiver position.
Devin Street
put together a solid season, with 754 yards receiving, and
Mike Shanahan
was decent. But otherwise, big plays were lacking. Passing game woes obviously had an impact.
Preseason ranking: 4.
June, 28, 2011
6/28/11
8:23
PM ET
We continue our team position rankings today with receiver. This is an area of great potential for plenty of teams around the league, especially with some of the high-octane offenses that we are going to see. Only three teams return their leading receiver from last season. The overriding theme seems to be this: there is a lot of talent, but much of it is unproven. So how are these receivers going to step up?
To make these rankings, I considered returning starters, accolades for returning starters, depth and potential.
[+] Enlarge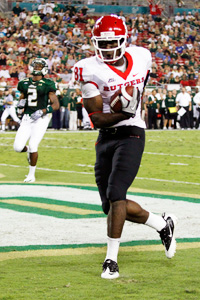 AP Photo/Mike CarlsonMark Harrison caught 44 passes for 829 yards and 9 touchdowns last season.
1. Rutgers.
The Scarlet Knights have proven talent and depth at this position, putting them at the top spot in these rankings. When healthy,
Mark Harrison
and
Mohamed Sanu
form one of the top 1-2 punches in the entire league. Add in
Brandon Coleman
, who had an outstanding spring, along with Tim Wright returning from injury and the top four looks as solid as it gets. Let's not forget incoming speedsters Miles Shuler and Tejay Johnson, who have the potential to play as well.
2. West Virginia.
The Mountaineers have
Tavon Austin
,
Stedman Bailey
and a whole bunch of questions at the position. But with the new offense Dana Holgorsen is bringing in, other receivers have a chance to be more effective. Austin is about as close as you can come to a surefire first-team All-Big East player.
Ryan Nehlen
had a nice spring and could be the surprise of the season. So could
Tyler Urban
, a converted tight end. How will
Brad Starks
do after shoulder surgery? Will
Ivan McCartney
live up to his potential? There is talent here and great potential if everybody lives up to expectations.
3. Cincinnati.
The Bearcats are stocked with talent, but many of these skill players have got to gain experience and fast with
Armon Binns
,
Marcus Barnett
,
Vidal Hazelton
and
Ben Guidugli
gone.
D.J. Woods
is expected to be a first-team All-Big East selection. But beyond he and
Anthony McClung
, you have got young guys -- junior college transfers
Kenbrell Thompkins
and Damon Julian, redshirt freshman Dyjuan Lewis, freshmen Shaq Washington, Chris Moore, Alex Chisum and Max Morrison. Thompkins showed great promise in the spring.
4. Pittsburgh.
The Panthers lose their leading receiver in Jon Baldwin, but the duo of
Mike Shanahan
and
Devin Street
could each be 1,000-yard receivers. Behind them, though, there are some questions and inexperience. Junior
Cameron Saddler
is going to have to step up. Redshirt freshmen
Salath Williams
,
Drew Carswell
, junior college transfer Josh Brinson and true freshman Justin Jackson are all young but have a chance to be big contributors. Pitt also is waiting to hear whether UNC transfer
Brendon Felder
will have his petition for immediate eligibility granted.
5. Syracuse.
The Orange have plenty of solid returning receivers in
Van Chew
,
Marcus Sales
and
Alec Lemon
but what this team is really lacking is big-play potential. In five games last season, Syracuse failed to complete a pass that went longer than 30 yards. In fact,
Ryan Nassib
averaged 6.5 yards per pass attempt. A healthy
Jarrod West
could help those numbers improve.
Dorian Graham
has to work on his hands, too.
6. USF.
The Bulls lose leading receiver
Dontavia Bogan
, but they return injured players
Sterling Griffin
and
A.J. Love
to the mix, which is going to be huge.
Lindsey Lamar
and
Evan Landi
also return, along with
Terrence Mitchell
,
Joel Miller
and
Faron Hornes
.
Deonte Welch
had a nice spring game and is listed as a backup behind Landi. True freshman Andre Davis has the potential to contribute as well. The Bulls have plenty of depth here but there are still some questions about this group, especially with Griffin and Love coming off injuries.
7. Louisville.
The Cardinals lose their top two receivers, and have got to figure out a way to make big plays and stretch the field with a young group.
Josh Bellamy
appears to be the go-to man headed into 2011, and much is going to be expected of
Andrell Smith
and
Michaelee Harris
. Both are coming off injuries and were unable to practice in the spring. True freshmen are most likely going to be relied upon, giving Eli Rogers and DeVante Parker and opportunity to play.
8. Connecticut.
A playmaker has got to emerge from this group to help out whoever is going to be playing quarterback. The Huskies lost leading receiver
Mike Smith
because of academics.
Kashif Moore
,
Ryan Griffin
and
Isiah Moore
return but UConn is going to need some of its redshirt freshmen like
Geremy Davis
and
Tebucky Jones
Jr. to step up. The Huskies are not preparing to run the spread, so the potential for a 1,000-yard receiver in this group is low.
Previous rankings:
March, 9, 2011
3/09/11
11:25
AM ET
About a week ago,
Jake Locker
stopped by South Florida's football complex with Jon Gruden. The NFL prospect wanted to throw a few balls with the Bulls receivers.
[+] Enlarge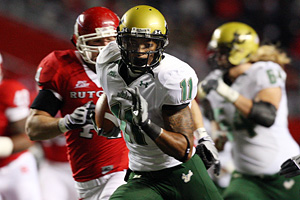 Jim McIsaac/Getty ImagesSouth Florida's A.J. Love is ready for the season to start after a knee injury sidelined him last season.
A.J. Love
figured that was as good a time as any to see how much he could do.
"When the lights come on, you've got to show up," he said. "That was the first time I pushed as hard as I could, as far as routes go."
The USF senior receiver found out that day that his surgically repaired left knee was 100 percent. And since South Florida's spring practices began late last week, he said the coaches "have unleashed me."
If only they could have done that last season. Love had a standout spring a year ago and was emerging as the team's potential No. 1 wideout. But in the spring game, of all places, he tore his ACL.
"That was really tough, because I had just gone through everything with my teammates and worked so hard to get ready for the season," he said. "I felt like I let them down, too, because they had been dependent on me."
Love hoped for a speedy recovery so he could rejoin the Bulls for the second half of last season. But after a minor setback in early November, he shelved that idea and put his trust in the hands of the NCAA, praying for a sixth year of eligibility. Head coach Skip Holtz delivered the good news after the team's second bowl practice last December.
Now, Love is trying to round back into form, and the Bulls could use the ability he flashed last spring. Last year's top receiver,
Dontavia Bogan
, is gone, and though the team has a deeper, more experienced group at wideout, there is still no definite top guy. Love's 489 receiving yards and four touchdowns in 2009 stands as the most returning production at the position.
He says he has no limitations at practice and is wearing a knee brace this spring only as a precaution. His biggest hurdle, as it is for many players coming off injuries, might be mental.
"You have to gain that confidence back," Holtz told reporters last week. "You're very tentative on it. He's going to have to get that confidence back, but the other thing is knock the rust off. So many times when you're thinking about your leg, you're not thinking about catching the ball, you're not thinking about turning and running a route on your defender."
Love has been through this before, though, missing the 2006 season with a thumb injury and hurting his other knee.
"You can't be scared playing this game," he said. "I know injuries happen, and it's out of my control if it does happen, anyway. So I just go out there and play."
Love said he learned more about the game as an extra coach on the sidelines, seeing things that players sometimes miss when they're in the heat of the battle. He knows the offense after two years of studying it, and he has good chemistry with quarterback
B.J. Daniels
because they have thrown together for the past three years.
Love is ready to make good on his statement last year that he would be the Bulls' No. 1 receiver. The spring can't end and the fall can't begin soon enough for him.
"I'm very anxious," he said. "I've waited a year for this."
February, 23, 2011
2/23/11
9:00
AM ET
Spring practice is just around the corner -- South Florida will be on its new practice fields next week, while other Big East teams will follow suit shortly after.
So here's a look at what to expect from each league team this spring.
Cincinnati
Spring practice starts:
March 29
Spring game:
April 16
What to watch:
Fixing the defense: There's little doubt that improving the defense is the first order of business in Clifton. The Bearcats ranked last in the Big East last season while giving up 28 points per game. The good news is that all 11 starters on that side of the ball are back. The bad news is those are the same guys who couldn't get it done a season ago. An extra year of maturity should help, and Butch Jones expects more depth and competition on defense, including the arrival of junior-college import Malcolm Murray at safety.
Restocking the Binns: Cincinnati should still be strong on offense with the return of senior quarterback Zach Collaros and senior Isaiah Pead, the leading returning rusher in the Big East. Yet the loss of the league's most productive receiver in 2010, Armon Binns, means the Bearcats need to find a few more guys to make plays at receiver. D.J. Woods is an obvious choice as the new go-to guy, but he'll have to solve his fumble problems. Transfer Kenbrell Thompkins, who couldn't get eligible last season, will look to step forward. Another sidelined receiver, freshman Dyjuan Lewis, won't be cleared to join in team activities until the summer.
Looking for leaders: One of the problems during the 2010 4-8 season, as voiced by departing senior Jason Kelce and implied by Jones, was a lack of leadership on the team. Hey, it happens sometimes when your program has been to back-to-back BCS games and young players feel an undeserved sense of entitlement. Jones has been trying to change that, and we should be able to tell during the spring whether some new leaders have emerged.
Connecticut
Spring practice starts:
March 15
Spring game:
April 16
What to watch:
Back to the future: For the first time since the end of 1990s, and for the first time ever as an FBS-level program, the Huskies will have someone other than Randy Edsall leading them through practice in March. Former longtime Syracuse coach Paul Pasqualoni took over when Edsall left for Maryland, and Pasqualoni hired new coordinators (George DeLeone on offense and Don Brown on defense) to mix in with the holdovers from Edsall's staff. UConn has been doing things the same way for a long time, and with pretty strong results. How will the team react to Pasqualoni's new-look, old-school ways?
Backfield in motion: Quarterback Zach Frazer is gone. Star tailback Jordan Todman left early for the NFL. Fullback Anthony Sherman graduated. Everything behind center is new. The quarterback position looks pretty wide open, with sophomore Michael Box perhaps having the edge after making one (very unsuccessful) start in 2010. Early enrollee Michael Nebrich is one to watch. How will the Huskies replace Todman? Good question. Robbie Frey decided to concentrate on graduate school, leaving USC transfer D.J. Shoemate as the only experienced ballcarrier. Freshman Lyle McCombs' status is unclear for spring after his offseason arrest, and the two running backs in the signing class won't arrive until summer. Right now, it's anybody's guess as to who might carry on the UConn running back tradition.
Reloading at linebacker: The Connecticut defense brings a lot back, but one position that needs refilling is linebacker. Lawrence Wilson, who led the Big East in tackles the past two seasons, and Scott Lutrus, a four-year starter and solid leader, both exhausted their eligibility. Sio Moore looks like a rising star and had some huge games in 2010, but the other two positions have large shoes to fill.
Louisville
Spring practice starts:
March 23
Spring game:
April 15
What to watch:
Smooth sailing for Bridegwater?: The Cardinals' most pressing issue is at quarterback, where senior co-starters Justin Burke and Adam Froman are gone. Highly-touted recruit Teddy Bridgewater will participate in the spring, and how quickly he picks up the college game and coordinator Mike Sanford's system could go a long way to determining what happens this fall. If he needs more time, senior Will Stein will happily take the reins.
Rebuilding the O-line: The key to Louisville's offensive success was its senior-laden line, which proved to be the best in the Big East a year ago. But now four new starters must be found to go along with center Mario Benavides. The new guys must get up to speed and develop chemistry quickly for the running game and presumed new starter Jeremy Wright to duplicate last season's progress.
Last line of defense: Louisville's defense was most vulnerable at its back end at times last season, and now the Cardinals must replace both starting cornerbacks (including All-Big East first team performer Johnny Patrick), no to mention two senior linebackers. An obvious candidate to take over some leadership is safety Hakeem Smith, who was the Big East rookie of the year. The plus side is that Charlie Strong and coordinator Vance Bedford will have more young talent to work with.
Pittsburgh
Spring practice starts:
March 15
Spring game:
April 16
What to watch:
Golden Graham?: There will be no more drastic change in the Big East this spring than the offense at Pittsburgh, which will go from a run-based pro-style attack to Graham's no-huddle, wide-open, points-per-minute machine. Can the Panthers get this new offense up and running this spring? Does Graham have the players to make it work? And how will his offense, so successful in Conference USA, translate into the more rugged Big East? All those questions will be fascinating to follow.
Quarterback competition: Junior Tino Sunseri started every game in his first year at the controls in 2010, and he played well at times. But a new style and new coaching staff means that he might have an edge, but not necessarily an insurmountable one, in this spring's competition. Redshirt freshman Mark Myers is multi-talented and will be given a look, along with classmate Anthony Gonzalez and Kolby Gray. The current staff has no loyalty to Sunseri, so he'll need to perform at a high level this spring to keep his job.
Shoring up the 'D': It's no secret that Pitt struggled in defending the pass last season. Graham's offense may be more explosive, but he doesn't want to have to get into shootouts all the time. He and defensive coordinator Keith Patterson have experience running 3-3-5 and 4-2-5 formations and may go to more of those kinds of looks to counter the increasing spread offenses throughout the league. First Pitt will have to get better play from its secondary and linebackers in pass coverage, and that starts this spring.
Rutgers
Spring practice starts:
March 29
Spring game:
April 30
What to watch:
Line change: The first thing to focus on this spring for the Scarlet Knights is the front five on offense. The offensive line has been a mess for the past two years and was an utter disaster a year ago. Head coach Greg Schiano is counting on junior-college center Dallas Hendrickson to provide some immediate help, and that another year will lead to better things for the returnees. Rutgers needs answers at right tackle, especially, and if the line can't block its own defense in spring practice, you'll know there's trouble.
A Frank re-assessment: Former Pitt offensive coordinator Frank Cignetti takes over the Scarlet Knights' playcalling duties this spring, and his pro-style background seems like a perfect match for what Schiano likes to do. Look for Cignetti to try to establish a stronger running game this spring (while waiting for mega-recruit Savon Huggins to arrive this summer) and abandon the Wildcat formation and other gimmicks that Rutgers desperately turned to the past two years. His work with sophomore starter Chas Dodd will also be critical, since there are no other experienced quarterbacks on campus.
Recharging the defense: You always expect a Schiano-led defense to be rock solid, but that defense wore down last season and ended up allowing more points in conference play than anybody. Three of the starting four defensive linemen are gone, as well as the team's leading tackler -- linebacker Antonio Lowery -- and safety Joe Lefeged. Schiano has recruited well and has lots of young players ready to step into bigger roles. Spring will be the time we start to learn who's ready to handle increased responsibilities.
South Florida
Spring practice starts:
March 3
Spring game:
April 2
What to watch:
Transfers accepted: Running backs Darrell Scott and Dontae Aycock have strong credentials; Scott was one of the more sought-after recruits in the country before disappointing at Colorado, while Aycock was set to play for Auburn. Both become eligible this year and will show their stuff this spring. The two big-bodied ballcarriers could add some power and explosiveness to the Bulls offense. Notre Dame transfer Spencer Boyd should bring depth, at the very least, to the secondary.
B.J. still the main Bull?: Junior B.J. Daniels seemed to reassert himself as the starter with a big performance in the Meineke Car Care Bowl win over Clemson. But before that, there were serious questions about whether sophomore Bobby Eveld might unseat him. Daniels goes into the spring with an obvious edge, but he'll be pushed by Eveld and redshirt freshman Jamius Gunsby. He'll need to perform at a consistent level to stiff-arm questions about his job security.
Receiver reconstitution: No doubt, receiver was the position that needed the largest upgrade a year ago. The bad news is, the Bulls lost leading pass-catcher Dontavia Bogan, who was nearly a one-man show at wideout in 2010. On the flip side, A.J. Love and Sterling Griffin return from injury. And Skip Holtz hopes getting thrown into the fire last season sped the development of guys like Evan Landi, Joel Miller and Lindsey Lamar. At the very least, the position has a lot more experience and depth than it did a year ago at this time.
Syracuse
Spring practice starts:
March 8
Spring game:
April 16
What to watch:
Displacing Delone: Senior Delone Carter brought the thunder to the Syracuse running game the last two years, and he may have been the least favorite ballcarrier for opposing tacklers to bring down. With him gone, it remains to be seen whether the smaller Antwon Bailey can be an every-down back, or if youngsters like Prince-Tyson Gulley and Jerome Smith are ready for an increased role in the offense.
Linebacker makeover: It would be hard for any team to lose a more productive linebacker tandem than the Orange did with seniors Doug Hogue and Derrell Smith. They were both crucial to what defensive coordinator Scott Shafer liked to do. The lone returning starter is Marquis Spruill, who played as a true freshman last year. Could a newcomer like junior-college transfer Siriki Diabate be ready to help immediately?
Wideout wonders: Marcus Sales helped rescue an ailing passing game with his breakout performance in the New Era Pinstripe Bowl. Is Sales ready to play like that all the time now, or was he a one-game wonder? Will Van Chew continue the improvement he showed last season before getting injured? Can the Orange get more out of Alec Lemon? What new faces might help at receiver? The answers to these questions will be key to the attack under Nathaniel Hackett, who was promoted to offensive coordinator this offseason.
West Virginia
Spring practice starts:
March 28
Spring game:
April 29
What to watch:
Dana days: Mountaineer Nation is salivating at the thought of what Dana Holgorsen will do to revive the offense. Holgorsen has had an immediate and incredible impact at the last two places where he called plays, and some solid work in the spring is required to do the same in Morgantown. A couple of things are for sure: the Mountaineers will be throwing it around a whole bunch during practice, and fans will breathlessly gobble up every small detail. Another thing to watch will be the chemistry between Holgorsen's hand-picked offensive staff and Bill Stewart, the man he'll replace at the end of the season. That relationship will also be dissected relentlessly.
Defense reload or rebuild?: Most people assume West Virginia will continue to field an excellent defense because of coordinator Jeff Casteel. That may be true, but no team lost more defensive talent than the Mountaineers, who must replace frontline players like tackle Chris Neild, linebacker J.T. Thomas, safety Robert Sands and cornerback Brandon Hogan, among others. There's still a lot to like here, including ends Julian Miller and Bruce Irvin and corner Keith Tandy, but for Casteel must find new contributors to keep his 3-3-5 humming along.
Who's in the backfield?: It's not yet know just how much quarterback Geno Smith will be able to do during spring practice after his offseason foot surgery. Obviously, the more reps he can take, the better he'll be able to get Holgorsen's system down. And there's no experience behind him. West Virginia will be cautious with Smith, though, because the fall is way more important. With Noel Devine gone and Tavon Austin seemingly making his move to receiver permanent, there will be competition for the starting running back spot. Shawne Alston and Ryan Clarke are bulldozers who could add an interesting wrinkle to Holgorsen's spread if they get the job done.
February, 16, 2011
2/16/11
9:00
AM ET
Here is Part II of my pre-spring interview with South Florida coach Skip Holtz, in which we look forward to spring practice and the 2011 season. You can read Part I
here
. And if you missed Holtz's comments on his quarterback situation, you can find those
here
.
You don't bring back a lot of starters. But considering how many guys you played last year, how comfortable do you feel with your returning experience this season?

Skip Holtz:
I do feel like we return quite a bit of experience. You look at a guy like Mark Popek on the offensive line, who didn't start but played quite a bit, and Danous Estenor played quite a bit. Obviously
Bobby Eveld
started one game. I'll just use the quarterback position: last year in the spring, we had one quarterback on scholarship; this spring we're going to have four. I look at the improvements we've made there from a competitive standpoint.
[Tight ends]
Andreas Shields
and
Jeff Hawkins
played. We had a number of running backs play. I look on the defensive line and we played four defensive ends and even though we graduated two of them, Ryne Giddins, Patrick Hampton and Julius Forte played just as much as the starters did. We played about seven linebackers a year ago, so even though we lost three, you return four with a significant amount of experience. I think we redshirted some really good players. We return all four of our safeties a year ago. We played three cornerbacks and two of them return.
So I think we have a great nucleus to build on. I definitely feel like we're much farther ahead than we were a year ago at this time.
You brought in three transfers from other BCS programs last year. Can you tell me about each of them?

SH:
I'm really excited, and I'll start with the running backs. When we came in here a year ago, all of a sudden [Mike] Ford and [Jamar] Taylor were dismissed from the team. You start looking ahead and say Mo Plancher is going to graduate, and we're going to have a hole at the running back position. So we brought in some transfers in
Darrell Scott
from Colorado and
Dontae Aycock
from Auburn, and I think they're both very very talented players who are working extremely hard. They were both very impressive on the scout team with their attitudes and their work habits.
Darrell Scott came in about 240 [pounds]; he's down to about 226 and looks great. I think both of them are definitely going to be guys who make an immediate impact, and that's why we didn't sign a lot of junior college guys -- there was only one junior college player in our class. I think guys like Aycock and Scott are going to make a huge difference. And then a young man who transferred from Notre Dame,
Spencer Boyd
, is going to bring some depth to us in the secondary, where we graduated Mistral Raymond. He's a great athlete, and he's going to have an opportunity to come in and compete for time.
You had a good running game but not a lot of explosive gains there last season. How much can the new guys help that?

SH:
We didn't have a lot of big plays there, you're right. Both Dontae Aycock and Darrell Scott are bigger running backs. Mo Plancher was about 200, Demetrius Murray was about 200 pounds, where Darrell Scott is 226 and Dontae Aycock is about 230. I think they're bigger, stronger running backs who are going to be able to break more tackles maybe than we have in the past, and when I watch those two guys run, they've shown me some big-play potential. So I'm really excited to see how they develop and mature as we go through spring practice and fall camp.
How are receivers A.J. Love and Sterling Griffin coming along from the injuries that kept them out all of last season?

SH:
Well, it's nice to have them both back. A year ago we had four players returning with any type of experience at receiver, and Carlton Mitchell left early for the NFL before we got here. All of a sudden A.J. Love gets injured in the spring game, and Sterling Griffin gets injured in the summer.
Dontavia Bogan
had a great year for us, and what happened was a lot of these young guys got a chance to get experience last year. And then when you add A.J. Love and Sterling Griffin back to the mix, I think we'll be much deeper there. Plus, I'm excited about a couple of young signees we have that are coming into the program this season. But I think we'll be much deeper at that position, we'll be more experienced and we'll have more playmakers than we had a year ago.
Did it feel like, offensively, you were playing with one arm tied behind your back at times last year?

SH:
It really did, with our limited big-play potential in the running game and how inexperienced we were at the receiver position. But
Evan Landi
came on and gained some great experience. Terrence Mitchell converted over to wide receiver halfway through the year and made an impact. Steven Bravo-Brown got better,
Joel Miller
had a great game against Miami. And with those guys gaining that kind of experience and then being able to throw A.J. Love and Sterling Griffin in there, it may be one of the most experienced positions on our football team.
[+] Enlarge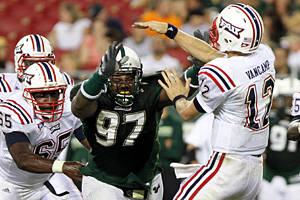 Kim Klement/US PresswireSouth Florida's departing defensive tackle Terrell McClain leaves big shoes to fill this coming season.
Defensively, it seems like Terrell McClain will be the hardest guy to replace. I know Bruce Feldman had some nice words about Todd Chandler the other day. How do you see the defense being able to replace McClain?

SH:
It's hard to replace a guy like Terrell McClain as a senior, whom they're talking about as a possible first-day draft pick, with a redshirt freshman. Keith McCaskill was solid for us last year and he's going to have to play more for us. Cory Grissom is going to be a year older as a starting nose guard. We're going to have to get a little more out of him.
Anthony Hill
is a guy who played a limited role for us a year ago that's going to be a junior; both him and Luke Sager, I expect more out of them. And then you hope Todd Chandler continues to mature into that position. And then there's a signee like Elkino Watson, who came in with an awful lot of accolades and is a talented player.
There are an awful lot of players there, and I don't think we're going to ask just one player to pick up that slack, that hole in the bucket left by Terrell McClain. We're going to ask a number of players to step their game up and fulfill that void.
Your season opener this year is at Notre Dame. How much does that help motivate everybody this offseason?

SH:
I think it's huge as a far as a motivational factor. I remember being at Notre Dame, and we used to open with Michigan every year, when I was at East Carolina, we opened with Virginia Tech. And what that does for your players' focus as they go into winter workouts and spring practice and summer conditioning and fall camp, it just keeps their focus maintained with what's on the horizon. Having the opportunity to play Notre Dame as a young football program like we are, I think it creates an awful lot of excitement in our program, and it's something I know the players are looking forward to.
Have you talked much with your dad about that game yet?

SH:
No, not enough yet. We'll get into that more as we get into summer breakdown. Right now, as we started winter workouts and are getting into out new practice facility, we're just trying to see where our players are and what we can do. Every team has a life expectancy of one year, and this time of year you start to put the pieces together. We're working on our own strengths and weaknesses before we start looking at our opponent and what they can do.
But I know they finished the season with wins at Southern Cal and a lopsided win against Miami. So I know it's going to be a great challenge, it's going to be a tall order. But it's going to be something as a young program that our players and fans are really looking forward to. It's going to be interesting to see what colors Dr. Lou is wearing that Saturday.
The team is drawing some offseason buzz because of how you finished. How do you address that, if at all, with the players?

SH:
I think it's a huge compliment to what this team has accomplished and a huge compliment to this program for what we've been able to accomplish in such a short period of time. The thing for us is, we've just got to stay focused on the task at hand. You start sitting around reading the newspaper articles and drinking the Kool-aid and start believing what everybody starts writing about you, your focus isn't where it needs to be as far as getting a team ready, getting it focused and getting ready for a season. I think it's nice to be able to have that type of exposure for our program, for our fan base and for our players, that they've earned and deserved.
But I think there are two aspects of building a program: I think you have to start by learning how to win, and then once you learn how to win as we started to do toward the end of last season, I think there's a whole another process that goes into being able to handle winning. That becomes maintaining your focus and not getting sidetracked by the circus of college football that goes with the media exposure and everything else.
I suppose that's a nice problem to have.

SH:
I'd much rather be here than still trying to learn how to win.
January, 31, 2011
1/31/11
9:00
AM ET
Signing day is now just 48 hours away. So let's take a look at the recruiting needs are for each Big East team in this class.
The positions listed reflect areas of need for the 2011 and 2012 seasons and don't take into account players who have already committed at those spots, though I try to highlight some of those notable commitments below.
Cincinnati

Offensive line:
The Bearcats lose three senior starters from an offensive line that had its share of struggles in the 2010 season. Left tackle, center and right guard will all need new starters in 2011, and Butch Jones wasn't thrilled with the depth he inherited at those key positions. He needs to refill the ranks.
Running back:
Isaiah Pead
had a breakthrough year and might be the top running back in the Big East in 2011, but he's a senior. Backup
John Goebel
graduated, and
Darrin Williams
hasn't shown enough consistency as an every-down player. The Bearcats hope current commitment Jameel Poteat can be the next Pead.
Defensive toughness:
Cincinnati returns all 11 starters from the 2010 defense, but that defense gave up the most points in the Big East. There's not a position on the defense that couldn't use more depth and more talent. The Bearcats were especially light on strength and toughness on defense, so any hard-nosed guys who can play on that side of the ball are welcome to join.
Connecticut

Linebacker:
UConn returns most of its starting defense from 2010 but loses a pair of four-year starters in linebackers Scott Lutrus and Lawrence Wilson. Sio Moore is a rising star at the position, but it will be hard to replace the veteran leadership and production that Lutrus and Wilson provided. The Huskies' top two recruits right now are both linebackers.
Offensive line:
The Huskies lose both starting guards from 2010, including All-Big East performer Zach Hurd. The program has had an uncanny knack for simply plugging in new starters along that offensive front and not missing a beat. It remains to be seen whether new coach Paul Pasqualoni and his staff can continue that tradition.
Wide receiver:
Sure, UConn returns virtually all of its pass-catchers from the Big East championship team. But the passing game was brutally bad down the stretch, and the Tostitos Fiesta Bowl loss highlighted the need for more playmakers on offense. Pasqualoni has said he wants to throw the ball down the field to stretch the defense, and he'll need game-breakers to do so.
Louisville

Quarterback:
Adam Froman
and
Justin Burke
split the starting duties under center last season, and both were seniors. The only other quarterback on the roster with experience at the position is
Will Stein
, who'll be a senior this year.
Dominique Brown
was recruited as a quarterback last year, but his future probably lies at another position. Incoming freshmen Teddy Bridgewater and DaMarcus Smith, if he keeps his pledge to the Cardinals, could compete for the starting job right away.
Defensive back:
The secondary was a constant source of concern for Louisville last year, and the Cardinals got a surprising contribution from Big East rookie of the year Hakeem Smith at safety. But both starting cornerbacks, including likely NFL draft pick Johnny Patrick, are gone. Louisville's top recruit right now is safety Gerod Holliman.
Wide receiver:
The Cardinals had an excellent running game and the top pass-catching tight end in the Big East a year ago. But they had trouble going vertical in the passing game because of a lack of explosive playmakers in the passing game. Injuries and inexperience hurt the position last season, and leading receiver
Doug Beaumont
graduated. Offensive coordinator Mike Sanford's attack will look much different when Louisville gets some star wideouts on board.
Pittsburgh

Running back:
Dion Lewis
bolted for the NFL as a draft-eligible sophomore, and fullback
Henry Hynoski
went pro early as well. That leaves
Ray Graham
as the only real option for handoffs. It's no surprise that Pitt has commitments from four players identified as running backs in this class so far.
Wide receiver:
Jon Baldwin
took his talents to the NFL after his junior year. True, the Panthers still have plenty of talent at the position, including
Mike Shanahan
and the emerging
Devin Street
. But Todd Graham's new wide-open offense is going to need a lot of targets in the passing game, especially versatile players who can do lots of things in space.
Offensive line:
Pitt's problems in the middle of its offensive line to start last season exposed a shocking lack of depth at the position, which had suffered through several recruiting misses in the past. The Panthers now have to replace their All-Big East left tackle in Jason Pinkston and find a new starting center. And Graham's offense is going to require a different kind of blocking scheme.
Rutgers

Offensive line:
This is a no-brainer for a team that gave up a nation's-worst 61 sacks a year ago. It's hard to find immediate help at this position, but the Scarlet Knights did ink a junior-college player who is expected to start at center this season. Whether it's the scheme or just the players running it, Rutgers needs a change up front.
Running back:
Jordan Thomas
did some nice things as a true freshman, and
Joe Martinek
hopes to be fully healthy for his senior year. But Greg Schiano's offense has been searching for a difference-maker at tailback since Ray Rice went to the Baltimore Ravens. He hopes Savon Huggins, the top New Jersey recruit who committed late last week, is that guy.
Quarterback:
Tom Savage
's transfer leaves true sophomore
Chas Dodd
as the only quarterback with any experience. It's hard to go through a whole year with just one quarterback, so the Scarlet Knights desperately need depth. They received a pledge from Don Bosco Prep signal-caller Gary Nova, a former Pitt recruit.
Defensive line:
Three of the four starters along the defensive line were seniors last year, including starting defensive ends Jonathan Freeny and Alex Silvestro. Schiano has some promising young players at the position but needs depth there so he can rotate in fresh bodies to rush the passer.
South Florida

Wide receiver:
The Bulls' dearth of reliable targets in the passing game was painfully obvious most of the year. No. 1 wideout
Dontavia Bogan
was a senior, meaning some of the younger players at that spot need to grow up in a hurry. USF should get
A.J. Love
and
Sterling Griffin
back from injury, but it's clear that Skip Holtz needs some more deep threats.
Offensive line:
Three starters are gone off the offensive line, including tackles Jamar Bass and Jake Sims and center Sampson Genus. The two returning starters will be seniors this season. The Bulls need to usher in the next wave of linemen into the program this recruiting season.
Defensive back:
Mistral Raymond, who could play both corner and safety for the Bulls last season, is gone. There wasn't a ton of depth here this year, and though Quenton Washington had a great Meineke Car Care Bowl game, South Florida feels like it can upgrade its secondary through recruiting.
Syracuse

Linebacker:
The Orange had one of the better defenses in the Big East in '10, and senior linebackers Doug Hogue and Derrell Smith were big reasons why. Marquis Spruill showed promise at the position as a true freshman this season, and Syracuse needs a couple more like him to stay strong in Scott Shafer's pressure scheme.
Wide receiver:
Marcus Sales
came out of nowhere to have a huge New Era Pinstripe Bowl performance, but it remains to be seen if he can duplicate that performance next year.
Van Chew
showed great improvement throughout the year, but he and
Alec Lemon
dealt with injuries down the stretch that often left
Ryan Nassib
without anybody to target.
Running back:
Delone Carter
's graduation and Averin Collier's dismissal thins the backfield significantly.
Antwon Bailey
returns for his senior year but has to prove he's an every-down back. No one else on the roster has proved anything at the position.
West Virginia

Quarterback:
The good news is that
Geno Smith
has thoroughly established himself as The Man at quarterback. The bad news is that Smith's entrenchment at the position helped run off freshmen
Barry Brunetti
and Jeremy Johnson, so the Mountaineers once again have no depth behind their starter. They have brought in an intriguing under-the-radar prospect in Paul Millard, who had ridiculous numbers in Texas.
Defensive back:
Jeff Casteel's 3-3-5 scheme demands the constant need for physical safeties who can play in different spots. West Virginia also lost a pair of stalwarts at the position in Sidney Glover and Robert Sands, who left early for the NFL. Add in the loss of star cornerback Brandon Hogan, and it's time to reload the secondary in Morgantown.
Linebacker:
The Mountaineers got surprisingly good contributions from Anthony Leonard at middle linebacker this season, and J.T. Thomas was as solid as everyone expected. They both depart, along with top backup Pat Lazear, and only senior Najee Goode remains among the experienced players at the position. West Virginia hopes junior-college import Josh Francis can help right away.
January, 20, 2011
1/20/11
4:44
PM ET
I put South Florida atop my way-too-early
2011 Big East power rankings
this month. Do the Bulls deserve such hype? Let's examine some of the factors that determine how much offseason buzz USF should garner.
[+] Enlarge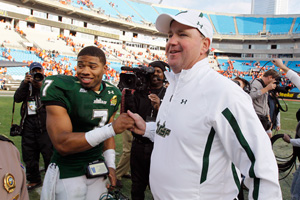 AP Photo/Chuck BurtonSouth Florida coach Skip Holtz, right, and QB B.J. Daniels have some momentum for next season.
2010 finish:
The Bulls won five of their last seven games, including solid wins against Miami and Clemson away from home. That's the kind of finish that gets people talking about a program heading into the following season.
Coaching:
It's often a good bet that teams will improve in their second year under a new coach, as they become fully familiar with the new system. Skip Holtz has won everywhere he's been, and his staff has not suffered any defections in the offseason. Given that he came in under difficult circumstances last January and installed a different type of offense, there's every reason to suspect progress in Year 2.
Schedule:
South Florida has only one road nonconference game, though it's a doozy. The Bulls open the season at Notre Dame, a team that will draw some considerable offseason buzz for many of the same reasons. A win there would put the program in the spotlight. The next three out-of-league games at home against Ball State, Florida A&M and UTEP shouldn't pose too many threats. A Nov. 26 home date against Miami will be interesting as the Hurricanes will be looking for revenge and playing under a first-year coach. All in all, it's a manageable schedule with a couple of opportunities for marquee wins.
The drawback is that USF has four away games in Big East play and only three at home in 2011.
Returning players:
The Bulls return just 10 starters (four on offense, six on defense) from their Meineke Car Care Bowl lineup, which is a small number for a buzz team. But while many seniors leave, the team still has a lot of returning players who saw valuable time.
The Bulls will have to replace three starting offensive linemen and three of the four starting defensive linemen, along with their leading rusher and receiver and top defensive back (Mistral Raymond). But they were deep on defense and have ready-made replacements up front with guys like Ryne Giddins, Julius Forte and Patrick Hampton. Finding someone to take over Terrell McClain's run-stuffing role might be the most difficult task.
Dontavia Bogan
is gone, but
A.J. Love
and
Sterling Griffin
return from injury, and the Bulls will hope players like
Evan Landi
,
Lindsey Lamar
and Terrence Mitchell evolve as playmakers. Mo Plancher led the team in rushing but operated in a tandem with
Demetris Murray
, who is back. Colorado transfer
Darrell Scott
and Auburn transfer
Dontae Aycock
become eligible and should add to the running game.
Once again, the fortunes of the team might rest on quarterback play.
B.J. Daniels
looked very good in the bowl game, and he'll have
Bobby Eveld
to push him all offseason. Daniels will be the most experienced quarterback in the Big East in career starts in 2011, for what that's worth.
Conclusion:
South Florida has a lot of factors you like to see when determining a buzz team. More returning starters, especially on the offensive line, would help, and there are several players who need to take a step forward in the offseason. Is Daniels the guy we saw in the bowl game or the one who struggled much of the season? Overall, I think USF deserves heavy consideration as one of the league favorites in 2011, but the conference will have many contenders.
What do you think?
December, 20, 2010
12/20/10
3:39
PM ET
Good news for South Florida receiver
A.J. Love
. Head coach Skip Holtz announced Monday that Love has been granted a sixth year of eligibility by the NCAA and can play next year for the Bulls.
Love was expected to be one of South Florida's main offensive contributors this season, but he tore his right ACL in the spring game. The Bulls had hoped that Love would return late this season, but the senior wasn't able to get healthy and back on the field.
Love finished second on the 2009 team with 26 catches for 489 yards and four touchdowns. With
Dontavia Bogan
finishing his career in the Meineke Car Care Bowl, Love could be the top receiving target for USF in 2011.
September, 12, 2010
9/12/10
10:04
AM ET
1. Geno Smith is the real deal:
The West Virginia quarterback didn't look like a guy making his second college start against Marshall. He led the Mountaineers on two 90-plus yard drives to mount a come-from-behind 24-21 overtime victory. The most impressive part about Smith was that he kept his poise and his eyes downfield despite being hit and hurried all night by the Marshall defense. West Virginia has some serious issues with its offensive line, but it has a star-in-the-making in Smith.
[+] Enlarge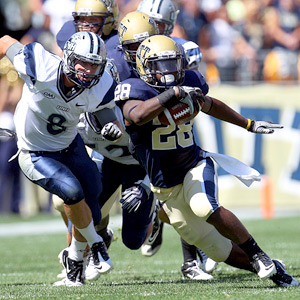 Ned Dishman/Getty ImagesPitt running back Dion Lewis is well below his 2009 pace for yards.
2. Dion Lewis is slumping:
The preseason Heisman Trophy candidate ran for 1,799 yards as a freshman and had only three games of fewer than 100 yards rushing. After two games this season, he has just 102 total rushing yards, including only 27 Saturday against New Hampshire. Blame it on the new offensive line if you want, but backup tailback
Ray Graham
had 115 yards on just nine carries Saturday in his first action of the season. The good news is, with a decreased workload and a bye week coming up, Lewis should be rested and ready for the Sept. 23 game against Miami.
3. Syracuse hasn't turned the corner:
Orange optimism ran high after a 29-3 opening win at Akron. Syracuse then raced to a 10-point lead at Washington. But before you could say "Pinstripe Bowl,"
Jake Locker
and the Huskies sliced through the Orange defense for an eventual 41-20 win. Doug Marrone's team still needs to make a lot of improvements to start thinking about postseason play.
4. B.J. Daniels can't do it all:
South Florida showed serious potential in a 38-14 loss at Florida. The defense played well for much of the game, swarming to the ball. The offensive line got a nice push. The Bulls might have found a No. 1 tailback in
Demetris Murray
. The game plan by Skip Holtz, offensive coordinator Todd Fitch and defensive coordinator Mark Snyder was excellent. But the receiving corps is too green right now, and there's too much pressure on Daniels to make things happen at quarterback. No wonder he forces the issue, which led to his four interceptions. Perhaps if
A.J. Love
and
Sterling Griffin
come back from injuries, that will lessen the burden. But USF needs more help for Daniels to contend in the Big East.
5. Rutgers offense is a mess:
When the Scarlet Knights have the ball, it's best to avert your eyes. Rutgers is never going to field a glitzy attack under Greg Schiano, but right now it's struggling to do anything right. The offense followed its sluggish performance in the opener against Norfolk State with an even more brutal showing (fewer than 175 total yards) in a 19-14 win over Florida International. Sophomore quarterback
Tom Savage
has yet to find his rhythm, and the offense had its most success Saturday with
Mohamed Sanu
at quarterback. The defense and special teams look terrific, but right now they're carrying way too much of the load.
August, 12, 2010
8/12/10
11:02
AM ET
When receiver
A.J. Love
tore his ACL in South Florida's spring game,
Dontavia Bogan
knew that things had just changed for him.
"I was like, my sidekick just went down," Bogan recalled. "I've got to step my game up to another level. I've got to do whatever it takes and have the other receivers gather around me."
[+] Enlarge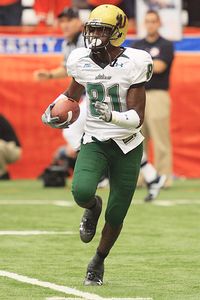 Jerome Davis/Icon SMIDontavia Bogan knows he needs to step up his game this season.
The Bulls' receiving corps was already going to be inexperienced, but the loss of Love -- and later,
Sterling Griffin
to a summer ankle injury -- really thinned the group. Bogan is the only healthy returnee who had more than 10 catches last season.
And even Bogan hasn't put up dazzling numbers. He had 22 catches for 305 yards and four touchdowns last year and now finds himself as the team's No. 1 target. The senior showed his ability in that same spring game, though, catching nine passes for 228 yards and four touchdowns. Granted, it was just a spring game with limited defenses. But it was something.
"I was showing people what I'm capable of doing with the ball," he said. "I've been playing since I was a true freshman, but I spent my first three years in the slot. Now I'm on the edge and should get more touches."
Bogan, who also returns kicks for the Bulls, knew he had a lot of responsibilities to cover this year. So this summer he put on eight pounds, growing to 193 on his 6-foot-1 frame. With a mostly young cast around him -- including sophomores
Evan Landi
,
Lindsey Lamar
and
Derrick Hopkins
and junior college transfer T.J. Knowles -- Bogan has to do more than just produce.
"I'm a senior and the only one with a lot of game experience," he said. "So I have to show them what it's like to play on Saturdays. Tell them how it's going to be tough and how you can't get down on yourself."
"Dontavia has always been a leader," Lamar says, "but he's stepped it up a notch since A.J. got hurt. He's pushing us to be the best we can be."
Bogan has to prove he can make big catches in big games -- he didn't top 50 receiving yards in any Big East contest last year -- and that he is a go-to guy. USF hopes that Love and Griffin can return sometime by midseason. Right now, there remain a lot of questions about the Bulls' receivers, but Bogan thinks the team has answers.
"Tune in September 4th," he said.
April, 20, 2010
4/20/10
8:07
AM ET
One of South Florida's concerns going into this spring was depth at wide receiver and the lack of a bona fide No. 1 target.
That's why the news that
A.J. Love
suffered a torn ACL
in his right knee in Saturday's spring game is particularly painful. Love was one of the team's few experienced receivers and someone who talked about
becoming the go-to guy
this year.
On a personal level, you have to feel bad for Love, who tore his ACL in the other knee during the 2008 St. Petersburg Bowl and worked hard to come back for that. Now his senior year is in jeopardy. We've seen players come back from ACL injuries in five or six months, but it's harder for a receiver who needs his explosiveness and the ability to cut and drive off his legs.
Love said it was about the middle of the season last year before he felt comfortable on his repaired knee. So even if he were ready to go by, say, mid-October, it might not be worth rushing him back to the field. But he has already used a redshirt year, so he'd have to apply for a sixth year from the NCAA to play in 2011.
The Bulls still have
Dontavia Bogan
, who had a huge spring game and now really needs to turn things up as the only experienced receiver.
Lindsey Lamar
and
Sterling Griffin
are speedsters who can get behind a defense.
Evan Landi
is developing as a receiver after switching over from quarterback.
Donald Bowens
is trying to graduate and transfer from NC State, but he didn't set the world on fire with the Wolfpack.
Incoming freshmen will get a longer look now in fall camp. The Bulls were already searching for dependable receivers, and now that search gets a little more difficult.
January, 2, 2010
1/02/10
3:38
PM ET
Instant analysis of the International Bowl, which South Florida
won 27-3
over Northern Illinois:


How the game was won:
The Bulls couldn't get anything going offensively in the first half and went into intermission locked in a 3-3 tie. Northern Illinois kept breaking through the South Florida offensive line and sacked
B.J. Daniels
four times in the half. The second half was a different story completely, as coach Jim Leavitt went to his running game with
Mike Ford
and the line started holding its own. Given more time, Daniels threw two touchdown passes, and the South Florida defense was far too athletic for the Huskies to handle the entire day.
Player of the game:
Mike Ford. The junior running back has been mostly missing in action since a promising freshman season, but he came up with a huge postseason. Ford used his size and speed to rumble for a Bulls bowl-record 207 yards on 20 carries and a touchdown, tilting the game in his team's favor.
Turning point:
Daniels scrambled away from pressure and made a ridiculous 46-yard pass to
A.J. Love
for South Florida's first touchdown with a little more than five minutes left in the third quarter. That seemed to relax the Bulls, and they cruised home from there.
Stat of the game:
Northern Illinois was just 3-of-16 on third- and fourth-down conversion attempts.
What it means
: Not a whole lot. South Florida got its second straight bowl victory and ended the season on a positive note, but beating a MAC also-ran doesn't impress too many people. The attention now immediately turns to coach Jim Leavitt and the school's continuing investigation into his alleged mistreatment of a player. The outcome of that will determine where this team goes next year. The Bulls bring a whole bunch of talented young players back, especially on offense with the electric Daniels at the helm.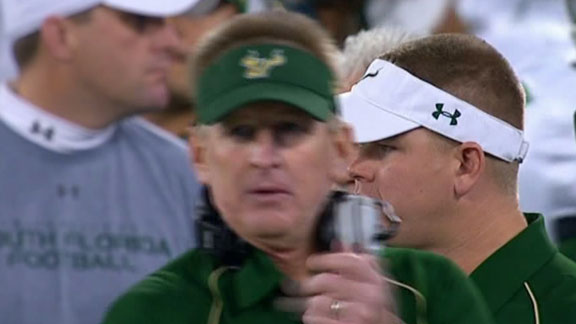 September, 14, 2008
9/14/08
2:24
PM ET
Posted by ESPN.com's Brian Bennett
With only four games this week, the Big East offered more of a community-college summer course than a graduate-level seminar. But we still have some higher education. Let's get our learn on.

1. South Florida has more offensive weapons than ever before.
In years past, the Bulls would have had a hard time keeping up with Kansas on a night when Matt Grothe's running threat was stymied and their top two tailbacks, Ben Williams and Mike Ford, contributed nothing. But Grothe has matured as a pocket passer, and he's got top-flight targets like Taurus Johnson, Jessie Hester and A.J. Love at wideout and Cedric Hill at tight end. And on Friday night, freshman Jamar Taylor stepped in at running back and had 72 yards on 11 carries, including a 13-yard touchdown rumble.
"We've got so many great backs, it's unbelievable," Taylor said.

2. Connecticut has more flavors than just vanilla.
The knock on the Huskies was that they were a boring, ball control team that didn't have enough offensive firepower to beat the truly elite outfits. Saturday's 45-10 win over Virginia may have ended such talk. UConn got another outstanding performance from running back Donald Brown, who had 206 yards on 20 carries and scored three times in three quarters. But more importantly, quarterback Tyler Lorenzen finally looked comfortable, going 13-for-15 for 124 yards and his first passing touchdown of the year. Safety Darius Butler got involved on offense in a few new creative wrinkles, and freshman Jordan Todman added a spark in his debut. UConn was nearly as impressive in pounding Virginia as USC was in Week 1. Its defense and running game will always be there. If the Huskies add in more explosive elements on offense, they just might win the Big East.

3. Rutgers is suffering from an identity crisis.
Are the Scarlet Knights a running team like they were with Ray Rice, or should they go to a wide-open passing game and use the talents of Kenny Britt and Tiquan Underwood, their best two players? They've been somewhere in between in the first two games, doing neither very well, and the results have been ugly to watch. Mike Teel has played horribly at quarterback, and some fans are even wondering whether he should be lifted for the more athletic Jabu Lovelace. Rutgers needs to figure out what it does best and exploit that, or else it's going to be a long season in Piscataway.

4. Syracuse had better beat Northeastern.
Speaking of long seasons. Sadly, there was absolutely nothing in Syracuse's 55-13 loss to Penn State that came as a surprise to anyone. Akron, which beat the Orange at home a week earlier, followed that up by losing at home to Ball State by 17. Syracuse just plain stinks, and if it doesn't dispatch Division I-AA Northeastern this week, it may well go 0-12.

5. The Big East isn't all bad.
OK, so Syracuse and Rutgers contributed to the league's embarrassing losses. But South Florida took out a good Kansas team in an exciting game, and UConn clicked on all cylinders against an ACC team (granted, a bad ACC team, but still). If West Virginia can rebound this week at Colorado, the top tier of the Big East might be worth watching after all.