NCF Nation:

A.J. Marshall
April, 4, 2013
4/04/13
12:30
PM ET
Wake Forest offensive tackle
Steven Chase
is sitting out this spring with a torn ACL. He can't do anything in the weight room. He can't do anything on the field. But he can eat pizza -- which means he can still compete.
Chase fired down four big slices -- the equivalent to half a large pie (according to sources) -- to win the Deacs' pizza eating contest on Wednesday, but that was only part of the afternoon team competitions. There was a belly flop contest between the linemen (congrats, veteran nose tackle
Nikita Whitlock
, for the most fabulous flop). There was a 3-point shooting contest. There was a sled push, dodgeball, tug-of-war, punting and a "sweatshirt swim" in which players swam the length of the pool in a hoodie and then had to take it off and get it onto a teammate quickly to win the race.
Steven Chase wins the Pizza Eating Contest #WFSuperStars twitter.com/COACH_HIMEY/st…

— Jonathan Himebauch (@COACH_HIMEY) April 3, 2013
"The guys had a blast," said offensive coordinator Steed Lobotzke, who helped organize the events with senior receiver
Michael Campanaro
, defensive back
A.J. Marshall
and co-defensive coordinator Brian Knorr.
Chase and his teammates were all #WakeForestSuperStars on Wednesday afternoon in what was one of the most light-hearted, entertaining sessions of the spring in the ACC. The Deacs took a break from the grind of the gridiron and the seniors drafted eight teams, with a full draft board in one of the team meeting rooms. ("Some people were saying people were drafting like Al Davis," said offensive line coach Jonathan Himebauch, "they were just going for the flash.") They then competed in four team events and four individual events, and the winning team (senior tight end
Spencer Bishop
's team) got T-shirts that read: Wake Forest Superstars Champions.
Nikita Whitlock kills the Belly Flop with Perfect Score! #WFSuperStars youtu.be/QAq0vyA4uIE

— Jonathan Himebauch (@COACH_HIMEY) April 3, 2013
"It's a nice break, especially for us as coaches, too," said Himebauch. "We're around our guys all the time, just grinding and going hard with game plans, scheming and practice and workouts that to get the guys in an event like that where it's fun and lighthearted, but also, you really find out who's a competitor, and who by any means is going to try to find a way to win.
"We had guys playing dodgeball and they were on the team but acted like they were out, but had a ball behind their back," he said. "Campanaro came flying out of nowhere and tagged a couple of guys. It's pretty fun."
There were also some sleepers in the competition.
Ryan Bauder
-- a walk-on long snapper and the last man drafted -- won the 3-point shooting contest.
"That was awesome," Lobotzke said.
"He was the darkhorse surprise," Himebauch said with a laugh. "He definitely wasn't a first-round draft pick, but he was a guy who held his own and was a nice surprise."
The event started around 2:30 p.m. and ended about four hours later with a barbeque for the entire team. Make no mistake, the Deacs are working hard this spring to improve upon last year's 5-7 finish. Wednesday's competitions, though, were part of the plan, as a little time for team building now can go a long way later.
"This breaks things up for the fall," Himebauch said. "Spring can be a bit of a grind, but I know the guys like being out there. It's changed their focus and preparation in the offseason, that it's not just same old grind in the weight room. We're doing some things to make it fun, but you also want to see guys compete and you want to see them get after each other."
Steven Chase included.
June, 30, 2011
6/30/11
2:00
PM ET
As advertised ...
1. Florida State:
The Noles have one of the best cornerback duos in the country in Greg Reid and Xavier Rhodes. They combined for 33 passes defended last season, the most of any pair of cornerbacks in the nation. Mike Harris had 41 tackles and four picks as a reserve.
[+] Enlarge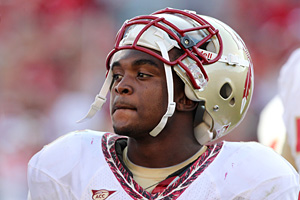 Matthew Emmons/US PresswireFlorida State cornerback Greg Reid is also one of the ACC's top return men.
2. Virginia Tech:
Jayron Hosley is one of the top boundary corners in the country, and the Hokies also have Kyle Fuller, who had six deflections last season, and Cris Hill (two deflections) at field corner.
3. Maryland:
The Terps return both starters in Cameron Chism and Trenton Hughes, who combined for 36 career starts. Chism is a strong cover corner who had 70 tackles and eight deflections last season. Hughes had nine pass deflections.
4. NC State:
Both starters return in C.J. Wilson and David Amerson. Wilson had 46 tackles, two interceptions and six pass breakups, and Amerson had 57 tackles. Justin Byers and Gary Grant also have experience.
5. North Carolina:
The Tar Heels lost some remarkable talent in their secondary, including cornerback Kendric Burney, but there is a lot of depth at the position. Jabari Price started four games last season, Charles Brown has 22 career starts but sat out last season, and Mywan Jackson and Tre Boston both have at least four starts each.
6. Boston College:
The Eagles will miss DeLeon Gause, but Donnie Fletcher has 17 career starts, 56 tackles last season, and led the team with five picks. C.J. Jones played in 12 games as a backup last season with 16 tackles. Dominique Williams also saw some time and had four tackles, and true freshman Al Louis-Jean, who was the No. 9 cornerback in the nation as ranked by ESPN Recruiting, enrolled early.
7. Clemson:
It's a young group, as the Tigers had to replace Marcus Gilchrist and Byron Maxwell. Xavier Brewer had 10 starts with 50 tackles and two interceptions last season, Coty Sensabaugh had 31 tackles in three starts, and senior Mansa Joseph will also be competing for playing time with sophomore Martin Jenkins.
8. Virginia:
The Cavaliers return both starters in Chase Minnifield and Devin Wallace, but Wallace was suspended and missed spring ball and is still suspended. Wallace had 38 tackles and six breakups last season. Chris Broadnax, Rijo Walker, Drequan Hoskey and Pablo Alvarez will all compete for playing time.
9. Miami:
The Hurricanes have to replace both starters in Brandon Harris and Ryan Hill. Jo-Jo Nicholas moved to corner and Brandon McGee, who was the nickel back last season, will compete along with
Lee Chambers
, Keion Payne, Nathan Gholston and true freshman Thomas Finnie, who had a great spring.
10. Georgia Tech:
The Jackets had to replace their entire secondary, including cornerbacks Mario Butler and Dominique Reese. They've still got several cornerbacks with experience in Rashaad Reid, who started 14 games in 2008 and 2009, Rod Sweeting (38 tackles, seven pass breakups, one interception), Louis Young (10 tackles), and Michael Peterson (six tackles, one pass breakup).
11. Wake Forest
: The Deacs have a deep enough secondary that they can live without the experience of cornerback Kevin Johnson, who started five games last season but will sit out this season while academically ineligible. Josh Bush had 33 tackles and four pass breakups last season, Kenny Okoro is a rising star, A.J. Marshall has three starts and Dominique Tate returns after missing last season while on academic suspension.
12. Duke:
Ross Cockrell is a returning starter and finished last season with 60 tackles and 10 passes defended. He was only a freshman but he tied for eighth in the ACC with passes defended with 10 in 12 games. Johnny Williams had four pass breakups last season.
February, 4, 2010
2/04/10
11:02
AM ET
Anyone who has been following Wake Forest football for the past few years knows exactly what coach Jim Grobe means when he says that his 2010
recruiting class
is "a typical Wake Forest class." Translated: It's not going to get a lot of national attention, there aren't a lot of stars or flashy names, but somehow, eventually, they'll develop into players with the potential to, say, beat Florida State three years in a row.
What's different about this year's class is that the Deacs have finally struck some balance, with about half the class expected to contribute on offense and the other on defense.
"For years we were always trying to play catch-up on one side of the ball or another, bringing in a class that was loaded on offense or loaded on defense," Grobe said. "That's been a problem for us since we've been here. We've been a little bit better on one side of the ball or another for a while, and I'd like to get to the point where we have a similar number of seniors on each side of the football and that's what we were able to do a little bit in this class. We're getting to point now where our recruiting classes are not weighted on offense or defense, we're a little more balanced, which I like."
Wake Forest filled its need at defensive back, where it added four players, and Grobe said it's possible a true freshman could see playing time there. Cornerback
A.J. Marshall
is the lone four-star recruit in the group. The staff has also been impressed with early enrollees
Antonio Ford
and
Zachary Allen
. Quarterback
Tanner Price
of Austin, Texas, will also be given a chance to compete right away.
"With Riley [Skinner] gone, certainly we'd like to see one of our kids who have been here earn the job, but I don't think you can count Tanner out," Grobe said.
It's also possible that the Deacs could sneak a new face into the offensive line rotation. Going into spring practice, Russ Nenon had shoulder surgery and won't be available, leaving only nine offensive linemen available. Wake added three in this class.
"We're to the point now where if a kid is good enough to come in and help us, we're not opposed to putting him on the field," Grobe said. "We just don't want to waste his eligibility."