NCF Nation:

Aairon Savage
October, 18, 2010
10/18/10
1:12
PM ET
There's not another player in the SEC who's had worse luck in the injury department than Auburn safety Aairon Savage.

Georgia offensive tackle Trinton Sturdivant would be a close second. But with Savage going down for a third straight year this past Saturday in the Tigers' 65-43 win over Arkansas, you can't help but hurt for the guy.

He's been the essence of resiliency, fighting back every time he was injured.

You're talking about a guy who had to get a waiver from the NCAA just to get a sixth season this year.

He hadn't played in two seasons. He tore his Achilles last year and tore an ACL in 2008.

But he didn't give up hope and started the first six games this season.

So seeing him crumple to the ground in the fourth quarter Saturday brought a hush over a Jordan-Hare Stadium crowd who knew how feverishly Savage had worked just to be able to come back and play football again.

Now, he's out again, possibly for the season after undergoing surgery Monday for an undisclosed injury to his right leg/ankle.

As big as the win was Saturday, Auburn coach Gene Chizik was clearly shaken about Savage's situation.

"Seeing him [Saturday night] and talking to him [Sunday], the only thing I can say is your heart goes out to him, just what he's been through," Chizik said. "But he's a tough guy, and he will move past this like he has all the other things.

"That one was a hard one to look at."

Even on a team where everything has gone so right this season, it's a reminder that there can be a very steep price sometimes for playing this game.
October, 17, 2010
10/17/10
10:28
AM ET
It's been that kind of season so far in the SEC.
Just when you think everything might be starting to take shape, the next weekend rolls around and the landscape changes again.
This much is for sure: We're in for one wild ride the rest of the way.
Here's a look at what we learned in Week 7:
[+] Enlarge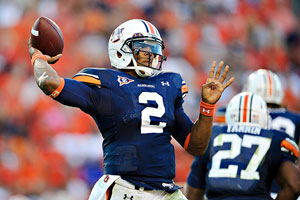 Paul Abell/US PresswireCam Newton rushed for three touchdowns and threw for another in Saturday's win.
1. Newton for Heisman:
As fate would have it, the seventh week of the season a year ago was when a player from the state of Alabama thrust his name to the top of the Heisman Trophy charts with a signature game. Alabama's
Mark Ingram
had 246 yards rushing in a 20-6 win over South Carolina, a performance that announced to the college football world once and for all that Ingram was the real deal. We all know how that turned out. Fast forward to this past Saturday -- the seventh week of the 2010 season -- and it was Auburn's
Cam Newton
making perhaps his strongest case yet why he's college football's most outstanding player with 328 yards of total offense, three rushing touchdowns and one passing. There's nobody else in the country quite like Newton. For that matter, it's debatable whether or not there's ever been anybody quite like him in the SEC. You're talking about a 6-foot-6, 250-pound quarterback with tailback speed, tailback moves and an NFL-caliber arm. But what sets him apart is his toughness. In his past two games, he's carried the ball 53 times. Auburn offensive coordinator Gus Malzahn said following the 65-43 win over Arkansas that there was really no way of knowing just how tough Newton was in the preseason because they didn't allow him to be hit. Well, he's doing the hitting now. Just ask Arkansas linebacker Jerico Nelson, who was flattened by Newton on his way to his first touchdown run.
2. Passing on by the Tigers:
For everything Auburn has done right this season, the Tigers still haven't stopped anybody who can throw the football. They were shredded by Arkansas' passing game on Saturday, and that's something that needs to get fixed in a hurry as they turn their attention to LSU. But here's the catch: LSU throws the ball as poorly as Auburn defends the pass. The Tigers managed all of 103 passing yards and no touchdown passes against McNeese State in a 32-10 win. Auburn, meanwhile, was busy giving up 428 passing yards and five touchdown passes to Arkansas in a 65-43 win, and most of those yards were generated by the Hogs' backup quarterback,
Tyler Wilson
. Time and time again, Wilson completed passes over the middle or down the field, and there wasn't a safety in sight. It doesn't help the Tigers any that senior safety Aairon Savage went down in the fourth quarter with what appeared to be a significant injury. The Tigers hadn't given up a lot of big plays on defense until the Hogs exposed them on Saturday. The other thing to consider is that Auburn won't see another passing game as explosive as Arkansas' the rest of the way, but you can bet that teams will be putting it in the air against the Tigers until they prove they can stop it.
3. Bulldogs believing:
It's official. Mississippi State is the SEC's most improved team. The Bulldogs (5-2, 2-2) have won four straight games, and they're doing it the old-fashioned way with physical, bloody-your-nose football. In taking down Florida 10-7 on Saturday, Mississippi State ran the ball 49 of its 58 plays and had 24 straight running plays at one point to finish with 212 yards on the ground. Dan Mullen has this program on the move, and a big part of that has to do with the mindset he's instilled in Starkville and the way he's hired. His staff has done an excellent job, highlighted by what John Hevesy has done with the offensive line and what Manny Diaz has done with the defense in his first season as the Bulldogs' defensive coordinator. Mississippi State was third in the league in rushing offense going into the Florida game, and the Bulldogs have now held five of their seven opponents to 17 points or fewer. When you can run the ball on offense and limit teams' scoring on defense, you're going to win a lot of games.
4. Spread ain't working:
Something's gotta give at Florida. That offense is wretched, and watching the Gators try to run that spread offense with
John Brantley
at the helm is like watching a toddler repeatedly trying to jam a square peg into a round hole. It doesn't fit, and it's not going to fit. Brantley simply doesn't fit that offense, and this isn't a pile-on-Brantley thing, either. After all, the guy's a drop-back passer. That's what he does and does well. Anybody who's seen him throw it knows he can, which leads us to the most obvious question: What happened to tweaking that offense and molding it around what Brantley does best? Right now, the Gators don't have anything to hang their hat on offensively. They can't run the ball. They can't throw it, and they're asking their quarterback to do things he can't do. And, yes, the play calling lacks the creativity we're used to seeing out of Florida's offense, which brings up another point. Offensive coordinator Steve Addazio is getting fleeced by the fans right now. But it's Urban Meyer's offense, Meyer's team and Meyer's responsibility to get a lot more than he's getting right now out of a team loaded with four- and five-star prospects.
5. Least of the East:
Does anybody want to win the Eastern Division? South Carolina's 31-28 loss to Kentucky and Florida's 10-7 loss to Mississippi State means that all six teams are mathematically alive … and we're in the latter half of October. In the previous two seasons, Florida was on the verge of wrapping this baby up by now. The only three teams in the East that control their own destiny at this point are Florida (4-3, 2-3) South Carolina (4-2, 2-2) and Vanderbilt (2-4, 1-2), if any of those three can win out. It's safe to say the Commodores aren't going to win out. But at this rate, it's probably safe to say that nobody in this division is going to win out, which would really throw things into a jumbled mess. Ultimately, South Carolina's visit to Florida on Nov. 13 will probably determine who goes to Atlanta, but Georgia is also lurking in the shadows after being left for dead as recently as two weeks ago. Should the Bulldogs win their remaining three SEC games against Kentucky, Florida and Auburn, they could win the East if South Carolina loses two of its remaining four games to Vanderbilt, Tennessee, Arkansas and Florida. Even Kentucky, which has lost two of its three SEC games by a touchdown or less, still has some life. Should the Wildcats win out against Georgia, Mississippi State, Vanderbilt and Tennessee, they would own the head-to-head tiebreaker with South Carolina if the two of them finished deadlocked in a two-way tie. That would entail South Carolina beating Florida, but losing to either Arkansas, Tennessee or Vanderbilt. A lot to digest, for sure, but something says this is a race that's only going to get more convoluted as we go forward.
May, 20, 2010
5/20/10
12:30
PM ET
If you're looking for the SEC team with the most seniors in key spots next season, look no further than the Plains.
The team Auburn puts on the field in 2010 will easily be one of the most experienced in the league. The Tigers return 14 projected senior starters, including four returning starters in the offensive line, four starters in the front seven on defense from a year ago and both kickers.
[+] Enlarge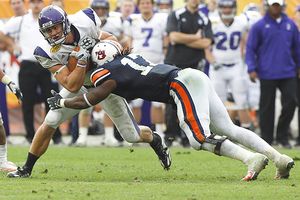 Kim Klement/US PresswireLinebacker Josh Bynes, who led the team in tackles last season, is one of seven seniors on defense.
All told, the Tigers list 24 seniors on their roster.
And while quarterback Cameron Newton will be a first-year starter, he's projected to have five senior starters around him.
Defensively, senior safeties Zac Etheridge, Aairon Savage and Mike McNeil aren't all necessarily projected as starters as they try to bounce back from serious injuries, but just having them on the practice field every day and in the locker room should be invaluable as the Tigers try to make their move in the Western Division next season.
Granted, a surplus of seniors doesn't guarantee you anything in this league. But senior linebacker Josh Bynes said it's the right kind of seniors that makes up this class, which is why he's so eager for the fall to get here.
"It gets back to experience and leadership, having guys who've been there and gone through the things we have," said Bynes, who led Auburn with 104 tackles last season. "We have a lot of seniors, a lot of guys who've played now on this defense. The chemistry is going to be tremendous. When we get the numbers right, and we will, I can't wait to see what this defense can do."
At linebacker, that means more numbers, which is where incoming freshmen LaDarius Owens and Jake Holland could come in handy in the fall. Freshman linebacker Jessel Curry is already on campus and went through spring ball, while the Tigers plan to move sophomore Daren Bates from safety to outside linebacker.
Bates missed the spring while recovering from shoulder surgery, but was a hitting machine during his freshman season as one of the best freshman safeties in the SEC.
"We're much better equipped [to make a run for the title] for a lot of reasons," Bynes said. "It's our second year under coach [Gene] Chizik, and we have veteran guys who've done it before and know what it takes in this league.
"Our expectation level is high. The second year, a lot of guys are coming back and we're very focused. Coach Chizik has been very demanding, but we've been very demanding.
"I think we're up to the challenge."
One thing to keep in mind is that the Tigers have to play 11 straight weeks again in 2010 before they get a bye. That grind wore on them last season, which no doubt contributed to their losing five of their last six SEC games.
But that's where the added depth -- and a senior-laden roster -- should help when they get in the throes of that gauntlet next season.
"I know we'll respond better, because we've all been through it," Bynes said. "We know what to look for. We know how to handle it. Plus, we're going to be fresher for that final stretch."