December, 28, 2009
12/28/09
9:53
AM ET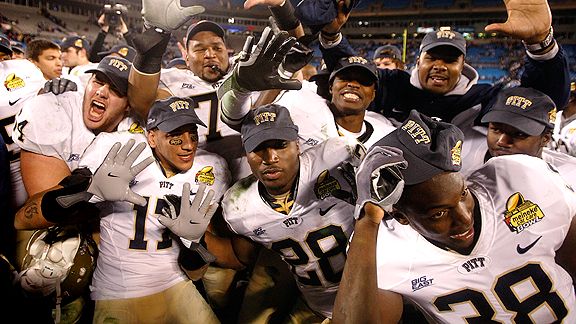 Streeter Lecka/Getty Images Pitt could be one of the early Big East favorities in 2010 following their win against North Carolina.
The Big East is 2-for-2, and Pitt's
19-17
win over North Carolina was pretty impressive, considering it came in basically a road game in Charlotte at the Meineke Car Care Bowl.
The big news was that the Panthers notched their first 10-win season since 1981, though that Dan Marino-led team went 11-1 instead of 10-3. Still, it represents progress for Dave Wannstedt's program and gives Pitt something to build upon.
"Ten wins separates you, and I don't think these guys know what they have accomplished here tonight and probably won't for a few weeks or a month or however long," Wannstedt said. "I think that people know that we are back as a program, and you have to go out and prove it. You have to show up and you have to play and you have to win games like this."
On Wednesday, I presented
three keys
for Pitt in this game: Make North Carolina's offense work to score instead of giving up a special teams or defensive big play; protect quarterback
Bill Stull
against the heavy Tar Heels pass rush and get tight end
Dorin Dickerson
involved.
While North Carolina put together a couple of nice drives, its offense finished with just 264 total yards. Stull didn't throw any interceptions and Pitt didn't give up any damaging special teams plays. The Pitt offensive line yielded two sacks, but Stull had plenty of time most of the day and the Panthers won the battle up front. Dickerson had four catches for 21 yards but dropped a touchdown pass early. He just hasn't looked the same the last three games, and you have to wonder if he's fully healthy.
But
Mike Shanahan
stepped up with five big catches, including some tough ones over the middle, and it looks like he can be the key possession receiver to
Jonathan Baldwin
's deep threat next season. Combine that with another year from the amazing
Dion Lewis
, and that's an awfully good start for 2010, even if Pitt has to replace three offensive line starters and break in a new quarterback.
It was good way for the Panthers to end things after they lost their last two regular-season games in the final minute. Of course, they also beat UConn in the final seconds, so the odds probably worked out. This game will long be remembered by Pitt fans for the 17-play, 8:47 drive that led to the winning field goal. To do that against the No. 6 rated defense in the FBS was particularly special.
"The series or two before we came unglued a little bit," Wannstedt said. "We were not lined up, we were hurrying a bit, we had a bad snap, we had a penalty. So our guys went out there and there was no room for error. For our guys to go out there and complete that many plays in a row for the most part successfully says a lot about the focus and discipline of our kids."
Pittsburgh should wind up in the Top 15 and should be ranked to start next season despite some major personnel losses, including Stull, Dickerson, those O-linemen, defensive tackle Mick Williams, linebacker Adam Gunn and cornerback Aaron Berry. Junior defensive end Greg Romeus could opt for the NFL as well. But in addition to the offensive core I mentioned earlier, the Panthers still have rising young talent like linebacker Dan Mason, who grabbed a crucial interception at the goal line.
You have to make Pitt one of the early favorites in the Big East in 2010. Totally different feeling than after last year's Sun Bowl, huh?
December, 5, 2009
12/05/09
11:54
AM ET
PITTSBURGH -- The snow has really picked up here at Heinz Field, but again, it's not accumulating on the field. It shouldn't have too much of an effect on the game.


Pitt corner Aaron Berry looks fine in warm-ups. He missed the West Virginia game with a shoulder injury and is vitally important to the Panthers' chances of slowing down the Cincinnati passing attack. Expect to see a lot of Elijah Fields in the nickel package as well.
There's a palpable buzz in the stadium, which isn't always the case here, especially for noon games. Should be a great atmosphere appropriate for this game.
Some other notes to consider, courtesy of ESPN Stats & Information:
Since Brian Kelly became head coach, Cincinnati is 32-0 when leading going into the fourth quarter.
Seemingly no third down is too long for Cincinnati to convert. The Bearcats lead the nation by averaging 8.25 yards per play on third downs this season.
Pitt has been one of the most productive teams on first downs this season, averaging over seven yards per play.
November, 14, 2009
11/14/09
9:20
PM ET
Notre Dame has rarely been this ineffective on offense.
With a little more than five minutes left in the half, the Irish have only 104 yards and three points.
Credit the Pitt defense. The Panthers' front seven has been dominating, getting lots of penetration and wrapping up ball carriers. The defensive backs have been good too, with Jarred Holley picking off
Jimmy Clausen
and Aaron Berry making a big pass break-up.
Things couldn't be going better for Pitt -- defensively. The Panthers have been out of rhythm offensively ever since the first drive. They have seemed to take a while to get going this season, but they need to start putting points on the board, because Clausen and Co. likely won't be quiet all night.
August, 14, 2009
8/14/09
9:00
AM ET
Posted by ESPN.com's Brian Bennett
The Big East doesn't put out an official preseason all-conference team. But I do. Below are my picks for the best in the league for 2009. Pittsburgh leads the way with six selections.
Offense
QB Tony Pike, Cincinnati
RB Noel Devine, West Virginia
RB Victor Anderson, Louisville
WR Mardy Gilyard, Cincinnati
WR Jonathan Baldwin, Pittsburgh
OT: Anthony Davis, Rutgers
OG: John Malecki, Pittsburgh
C: Ryan Blaszczyk Rutgers
OG: Art Forst, Rutgers
OT: Jason Pinkston, Pittsburgh
TE: Nate Byham, Pittsburgh

Defense
DE: George Selvie, South Florida
DT: Arthur Jones, Syracuse
DT: Scooter Berry, West Virginia
DE: Greg Romeus, Pittsburgh
LB: Ryan D'Imperio, Rutgers
LB: Scott Lutrus, Connecticut
LB: Reed Williams, West Virginia
CB: Aaron Berry, Pittsburgh
CB: Brandon Hogan, West Virginia
S: Nate Allen, South Florida
S: Robert Vaughn, Connecticut
Specialists
P: Rob Long, Syracuse
PK: Jake Rogers, Cincinnati
KR: Mardy Gilyard, Cincinnati
PR: Jasper Howard, Connecticut

May, 21, 2009
5/21/09
11:00
AM ET
Posted by ESPN.com's Brian Bennett
We've talked about guys who've had big springs, guys who might emerge and guys who came out of nowhere.
But there were also players who missed all or part of the spring because of injuries, suspension, academics or whatever. And several of them are key parts to their team. Here's a look at some players who need to come through this fall after being absent for at least part of spring ball.
Cincinnati: Linebacker Andre Revels was held out of most of the spring after minor offseason knee surgery. The senior is one of the few experienced players on the Bearcats' defense and will be counted on this fall. Young defensive back Dominique Battle was expected to compete for a starting cornerback job this spring but was sidelined at times with an ankle injury.
Connecticut: The Huskies were remarkably injury- and issue-free this spring. They'll hope that continues this fall.
Louisville: The Cardinals are a different team offensively when receiver Scott Long is healthy. Unfortunately, he missed most of last season with injuries and sat out the spring following ACL surgery. He should be good to go in the summer.
Pittsburgh: Starting cornerback Aaron Berry was suspended for the final part of spring drills for violating team rules. Pitt needs him to have his act together and be on the field.
Rutgers: The Scarlet Knights had a lot of important players miss time this spring with various injuries, including safety Joe Lefeged, leading returning rusher Kordell Young, running back Jourdan Brooks and several of their young receivers.
South Florida: Seemingly every offensive linemen the Bulls missed time with an injury or another problem this spring. Obviously, Jake Sims (finger), Zach Herman (concussion), Sampson Genus (knee) and Jeremiah Warren (academics) all will be needed in the fall for South Florida to contend.
Syracuse: First-team all-Big East defensive tackle Arthur Jones tore his pectoral muscle before the spring and was unavailable. The timetable for his return isn't clear, but Syracuse would have a hard time without him.
West Virginia: The Mountaineers could use Jock Sanders back in the lineup. The speedy receiver/running back was suspended for the spring after a DUI arrest. He will try to return to the team once he completes his court case.
April, 2, 2009
4/02/09
9:58
PM ET
Posted by ESPN.com's Brian Bennett
PITTSBURGH -- Some observations from a beautiful spring day spent watching Pitt practice:
• The Panthers turned in a spirited, two-plus hour workout that included lots of 11-on-11 drills. The talent that Dave Wannstedt has assembled through recruiting is obvious, as this is a team chock full of athletes.
The big question mark remains at quarterback, and none of the three contenders had a great day. Part of the blame can be placed on a blustery wind that made long throws an adventure, but the quarterbacks struggled to complete passes even in skeleton drills.
Bill Stull
got the first-team snaps, with
Pat Bostick
on the second team and
Tino Sunseri
running the threes. Sunseri is the best athlete, but he's smaller in person than I expected. He's listed at 6-foot-2 but looks a good couple of inches shorter than Stull and Bostick, who are each listed at 6-3.
• Interesting developments on the offensive line. Alex Karabin, a junior walk-on who played primarily on the kicking unit last year, took the first-team reps at center. Robb Houser started there the first seven games of 2008 before breaking his ankle. Houser was playing on the second team. Sophomore Chris Jacobsen got a lot of run today with the first-string as well.
• Wannstedt told me earlier in the day that he was preparing to use a committee approach at running back this year. But true freshman Dion Lewis, who enrolled in January, got most of the looks with the first team and could very well end up as the starter there. He's explosive and made some nice plays in the passing game. The run of the day, though, came from
Shariff Harris
, who dashed up the middle almost untouched for a 45-yard touchdown.
•
Greg Cross
has been moved to receiver and had a long touchdown catch on a busted coverage. The Panthers are deep at wideout, even with
T.J. Porter
currently suspended.
Aundre Wright
is lightning quick.
• Watching Aaron Berry and
Jonathan Baldwin
match up was a lot of fun. Each has a chance to be the best in the Big East at his position this fall.
• Defensive end Greg Romeus isn't going through contact drills right now because of a back problem, and after practice defensive coordinator Phil Bennett was busting his chops for missing so much practice time. "You might end up as a three technique," Bennett joked.
• Basketball coach Jamie Dixon watched practice from the sidelines, less than a week after his team's heartbreaking, last-second loss to Villanova in the Elite Eight.
March, 30, 2009
3/30/09
9:41
AM ET
Posted by ESPN.com's Brian Bennett
Aaron Berry has known LeSean McCoy since he was 5 years old. The two starred on the same Harrisburg, Pa., high school team. They talked about their dreams to play in the NFL as long as Berry can remember.
| | |
| --- | --- |
| | |
| | Don Wright/US Presswire |
| | Aaron Berry feels that he can keep up with any receiver in the country. |
So when McCoy opted to enter next month's draft after being projected as a high-round pick, Berry had all the motivation he needed.
"I want to make me some money, too," he said. "I want to go out and show what I can do this year."
Pittsburgh's senior cornerback has two words posted all over his room: consistency and finish. He believes those are the keys for him to rise from very good college player to can't-miss pro prospect.
There's no reason Berry shouldn't be among the best or even the premier cornerback in the Big East this season. After all, stars like Cincinnati's Mike Mickens and DeAngelo Smith, Connecticut's Darius Butler and West Virginia's Ellis Lankster are all gone. Berry is a three-year starter who was named second team all-conference last season.
"He has great feet, great change of direction, the fast twitch you need to play corner and very good instincts," Pitt secondary coach Jeff Hafley said. "He's so talented athletically. Now he just needs to put it all together.
Berry and his coach will tell you that all that potential hasn't been fulfilled over a full season yet. During the first half of last season, teams were able to throw Berry's way, culminating in the disastrous 54-34 loss to Rutgers when the Scarlet Knights passed for 371 yards and six touchdowns. He also had a key fumble on a punt return that stymied a second-half comeback attempt.
The defeat was nowhere near all Berry's fault, and Rutgers torched several Big East teams through the air in 2008. But it became a turning point for him and the team.

"I felt that game was on me," he said.
Pitt's pass defense toughened the second half of the season, and Berry earned his all-league honors down the stretch. Two of his three interceptions came in the Panthers' final two games, and only one of their final five opponents managed to reach 300 yards passing.
"His last four games were excellent," Hafley said. "If he can start this season where he left off, the sky's the limit for that kid."
Hafley has repeated the word "finish" into Berry's ears ever since the end of last season. He says that Berry almost always has perfect coverage and is in spots where he can make a big play. Now he needs finish more of them off with a pass break-up, interception or key tackle. Hafley told Berry that no receiver should make a catch on him in practice, not even budding star Jonathan Baldwin.
"I'll be in the right position, but sometimes I get lackadaisical and I don't want to finish," he said. "That's what I have to do in order to get to the next level. That's what the scouts are looking for."
All but that every-down consistency is in place. Berry exudes the confidence that any cornerback worth his salt needs. When asked if he felt he could cover any receiver in the Big East, he replied, "Oh, definitely. Not just the Big East, but any receiver in the country."
And though he's average-sized for a corner at a listed 5-foot-11 and 175 pounds, Berry can bring the thunder.
"He's not the biggest kid in the world, but he's tough and he will tackle," Hafley said. "I remember two years ago at West Virginia, he made two open-field tackles on Steve Slaton when it looked like Slaton was gone. But he got him down."
Toward the end of last season, Berry said he started buckling down harder in practice and spending more time in the film room. Hafley has noticed him asking more questions this spring and paying closer attention to detail.
Berry knows this is his last go-round at Pitt. And if he wants to get to where his childhood friend McCoy is going, it's now or never.