January, 1, 2014
Jan 1
10:00
AM ET
UCF and Baylor face off in the Tostitos Fiesta Bowl tonight, with the Bears the heavy favorite. But that doesn't mean UCF has no shot to win its first BCS game in school history. Here are 10 reasons the Knights have a shot in Arizona tonight.
1. In a game defined by quarterbacks, UCF has an edge.
[+] Enlarge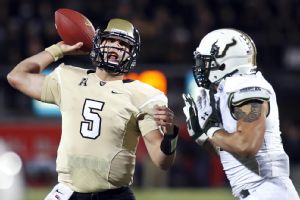 AP Photo/Reinhold MatayWhile UCF might be a big underdog against Baylor, the Knights arguably have a better quarterback in Blake Bortles.
Bryce Petty
is exceptional, but it's UCF's
Blake Bortles
who might be the country's hottest quarterback. In his last seven games of the season, he completed 70 percent of his throws, accounted for 17 touchdowns and threw just four INTs. He's a rising star, and he's more than capable of putting on a show on the big stage.
2. UCF can win time of possession.
The best way to slow Baylor's offense might be keeping it off the field. UCF can do that with a stellar running game, led by former top recruit
Storm Johnson
. The Miami transfer had nearly 1,300 yards from scrimmage and 14 touchdowns this season.
3. Nobody believes in the Knights.
It's been nearly a month since the season ended for Baylor and UCF, which means plenty of time for both teams to read the press clippings. Baylor is the heavy favorite, and everyone is picking the Bears to win. UCF is the decided underdog, and that lack of respect figures to add some extra fuel to the fire.
4. The Knights are better than you think.
UCF gets dinged because of its conference affiliation, but that doesn't mean the Knights don't have talent. They handed Louisville its only loss of the season and came up just three points shy of toppling No. 9 South Carolina. They also went into Happy Valley and upended Penn State, so even a hostile environment doesn't intimidate the Knights.
5. Fundamentals matter.
Baylor is explosive, and its combination of speed at both running back and receiver allows the Bears to stretch the field and clear space. That puts an emphasis on tackling, and that's where UCF could excel. The Knights have a fundamentally sound D, and Petty said the film shows a unit more than capable of running sideline to sideline.
6. O'Leary knows what he's doing.
UCF may be a newcomer on the national stage, but head coach George O'Leary is as old-school as they come. He's coached his share of big games, beaten his share of big-name schools, and he'll have his team prepped for Baylor. More important, he's had the better part of a month to study the Bears' tendencies and get a good game plan in place.
7. Second-half magic.
If the game is close down the stretch, the advantage might belong to UCF. The Knights have won six times this year after trailing in the second half, they're 7-1 in games decided by a touchdown or less, and Bortles is among the nation's top QBs when trailing late in games. Baylor, meanwhile, has played just one close game all season.
8. The Oklahoma State effect.
Through the first nine weeks of the season, Baylor looked unbeatable, scoring 60-plus points six times. Then the Bears traveled to Oklahoma State and were smoked 49-17. They've averaged just 29 points in their past three, including barely edging a bad TCU team. UCF has had a month to review the tape from Oklahoma State and mimic what the Cowboys did so well to slow Baylor down.
9. The kicking game.
OK, so it'd be a bit of a surprise if this game comes down to a field goal, but if it does, UCF's
Shawn Moffitt
is as good as they get. He's connected on 20 of 22 tries this year, including 4 of 5 of 40 yards or more. Baylor's
Aaron Jones
, on the other hand, is just 14-of-22 this season.
10. Tigers are never wrong.
A tiger at the Phoenix Zoo picked UCF
. And who's going to argue with a tiger?
November, 24, 2012
11/24/12
6:42
PM ET
Art Briles remembers the first time he led Baylor to a bowl game. It took a rain delay and a dramatic win over Kansas State that had him chuckling years later about the world never making it easy.


Baylor's
52-45
win on Saturday over Texas Tech had to feel pretty similar. It wasn't easy. This time, it even took extra possessions in overtime after a missed 48-yard field goal by
Aaron Jones
as time expired, his third miss on four attempts in the game.
Still, add it all up and you get six wins for Baylor and a third consecutive trip to a bowl game for the first time in school history. Fresh off last week's upset of No. 1 Kansas State, the Bears rescued what once felt like a lost season and an 0-4 start in Big 12 play to reach the postseason yet again.
Baylor's defense won the game with a turnover on downs in the bottom half of the first overtime, surviving a wild game with four fourth-quarter lead changes and an unlikely interception from Texas Tech quarterback
Seth Doege
off his offensive lineman's helmet that set up Jones' miss as time expired.
Terrance Williams
stated a strong Biletnikoff Award case with a week left in the season, grabbing seven balls for 175 yards and a touchdown. Texas Tech's
Darrin Moore
had a big game of his own, besting Williams with 13 grabs for 186 yards and two touchdowns, both in the fourth quarter to put the Red Raiders ahead.
It wasn't enough, though, and last year's Heisman winner -- Robert Griffin III -- was one of the first players on the field to celebrate with the Baylor defense, which made a stop that will be remembered for a long time in Waco. The Bears have a chance to win a seventh game next week against Oklahoma State. But for now, it's time to celebrate.
Nick Florence
finished 22-of-37 for 396 yards and three touchdowns.
Lache Seastrunk
had another big game, rushing for 136 yards on 19 carries.
Glasco Martin
added 98 yards and two scores on his 23 carries, including the game-winning score in overtime.
After a 14-point loss to Iowa State back on Oct. 27 to fall to 3-4, almost no one gave the Bears a chance to reach six wins. Baylor got itself up off the mat and proved the doubters wrong. Now, the Big 12 will have 90 percent of its teams bowl eligible.
I have to think that's a first.
September, 6, 2011
9/06/11
11:11
AM ET
Baylor quarterback
Robert Griffin III
and Texas A&M defensive end Tony Jerod-Eddie took home offensive and defensive player of the week honors in the Big 12 this week.
Baylor kicker Aaron Jones and Oklahoma State kicker/punter Quinn Sharp shared the special teams award for Week 1.
Griffin III completed 21 of 27 passes for 359 yards and a career-high five touchdowns in Baylor's 50-48 upset of No. 14 TCU. It was Baylor's first win over a ranked team since 2004 and its first win over a top 15 team since 1991. Here's
video with Griffin after the game
.
Jerod-Eddie had just two career sacks entering this week's game against SMU. In the 46-14 win, he made three of Texas A&M's eight sacks, and finished with six tackles. Here's
video with Jerod-Eddie on his thoughts about the game
.
Jones made a 37-yard, game-winning field goal to beat TCU on Friday night, and took over kickoff duties in the second half for a struggling Baylor special-teams unit. TCU's average starting position on his kicks was the 18-yard line. Here's
video with Jones talking about his historic kick
.
Sharp does everything for Oklahoma State and did it all well in a 61-34 win over Louisiana-Lafayette. He made all four field goal attempts (46, 27, 22 and 23 yards) and made all six of his extra points. He also had punts of 48 and 52 yards on his only two attempts, and notched touchbacks on all seven of his kickoffs. He's led the nation in touchbacks the last two seasons.
September, 2, 2011
9/02/11
11:54
PM ET
WACO, Texas -- Baylor was down, but one thing didn't change: It still had the best player on the field.


Robert Griffin III
extended the winning drive with a gutsy catch on a double pass over the middle of the field and brought Baylor back into TCU territory.
Aaron Jones
finished the drive with a pressure-packed 37-yard field goal that proved to be a
50-48 game-winner for the Bears
, who squandered a 24-point fourth quarter lead.
Mike Hicks sealed the game with an interception.
My question: Which comeback was more impressive?
I'm headed down for interviews. We'll have plenty more right here as the night continues.
December, 28, 2010
12/28/10
1:15
PM ET

1. Robert Griffin III has to look to run, but not force it.
Baylor's offense really gets going when Griffin breaks a defense's contain, and the quickest way to beat the Bears is to limit Griffin's legs. TCU did it early in the season and beat the Bears 45-10. Oklahoma State did it as well. Griffin can't look explicitly to run the ball, but if the opportunity is there, he'd be well served to take it. When defenses constantly have to account for Griffin as a runner, it makes his already excellent accuracy as a passer even more dangerous and even more difficult to defend.
2. Wrap up when they get the chance.
Illinois' zone-read scheme with running back
Mikel LeShoure
and
Nathan Scheelhaase
and is hard enough to defend, but anytime Baylor defenders aren't fooled by the fake, someone has to make a play and wrap up while the defense swarms. The Fighting Illini demand teams play assignment football, and part of that assignment is making a tackle and limiting yards after contact. Racking up broken and missed tackles is the surest way for the Bears' defense to put tons of pressure on its offense. Do that, and Baylor will be waiting until next year for another chance to celebrate a bowl win.
3. Cash in when the opportunity arises.
Some games, like
Texas A&M's win over Nebraska
this year, can be won with field goals. This certainly won't be one of them. The over/under for the Texas Bowl is 63 points, and for the Bears, capitalizing in the red zone is a must in a game like this. That's especially true considering Baylor's field goal kicking struggles late in the season. Freshman Aaron Jones looked like one of the Big 12's best kickers early in the season, but suffered through a disastrous 1-for-4 night with a missed extra point in a loss to Texas A&M. Baylor would be well served to get it across the goal line rather than leave it up to special teams.
October, 29, 2010
10/29/10
10:13
AM ET
Oh yes, it's a holiday weekend, and it's football season. That means a theme post. Don't fight it, it's already here. Just give in.
Here are a few Halloween honors heading into this weekend's games.
Scary movie:
This one goes to the team with the worst loss this season. It was a warning of things to come, but who pegged
Texas
to get rolled by three touchdowns at home to a weak UCLA team?
Trick-or-Treat:
This award goes to the game featuring the most to gain or lose. There's no question it's happening this weekend between
Nebraska and Missouri.
The winner could glide into the Big 12 championship game, favored in each of its final four games, and Missouri could be five games from a possible national title game appearance. Lose, and the division title slips out of each team's hands.
Wizardry:
This award goes to the league's most "spellbinding" player so far this season. He's not only the most productive, he's the most exciting, even though he'll be sitting out this weekend. Oklahoma State receiver
Justin Blackmon
will run past you, run through you or jump over you. Either way, he's coming down with the ball.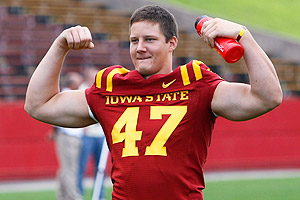 AP Photo/Charlie NeibergallIowa State linebacker A.J. Klein has quietly had a monster season.
Ghosts, Goblins, Ghouls:
This one goes to three guys putting up good seasons, but doing it under the radar. Iowa State linebacker
A.J. Klein
is a first-year starter, but he leads the Big 12 with 86 tackles. No other player in the league has more than 79. Texas A&M has had a disappointing season, and so has its quarterback,
Jerrod Johnson
. Top receiver
Jeff Fuller
hasn't. He's third in the league with 687 receiving yards, behind only Blackmon and
Ryan Broyles
. His nine touchdown grabs are also third in the league, behind only Blackmon and Texas Tech's
Lyle Leong
.
Aaron Jones
at Baylor has already kicked a league-high 16 field goals, hasn't missed any of his 31 extra points and is sixth in the Big 12 in scoring.
Cursed -- Texas A&M:
Johnson looks like he's fallen victim to the curse of the Texas A&M senior quarterback. First there was Mark Farris in 2002, followed by Reggie McNeal and Stephen McGee. Johnson ended up splitting time with
Ryan Tannehill
last week, and might not even finish the season as his own team's starter after opening it as the Big 12's Preseason Offensive Player of the Year. Johnson underwent offseason shoulder surgery and says he feels fine. His play argues otherwise. He only threw eight picks all of last year, but tossed as many in two games earlier this year in a near loss to Florida International and a last-second loss to Oklahoma State. All three of Texas A&M's losses have come to ranked teams, but they never thought they'd have three this early in the year.
Halloween costume:
Somebody get
Taylor Martinez
a "
The Flash
" costume! Ironic that he's the one who could do it the fastest, though, no?
Monster Mash:
This one goes to the league's scariest matchup. How about anyone against
Nebraska's running game
? The Huskers have three of the league's top 10 rushers, in Martinez,
Roy Helu Jr.
and
Rex Burkhead
. No other team has more than one.
Thriller:
The most exciting play of the season so far? Dan Bailey's game-winning field goal against Texas A&M, but no single play had the "What just happened?" factor of
Missouri kick returner Gahn McGaffie's 86-yard touchdown
to open the game against Oklahoma. It also had the most impact, helping send Missouri five spots up the BCS rankings and precipitated a double-digit jump in the human polls. Of course, it might not have been possible without
T.J. Moe
's 68-yard catch-and-run, go-ahead touchdown in the final minute against San Diego State, highlighted by three Aztec defenders giving each other their best shots while Moe ran free.
Jason Vorhees
--
Iowa State won't die:
Utah tried its best. So did Oklahoma. But there they were, celebrating inside a Texas visiting locker room to the surprise of everyone. Let's see what these resilient Cyclones have in store for the rest of the season.