NCF Nation:

Aaron Wallace
April, 2, 2014
Apr 2
5:30
PM ET
One of the ways a football team transitions from a group of wishful maybes to a sense of near-ontological certainty is when its collection of spring practice questions becomes mostly an array of appealing potential options.
So we have
UCLA
as it transitions from an underachieving program (1999-2011) to a good one (2012-2013) to one that has the makings of a national contender in 2014.
[+] Enlarge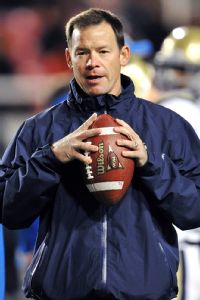 Gene Sweeney Jr/Getty ImagesWith few questions to answer this spring, Jim Mora has the makings of a special 2014 season with UCLA.
While the Bruins have questions on their depth chart, there isn't any particular area of vexing concern. The five positions where starters need to be replaced seem likely to be filled by promising athletes with playing experience. If those more veteran players don't rise to the fore during spring practices, that mostly speaks to the program's strong recruiting under Jim Mora.
Further, it's reasonable to project that those 20 or so freshmen and sophomores who saw significant playing time last year will physically and mentally mature into their primes.
There simply aren't any worrisome voids on this team.
As in:
There are, of course, important questions.
Is defensive end
Owamagbe Odighizuwa
fully healthy? He told reporters Tuesday that he is. So then is the former A-list recruit ready to break through as a senior?
What does LB/RB
Myles Jack
do for an encore after one of the best true freshman seasons in recent memory?
And speaking of what's next, is it reasonable to project Hundley taking a strong step forward as a third-year starter? Of course, that's why the program has already launched a Heisman Trophy campaign.
A lot of variables beyond personnel go into a special season -- a Rose Bowl-, College Football Playoff-type season. A team needs a great offseason. It needs positive chemistry and leadership. It needs to avoid injuries. It needs to stay hungry. It needs laser-like focus every week.
Returning starters do not guarantee anything. National champion Florida State only had 11 of them last year.
But on paper, UCLA appears to be the most likely candidate to break the five-year Stanford-Oregon Pac-12 hegemony atop the Pac-12. The Bruins might even be a team that catches the notice of the CFP selection committee in December.
March, 31, 2014
Mar 31
5:30
PM ET
UCLA opens spring football on Tuesday with high hopes and a good chance to be ranked in the preseason top 10. This is the third spring for UCLA coach Jim Mora, who has led the Bruins to a 19-8 mark in two seasons. He took a couple of minutes to chat with the Pac-12 blog before spring kicks off.
This is your third spring. What have you learned during those first two, and are you going to be doing anything different this time around?
[+] Enlarge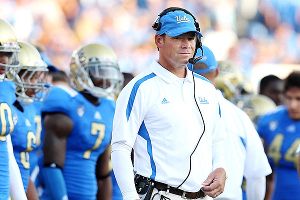 Stephen Dunn/Getty ImagesJim Mora believes spring is a great time to go hard and be physical.
Jim Mora:
Nope. Pretty much the same thing. It's a great time to develop your younger players and start to get a feel for what your team is going to look like in the fall and start to develop that bond you need to have success. We won't change anything. We go hard in the spring. It's physical. It's demanding. I think it's a great time to get physical work in.
After the 2012 season, you closed with the back-to-back losses to Stanford and the bowl loss. Last year you closed with a win over USC and a bowl win. Do you buy into the idea of offseason momentum?
JM
: No. To me, that first year, everyone says, "Oh, you lost three games in a row." But those were three pretty different games. It wasn't like we lost our last three regular season games. We lost our last regular season game, we lost in the Pac-12 championship game and we lost our bowl. It's not like we had this huge slump or something. Every season is a new season. You have to develop the identity of your team. You have to commit to a certain work ethic, and our guys have done that. To me, spring ball signifies the start of a new season.
As a coach, what position battle are you most interested in?
JM
: Outside linebacker, the guy who is going to replace
Anthony Barr
. I think that will be a good battle with
Kenny Orjioke
and
Aaron Wallace
and
Deon Hollins
. I'm excited to see how our defense adapts. We've got a new defensive coordinator. And as a staff we've learned a little bit more about our players and how to play in this conference and how to play college football with what teams are doing. We're going to have to adapt a little bit, but it's going to be fun to see.
With defensive coordinator Lou Spanos heading back to the NFL and Jeff Ulbrich being promoted from within, what kind of impact, if any, will that have on the defense?
JM
: Not a lot. Just like every year, you tweak some things. It's not going to impact it a lot. We've certainly made some changes. But we're going to make changes next year, too. You continue to adapt. You try to grow. You try to add things that will make you better. You try to improve upon things you didn't do well and you try to cut the fat so you're not teaching things you're not going to use throughout the year.
Was that a tough adjustment coming to the college game from the NFL? Every year in college there is going to be a lot of turnover and each season is a different team and a different personality.
JM
: It's interesting because it's very different than the NFL. You're right, there is more turnover. But at the same time, there is a little more certainty as well because unlike the NFL, where there is free agency so you're adding guys, and there's a draft where you're adding guys who should be ready to play right away, in college you know there is going to be a natural attrition and you have a pretty good idea of who you can count on and who still needs to develop going into a season. Hopefully some of the freshmen develop, but you can't always count on that. In some ways, as strange as it seems, it might be a little bit easier because you know what your team makeup is going to be a year in advance.
[+] Enlarge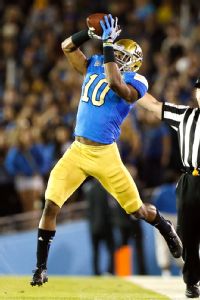 Ric Tapia/Icon SMIRising junior corner Fabian Moreau has earned positive reviews from Jim Mora.
Heading into spring, who is a player we haven't heard of yet, but you think we're going to hear his name a lot in 2014?
JM
: I don't know if you've heard his name a lot. Hopefully you don't hear it a lot because he's a cornerback and when you hear a cornerback's name a lot, that means he's making a lot of tackles because the ball is getting caught on him or he's giving up touchdowns. But I think we have a really fine player in
Fabian Moreau
. Defensive backs are where I've worked most of my career and I think this guy has some real special traits. I think he has a chance to be a great player.
You're big on leadership, as all coaches are. And you like to see players naturally develop into team leaders. Who are you eyeballing this year?
JM
: That's a great question. That's the point of most uncertainty for me is -- who is going to assert themselves on the team. Four of our six team captains return, which is a real positive because they were voted captains by their teammates. You've got
Brett Hundley
. You've got
Eric Kendricks
,
Jake Brendel
our starting center and Ryan Hoffmeister, a linebacker and special teams guy.
Xavier [Su'a-Filo]
and Anthony [Barr] leaving, those are huge voids. It will be fun to see who steps up. Guys like Fabian, even though
Myles Jack
is only a sophomore, I think he's got some leadership qualities to him. I don't want to point too many guys out because there are a whole lot of guys on our team who are capable of stepping into that role.