NCF Nation:

ACC expansion
September, 20, 2011
9/20/11
4:00
PM ET
Nobody in the ACC has said the conference is further expanding to 16 teams.

Commissioner John Swofford said he is not "philosophically opposed" to the idea, but that's as far as he'd take it.

Maryland athletic director Kevin Anderson, though, said, "We look forward to discussions about the future of the league and would encourage a future expansion." Coaches Frank Beamer and Mike London have said college football seems headed in the direction of 16-team superconferences.

Reports are flying in every direction regarding programs showing interest in the ACC. If you ask me, Rutgers and Connecticut seem like the most reasonable options, based on academics, location and television market, but who's to say the ACC would turn down Penn State, Notre Dame or Texas?

The good news for the ACC is that it's in the driver's seat right now. It is not falling apart and it is not scrambling to assure its viability in the future.
September, 20, 2011
9/20/11
9:00
AM ET
Virginia coach Mike London had some interesting comments about expansion in college football beyond what we're seeing in the ACC. His take seemed to reflect
that of rival coach Frank Beamer's Monday
, as both have indicated their sense that this is far from over, and we're heading toward 16-team conferences. Check out what he had to say at his weekly news conference:
QUESTION:
Back to expansion, do you think it's inevitable that the ACC will go to four 16 team super conferences? If so, do you think such a structure will be good for college football or bad?
MIKE LONDON:
That's a great question -- whether it's inevitable. What's inevitable is that if you're not one of the teams that are involved in the, quote unquote, mega conferences that you want to get yourself aligned quickly. I don't have the answer as to what happens to a school that doesn't have an opportunity to do that and what the landscape of college football will look like.
Whether it's fair or not, again, I can't speak to that. I just know that in this day and time, schools are trying to align themselves not only with the fit academically but geographically and philosophy wise. There are all kinds of things that are being talked about, by the college presidents and athletic directors and the people that make those decisions.
I know that this whole thing is not over. Everyone will be looking to the TV and looking to see who's going to do what because there will be domino effects of what schools do and what they don't do. And truly, I'll be like you; I'll be learning like everybody else what happens. Hopefully the game of college football remains one of the best sports that young men can participate in. We'll see how that goes.
September, 19, 2011
9/19/11
4:00
PM ET
Virginia Tech coach Frank Beamer, an old friend and former member of the Big East, said the ACC's decision to add Pittsburgh and Syracuse was "the right thing" for the conference.

"I really applaud [commissioner] John Swofford, our administrators and presidents for being out front on this thing," Beamer said on his weekly teleconference this morning. "They've done a great job. They did it quickly, and did, in my opinion, the right thing. I think we've really done well as a league and solidified our league and to me what's got to happen in these times, you've got to be solid in yourself."

Beamer said it looks like college football is headed in the direction of four conferences with 16 teams each.

"It seems like that's the direction it's heading," he said. "I think we'll know more after today and what happens in the Pac-12, or is it the Pac-16 now?"
September, 19, 2011
9/19/11
11:00
AM ET
It was an historic weekend for the ACC, which announced it would accept Pittsburgh and Syracuse as its newest members. One of the more interesting reactions in the ACC was Maryland athletic director Kevin Anderson, who, buried at the bottom of his statement, endorsed further expansion.
Here's a look at what others in the ACC are saying about the move, thanks to quotes released from their respective schools:
Clemson AD Terry Don Phillips
"This is a good decision for our conference. We are adding two programs that have won the national championship in football and been consistently outstanding in basketball. That includes Syracuse winning the national championship in 2003 and Pittsburgh's five Sweet 16 appearances in the last decade.

"The addition of Syracuse and Pittsburgh extends our footprint on the Eastern seaboard, which further enhances the national exposure of all of our universities and athletic programs.

"We can accomplish all of goals in all sports in the Atlantic Coast Conference. That most assuredly includes football. Our challenge individually as a university, as well as collectively as a league is to continue to improve in all facets of our program. That includes facility improvements and other infrastructure, and the attraction of outstanding coaches and student-athletes to our campus."
Miami President Donna E. Shalala
"As a proud Syracuse graduate, I am delighted the Orange and our colleagues at Pittsburgh are joining the ACC. Both of these universities are good fits for the ACC academically and athletically and are led by first-rate presidents."
Virginia AD Craig Littlepage
"During so much uncertainty in the college athletics' landscape over the past year and a half, the ACC routinely examined this very fluid situation in an effort to build upon its position among the nation's elite conferences. The ACC has considered the opportunities and decided to accept the applications for membership from two outstanding institutions that are excellent fits academically, athletically, and geographically. I am pleased that schools of the quality of the University of Pittsburgh and Syracuse University had an interest in joining the ACC."
Maryland AD Kevin Anderson
"It's rewarding to think that there are a number of prestigious institutions like the University of Pittsburgh and Syracuse University that want to become a part of what the ACC has become both on and off the field. These two institutions are a great fit for the league based on the quality of the athletics programs and based on the quality of their academic reputations.

"We already compete against Pitt and Syracuse in a number of our sports and have appreciated the quality and sportsmanship of those teams. The competition against quality programs in a number of sports will certainly enhance the experience for our student-athletes.

"From a regional standpoint, adding these two high-quality schools will enhance the marketing footprint of the league. Both Pittsburgh and New York City will offer the conference new opportunities to attract fans in all our sports. We look forward to discussions about the future of the league and would encourage a future expansion."
Duke coach David Cutcliffe
"One thing that never wavered during this process was the confidence we had in the leadership at both the conference level with commissioner [John] Swofford and the institutional level with Dr. [Richard] Brodhead and Kevin White. Strengthening the foundation of our league has been a priority, and we've accomplished that goal. The University of Pittsburgh and Syracuse University have tremendous traditions in both academics and athletics, and we are proud to have both schools join the ACC."
September, 18, 2011
9/18/11
3:26
PM ET
The ACC has just upgraded to Expansion 2.0.

The first version was good. It was on the cutting edge. And, despite a few bugs in the system (no titles for Miami), it's still functioning properly.

The second version, though, runs much faster.

The ACC's decision to accept Pittsburgh and Syracuse as its newest members came swiftly, efficiently, and was a far tidier process than the last time the conference decided to expand. In a matter of a week, the ACC decided further growth was in the best interests of the conference, and seemingly overnight, it became a reality. With ACC football teams hosting four ranked opponents for the first time in league history and making a statement in three of those games, this was a monumental weekend in ACC history. While other BCS conferences are tiptoeing around the ever-shifting landscape, hoping their programs don't fall through the cracks, the ACC has rapidly reestablished and reaffirmed its stability.

Now everyone else wants in on Expansion 2.0.

Texas? Please hold.

Notre Dame? We're sorry, the commissioner's line is busy.

Rutgers? Take a number, please.

Syracuse? Bienvenido a Miami.

ACC commissioner John Swofford, who directed the ACC through Expansion 1.0 when it added Virginia Tech, Miami and Boston College in 2004 and 2005, said at least 10 schools have contacted the ACC about possible membership, and why shouldn't they? The ACC has only further solidified its future with the decisions that have been made in the past week. The recently approved $20 million exit fee it would cost schools to leave all but eliminates any chance of member schools bolting for another conference.

The addition of Pitt and Syracuse will further boost the league's image as one of the best basketball conferences in the country. It will bridge the geographic gap between Boston College and the rest of the conference. It will add intrigue to the ACC football championship. The reputations of Pitt and Syracuse will only enhance a conference already steeped in academic pride and tradition.

When asked what concerns she had about the state of the Big East that might lead to the $5 million decision to leave it, Nancy Cantor, chancellor and president of Syracuse University, said she was looking for some "stability."

She didn't have to look far.

"Obviously as my colleagues have all said," she said, "we needed to look carefully at the stability for us going forward in terms of us being able to support our athletics department to the extent that gives quality opportunities for our student athletes, and I think that match is just perfect for us."

Expanding to 16 teams still remains a possibility for the ACC, but the league can be choosy. It's like looking for a home when you know you don't need to sell yours. It's more fun when there's less pressure. The ACC can sit back and watch as the Big 12 implodes, the Big East dissolves and the SEC wonders what to do now that poaching an ACC team is a much more unrealistic possibility.

The ACC took control of expansion before expansion took control of it.

It's a new version of the ACC, and considering the uncertainty surrounding it, this one looks like an upgrade.
September, 18, 2011
9/18/11
2:34
PM ET
To remind us that the expansion game -- it is such a
fun
game, isn't it -- is all about surprises, the ACC decided to be the conference that crossed the Rubicon as we head toward a superconference future.
Syracuse and Pittsburgh are
bolting the Big East for the ACC
. It's a done deal, unlike the just-about-done deal for Texas A&M to the SEC, which is only being held up by Texas folks who hate free markets and love frivolous lawsuits when their self-interests are involved.
So, at this moment, the ACC is at 14 and the SEC is just about 13. That means the days of 12 are numbered, not unlike the precarious existence of the Big 12 and Big East.
Pac-12 commissioner Larry Scott has repeated the same series of phrases -- politely and with an admirable energy that almost makes his message seem fresh -- over and over. He likes the Pac-12. He's perfectly happy staying at 12. Heck, the Pac-12 is the world's richest college sports conference! But the conference won't be left behind. If others start the superconference trend, the Pac-12 will then play its strong hand and add teams.
And so we have Texas' and Oklahoma's boards of regents meeting Monday. Here's a guess that the subject of expansion is going to come up, though the regents won't specifically vote to jump conferences or not, but only to tell their president to do what he thinks is best for the institution.
First, no one knows the endgame. Did you read anything about imminent moves to the ACC from Syracuse and Pittsburgh before this weekend?
But the general feeling is Oklahoma is tired of Big 12 instability and wants to join the Pac-12 and that Oklahoma State would follow. So that's 14, which for a variety of reasons isn't a good number for a conference (which is why we should assume the ACC and SEC aren't done).
What about Texas? The smart move for Texas, as it was when it was first approached by Scott during the previous round of expansion madness, is to join the Pac-Whatever.
I do not know how the parties compromise on the Longhorn Network. I only know smart people know how to reach compromises in business deals that enrich themselves.
And if Texas wants to go its own way, then Scott will look elsewhere, perhaps Kansas and Kansas State.
Or is the ACC about to pull the big whammy and get Texas and Kansas, too (and allow Texas to keep the LHN)?
Or does the Big 12 stage a miraculous 11th-hour rally and save itself?
As Scott told me at the USC-Utah game, no one knows the endgame, even him. There's too much "need-to-know-basis" information out there, with insiders owning disparate bits and pieces they can't put together any better than reporters, as well as plenty of misinformation and gamesmanship.
But it feels like each week the plot thickens. Which typically means in a thriller that we're getting closer to a dramatic climax.
Or an unsatisfying one.
September, 18, 2011
9/18/11
12:32
PM ET
The Big East has been
raided for the second time
in eight years, losing Pitt and Syracuse to the ACC the way it lost Miami, Boston College and Virginia Tech back in 2003.
Frankly, the jolting moves are a blow to the future of the conference and put even more pressure on commissioner John Marinatto to try to save the league.
While commissioners Jim Delany (Big Ten), John Swofford (ACC), Mike Slive (SEC) and Larry Scott (Pac-12) have all worked to position their conferences for survival in the realignment sweepstakes, Marinatto has had to deal with squabbling among separate factions in his own league, trying to balance concerns from basketball members and football members. He made the bold move of bringing TCU into the fold last year, but what happened after that?
The Big East talked about positioning itself for its next media-rights deal but has since watched from the sideline as other leagues have made bolder decisions. The botched attempt at bringing Villanova into the ranks earlier this year only underscored that the Big East really had nobody leading the charge to secure its future.
Indeed, when Syracuse and Pitt officials joined an ACC conference call Sunday morning to talk about their decision to leave the Big East, each one referenced the need for stability. Although nobody referenced Marinatto or the future of the Big East, it was clear that Syracuse and Pitt had to look out for their best interests. And their best interest was leaving behind a conference in which they were flagship members.
Pitt chancellor Mark A. Nordenberg said he informed Marinatto as early as May 2010 that Pitt would be forced to look elsewhere for a new conference in the name of long-term stability.
[+] Enlarge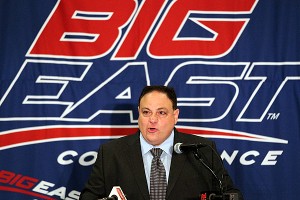 AP Photo/Stew MilneBig East commissioner John Marinatto knows he has his work cut out for him.
"We did make clear within the Big East that we were willing to work to improve the conference in any way we were asked, and we did that, but we also made very clear that if other opportunities did arise, we would feel as if we were obligated to seriously assess them looking at the long-term future of the University of Pittsburgh," Nordenberg said. "I made that point clear in writing both to the commissioner of the Big East and to the chair of the conference in May 2010. They each responded by indicating to me they thought the position I had articulated for Pitt was the position that had been embraced by all the other members of the conference, and they appreciated the care that I had taken to articulate that position for them."
Syracuse athletic director Daryl Gross did not want to characterize the Big East as unstable, but he mentioned self-preservation as the motivating factor for the move.
"It's more of what's in the best interest of our institution and what opportunities do you have for your institution that you look at things going on with your current conference and try to make the best decisions that are long-term decisions," Gross said. "These are very sophisticated, complicated processes that we go through to ensure the sustainability of our athletic department."
If Marinatto had a hard time keeping this group together, what will he do now that the seven remaining football-playing members of the league are re-evaluating where they fit in the landscape? Let's be honest: Nobody has any guarantee that the Big East will be able to survive this. Swofford said his league was happy to stay at 14 but did not rule out eventually growing to 16 teams. With its emphasis on remaining an East Coast conference, does that mean Rutgers and Connecticut could eventually join the fold?
When asked specifically about the possibility of laying off the Big East in the future, Swofford said, "We're not focused on that. I'm focused on this 14 right now and making that work the best that it can possibly work."
But there is no question that each remaining Big East school must think about its own long-term viability without any loyalty to rival programs or the league itself. Louisville athletic director Tom Jurich told local reporters, "
We just have to be aggressive
. ... I want to do the right thing. I'd prefer to be in the Big East, but we're not going to rule out anything."
Rutgers athletic director Tim Pernetti said the same: "We are a committed member of the Big East and will continue to explore all of our options and do what's best for Rutgers." Every other remaining Big East school expressed the same sentiment.
What would help the cause to keep the Big East a viable conference would be the dissolution of the Big 12. Picking up schools like Iowa State, Baylor, Kansas, Kansas State or even Missouri would stabilize the league. But how long would that work? Would Rutgers and Connecticut eventually bolt for the ACC or even the Big Ten should those conferences expand further? Is West Virginia a viable candidate for the SEC? Each of those conferences presents much more appeal than a newfangled Big East-Big 12 mash-up.
This mess is not over. Marinatto spent his day Saturday working the phones during the West Virginia-Maryland game. He finally issued a statement late Saturday, saying, "I continue to believe the Big East conference is well positioned for the future and that the events of the past 24 hours will unify our membership. We have been working steadily to solidify and strengthen the Big East and position us for our upcoming TV negotiations and I am confident that we will again emerge from this situation and remain strong."
The Big East survived in 2003. Will it again?
The tough work is ahead for Marinatto.
September, 18, 2011
9/18/11
8:54
AM ET
Syracuse and Pitt officially have been
accepted as members of the ACC
, leaving the Big East scrambling to re-fill its membership ranks.
The ACC made the announcement Sunday morning. Here are the statements from Syracuse and Pitt included in the release:
"This is an exciting day for the University of Pittsburgh. We have a long history of competing and collaborating with the distinguished universities that already are members of the Atlantic Coast Conference, and have enormous respect for both their academic strengths and their athletic accomplishments," Pitt Chancellor Mark A. Nordenberg said. "In looking to our own future, we could not envision a better conference home for Pitt and are grateful to the Council of Presidents for extending an invitation to join the ACC community."

"We are very excited to be joining the ACC. This is a tremendous opportunity for Syracuse, and with its outstanding academic quality and athletic excellence, the ACC is a perfect fit for us," said Nancy Cantor, Chancellor and President of Syracuse. "The ACC is home to excellent national research universities with very strong academic quality, and is a group that Syracuse will contribute to significantly and benefit from considerably. As a comprehensive, all-sports conference, the ACC provides Syracuse tremendous opportunities for quality competition and growth in all sports, while also renewing some of our historic rivalries. This move will also bolster our continued efforts to look outward, engage and extend Syracuse's reach to key areas of the country, including the Southeast, as we grow and expand our national connections to alumni, partners and the students of the future. We are pleased that Syracuse adds a New York City dimension to the ACC, a region in which we have built strong identity and affinity, and we look forward to bringing ACC games to the Big Apple. Overall, for Syracuse, this opportunity provides long-term conference stability in what is an uncertain, evolving, and rapidly shifting national landscape."

"This is a very significant day for all of our student-athletes, coaches and staff at the University of Pittsburgh," Pitt athletic director Steve Pederson said. "The strength and quality of the ACC is highly regarded by everyone at Pitt. When we set high expectations for our student-athletes in their academic, athletic and personal goals, it is important to provide every opportunity and resource to enable that success. Joining the ACC and the outstanding institutions in this conference will give every Pitt student-athlete the chance to achieve their highest aspirations."

Syracuse athletic director Daryl Gross said, "Today is a day that we will remember for years to come. We are truly excited that academically and athletically we will be a member of the ACC, one of the nation's premier collegiate athletic conferences. As New York's college team, we plan to compete at the highest level across all of our sports and help to enhance this great conference."
There is a teleconference set for later Sunday morning.
September, 18, 2011
9/18/11
8:46
AM ET
Pittsburgh and Syracuse, once flagship programs of the Big East,
have been accepted as members
of the Atlantic Coast Conference, extending the league's current membership to 14 schools,
the ACC announced on Sunday morning
.
It was a unanimous vote by the university presidents following letters of application from both Pitt and Syracuse.
"The ACC has enjoyed a rich tradition by balancing academics and athletics and the addition of Pitt and Syracuse further strengthens the ACC culture in this regard," ACC commissioner John Swofford said in a prepared statement. "Pittsburgh and Syracuse also serve to enhance the ACC's reach into the states of New York and Pennsylvania and geographically bridges our footprint between Maryland and Massachusetts. With the addition of Pitt and Syracuse, the ACC will cover virtually the entire Eastern Seaboard of the United States."
More information is expected during a 9:30 a.m. ET teleconference with the ACC. Stay tuned for much more, as there are still a lot of questions that need to be answered.