March, 28, 2013
3/28/13
9:00
AM ET
Big Ten spring football is finally in full swing as Iowa on Wednesday became the 12th and final league team to hit the practice field. The return to the gridiron can't come a moment too soon for the Hawkeyes, who went 4-8 in 2012, their worst record since coach Kirk Ferentz's second season at the helm (2000). It has been another offseason of transition for Iowa as Ferentz welcomes three new full-time assistants (Chris White, Bobby Kennedy and Jim Reid) for a second consecutive year. Finding a quarterback tops Iowa's spring agenda, and the team also needs to identify a center and more playmakers on both sides of the ball.
ESPN.com caught up with Ferentz on Wednesday to discuss the spring.
What are the main objectives for you guys this spring?
Kirk Ferentz:
Like any spring, you've got a lot of players on a lot of different levels. You've got experienced players, and we're certainly counting on them improving and developing into leaders. You've got younger guys who have played, and you're hoping they're ready to play more proficiently. And then you've got other guys who, in some cases, are special-teams guys who have a chance to become offensive and defensive role players, or guys who haven't been on the field yet. So you have a lot of layers of players at different levels. The biggest thing is trying to gauge where they're at, and at the same time, you're trying to find out what they can do and pull a team together. It's always a fun period and a really interesting period.
How has the transition on the staff this year gone so far, especially in relation to last year? You had quite a long period without any changes on your staff.
KF:
Last year was probably a little more dramatic with two new coordinators. Norm [Parker] and Ken [O'Keefe] were here 13 years, so they were big departures. We've got Phil [Parker] and Greg [Davis] both in their second years, and they're both tremendous coaches. What's unusual is how long we were all together at one time. Usually staffs don't stay in one place for 13, 14 years. Normally they move to the next channel and you have a new group of folks coming in. So it's a natural series of transitions. The way I look at it, we've had six new members join the staff in the last two years, and it's a matter of pulling everything together. But I'm really excited about all the guys who have joined. They're outstanding coaches, and it looks like they're all going to be great fits here at Iowa. At the same time, I'm very appreciative of the guys who had been here and helped us move things.
Is the transition harder for the players or the new coaches?
KF:
There's learning on both sides. The players to have learn their coaches, certainly, and the coaches have a lot to learn about the players. That can be a healthy thing, too. It's a clean slate and a fresh beginning for everybody. For players, it's a whole new opportunity.
Offensively, it wasn't what you were hoping for last year. Is it a total reset this year with some new faces, or are there some things you can continue from last year?
[+] Enlarge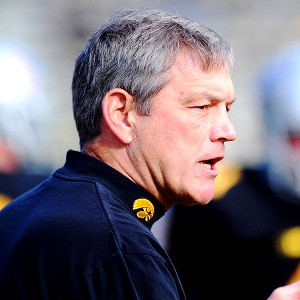 Byron Hetzler/USA TODAY SportsThough Kirk Ferentz lost his starting quarterback and center, he said he's more optimistic about Iowa's offense than he was a year ago.
KF:
It may be ironic. We feel more comfortable and more optimistic right now than we did a year ago about the offense. The part that's ironic is we lost a two-year starter at quarterback [
James Vandenberg
]. We had James play a lot at quarterback and
James Ferentz
played like 38 games at center, so you have two guys right in the middle of things who aren't going to be there. But I look around at other positions and we've got a lot of guys coming back who have played in the system and who I think are more capable now of playing at a higher level than they were a year ago. That's got us excited. That being said, we've got to find replacements for both Jameses. We've got to find a replacement for
Keenan Davis
and
Matt Tobin
, to start with. But I look at the group coming back and as recent as late last August, we didn't know if
Damon Bullock
could play in this conference successfully, and we had no idea
Mark Weisman
could run the ball. So I think we're a lot further down the road than we were even eight months ago, 10 months ago.
When you and Greg looked at things, did you identify areas to target for the spring?
KF:
Greg came in, this was all new to him, the players were all new to him. His knowledge of our personnel is a lot more extensive than it was a year ago at this time. And that was one of the reasons I was so attracted to Greg in the hiring process, his ability historically to work with a lot of different types of players and different types of offenses. He wasn't married to one system. There's nothing like experience, and he's got a real good grip on who our players are, what they can do and what we can do to help them be more productive.
March, 23, 2012
3/23/12
10:11
AM ET
Change is in the air this spring at Iowa. The Hawkeyes have two new coordinators for the first time in Kirk Ferentz's tenure, one from the outside (OC Greg Davis) and one from within the program (DC Phil Parker). Ferentz also hired two new assistants, offensive line coach Brian Ferentz and linebackers coach LeVar Woods, and moved offensive line coach Reese Morgan to defensive line. For an Iowa staff built on continuity, this represents a a major shakeup. The coaches also will be working with a very young roster, as evidenced by the
pre-spring depth chart
issued this week. It all should make for an interesting spring in Hawkeye Country.
[+] Enlarge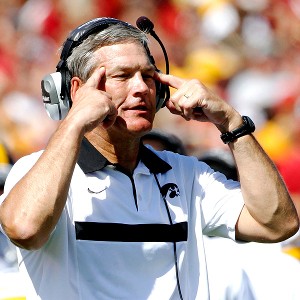 AP Photo/Charlie NeibergallCoach Kirk Ferentz and his Iowa Hawkeyes will enter the season with a revamped coaching staff.
The Hawkeyes opened practice Wednesday, and ESPN.com caught up with Ferentz on Thursday.
Here are his thoughts.
What is the atmosphere like this spring being on the field with this group after all the changes?
Kirk Ferentz:
Certainly we have a lot of learning to do for two reasons. Number one, our youth and inexperience, and secondly, with some of the staff changes. We have a lot of different elements involved. It's certainly different than when we finished up in December. It's a lot of positions, and some of it's schematically and that type of thing. We're all on edge a little bit, and that's good.
You made some of your hires fairly recently. How do you feel about where the offensive and defense schemes are at this point?
KF:
We're pretty well down the road that we need to be on. We've had some really good meetings over the last several weeks. A little bit more intensive on the offensive side with Greg being hired at the end of February, but I think we've had good meetings. He certainly has a good grasp of what he likes to do and what he's comfortable with. We've been able to blend and mesh things. I think we're pretty much on the same page right now. It's been fun actually, just invigorating to re-examine some things. And the players, they always pick it up faster than the older guys.
When you sat down and talked with Greg, how close was your offensive philosophy to his?
KF:
One of the things that really impressed me so much is his experience with various styles of offense. He's been with a lot of different types of players, quarterbacks, going back to Eric Zeier at Georgia, the guys he worked with at North Carolina, and at Texas, they ran several styles of attack. There was a lot of evolution when they got Vince Young. The thing is, he has a system that's been proficient and that he's comfortable with. It really is very flexible and adaptable. That part has all been good.
Very impressed with Greg, starting with all the recommendations I got, people who I have a lot of respect for in football who spoke so highly of him as a coach and so highly of him as a human being. And after a month of being with him, I can see why all of those things were said. He's really been tremendous. We've been fortunate to have great coaches here. You're always a little nervous when you lose somebody as good as Ken, but Greg has been outstanding.
I read your comments from the other day and wanted to clarify something. Did you expect to make some changes even if you didn't have the coordinators leaving?
KF:
Absolutely. I was entertained a bit reading the reports of the press conference. The headlines were a little bit overstated. But that was something Ken and I had talked about, and Norm [Parker] and I had talked about as the year went on last year. You're 13 years into it, and we're all feeling good about being here such a long period of time. The great thing about stability is we all know each other.
But the other point, too, and every year you look back at things, but I remember specifically in Cleveland one year in '94 where we looked back and went through our playbook step by step. Steve Crosby had become our coordinator after the '93 season. We went through everything. The advantage of doing it is if you've been somewhere for a while, you add this one year and then you add that, and things don't always mesh or make as much sense as they should, so there's a cumulative effect there. So it's a good exercise to do, and I think it was time for us to do that regardless. And in the case of getting new coordinators, you have to do that anyway. It's been really healthy, it's been invigorating, and hopefully we'll be a more efficient operating group here moving forward.
You've talked about wanting to see better execution. What can you stress in the spring to help you execute better as a team?
KF:
That's always the challenge in football. There were complaints about us. The perception is we're a conservative offense, and we threw the second-most amount of passes we had in 13 years last year, so I said they must have been conservative passes because we didn't get any credit for that. But overall, that's the name of the game, whatever you're doing, offensively, defensively or special teams, the key is how you execute those things. Certainly what you call can affect that, but at the end of the day, it's about the team that executes the best. That's the never-ending battle.
You have some guys out on the defensive line, but it's definitely one of the younger groups you've had there. With Reese Morgan moving over to that side, how do you see that group shaking out in the spring, and how will Reese's experience help there?
KF:
It's maybe not identical, but it's similar to what we went through in 2005. We graduated four guys that were all in NFL camps after that season. Three of those guys are still active players -- Jonathan Babineaux, who's done a good job in Atlanta; Matt Roth's had a nice career; Derreck Robinson continues to be rostered; and Tyler Luebke is the other guy, was with the Redskins as a free agent. That's the price you pay when you graduate some good players. The last two years we've had a high number of seniors go out both years, and some NFL players in that group. It's something we anticipated, we knew it was going to be a challenge, but all that being said, we're optimistic.
One of my motivating factors for moving Reese over to that spot is Reese is just a tremendous teacher. That's the No. 1 thing I saw in him when we hired him here. He took Pat Flaherty's spot. He's a real builder, and he's done that with the offensive line. You look at last year, we had
Riley Reiff
, who people are talking about, but we also had
Markus Zusevics
and
Adam Gettis
, who both I think are going to get drafted here. They were both roughly 225, 230 [pounds] when they came out of high school and built themselves into players. Reese was a key component of their development, and that's what he does a great job of. I think we've got the right guy with the right group. We've got a lot of work to do, but at the end of the day, that group will be fine, just like in '05.
What would you like to see out of James [Vandenberg] during the spring?
KF:
Just continued improvement. We expect him to play his best football next year and lead even better than he did. He played well last year and he led well, but he's going to have to do better. With a young team like this, it's going to be imperative that our most experienced guys play their best and lead our football team. It sure helps when you're playing better. And he's totally capable. We have confidence in James.
Is Keenan [Davis] another guy who fits into that category, needing to play his best as an older guy?
KF:
Most definitely. If you look at the improvement
Marvin McNutt
made throughout his career, from making a move [from quarterback] in the middle of the '08 season, to the records he set, it didn't happen just by accident or just by him hanging around. He worked hard, he got better each year, and his hard work and effort, certainly in production and yardage, that's what we need from Keenan. Marvin's not here, quite obviously, so Keenan has to be the guy and take a very prominent role as a receiver. And he's certainly capable, so we expect to see that growth from him.
What would you like to see from the running back group by the end of the spring?
KF:
Development and maturation. We have three guys that are working at that position who are talented enough. They're all capable, but they're young.
Jordan Canzeri
missed a significant amount of time last year with a hamstring issue.
Damon Bullock
, we moved him around enough that it probably rendered him ineffective. We'll let him settle at the running back position. And we think
De'Andre Johnson
has potential as well, but he's got to mature. He missed his first year because he was coming off an ACL injury from high school, so he's a little bit behind that way. But he's got every opportunity to develop and be a good player. It sure would help our football team.
When you're this young, are you more tempted to play freshmen if they come in and show that ability, or do you have to work with the guys who have some experience?
KF:
We'll have a better grip on where we are at the end of spring practice. We're going to need some help at some spots, that's a given. Bottom line is for the most part, the guys that demonstrate they can play and help us, they're going to get that opportunity. We had the case with Allen Reisner. Back in '07, we had to throw him in. He was a true freshman. He wasn't necessarily ready to go, but we ran out of guys, so he had to go in there. We hopefully won't be in that situation. But anybody [who] can help us win next year, if it's special teams or on offense, defense, we'll give them an opportunity.
Greg came in from the outside, while Phil Parker has been there. What's it been like seeing him in this role? Do you see him putting his personality on the defense?
KF:
We're early into the process right now. To the casual fan, it's not going to look a lot different, probably, but there will be some subtleties and some things not only Phil, but the entire staff talked about. It's like anything else, you're always trying to evolve and progress, move forward a little bit without losing your identity. That's probably what you'll see from that group. Phil's a veteran coach. He's had several chances to leave here for BCS coordinator positions and has chosen to stay here, so I don't think there's any question he's ready to go. He'll do a great job. He's very detailed and he's a good leader.
From a leadership standpoint, do you have some guys in mind, especially on defense, who you could see moving into those roles this spring?
KF:
Most definitely. The guys that we're really counting on, you start with
Micah Hyde
. He's probably our most experienced player on defense, most proven, so we're counting on that from him.
James Morris
and Chris Kirksey, they're only third-year students next year, but they've played a lot of football, too, and good football. They're playing a leadership position at linebacker. And up front, I'd say
Steve Bigach
's a guy we're really counting on to really help set the tempo of the group. He's already been doing that, and I think he'll do a good job.
April, 8, 2011
4/08/11
6:00
PM ET
IOWA CITY, Iowa -- Greetings from the press box at Kinnick Stadium. Am I early for kickoff?
Unfortunately, football season is about five months away, but Iowa is gearing up for the 2011 campaign in spring practice. I had a chance to visit with head coach Kirk Ferentz and several players earlier today. Most of my Iowa coverage will appear early next week, but there were several interesting nuggets from today.
QUARTERBACK SITUATION

No surprise here, but
James Vandenberg
has established himself as Iowa's No. 1 option. The junior's experience filling in for
Ricky Stanzi
in 2009 certainly helps, but he has continued to make progress this spring after a strong pre-bowl session.
[+] Enlarge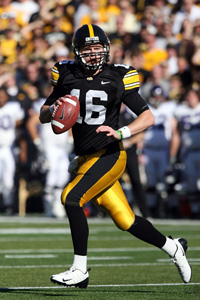 Reese Strickland/US PresswireAs expected, James Vandenberg has taken the lead in the race to replace quarterback Ricky Stanzi.
"James has separated himself from the other two guys," Ferentz said. "And after that, it's a pretty good competition between John [Wienke] and A.J. [Derby]."
Vandenberg's teammates
expressed complete confidence in him
at the start of the spring, and nothing has changed. Barring a significant change between now and Sept. 3, Vandenberg will start the season for the Hawkeyes.
"James is one of those guys, he's not not going to leave the door open too much," Ferentz said. "He really gives himself a chance to be a good player."
LATEST ON RHABDO FALLOUT
Ferentz confirmed that defensive back Willie Lowe, one of 13 Iowa players hospitalized with rhabdomyolysis in January, is not with the team. Lowe and Ferentz last spoke in March before Iowa's spring break, and Lowe's situation with the team is "clearly unresolved," Ferentz said.
Although the school has granted Lowe his release, Ferentz echoed AD Gary Barta in saying he hopes Lowe remains with the team.
The other 12 players remain with the team. There have been non-rhabdo-related injuries within the group that have limited players, but the expectation is all will remain on the squad.
"Everybody's out working, and nobody else has asked for a release," Ferentz said.
Ferentz reiterated his support for head strength and conditioning coach Chris Doyle and Iowa's strength program, which drew criticism after the rhabdo situation.
"Chris Doyle is the top guy I've been around in that realm, and he's widely recognized," Ferentz said. "Chris' name is very highly regarded in the NFL circles, he's had a lot of opportunities to go that route. Fortunately, he's stayed here and I'm very appreciative of that. ... There's no question in my mind he's a huge part of any success we've experienced."
INJURIES
Ferentz mentioned Iowa has 6-8 players who would normally be in the two-deep who aren't practicing this spring because of injuries. Defensive lineman Steve Bigach is out following offseason surgery, and defensive lineman Tom Nardo has been out with a foot injury.
"Those are two older guys we'll have back in the fall," Ferentz said.
Wide receiver
Marvin McNutt
, linebacker Shane DiBona and safety Tanner Miller all are missing the spring with injuries. McNutt looked good walking around the complex Friday and should be fine for preseason camp.
PERSONNEL NUGGETS
It will take some time for Iowa to figure out the secondary for 2011. Micah Hyde, who has played the past two seasons at cornerback, is seeing time at safety this spring, and Jordan Bernstine is being used at both safety and cornerback. Shaun Prater has the left cornerback spot essentially locked down. "If he gets beat out, there's something wrong," Ferentz said. "He's practicing well and performing well." Up to eight players are in the mix for the other three spots.

Ferentz has been pleased with sophomore running back Marcus Coker, who is building off of his superb performance in the Insight Bowl. You never know how success affects young players, but Coker seems to be approaching it the right way. Ferentz noted that if Coker hadn't fractured his collarbone in preseason camp, he could have played a much bigger role in the run game last season. "He showed us a lot about his mental makeup, just how he caught up," Ferentz said. "He did remarkably well from a mental standpoint for all the time that he missed. He's got the potential to be a lot better football player as he moves along."

Ferentz also seems pleased with the spring progress of older defenders like linemen Mike Daniels and Broderick Binns, linebacker Tyler Nielsen and Prater. The offensive line returns three starters and Ferentz noted that Adam Gettis, who would have been a starter if not for injuries last season, has had a good spring.

A final thought from Ferentz on the team: "We're a young team, but we have a good core of seniors that are good players, good leaders and good team guys. We've been pretty enthusiastic about the last couple groups of recruits we've brought on campus. Some of those guys have played and other guys have not played but we feel good about [them]. But I like what I see about the way guys are working. We're not a real good team right now, but I like what I see with the potential they have."
September, 2, 2010
9/02/10
8:15
AM ET
Tonight, it begins.
The wait is over and we finally get to see Big Ten teams play games that count. As opening weekend begins a little early with three games tonight, here are 10 things to watch around the league.
1. Quarterback questions at Michigan, Penn State:
Two of the league's traditional powers likely will be evaluating multiple quarterbacks in their openers. True freshman
Robert Bolden
was named
a surprise starter for the Nittany Lions
, but sophomores
Matt McGloin
and
Kevin Newsome
also are likely to get some work.
Denard Robinson
could be poised to take control at Michigan, but head coach Rich Rodriguez expects to play more than one signal caller, so sophomore
Tate Forcier
and true freshman
Devin Gardner
likely will take some snaps in the spotlight. Penn State has to see what it has under center before a Week 2 trip to defending national champ Alabama.
[+] Enlarge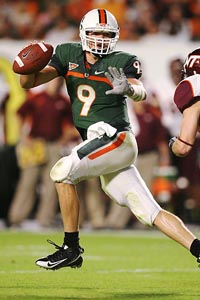 Doug Benc/Getty ImagesFormer Miami quarterback Robert Marve and his new team have a tough test in South Bend.
2. Opportunity knocks for Marve, Boilers:
No team in the Big Ten has a better opportunity to make a national statement than Purdue. All eyes will be on South Bend -- really, when aren't they? -- as Notre Dame kicks off the Brian Kelly era, but Purdue can ruin the fun by upsetting the Fighting Irish. Quarterback
Robert Marve
has done all the right things in West Lafayette since transferring from Miami, and he boasts a big arm and plenty of weapons to attack a suspect Notre Dame secondary. Marve should flourish in the spread offense, so expect a strong debut. It might not matter, though, if Purdue can't upgrade its run defense and protect a new-look secondary from
Dayne Crist
and
Michael Floyd
.
3. Heisman push begins for Pryor, Clay:
When we last saw
Terrelle Pryor
in a game, the Ohio State quarterback was at his best, winning Offensive MVP honors at the Rose Bowl. By all accounts, Pryor made strides during the offseason and said he has a greater grasp of the offense and what it takes to be a leader on the big stage. His accolades heading into the season -- Big Ten preseason Offensive Player of the Year, Heisman Trophy candidate -- are based largely on hype and potential, but Pryor finally gets a chance to produce some hard evidence against Marshall. Wisconsin running back
John Clay
has been largely overlooked in the preseason, but he also could help his Heisman candidacy with a strong debut at UNLV, which ranked 112th nationally in rush defense a year ago.
4. Mystery team makes debut in St. Louis:
Who's the Big Ten's mystery team this season? Illinois. The Illini have new offensive and defensive schemes, a new starting quarterback in
Nathan Scheelhaase
and plenty of unknowns on both sides of the ball. Missouri typically brings out the worst in Ron Zook's squad, and Illinois will need to show some resiliency in the Edward Jones Dome. Scheelhaase is young but skilled and athletic, and it'll be interesting to see how he handles the spotlight in an NFL stadium. Illinois' secondary faces
Blaine Gabbert
and Missouri's high-powered passing attack without two starters (safety Supo Sanni, cornerback Terry Hawthorne), so linebacker Martez Wilson and others need to step up.
5. Iowa's new-look offensive line:
The Hawkeyes shouldn't have much trouble beating Eastern Illinois, although after last year's roller-coaster ride, you never know. The opener should give a new-look offensive line time to get comfortable and create holes for running back
Adam Robinson
. Iowa will start three new players up front -- right tackle Markus Zusevics, right guard Adam Gettis and center James Ferentz -- and needs to get comfortable before bigger tests the next two weeks against Iowa State and Arizona. Running back
Jewel Hampton
sits out because of a suspension, but Iowa really needs to get the run game going with Robinson and adequately protect quarterback
Ricky Stanzi
.
6. Spartans' secondary in spotlight:
Most point to the secondary as Michigan State's biggest weakness in 2009, and for good reason. The Spartans ranked last in the Big Ten in pass yards allowed (267.6 ypg), allowed 11 more passing touchdowns (32 total) than any other Big Ten squad and recorded only six interceptions, the second-lowest total in the league. Several underperforming players are gone, and Michigan State hopes to be younger but better in the back four this fall. Cornerback Johnny Adams returns to the mix, and hopes are high for Trenton Robinson, Chris L. Rucker and others. The secondary needs to step up Saturday against Western Michigan, which loses standout quarterback Tim Hiller but returns top wideouts
Robert Arnheim
and
Jordan White
.
7. Line dance in the Volunteer State for Gophers, Wildcats:
Both Minnesota and Northwestern boast veteran offensive lines that need to upgrade their run-blocking ability this fall. Minnesota ranked last in the Big Ten in rushing for the second straight year in 2009, while Northwestern finished eighth and had no big plays in the ground game. It'll be very interesting to see how both lines perform in what likely will be balmy weather in Tennessee. Minnesota opens Thursday night at Middle Tennessee, while Northwestern visits Vanderbilt in Nashville 48 hours later. Both squads have multiple backs competing for carries, but the performance of the two lines will go a long way toward showing what the upcoming season will hold.
8. Brock Mealer leads Michigan out of the tunnel:
Doctors told Brock Mealer he'd never walk again after being paralyzed from the waist down in a car accident that killed his father and the girlfriend of his brother, Elliott, an offensive lineman for Michigan. But Brock never gave up hope and worked with Michigan strength and conditioning coaches Mike Barwis and Parker Whiteman to work his way out of a wheelchair. Saturday, he'll be walking out of the tunnel at Michigan Stadium as he leads the Wolverines onto the field for their opener against Connecticut. "He's that one percent," Wolverines defensive tackle Mike Martin told me. "People said he'd never walk again, and he's proving people wrong right there. We've got to come out right behind him and show what we've got."
9. Indiana's new-look defense:
The Hoosiers' season likely hinges on whether a historically porous defense can improve. IU will use the 3-4 alignment more this season, but the coaches also are excited about defensive ends Darius Johnson and Fred Jones. Tyler Replogle provides excellent leadership at linebacker, but Indiana needs three junior college transfers -- linebacker Jeff Thomas and defensive backs Andre Kates and Lenyatta Kiles -- to make an immediate impact. A strong debut against Towson is key.
10. Quarterback-turned-receivers:
There was a time when Michigan State's
Keith Nichol
, Minnesota's
MarQueis Gray
and Purdue's
Justin Siller
looked like the potential answers for their teams at quarterback. All three players now will play prominent roles at wide receivers on opening weekend. All three received strong reviews in training camp as receivers, and all three could start on Saturday. Gray is the likeliest to be called upon as a quarterback, as he remains
Adam Weber
's backup for the Gophers. Siller makes his first appearance since 2008 after being suspended from school for the 2009-10 academic year.