April, 11, 2013
Apr 11
5:00
PM ET
On Wednesday, the head coach and one player from each Big Ten Legends Division team participated in a
spring football teleconference
with the media. On Thursday, it was the Leaders Division's turn. Here are some notes and updates from the call:

Illinois
Head coach Tim Beckman said the junior college players he brought in helped with depth and age issues on his young team. "We have 40 football players that have never been in our spring football until this year," he said. Of the juco imports, Beckman said wide receiver Martize Barr has quick hands and good playmaking skills, both in the passing game and on kick returns; Eric Finney has earned a starting job at the Star linebacker position; Abe Cajuste is adding depth by playing both defensive tackle and defensive end; and Dallas Hinkhouse is making an impact at offensive tackle.
Beckman sung the praises of offensive lineman Corey Lewis, a sixth-year senior who has battled back from five knee surgeries and has become a team leader. "Corey Lewis comes to my office probably four or five times a week, just to talk," he said. "To me, he is what college football is all about." Beckman said that Lewis has "had a special spring" and hinted that he has earned a starting job.
Quarterbacks Nathan Scheelhaase and Reilly O'Toole will take most of the snaps in Friday's spring game so they can get more experience in the new offense. Beckman said Scheelhaase has "got a step in front" because of his experience, but the competition continues.
Scheelhaase on reasons for optimism in 2013: "Establishing an identity. That's something I don't know that we necessarily had last year, on offense or defense or as a team in general.

Indiana
Like many of you, head coach Kevin Wilson would like to know the new Big Ten division alignment. The reason? It's harder to recruit without being able to tell a prospect where he'll be playing his freshman season. Wilson added that if the league does indeed go to an East/West split, he'd like to see the Hoosiers placed in the East since they're located in the Eastern Time Zone.
Wilson said run defense and takeaways are two huge priorities for the Hoosiers' defense during the offseason. He noted that the Big Ten doesn't boast a large group of elite pass offenses, so IU must prepare better for run-driven attacks. Indiana finished last in the Big Ten in both run defense (231.3 ypg) and takeaways (13). Cornerback Greg Heban said the defense is working on takeaways every day in practice. "Every time the ball touches the ground, the defense is scooping it and scoring it," Heban said, "trying to give us a feel of what it's like."
Both Wilson and Heban praised the play of junior cornerback Tim Bennett this spring. Other spring standouts include linebacker T.J. Simmons, a freshman early enrollee, and Steven Funderburk, a junior-college transfer.
Heban called this "easily the best spring I've been around." He has seen more physical play and better effort on both sides of the ball, and the team also is having more fun than in past springs.

Ohio State
Head coach Urban Meyer said running back Rod Smith won't play in Saturday's spring game because he recently suffered a concussion. Before that, Meyer said Smith was one of the five most improved players on offense this spring. Meyer listed Carlos Hyde and Smith as the team's top two running backs, while Bri'onte Dunn and Warren Ball are even for the No. 3 spot.
Although the receivers have been better this spring -- especially Corey Brown and Chris Fields -- the depth is still nowhere near where it needs to be for Meyer's spread offense. "We're way behind on quality of depth at that position," Meyer said. "That's a major, major concern." Moving Jordan Hall to H-back should help, and Meyer noted that the Buckeyes boast two good tight ends in Jeff Heuerman and Nick Vannett.
Buckeyes offensive tackle Jack Mewhort paid close attention to the way John Simon and others led in 2012. He's ready to take on a greater load this season. "I welcome that," he said. "I see that as an honor, being compared to a guy like John Simon. I also see it as a challenge. I feel the pressure to step up and get guys going in the right direction." Mewhort also has seen quarterback Braxton Miller recognize his leadership responsibilities more this spring and get after teammates when he needs to.
Meyer said he puts more emphasis on spring practice and the spring game than most coaches. He has told his players that there will be a depth chart after spring ends, and while changes are possible in the summer, they're not likely. "In spring ball, you're trying to win a spot," he said. "During the fall, we're trying to win games."

Penn State

Purdue
Head coach Darrell Hazell said the Boilermakers have made major improvements in the last three and a half weeks. "Anytime you put in three different schemes, there's a little bit of a learning curve for the first couple weeks," he said. "You could see guys start to really get comfortable the last five or six practices."
Hazell said he has "three capable guys" right now at quarterback with Rob Henry, Danny Etling and Austin Appleby. He reiterated that he would keep the competition open until two weeks before the opener at Cincinnati. Of Etling, a freshman early enrollee, Hazell said: "For a young guy, a guy that should be at his prom, I think he's got tremendous poise. He's smart and really studies the game."
Hazell said backup tight end Justin Sinz and center Robert Kugler are two guys that have really caught his eye this spring. He called Kugler a "very much a leader on the offensive line."
Cornerback Ricardo Allen said Hazell has instilled an "all is one" mentality. "If one person does something, we all have to do it. We all wear black socks. We all wear the same uniform. We all tuck our shirts in. I feel like we're becoming closer as a team, and it's helping us build."

Wisconsin
Head coach Gary Andersen confirmed Curt Phillips and Joel Stave have separated themselves in the quarterback competition. It's a "mixed bag" of who takes snaps with the first-team offense, but both will continue to rotate through the rest of the spring and into fall camp. "The way they've separated themselves is simply production," Andersen said. "They know exactly where they sit and so does the rest of the team. … If they put all their friendships aside, their depth chart would look exactly like our depth chart."
Andersen praised the offensive line for tackling another transition, as the group works with its fourth position coach (T.J. Woods) since the 2012 Rose Bowl. The line has seen varying looks from the defense in practice and had players move around to different positions, in part because of injuries. Wisconsin had only seven healthy linemen a week ago, but Andersen is hopeful the number will rise to nine or 10 by next week's spring game. "Those kids have grinded through it every single day," Andersen said. "They're a tough-minded group."
Badgers senior linebacker Chris Borland said losing defensive end David Gilbert to recurring foot problems is a blow but the team has others to step in like Tyler Dippel, Brendan Kelly and Jesse Hayes, a redshirt sophomore who has stood out this spring.
Much like his old boss Urban Meyer, Andersen believes in constant competition and declares winners and losers in each practice. Andersen also mixes in some fun with a dance-off and throwing footballs into trash cans. "Some of them are a little bit quirky, but through the years establish some things we like," he said.
Borland said the strength program has brought the biggest changes in the transition to Andersen's staff. Cardiovascular work is stressed more, as is preventative care. Head strength and conditioning coach Evan Simon operates at a faster pace and uses more of an instructional approach than Ben Herbert, who stressed motivation.
March, 29, 2013
Mar 29
11:00
AM ET
Penn State's
Deion Barnes
distinguished himself the way many young defensive linemen do: by beating tackles around the edge and putting quarterbacks on the ground.
Barnes led the Nittany Lions in both sacks (6) and tackles for loss (10) and tied for the team lead in forced fumbles (3) as a redshirt freshman in 2012. He was an easy pick for Big Ten Freshman of the Year after making eight starts and appearing in all 12 contests. In a program known for producing star defensive linemen and linebackers, Barnes looks every bit like the next man in line.
But is he a finished product? Not even close.
"I did well in pass rush, but I didn't do as well as I wanted to in the run game," Barnes told ESPN.com this week. "I still need [to make] more plays, way more plays. I missed a bunch of sacks."
[+] Enlarge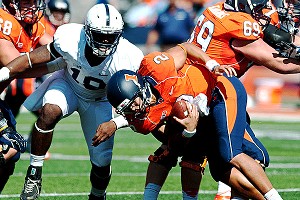 Bradley Leeb/USA TODAY SportsPenn State's Deion Barnes made his mark as a pass-rusher last season. Now he aims to be a better run stuffer and team leader.
Barnes sets high standards for himself as a pass-rusher, but he also admits it comes naturally to him. He recorded 13 sacks and 25 tackles for loss as a senior at Northeast High School in Philadelphia. The 6-foot-4, 244-pound Barnes credits longtime PSU defensive line coach Larry Johnson for helping him take another step as a rusher.
The next phase is clear: get better against the run.
"I basically had to work on my hand placement," Barnes said, "getting my hands out faster on the tackles in the run game so I could lock the tackles out and see the ball better. Coach Johnson said they don't want that to ever be a weakness for me, so [opponents say], 'Let's just run at No. 18.'"
Penn State's opponents probably are talking about running away from Barnes after his breakout season in 2012. Johnson has told Barnes that he'll be noticed after winning the Freshman of the Year honor, and Barnes "definitely" expects more double teams when the season rolls around.
Another challenge for Barnes is leadership, an area Johnson wants him to grasp this season. Senior defensive tackle
DaQuan Jones
has taken the reins so far this spring, but Barnes is expected to help.
"I'm a type of guy who leads by example," Barnes said. "I don't really do it vocally. If I make a play or something like that, it gets the team up, to want to make more plays. If you see a big hit, you're going to want to do the same thing as the person who just did it."
After delivering several big hits in 2012, Barnes hopes to play a bigger role in takeaways, an area being stressed by new defensive coordinator John Butler this spring. Although Barnes had the three forced fumbles, he wasn't much of a factor against the pass.
Penn State finished in the middle of the pack in the Big Ten and nationally in takeaways with 22.
"We had a lot of missed opportunities with interceptions and sack-fumbles," Barnes said.
Barnes appears to be capitalizing more this spring. Penn State starting tackle
Adam Gress
called the sophomore
, "one of the best defensive ends I've played against."
Barnes undoubtedly raised the bar for himself in 2012, but he also gained a greater comfort level to reach it in 2013.
"Last year, my eyes were wide open," he said. "I had never seen zone-reads and the way things were going, the power reads with the quarterbacks. Now I can see it and I'm like, 'Oh, OK, that's what they're trying to do.' I see getting more into the offensive schemes and understanding what's going on better.
"I have a lot more confidence in making plays."
TOP 25 SCOREBOARD
Saturday, 12/7
Thursday, 12/5
Friday, 12/6
TOP PERFORMERS