NCF Nation:

Adam Griffith
December, 3, 2013
12/03/13
8:00
AM ET
AUBURN, Ala. -- For a team of destiny, the play that would come to define Auburn's magical season started off in an ironic way as it looked as if luck might not be on its side after all. The clock read all zeroes in Jordan-Hare Stadium as Alabama running back
T.J. Yeldon
went out of bounds, sending a tie game into overtime. But officials double-checked, reviewed the play and put one second back on the clock -- just enough time for the top-ranked Crimson Tide to run one final play.
[+] Enlarge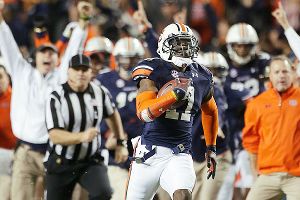 AP Photo/Dave MartinChris Davis' TD return was like something out of a video game, according to Tide QB AJ McCarron.
Alabama coach Nick Saban, staring his own date with destiny and a third straight national championship in the eye, didn't think to throw a Hail Mary pass. According to ESPN Stats & Information, the odds of
AJ McCarron
heaving a touchdown in that situation were 2 percent. Better to give
Adam Griffith
a shot at splitting the uprights from 57 yards out, Saban thought. He'd seen his freshman kicker hit it from 60 yards plenty of times, and
Cade Foster
, Alabama's regular place-kicker, had already missed three field goals.
Disgruntled, Auburn coach Gus Malzahn thought to himself, "You know, we haven't had a whole lot of luck with reviews anyway," as Alabama took the field for its shot at a game-winning field goal. Malzahn toyed with telling his special-teams coach to go for the block, but he knew he wanted to call a timeout to ice the kicker and survey his options anyway. Better go a different route, he decided.
"If they missed the kick, what was the worst that could happen?" said Auburn safety
Jermaine Whitehead
.
"Put CD back there," Auburn defensive end
Dee Ford
recalled hearing Malzahn say during the timeout, pulling safety
Ryan Smith
off the return in favor of
Chris Davis
, a speedy cornerback and part-time punt returner. Malzahn called Davis, a senior who has gone through his fair share of ups and downs, "a champion" in his book. On Saturday night with the wind blowing in his face and a title hanging in the balance, Davis was.
Cody Mandell
fielded the snap and dropped the ball into place for Griffith, who swung his right leg through cleanly. The ball floated on line for what seemed like an eternity to the orange-and-blue-clad fans standing in their seats. Then it dipped short and to the right, where Davis waited with open arms.
"I knew when I caught the ball I would have room to run," Davis said.
Alabama simulated field goal returns like Davis' every Friday during the season. "We just imagine," said tight end
Brian Vogler
, who is responsible for sealing the outside edge of the line during kicks. But there's never anyone actually there to return the ball, he said.
"You practice it so many times and when it happens you're not expecting that kind of speed," Vogler explained.
Davis started to his right up the center of the field before turning back left toward the sideline. He knew if he got to the edge the bigger guys for Alabama wouldn't be able to catch him. Vogler, all 6-foot-7 and 260 pounds of him, took a bad angle, leaped at Davis, and missed.
"I was running down the field expecting a blindside [hit] out of nowhere," Vogler said, "and when I finally got the opportunity, I was kind of in shock I hadn't gotten laid out."
Adrian Hubbard
, Alabama's 252-pound linebacker, didn't stand a chance either as he whiffed on the tackle.
Smith, in a stroke of irony, was a key part of the return as he laid out Alabama offensive lineman
Arie Kouandjio
.
"I made a good block," Smith said excitedly. "Y'all go check it out."
Mandell, the punter and holder, got one hand on Davis' jersey, but wound up only touching history rather than stopping it. Davis never broke stride as he passed Mandell and found daylight, running freely into the end zone for the game-winning score before being hugged to the turf by his own teammates as the stadium erupted in applause.
"When I looked back, I said I couldn't believe this," Davis said. "When I was running, I said, 'God is good.'"
It was like it happened in slow motion, McCarron said. His helmet on and his emotions hidden from view, he sprinted off toward the locker room as fans rushed the field.
"It's almost like a video game," McCarron said. "That's something you do on 'Madden.'"
"I was just shocked," said Alabama linebacker
C.J. Mosley
. "I didn't think that big of a play would have been caused by that."
Said Auburn defensive end
Nosa Eguae
: "I lost it. I ran and found myself on the other sideline and got to see some of my guys and hugged them. It was just an amazing experience, one that will last me for a lifetime."
The floodgates opened and the field at Jordan-Hare Stadium became a crazed sea of blue and orange fans celebrating what will go down as the most memorable Iron Bowl in history. An Auburn staffer would have to save Malzahn from being hit by Aubie, the Tigers' crowd-surfing mascot, during a postgame interview.
[+] Enlarge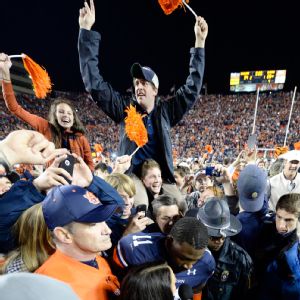 John David Mercer/USA TODAY SportsThe game over, the field turned into one very large celebration.
"I don't think I've ever been part of a sequence like that with so much on the line in that part of the game," Malzahn said, not realizing he had won the Western Division until the moment he shook Saban's hand after the game.
Meanwhile, Davis was being suffocated at the bottom of a dog pile.
"It was hard to breathe," he said. "I knew it was coming. What else do you expect when you're doing something like that? I'm proud of my teammates. It might seem like I'm the hero in this moment, but they also are too -- offense and defense and special teams. We fought together and we got the W."
"If you weren't there," Ford said, "I can't really explain it to you."
It took at least an hour for players and fans to finally leave the field. The cleanup of their celebration would continue into Monday. Toomer's Corner remained painted white with rolls upon rolls of toilet paper prior to Malzahn's news conference that day at 11:30 a.m. In fact, most of the campus remained covered in the tissue.
When Davis went to his geology class that morning, he received a standing ovation. It was like a scene from a movie: the team that couldn't win a single conference game and fired its entire staff from the season before, suddenly beats the top-ranked team in the country and its star player goes to class to a round of applause.
Davis and his teammates better get used to it. This is their legacy now. No one who saw what happened that Saturday night in Jordan-Hare will ever forget.
December, 2, 2013
12/02/13
10:05
AM ET
AUBURN, Ala. --
Chris Davis
' unthinkable game-winning return on a missed Alabama field goal seemed impossible at the time. Even with all the magic from the immaculate deflection on the Plains just two weeks earlier, Saturday's shocking finish in Auburn's 34-28 stunner over No. 1 Alabama just wasn't supposed to happen.
But with this group of cardiac cats, an ending like that just makes since. In the fourth quarter, Auburn's magic emerges.
"Coach [Gus Malzahn] tells us the whole season that if it comes down to the end, we can win the game, we can find a way to win," receiver
Sammie Coates
said. "And every time it comes down to the end, we find a way."
[+] Enlarge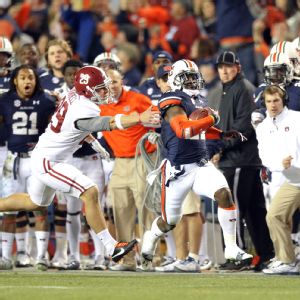 John David Mercer/USA TODAY SportsChris Davis' stunning return on a missed field goal to beat Alabama was just the latest incredible fourth-quarter rally for Auburn.
During No. 3 Auburn's miraculous regular season, the Tigers (11-1, 7-1 SEC) have outscored opponents 93-58 in the fourth quarter. Only Georgia and Ole Miss have outscored the Tigers in the fourth quarter this year, but both resulted in Auburn victories after clutch plays on both sides of the ball.
But the last two games have shown just how much the Tigers love to shine when the game is on the line. Two weeks ago, Auburn blew a 20-point lead to the Bulldogs only to have
Nick Marshall
bring the Tigers back from the brink with his 73-yard prayer to
Ricardo Louis
.
Saturday, Auburn did that ending one better with Davis' return on a play that really never should have happened. Nick Saban pleaded for a second to be added to the game clock when Davis knocked
T.J. Yeldon
out of bounds after a 24-yard run to Auburn's 38-yard line. He got it, and trotted
Adam Griffith
out to attempt a 57-yard field goal with the SEC Western Division and a potential spot in the BCS title game on the line.
Griffth had made a 60-yarder in practice, but this wasn't practice. This was rowdy Jordan-Hare in the fourth quarter of the Iron Bowl. And with no athletes on the field fast enough to catch anyone brave enough to return a short kick, Saban became yet another victim of Auburn's amazing fourth-quarter magic.
On Saturday, Auburn orchestrated its best fourth-quarter performance of the season. Facing a Crimson Tide team that has prided itself on dominating late and wearing down teams in the waning minutes, it was Auburn that did the late pushing and punishing.
Tied at 21 to start the fourth quarter, Alabama quarterback
AJ McCarron
delivered what appeared to be the death blow to Auburn's magical season when he launched a 99-yard touchdown pass to
Amari Cooper
with 10:28 remaining.
Plenty of time remained, but this was Alabama. This was a team that thrived on late heroics … until it met this year's Auburn team.
Auburn allowed just 53 yards on its last three possessions and blocked a field goal. On offense, Auburn drove 80 yards on seven plays and tied Alabama with a wide open 39-yard touchdown pass from Marshall to Coates.
The Tigers stood tall, poked out their chests and bullied big, bad Bama before Davis ripped its heart out.
"They hit us back," Auburn safety
Ryan Smith
said. "Those were some hard punches and it was hard to fight back. We just tried to stay together and tell each other, 'Man, we are gonna keep fighting and we're gonna find a way to win this game, like coach tells us all the time.'"
Auburn's fourth-quarter rallies in consecutive games has been linked to luck, and you can't argue that it hasn't been a factor. But you can't say that luck has trumpeted Auburn's efforts. A lucky team doesn't eat up Alabama's running game late. A lucky team doesn't force Saban to make a critical late-game error.
"It's been like that all year," said running back
Tre Mason
, who rushed for 26 yards on six carries in the fourth quarter Saturday. "In the close games, we've been pulling out with a win. It's our mindset going into the fourth quarter that we own the fourth quarter. Once the fourth quarter rolls around, it's a new game. We don't even treat it like the same game we're playing. It's a new game, and we're starting over."
Auburn knows how to fight when the pressure is on and the clock is ticking down. Saturday made blood pressure rise and hearts pound on the Plains, but endings like this and plays like this have guided Auburn to its unlikely run to the SEC title game.
"It's been an amazing year so far," Malzahn said. "It's not over with, but obviously a huge win. Our program is going in the right direction and I really like coaching our team."
November, 30, 2013
11/30/13
11:05
PM ET
AUBURN, Ala. -- It was Gus Malzahn's call.
With 1 second remaining before what should have been overtime Saturday in the Iron Bowl, Malzahn called a timeout to ice Alabama kicker
Adam Griffith
before his 57-yard attempt at a game-winning field goal. The Auburn coach also decided to replace safety
Ryan Smith
with cornerback
Chris Davis
in the back of the end zone -- just in case Griffith's kick came up short.
What happened next was perfectly in line with the magical season transpiring on the Plains.
Davis received the kick well short of the uprights, sprinted toward the middle of the field before cutting down the left sideline and zooming toward the end zone for a touchdown to give the Tigers yet another jaw-dropping, last-second victory that will send them to SEC championship game as the SEC Western Division champions.
"I thought just run, try to make something happen, and that's exactly what I did," an exhausted Davis said. "It's a miracle. Like I said, God is good.
"It hasn't sunk in, yet. It will sooner or later."
[+] Enlarge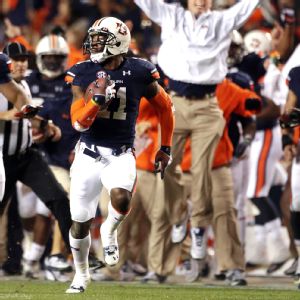 AP Photo/Dave MartinChris Davis' last-second, 100-yard touchdown return was Auburn's second improbable win in a row.
Auburn's improbable
34-28 win
knocked No. 1 Alabama off its perch above the college football landscape and made the case for some destiny talk with the Tigers.
In back-to-back games, Auburn did the unthinkable with its back against the wall. The Tigers successfully blew a 20-point, fourth-quarter lead to Georgia on the Plains two weeks ago before
Nick Marshall
's prayer of a pass deflected off Georgia safety
Josh Harvey-Clemons
' hands and into the mitts of
Ricardo Louis
for the 43-38 win.
Then came Davis, who had pleaded with his coaches to give him more chances in the return game. Once again, Malzahn's move paid off. A year removed from being the laughingstock of the SEC with a 3-9 record and a fired head coach, the Tigers are the class of the SEC West and are inching closer to possibly playing in the BCS title game.
"I knew we were going to score; they had too many big guys on the field, and he's just too fast," receiver
Sammie Coates
said.
Luck, talent, attitude and a helluva head coach have the Tigers back in the national spotlight.
"No one believed us, now we're here," senior defensive end
Dee Ford
said. "We definitely deserve every bit of it."
Luck is involved, but it isn't everything. This team just has "it." It has spunk and heart, two things missing from last season's disaster. After Auburn's Jekyll-and-Hyde-type loss to LSU in late September, the Tigers have bounced back to win eight straight without scoring fewer than 30 points.
Luck doesn't do all that. A lucky team doesn't win 11 games, including one against top-ranked Alabama. A lucky team doesn't fight back from a 14-point deficit by gutting the SEC's top-ranked rush defense for 296 yards and 5.7 yards per carry. A lucky team doesn't tire out one of the most mentally and physically conditioned teams around.
"Growing up, I've been an Auburn fan, and I ain't never liked Alabama," Smith said. "Right now, this is our state for the next 365 [days]."
He's right, and it's not like Auburn changed much to beat its archrival. Malzahn stuck to his game plan and wore down Alabama.
Auburn's no-huddle, hurry-up offense gassed Alabama's defense. After the Crimson Tide took a 21-7 lead late in the second quarter, the Tigers responded by marching 81 yards on seven plays in just 2:08 to cut the score to 21-14. On the first drive of the second half, Auburn went 69 yards in nine plays to tie it up.
On those drives, Auburn ran the ball 13 times for 119 yards and had just three runs of less than 6 yards.
"That's what we're good at, and we were able to run the football effectively," Malzahn said. "Once we got the pace going and kinda wore them down.
"When we're clicking we can run the football effectively."
But what really spoke to how far this team has come was how it bounced back after
AJ McCarron
delivered what appeared to be a dagger of a 99-yard touchdown pass to
Amari Cooper
to make it 28-21 early in the fourth. Instead of panicking, the Tigers relaxed.
The defense blocked a field goal and held Alabama to just 53 more yards on its final three possessions. After a lull by the offense, the Tigers drove 80 yards and tied the game again on a 39-yard pass from Marshall to a wide-open Coates on their final drive.
Then came the return, which trumped the pass less than two weeks earlier and sent a crazed orange-and-blue sea of Auburn students spilling onto Pat Dye Field to celebrate a historic win with its miraculous team.
"I believe it validates everything we've been saying all year, especially me," Ford said. "I said our setup [was] an opportunity for a comeback. We really knew that we had a chance to shock the world; we said that from media days, the summertime to right now, and we were able to do that."
When asked after the game if this was the biggest win of his life, Malzahn played coy, saying it ranked "up there" and that he'd have to think about it. But before Malzahn could complete his mundane response, his wife, Kristi, cut in.
"Just say, 'Yes!"
As a room full of media members chuckled alongside Malzahn, he finally let his guard down.
"Probably so," he said.
"It's indeed a new day."
It certainly is on the Plains.