November, 26, 2011
11/26/11
10:10
PM ET
What an unbelievable story developing at Cowboys Stadium.
Robert Griffin III
is out after taking a hit to the head and then having his head bounce on the turf. Running back
Terrance Ganaway
fumbled and hit his head on the turf, taking a seat as well.
The defense and quarterback
Nick Florence
have stepped up in their absence.
The Bears forced and recovered an
Adam James
fumble, and after Ganaway fumbled, juco cornerback Joe Williams picked off
Seth Doege
in the red zone and returned it 90 yards for a touchdown to go up 52-28 late in the third quarter.
You hear coaches all the time say "Somebody's got to step up" when players get injured. There might not be a tougher player in the country to replace than Griffin. So far, the Bears are doing it with defense and great throws from Florence.
So far this quarter, Baylor has shut out Texas Tech and scored 21 points.
This, against a Texas Tech team playing to extend its season and reach bowl eligibility. Amazing.
January, 1, 2010
1/01/10
9:01
AM ET
It's time for a quick look at arguably the most bizarre bowl game of the year, as Michigan State (6-6) takes on Texas Tech (8-4) on Saturday night in San Antonio (ESPN, 9 p.m. ET).


WHO TO WATCH:
Blair White
and
Keshawn Martin
. Michigan State's wave of suspensions hit the wide receivers harder than any other position group. The Spartans will be without their No. 2 and No. 3 wideouts in
B.J. Cunningham
and
Mark Dell
, who combined for 74 receptions and five touchdowns this season. White and Martin need to pick up the slack for the Big Ten's top passing offense in a game where Michigan State likely needs to score 28 points or more. Quarterback
Kirk Cousins
can rely on White, a first-team All-Big Ten selection who has a knack for finding the end zone. Martin also emerged as a difference maker down the stretch, especially on special teams. The Spartans need Martin to break off some nice returns to win the field-position edge.
WHAT TO WATCH:
Michigan State's secondary. Head coach Mark Dantonio talked up this group in the preseason, but the secondary has fallen well short of expectations. Quarterbacks like
Dan LeFevour
,
Jimmy Clausen
,
Scott Tolzien
and
Adam Weber
had their way with Michigan State's defensive backs, who face arguably their biggest challenge in
Taylor Potts
and the nation's No. 2 pass offense (380.7 ypg). The Spartans will be without starting cornerback Chris L. Rucker (suspension), so they need big performances from defensive backs Danny Fortener, Jeremy Ware, Trenton Robinson and others.
WHY TO WATCH:
Do you really need an explanation here? You've got one team (Michigan State) missing 14 scholarship players because of one very troubling stretch on Nov. 22. You've got another team (Texas Tech) that learned Wednesday that its head coach had been fired after wide receiver
Adam James
filed a complaint. I'm about to make a prediction on this game, but who really knows what will happen? One team will come out of the game looking extremely resilient amid adversity. The other could end up looking like a train wreck.
PREDICTION:
Mike Leach's shocking dismissal will impact Texas Tech early, as Michigan State takes a lead. But I don't have enough confidence in the Spartans' secondary to think they'll keep the Red Raiders in check for 60 minutes. Potts gets hot late and Texas Tech rallies to win, 31-27.
December, 30, 2009
12/30/09
4:24
PM ET
By
Tim Griffin
| ESPN.com
Mike Leach's firing wasn't a surprise on Wednesday.
His attorney had predicted to several reporters earlier this week that his client would be let go by Texas Tech officials -- probably sooner rather than later.
[+] Enlarge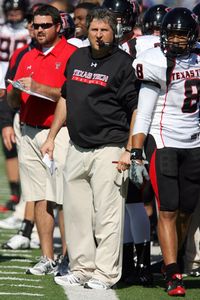 Douglas Jones/US PresswireMike Leach led Texas Tech to 10 straight bowl appearances.
But it was still a cataclysmic shock in Lubbock and West Texas when Leach was let go earlier this morning. For a period after his firing was announced, the Lubbock Avalanche-Journal's Web site crashed due to interest in the story.
That firing speaks to a larger controversy than what happened over
Adam James
' concussion and "The Shed."
Leach and Tech athletic director Gerald Myers always had a contentious relationship from the very beginning of his tenure there. It's understandable when you consider the turf wars that sometimes develop in athletic departments when a headstrong former basketball coach is the athletic director and makes decisions over a similarly headstrong football coach.
It all started in 2002, when rumors about Leach's off-field activities led to an investigation by the athletic department.
Leach was cleared, but the schism between him and his boss started at that time. At one point, Myers stopped Leach's outgoing mail in a dispute about postage stamps.
It simmered early in Leach's time when the Red Raiders played the toughest nonconference schedule in the Big 12 as a way to make money for the athletic department. During the 2002 season, for example, Tech played Ohio State, Mississippi and NC State in addition to the Big 12 South gauntlet.
That chapped Leach and he let Myers know about his concerns. The two always seemed to be better off if they were an arms-length away from the other.
Tech officials weren't happy when news surfaced of Leach shopping himself for a number of major coaching openings over the past several years.
And it continued when he went through an extremely contentious negotiation with school officials before he was given a three-year extension on what was a five-year, $12.7 million contract. To get the deal done, Leach went over Myers' head and personally negotiated with Tech chancellor Kent Hance.
Under terms of the contract, Leach was due an $800,000 bonus if he was still the Red Raiders' coach on Thursday.
Now, it appears he won't receive that bonus, although I'm sure the contract is headed for litigation between Leach and the school.
Even with the firing, Leach will be considered one of Tech's top football coaches ever, leaving the school with a program he helped boost into contention in the extremely difficult Big 12 South Division. It's not a stretch to say that he was one of the seminal figures in Big 12 history, helping transform the way offense was played from the ground-based philosophies of the old Southwest and Big Eight conferences into today's high-powered aerial attacks that have become the national rage recently.
Leach built a program out of castoffs like Wes Welker, Michael Crabtree, Graham Harrell and Brandon Williams and turned them into a team that could consistently compete with teams like Texas and Oklahoma. The Red Raiders were ranked No. 2 in the nation for a three-week period during last year's 11-2 season, which was a national breakthrough for the school.
Leach was Texas Tech football. He was as much a part of Lubbock as dust storms, Buddy Holly's statue and the blueberry muffins at the legendary Fifty-Yard Line Restaurant.
And no matter who follows Leach, he will face a mammoth chore of replacing a legend who directed the Red Raiders to 10 consecutive bowl appearances and more bowl victories in his tenure than the rest of the school's 85-season football history combined.
The football program upstaged Myers' basketball program and his hand-picked coach of choice, Bob Knight. Even with the legendary career leader in victories along the sidelines, the Red Raiders' basketball team had trouble filling the United Spirit Arena or selling the personal-seat licenses that were intended to help build the facility.
But that wasn't the case for the football program, which became a national phenomenon under their quirky coach. Tech's success led to him being a cover story in the New York Times magazine and the subject of a fawning piece on CBS-TV's "60 Minutes" late last season.
Leach gained notoriety for his fascination with pirates, mobsters and Indian chiefs. His stint as a weatherman on a Lubbock television station -- memorable because of his explanation of the local occurrence of "raining mud" -- became a YouTube staple with hundreds of thousands of hits.
He could coach a little, too. During what was expected to be a rebuilding job this season, Leach juggled three starting quarterbacks en route to an 8-4 mark and a berth in Saturday night's Valero Alamo Bowl.
He'll be gone from the sidelines in that game. The Red Raiders likely have the perfect solution to settle the upheaval with unassuming defensive coordinator Ruffin McNeill. He's familiar with the players because of his recruiting and will give them the best opportunity to keep their program together against Michigan State on Saturday night.
But after that, it will be a different story.
Myers needs to mobilize quickly to salvage what had been the best recruiting season for Tech in recent years. Whether those recruits will be willing to stay firm on their commitments to the far-flung West Texas locale that is still one of the toughest recruiting destinations in the Big 12 will be interesting to see.
Leach carved an identity that made Tech one of the top 25 or 30 programs in the country over the past 10 years.
Now, we'll see if his replacement can keep it there.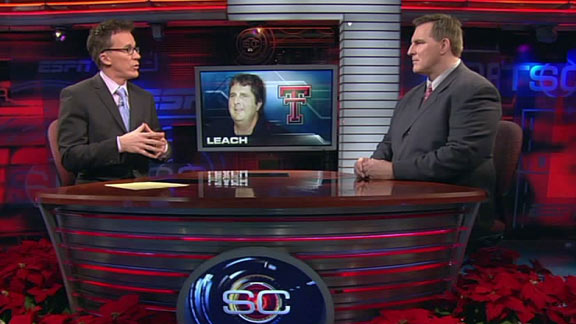 July, 25, 2009
7/25/09
10:19
AM ET
Posted by ESPN.com's Tim Griffin
Happy Friday afternoon. Here are some of the better questions and e-mails that I received this week.
Brian Kimble of Beltsville, Md., writes: After seeing the preseason All-Big 12 list and looking back at several articles from you and other sources, it seems every time Oklahoma and Texas are compared position by position, player by player, it favors OU. Yet, most prognosticators (yourself included) pick Texas as the better team. What is your justification?
Tim Griffin: Brian, I give Texas a slight edge for a couple of reasons. First, I think Oklahoma's loss of four starters along the offensive line is huge. With only one starter returning, the Sooners will have their work cut out to fix that by Oct. 17 at the Cotton Bowl. And I, along with several other people I've talked to, believe that Texas is entering the season with a kind of a collective chip on its shoulder from how the 2008 season played out. The Longhorns' coaching staff is helping to feed that by at one time awarding the team an asterisk-influenced share of the Big 12 title in their team meeting room before taking it down. And I also think that Colt McCoy is driven to win a championship.
I think the difference between the two teams is very, very slight. But I favor the Longhorns by a hair for those reasons.
I do reserve the right to change my mind before game day. But if they were playing today, I would make the Longhorns a slight favorite, say by about a field goal.
---
Drew Kappel of Orange County, Calif., writes: Hey Tim, I was shocked to see that "The Catch", the Kordell Stewart-to-Michael Westbrook pass in the famous "Miracle in Michigan" was not on your Big 12 greatest moments. Did I miss something? I was waiting for that every week and I just assumed it would be number 1, and then I was shocked when it wasn't. That is one of the most famous moments in Big 12 history as far as many Buff fans are concerned.
Tim Griffin: Drew, I limited my choices to moments during the history of the Big 12. The "Michigan Miracle," which I agree was one of the greatest plays in college football history, took place on Sept. 24, 1994 -- a little more than two years before the first Big 12 game was played in 1996.
But it was a great play and definitely would have merited some kind of inclusion if I had allowed all plays in the history of each Big 12 school to be included.
But it was tough enough narrowing my choice to 25 with those in Big 12 history. I couldn't have imagined how difficult it would have been if I had to cull through every school's football history looking for memories.
Maybe I'll do that next summer.
---
Spencer from Oklahoma writes: Tim, I'm a fan of yours and enjoy reading your blog, including the latest entry regarding 100-yard receivers and rushers and 300-yard passers. I noticed something from that study, and I wondered what you thought of this.
I saw that Sam Bradford had 13 games of 300 yards. However, there were only two instances of receivers at Oklahoma having 100-yard games. One belonged to Ryan Broyles, the other to Jermaine Gresham. I found this astonishing.
The other QB to have 13 300-yard games was Kansas' Todd Reesing. However, notice the instances of 100-yard receivers for the Jayhawks. They have 15!! Dezmon Briscoe had seven, Kerry Meier had five and three others had one 100-yard game apiece.
Is this surprising that Oklahoma has only had two receivers with a single 100-yard game among its receivers, despite the passing numbers put up by Bradford? And does this speak to the versatility of Bradford using all his outlets? What are your thoughts?
Tim Griffin: My list includes only players who are returning for the 2009 season. What it might speak to even more than anything were the losses that the Sooners endured with the departure of Juaquin Iglesias and Manny Johnson. Iglesias had seven career 100-yard receiving games, including three last season. Johnson had three career 100-yard receiving games, including two last season.
But I've noticed that Bradford has matured, he seems to be less likely to focus on one receiver. I think that results in a wider inclusion of many receivers into his offense rather than one or two. And that results in the fewer number of 100-yard receivers around the Oklahoma program.
That being said, I look for Broyles to really emerge as a deep threat this season if he can stay healthy. And Adron "Pooh" Tennell looked ready to produce after a strong season. And I think both can develop into consistent big-yardage receivers if they grab enough passes.
---
Tim from New York City writes: I have a question that has Big 12 (actually Big 8) ties regarding a coach outside of the conference. Given Turner Gill's recent success at and brief turnaround of one of Division I's ultimate projects at Buffalo, is it a long shot to believe that he may make a return to his former conference? If so, what teams would make a good fit for him?
Tim Griffin: Turner Gill has done a masterful job in rebuilding Buffalo after leading the Bulls to the Mid-American Conference championship and the International Bowl last season.
That strong job obviously has to have caught the attention of his old coach, Tom Osborne, which would make some think that Nebraska would be a place he might end up as a head coach. For that to happen, Bo Pelini would have to go on to another job. I think Gill might need a tad more more seasoning at Buffalo. And I don't see any interest in Pelini pursuing any other jobs at this time.
Another job that will come open probably pretty soon will be Kansas State, where there's no indication that Bill Snyder is in the head coaching position for the long term. Maybe Snyder, who turns 70 on Oct. 7, will stay at his old school for two or three years. It would be interesting if Gill would be attracted to Kansas State and if the Wildcats would be attracted to him.
I think the job that would make sense to him would be at TCU in his hometown of Fort Worth, Texas. Obviously, Gary Patterson would have to being going somewhere and I don't know how much interest Patterson has in pursuing other jobs at this time.
But I personally think that TCU might be the best non-BCS job in the country. And it might be better than some jobs in the Big 12. The reason I consider this job so highly include its proximity to the fertile Texas recruiting area, the developing facilities at the school, the school's winning tradition and its conference affiliation.
Patterson currently has an easier road to the BCS in his own conference than he would if the Horned Frogs were playing in the Big 12. And I think he knows it.
But I would also think the chance to return home for Gill would be attractive if the opportunity to accept the TCU job if it ever materialized for him.
---
Rick Yarbrough from Tripoli, Libya, writes: Football over here is with a round ball and guys in shorts. I'm gonna miss the fall afternoons watching the Longhorns running up and down the field. With a Sunday - Thursday work week and 7 hours time difference, I'm looking to you to keep us up to speed on the Longhorns. Keep up the great work. I'll be catching your blog.

Tim Griffin: Rick, thanks for your work. Please check the blog often during the upcoming season for some updates of home on a pretty regular basis. It should be an interesting season.
And boy, do I envy your days off. You should be able to catch almost every college football game from everywhere, depending on the satellites.
---
Larry Soper writes: Tim: Nice article on Taylor Potts on ESPN.com earlier this week. Could you please tell me what the Texas Tech receivers look like for Potts with Michael Crabtree gone?
Tim Griffin: Obviously, the loss of two-time Biletnikoff winner will be a big one for Texas Tech. But I think the Red Raiders actually will be more balanced this season without one player commanding most of the catches like Crabtree has done for the last two seasons. I look for Detron Lewis to step up in the featured role with a chance to catch 90-100 balls if he can stay healthy. But I've always liked Edward Britton, who I think could really blossom if he matures in his role in the offense. I think the same could be true for Tremain Swindall as well. And I know that Mike Leach has always raved about Lyle Leong and Adam James as they have played in his system.
I wouldn't look for one player to catch most of the passes for Tech this season. But it will be interesting to see who Potts gravitates to as his receiver. We'll see that as the season plays out for the Red Raiders.
---
Tom Bates from Oklahoma City writes: Hey, Tim, I know media day is coming up for you. I wonder if you would list your favorite three players and three coaches in the Big 12 to talk with. And maybe give a reason why you find those guys to be the best interviews.
Tim Griffin: As far as players go, this would be my list. 1. Sean Weatherspoon, Missouri - Always has something interesting to say. 2. Gerald McCoy, Oklahoma - I can see why Sooner players have gravitated to him since his arrival. He's a leader and his words command respect. 3. Kerry Meier, Kansas - Polished and well spoken. He could have a career behind the microphone after his playing days are over.
As far as coaches, this is how I would rank them: 1. Texas Tech coach Mike Leach - You never know what know what he's going to say. And that's the beauty of him. 2. Baylor coach Art Briles - Still has enough small-town Texas high-school football coach in him to always have some interesting comments. 3. Colorado coach Dan Hawkins - I never had heard the word "conflama" before I met the Hawk. But it's grown in my vocabulary since being around him to describe the combination of conflict and drama.
I also loved his comment on taking his wife to an Abba concert during the 2007 season. "You stay married for 25 years by making sacrifices."
We could all learn from that attitude, I guess.
Have a good weekend. I'll catch up with you on Monday from the Big 12 media days in Irving, Texas. Thanks again for all of the good questions and please keep them coming.