December, 19, 2014
12/19/14
10:00
AM ET
Daryl Williams
insists
Tyrus Thompson
put on his recruiting hat to get him to the University of Oklahoma.
Thompson doesn't quite agree, insisting that the program speaks for itself.
It doesn't really matter how it happened, Sooners fans are happy that it did.
Five years later Williams and Thompson formed the Big 12's best offensive tackle duo, earning first-team All-Big 12 honors while anchoring the Big 12's top offensive line in 2014.
"It's always exciting to accolades, especially with my brother," said Thompson, who has seen his relationship with Williams develop to the point he asked him to become the godfather of his two kids.
Add
Adam Shead
, who was named second-team All-Big 12, and the foundation of the offensive line that paved the way for a record-setting year for freshman running back
Samaje Perine
can be found in the group of offensive linemen that signed with Oklahoma in February 2010. The trio has started 107 combined games for the Sooners (Shead 37, Thompson 36, Williams 36).
Oklahoma's season has been a disappointment but its offensive line has not. Williams in particular emerged as a leader before his senior season, even sitting down his offensive line mates to set goals before the season began.
"We talked about it a lot," Williams said. "We wrote our personal goals as an O-Line and we made most of them."
There wasn't much more the Sooners offensive line could have done in 2014. There is plenty of blame to go around after a 8-4 season from a team with preseason aspirations of title contention but none of that blame lands on the offensive front. The Sooners led the Big 12 with 3,223 rushing yards, 268.58 rushing yards per game and 6.13 yards per carry and will go down in history as the unit that created the holes for Perine's FBS-record 427 rushing yards against Kansas.
"We definitely thought about that, talked about that and it was something we wanted to do," Shead said of leading the conference in rushing. "We knew we had the potential to be the best offensive line and that's how we characterized that."
After meeting during the recruiting process, Thompson and Williams stepped on campus as a pair of signees that could become the bookend tackles of the team's offensive line before eventually becoming roommates and friends.
"You really get to know someone really well when you live with them," Thompson said. "He's like my brother."
As the only other redshirting offensive lineman in the class, Shead saw the duo's growth, on-and-off the field, first hand.
"It's like night and day, literally," Shead said. "They were always hard workers who wanted to do the right thing and great guys to be around. You add the maturity, strength and ability to do the things they wanted to do, you can't say enough about them."
The bond that has been formed during the trio's five-year span as teammates is impossible to mimic. They've been roommates, teammates, competitors and friends who have seen the ups and downs of a program that has gone 51-14 during their time on campus.
"There's like a bond I've created with these guys that was awesome," Shead said.
Said Thompson: "There are things we went through here that nobody else really knows. These are my brothers."
Now the trio face arguably the best defense they will see all season when they take on Clemson in the Russell Athletic Bowl on Dec. 29 with Williams and Thompson facing the tall task of dealing with Tigers standout defensive end
Vic Beasley
. No matter the final outcome, the trio will leave a solid legacy in Norman.
"I guess we left a good legacy here," Williams said. "I wanted the team to do better than we did. [But] I think we played well here for five years."
Their senior season is their first without double digits wins but the trio does take some solace in earning All-Big 12 honors, leading the Big 12 in rushing, paving the way for Perine's record and accomplishing most of its preseason goals as an offensive line.
"It's an awesome feeling to know that we actually got to do something, we accomplished something at least," Shead said. "We're all proud of what we did here."
October, 17, 2013
10/17/13
10:00
AM ET
NORMAN, Okla. -- Unpleasant would be a great word to describe Oklahoma's ride home after Texas hammered the Sooners 36-20 in the Red River Rivalry in Dallas last Saturday.
"Silence," cornerback
Zack Sanchez
said of the 193-mile trip from the Cotton Bowl to Norman. "Guys were in their own zone, thinking about plays we could have made, should have made."
[+] Enlarge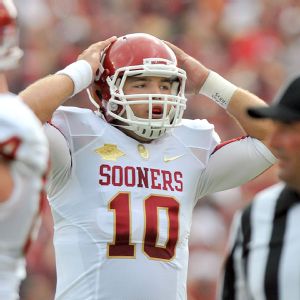 Jackson Laizure/Getty ImagesThe ineffectiveness of the Oklahoma passing game has Blake Bell's status as starting quarterback under scrutiny.
It's not the first time the Sooners have been in this situation. At this time a year ago, the Sooners had already suffered a loss to Kansas State in Big 12 Conference play, yet they took the field in the regular season finale at TCU with the chance to win the conference outright if Kansas State were to lose to Texas. The Wildcats defeated the Longhorns the night after the Sooners' win over TCU, thus OU shared the conference title with KSU.
There's no reason to think the Sooners can't accomplish a similar result in 2013.
"The Big 12 is a great conference and you never know," defensive end
Geneo Grissom
said. "We definitely think we are still in the running."
But Oklahoma has work to do and it'll need help to make its goal of another Big 12 title a reality. Basically, its loss to Texas means its destiny is no longer in their hands.
"It was a reality check for everybody," guard
Adam Shead
said. "The Big 12 is a pretty tough conference this year. You don't have the big offenses anymore, the defenses are stepping up."
All other conference results aside, if they have any hope of winning the Big 12 title, the Sooners' offense must put fear in Big 12 defenses again. The lackluster production of TCU's offense has been a topic of conversation in Big 12 circles but the Sooners are averaging 0.7 more points per game in conference play than TCU (18.7 to 18.0). It's a far cry from last season's squad which led the league with 41.9 points per game in conference play.
Even though OU spent the offseason disappointed with its ability to run the ball in key moments, the Sooners' running game isn't the problem, as OU ranks second in the Big 12 with 216.33 rushing yards per game, averaging 5.07 yards per carry.
Its horrible passing game deserves the majority of the blame. OU has passed for 160 yards or less in conference play just 14 times since 2004 yet hasn't been able to surpass 160 passing yards in any of its Big 12 games this season.
The Sooners' offensive coaches insist they are close to having a breakout game through the air and are hopeful it starts this week against Kansas. Co-offensive coordinator Jay Norvell believes quarterback
Blake Bell
and the receivers just need to find the in-game chemistry that results in big plays instead of narrow misses.
"That kind of chemistry comes from playing in games and making big plays," Norvell said. "When guys make big plays in a game, they gain confidence in each other and that's when it grows. That just doesn't happen overnight, it happens from playing and throwing balls and making big plays on third down and having a guy you can trust. We're building that."
Make no mistake, Bell is under fire as the starting quarterback. Some people think
Trevor Knight
, who was originally named the starter, should get another chance while others think
Kendal Thompson
, the only one of the three quarterbacks who has not taken a snap this season, should get a shot.
The Sooners' quarterback position is in flux, as OU coach Bob Stoops hinted this week that a change could be made if Bell's play doesn't improve -- and the junior knows it.
"All I can do is get in the film room, learn from my mistakes and get better," Bell said.
If he does, OU will have the chance to get back into the Big 12 title race. If he doesn't, the Sooners will have to turn to Knight or Thompson because, no matter what, OU will not compete for a Big 12 title without a improved passing game.
"In this league, you better be able to throw the ball and be balanced," Norvell said. "We've got to do a good job at both [running and passing] to have the success we want to have going down the stretch."
October, 11, 2013
10/11/13
11:00
AM ET
NORMAN, Okla. -- A statement from Oklahoma guard
Adam Shead
explains it all.
"Everybody is on edge."
[+] Enlarge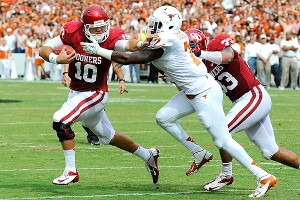 Matthew Emmons/US PresswireOklahoma knows it will face a higher intensity level in the Cotton Bowl Saturday.
Those words came from the mouth of the Sooners' junior when he was asked how things change in the halls of the Switzer Center during OU-Texas week. The Sooners football facility is full of anticipation each October as OU prepares to battle its rival at the Cotton Bowl in Dallas.
"Everyone knows this is a big game, a big week and what this rivalry means to each one of these programs," Shead said. "We all know the meaning of this game to Oklahoma fans, to this university, to recruitment and to Texas fans."
The Sooners insist their focus and intensity is high every week but that's just coaches' speak. OU turns it up for the Longhorns and it has helped the Sooners win three straight Red River Rivalry contests. It's been complete domination as the Sooners' offense is averaging 48.7 points and 496.7 yards per game while holding UT to 19.3 points and 307 yards per game in the last three meetings.
"… You could say we're a little more focused, because we know who it is and we don't want to lose," linebacker
Aaron Franklin
said.
This year's senior class is trying to become the eighth senior class from either school to go 4-0 in the Red River Rivalry since 1970 and the sixth group of Sooners seniors to accomplish that feat. Yet that same group of seniors has suffered home losses to Texas Tech and Kansas State along with a road setback at Baylor, in games the Sooners were expected to win.
But the lead up to those games simply doesn't compare to OU-Texas week. The atmosphere outside the facility among fans and students can't help but seep into the halls of the Switzer Center.
"Five times today I had random people stop me and say things to me," defensive end
Geneo Grissom
said earlier this week. "This game might as well be a bowl game for us. It's one of the biggest games of the year. It's a game where we practice at a different level, and it's always an exciting week."
Said Franklin: "It changes a lot, you see on social media and you feel it in the community. People just want us to beat Texas."
And they have under Bob Stoops, with a 9-5 record against the Longhorns during the veteran head coach's time in Norman. The Sooners insist their preparation remains consistent throughout the year but nothing is like OU-Texas week.
"We go hard every week but Texas-OU we go hard times ten," Grissom said. "It's Texas, our biggest rival, every year we come in and Texas is the underlined team. We want to play our very best against Texas. Texas-OU is a once-in-a-lifetime thing."
August, 30, 2012
8/30/12
11:00
AM ET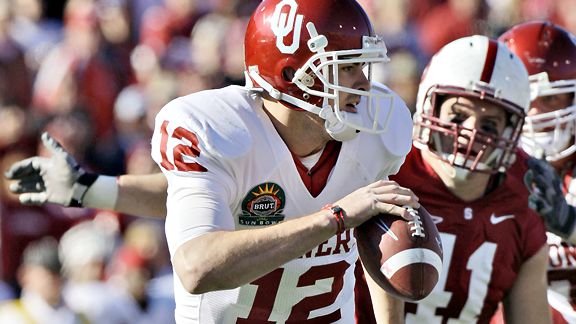 AP Photo/LM OteroLandry Jones enjoyed a breakout game against Stanford in the 2009 Sun Bowl, throwing for 418 yards in the win.
Landry Jones
planned on standing on the sidelines and learning from the best in 2009. He was going to watch how a Heisman winner went about his business.
Less than 30 minutes into Jones' redshirt freshman season, the plan changed.
Sam Bradford's shoulder was planted into the turf and the first chapter of Jones' Oklahoma story was began. It wasn't a happy one, ending what the Sooners hoped was a return to the national title game with a 13-12 loss to BYU in the season opener.
There were other bumps in the road during Jones' first season, like a five-interception outing against Nebraska and an embarrassing blowout loss to Texas Tech in Lubbock.
By the bowl game, though, Jones looked like a different quarterback.
He rolled over Stanford's defense in the Sun Bowl, throwing for a then-career high 418 yards, three scores and completing nearly 60 percent of his passes in the 31-27 win.
"It was a starting point for sure," Jones said. "I grew up a lot in that game."
Almost three years later, he'll begin his final season in the same stadium. This time, Texas-El Paso awaits.
His freshman season ended with a career game. Jones passed up NFL money and a likely first-round selection to come back to Oklahoma for his senior season, which somehow disappointed at least a few Oklahoma fans.
Saturday, Jones will have a chance to remind most everyone of what he can do.
"I believe I'll see more consistency," Oklahoma coach Bob Stoops said. "I believe he's a better player. More mobile, throwing a great ball. I believe the players around him will be more consistent. That position needs support."
Jones watched more film leading up to that Stanford win than he'd ever watched on an opponent before. He saw the results on the field, and his career's never been the same.
Being consistent has always been a struggle for Jones, and part of that has been decision-making and accuracy outside the pocket.
"Moving around in the pocket for sure, that's one area that I wanted to grow in, one area I wanted to get better at," Jones said.
It was an emphasis all offseason for Jones, who also paid a visit to QB guru George Whitfield in California over spring break to work on his mechanics.
"Moving and throwing, that's one thing that was big for me," Jones said, "and sliding around in the pocket and making throws whenever I was sliding."
Jones might need to be on the move a little more this year behind an offensive line struggling with depth. The Sooners lost a pair of three-year starters in Ben Habern (neck, back) and
Tyler Evans
(knee), who were both with Jones for his rocky freshman season.
Jones noted he has a lot of confidence in players like
Adam Shead
and
Bronson Irwin
, big talents sliding up into bigger roles, but Jones' senior debut will be Step 1 in proving he can be at his best for every week in a given season.
"I expect nothing but the best for myself," Jones said. "I expect to play really well and play winning football every game. That's what I expect and that's what I'm shooting for."
August, 1, 2012
8/01/12
3:04
PM ET
Really sad, surprising news out of Oklahoma today.
Here's our news story
:
Oklahoma senior Ben Habern's career is over.

The Sooner center won't return to the team after offseason neck surgery that fused together two vertebrae, despite expectations that he would return at full strength this fall.

...

"Our coaching staff knows this was a difficult decision for Ben," [coach Bob] Stoops said in a statement. "Ben has been a consummate leader for our team, both on and off the field. We appreciate the toughness that Ben has displayed, and we wish him the very best as he completes his education at OU."
First things first: Absolutely hate to see this for Habern. I covered the Sooners for The Oklahoman during Habern's freshman year, and he's consistently been a great guy to cover from that point through just last week, when he was chosen as a representative for Oklahoma at Big 12 Media Days.
Here's
the video he took time to shoot for us
. (Stick around until the end).
It's truly shocking news. Habern must have been thinking about quitting, but didn't know until just recently. If Oklahoma knew Habern's status was in doubt, it's highly unlikely he would have represented the Sooners at media days.
Habern's dealt with neck and back issues throughout his career, which also featured a broken ankle in 2009 and a broken right arm last season that forced him out of five games.
His experience and leadership simply can't be replaced this season. Oklahoma's fantastic offensive line takes a huge hit with his loss.
As for his spot on the depth chart? Look for guard Gabe Ikard (one of the league's best overall linemen) to slide over to play center, and junior Adam Shead to move up and replace Ikard at guard. The Sooners can handle that. Don't be surprised if freshman Ty Darlington gets some time at center, too.
Still, Habern has been around for everything coming into this year, and been a stalwart at center for the past three seasons. He saw the 2009 collapse up close. He was integral in the rebound for a Big 12 title in 2010. He learned from the pressure of 2011.
He talked about his neck surgery at Big 12 media days last week, but gave zero indication he was even thinking about quitting.
Now, he has.
It's a sad story, no doubt, but Oklahoma has no choice but to move on.
As Habern moves on, here's hoping for the best for him. I'm confident he'll excel in his future endeavors.
Suspended players reinstated
In Wednesday's statement, Stoops also said that receiver Trey Franks, defensive back Quentin Hayes and receiver Jaz Reynolds were each reinstated from offseason suspensions, but only for preseason practice. Their availability for Oklahoma's season opener at UTEP on Sept. 1 was still undecided. Receiver Kameel Jackson was not reinstated, and his suspension will be re-evaluated "at the conclusion the current academic session."
Stoops also confirmed previous reports that wide receiver
Courtney Gardner
and offensive lineman
Will Latu
would not be available this season.