June, 29, 2011
6/29/11
5:00
PM ET
You are going to argue about this. How do I know? Because I'm still arguing with myself over it ...
[+] Enlarge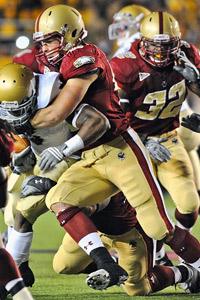 Michael Tureski/Icon SMILuke Kuechly leads a deep group of Boston College linebackers.
1. Boston College:
Luke Kuechly is one of the best in the country, but he's not alone. The Eagles also have Kevin Pierre-Louis, who ranked second nationally among all freshmen in tackles per game last season with 7.15 -- ninth in the ACC. It won't be easy to replace Mark Herzlich, on or off the field, but Steele Divitto played in 11 games last season, and Nick Clancy and Will Thompson both saw time on the second team.
2. Florida State:
The Noles had to replace two starters, including Kendall Smith, the team's second-leading tackler, last season, and Mister Alexander, but the upcoming talent could be even better. Nigel Bradham led the team with 98 tackles and five pass breakups last season, and Christian Jones, Jeff Luc, Telvin Smith and Vince Williams will also be competing for playing time.
3. Miami:
Sean Spence, who has 30 career starts, should be one of the best in the country, and Ramon Buchanon, another senior, also returns. The Canes have five other linebackers with experience in Kelvin Cain, who started seven games, Jordan Futch, who had a great spring and will see the field, Tyrone Cornelius, Shayon Green and C.J. Holton.
4. North Carolina:
Kevin Reddick, who led the Tar Heels with 74 tackles last season, returns for his third season as starter. Zach Brown is also a returning starter with game-changing capabilities, and there is plenty of depth with Dion Guy, Darius Lipford, Ebele Okakpu and Herman Davidson. Junior college transfer Fabby Desir could also have an impact.
5. NC State:
Audie Cole and Terrell Manning have combined for 39 career starts, and Cole fared well this spring moving to the middle to replace Nate Irving. With the return of Sterling Lucas, Dwayne Maddox and Colby Jackson, there is plenty of experience, but not quite as much depth as some other programs.
6. Georgia Tech:
The Jackets return both starters in Steven Sylvester and Julian Burnett. There is no shortage of depth with Jeremy Attaochu, Quayshawn Nealey, Brandon Watts, Albert Rocker, Malcolm Munroe and Daniel Drummond.
7. Clemson:
This group has a lot of potential, especially if true freshmen Tony Steward and Stephone Anthony make an immediate impact. There's no question they'll be given a chance, but the Tigers already have a good group with Corico Hawkins, Quandon Christian and Jonathan Willard.
8. Virginia Tech:
It seems like this rotation has been in flux for a while now. The Hokies' leading tackler returns in Bruce Taylor, Barquell Rivers had 96 tackles as a starter in 2009 but was injured last season, and there are several young players adding to the competition. Chase Williams, Tariq Edwards, Telvion Clark and Jack Tyler are only a few. Whip linebacker Jeron Gouveia-Winslow will have to earn his spot back over Alonzo Tweedy, Dominique Patterson and Nick Dew.
9. Maryland:
The Terps were hit hard here with the losses of Alex Wujciak (381 career tackles) and Adrian Moten (14.5 career sacks). Demetrius Hartsfield returns with 20 career starts, and there are four lettermen returning including Darin Drakeford, Isaiah Ross, David Mackall and Bradley Johnson.
10. Wake Forest:
Kyle Wilber's move to outside linebacker will give this position a boost, as he led the Deacs with 14.5 tackles for loss and six sacks last season. His backup is Gelo Orange (22 tackles). The Deacs also have Tristan Dorty, Joey Ehrmann, Mike Olsen, Scott Betros, Riley Haynes and Justin Jackson.
11. Virginia:
Starters LaRoy Reynolds and Ausar Walcott both return, but neither has started more than 11 career games. Junior Steve Greer has prior starting experience but played mainly as a reserve last season. Adam Taliaferro, Conner McCartin, Tucker Windle and LoVante Battle are also in the mix for playing time.
12. Duke
: Kelby Brown is the lone returning starter, but he's a promising young player who led the nation last season as a freshman in fumbles recovered. He missed spring ball while recovering from a knee injury, but is expected to start with Tyree Glover or Kevin Rojas.
March, 30, 2011
3/30/11
9:00
AM ET
COLLEGE PARK, Md. -- Maryland began spring practices on Tuesday with a new coach, new schemes and enough new terminology that quarterback
Danny O'Brien
compared it to learning a foreign language.
Many of the players, though, are the same ones who brought the Terps within two wins of clinching the Atlantic Division title last year.
[+] Enlarge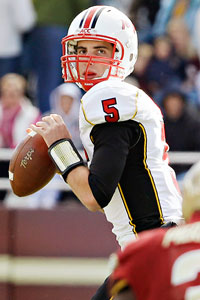 AP Photo/Stephan SavoiaMaryland quarterback Danny O'Brien and 13 other starters return to the Terps in 2011.
There are plenty of questions surrounding the program as Maryland begins its first week of spring practices under first-year coach Randy Edsall, but the players are confident there is enough talent remaining on the roster to build upon the success of last year's nine-win season.
"The reality is all of those things are outside the box," running back
Davin Meggett
said of the coaching transition. "The box is the white lines and the grass fields. We're all the same. We lost a few key playmakers, but there's no doubt in my mind we can't match up, or replace them, or match up even better in between those lines. That really gives us a good look on how well we'll play as far as next season."
There's reason for confidence in College Park. The Terps return 14 starters, including O'Brien, the 2010 ACC Rookie of the Year. Four offensive linemen return along with Meggett, the team's leading rusher (720 yards). Defensively, seven of the top 10 tacklers return.
Maryland's biggest holes to fill are at linebacker, where Alex Wujciak and Adrian Moten have graduated, and at receiver, where standout
Torrey Smith
left early for the NFL.
The biggest reason for concern, though, isn't in College Park. It's in Tallahassee, where Florida State is seemingly on cruise control heading into coach Jimbo Fisher's second season. The Seminoles eliminated Maryland from the division race last year with a 30-16 win in Byrd Stadium.
Despite Florida State's success and Maryland's transition year, the Terps agree there's no excuse not to be in hunt again.
"As players we feel like we're contenders for the ACC championship," said receiver
Kerry Boykins
. "We're just buying into what the coaches say and what the coaches believe because we know they want what's best for us. They're here to win championships just as well."
Boykins said the receivers and O'Brien met separately throughout the season and then had seven-on-seven drills every Wednesday, when O'Brien would help them grasp the concepts of what they were studying. They watched film of LSU, where offensive coordinator Gary Crowton was hired from. The biggest change in the offense will be the tempo, and the Terps will run more no-huddle, but how much is yet to be seen by even the players.
O'Brien said the offensive players are "not anywhere close to where we were last year by any means as far as familiarity with the offense," but that they're still probably further along than one might expect.
"There's been a lot of change, but I think we're really excited because it's the same team coming back," O'Brien said. "We might have a new scheme, new terminology, but it's a lot of the same guys, and we're a really tight family here at Maryland. We're excited about what we're going to put on the field this fall."
February, 15, 2011
2/15/11
9:00
AM ET
It's that time of year, ACC fans. Duke kicks off the ACC's spring football schedule with practice tomorrow, so it's time to take a look at three storylines to watch for each program. We'll start with the Atlantic Division:

BOSTON COLLEGE
Spring practice starts:
March 15
Spring game:
April 16
What to watch:

CLEMSON
Spring practice starts:
March 7
Spring game:
April 9
What to watch:

FLORIDA STATE
Spring practice starts:
March 21
Spring game:
April 16
What to watch:

MARYLAND
Spring practice starts:
March 29
Spring game:
April 30
What to watch:

NC STATE
Spring practice starts:
March 17
Spring game:
April 16
What to watch:

WAKE FOREST
Spring practice starts:
March 15
Spring game:
April 16
What to watch:
March, 17, 2009
3/17/09
1:57
PM ET
Posted by ESPN.com's Heather Dinich
They're young. They're inexperienced. They're ... green.
In keeping with our St. Patrick's Day theme, here's a look at the "greenest" units on each team in the ACC:
BOSTON COLLEGE -- If Dominique Davis wins the starting quarterback job, he's got a whopping three full games of starting experience to fall back on, and that's three more games than Justin Tuggle, who is also competing for the job.
CLEMSON -- The Tigers will be youngest at quarterback, where either sophomore Willy Korn or redshirt freshman Kyle Parker will inherit the offense.
DUKE -- The Blue Devils have to replace three starters on their offensive line and returning sophomore Kyle Hill moved from guard to tackle.
FLORIDA STATE -- Without Preston Parker, Greg Carr and likely Taiwan Easterling and Corey Surrency, the Noles will depend heavily upon a green group of receivers.
GEORGIA TECH -- Having lost three of four starters on the defensive line, it's easily one of the greenest groups in the whole conference.
MARYLAND -- Maryland lost five starters from its defensive front seven, but defensive tackles Travis Ivey and Dion Armstrong ended the year as starters and linebacker Adrian Moten had three starts.
MIAMI -- The Canes are still young everywhere, but remember quarterback Jacory Harris has only started two games and his backups have no collegiate experience.
NORTH CAROLINA -- The Tar Heels lost their top three receivers and will be counting heavily on inexperienced players to replace Hakeem Nicks, Brandon Tate and Brooks Foster.
NC STATE -- The Wolfpack needs to replace both offensive guards in John Bedics and Meares Green, who combined for 43 starts.
VIRGINIA -- Outside linebacker Denzel Burrell is the only returning starting linebacker in the Cavaliers' 3-4 defense.
VIRGINIA TECH -- The Hokies have to replace two starting linebackers in Brett Warren and Purnell Sturdivant.
WAKE FOREST -- The Demon Deacons have to replace three starters at linebacker, including Butkus Award winner Aaron Curry.
Posted by ESPN.com's Heather Dinich
CHAPEL HILL, N.C. -- Sorry for the delay, but Spanky's on Franklin Street was calling my name for dinner.
Here's what happened throughout the league today, per the latest available report from each team:

BOSTON COLLEGE
The defense stole the show in the Eagles' second scrimmage, and that's not a surprise. But eight sacks and four interceptions?
The offense had 64 net rushing yards. Yikes.
Chris Crane completed 14-of-25 passes for 178 yards and a touchdown.
Junior Rich Gunnell led all receivers with three catches for 83 yards and a touchdown.
Sophomore Billy Bennett connected on field goals of 26 and 38 yards while senior Steve Aponavicius nailed a 29-yarder.
True freshman Ryan Quigley punted the ball three times for 104 yards (34.3 average) with a long of 36 yards while sophomore Billy Flutie punted once, a 33-yarder.
Quotable:
"The defense brought a whole lot of blitzes today," Crane said. "It's comforting to know this defense will be playing on our side of the ball this fall. It's a benefit to play against them every day."
---

FLORIDA STATE
Rodney Gallon confirmed today that he is no longer a part of the Seminole football team. He told the FSU sports information office he will be enrolled in school this fall and is excited to complete the final nine hours toward his degree. Football is just not part of his future right now but completing his college degree is a priority.
Preston Parker was held out of practice due to a cervical sprain. Tony Carter also suffered a cervical sprain and did not finish practice. Freshman Terrance Parks suffered a right knee contusion at the end of the session as well.
Highlights
---

GEORGIA TECH
Quarterback Josh Nesbitt didn't practice this afternoon with a shoulder injury and neither did Andrew Gardner, Sr., OT (also a shoulder). Both are day-to-day and neither is in jeopardy of missing the opener. Nesbitt got a "stinger" when a teammate fell on his shoulder.
Practices will be closed beginning Monday. It was good while it lasted.
Highlights:
The Yellow Jackets spent two periods this morning working on 3rd-and-5 situations. Back-up safety Troy Garside intercepted a Bryce Dykes passas.
Senior quarterback Calvin Booker connected with sophomore Demaryius Thomas on a 35-yard touchdown completion.
---

MARYLAND
The Terps worked on clock management and ended with two-minute drills.
There is still a battle at strongside linebacker where incumbent Moise Fokou is trying to hold off Adrian Moten for the starting nod. Regardless of who starts, both are likely to play extensively, including on special teams.
During the full-team drill, wide receivers LaQuan Williams and Torrey Smith caught touchdown passes.
Quotable:
"We came out today and they were tired and sore," coach Ralph Friedgen said. "This was a character practice. We had a pretty good practice. I had to push them, but that's my job. I told them I'm going to get every ounce of energy and every ounce of talent out of them."
---

MIAMI
The Hurricanes continued to stress special teams, and the defense focused on run blitzing drills with specific emphasis on red zone and run formations.
After five practices in the past three days, coach Randy Shannon is giving his guys Thursday off.
They'll scrimmage on Friday.
Quotable:
"The other day I didn't like the way we were practicing, but we came out this morning and this afternoon and finished up strong," Shannon said. "We had a lot of enthusiasm and we made a lot of plays on both sides of the football so we're excited about that. It was a big improvement from the other day."
---

WAKE FOREST
The Demon Deacons had their second two-a-day practice in preparation for tomorrow's scrimmage, which I will attend.
Highlights:
In the first practice, during 7-on-7 drills, quarterback Riley Skinner hit running back Josh Adams on a long pass down the left sideline on the first play of the drill.
Cornerbacks Chip Vaughn and Brandon Ghee each made a couple of nice pass breakups.
Quotable:
"I would like to see some improvement from the younger classes," said coach Jim Grobe. "We have older guys that are doing pretty much what we thought they would be doing at this point -- having good camps and making minimal mistakes. I think the key to a season is to have the younger guys step up. No matter how good your upperclassmen are, you are going to have to play young guys at some point, whether you are comfortable or not. So I would like to come back to the office after the scrimmage tomorrow and feel like our young guys made pretty good strides."
July, 18, 2008
7/18/08
6:46
PM ET
Posted by ESPN.com's Heather Dinich
1. Virginia: Senior captain Clint Sintim started all 37 games in his career and was third on the team with 77 tackles last season. His nine sacks last year were the most of any linebacker in the nation. Inside linebacker Jon Copper is UVA's active leader in tackles with 200, and Antonio Appleby is third on that list with 155.
2. Wake Forest: All three returning starters are back, including strongside linebacker Aaron Curry, a two-time defensive player of the week who had three interception returns for touchdowns and led the nation in interception return yards with 256. He also led the team with 13.5 tackles for a loss. Middle linebacker Stanley Arnoux also returns, along with weakside linebacker Chantz McClinic, who had 42 tackles.
| | |
| --- | --- |
| | |
| | Ned Dishman/Getty Images |
| | Senior linebacker Brian Toal, who has 180 career tackles despite missing last season, is healthy again for Boston College. |
3. Boston College: The Eagles lost two key starters, but senior Brian Toal's shoulder is healed and he has 180 career tackles despite missing last season with a medical redshirt. His primary competition at weakside linebacker will come from senior Robert Francois, who finished last season with 39 total tackles. Junior Mark Herzlich, who started all 14 games last year and finished second in total tackles with 97 should anchor this unit. Junior Mike McLaughlin started three games at middle linebacker last season when Jo-Lonn Dunbar was injured and is the heir apparent there.
4. Maryland: This could be one of the Terps' deeper positions, even with the loss of Erin Henderson to the NFL. Seniors Dave Philistin and Moise Fokou each started all 13 games last season, and Adrian Moten, who played all three positions as a freshman, tied for the team lead in sacks (5.5) and had 50 tackles even though he didn't start a game. Philistin ranked fourth in the ACC with 9.5 tackles per game.
5. Florida State: These guys have talent, it's just a matter of when it will all come together. Geno Hayes is gone, and so is Marcus Ball, who was expected to fill in for Hayes but was booted off the team. Still, the Seminoles' leading tackler is back. Underrated middle linebacker Derek Nicholson made 99 stops last year and was the only linebacker to start all 13 games. Strongside linebacker Dekoda Watson started every game but the bowl game because of the academic scandal and will miss the first three, leaving the job to sophomore Kendall Smith. The 'Noles are also excited about freshman Nigel Bradham.
6. Miami: The Hurricanes lost their leading tackler in Tavares Gooden, a third-round NFL draft pick by the Ravens, but are still better off than the way they ended last season -- with three healthy linebackers. Senior Glenn Cook is back after missing last season with a foot injury, and the freshmen -- Arthur Brown and Sean Spence -- didn't waste any time impressing the staff while Coin McCarthy was out this spring. Darryl Sharpton and Spencer Adkins are possible starters in the middle.
7. Virginia Tech: The Hokies will obviously miss Vince Hall and Xavier Adibi, but middle linebacker Brett Warren played well last year when Hall got hurt and earned the confidence of defensive coordinator Bud Foster. Purnell Sturdivant is No. 1 heading into the fall, but should be challenged by veteran Jonas Houseright and redshirt freshman Hunter Ovens. Redshirt junior Cam Martin started 13 of 14 games last season at weakside after being moved from free safety and finished fifth on the team with 78 tackles and was third in sacks with 4.5.
8. Duke: Senior Michael Tauiliili is the top active player in the league in terms of career tackles, and finished last season with 108. He also had four sacks and three interceptions. Vincent Rey led the Blue Devils with 111 tackles. The third slot will be between Marcus Jones and Adam Banks. There's not a lot of depth here, but there's talent.
9. Clemson: This is the least experienced unit on the Tigers' defense. Josh Miller is the only senior in the group and is competing for the starting middle linebacker job. Tommy Bowden was impressed with freshman Stanley Hunter this spring, but Brandon Maye had the top spring among the newcomers and is listed as first team in the middle entering the fall. Junior Kavell Connor is the top option at weakside linebacker and had a career high 15 tackles in the Chick-fil-A Peach Bowl. He had 46 stops for the year, tops among linebackers on the spring depth chart. Sophomore Scotty Cooper also started the Chick-fil-A Bowl at strongside linebacker. He had 33 stops for the season in 183 plays on defense.
10. North Carolina: The Tar Heels have to replace leading tackler Durell Mapp, but return sophomore Bruce Carter and sophomore Quan Sturdivant. Carter played in all 12 games and started seven. He made 18 of his 25 tackles in the final five games. Sturdivant's experience is similar, having played in all 12 games, but started just five. He finished the season with 47 tackles, but also added an interception and a blocked punt. Senior Mark Paschal played in all 12 games and started four at middle linebacker, and Chase Rice was still recovering this spring from a torn tendon in his left ankle. He was the starter in 2007, but got hurt in the season opener and missed the rest of the season.
11. NC State: There's not a lot of experience, as the top candidates have combined for five starts and only four guys have played in a collegiate game. Nate Irving is the lead candidate at weakside linebacker, having started four games. Ray Michel started one game in the middle, and strongside should be wide open. Robbie Leonard, a converted walk-on defensive back, is the starter heading into summer camp. He played in eight games as a strong safety and has seen most of his action on special teams the past two seasons. Thomas Barnes got valuable experience as a backup middle linebacker last season, playing the last 10 games and scoring a touchdown on a fumble recovery in only his third career play from scrimmage.
12. Georgia Tech: Two of the three stars from last year -- Philip Wheeler and Gary Guyton -- are now on NFL rosters. Junior Shane Bowen started nine games last season, but sophomore Anthony Barnes has the most potential and started three. Two young rookies, sophomore Brad Jefferson and redshirt freshman Kyle Jackson, are good enough that Bowen may lose his starting job.