NCF Nation:

Adrian Taylor
March, 1, 2011
3/01/11
9:00
AM ET
The NFL scouting combine concludes Tuesday, but the defensive line and linebackers took their turns under the microscope on Monday. We'll take a look at the defensive line here before moving on to the linebackers later this morning.
Position ranking in parentheses when available.
Defensive linemen
Sam Acho, Texas
40-yard dash: 4.68 seconds (3)
Vertical jump: 33.5 inches (9)
Three-cone drill: 6.69 seconds (1)
20-yard shuttle: 4.32 seconds (5)
Ugo Chinasa, Oklahoma State
40-yard dash: 4.71 seconds (7)
Broad jump: 9-9 (7)
Three-cone drill: 7.07 seconds (7)
Aldon Smith, Missouri
40-yard dash: 4.78 seconds (10)
Vertical jump: 34 inches (7)
Broad jump: 9-10 (6)
225-pound bench press: 20 reps
Adrian Taylor, Oklahoma
225-pound bench press: 34 reps (3)
Phil Taylor, Baylor
225-pound bench press: 31 reps (6)
A couple of thoughts, notes and observations:
Acho's time in the three-cone drill (4.68 seconds) was the most head-turning number from the group. It was the best mark in the drill by a defensive lineman in six years. Best of all, it came in a drill that has a lot of applications to his position. I was pretty surprised that Acho's agility in the drill put him in that elite class. He's always been fairly light on his feet, but I didn't peg him for a guy who could change directions that skillfully.
One has to put measurements taken in controlled situations in perspective, but of this group, it seems likely that Acho was the only player to make a significant move on any teams' draft boards. Aldon Smith is the only player in the group extremely likely to hear his name in the first round, but it'll be based on his upside, still waiting-to-be-filled-out frame and freshman season at Missouri.
November, 14, 2010
11/14/10
10:00
AM ET
[+] Enlarge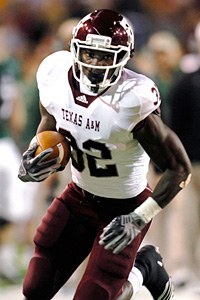 Brett Davis/US PresswireCyrus Gray had 28 carries for 137 yards and four touchdowns in Texas A&M's win over Baylor.
Texas A&M is clearly a new team.
You can look at this one any way you want, but Texas A&M wouldn't have made that comeback earlier in the year. The Aggies rallied from 16 down to score the game's final 28 points and beat Baylor, 42-30. They did it with a punishing running game from
Cyrus Gray
and a dominating defense for the second half. There are so many other factors outside of him, but it's hard to not point at quarterback
Ryan Tannehill
as a big reason for the rise, too. And quietly, Texas A&M has moved to 2-0 with Tannehill in televised games, where former starter
Jerrod Johnson
infamously struggled. That might not mean anything inside the locker room, but plenty of people have seen the Aggies pull off a pair of impressive wins in consecutive weeks now.
So is Colorado.
You've seen plenty of teams pack it in after a coach is fired, but Colorado did the exact opposite on Saturday, beating an Iowa State team in Boulder with a bowl berth on the line. The defense played well, everyone on offense had a good game, and you have to wonder what practice had been like the last week to get produce one of the Buffaloes best performances of the season. Brian Cabral, a 20-year coaching veteran who has been at Colorado since 1989, probably doesn't have a great shot to get the full-time job after the season. But his stock definitely has to have risen after coaching Colorado to its first conference win of the year.
Without Taylor Martinez at full strength, Nebraska's offense can look very average.
We saw it last week, when the Huskers had to intercept a pass in overtime to beat Iowa State, but without a suffocating performance from the Blackshirts, Saturday's game against Kansas might have come down to a few key plays in the fourth quarter. The Huskers eased Martinez, who says he's nearing 100 percent, back into the game, but he wasn't running with the frequency he usually does. Without that consistent threat, Nebraska's offense doesn't look much different from a year ago, when its defense was much better but the team still lost four games.
Sometimes, college football just isn't fair.
You won't hear anyone in the league have anything negative to say about Iowa State quarterback
Austen Arnaud
or Oklahoma defensive tackle
Adrian Taylor
. But both saw their seasons and careers come to painful ends. Arnaud suffered a knee injury and will be forced to watch his team play for its bowl lives next week on Senior Day in Ames. That's a heartbreaking end to a career for Arnaud, who is in his third year as the Cyclones' starting quarterback. Rhoads lauded Arnaud all offseason as his team's most improved player and hardest worker, and he's the squad's unquestioned leader. Taylor, meanwhile, battled back from a horrific dislocated ankle in Oklahoma's bowl game last year, fighting through the season without being 100 percent. Now, his career is over with a torn achilles tendon in his opposite foot. No player wants to be carted off the field during his final game, especially his final game on his home field. "It crushes you with what he's invested in this program with everything he's gone through," defensive coordinator Brent Venables told reporters after the game. "He's given us a lot more than we've given him. His legacy will be incredibly strong here."
Missouri figured out its offensive issues.
Maybe it was playing on the road, but last week's loss to Texas Tech was one of the more curious results in the Big 12 season. Especially when you consider
Blaine Gabbert
's horrific day, completing 12 of 30 passes for 95 yards. Nebraska was clearly a better team than Missouri in its win, but Missouri's offense looked like its old self for most of Saturday's win over Kansas State. The Tigers added a few new wrinkles on Saturday, but the basic pass-and-catch execution that was absent in Lubbock last week was there this week. Missouri is all but out of the Big 12 North race, but they'd improve their bowl destination with wins at Iowa State and against Kansas in Kansas City to close the season.
August, 19, 2010
8/19/10
3:37
PM ET
Scouts, Inc. has released
its list of the top 150 NFL prospects

for the 2011 draft, and it's got plenty of Big 12 talent from top to bottom. You'll need an Insider account to see the whole list, but here's a bit of how it relates to the Big 12. Three Big 12 teams were among the nation's top 10 in possessing the most players on the list. Here's where they stood:
T-3.
Nebraska. (6)
T-3.
Oklahoma (6)
T-10.
Texas (4) North Carolina and Ohio State topped the list, with seven total prospects in the top 150. But let's take a closer look. Here's a few notes/thoughts.
[+] Enlarge

AP Photo/Nati HarnikPrince Amukamara (21) is the Big 12's top NFL prospect -- and No. 3 overall -- according to Scouts, Inc.

The Big 12's top overall prospect? Nebraska cornerback Prince Amukamara, who is the No. 1 cornerback. That echoes what NFL scouts have been saying for the past few months, and it'll be interesting to see the battle between him and Aaron Williams (No. 6 cornerback) as the season moves on. They'll both see plenty of good offenses.

For all the talk about Nebraska's offensive struggles, they placed three players in the top 150, including Mike McNeill, who is ranked as the No. 6 tight end, despite moving to receiver in the spring. Running back Roy Helu Jr. and receiver Niles Paul both rank in the top 150, at No. 12 for their respective positions. That should prove just how important Nebraska's quarterback situation is this year. Clearly, they've got some individual talent at the skill positions and a great offensive line, but without good quarterback play, they might not be much better than they were in 2009. If Zac Lee pulls a Joe Ganz and has a nice senior year, the Huskers are almost assured a finish in the top half of the Big 12 in scoring offense.

Everyone wants to talk about Texas' defense, the list is a reflection of why. The Longhorns have three cornerbacks (Aaron Williams, Curtis Brown, Chykie Brown) in the top 150 and Williams and Brown are in the top 10 in their position. Sam Acho rounds out Texas' group as the No. 133 best overall prospect and No. 14 defensive end. That ranks as the best DE in the Big 12.

Surprising that Oklahoma's Quinton Carter is rated as the No. 2 safety and a better projected pro than teammates Jeremy Beal, Ryan Broyles, Adrian Taylor and DeMarco Murray, all in the top 10 at their positions. No other safeties in the Big 12 rank in the top 10, but the next best is Nebraska's Eric Hagg.

You can see how every prospect at your school is rated by Scouts, Inc. if you have Insider, but here's how the rest of the Big 12 ranked in players who made the top 150. If your school doesn't have a player in the top 150, here's a list of the top prospects for each team in the Big 12 from Mel Kiper.
4. Colorado
- 2 (Nate Solder, No. 8; Jimmy Smith, No. 74)
5. Texas A&M
- 1 (Von Miller, No. 20)
5. Baylor
- 1 (Phil Taylor, No. 94)
6. Missouri
- 1 (
Blaine Gabbert
, No. 39)
6. Kansas State
- 1 (
Daniel Thomas
, No. 47)
7. Oklahoma State
- 1 (
Kendall Hunter
, No. 147)
8. Iowa State
- none
8. Kansas
- none
8. Texas Tech
- none
August, 17, 2010
8/17/10
1:07
PM ET
So far this preseason, we've ranked the
conference's best quarterbacks
,
running backs
,
wide receivers
and
linebackers
. We'll even out the offense-defense balance a little more this afternoon with a ranking of the Big 12's top 10 defensive linemen.
This will encompass both ends and tackles, so get ready. The next few minutes you spend reading this could be among your life's most intense.
6. Adrian Taylor, DT, Oklahoma
Taylor faces an uphill battle after recovering from an ugly dislocated ankle in the Sun Bowl, but when he's at 100 percent, he's definitely one of the league's best. Overshadowed by NFL first-round talent Gerald McCoy last year, Taylor played nearly every snap alongside the star, finishing with 36 tackles, including seven for loss and 3.5 sacks. He'll line up next to former blue-chip recruit Jamarkus McFarland this year in the center of a defense that will try to stop the run like it did in 2009, when the Sooners ranked 10th nationally in rush defense.
7. Ugo Chinasa, DE, Oklahoma State
Chinasa should be one of the rocks of defensive guru Bill Young's defense in his second year in Stillwater. Chinasa's excellent speed off the edge helped him reach 6.5 sacks in 2009, including a strong finish against Ole Miss in the Cotton Bowl, with 2.5.
8. Jake Laptad, DE, Kansas
One of the bright spots on a defense that struggled to a 10th-place finish in 2009, Laptad made 6.5 sacks as a third-year starter, earning All-Big 12 honorable mention. A better performance in conference (only two of his sacks came in Big 12 play, and one was against Colorado, who gave up 43 in 2009) would move him up this list in the postseason.
9. Pierre Allen, DE, Nebraska
Nebraska fans and coaches don't see a defensive dip in the team's future, and Allen is a big reason why. One of the new leaders of a defense that lost four starters from last year's team, Allen will get a chance to showcase his talents outside two good tackles once again in Jared Crick and Baker Steinkuhler. He'll be a third-year starter as a senior and by now, has seen about everything Big 12 offensive lines have to offer.
10. Kheeston Randall, DT, Texas
He's been called the key to the middle of Texas' defense, and the Longhorns' coaches expect a big season from their big 6-foot-5, 295-pound junior. He's got lots of talent around him, but after taking over as the starter last season, expect him to surpass his 25 tackles and two sacks from last season.
Honorable mention:
Marquez Herrod, DE, Colorado; Lucas Patterson, DT, Texas A&M; Alex Okafor, DE, Texas; Frank Alexander, DE, Oklahoma
July, 29, 2010
7/29/10
2:45
PM ET
IRVING, Texas -- Solid three days here in Irving with a chance to visit with plenty of folks around the conference. Nobody really embarrassed themselves -- players or coaches -- this week, but I'd say I was most impressed with Texas' Mack Brown, Texas Tech's Tommy Tuberville and Paul Rhoads at Iowa State, though I'd suppose it's no surprise that those three are among the best in the conference at handling the media.
Honest, lean, insightful and slow with the cliches. All three follow that path pretty closely. On to more notes, thoughts and quotes from the final day of the conference's powwow outside Dallas:
[+] Enlarge

AP Photo/Mike FuentesMack Brown gave a poignant answer to a question about Nebraska's Red Out Around the World video.

Brown had a great response to a question about the now-edited Red Out Around the World video from Nebraska that caused a ruckus earlier this summer. It was pretty truthful, he stayed away from further inciting the Huskers, but still professionally incisive. If I'm a Nebraska fan, his words have to make me a little furious. Chalk this point up for Brown: "I really think that's a compliment to us, very honestly, for a program like Nebraska to be talking about Texas this time of year and they should be. They're good. They've gotten back. They're in the mix and on the national scene." I don't think he could have handled the issue more adeptly, and he followed it up with lavish praise for the Nebraska fans and way of life, including an often-used anecdote about the Nebraska fans chanting "Heisman! Heisman! Heisman!" at Ricky Williams as he left the field at Memorial Stadium after a Longhorns win.

I really think Stoops' comments about his offensive line are a big deal. He wasn't shy about criticizing the line last year, and if they still weren't up to his standards, he'd have no reason to stop. If Oklahoma's offensive line is as good as Stoops thinks it is...look out. "We have -- year in and year out -- a fairly good defensive line, and I thought they were toe-to-toe with them all the time and competed with them well," Stoops said. "So the way they finished the year a year ago. I think all of that together gives us an opportunity to be optimistic." Before that quote, he mentioned their work ethic in the offseason workouts and praised their efforts during the spring -- the exact opposite of what he said after the spring of 2009.

On the subject of Oklahoma's defensive line, it sounds like DT Adrian Taylor is right on schedule after suffering an unspeakably gruesome leg injury in the Sun Bowl. Stoops says they plan on him being cleared to play for preseason camp. I wouldn't have bet on that a day after the bowl game, but if Taylor can be healthy and return to his form from last year, Oklahoma's interior should be very, very good with Taylor and former blue-chip recruit Jamarkus McFarland.

Texas tight end Blaine Irby suffered a bad injury of his own -- to his knee -- two years ago, but Brown didn't sound too optimistic about him. I had heard he was progressing well and looking impressive in voluntary team 7-on-7 workouts, but Brown says he hasn't been cleared to practice yet with camp only a little over a week away. Brown praised up-and-comer Barrett Matthews, who you can read more about in our Texas Fresh Faces post from earlier this month.

Brown mentioned that Texas will schedule some more "Ohio State-type" games in the future. Not much more to say than this: good idea. Should serve as a nice replacement for the strength-of-schedule bump that traditionally came with the Big 12 championship.

Not media days related, but Texas A&M is apparently a bit uneasy after commissioner Dan Beebe's comments about the $20 million the Aggies were told they would earn by 2012-13. "A key part of Texas A&M's decision to remain in the Big 12 earlier this summer was the Commissioner's commitment that Texas A&M would receive a minimum of $20 million annually in future conference distributions," Texas A&M president R. Bowen Loftin said in a statement. "We remain committed to the conference and fully anticipate that the Big 12 will honor its commitment to Texas A&M." Texas A&M would have regretted leaving the Big 12 for the SEC on their own -- at the very least in the short run -- but I don't make much of his comments yet. All I see now is a concrete possible future spark for future realignment -- along with a theoretical invitation for Missouri from the Big Ten after the conference concludes its expansion study. That is, unless the appropriate amount of money is indeed there when they believed it would be."

One final note: Former Oklahoma running back Adrian Peterson has -- by far -- the strongest handshake of any athlete I've ever met, but I ran into a possible future contender on Wednesday: Texas defensive end Sam Acho. I'm not going to do any psychoanalysis, but you notice that sort of thing quickly, even when you're not looking for it.
April, 29, 2010
4/29/10
11:15
AM ET
The injuries for Oklahoma began before the season, when tight end Jermaine Gresham tore cartilage in his knee in practice and eventually underwent surgery that ended his season.
They continued early on, and the Sooners national title hopes ended before halftime of the season opener, when Sam Bradford injured his throwing shoulder and missed nearly the entire season after re-injuring the shoulder against Texas.
They continued throughout the season, even through the bowl game when defensive tackle Adrian Taylor suffered a gruesome broken leg and is still recovering, hoping to be back on the field by fall.
But Oklahoma coach Bob Stoops is sending a stern message to anyone who thinks five losses in 2009 with a team that began the season ranked No. 3 means he'll change how he runs his program.
"I think its pretty evident that when you lose your Heisman Trophy quarterback and a first-round draft pick, All-American tight end and on and on and all the O-line injuries -- no, we haven't changed anything," Stoops said. "We've got a pretty strong, proven method for winning Big 12 Championships and competing for national championships through 11 years."
Oklahoma only suffered one major injury this spring, losing right tackle
Eric Mensik
for 6-8 weeks with an MCL injury that won't require surgery. Guard Stephen Good suffered an ankle injury in the spring game and was carted off the field, but the injury was minor and should only keep him out of commission for a couple weeks.
Stoops held running back
DeMarco Murray
out of the spring game as a precaution, and limited the availability of
Ryan Broyles
, who still caught four passes for 69 yards in the game.
"Just because we got a rash of injuries in one season, we didn't change a thing," Stoops said. "Had a great spring."
December, 30, 2009
12/30/09
9:58
AM ET
By
Tim Griffin
| ESPN.com
Dreams of a national championship ended early this season for Oklahoma when
Sam Bradford
was injured in a season-opening loss to BYU. And the Sooners' dreams of claiming an unprecedented fourth consecutive Big 12 title were effectively quashed when the 2008 Heisman Trophy winner was reinjured early in the Texas game.


At 7-5, Oklahoma already has lost more games in the regular season than in any previous season during coach Bob Stoops' tenure. But the Sun Bowl game against Stanford still is important as the Sooners try to put a positive ending to a nightmarish season.
WHO TO WATCH: Ryan Broyles, WR/KR, Oklahoma
Whether it's catching passes, running reverses or running back punts, Broyles is the Sooners' top playmaker. He led the team with 76 receptions for 964 yards and 12 touchdown grabs and has averaged 16.5 yards per punt return. And he has a nose for the end zone with 14 touchdowns that led the conference. His 1,565 all-purpose yards rank fourth in the Bob Stoops era and he twice produced 11 catches in a game. And Broyles is in line to become the first wide receiver to lead Oklahoma in scoring in the 72 seasons that the program has been tracking football statistics. When Broyles is making big plays, the Sooners have their best shot to win and quarterback Landry Jones' confidence is at its peak. A big game from Broyles will be vitally important if this game turns out to be a shootout as so many bowl games seem to do.
WHAT TO WATCH: Oklahoma's rush defense against Toby Gerhart
The Sooners' rush defense is their strength on that side of the ball, ranking seventh nationally. With Gerald McCoy and Adrian Taylor at tackle and Jeremy Beal and Frank Alexander at end, the Sooners have one of the most productive defensive fronts in the country. But the Sooners still will be challenged by Gerhart, who ranked second in Heisman balloting on the strength of a late surge that saw him rush for 1,736 yards this season -- including an average of 185.5 yards and 13 rushing touchdowns in his last four games. With Stanford quarterback
Andrew Luck
doubtful because of a broken right index finger, backup quarterback
Tavita Pritchard
likely will lean on Gerhart more than usual. And considering he averaged 29 carries in his final four games of the season, the interior of the Sooners' defense might brace for a big test in the game.
WHY WATCH: Can the Sooners turn around their recent bowl slump?
Oklahoma's struggles in recent bowls have made the Sooners a national punchline with five straight losses in BCS games and three consecutive losses in national championship games. While the Sun Bowl might not have the national luster of some of their recent bowl games, just winning the final game of the season would be huge for the Sooners' psyche -- especially after all of this season's early disappointments. A triumph over the Cardinal would enable the Sooners to produce some positive momentum heading into 2010.
PREDICTION:
There might be some concern about how motivated the Sooners will be in El Paso after playing in BCS games in seven of their last nine seasons. But the struggles in those recent games should have this group excited just to try to win a bowl game for a change. With Luck likely out, the Sooners will be catching a break. Look for the Sooners to try to control Gerhart and force Pritchard to beat them passing. The Sooners also look to have too many offensive weapons against a pedestrian Stanford defense that likely will have trouble matching them athletically.
Oklahoma 38, Stanford 24.
July, 1, 2009
7/01/09
11:15
AM ET
Posted by ESPN.com's Tim Griffin
Being in the middle of Oklahoma's biggest question mark isn't something that Ben Habern shies away from.
In fact, the Sooners' freshman center is excited about the opportunity to prove something to the doubters who are wondering about Oklahoma's young offensive line heading into the upcoming season with four new starters.
| | |
| --- | --- |
| | |
| | J.P. Wilson/Icon SMI |
| | Oklahoma's Ben Habern has some big shoes to fill as he replaces Jon Cooper at center. |
It's made Habern wish his team's Sept. 5 opener against BYU was only a couple of weeks away.
"There are a lot of people who don't think we have enough talent to make it through the Big 12 or to a big bowl game," Habern said. "But a lot of people aren't here during our practices. We've seen how athletic we are."
Some of the doubt started earlier when Oklahoma coach Bob Stoops called out the unit before spring practice even began. Stoops was disappointed in the group's lack of dedication during preseason conditioning drills and didn't hesitate to make his comments known.
The words stung, particularly for a group that was looking to build some confidence before heading into practice. But Stoops' point got across and helped the group coalesce.
"We lost a lot of senior leadership and have a lot of guys to replace," Habern said. "It was a big step and a challenge to get everything settled. But I feel like we handled it pretty well."
One of the biggest reasons for the group's fast growth has been the development of Habern, who has claimed the starting job after strong work during the spring to replace Jon Cooper.

Jason Hannan, who was once considered the nation's No. 1 center prospect and Cooper's eventual replacement, couldn't beat out Habern for the job, leading Hannan to transfer earlier this spring.
"Habern has been doing a wonderful job," Oklahoma offensive line coach James Patton told the Fort Worth Star-Telegram. "He's got a chance to be a really good one. Jon was a great leader and Ben" is from "that same kind of mold."
May, 28, 2009
5/28/09
9:05
AM ET
Posted by ESPN.com's Tim Griffin
Some Big 12 position groups are clearly above others as far as raw talent and athleticism. Here's a look at some of the most dominant in the conference.
Oklahoma's front seven: The Sooners go two-deep in talent in the defensive line and linebackers. Defensive tackle Gerald McCoy anchors the defensive front and is an Outland Trophy candidate. Adrian Taylor and Cordero Moore also are capable players. The Sooners have the best collection of defensive ends in college football with Frank Alexander, Jeremy Beal, R.J. Washington and Auston English. Travis Lewis could develop into one of the finest linebackers in Oklahoma history and Mike Balogun, Brandon Crow and Keenan Clayton all are expected to contribute. If heady team leader Ryan Reynolds comes back from his knee injury, this group could rival any in the country -- if it doesn't already.
Texas' secondary: After producing only six interceptions last season, Texas defensive coordinator Will Muschamp ratcheted up competition among defensive backs. The results were seen in the spring, when the group was the best defensive backfield group I saw in the conference. Aaron Williams and Chykie Brown have emerged as starters at the corners with Curtis Brown and Deon Beasley providing backup. Safeties Blake Gideon and Christian Scott both are emerging, but the key player might be sophomore safety Earl Thomas, who played the nickel position with tenacity and abandon. It's not a stretch to say that two Thorpe Award winners could emerge out of this group in the next several years.
Colorado's running backs: The Buffaloes seemingly have a back for every situation with the deepest backfield in the conference. Darrell Scott appears intent on making a comeback after a disappointing freshman season. Rodney Stewart looks recovered from a broken leg sustained last season that kept him from rushing for 1,000 yards. Sophomore Brian Lockridge appears to be the fastest back and 215-pound Demetrius Sumler is the biggest back with the best inside running ability among the group. This group will serve as the backbone for the Buffaloes' hopes of returning to a bowl game and perhaps their dark horse challenge for the Big 12 North title.
Kansas' wide receivers: Dezmon Briscoe missed all of spring practice for an undisclosed violation of team rules, but is back to serve as one of the nation's most explosive deep talents. Coach Mark Mangino hopes to be able to permanently switch Kerry Meier to receiver for his senior season after a breakout season in 2008. Meier and Briscoe were two of the nation's top-15 receivers last season when they combined for 189 catches, 2,452 yards and 23 touchdown grabs. And Wilson emerged as quarterback Todd Reesing's go-to receiver in the spring when Briscoe was gone, notching six catches in the spring game. Add Rod Harris, Tertavian Ingram and Raimond Pendleton and it might be among the most potent pass-catching groups in the nation.
Nebraska's running backs: With unproven Zac Lee starting at quarterback, look for Shawn Watson to lean heavily on a pair of talented returning backs. Quentin Castille trimmed about 20 pounds to get into better shape and leading returning rusher Roy Helu Jr. boosted his weight by 24 pounds to become a more powerful rusher between the tackles. Together, it wouldn't be a stretch that the two backs could combine for 2,000 rushing yards and 20 rushing touchdowns if both can stay healthy.
Iowa State's running backs: With new offensive coordinator Tom Herman taking over with a spread offensive attack, a talented array of running backs still will have frequent opportunities to contribute. Leading returning rusher Alexander Robinson could be poised to become one of the most underrated rusher/receiver combination backs in the conference. But Robinson will have to fight for playing time with a stacked group that also includes bruising redshirt freshman Jeremiah Schwartz and heralded University of Florida transfer Bo Williams. Herman will be able to utilize all three backs in a variety of roles.
Missouri's defensive ends: The Tigers appeared loaded before spring practice with Brian Coulter and Jacquies Smith back, but redshirt freshman Aldon Smith has developed into an immediate contributor. Converted offensive tackle Brad Madison and redshirt Marcus Marlbrough also had strong springs, leading Gary Pinkel to say it was his best group of defensive ends he's ever had at Missouri.
Texas Tech's wide receivers: Even after losing two-time Biletnikoff Award winner Michael Crabtree and Eric Morris, the Red Raiders developed several potential playmakers during the spring. Edward Britton appeared to have crawled out of Mike Leach's doghouse with strong late production. New quarterback Taylor Potts should have many productive targets including Detron Lewis, Tramain Swindall, Lyle Leong, walk-on flanker Adam Torres, 6-foot-7 Adrian Reese and redshirt freshmen Austin Zouzalik and Eric Ward. The Red Raiders won't have two players grab the majority of balls like Crabtree and Morris did in recent seasons. Instead, they will feature a more balanced attack featuring eight to 10 receivers capable of thriving in a tag-team approach.
November, 29, 2008
11/29/08
10:20
PM ET
Posted by ESPN.com's Tim Griffin
STILLWATER, Okla. - It took awhile for Oklahoma quarterback Sam Bradford to get into a groove in the first half.

But once he did, he proved why he's one of the best quarterbacks in the country.
Bradford directed a pair of 14-play scoring drives to finish the half, directing the Sooners to a 21-13 halftime advantage over Oklahoma State.
The sophomore quarterback completed 8 of 11 for 82 yards on the final drive, capping it with a 4-yard dart to athletic tight end Jermaine Gresham with 13 seconds left in the half. Gresham made four catches on the drive, including two acrobatic ones where he tipped the ball to himself.
It capped a 171-yard first-half effort that upped Bradford's season passing total to 3,881, a new Oklahoma single-season record. The previous best was Josh Heupel's 3,850 in 1999.

Earlier, Bradford had struggled through his worst beginning of the season, misfiring on his first four passes and five of his first nine attempts in the first quarter. The Cowboys were mixing pass coverages as the Sooners dropped or had a hand on Bradford's first three incompletions.
And the Sooners showed their versatility on an earlier scoring drive with a 14-play, 79-yard drive that included seven runs and seven passes. The Sooners overcome second-and-10, second-and-12 and second-and-18 plays in that scoring drive as it converted four third-down plays in a punishing performance that seemed to wear out the Oklahoma State defense.
It's enough to boost the Sooners within 30 minutes of forcing a historic three-way tie for the South Division championship. Texas Tech and Texas have already earned a share of the title with victories earlier this weekend.
Here are some other items of interest I've noticed.
So much for any worries about Oklahoma State tailback Kendall Hunter's injured quadricep muscle. Hunter snagged a 23-yard TD reception to account for the Cowboys' only touchdown and also added a game-high 59 rushing yards. He's running hard and has needed only one break.
The only injury of note in the first half was Oklahoma nose guard Adrian Taylor who was dinged after he was hit by Oklahoma middle linebacker Austin Box late in the first quarter.
Oklahoma has been plagued with some drops in the first half, with at least four incompletions where receivers had a hand on the ball. But Gresham's athleticism with two grabs on balls he tipped to himself made up for those struggles.
The crowd doesn't appear to be nearly as sparse as expected as only a few seats in the upper corners are empty. And these Oklahoma State became a factor early. It helped cause a false start on Oklahoma's first play for scrimmage that led to a three-and-out on Oklahoma's first possession. It was only the second time that the Sooners had failed to score on their opening possession this season.
Oklahoma is taking advantage of a massive size advantage by running heavily towards its left side that includes 350-pound left tackle Phil Loadholt and 330-pound Duke Robinson.
The Cowboys are showing a lot of new wrinkles, using Robinson more as a rushing threat than in most of the season. His serpentine 11-yard scramble showed his athleticism as he eluded tacklers for eight seconds of game action. When he's running like that, Robinson might be the conference's most athletic quarterback.
Oklahoma State kicker Dan Bailey has drilled a pair of field goals, extending his streak to nine-straight kicks. Bailey's 44-yard field goal that pulled the Cowboys within 14-13 was the longest kick of his career. He previously had missed all four attempts in his career of longer than 40 yards.
Oklahoma's defensive front did a better job after Oklahoma State had taken the lead on the touchdown pass to Hunter. After that play, Robinson did not complete another pass in the first half.
The explosive Oklahoma offensive play was held in check with only two plays of 20 yards or more - a 21-yard pass from Bradford to Quentin Chaney and DeMarco Murray's 20-yard TD run to cap Oklahoma's second drive.